Failing the Test: A New Series Examines Charter Schools
When the Great Public Schools Now Initiative, the $490 million blueprint to turn half of Los Angeles' public school system into charter schools, was first leaked to Los Angeles Times reporter Howard Blume, it triggered an uproar among the city's education community.

When the Great Public Schools Now Initiative, the $490 million blueprint to turn half of Los Angeles' public school system into charter schools, was first leaked to Los Angeles Times reporter Howard Blume, it triggered an uproar among the city's education community. The Los Angeles Unified School District already has more charter seats than any school system in the country, though at a lower percentage (about 16 percent) of total enrollment than Oakland's — which, at roughly 25 percent, is proportionally the state leader. And like Oakland, and many other urban school systems in the U.S., LAUSD is teetering on the brink of bankruptcy.
This comes at a time when charter-supporting philanthropists, led by the Broad, Walton Family and the Bill and Melinda Gates foundations, have been aggressively pushing charter schools across the country under the banner of "parent choice." The initiative, which originally surfaced with a cover letter signed by Eli Broad and is often referred to as the Broad Plan, argues its case by charging that the country's "urban school districts are not serving students. This failure is particularly acute for low-income and minority students who are in the greatest need of a quality education." But contrary to the plan's claims, the charters' overall report card has not been so stellar.
According to University of Colorado, Boulder professor Kevin G. Welner and others, charters have been shown to offer no tangible academic advantages over traditional public schools. Welner, who is director of the National Education Policy Center, told Capital & Main, "If we're talking about test scores, we're not seeing any real meaningful differences between charter schools as a whole and noncharter public schools."
Today there are about 1,230 charter schools statewide (or seven percent of the state's K-12 enrollment), with 80 new schools opening in the 2015-16 school year alone, 21 of which were in Northern California. The 27 that opened in Los Angeles put it first in the state for growth. The Great Public Schools Now Initiative calls for 260 more charters to be created in the city by 2023. Capital & Main has since learned that charter groups have also been quietly pushing a similar plan to make Oakland's school district half charter schools and half traditional schools.
"If you are talking about going to one-third [or] one-half of enrollment in a place like Oakland or L.A., there are two big worries," says Bruce Fuller, a professor of education and public policy at the University of California, Berkeley. "One is [that] you start to siphon off the most motivated families out of the traditional system and into the charter system. [Then] the charter system starts to look more and more like a network of private schools. So that kind of creaming process is very worrisome. The second thing is their fragile financial situations — especially Oakland's. As you drain the dollars out of the mainstream system, the traditional system starts to shrink and implode as it tries to compete."
Kevin Welner, Director, National Education Policy Center: "If we're talking about test scores, we're not seeing any real meaningful differences between charter schools as a whole and noncharter public schools."
These caveats have led some critics to question not only if charter schools represent a viable or effective solution to improving learning opportunities for the state's most disadvantaged children, but whether reforming public education is the only driver of charter expansion in the state.
Steve Zimmer, the LAUSD school board president, has his doubts. Zimmer, who has been one of the harshest critics of the Broad Plan, points to the charter industry's pattern of existing expansion in Southern California. The LAUSD's 130,000 charter-student population already would make it roughly the 20th largest school district in the country. It also, Zimmer says, represents an overpopulated charter school oasis surrounded by a veritable charter-free desert of even more desperate, high-needs districts like Lancaster, Palmdale, Santa Ana, Pasadena, Lynwood and Compton.
"Even if you accepted the argument that choice is the most important lever for change and that charter schools were providing extraordinary opportunity," he pointed out in an interview, "how could you possibly justify opening a hundred more charter schools — or 10 more charter schools even — in L.A. Unified, when there are districts with lower student outcomes all around L.A. Unified, places where there are no charter schools? The only answer is that it's not about kids and it's not about kids who need choice the most. And it's not even about choice. It's about what is in LAUSD that's not in any of these other districts."
What makes LAUSD a priority target, Zimmer maintained, is its board of education, which has been staunchly supportive of effecting reform within the public school system rather than through privatization, and the influential, 31,000-member United Teachers Los Angeles (UTLA), the second largest teachers union local in the nation.
Zimmer may have a point. In a section on political strategy titled "Improving Conditions for Los Angeles Charters," the Broad Plan emphasizes its goal of winning a pro-charter majority on the LAUSD school board, and it spells out the effectiveness — and importance — of lobbying by the California Charter School Association to "improve the political and regulatory landscape."
That muscle was flexed last year when CCSA effectively killed or stalled several reform bills, including a measure by State Assemblymember Tony Mendoza (D-Artesia) that would have allowed school districts to take fiscal impacts into account while considering charter school applications, and a law proposed by state Senator Mark Leno (D-San Francisco) designed to rein in so-called "push-out" abuses by charters related to suspensions, expulsions and the basing of admissions on standardized test scores.
In both the Broad Plan's rhetoric and rationale, an increase in charter seats translates directly to an increase in political constituency and more influence over policy, both locally and in Sacramento.
"The number of parents with children in charter schools now dwarfs the number of teachers who are members of the California Teachers Association and the California Federation of Teachers," the plan boasts. "When parents are effectively engaged, organized and mobilized, positive political change for charters in California will not only be possible, but will be expected." (Disclosure: The CTA is a financial supporter of Capital & Main.)
Regardless of motives, the charter initiatives in Oakland and Los Angeles together signal a significant watershed in the growth of a statewide movement that was birthed by California's Charter Schools Act of 1992 to create classroom laboratories that might develop the dynamic new curricula and teaching methods needed to reinvigorate schools that were failing the state's most underserved and disadvantaged children. 
How that modest experiment in fixing neighborhood public schools could morph in less than 25 years into the replacement of public schools with an unproven parallel system of privately run, taxpayer-funded academies is only half the story of California's education wars that will be examined in this series, much of which is based on conversations with both sides of the charter school debate. Over the next few days Capital & Main will also look at:
The influence wielded by libertarian philanthropists who bankroll the 50-50 takeovers.

How charter schools spend less time and money on students with learning disabilities.

The lack of charter school transparency and accountability.

How charter expansion is pushing Oakland's public school district toward a fateful tipping point.

The success of less radical yet more effective reforms that get scant media coverage.

Nine solution takeaways for struggling schools.
 In California, charter schools are publicly funded but run independently by nonprofits (though often with ties to for-profit companies) and operate will little oversight – much like private businesses, which is why the movement is often described as "privatization" by its critics. More important, charters compete dollar-for-dollar within public school districts for the same limited education money that traditional schools do. Every new charter seat created within a district siphons an equal amount of Average Daily Attendance (ADA) money — which last year averaged $9,794 per pupil — from noncharter district schools.
Under California law, the current cap on charter schools is 1,950 statewide, but the cap automatically increases by 100 schools each year. The law also forbids local districts, which in California are the main authorizers for new charters, to take into account the potentially crippling impact of new charters to district financing when the districts consider approving new schools.
And since there is no theoretical limit to charter proliferation over time under the law, say traditional public school advocates, already under-resourced urban districts like LAUSD or Oakland are at risk of spiraling into insolvency. But signs suggest Oakland may already be there. The district has been forced to cut back on services and close neighborhood schools in recent years as it steadily contracts in the face of aggressive charter expansion.
Steve Zimmer, LAUSD School Board President: "How could you possibly justify opening a hundred more charter schools — or 10 more charter schools even — in L.A. Unified?"
In a revealing report commissioned last year by then-LAUSD superintendent Ramon Cortines, before the Broad Plan came to light, an independent financial review panel attributed half of a six-year, 100,000-student drop in enrollment to charter schools. The report warned that unless the trend is reversed, "the District's future planning will be characterized by constant downsizing and loss of revenue until the District reaches a new equilibrium at a lower, but sustainable, level."
One area on which both the pro-charter and public school supporters agree is that the current system is inequitable. Large urban school districts in the state are typically under-resourced and over-stratified. The issue, said Kevin G. Welner, is whether a radical charter transformation will make things better or worse.
"We're not talking about moving away from a perfect system," Welner emphasized. "We're talking about a system that's already flawed and under-resourced and stratified, and in need of real reform. The problems of stratification increase when you move from a system that is based on neighborhood schools, which are [already] stratified, to a system with an overlay of charter schools. You would just have an additional layer of stratification."
Nevertheless, charter-school advocates insist that free-market competition and a system liberated from collective-bargaining contracts is the cure-all for the state's education woes. It's a narrative that has so dominated the education reform discussion that alternative, unambiguously effective models for improving public schools have all but been pushed to the sidelines.
"The bad news is that there are no magic bullets, charter schools or otherwise," Welner reflected. "But the good news is that we know how to provide the sorts of supportive, rich opportunities to learn that children need. We're never going to provide high-quality education by focusing on test scores and by forcing each child's family to navigate an ocean of school possibilities. The only way to truly close the opportunity gap is by building up the communities where our students live and the schools in those communities."
---
Coming:
Tuesday
Oakland's Charter School Tipping Point
Wednesday
Charter Schools' Winners and Losers, by Capital & Main Staff (with video)
Yardsticks and Rulers: Measuring Charter School Performance, by Julian Vasquez Heilig
Thursday
The Charter School Movement's Powerbrokers, by Capital & Main Staff
Who's Accountable? Searching for Charter School Transparency, by Bobbi Murray
Friday
School Solutions and Turnarounds, by Bobbi Murray and Bill Raden
Solutions for Struggling Schools: Nine Takeaways, by Julian Vasquez Heilig
Plus video interviews with John Rogers, Director, UCLA Institute for Democracy, Education and Access.

County Ballot Measures Would Fund Child Care, Early Education
Research that shows early childhood education can profoundly impact the future success of children. But early childhood educators are still chronically underpaid.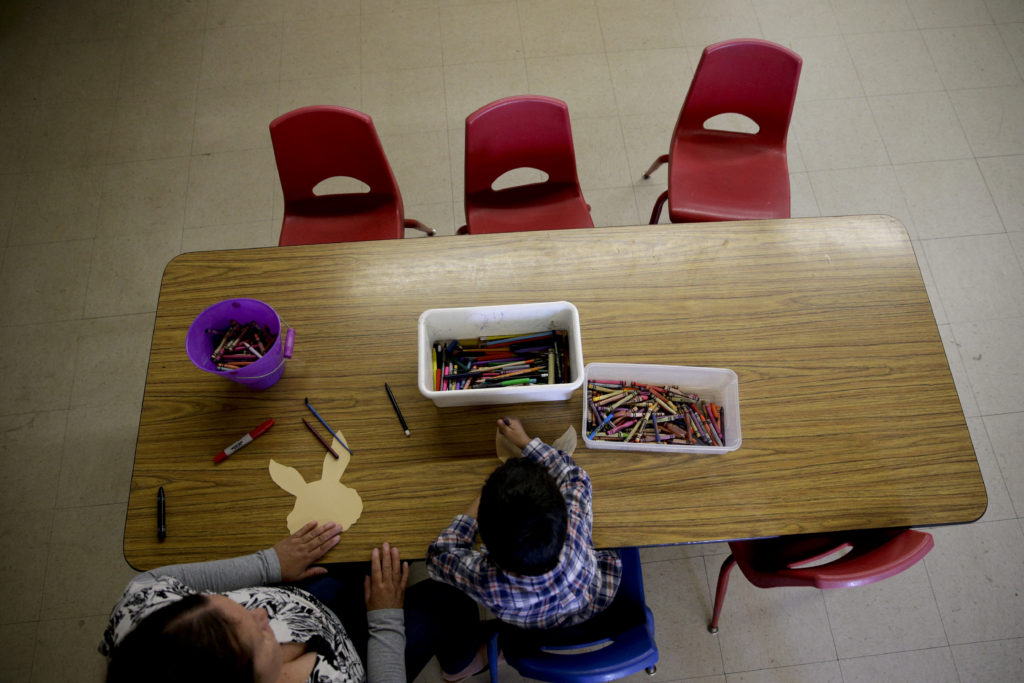 Teachers in West Virginia, Arizona and Oklahoma are not the only educators struggling to improve conditions in a profession they say is undervalued.
Alameda County's low-income child care workers are joining cash-strapped parents in an attempt to raise wages, improve quality and expand access to care in a region where pay has not kept pace with the dramatic increases in housing costs for many families.
They are taking their fight to the ballot on June 5 with Measure A, an initiative to raise approximately $140 million per year to expand preschool and child care access and improve retention of teachers by boosting pay. In neighboring San Francisco, already considered a leader in early childhood education, voters will also have the option to vote for Proposition C, which would expand the number of child care slots and increase wages.

In many ways, child care workers face a steeper climb than newly emboldened red state K-12 teachers. As tough as things may be for school teachers in right-to-work states, there is some consensus that what they do is a necessary public good.
That's not been so for early childhood educators in spite of research that shows that 90 percent of a child's brain develops in the first five years of life and that quality child care programs can fuel the future success of children and stabilize families, especially those who are low income.
"Some of it has to do with historical baggage about whether mothers should be working outside the home," says Marcy Whitebook, an expert on the childcare labor force at the Institute for Research on Labor and Employment at the University of California, Berkeley.
---
The United States lags far behind other developed nations in both preschool funding and enrollment.
---
Unlike the public schools, which are centralized and government funded, the early childhood education system is decentralized — taking place at a mix of private and public schools, centers and homes — and the funding is fragmented, with parents expected to shoulder the lion's share of the cost.
Nancy Harvey, a former elementary school teacher, who runs a child care business out of her West Oakland home, feels the consequences of this underinvestment.
She serves a mix of middle and working class families in a diverse neighborhood that she says has been gentrifying. "Every other year, I'm looking for new staff because they get burned out or they need higher wages," says Harvey. Meanwhile, she says, some of her families have had to leave the state because "between having to pay child care and rent, they simply couldn't make it."
Alameda County's Measure A, a half-cent sales tax, would expand access to child care and preschool for low and middle income families, provide supports for homeless and at-risk children, and raise the wages of child care workers to at least $15 per hour. The scholarships could impact more than 20,000 children as the program ramps up, according to Angie Garling, who heads Alameda County's Early Childhood Education Office.
In neighboring San Francisco, advocates gathered enough signatures to place Proposition C, a 3.5 percent surtax on commercial rents over $1 million a year on the ballot. The estimated $146 million raised annually would clear a waitlist of families who are in line to receive early child care and education services.
Prop. C would also make quality early child care more affordable for families earning as much as $207,500, and increase wages for child care workers beyond the $15 per hour to be required by the city's minimum wage law as of July 1. A little over $20 million of the revenue would be set aside for the general fund.
The two local ballot initiatives – in Alameda County and San Francisco – represent a "down-payment" on the kind of investment that only the state and federal government can provide, says Whitebook. And the measures are part of a wave of activism at the local level, according to Margaret Brodkin of Funding the Next Generation, who says other cities and counties plan to include child care measures on their ballots in future elections.
The state has been gradually increasing funding for child care since the end of the Great Recession, after cutting funding for 110,000 child care slots, according to Chris Hoene, executive director of the California Budget and Policy Center. But California is still 67,000 slots short of where it was, he adds. Even a substantial boost in federal child care dollars, recently approved by Congress, will not be enough to address the funding deficit, say advocates.
Those revenue sources help those who meet income eligibility thresholds. The U.S. generally lags behind other industrialized countries when it comes to providing universal preschool. The overall enrollment in preschool of 3-to 5-year-olds in the United States is 67 percent, the lowest of all but two of the 34 countries that are part of the Organization for Economic Cooperation and Development, according to an OECD study published last year.
And both measures will also help child care workers, many of whom rely on public assistance, according to a recent UC Berkeley study co-authored by Whitebook. Those who obtain bachelor's degrees, as required by Head Start and some public pre-K programs, do not usually earn much more for their troubles, according to the study.
---
In Alameda County, center-based child care exceeds tuition at UC Berkeley and is often a family's second largest cost after housing.
---
A child care worker in Alameda County earns $29,000 a year on average, about 79 percent of what it would take for a single person in the county to afford the bare necessities, according to the California Budget and Policy Project. Meanwhile, the cost of center-based care exceeds tuition at UC Berkeley and is often a family's second largest cost after housing.
These statistics are more than just academic to Morgan Pringle, a child care center substitute teacher who is also pursuing a degree in human development at California State University, East Bay.
While she was growing up, she says her mother, also a child care worker, supplemented her main job with fast food and house cleaning gigs. When the car's transmission gave out, "we just had to go without a car for a couple of years," says Pringle, who also recalls stints living with her grandmother and aunts. "The pay of an early childhood educator has never matched the cost of living here in Alameda County," she adds.
Like Harvey, she's joined Raising Alameda, a coalition that has brought family day care providers, parents and child care center employees together in support of Measure A. The Service Employees International Union Local 521, which represents child care providers, is a member of the coalition.
Even advocates acknowledge that an increase in sales tax, which is generally considered a regressive tax, is not ideal. Measure A will raise the sales tax in some Alameda County cities to close to 10 percent.
But local governments do not have many progressive funding options since the passage of Proposition 13, the 1978 ballot initiative that limited tax increases on real estate, according to Hoene.
Voters who want to expand child care services in San Francisco will be able to vote to levy a surtax on commercial rents. However, they must choose between Proposition C and a rival measure, Proposition D, which would fund housing and supportive services for seniors, the mentally ill and homeless youth. Proposition D, which also would tax commercial rents, is endorsed by the city's acting mayor and five supervisors, including mayoral candidate London Breed.
Proposition C, an initiative backed by Supervisor Norman Yee and Breed's rival in the mayor's race Supervisor Jane Kim, only requires a majority vote, while Proposition D — which was placed on the ballot by a vote of County supervisors — requires a two-thirds vote. However, if they both win, only the one with the most votes will be enacted.
At least one voter has already voiced frustration that the city's political leaders have pitted the need for affordable housing against the need for child care.
"In my day, we would go into a room with these two competing great ideas and take as much time as we needed, and not come out until we'd resolved them," former Mayor Art Agnos said at a Board of Supervisors committee meeting earlier this year, according to a report in Mission Local.
Back in Alameda County, Trisha Thomas, who runs a family day care in North Oakland while also selling life insurance and working as a church musician, says she is happy to be raising the visibility of her profession through a ballot campaign that has involved testifying at public meetings and phone banking.
"For many years, people just saw us as babysitters," says Thomas, who has a bachelor's degree and plans to pursue a master's degree. "My kids can do math. My kids can read. My kids are well above the average child starting school."
"To be viewed as a teacher, it's important to me," she says.