Failing the Test: Oakland's Charter School Tipping Point
Last September's sensational leak of the Great Public Schools Now Initiative, a half-billion-dollar plan to double the number of charter schools in the Los Angeles Unified School District (LAUSD), sparked a firestorm of controversy.
Oakland school board member Rosie Torres, left.
Last September's sensational leak of the Great Public Schools Now Initiative, a half-billion-dollar plan to double the number of charter schools in the Los Angeles Unified School District (LAUSD), sparked a firestorm of controversy. Citing the plan's potentially crippling fiscal impact on a financially troubled district that already leads the nation in its number of charters (around 230), critics denounced the plan as "an outline for a hostile takeover" and "a declaration of war on public schools."
The combination of public furor and the LAUSD school board's unanimous repudiation of the initiative — which was quickly dubbed the "Broad Plan" after its sponsor, Los Angeles philanthropist Eli Broad — subsequently forced the nonprofit tasked with implementing it to beat a retreat in its rhetoric, if not its intent to transform half of Los Angeles' public schools into charters.
Rosie Torres, Oakland School Board Member: "What's going to happen if we continue to have charter schools opening and we destabilize the financing of public schools?"
Yet Capital & Main has learned that a similar private initiative has been on the table for the Oakland Unified School District (OUSD) for at least a decade. Virtually unknown to Oakland's parents, and without the benefit of public exposure or open debate by its school board, the Oakland charter expansion scheme has been quietly driving policy under the political radar for a number of years. (The OUSD school board did not respond to Capital & Main's request to comment for this article.)
Charter schools, which were born of the education reform movement of the 1980s, compete for public tax dollars but are today often run like private businesses and aren't bound by much of the state's education code. But what makes such large-scale expansions problematic, researchers contend, is how charters exacerbate existing inequities through access, retention and recruiting practices that "cream" high-achieving, inexpensive-to-educate children and "push out" students challenged by learning disabilities, limited English skills, academic deficits or chaotic family lives. That leaves already struggling urban district schools burdened with a larger percentage of high-needs kids but a smaller amount of money with which to serve them.
The major Oakland charter advocacy groups that responded to requests for comment about the 50 percent charter-school goal issued carefully worded denials or demurrals. Jason Mandell, a spokesperson for the California Charter School Association lobby group, admitted to "a goal for growth, but not a specific target in each district." Rhonnel Sotelo, who has been executive director at the Rogers Family Foundation for nearly two years, said he's never heard of a 50 percent goal for Oakland. And Debbie Veney, a spokesperson for the Silicon Valley-backed NewSchools Venture Fund, said she "can't confirm that such a plan exists." The city's pro-charter coalition, Great Oakland (GO) Public Schools, didn't respond to requests for comment.
Yet according to Bruce Fuller, an education and public policy professor at the University of California, Berkeley, that 50 percent charter-school objective has been more or less an open secret in East Bay charter circles.
"They were probably talking about [it] 10 years ago, about whether they could take over Oakland. The idea's been kicking around for a while," he stated in an interview, recalling that he first heard the figure through the NewSchools Venture Fund.
Many charter supporters, Fuller added, believe a 50 percent stake is necessary to "drive the 'reform' agenda" in a school district. The problem with the way that charter school funding works in California is that there's no way that a charter school's expansion will not push a school district closer to bankruptcy. The math is simple: For every new charter seat created, a traditional district loses that much state Average Daily Attendance (ADA) money, which represents the bulk of its funding. Taking half of OUSD or LAUSD's enrollment means taking half of their budgets.
Worse, though the ADA money follows the child to the charter, the students that remain in the public school actually become more expensive to teach. As students are siphoned from a neighborhood school to the charter down the street, the building overhead and paychecks to teachers, nurses, librarians and custodians at the non-charter do not go down correspondingly. It costs the district the same to open the doors of a classroom whether it is full or at 75 percent capacity. The emptier the classroom, the more the economies of scale that allow California districts to educate a student at the rock-bottom annual price of $9,794 collapse.
Bruce Fuller, University of California, Berkeley: The idea of charter schools taking over Oakland has been kicking around for a while.
Creaming and push-out by the charters only further inflate the expense as, over time, neighborhood public schools accumulate a disproportionate share of difficult and expensive-to-teach, high-needs kids. All a school can do is cut staff and services, along with art and music instruction, band, recess and phys ed. Eventually, those under-occupied classrooms are seen by districts budget managers as "overcapacity" and the neighborhood school itself must be closed. 
Charter school defenders deny that charters are to blame and insist that districts can offset the fiscal chaos of ADA "siphoning" by simply restructuring school budgets to expand and contract with enrollment by, among other things, automatically cutting staff along with "legacy costs" like retiree health care.
Yet massive school closures were the scenario in Oakland in 2010, when OUSD's then-superintendent, Tony Smith, floated a contentious plan to close 25 to 30 city schools. In the fierce public outcry over the destabilizing dislocations that the closures would pose for thousands of Oakland public school children, Smith and the board backed off, and in the end only closed five. Research on the student impact of mass school closures in Chicago and Philadelphia, triggered in part by charter expansions there, suggests the disruptions may hinder, and rarely help, students' academic progress.
Mike Hutchinson, a local education activist and school board candidate who was at the center of the fight to save the schools, believes that when Los Angeles looks at the future of its public schools, it should consider what's already happened to a large degree in Oakland. Districts like OUSD, he told Capital & Main, are being used as a kind of policy Petri dish by charter supporters, precisely to refine the kind of detailed takeover strategies outlined for Los Angeles by the Broad charter expansion plan.
"A lot of these policies were first tried out in Oakland," he said. "If you go back and look at the Eli Broad handbook on school closures, a lot of the source information that they used for that report is from Oakland. Because they used Oakland to experiment for a lot of these things." 
One evening in February about 100 parents filled the auditorium of East Oakland Pride Elementary School, a stately, prewar Spanish Colonial Revival structure spread along a quiet street of low-income, single-family homes. The neighborhood sits at the center of the "Deep East," a fingerlike diagonal of flatlands sandwiched between San Francisco Bay and the 580 Freeway. This community's high-crime streets rank at the top of Oakland's neighborhood stressor index.
Clarissa Doutherd, Executive Director, Parent Voices Oakland: "Racially we are a diverse city. But that doesn't mean that we have to have the McDonald's of schools coming in."
The gathering's mostly Latino and black families had turned out for an "informational meeting" held by the Oakland school board for parents who were deciding whether to enroll their children in one of the 86 district-run neighborhood schools or one of the 37 charter school upstarts (seven more are authorized by the Alameda County Office of Education). These have given Oakland the largest percentage (over a quarter of all students) of charter enrollment in the state.
That night a tension hung in the room, caused by OUSD superintendent Antwan Wilson's "common enrollment" program. The controversial $1.4 million plan, proposed by Wilson last fall, would for the first time in California combine district schools and charters in one enrollment process.
Oakland public schools advocates immediately condemned the policy as the latest move by Wilson and the East Bay's charter school forces to accelerate the migration of district students to charters and tip the city's already under-resourced neighborhood schools off a financial cliff. It's a suspicion fueled by the fact that common enrollment's main financial supporter is Educate 78, a local pro-charter school group financed by the NewSchools Venture Fund.
After board president James Harris brought the meeting to order, Silke Bradford, the polished and well-spoken director of OUSD's charter school office, delivered a PowerPoint presentation of charts and side-by-side comparisons of district-wide performance statistics and demographics of charters and district-run schools. The show was flattering to charters, particularly in slides showing that charters bested district schools on the new, Common Core-oriented SBAC (Smarter Balanced Assessment Consortium) standardized tests in math and reading by 13 to 22 percent. This, despite teacher complaints last spring that the tests were confusing and didn't provide a meaningful assessment of academic performance.
However, one of the Oakland school board members, who are called directors, took a look but refused to sit with her colleagues beneath the auditorium's proscenium arch. Later, District 5 Director Rosie Torres explained her decision to Capital & Main.
"I was so angry, I just walked out," she said. "It seemed like everybody danced around and talked about wanting a strong leader, or talked about wanting diversity — everything but the issue [of] what's going to happen if we continue to have charter schools opening and we destabilize the financing of public schools."
It was a startling admission from a woman who, in 2012, enjoyed the endorsement and financial backing of CCSA and GO — the latter of which receives funding from NewSchools and the Gates and Walton foundations. GO was founded with seed money from the Rogers Family Foundation, Oakland ice-cream magnate Gary Rogers' pro-school-privatization nonprofit. That election saw GO's candidates wrest control of the school board, which ever since has generally supported GO's policies in the face of increasingly vocal public opposition.
Torres said, however, that once she was in office she quickly dropped her charter "neutrality" when she learned of the scope of the East Bay charter advocates' plans for Oakland. "They actually want 50 percent [of OUSD's enrollment]," she said. "The former charter school association president said, 'We're going for 50 percent of Oakland school kids.'" Torres was stunned. "Financially, what is our role as a board if not to mind and to be directing public dollars in a way that would not decapitate us?"
The day after the East Oakland Pride meeting, Torres appeared at a rally in front of OUSD's downtown offices to address teachers at a march organized by the Oakland Education Association, a teachers union. The teachers had come to protest common enrollment and the undue influence they say philanthropy-backed groups like Education 78 exert on their school district's leadership.
"I'm concerned … about whether or not we will still have public schools in the future," Torres announced through a bullhorn. "That 20, 30 years after a takeover, corporations can just turn around and walk away. What would happen if this was a complete charter district? We will be left with empty buildings, no teachers, no education for students who can't afford to go to private schools, students who can't afford to up and move to another city that will have public education." 
Oakland's charter school movement has been growing since the district was taken over by the state in 2003 because of a $35 million budget deficit. It was put under the control of state administrator Randolph Ward, a Broad Academy graduate, by then-mayor Jerry Brown and then-California Superintendent of Public Instruction Jack O'Connell. By 2009 the district emerged from receivership — and from under two more Broad Academy administrators — having ballooned from 15 authorized charters to 33. (The academy is one of two Broad Foundation programs that groom future education officials in a pro-charter school environment.)
"The state takeover and appointment of a Broad-trained superintendent," teachers union president Trish Gorham remembered, "was pretty much the writing on the wall. [Ward] began the school closures then." Ward closed 14 traditional public schools during his three years and opened 13 charter schools, cutting into enrollment at district schools. Mike Hutchinson, the education activist, believes that the public pushback against school closures has made Oakland charter groups rethink their tactics but not their overall goal. 
Part of that shift, Hutchinson says, is reflected in Oakland Education Strategy 2020, unveiled in 2014 by the Rogers Foundation and NewSchools Venture Fund. The program strives for "creating new and redesigned high-quality schools with the collective capacity to serve 10,000 students by 2020" – which would bring the charter schools' share of Oakland's total enrollment to just under 45 percent. 
Though the Rogers Family Foundation's Rhonnel Sotelo denied that the plan was "necessarily trying to add 10,000 new charter school seats," the 2020 initiative certainly allows the expansion, even as it dovetails with OUSD's Quality School Development Policy, announced by Wilson that same school year. Under the Wilson plan, the school board each year would designate persistently underperforming district-run schools to be placed in this Quality School Development Policy. Once selected, the school site then sets up a redesign committee and a redesign process to overhaul the school's curricula and classroom culture.
Although Oakland is the state's most racially diverse city, the East Bay's charter expansion has not exactly been colorblind. The most telling slide in Silke Bradford's PowerPoint presentation was how, at 19.2 percent, African-American students were dramatically underrepresented in Oakland charters, particularly compared to Latinos at 54.7 percent (compared to 29.5 percent and 42.9 percent respectively in district-run schools).
Mona Treviño, Parents United: "Why should the public school district pay for the enrollment of schools that are not accountable to the district?"
Oakland education's emerging racial divisions worry Clarissa Doutherd, the executive director of Parent Voices Oakland. A single parent with an African-American son, Doutherd sees the racial disparities between charter and neighborhood school enrollments as part of a larger pattern of real estate development, gentrification and displacement that has been dividing the city's communities and, in particular, impacting its African-American population.
"Racially we are a diverse city," Doutherd said. "But that doesn't mean that we have to have the McDonald's of schools coming in. Letting the market decide who my son's going to be, I can't imagine that. That's a scary future."
The 44-page Great Public Schools Now Initiative, which lays out a step-by-step blueprint for the creation of "260 new high-quality charter schools" and the generation of "130,000 high-quality charter seats" in eight years, more than doubling LAUSD's current charter enrollment, openly states its intention to make Los Angeles a model for similar charter takeovers in other cities.
In Los Angeles, however, even the Broad Foundation's Greg McGinty later backed off from the initiative's takeover rhetoric. McGinty, the Broad Foundation's executive director and managing director of policy, insisted that the plan was created only "for discussion purposes." And Myrna Castrejón, a former CCSA lobbyist who was named executive director of the new, eponymous organization created to implement the plan, held out the hope that some of the plan's privatization philanthropy could conceivably be used to expand LAUSD's successful pilot school program, though she maintained that the plan's "original intent hasn't changed."
The simmering anger of last February's East Oakland Pride meeting — the one Rosie Torres walked away from — was eventually vented in the school's parking lot as parents, teachers and board members headed to their cars. Mona Treviño and Kim Davis of the activist group Parents United, along with another parent, Tylon Hunter, paused to speak about their frustrations over what they felt had been left unsaid —that the board was pitting parent against parent.
"Why is our board putting us in this position?" asked Davis. "This was, 'Listen to what these people say.' You know, they want this kind of division between us, and I'm not sure why."
"We're not having a conversation about whether or not the district should pay for charter school enrollment," Treviño added. "Why should the public school district pay for the enrollment of schools that are not accountable to the district? I mean, the district is accountable — or the county — for allowing these [charter] schools that are pushing kids out."
"They should be held accountable," Hunter agreed emphatically, "because it's not public school parents against the charter school parents. We all should be looking at the district. And really, if you're going to take money from the state, the county, then you should abide by the same rules that the public schools abide by."
At the dawn of the charter movement, the education writer Alfie Kohn noted that the biggest hurdle facing meaningful education reform was Americans' attenuated sense of community. That much of the charter school movement effectively says to parents, "'Never mind about what's best for kids; just shop for the school that's best for your kids.' It's not a community; it's a market — so why would we expect things to be any different inside the school?"
This is the underlying concern of Oakland's neighborhood public schools advocates — what happens to the communitarian safeguards of democratic governance that have guided public education for the last century as that system is replaced by one of philanthropic noblesse oblige?
---
All photos by Bill Raden
Coming:
Wednesday
Charter Schools' Winners and Losers, by Capital & Main Staff (with video)
Yardsticks and Rulers: Measuring Charter School Performance, by Julian Vasquez Heilig
Thursday
The Charter School Movement's Powerbrokers, by Capital & Main Staff
Who's Accountable? Searching for Charter School Transparency, by Bobbi Murray
Friday
School Solutions and Turnarounds, by Bobbi Murray and Bill Raden
Solutions for Struggling Schools: Nine Takeaways, by Julian Vasquez Heilig
Plus video interviews with John Rogers, Director, UCLA Institute for Democracy, Education and Access.
Is LAUSD Crying Wolf With Its Claims of Financial Distress?
Persistent claims of poverty by the district have been the most contentious issue separating LAUSD and UTLA.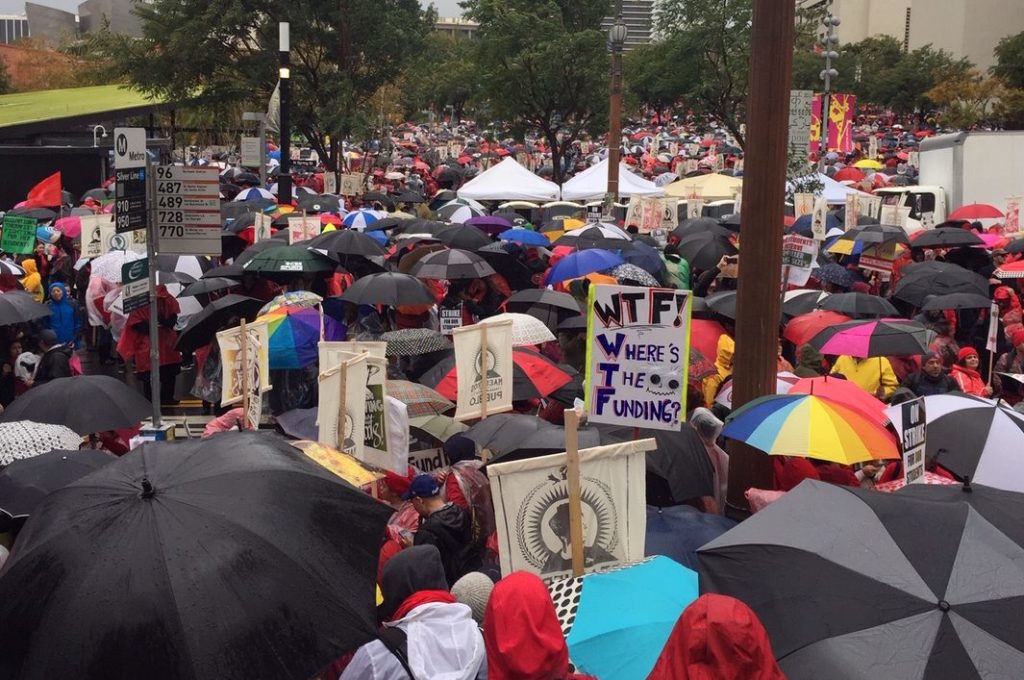 ---
UTLA has aggressively challenged LAUSD on its "structural deficit" narrative that the union dismisses as little more than political theater.
---
As the first Los Angeles teachers strike in 30 years entered its fifth day, negotiators from both sides returned to the bargaining table, this time at L.A. City Hall, with Mayor Eric Garcetti mediating. United Teachers Los Angeles (UTLA) bargaining team co-chair Arlene Inouye said on Wednesday that the talks, which had been arranged through a back channel that included Garcetti and state schools superintendent Tony Thurmond, would likely continue through the weekend and that teachers would remain at the pickets.
Persistent claims of poverty by the district have perhaps been the most contentious issue separating LAUSD and UTLA. The district has steadfastly insisted that LAUSD runs an annual operating deficit of $500 million and is already projected to dip .04 percent below the threshold of its $75 million statutory reserve. The cost, it adds, of the union's core demands, which it puts at just over $800 million, will quickly lead to insolvency.
Capital & Main's own analysis of the LAUSD budget finds that funding exists that would more than cover UTLA's core demands without touching the district's surplus. Our research also raises questions over how much of LAUSD's budget projections are more of a creative art than a hard-nosed science.
"There is a history of the district crying wolf over negative balances two years out that then never seem to arrive," agreed former Board District 5 member David Tokofsky. "If the budget were a basketball game, LAUSD would see a 20 point, final quarter lead by the Clippers as too close to call."
---
LAUSD: "Los Angeles Unified simply does not have enough money to meet all of UTLA's demands."
---
The union has framed the walkout around core educational justice demands that go beyond wages and confront foundational questions about the future of public education and what kind of schooling best serves the needs of Los Angeles families.
"This is about our students," said Inouye of declaring an impasse at a January 11 press conference. "It is about their learning conditions and the educators' working conditions."
The unresolved issues include contract demands for lowered class sizes, additional nurses, librarians, counselors and social workers. The union also insists that the district commit a significant chunk of a contested, nearly $2 billion budget surplus to increases to bilingual and adult education, and to making major investments in community schooling. The union has also been advocating for curriculum reforms that include a teacher say in achievement testing (UTLA wants less testing) and ethnic studies at every school.
---
Class-size reduction is a basic sticking point in the negotiations.
---
If there has been a single deal-breaker on the table, it is the district's lack of movement on "Section 1.5" — a contractual holdover from the Great Recession unique to LAUSD and anathema to UTLA because it allows the district to unilaterally raise class sizes. The union wants it gone; the district wants it replace with "Section 1.8," which would raise some class sizes beyond the current memorandum of understanding that Section 1.5 has nullified.
"Class size is the fundamental issue that we've got to deal with," argued UTLA president Alex Caputo-Pearl at the January 11 news conference. "Their [insistence] of continuing to . . . be an outlier in the state of California is unacceptable."
LAUSD's last known offer (both sides have agreed to a media blackout during the current round of bargaining) hadn't budged from its position that the union's demand for a 6.5 percent pay raise be contingent on cannibalizing the retirement security of future teachers to fund it. What was new on Friday, January 11, was the district's modest offer to add 200 new hires — or 1,200 in all — for class-size reduction, nurses, librarians and counselors. But for the nation's second-largest school district, this represented a $130 million drop in a 900-campus bucket — and the lowered levels would expire after one year.
---
Much if not all of LAUSD's gap could easily be closed simply by applying for waivers.
---
The offer was extraordinary both for its timing and its explanation of how LAUSD would fund the classroom reductions. The $25 million increase to the $105 million it had previously offered, a district press statement said, would include a recent $10 million pledge by Los Angeles County.  It also kicked in $15 million from what LAUSD had estimated would be the $40 million in savings from $3 billion in pay-downs of rate increases and pension liability for CalSTRS, California's giant teachers' pension fund, that Governor Gavin Newsom unveiled January 10 in his first state budget.
UTLA immediately challenged the district's $40 million windfall estimate, claiming that its own call to the state Department of Finance turned up an additional $100 million in ongoing revenue. By Wednesday, LAUSD had clarified that the $40 million figure merely represented the district's share from Newsom's recalculation of this year's Local Control Funding Formula (LCFF) cost of living adjustment increase, which was revised upward from the November's projected 2.57 percent to 3.46 percent. (The actual gain, which represents an additional $120 per student for L.A. Unified's non-charter enrollment, should bring the district closer to $49.2 million).
---
The school district didn't allow Governor Newsom's recent good financial news to dispel its fiscal gloom.
---
The district estimated its takeaway from Newsom's $700 million contribution rate buy-downs at $60 million over the next three years. But there will also be ongoing cash savings from lowered liability that should be dramatic. (Some have estimated that the buy-downs could be worth as much as $200 million to the district.)
Newsom's budget had other good news for LAUSD. It included an extra $576 million to school districts in special education funding, which would be worth roughly $75 million to LAUSD. The biggest windfall, earmarked for early education, should net Los Angeles roughly $180 million as its share of $1.8 billion for expanded kindergarten and preschool and childcare infrastructure (using a longstanding ballpark calculation that LAUSD claims roughly 10 percent of many statewide education appropriations).
The district didn't allow the new wealth to dispel its fiscal gloom. "Every independent expert who has reviewed Los Angeles Unified's finances agrees the District has serious budget issues," its January 11 press statement noted. "Los Angeles Unified simply does not have enough money to meet all of UTLA's demands."
To underscore LAUSD's claims of near-insolvency, the Los Angeles County Office of Education (LACOE) last week waded into the disagreement — the union asserts at the invitation of schools superintendent Austin Beutner — with a LACOE "fiscal expert" expressing "great alarm and concern," according to a LAUSD press release.
---
UTLA argues that a contract cannot be bargained on future promises.
---
UTLA, which said it has its own forensic accountant pouring over the district's books, has aggressively challenged LAUSD on the budget and a "structural deficit" narrative that the union dismisses as little more than political theater embroidered with scripted performances from allies within LACOE.
"There's a $2 billion reserve that we believe is not all accounted for," Caputo-Pearl said again on Wednesday. "We've pointed out that in the books and supplies line item, they consistently over-project, so there is money over-projected to the tune of $200, $300 million per year. … There's no doubt about it. California is the richest state in the country. The money's there for kids."
To prove its point, the union notes that the reserve has been increasing over the past five years from $500 million in 2013-2014 to today's $1.9 billion — a yearly average of roughly $300 million more than the district is spending.  UTLA also points out a fact that has been mostly lost in the budgetary debate — namely, that neither the county, the state's Department of Education, December's fact-finding panel nor the other experts cited by the district have actually independently performed an audit. Never, the union adds, has it ever seen LACOE contradict a district budget when the district claims that it is in financial crisis. Everybody — the press included — has simply accepted LAUSD's three-year projections at face value.
Capital & Main has sifted through the public reports of new and existing district revenues to see how LAUSD's poverty claims stack up against the core contract demands that could get teachers back to the classroom.
---
LAUSD might have had $330 million more to bargain with had a July parcel tax resolution pushed by two school board members made it to the November ballot.
---
The union says that its demand to reduce the counselor-to-student ratio can be cost-neutral merely by redistributing the district's existing counselors to meet a one-to-500 ratio at each school instead of district-wide. But we've thrown some new hires into our core contract offer along with more school psychologists. As such, the price tag for UTLA's core demands works out to $411.3 million for each year of the contract.
UTLA Core Demands
$189 million (LAUSD's figure) for a 6.5 percent across-the-board raise, retroactive to one year
$188 million for a 2,000 new-hire package of class-size reduction, and school counselor and school psychologist increase (based on a median annual salary and benefits cost of $94,000 per hire)
$25.3 million for a full-time nurse at each of the district's 720 elementary, middle and high schools (or 299 new hires at $84,809 per nurse for salary and benefits)
$10 million for a full-time school librarian at each of LAUSD's 223 secondary schools (or 118 new hires at $84,809 per librarian for salary and benefits)
To pay for it, we've included both LAUSD's onetime windfalls from the governor's budget plus UTLA's less conservative estimate of $140 million in ongoing savings — a total of $944.2 million in additional revenue. But the roughly $640 million of additional annual unrestricted funding alone — new money from the governor plus excavated over-projections of books and supplies and LAUSD's hidden annual LCFF increases — more than covers the core demands without touching a surplus that is 2533 percent over the statutory reserve of $75 million. The $217.43 million left over is enough for a generous commitment to community schooling or bringing schools up to full strength in psychiatric social workers, plant managers, assistant principals, restorative justice advisors and psychiatric social workers.
LAUSD Additional Revenues
$180 million for L.A.'s roughly 10 percent share of onetime early education
$49.2 million onetime net for the 2019-2020 Proposition 98 LCFF COLA bump to 3.46 percent.
$75 million onetime special ed money
$300 million in average ongoing hidden LCFF revenues
$140 million ongoing pension contribution savings
$200 ongoing for the pot based on annual over-projections of books & supplies spending.
Some of that, of course, represents state promises still two or three years out, but bridging revenue gaps has become a matter of routine education finance in California. A recent study by the nonpartisan research group WestEd found that 53 percent of the districts sampled did not expect revenues to cover expenditures over the period of 2017/18 to 2019/20. And many holes that appear can temporarily be patched simply by applying to the State Board of Education for waivers — for example, to shift, say, restricted special ed funds for computers to class-size reduction.
The irony is that the district might have had $330 million more to bargain with had a June parcel tax resolution pushed by LAUSD school board members Scott Schmerelson and George McKenna as an act of bargaining good faith made it to the November ballot. Despite polling that suggested strong voter support, the measure was blocked by Beutner and his allies in the pro-charter board majority. "It just seems like too ad hoc of a strategy," said Board District 4 member Nick Melvoin in casting his no vote.
In an abrupt about-face, the same board last week signed onto a new resolution by Schmerelson and McKenna to put a parcel tax and a facilities bond on the 2020 ballot.
"This is an olive branch to try to say … we want to work with the union to generate more revenue for this district," Melvoin explained to Capital & Main.
In fact, all the money for the education justice investments demanded by teachers could already be on the way. Backers of the Proposition 13 split-roll tax reform initiative that will be on the 2020 ballot estimate it will pump $1.4 billion more annually into Los Angeles County K-12 schools and community colleges.
Other potential revenue ideas include persuading the new U.S. Congress to fully fund federal Title I and IDEA supplemental funding for children living in poverty and students with disabilities, which could conservatively bring LAUSD as much as $400 million. The district could also begin collecting the $2 million each year in additional oversight fees allowed under the law from under-enrolled charter schools co-located on public school campuses, or, as former board member Tokofsky has urged, aggressively pursue developer fees owed the district out of billions of dollars in new construction. And Sacramento could close the carried interest income tax loophole, which would bring LAUSD a share of the estimated $1 billion that would pour into state coffers.
But, as the union has been arguing, a contract cannot be bargained on future promises. To bring the teachers in from the cold, LAUSD will need to offer concessions at the city hall negotiations that seriously address UTLA's concerns about enrollment stabilization, which to the union means reining in the proliferation of new charter schools. And Beutner will need to finally deal teachers into his portfolio district downsizing initiative, "Re-Imagine LAUSD," the elephant in the bargaining room that both sides know has profound implications for district-labor relations. Striking a deal will mean each side allowing the other the optics of a meaningful win in a contract that ultimately affirms L.A. Unified's belief in itself.
---
Copyright Capital & Main