Failing the Test: Charter School Powerbrokers
Charter proponents, most notably the Walton Family Foundation, contribute large amounts of money to expand charter schools in select cities around the nation.

Photo by Pandora Young
The Billion Dollar Investment
Charter proponents, most notably the Walton Family Foundation, contribute large amounts of money to expand charter schools in select cities around the nation. The foundation says it has invested more than $385 million in new charter schools over the past two decades and, earlier this year, announced that it plans to give $1 billion over five years to support charters and school-choice initiatives.
In announcing its $1 billion strategic plan to support new and existing charter schools, the foundation has said the money would go to four initiatives – investing in cities, supporting the school-choice movement, innovation and research. It identified 13 cities nationwide where it said it can have the biggest impact, including Los Angeles and Oakland. Los Angeles already has more charter schools than any other school district in the United States and Oakland has the highest percentage of charters for any district in California.
"If funders like Eli Broad or the Walton Family Foundation were truly committed to education equality," says John Rogers, an education professor at the University of California, Los Angeles, "they could have taken steps to simply support reducing class size or after-school [activities] or summer programs that would provide more educational opportunity, rather than try to invest in strategies to undermine the capacities of a school district. The primary aim is to dismantle the school district as a whole and replace it with a new way of doing public education."
Gary Miron, a professor of education at Western Michigan University, agrees. "They believe in privatization," he says. Miron co-authored a critical study, sponsored last year by the National Education Policy Center, that focused on the charter industry's funding policies.
Philanthropists, says Kevin Welner, director of the National Education Policy Center, "like charters in part because they decrease the publicness of public schools."
But why do so many charter advocates embrace privatization?
"I don't think it's about the money," says Kevin Welner, director of the National Education Policy Center at the University of Colorado at Boulder. "They like charters in part because they decrease the publicness of public schools. They want a system much more based on market forces because they don't trust democracy."
Netflix founder and prominent charter advocate Reed Hastings seemed to confirm this view when, during a 2014 convention of the California Charter Schools Association, he decried publicly elected school boards for their alleged lack of stability in governance. He then praised the closed-governance charter model of private boards whose "board members pick new board members."
But should the private sector be in charge of public education?
"No," says Welner. "The public sector should be in charge of public education. Public education should be under democratic control."
Welner is not alone in his view.
"The radical agenda of the Walton family," says a damning report issued last year by the American Federation of Teachers and In the Public Interest, "has taken the U.S. charter school movement away from education quality in favor of a strategy focused only on growth. It's been lucrative for some, but a disaster for many of the nation's most vulnerable students and school districts."
The direct funding of charter schools is only one of several strategies charter advocates are using to influence public opinion and school policies. They also fund academic studies and "grassroots" organizations such as Parent Revolution, along with powerful political lobbies such as the California Charter Schools Association (CCSA). Just as important, they contribute millions of dollars to school board elections in order to replace those perceived to be anti-charter with pro-charter board members, as seen in recent elections in Los Angeles and Oakland, two cities where charter-expansion partisans have been particularly aggressive.
Reshaping School Boards
"I don't see myself as just pro-charter," Ref Rodriguez tells Capital & Main. "It's a little more nuanced. My focus is on quality." In 2015 Rodriguez ran as a pro-charter candidate for a seat on Los Angeles' Board of Education. Rodriguez admits he received a lot of money from charter advocates, but says that he is not beholden to them. In any case, he handily defeated his incumbent opponent, Bennett Kayser, in a bitterly-fought election that gave charter school proponents a key ally on the seven-member board. Even so, Rodriguez says he does not support Broad's plan, citing what he believes is its flawed data relating to the plan's claims about long charter-school waiting lists.
The election of pro-charter members to school boards has become a major goal of the charter-school movement. The boards make critical decisions involving charters – from hiring school superintendents to creating policy about whether, and how many, charter schools should be authorized and renewed within a district.
In last year's Los Angeles Unified School District board race a CCSA political action committee spent more than $2 million, including roughly half a million dollars in negative ads, to defeat Kayser, a onetime teacher and school administrator who was generally opposed to opening new charter schools. By contrast, Rodriguez was the cofounder of a charter school network, Partnerships to Uplift Communities, and a former CCSA board member.
In addition to money spent by the CCSA PAC, Rodriguez received contributions from Eli Broad and his wife Edythe, from Laurene Powell Jobs (the widow of Steve Jobs and a wealthy charter advocate), from a PAC affiliated with the StudentsFirst education advocacy group, which was founded by Michelle Rhee, and from numerous employees and officials at various charter schools.
The United Teachers Los Angeles union spent about $800,000 in support of Kayser.
Jason Mandell, CCSA's director of Advocacy Communications, says that the charter lobby's political action arm gives money in an effort to ensure that charter schools get a fair hearing on school boards.
"We hope for school board members who understand charter schools and are supportive of their growth, or at least the high performing ones," he says. "There are folks who are opposed to charter schools, period, regardless of their impact on students. We think the communities are better served by having school board members not so ideologically extreme and who are happy to support charters when they are performing well and helping kids. School boards make real decisions on charter schools."
Molding Public Opinion
In an effort to shape public opinion and sway policy makers, the Walton Family Foundation awards research grants to professors studying charter schools and other educational initiatives. The grants, totaling millions of dollars, have funded academic studies at Harvard University, MIT, Stanford University, the University of Pennsylvania, Vanderbilt, the University of Michigan and the University of Notre Dame. These studies are then quoted in the mainstream press or in the media that pro-charter philanthropists directly control – creating an echo chamber that is used by the charter movement to expand the numbers of charter schools across the United States.
For all the money that charter school proponents spent on the 2015 Los Angeles school board elections, the Broad Plan continues to be vigorously opposed by the education community.
These institutions officially say that they maintain control of research findings and that the studies don't always reflect the views of the funders. A study by Stanford University's Center for Research on Education Outcomes (CREDO), funded by the Walton foundation, concluded last year, for example, that students who take courses at online charter schools make significantly less academic progress than students at traditional public schools.
Nonetheless, the funding of academic studies raises concerns. "It's part of the war of ideas," says UCLA's Rogers.
That war of ideas certainly includes funding education coverage in the media.
The Los Angeles Times' "Education Matters" initiative to expand education coverage, for instance, is receiving $800,000 from a group of foundations, including the Eli and Edythe Broad Foundation. And the respected Education Week, among others, has received funding ($250,000 in 2014) to cover "school choice" issues from the Walton Family Foundation.
Last January a New York-based charter school advocacy website called The Seventy Four, which has received funding from the Walton Family Foundations took over LA School Report, a respected online publication devoted to covering Los Angeles public schools. The Seventy Four – named for America's 74 million school-age children – is owned by former CNN anchor Campbell Brown, a high-profile charter-school advocate and a key player in a lawsuit to end teacher tenure protections in New York.
The Seventy Four's takeover of LA School report is part of a pattern in which prominent charter school proponents, such as philanthropist Eli Broad and the Walton Family Foundation, seek to influence the public and school policy makers by acquiring or investing in education coverage. The move, which involved replacing LA School Report's editor, came months after a group led by Broad proposed that half of the Los Angeles Unified School District's students be enrolled in charter schools within the next eight years. (Broad did not respond to requests for comments for this article.)
"The direct investment in media companies is [meant] to sway public opinion," says John Rogers. "[Charter proponents] are trying to win the public relations campaign so they can move forward their political agenda with as little resistance as possible."
Overall, the Walton Family Foundation spent more than $80 million to "shape public policy," according to its 2014 grant report, the latest publicly available figures. In addition to its foundation's grants to Education Week, the Walton family also funds two media outlets that are generally perceived as somewhat progressive. The foundation gave a $342,000 grant to National Public Radio in 2014 and another $550,000 to The Atlantic, whose money went to fund two live events in partnership with the Aspen Institute think tank, according to the publication Inside Philanthropy, which reports on how foundations and major donors give away money and why.
The proponents of charter schools claim the schools are filling a vital need in education. In an interview, Marshall Tuck, a former president of Green Dot charter schools, said he believes that charters give low-income families an opportunity they've never had.
"Higher poverty families never had a choice before charters," says Tuck, whose unsuccessful 2014 campaign to become California Superintendent of Schools was backed by Eli Broad, members of the Walton family and former New York City mayor Michael Bloomberg. "Higher poverty families never had options. Their only option, at times, was to send their children to underperforming district schools. Having more public school choices for high-poverty families is a good change."
Yet for all the money that charter school proponents spent on the 2015 Los Angeles school board elections, the Broad Plan continues to be vigorously opposed by the education community. Last January all seven board members, including its two pro-charter members, voted to go on the record as opposing the plan. One of those no votes came from Ref Rodriguez, the beneficiary of $2 million of CCSA largess. Rodriguez says it is impractical and unrealistic to believe that the charter school community could expand so much in Los Angeles and still maintain high standards.
"I'm not a proponent of the plan," he says. "It's just not possible."
Tomorrow:
Friday
School Solutions and Turnarounds, by Bobbi Murray and Bill Raden
Solutions for Struggling Schools: Nine Takeaways, by Julian Vasquez Heilig
Plus a video interview with John Rogers, Director, UCLA Institute for Democracy, Education and Access.

Living Homeless in California: The University of Hunger
A January study found that 11 percent of students on the California State University's 23-campuses reported being homeless during the past year. At Humboldt State nearly a fifth said they'd been homeless at one point during 2017.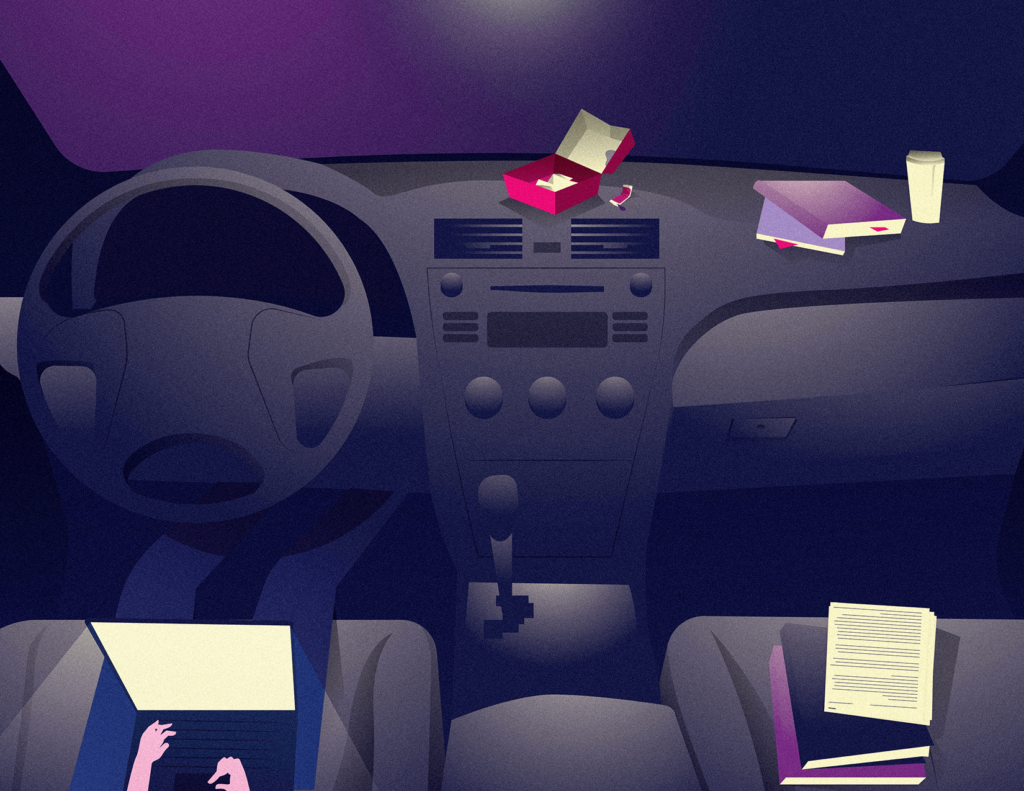 ---
Homeless students told of sleeping in the woods and of completing research assignments at McDonald's, to take advantage of free Wi-Fi.
---
In August of 2016, Chanté Marie Catt left her home in Redding, in the Sacramento Valley, to begin her first semester at Humboldt State University. Catt was 36, with a boyfriend and 1-year-old daughter, and possessed a booming laugh and no small amount of confidence. After nearly two decades running her own pet-care business in Los Angeles, she had begun to feel limited by her lack of a college degree, and several years earlier followed her parents north and enrolled at Redding's Shasta College. The transfer to Humboldt had her dreaming of towering redwoods and cool ocean breezes. "We were excited to start a new life, maybe buy a house," she says.
The couple tried to find a place from Redding, scouring Craigslist for openings without luck. In person, Catt figured, her prospects would improve. Once they had checked into a campground north of the university and enrolled their daughter in daycare, she dedicated her time to visiting property management companies. A week went by, then another. She paid application fees to management companies—$20 here, $43 there—and called through every listing she found, but even with a solid credit and rental history, never heard back. The family bounced from one campsite to another, with occasional stops at a motel to clean up. It was an expensive way to live, and she rapidly blew through $16,000 in financial aid and student loans. One day, out of a combination of anger and desperation, Catt took to Craigslist from her motel room. "I'm a sociology student," she wrote, "starting research on our homeless students and on the property management companies here. Anyone want to share their stories!?"
Within hours, she received more than 150 responses. Homeless students told her of moving from couch to couch, of sleeping in the woods and of completing their research assignments at McDonald's, where they took advantage of free Wi-Fi. "My children are cold, we are broke from all the rental application fees and I'm tired of it," wrote a mother of two. A graduate student who worked full-time revealed that he was living in his car for the second consecutive semester: "I never knew it would be this hard to find a place to rent."
Several weeks later, while still homeless, Catt had organized a campus group, the Homeless Student Advocate Alliance, and was spending her free time passing out fliers to attract more members. They weren't hard to find. "Every couple of students I talked to was experiencing some sort of displacement," she says. For many students at Humboldt, going to college meant becoming homeless.
---
One homeless-student conference included workshops on outdoor living, covering topics like how to light fires to keep homework dry.
---
The true scale of this crisis was revealed last January in a groundbreaking report commissioned by the California State University system. The study found that 11 percent of students on the university's 23-campuses reported being homeless during the past year. The problem was most acute at Humboldt State, where nearly a fifth of the student body had been homeless at one point the previous year.
"In large part, students are homeless because they don't get enough financial aid," says Jennifer Maguire, a Humboldt social work professor, who co-authored the study with Rashida Crutchfield of Long Beach State. "It's even worse here, because we're in a rural area with a very limited housing stock." According to the North Coast Journal, a local newspaper, there aren't even enough rental units in the city of Arcata, where the university is located, for the students who need housing—much less anywhere else. And while the university plans to build more student housing, it can currently only guarantee slots for first-year students.
This shortage allows landlords to crank up rents and reject applicants at whim. For students without a financial cushion, the situation can quickly turn into a full-blown emergency—and in the CSU system, that's a lot of students. More than half the students at Humboldt are the first in their family to attend college, and a third are Latino. Many work full-time; some have kids. "The 'non-traditional' student is now the traditional student," says Maguire.
On a cool April morning, more than 200 people packed into a theater at the College of the Redwoods in nearby Eureka, for a forum on homelessness co-hosted by Humboldt State. "I mentioned to a community member last week that I would be attending this summit today and she asked me, 'What does homelessness have to do with HSU?'" said Humboldt State president Lisa Rossbacher. The crowd laughed, which represented at least some progress. It's no longer a secret that Humboldt State students struggle with homelessness.
---
"My children are cold, we are broke from all the rental application fees and I'm tired of it," wrote a Humboldt State University student.
---
Much of the progress is due to the efforts of activists like Catt. After several months of homelessness, her family eventually landed an apartment, thanks in part to an emergency welfare grant. By that time, she had organized the homeless student alliance, which was pressing the university to finally address the problem. Last fall, the group held a three-day conference at Humboldt State that included workshops on outdoor living, which covered topics like how to light a fire and keep your homework dry. On the third day, a group of students put up tents on the quad and stayed for two nights. They then moved to the library, which they occupied, and demanded that it remain open 24 hours a day to give homeless students a safe and warm place to be.
The next day, an administrator contacted Catt and offered her the position of off-campus housing liaison, which had been one of the alliance's demands. Since January, Catt has worked with more than 100 students, many of whom are in need of housing or have dealt with retaliation from landlords. It's a start, though there are limits to what she can accomplish. One student who was living out of her car recently came to Catt's office, and Catt gave her a code to the campus lockers, which are normally reserved for students taking physical education classes. The student broke down in tears at the prospect of a hot shower. A few days later, Catt texted her that a landlord had recently called with a room to rent, but the student had moved back in with her parents. "She told me it had just been too cold out there," says Catt.
A couple of days after the homeless summit, I met Jasmine Bigham, a 23-year-old transfer student, on the steps of the campus library. Like Catt, she had arrived at Humboldt in 2016, and anticipated finding housing within a week or two. "Weeks turned to months," she says. She spent a semester living out of her Subaru Outback, searching for places to park at night that looked safe, then curling up on the back seat. She didn't tell her parents. "No parents want their kids living like that," she says—and anyways, they didn't have much extra money. Bigham is from a small town in neighboring Siskiyou County, and before college had lived inside a metal shop designed to store tractors and supplies; her parents created walls by hanging tarps. "I sort of grew up having to figure shit out," she says.
---
Homelessness has caused Jasmine to give up on some dreams. She wants a college education, so that means giving up a home.
---
After a semester in the Subaru, she bought a used trailer for $1,000 and parked it at a KOA campground for $600 a month. That felt safer, but then the trailer's ceiling collapsed and an intoxicated neighbor harassed her, so she left for a room in a house that was infested with mold and rats. She could only handle the grime for so long, so last year she sold her Subaru and plowed the rest of her savings—which she earned by waitressing in Lake Tahoe—into a GMC van. Since January, she's been living at a parking lot next to student housing.
As we walk from the library to the parking lot, Bigham outlines her semester budget. Scholarships nearly cover her tuition, and she's in charge of the rest. Right now she's not working, because she's taking 19 units, the maximum allowed. The parking pass is $180 a year, and she rents two lockers, at $5 a piece, for the semester. Each day she stops by the campus food pantry, where she fills plastic containers with soup and picks up rice and beans. She describes the area around campus as a food desert but in reverse—filled with only "really expensive healthy food" that's out of her reach. She takes a bus to Eureka, then walks a mile to reach a more affordable grocery store, where she can load up on quinoa, bell peppers and mangos. She has a camping stove, or else prepares meals for the week at friends' homes.
At the parking lot, she points out several other vehicles where students are living. She'll graduate in December, and tells me that when she returns this fall she hopes to get the other homeless students to park together, to create a greater sense of safety. She opens the back of her van, which is meticulously organized: a plastic container for her clothes, a folded mattress she bought on sale at Ross Dress for Less, an ice chest and cans of beans. "I had to learn what food stays good and what doesn't," she says.
Bigham tells me that she's always felt different. She is an African American from an all-white rural community. She grew up on a "broken-down ranch" with cows and pigs, while many students at Humboldt talk about eating meat as if it were a crime. "The hardest thing is people not understanding," she says, leaning against her van. "If you talk about how people don't have enough to eat, they say, 'Well, why don't they just feed themselves?'"
Homelessness has caused her to give up on some dreams. She loved track, and was recruited by a couple of larger colleges to throw the javelin, but didn't want to live in a big city. She hoped to continue with athletics, but juggling a full academic load while being homeless didn't leave much room for anything else. She shrugs and smiles. "You can either be sad or you can figure it out. If you don't have money, but you still want to do things, you have to give up something," she says. She wants a college education, so that means giving up a home.
---
Copyright Capital & Main