Failing the Test: Charter School Powerbrokers
Charter proponents, most notably the Walton Family Foundation, contribute large amounts of money to expand charter schools in select cities around the nation.

Photo by Pandora Young
The Billion Dollar Investment
Charter proponents, most notably the Walton Family Foundation, contribute large amounts of money to expand charter schools in select cities around the nation. The foundation says it has invested more than $385 million in new charter schools over the past two decades and, earlier this year, announced that it plans to give $1 billion over five years to support charters and school-choice initiatives.
In announcing its $1 billion strategic plan to support new and existing charter schools, the foundation has said the money would go to four initiatives – investing in cities, supporting the school-choice movement, innovation and research. It identified 13 cities nationwide where it said it can have the biggest impact, including Los Angeles and Oakland. Los Angeles already has more charter schools than any other school district in the United States and Oakland has the highest percentage of charters for any district in California.
"If funders like Eli Broad or the Walton Family Foundation were truly committed to education equality," says John Rogers, an education professor at the University of California, Los Angeles, "they could have taken steps to simply support reducing class size or after-school [activities] or summer programs that would provide more educational opportunity, rather than try to invest in strategies to undermine the capacities of a school district. The primary aim is to dismantle the school district as a whole and replace it with a new way of doing public education."
Gary Miron, a professor of education at Western Michigan University, agrees. "They believe in privatization," he says. Miron co-authored a critical study, sponsored last year by the National Education Policy Center, that focused on the charter industry's funding policies.
Philanthropists, says Kevin Welner, director of the National Education Policy Center, "like charters in part because they decrease the publicness of public schools."
But why do so many charter advocates embrace privatization?
"I don't think it's about the money," says Kevin Welner, director of the National Education Policy Center at the University of Colorado at Boulder. "They like charters in part because they decrease the publicness of public schools. They want a system much more based on market forces because they don't trust democracy."
Netflix founder and prominent charter advocate Reed Hastings seemed to confirm this view when, during a 2014 convention of the California Charter Schools Association, he decried publicly elected school boards for their alleged lack of stability in governance. He then praised the closed-governance charter model of private boards whose "board members pick new board members."
But should the private sector be in charge of public education?
"No," says Welner. "The public sector should be in charge of public education. Public education should be under democratic control."
Welner is not alone in his view.
"The radical agenda of the Walton family," says a damning report issued last year by the American Federation of Teachers and In the Public Interest, "has taken the U.S. charter school movement away from education quality in favor of a strategy focused only on growth. It's been lucrative for some, but a disaster for many of the nation's most vulnerable students and school districts."
The direct funding of charter schools is only one of several strategies charter advocates are using to influence public opinion and school policies. They also fund academic studies and "grassroots" organizations such as Parent Revolution, along with powerful political lobbies such as the California Charter Schools Association (CCSA). Just as important, they contribute millions of dollars to school board elections in order to replace those perceived to be anti-charter with pro-charter board members, as seen in recent elections in Los Angeles and Oakland, two cities where charter-expansion partisans have been particularly aggressive.
Reshaping School Boards
"I don't see myself as just pro-charter," Ref Rodriguez tells Capital & Main. "It's a little more nuanced. My focus is on quality." In 2015 Rodriguez ran as a pro-charter candidate for a seat on Los Angeles' Board of Education. Rodriguez admits he received a lot of money from charter advocates, but says that he is not beholden to them. In any case, he handily defeated his incumbent opponent, Bennett Kayser, in a bitterly-fought election that gave charter school proponents a key ally on the seven-member board. Even so, Rodriguez says he does not support Broad's plan, citing what he believes is its flawed data relating to the plan's claims about long charter-school waiting lists.
The election of pro-charter members to school boards has become a major goal of the charter-school movement. The boards make critical decisions involving charters – from hiring school superintendents to creating policy about whether, and how many, charter schools should be authorized and renewed within a district.
In last year's Los Angeles Unified School District board race a CCSA political action committee spent more than $2 million, including roughly half a million dollars in negative ads, to defeat Kayser, a onetime teacher and school administrator who was generally opposed to opening new charter schools. By contrast, Rodriguez was the cofounder of a charter school network, Partnerships to Uplift Communities, and a former CCSA board member.
In addition to money spent by the CCSA PAC, Rodriguez received contributions from Eli Broad and his wife Edythe, from Laurene Powell Jobs (the widow of Steve Jobs and a wealthy charter advocate), from a PAC affiliated with the StudentsFirst education advocacy group, which was founded by Michelle Rhee, and from numerous employees and officials at various charter schools.
The United Teachers Los Angeles union spent about $800,000 in support of Kayser.
Jason Mandell, CCSA's director of Advocacy Communications, says that the charter lobby's political action arm gives money in an effort to ensure that charter schools get a fair hearing on school boards.
"We hope for school board members who understand charter schools and are supportive of their growth, or at least the high performing ones," he says. "There are folks who are opposed to charter schools, period, regardless of their impact on students. We think the communities are better served by having school board members not so ideologically extreme and who are happy to support charters when they are performing well and helping kids. School boards make real decisions on charter schools."
Molding Public Opinion
In an effort to shape public opinion and sway policy makers, the Walton Family Foundation awards research grants to professors studying charter schools and other educational initiatives. The grants, totaling millions of dollars, have funded academic studies at Harvard University, MIT, Stanford University, the University of Pennsylvania, Vanderbilt, the University of Michigan and the University of Notre Dame. These studies are then quoted in the mainstream press or in the media that pro-charter philanthropists directly control – creating an echo chamber that is used by the charter movement to expand the numbers of charter schools across the United States.
For all the money that charter school proponents spent on the 2015 Los Angeles school board elections, the Broad Plan continues to be vigorously opposed by the education community.
These institutions officially say that they maintain control of research findings and that the studies don't always reflect the views of the funders. A study by Stanford University's Center for Research on Education Outcomes (CREDO), funded by the Walton foundation, concluded last year, for example, that students who take courses at online charter schools make significantly less academic progress than students at traditional public schools.
Nonetheless, the funding of academic studies raises concerns. "It's part of the war of ideas," says UCLA's Rogers.
That war of ideas certainly includes funding education coverage in the media.
The Los Angeles Times' "Education Matters" initiative to expand education coverage, for instance, is receiving $800,000 from a group of foundations, including the Eli and Edythe Broad Foundation. And the respected Education Week, among others, has received funding ($250,000 in 2014) to cover "school choice" issues from the Walton Family Foundation.
Last January a New York-based charter school advocacy website called The Seventy Four, which has received funding from the Walton Family Foundations took over LA School Report, a respected online publication devoted to covering Los Angeles public schools. The Seventy Four – named for America's 74 million school-age children – is owned by former CNN anchor Campbell Brown, a high-profile charter-school advocate and a key player in a lawsuit to end teacher tenure protections in New York.
The Seventy Four's takeover of LA School report is part of a pattern in which prominent charter school proponents, such as philanthropist Eli Broad and the Walton Family Foundation, seek to influence the public and school policy makers by acquiring or investing in education coverage. The move, which involved replacing LA School Report's editor, came months after a group led by Broad proposed that half of the Los Angeles Unified School District's students be enrolled in charter schools within the next eight years. (Broad did not respond to requests for comments for this article.)
"The direct investment in media companies is [meant] to sway public opinion," says John Rogers. "[Charter proponents] are trying to win the public relations campaign so they can move forward their political agenda with as little resistance as possible."
Overall, the Walton Family Foundation spent more than $80 million to "shape public policy," according to its 2014 grant report, the latest publicly available figures. In addition to its foundation's grants to Education Week, the Walton family also funds two media outlets that are generally perceived as somewhat progressive. The foundation gave a $342,000 grant to National Public Radio in 2014 and another $550,000 to The Atlantic, whose money went to fund two live events in partnership with the Aspen Institute think tank, according to the publication Inside Philanthropy, which reports on how foundations and major donors give away money and why.
The proponents of charter schools claim the schools are filling a vital need in education. In an interview, Marshall Tuck, a former president of Green Dot charter schools, said he believes that charters give low-income families an opportunity they've never had.
"Higher poverty families never had a choice before charters," says Tuck, whose unsuccessful 2014 campaign to become California Superintendent of Schools was backed by Eli Broad, members of the Walton family and former New York City mayor Michael Bloomberg. "Higher poverty families never had options. Their only option, at times, was to send their children to underperforming district schools. Having more public school choices for high-poverty families is a good change."
Yet for all the money that charter school proponents spent on the 2015 Los Angeles school board elections, the Broad Plan continues to be vigorously opposed by the education community. Last January all seven board members, including its two pro-charter members, voted to go on the record as opposing the plan. One of those no votes came from Ref Rodriguez, the beneficiary of $2 million of CCSA largess. Rodriguez says it is impractical and unrealistic to believe that the charter school community could expand so much in Los Angeles and still maintain high standards.
"I'm not a proponent of the plan," he says. "It's just not possible."
Tomorrow:
Friday
School Solutions and Turnarounds, by Bobbi Murray and Bill Raden
Solutions for Struggling Schools: Nine Takeaways, by Julian Vasquez Heilig
Plus a video interview with John Rogers, Director, UCLA Institute for Democracy, Education and Access.

County Ballot Measures Would Fund Child Care, Early Education
Research that shows early childhood education can profoundly impact the future success of children. But early childhood educators are still chronically underpaid.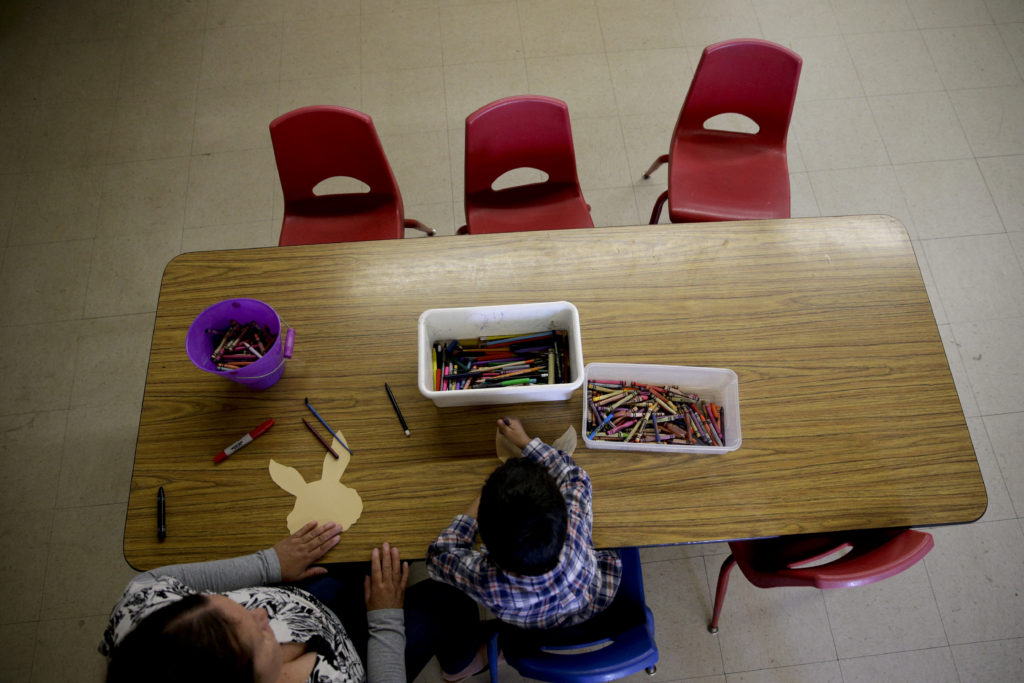 Teachers in West Virginia, Arizona and Oklahoma are not the only educators struggling to improve conditions in a profession they say is undervalued.
Alameda County's low-income child care workers are joining cash-strapped parents in an attempt to raise wages, improve quality and expand access to care in a region where pay has not kept pace with the dramatic increases in housing costs for many families.
They are taking their fight to the ballot on June 5 with Measure A, an initiative to raise approximately $140 million per year to expand preschool and child care access and improve retention of teachers by boosting pay. In neighboring San Francisco, already considered a leader in early childhood education, voters will also have the option to vote for Proposition C, which would expand the number of child care slots and increase wages.

In many ways, child care workers face a steeper climb than newly emboldened red state K-12 teachers. As tough as things may be for school teachers in right-to-work states, there is some consensus that what they do is a necessary public good.
That's not been so for early childhood educators in spite of research that shows that 90 percent of a child's brain develops in the first five years of life and that quality child care programs can fuel the future success of children and stabilize families, especially those who are low income.
"Some of it has to do with historical baggage about whether mothers should be working outside the home," says Marcy Whitebook, an expert on the childcare labor force at the Institute for Research on Labor and Employment at the University of California, Berkeley.
---
The United States lags far behind other developed nations in both preschool funding and enrollment.
---
Unlike the public schools, which are centralized and government funded, the early childhood education system is decentralized — taking place at a mix of private and public schools, centers and homes — and the funding is fragmented, with parents expected to shoulder the lion's share of the cost.
Nancy Harvey, a former elementary school teacher, who runs a child care business out of her West Oakland home, feels the consequences of this underinvestment.
She serves a mix of middle and working class families in a diverse neighborhood that she says has been gentrifying. "Every other year, I'm looking for new staff because they get burned out or they need higher wages," says Harvey. Meanwhile, she says, some of her families have had to leave the state because "between having to pay child care and rent, they simply couldn't make it."
Alameda County's Measure A, a half-cent sales tax, would expand access to child care and preschool for low and middle income families, provide supports for homeless and at-risk children, and raise the wages of child care workers to at least $15 per hour. The scholarships could impact more than 20,000 children as the program ramps up, according to Angie Garling, who heads Alameda County's Early Childhood Education Office.
In neighboring San Francisco, advocates gathered enough signatures to place Proposition C, a 3.5 percent surtax on commercial rents over $1 million a year on the ballot. The estimated $146 million raised annually would clear a waitlist of families who are in line to receive early child care and education services.
Prop. C would also make quality early child care more affordable for families earning as much as $207,500, and increase wages for child care workers beyond the $15 per hour to be required by the city's minimum wage law as of July 1. A little over $20 million of the revenue would be set aside for the general fund.
The two local ballot initiatives – in Alameda County and San Francisco – represent a "down-payment" on the kind of investment that only the state and federal government can provide, says Whitebook. And the measures are part of a wave of activism at the local level, according to Margaret Brodkin of Funding the Next Generation, who says other cities and counties plan to include child care measures on their ballots in future elections.
The state has been gradually increasing funding for child care since the end of the Great Recession, after cutting funding for 110,000 child care slots, according to Chris Hoene, executive director of the California Budget and Policy Center. But California is still 67,000 slots short of where it was, he adds. Even a substantial boost in federal child care dollars, recently approved by Congress, will not be enough to address the funding deficit, say advocates.
Those revenue sources help those who meet income eligibility thresholds. The U.S. generally lags behind other industrialized countries when it comes to providing universal preschool. The overall enrollment in preschool of 3-to 5-year-olds in the United States is 67 percent, the lowest of all but two of the 34 countries that are part of the Organization for Economic Cooperation and Development, according to an OECD study published last year.
And both measures will also help child care workers, many of whom rely on public assistance, according to a recent UC Berkeley study co-authored by Whitebook. Those who obtain bachelor's degrees, as required by Head Start and some public pre-K programs, do not usually earn much more for their troubles, according to the study.
---
In Alameda County, center-based child care exceeds tuition at UC Berkeley and is often a family's second largest cost after housing.
---
A child care worker in Alameda County earns $29,000 a year on average, about 79 percent of what it would take for a single person in the county to afford the bare necessities, according to the California Budget and Policy Project. Meanwhile, the cost of center-based care exceeds tuition at UC Berkeley and is often a family's second largest cost after housing.
These statistics are more than just academic to Morgan Pringle, a child care center substitute teacher who is also pursuing a degree in human development at California State University, East Bay.
While she was growing up, she says her mother, also a child care worker, supplemented her main job with fast food and house cleaning gigs. When the car's transmission gave out, "we just had to go without a car for a couple of years," says Pringle, who also recalls stints living with her grandmother and aunts. "The pay of an early childhood educator has never matched the cost of living here in Alameda County," she adds.
Like Harvey, she's joined Raising Alameda, a coalition that has brought family day care providers, parents and child care center employees together in support of Measure A. The Service Employees International Union Local 521, which represents child care providers, is a member of the coalition.
Even advocates acknowledge that an increase in sales tax, which is generally considered a regressive tax, is not ideal. Measure A will raise the sales tax in some Alameda County cities to close to 10 percent.
But local governments do not have many progressive funding options since the passage of Proposition 13, the 1978 ballot initiative that limited tax increases on real estate, according to Hoene.
Voters who want to expand child care services in San Francisco will be able to vote to levy a surtax on commercial rents. However, they must choose between Proposition C and a rival measure, Proposition D, which would fund housing and supportive services for seniors, the mentally ill and homeless youth. Proposition D, which also would tax commercial rents, is endorsed by the city's acting mayor and five supervisors, including mayoral candidate London Breed.
Proposition C, an initiative backed by Supervisor Norman Yee and Breed's rival in the mayor's race Supervisor Jane Kim, only requires a majority vote, while Proposition D — which was placed on the ballot by a vote of County supervisors — requires a two-thirds vote. However, if they both win, only the one with the most votes will be enacted.
At least one voter has already voiced frustration that the city's political leaders have pitted the need for affordable housing against the need for child care.
"In my day, we would go into a room with these two competing great ideas and take as much time as we needed, and not come out until we'd resolved them," former Mayor Art Agnos said at a Board of Supervisors committee meeting earlier this year, according to a report in Mission Local.
Back in Alameda County, Trisha Thomas, who runs a family day care in North Oakland while also selling life insurance and working as a church musician, says she is happy to be raising the visibility of her profession through a ballot campaign that has involved testifying at public meetings and phone banking.
"For many years, people just saw us as babysitters," says Thomas, who has a bachelor's degree and plans to pursue a master's degree. "My kids can do math. My kids can read. My kids are well above the average child starting school."
"To be viewed as a teacher, it's important to me," she says.