Failing the Test: Measuring Charter School Performance
Charter schools, their lobbyists and choice proponents often discuss the underperformance of traditional public schools in the public discourse. But what data should be trusted by parents and policymakers alike when comparing charters with traditional public schools?

Photo by Pandora Young
Charter schools, their lobbyists and choice proponents often discuss the underperformance of traditional public schools in the public discourse. But what data should be trusted by parents and policymakers alike when comparing charters with traditional public schools?
Peer-reviewed research literature is the gold standard in all fields, including education — and the predominance of such studies in the United States does not show positive impacts on average for the charter school sector. While it is true that one can find an occasional peer-reviewed study that identifies small effects for particular charter schools, studies that show a positive achievement effect are often produced by researchers primarily funded by foundations and think tanks that are ideological school-choice advocates.
Charters and their lobbying organizations often spin test score data, student attrition, graduation rates and college attendance rates as evidence that charter schools are superior to neighborhood public schools.
Are there examples of student success in charters? Of course, as there also are in public schools.
Charter schools, which are typically public schools that are privately operated, have grown rapidly since the enactment of the first charter school law in Minnesota in 1991. A recent report by the National Alliance for Public Charter Schools (NAPCS) reported that there are now more than 6,800 charter schools enrolling an estimated 2.9 million students.[1] In California, the growth of charters was more rapid than any other state during the past year as 80 new charter schools opened.[2]
An upcoming Stanford Law & Policy Review article attributes the rapid growth to the fact that many states have been prodded by lobbyists and foundations to lift caps on the number of charter schools contained within states. Also behind the growth are hundreds of millions of dollars in financial incentives created by federal grant programs such as Race to the Top.[3] Other federal and state grant programs for charter planning and implementation have encouraged growth even more.[4] As a result, according to a NAPCS report, "There are now 27 states with at least 50 operating charter public schools and nearly 20 states with 100 or more charter schools."[5]
Among the most prominent philanthropic supporters and proponents of the school "choice" cause are the Koch brothers, American Legislative Exchange Council [ALEC], Walton Family Foundation, Eli and Edythe Broad Foundation, Heritage Foundation and Foundation for Educational Excellence. Eli Broad's Great Schools organization recently suggested that half of all the schools in Los Angeles should be turned into charter schools.[6]
Researchers analyzing data at the local district and school level have found that the diversity in aggregate data tends to disappear when charters are compared to their home districts and nearby schools.
Each of the choices pressed by neoliberal-leaning foundations and think tanks move the responsibility and funding of public education into the hands of organizations external to the traditional democratically controlled public school system. Charters and their lobbying organizations often spin test score data, student attrition, graduation rates and college attendance rates as evidence that charter schools are superior to neighborhood public schools.
We must consider these data with caution. Since the inception of the charter school movement, concerns have been raised about access and equity, particularly for high-needs students.[7] These concerns are linked directly to the incentives embedded in markets: Under conditions of competition, organizations (such as charters) may seek to maximize their market position by targeting relatively easier to serve clientele.[8] Consistent with this theory, charters have been accused by many of strategically recruiting relatively advantaged — "easier to serve" — students from nearby public schools.[9]
Furthermore, recent research from the Civil Rights Project at the University of California, Los Angeles has demonstrated that charters are more likely than traditional public schools to suspend students of color, creating a creaming effect in the student body.[10]
Charter proponents contend that competition, rather than leading to stratification, reduces market barriers by delinking residence from schooling opportunity.[11] Charter advocates, in support of this theory, point to national data showing that, in the aggregate, charter schools serve higher percentages of low-income students, and higher proportions of African American and Latino students, than traditional public schools.[12]  [13] The NAPCS has noted "public charter schools across the nation enroll, on average, a greater percentage of low-income students (46 percent versus 41 percent), black and Latino students (27 percent versus 15 percent and 26 percent versus 22 percent, respectively), and students who perform lower on standardized assessments before transferring to charter schools."[14]
Researchers analyzing data at the local district and school level, however, have found that the diversity in aggregate data tends to disappear when charters are compared to their home districts and nearby schools. Using district and school demographics as the point of reference, researchers have concluded that charters are in fact quite segregated, enrolling either disproportionately more white students, or disproportionately high concentrations of students of color.[15] Studies examining individual student transfer data between traditional public schools and charters have similarly found that students tend to transfer into charter schools in which students from their own background are more represented.[16]
In markets there are winners and losers. In the case of choice, the long-term losers in a large-scale market-oriented education appear to be historically underserved students of color and special populations. Writing in the journal Teachers College Record, University of Colorado education professor Kevin Welner identified 12 ways that charters avoid students of color and special populations — a dirty dozen. The National Education Policy Center has also noted that "charter schools may be public, but they can shape their student enrollment in surprising ways. This is done through a dozen different practices that often decrease the likelihood of students enrolling with a disfavored set of characteristics, such as students with special needs, those with low test scores, English learners, or students in poverty."[17]
So school choice is just that — except that charter schools are doing the choosing instead of communities. Parents and students should be able to choose a neighborhood public school with the important characteristics that are already established in the research literature and consistently observed in wealthy high-performing public and private schools. [18] As they seek the best educational environment, they should remember this: The predominance of data and peer-reviewed literature demonstrate that charters, on average, have not produced the equity, social justice and achievement benefits that proponents claim.
---
[1] http://www.publiccharters.org/wp-content/uploads/2016/02/New-Closed-2016.pdf
[2] http://www.publiccharters.org/wp-content/uploads/2016/02/New-Closed-2016.pdf
[3] E. Frankenberg & G. Siegel-Hawley, Does law influence charter school diversity? 16 Mich. J. Race & L. 321, 321-376 (2011).
[4] U.S. Department of Education, US Department of Education awards nearly $15 Million in charter school grants for planning, program design, implementation and dissemination, (October 5, 2011), available at http://www.ed.gov/news/press-releases/us-department-education-awards-nearly-5-million-charter-school-grants-planning-program-design-implementation-and-dissemination
[5] Id at 2.
[6] http://dianeravitch.net/2016/01/17/la-times-outdoes-its-broad-worship/
[7] Julian Vasquez Heilig et al., Is Choice a Panacea? An Analysis of Black Secondary Student Attrition from KIPP, Other Private Charters and Urban Districts, 2(2) Berkeley Rev. Educ., 153, 153-178 (2011).
[8] Natalie Lacireno-Paquet, Thomas T. Holyoke, Michele Moser, & Jeffrey R. Henig, Creaming vs. Cropping: Charter School Enrollment Practices in Response to Market Incentives, 24(2) Educ. Evaluation & Pol'y Analysis 145, 145-158, (2002).
[9] See Diane Ravitch, Con: Say 'no thanks' to Charter Schools, available at https://www.washingtonpost.com/blogs/answer-sheet/post/ravitch-why-states-should-say-no-thanks-to-charter-schools/2012/02/12/gIQAdA3b9Q_blog.html
[10] http://civilrightsproject.ucla.edu/resources/projects/center-for-civil-rights-remedies/school-to-prison-folder/federal-reports/charter-schools-civil-rights-and-school-discipline-a-comprehensive-review/losen-et-al-charter-school-discipline-review-2016.pdf
[11] See J. Nathan, Heat and Light in the Charter School Movement, 79(7) Phi Delta Kappan 499, 499-505 (1998); J.P. Viteritti, Choosing Equality: School Choice, the Constitution, and Civil Society, Brookings Institution Press (1999).
[12]] California Charter Schools Association (N.D.) Dispelling Myths About Charter Schools available at http://www.calcharters.org/understanding/faqs/myths.html.
[13] A Growing Movement: America's Largest Charter School Communities (7th ed. Nat'l Alliance for Pub. Charter Schools 2012) available at http://www.publiccharters.org/wp-content/uploads/2014/01/NAPCS-2012-Market-Share-Report_20121113T125312.pdf
[14] Details from the Dashboard: Charter School Race/Ethnicity Demographics 1 (Nat'l Alliance for Pub. Charter Schools 2012) available at http://www.publiccharters.org/wp-content/uploads/2014/01/NAPCS-2010-2011-Race_Ethnicity-Details-from-the-Dashboard_20120516T152831.pdf
[15] Casey D. Cobb & Gene V. Glass, Ethnic Segregation in Arizona Charter Schools (1999), available at Education Policy Analysis Archives, 7(1), http://epaa.asu.edu/ojs/article/view/536; Gary Miron et al, Schools Without Diversity: Education Management Organizations, Charter Schools, and the Demographic Stratification of the American School System, (2010) available at EPIC/EPRU, http://epicpolicy.org/files/EMO-Seg.pdf; Gary Miron & Christopher Nelson , What's Public About Charter Schools?: Lessons Learned About Choice and Accountability (Sage Publications 2002).; L. Renzulli, & L. Evans, School Choice, Charter Schools, and White Flight, 52 Social Problems 398, 398-418 (2005); though for an opposite conclusion, see NAPCS, 2012b, supra at
[16] R. Bifulco & H. Ladd, School choice, racial segregation, and test-score gaps: Evidence from North Carolina's charter school program, presented at the Annual Meeting of Allied Social Sciences Associations, Boston MA (January, 2006); K. Booker, R. Zimmer, & R. Budin, The Effects of Charter Schools on School Peer Composition, RAND Corporation (2005), available at http://www.rand.org/pubs/working_papers/WR306/; D. A. Garcia, Academic and Racial Segregation in Charter Schools: Do Parents Sort Students into Specialized Charter Schools?, 40(5) Educ. and Urban Soc'y, 590, 590-612 (2008); Y. Ni, The Sorting Effect of Charter Schools on Student Composition in Traditional Public Schools, 26(2) Educ. Pol'y, 215, 215-242 (2012).
[17] http://nepc.colorado.edu/newsletter/2013/05/tcr-dirty-dozen
[18] http://cloakinginequity.com/2013/11/21/reframing-the-refrain-choice-as-a-civil-rights-issue/
---
Coming:

Thursday

The Charter School Movement's Powerbrokers, by Capital & Main Staff
Who's Accountable? Searching for Charter School Transparency, by Bobbi Murray
Friday
School Solutions and Turnarounds, by Bobbi Murray and Bill Raden
Solutions for Struggling Schools: Nine Takeaways, by Julian Vasquez Heilig
Plus video interviews with John Rogers, Director, UCLA Institute for Democracy, Education and Access.

Living Homeless in California: The University of Hunger
A January study found that 11 percent of students on the California State University's 23-campuses reported being homeless during the past year. At Humboldt State nearly a fifth said they'd been homeless at one point during 2017.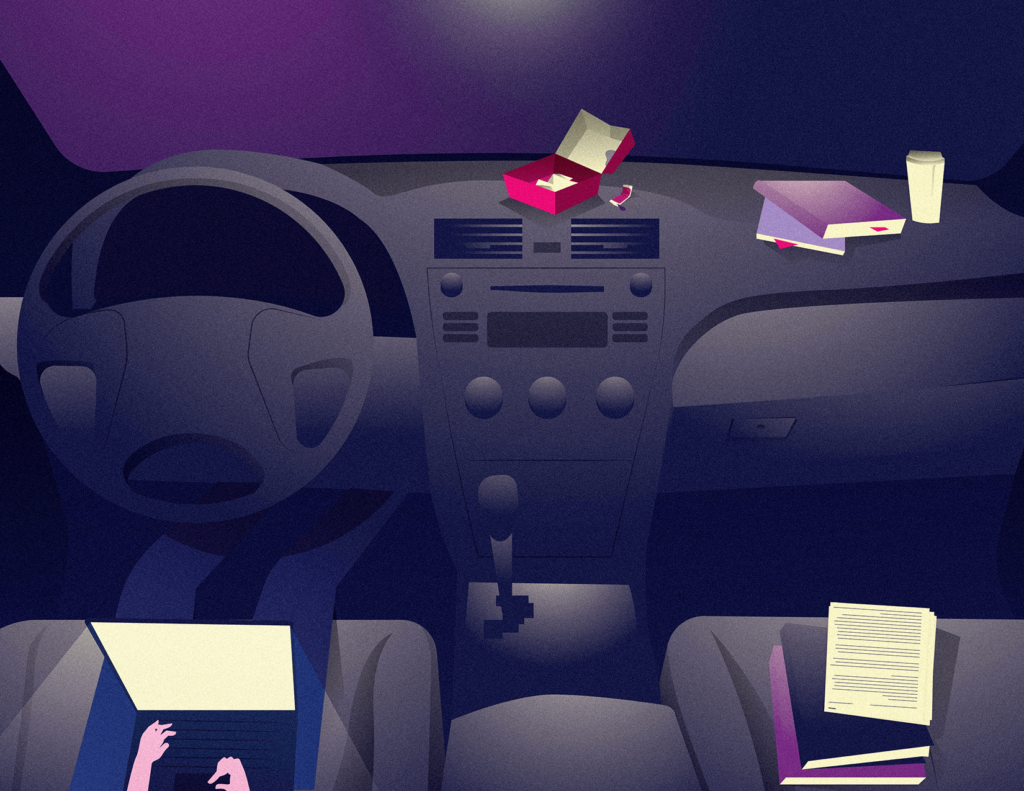 ---
Homeless students told of sleeping in the woods and of completing research assignments at McDonald's, to take advantage of free Wi-Fi.
---
In August of 2016, Chanté Marie Catt left her home in Redding, in the Sacramento Valley, to begin her first semester at Humboldt State University. Catt was 36, with a boyfriend and 1-year-old daughter, and possessed a booming laugh and no small amount of confidence. After nearly two decades running her own pet-care business in Los Angeles, she had begun to feel limited by her lack of a college degree, and several years earlier followed her parents north and enrolled at Redding's Shasta College. The transfer to Humboldt had her dreaming of towering redwoods and cool ocean breezes. "We were excited to start a new life, maybe buy a house," she says.
The couple tried to find a place from Redding, scouring Craigslist for openings without luck. In person, Catt figured, her prospects would improve. Once they had checked into a campground north of the university and enrolled their daughter in daycare, she dedicated her time to visiting property management companies. A week went by, then another. She paid application fees to management companies—$20 here, $43 there—and called through every listing she found, but even with a solid credit and rental history, never heard back. The family bounced from one campsite to another, with occasional stops at a motel to clean up. It was an expensive way to live, and she rapidly blew through $16,000 in financial aid and student loans. One day, out of a combination of anger and desperation, Catt took to Craigslist from her motel room. "I'm a sociology student," she wrote, "starting research on our homeless students and on the property management companies here. Anyone want to share their stories!?"
Within hours, she received more than 150 responses. Homeless students told her of moving from couch to couch, of sleeping in the woods and of completing their research assignments at McDonald's, where they took advantage of free Wi-Fi. "My children are cold, we are broke from all the rental application fees and I'm tired of it," wrote a mother of two. A graduate student who worked full-time revealed that he was living in his car for the second consecutive semester: "I never knew it would be this hard to find a place to rent."
Several weeks later, while still homeless, Catt had organized a campus group, the Homeless Student Advocate Alliance, and was spending her free time passing out fliers to attract more members. They weren't hard to find. "Every couple of students I talked to was experiencing some sort of displacement," she says. For many students at Humboldt, going to college meant becoming homeless.
---
One homeless-student conference included workshops on outdoor living, covering topics like how to light fires to keep homework dry.
---
The true scale of this crisis was revealed last January in a groundbreaking report commissioned by the California State University system. The study found that 11 percent of students on the university's 23-campuses reported being homeless during the past year. The problem was most acute at Humboldt State, where nearly a fifth of the student body had been homeless at one point the previous year.
"In large part, students are homeless because they don't get enough financial aid," says Jennifer Maguire, a Humboldt social work professor, who co-authored the study with Rashida Crutchfield of Long Beach State. "It's even worse here, because we're in a rural area with a very limited housing stock." According to the North Coast Journal, a local newspaper, there aren't even enough rental units in the city of Arcata, where the university is located, for the students who need housing—much less anywhere else. And while the university plans to build more student housing, it can currently only guarantee slots for first-year students.
This shortage allows landlords to crank up rents and reject applicants at whim. For students without a financial cushion, the situation can quickly turn into a full-blown emergency—and in the CSU system, that's a lot of students. More than half the students at Humboldt are the first in their family to attend college, and a third are Latino. Many work full-time; some have kids. "The 'non-traditional' student is now the traditional student," says Maguire.
On a cool April morning, more than 200 people packed into a theater at the College of the Redwoods in nearby Eureka, for a forum on homelessness co-hosted by Humboldt State. "I mentioned to a community member last week that I would be attending this summit today and she asked me, 'What does homelessness have to do with HSU?'" said Humboldt State president Lisa Rossbacher. The crowd laughed, which represented at least some progress. It's no longer a secret that Humboldt State students struggle with homelessness.
---
"My children are cold, we are broke from all the rental application fees and I'm tired of it," wrote a Humboldt State University student.
---
Much of the progress is due to the efforts of activists like Catt. After several months of homelessness, her family eventually landed an apartment, thanks in part to an emergency welfare grant. By that time, she had organized the homeless student alliance, which was pressing the university to finally address the problem. Last fall, the group held a three-day conference at Humboldt State that included workshops on outdoor living, which covered topics like how to light a fire and keep your homework dry. On the third day, a group of students put up tents on the quad and stayed for two nights. They then moved to the library, which they occupied, and demanded that it remain open 24 hours a day to give homeless students a safe and warm place to be.
The next day, an administrator contacted Catt and offered her the position of off-campus housing liaison, which had been one of the alliance's demands. Since January, Catt has worked with more than 100 students, many of whom are in need of housing or have dealt with retaliation from landlords. It's a start, though there are limits to what she can accomplish. One student who was living out of her car recently came to Catt's office, and Catt gave her a code to the campus lockers, which are normally reserved for students taking physical education classes. The student broke down in tears at the prospect of a hot shower. A few days later, Catt texted her that a landlord had recently called with a room to rent, but the student had moved back in with her parents. "She told me it had just been too cold out there," says Catt.
A couple of days after the homeless summit, I met Jasmine Bigham, a 23-year-old transfer student, on the steps of the campus library. Like Catt, she had arrived at Humboldt in 2016, and anticipated finding housing within a week or two. "Weeks turned to months," she says. She spent a semester living out of her Subaru Outback, searching for places to park at night that looked safe, then curling up on the back seat. She didn't tell her parents. "No parents want their kids living like that," she says—and anyways, they didn't have much extra money. Bigham is from a small town in neighboring Siskiyou County, and before college had lived inside a metal shop designed to store tractors and supplies; her parents created walls by hanging tarps. "I sort of grew up having to figure shit out," she says.
---
Homelessness has caused Jasmine to give up on some dreams. She wants a college education, so that means giving up a home.
---
After a semester in the Subaru, she bought a used trailer for $1,000 and parked it at a KOA campground for $600 a month. That felt safer, but then the trailer's ceiling collapsed and an intoxicated neighbor harassed her, so she left for a room in a house that was infested with mold and rats. She could only handle the grime for so long, so last year she sold her Subaru and plowed the rest of her savings—which she earned by waitressing in Lake Tahoe—into a GMC van. Since January, she's been living at a parking lot next to student housing.
As we walk from the library to the parking lot, Bigham outlines her semester budget. Scholarships nearly cover her tuition, and she's in charge of the rest. Right now she's not working, because she's taking 19 units, the maximum allowed. The parking pass is $180 a year, and she rents two lockers, at $5 a piece, for the semester. Each day she stops by the campus food pantry, where she fills plastic containers with soup and picks up rice and beans. She describes the area around campus as a food desert but in reverse—filled with only "really expensive healthy food" that's out of her reach. She takes a bus to Eureka, then walks a mile to reach a more affordable grocery store, where she can load up on quinoa, bell peppers and mangos. She has a camping stove, or else prepares meals for the week at friends' homes.
At the parking lot, she points out several other vehicles where students are living. She'll graduate in December, and tells me that when she returns this fall she hopes to get the other homeless students to park together, to create a greater sense of safety. She opens the back of her van, which is meticulously organized: a plastic container for her clothes, a folded mattress she bought on sale at Ross Dress for Less, an ice chest and cans of beans. "I had to learn what food stays good and what doesn't," she says.
Bigham tells me that she's always felt different. She is an African American from an all-white rural community. She grew up on a "broken-down ranch" with cows and pigs, while many students at Humboldt talk about eating meat as if it were a crime. "The hardest thing is people not understanding," she says, leaning against her van. "If you talk about how people don't have enough to eat, they say, 'Well, why don't they just feed themselves?'"
Homelessness has caused her to give up on some dreams. She loved track, and was recruited by a couple of larger colleges to throw the javelin, but didn't want to live in a big city. She hoped to continue with athletics, but juggling a full academic load while being homeless didn't leave much room for anything else. She shrugs and smiles. "You can either be sad or you can figure it out. If you don't have money, but you still want to do things, you have to give up something," she says. She wants a college education, so that means giving up a home.
---
Copyright Capital & Main