Failing the Test: Searching for Accountability in Charter Schools
The original concept of charter schools emerged nationally more than two decades ago and was intended to support community efforts to open up education.

Photo by Pandora Young
The original concept of charter schools emerged nationally more than two decades ago and was intended to support community efforts to open up education. Albert Shanker, then president of the American Federation of Teachers union, lauded the charter idea in 1988 as way to propel social mobility for working class kids and to give teachers more decision-making power.
"There was a sense from the start that they would develop models for the broader system," John Rogers tells Capital & Main. Rogers, a professor at the University of California, Los Angeles' Graduate School of Education and Information Studies, is director of UCLA's Institute for Democracy, Education, and Access. He adds that charter schools were to be laboratories where parents and educators would work together to craft the best possible learning environment and to serve as engines of innovation and social equity.
But critics of today's market-based charter movement say monied interests have turned those learning labs into models for capital capture in the Golden State and beyond–"the charter school gravy train," as Forbes describes it. Charters are publicly funded but privately managed and, like most privately run businesses, the schools prefer to avoid transparency in their operations. This often has brought negative publicity to the schools – last month the Los Angeles Daily News reported that the principal of El Camino Real Charter High School charged more than $100,000 in expenses to his school-issued credit card, many of them for personal use.
"Information belongs to the public," says Daniel Losen, who conducts law and policy research on education equality issues. "To the extent that you think choice should benefit parents—good choices are made with good information." Losen co-authored a March, 2016 report about charter schools' disciplinary policies, produced by the Center for Civil Rights Remedies at the Civil Rights Project at UCLA.
Billions of taxpayer dollars have flowed into expanding America's privately-run charter school system over the past two decades, including $3.3 billion in federal funds alone, reports an analysis by the Center for Media and Democracy. California has the nation's largest number of charter schools, with most of them located in Los Angeles County. But in an age when words like "accountability" and "transparency" dominate political discourse, the financial mechanics of charters receive less oversight and scrutiny than the average public school bake sale.
The National Alliance for Public Charter Schools candidly spells out the Golden State's laissez faire rules of the game on its website: "California law provides that charter schools are automatically exempt from most laws governing school districts."
The California Charter Schools Association (CCSA) has explicitly opposed state legislation that would clearly define the existing transparency laws and codes for charter schools — standards charters can now avoid despite their use of public funds.
"Charters don't have to disclose budgets," says Jackie Goldberg, a long-time Los Angeles school teacher and former Los Angeles Unified School District (LAUSD) board president, who also served in the California State Assembly. "Once a charter is written, it's not subject to the Brown or the Public Records acts."
The CCSA opposes several bills currently progressing through the state legislature that would bring charter school transparency requirements into line with those expected of public schools. One measure spells out the expectation that charters would follow the same standards as public schools when it comes to the Public Records Act that guarantees access to public records; CCSA argues that most charter schools already voluntarily comply—so the law is therefore unnecessary.
Below are several of areas of concern often cited by charter school critics.

Open Meetings
California public schools are required to follow the Ralph M. Brown Act that requires regular meetings with notices posted in advance, along with public testimony and the availability of agendas and minutes. Open meetings guarantee the right of local parents, teachers and taxpayers to participate in discussions about policy, funding, disciplinary standards—all the heated issues that arise in local schools or that go before school boards.
But a group called the Charter Schools Development Center provides advice and wiggle room to attorneys representing charter schools on Brown Act requirements. Charters are frequently run by a nonprofit whose board members are chosen and named by previous board members. The CSDC's Guide to the Brown Act pointedly raises the question of whether governing structures fit the profile of "local legislative bodies" required to comply with the Brown Act and recommends charter school boards "cover their bases" and follow at least the spirit, if not the precise requirements, of the Brown Act.
Disciplinary Protocols and "Counseling Out"
The California Education Code stipulates that a public school student undergoing the drastic disciplinary measure of expulsion is entitled to a due process hearing that includes district administrators and the principal, and allows the student and parents to present arguments and information.
That doesn't apply to California charter schools, according to a 2013 state Court of Appeals ruling that holds charters can "dismiss" a student without due process. The ruling differentiates between expulsion and dismissal. Following a dismissal, a student is then sent back to the public school system. (The UCLA report that Daniel Losen co-authored found national suspension rates at charter schools were 16 percent higher than those of public schools.)
Charter schools depend on their reputations for teaching students who hit high test-score marks. The practice known as "counseling out" is used to winnow out difficult students, and extends beyond California—the New York Times has detailed incidents in a high-achieving charter school in Brooklyn.
Counseling out can happen for a variety of reasons, not just disciplinary. Jackie Goldberg says she personally witnessed a counseling out session at a South Los Angeles charter, where a student's mother was simply told by a school staff member that her son was better off finding "a school that meets his needs."
Public schools, on the other hand, cannot "counsel out" challenging students.
Conflicts of interest
Public school governments are required to follow California Government Code 1090, which states that officials can't vote on issues or contracts wherein they have a vested interest. Charter decision-makers are not subject to the conflict-of-interest code.
Veteran educators and administrators interviewed by Capital & Main have expressed deep concern about the disparities between transparency requirements for public schools and publicly funded charter schools.
Most California charters are run by educational management organizations (EMOs), which are described by the National Education Policy Center at the University of Colorado as "private entities [that] may not be subject to the same financial or other document/records disclosure laws that apply to state-operated entities and public officials."
Steve Zimmer, the current LAUSD school board president and a former high school teacher and counselor, has been critical of the lack of oversight of charter funding.
"You don't have to go through a procurement process, you don't have to follow labor standards," he says. "This is playing out on a multiplicity of levels."
Audits are not routinely required in the California charter system. It was only in 2006—some 14 years after California became the second state in the nation to pass legislation to create charter schools—that the state Charter Schools Act was amended to allow local school officials to request a state audit of a charter school's financial transactions when they suspect something is amiss.
It took a state audit—triggered by a request from the Los Angeles County Office of Education—to uncover $2.6 million in payments that went to Kendra Okonkwo, the founder of Wisdom Academy for Young Scientists charter school, and to her close family members—with no oversight from the governing board of the nonprofit running the South Los Angeles school.
Another audit uncovered an Oakland charter school founder directing $3.8 million to companies he owned. American Indian Model Schools founder Ben Chavis is presently under IRS and FBI investigations related to his dealings with the school district.
More recently, a San Jose Mercury News investigation of California Virtual Academies, an online charter school chain run by the Virginia-based, publicly traded company K12 Inc., found that not even half of its enrollees graduated with a high school diploma and even fewer—almost none—were qualified to attend a California state university. The online chain, launched by former Goldman Sachs banker Ronald Packard, with seed money from Larry Ellison, cofounder of tech giant Oracle, and former junk bond purveyor Michael Milken, has collected more than $310 million in state funds over a dozen years. (An April 12 statement from K12 Inc. criticized the investigation as incomplete.)
A study commissioned by the Center for Popular Democracy calculates the lack of oversight has cost California $81 million.
Jason Mandell, Director of Advocacy Communications at the California Charter Schools Association, says that charter school opacity is changing. "There's an increasingly thorough review process. If a charter school isn't meeting standards, the charter can be shut down. When you know you're going to be scrutinized and people are watching, you better perform. [Charters] have more autonomy in exchange for greater accountability."
Last year, however, Governor Jerry Brown, himself a charter school founder, passed on a chance to tighten that accountability. He vetoed a bill approved by both houses of the legislature that would have made it explicit that schools should be subject to the Brown and Public Records acts.
David Tokofsky, a former member of the LAUSD Board of Education who has also worked for a charter school operator, cautions that the push for charter schools has been framed in terms of "education reform," although the movement behind these schools, he says, is really one for deregulation of financial oversight and management.
"Deregulation was supposed to be about curriculum," Tokofsky says, allowing teachers and parents more freedom to craft education and programs to fit the students. "It has become deregulation about every aspect of the school."
"We know," he adds, "when deregulated banks fail; we know when deregulated airplane doors fail. Do we know when deregulated schools are hurting your kids?"

Living Homeless in California: The University of Hunger
A January study found that 11 percent of students on the California State University's 23-campuses reported being homeless during the past year. At Humboldt State nearly a fifth said they'd been homeless at one point during 2017.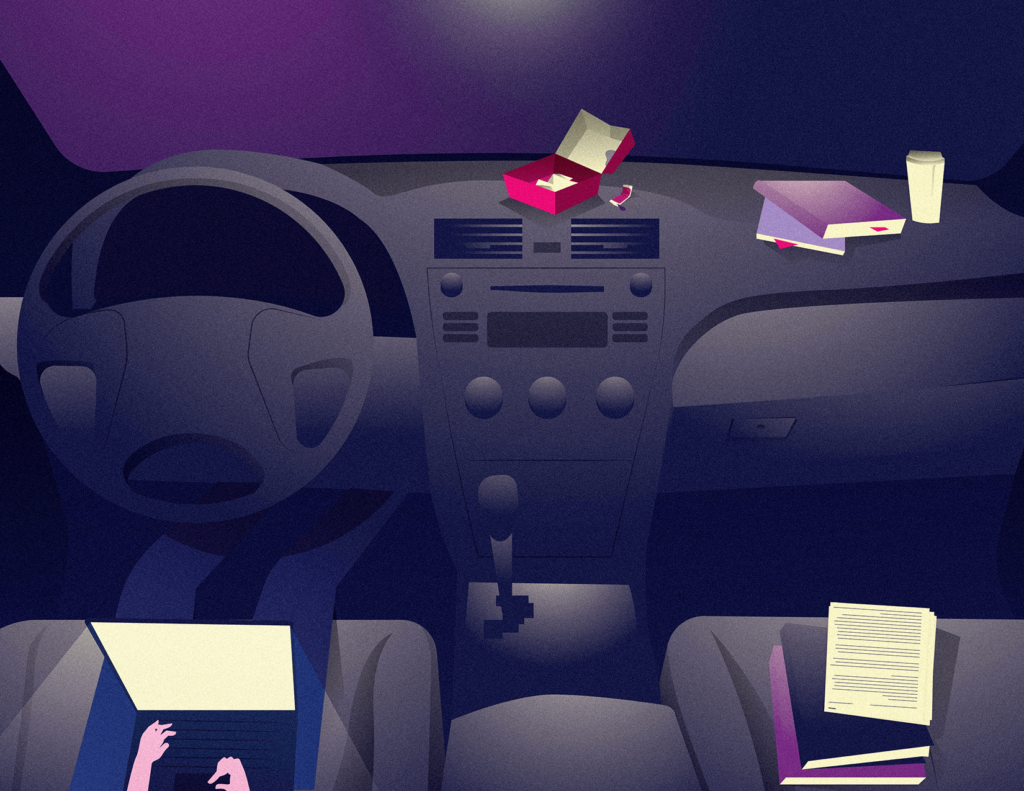 ---
Homeless students told of sleeping in the woods and of completing research assignments at McDonald's, to take advantage of free Wi-Fi.
---
In August of 2016, Chanté Marie Catt left her home in Redding, in the Sacramento Valley, to begin her first semester at Humboldt State University. Catt was 36, with a boyfriend and 1-year-old daughter, and possessed a booming laugh and no small amount of confidence. After nearly two decades running her own pet-care business in Los Angeles, she had begun to feel limited by her lack of a college degree, and several years earlier followed her parents north and enrolled at Redding's Shasta College. The transfer to Humboldt had her dreaming of towering redwoods and cool ocean breezes. "We were excited to start a new life, maybe buy a house," she says.
The couple tried to find a place from Redding, scouring Craigslist for openings without luck. In person, Catt figured, her prospects would improve. Once they had checked into a campground north of the university and enrolled their daughter in daycare, she dedicated her time to visiting property management companies. A week went by, then another. She paid application fees to management companies—$20 here, $43 there—and called through every listing she found, but even with a solid credit and rental history, never heard back. The family bounced from one campsite to another, with occasional stops at a motel to clean up. It was an expensive way to live, and she rapidly blew through $16,000 in financial aid and student loans. One day, out of a combination of anger and desperation, Catt took to Craigslist from her motel room. "I'm a sociology student," she wrote, "starting research on our homeless students and on the property management companies here. Anyone want to share their stories!?"
Within hours, she received more than 150 responses. Homeless students told her of moving from couch to couch, of sleeping in the woods and of completing their research assignments at McDonald's, where they took advantage of free Wi-Fi. "My children are cold, we are broke from all the rental application fees and I'm tired of it," wrote a mother of two. A graduate student who worked full-time revealed that he was living in his car for the second consecutive semester: "I never knew it would be this hard to find a place to rent."
Several weeks later, while still homeless, Catt had organized a campus group, the Homeless Student Advocate Alliance, and was spending her free time passing out fliers to attract more members. They weren't hard to find. "Every couple of students I talked to was experiencing some sort of displacement," she says. For many students at Humboldt, going to college meant becoming homeless.
---
One homeless-student conference included workshops on outdoor living, covering topics like how to light fires to keep homework dry.
---
The true scale of this crisis was revealed last January in a groundbreaking report commissioned by the California State University system. The study found that 11 percent of students on the university's 23-campuses reported being homeless during the past year. The problem was most acute at Humboldt State, where nearly a fifth of the student body had been homeless at one point the previous year.
"In large part, students are homeless because they don't get enough financial aid," says Jennifer Maguire, a Humboldt social work professor, who co-authored the study with Rashida Crutchfield of Long Beach State. "It's even worse here, because we're in a rural area with a very limited housing stock." According to the North Coast Journal, a local newspaper, there aren't even enough rental units in the city of Arcata, where the university is located, for the students who need housing—much less anywhere else. And while the university plans to build more student housing, it can currently only guarantee slots for first-year students.
This shortage allows landlords to crank up rents and reject applicants at whim. For students without a financial cushion, the situation can quickly turn into a full-blown emergency—and in the CSU system, that's a lot of students. More than half the students at Humboldt are the first in their family to attend college, and a third are Latino. Many work full-time; some have kids. "The 'non-traditional' student is now the traditional student," says Maguire.
On a cool April morning, more than 200 people packed into a theater at the College of the Redwoods in nearby Eureka, for a forum on homelessness co-hosted by Humboldt State. "I mentioned to a community member last week that I would be attending this summit today and she asked me, 'What does homelessness have to do with HSU?'" said Humboldt State president Lisa Rossbacher. The crowd laughed, which represented at least some progress. It's no longer a secret that Humboldt State students struggle with homelessness.
---
"My children are cold, we are broke from all the rental application fees and I'm tired of it," wrote a Humboldt State University student.
---
Much of the progress is due to the efforts of activists like Catt. After several months of homelessness, her family eventually landed an apartment, thanks in part to an emergency welfare grant. By that time, she had organized the homeless student alliance, which was pressing the university to finally address the problem. Last fall, the group held a three-day conference at Humboldt State that included workshops on outdoor living, which covered topics like how to light a fire and keep your homework dry. On the third day, a group of students put up tents on the quad and stayed for two nights. They then moved to the library, which they occupied, and demanded that it remain open 24 hours a day to give homeless students a safe and warm place to be.
The next day, an administrator contacted Catt and offered her the position of off-campus housing liaison, which had been one of the alliance's demands. Since January, Catt has worked with more than 100 students, many of whom are in need of housing or have dealt with retaliation from landlords. It's a start, though there are limits to what she can accomplish. One student who was living out of her car recently came to Catt's office, and Catt gave her a code to the campus lockers, which are normally reserved for students taking physical education classes. The student broke down in tears at the prospect of a hot shower. A few days later, Catt texted her that a landlord had recently called with a room to rent, but the student had moved back in with her parents. "She told me it had just been too cold out there," says Catt.
A couple of days after the homeless summit, I met Jasmine Bigham, a 23-year-old transfer student, on the steps of the campus library. Like Catt, she had arrived at Humboldt in 2016, and anticipated finding housing within a week or two. "Weeks turned to months," she says. She spent a semester living out of her Subaru Outback, searching for places to park at night that looked safe, then curling up on the back seat. She didn't tell her parents. "No parents want their kids living like that," she says—and anyways, they didn't have much extra money. Bigham is from a small town in neighboring Siskiyou County, and before college had lived inside a metal shop designed to store tractors and supplies; her parents created walls by hanging tarps. "I sort of grew up having to figure shit out," she says.
---
Homelessness has caused Jasmine to give up on some dreams. She wants a college education, so that means giving up a home.
---
After a semester in the Subaru, she bought a used trailer for $1,000 and parked it at a KOA campground for $600 a month. That felt safer, but then the trailer's ceiling collapsed and an intoxicated neighbor harassed her, so she left for a room in a house that was infested with mold and rats. She could only handle the grime for so long, so last year she sold her Subaru and plowed the rest of her savings—which she earned by waitressing in Lake Tahoe—into a GMC van. Since January, she's been living at a parking lot next to student housing.
As we walk from the library to the parking lot, Bigham outlines her semester budget. Scholarships nearly cover her tuition, and she's in charge of the rest. Right now she's not working, because she's taking 19 units, the maximum allowed. The parking pass is $180 a year, and she rents two lockers, at $5 a piece, for the semester. Each day she stops by the campus food pantry, where she fills plastic containers with soup and picks up rice and beans. She describes the area around campus as a food desert but in reverse—filled with only "really expensive healthy food" that's out of her reach. She takes a bus to Eureka, then walks a mile to reach a more affordable grocery store, where she can load up on quinoa, bell peppers and mangos. She has a camping stove, or else prepares meals for the week at friends' homes.
At the parking lot, she points out several other vehicles where students are living. She'll graduate in December, and tells me that when she returns this fall she hopes to get the other homeless students to park together, to create a greater sense of safety. She opens the back of her van, which is meticulously organized: a plastic container for her clothes, a folded mattress she bought on sale at Ross Dress for Less, an ice chest and cans of beans. "I had to learn what food stays good and what doesn't," she says.
Bigham tells me that she's always felt different. She is an African American from an all-white rural community. She grew up on a "broken-down ranch" with cows and pigs, while many students at Humboldt talk about eating meat as if it were a crime. "The hardest thing is people not understanding," she says, leaning against her van. "If you talk about how people don't have enough to eat, they say, 'Well, why don't they just feed themselves?'"
Homelessness has caused her to give up on some dreams. She loved track, and was recruited by a couple of larger colleges to throw the javelin, but didn't want to live in a big city. She hoped to continue with athletics, but juggling a full academic load while being homeless didn't leave much room for anything else. She shrugs and smiles. "You can either be sad or you can figure it out. If you don't have money, but you still want to do things, you have to give up something," she says. She wants a college education, so that means giving up a home.
---
Copyright Capital & Main