5 California Victories That Burned Bright in the Year of Trump
In the otherwise dark year of 2016, California doubled down on its faith in people and the future with major victories for labor, the environment and public education. Here are five ways the Golden State left the light on for the rest of the country.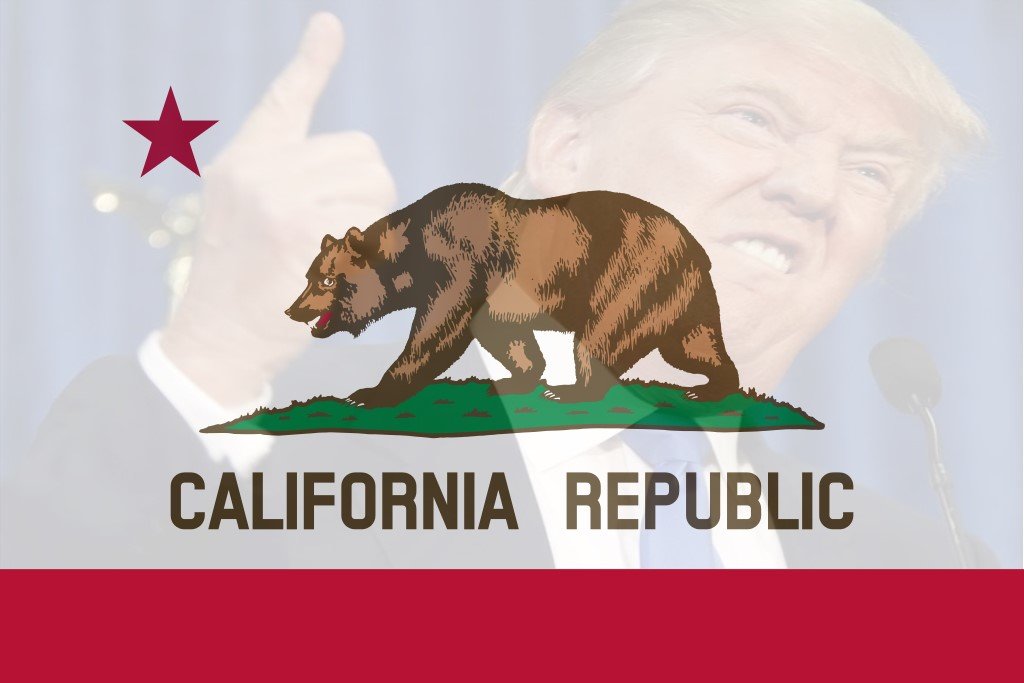 In the otherwise dark year of 2016, California doubled down on its faith in people and the future with major victories for labor, the environment and public education. Here are five ways the Golden State left the light on for the rest of the country.
One: Statewide Minimum Wage Raised To $15 An Hour
The cities of San Francisco, Los Angeles, Seattle and Washington D.C. led the way, but California joined New York as one of the first states in the nation to raise the minimum wage to $15 an hour when Gov. Jerry Brown signed Senate Bill 3 in April. The increase will affect 5.6 million minimum wage employees such as fast-food workers, manicurists and retail cashiers — but also, especially in rural areas, it will boost jobs for workers considered lower middle class, including preschool teachers, bank tellers and nursing assistants.
The increase is phased in, starting at $10.50 an hour on Jan. 1, 2017; it jumps to $11 a year later and reaches $15 by 2022. Most workers earning $20,800 annually today will be earning $31,200 by 2022. Florida Gov. Rick Scott slammed the increase and tried to lure companies to his state by saying the wage hike would cost California "700,000 jobs," although an analysis by top economists has so far figured that the effects on jobs statewide will be minimal. Jerry Brown acknowledged that, unlike New York's increase, which happens at a slower pace in less-affluent areas, California's increase is the same in low-income Fresno as it is in high-income San Francisco, and may be tough on some businesses, as noted in an analysis by the New York Times, but added: "Morally, socially and politically [minimum wages] make every sense because they allow parents to take care of their kids."
California's wage hike has added fuel to the national push to raise the federal minimum wage.
Two: Overtime Pay for Farmworkers
In a related issue, California also became the first state to grant overtime pay to farmworkers when Brown signed Assembly Bill 1066 in September. This landmark achievement closed Jim Crow-era loopholes purposely left almost 80 years ago in the 1938 Fair Labor Standards Act; its effects, which will be felt mostly by Mexican immigrant field laborers, flew directly in the face of anti-Latino bloviating by Donald Trump during the presidential campaign.
Coming on top of California's newly increased minimum wage, which is guaranteed to farmworkers as a per-hour minimum even if they are paid by the piece (which could earn them more), the new state law pays time-and-a-half wages after eight hours of work and double-time wages after 12 hours. In a nod to lobbyists for California's $47 billion agricultural industry, the changes will be phased in, gradually lowering the legal workday from 10 hours to eight and implementing the overtime pay by 2022. The California Farm Bureau Federation and others opposed the legislation, claiming that farmers will simply run multiple shifts to avoid the higher rates, thus costing workers jobs.
Three: Global Leadership On Climate Change and the Green Economy
California continued its commitment to ecological sanity in 2016, getting rid of sea-life-killing plastic grocery bags, protecting monarch butterflies and banning the sale of ivory and rhino horns, but the state shook the entire world when it doubled down on its already-tough carbon reduction targets. Senate Bill 32 not only significantly lowered state carbon emission targets from 1990 levels by 2020 to 40 percent below 1990 levels by 2030, but the change sailed through the legislature despite resistance from fossil-fuel interests. Coming on top of 2015 increases to the state's Renewable Portfolio Standard (now requiring the state to get fully half of its electrical power from renewable sources by 2030), this makes California a global leader in clean energy standards.
More important, the new carbon emissions target is a huge boost for the state's clean tech industry. Already creating a decent number of top-paying union jobs via the state's unique requirement that utility-scale solar be connected to the state grid, SB 32 and its companion bill, AB 197, will require a rush of new technology and innovation. AB 197 mandates that the California Air Resources Board, which directs air quality regulation, to reduce emissions in neighborhoods most affected by them, such as harbor towns and  neighborhoods next to power plants. That means that cap-and-trade, which allows polluters to go on polluting so long as they buy credits from some company not polluting, won't necessarily be the easy fix. Rather, as research by Jeffrey Greenblatt at the Lawrence Berkeley National Laboratory and others indicates, the state will need a massive influx of new zero-emission transportation, new energy storage facilities, high-speed rail, biodiesel, newly grown forests, agricultural innovation and a raft of other tactics.
So while America takes a moment to rediscover the Dickensian charms of coal and oil, California will go on doing what it does best, inventing the future. Oh no, thank you!
Four: Ensuring Funds for Education
In one of the most stunning Election Day triumphs of 2016, California's statewide Proposition 55 breezed to victory with 63 to 37 percent of the vote, taxing the rich to pay for shortfalls in public school and community college funding.
Prop 55 is actually an extension of Prop. 30, a 2012 initiative passed in the wake of the Great Recession of 2008. School budgets for grades K thru 14 (grades 13 and 14 are considered community college years and are also partially state-funded) took huge hits during the recession, resulting in teacher layoffs and cuts to programs throughout the public schools, particularly in the arts. High school graduates faced with poor job prospects swarmed into the state's 113 community colleges and were met by reduced class offerings, swollen classes, closed libraries, greatly increased fees and almost non-existent services, such as student counseling. Prop. 30 addressed this problem by levying a quarter-cent state sales tax across the board and increased income taxes on individuals making over $250,000 per year and families making over $500,000. As a result, K-14 spending jumped from $47.2 billion in 2011-12 to $71.9 billion in 2016-17.
That income tax increase, however, was sold by Gov. Brown as "temporary," and scheduled to sunset in 2018. Prop. 55 extends the tax until 2030, and though it was excoriated by anti-tax groups like CalTax as breaking a  promise, the people of California would not accept an instantaneous school funding gap of $5 to $9 billion. Maybe states like Kansas, where deep tax cuts for the rich and for corporations have left schools belly up, should be reconsidering their policies.
Five: The Domestic Workers Bill Of Rights Will Stay
In 2013, Gov. Brown signed AB 241, the Domestic Workers Bill of Rights, granting protections to one of the most common but least acknowledged groups of workers in the state: the nannies, housekeepers, gardeners and caregivers who work in our homes. One of the provisions of that bill, which was the result of a seven-year legislative campaign and was tough to pass, was that it would sunset in 2017. Senate Bill 1015, signed into law this year, makes it permanent.
Domestic workers often exist in a shadow economy, sometimes paid under the table because they are not legal immigrants, and that creates a situation ripe for abuse. The Domestic Workers Bill of Rights stipulates that domestic workers (other than babysitters under the age of 18) should be paid minimum wage and time-and-a-half overtime for working over eight hours in a day or 40 hours in a week, and it also codifies unpaid lunch breaks, paid rest breaks, and maximum rates that can be charged for room and board.
Like the law granting overtime pay to farmworkers, this bill also addresses the legacy of racism, as domestic workers were, to gain Southern congressional support, exempted from the 1938 Fair Labor Standards Act because many of them were black or Latino. Ines Lazarte, a caregiver and housecleaner in San Francisco, spoke about the new bill, noting that "SB 1015 reinforces that domestic work is legitimate work and that our dignity and the dignity of our families and the people who employ us is not provisional."

Do Incarcerated Firefighters Deserve a Path to Employment?
Since 1983 six inmate firefighters have died while working on fire containment. Today they are paid $2 per day — and an extra $1 when fighting active fires.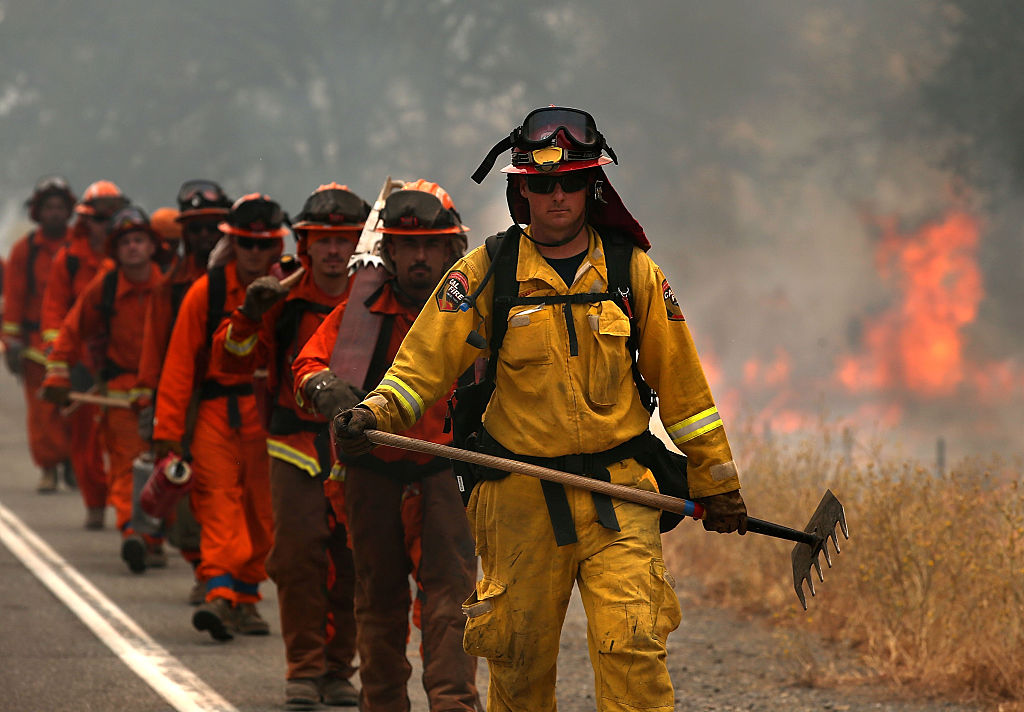 ---
California estimates that the Conservation Camp inmate-training program saves state taxpayers up to $100 million per year through firefighting and responses to other emergencies.
---
As California's wildfire season grows ever longer and more intense, the state has relied heavily on thousands of prisoners, including women, to battle blazes alongside approximately 6,000 professional full-time and seasonal firefighters. Prisoner advocates, however, point out that these inmates' criminal records prevent them from working as firefighters almost anywhere in California after their release.
Critics of the inmate program also say prisoners risking their lives to battle dozens of fires every year should get more out of the program than their current $2 per day and the additional $1 they receive whenever fighting active fires. The state's Cal Fire firefighters earn between $3,273 and $4,137 per month, plus benefits, not counting overtime, according to a Cal Fire spokesperson. California has been using inmate firefighters since World War II, when the workforce for Cal Fire was depleted.
---
Approximately 3,700 inmates work at fire camps and about 2,600 of those are qualified to work on the front lines of active fires.
---
When Laura Weigand applied to California's Conservation Camp, the program that trains inmates to fight wildfires, she knew it would be an uphill battle, literally. She was 43 when she joined the camp in 2009, twice the age of most of the women in pre-camp endurance trainings. One endurance test – hiking two miles straight uphill in 45 minutes – felled plenty of younger women, but Weigand was the first to the top of the hill, which meant she had her choice of camps to complete her trainings. She picked Malibu.
Two weeks after she completed training, she was working alongside Cal Fire firefighters to put out the Crown Fire, earning a fraction of what professional firefighters made for the same amount of risk. But she said she didn't feel exploited because she went into the program to get away from the prison grounds.
"The days flew by, because there were different experiences. Even though it was not good pay it was better than you get in prison," she said. But a foot injury threatened her limited freedom.
"I was hiking on a broken metatarsal bone for two years and was afraid to tell them about it because I didn't want to get kicked out of the program."
Weigand eventually became a "swamper" or trainer of other incarcerated firefighters. She estimated that she trained about 300 women before she left prison in 2012.
The California Department of Corrections and Rehabilitation (CDCR), cooperating with the California Department of Forestry and Fire Protection (Cal Fire) and the Los Angeles County Fire Department, operate 44 conservation camps across the state, including three female camps. Camp populations range from 80 to 160 inmates working and learning in minimum-security facilities, supervised by correctional staff. When they're working on an active fire, Cal Fire staff supervise them.
CDCR says approximately 30 percent of applicants who volunteer for the program successfully complete the curriculum. Not all inmates are eligible. Those who have committed more serious crimes, such as arson, rape or other sex offenses are disqualified.
Overall, there are approximately 3,700 inmates working at fire camps and approximately 2,600 of those are qualified to work on the front lines of active fires, according to CDCR. As of August 31 there were just over 1,100 inmate firefighters across 123 crews deployed to the Carr, Mendocino Complex, Hirz, Cooks, Cherae, Stone, Cache and Holy Fires.
After being released in 2011, Weigand didn't apply to be a professional firefighter because she was above most fire departments' threshold age. But Weigand, who now works at Social Model Recovery Systems, a substance abuse and mental health nonprofit, says even if she were younger, she probably couldn't have gotten such a job, because most local and county firefighting jobs require an emergency medical technician (EMT) license, and most former inmates, even those convicted of lower level felonies, can't obtain that.
In an email, a Cal Fire spokesperson said the department doesn't require an EMT license for employment, but admitted that many fire departments throughout the state have at least the expectation of an EMT license for employment.
Such a barrier doesn't make sense to Romarilyn Ralston, who was imprisoned 23 years and served as a fire camp swamper and clerk for Cal Fire while incarcerated. Now, as a member of the Los Angeles chapter of the California Coalition for Women Prisoners, and program coordinator for Project Rebound at California State University, Fullerton, she's advocating for raising state employment opportunities for former inmates who made it through the Conservation Camp program.
Ralston told Capital & Main that, even though the program offers valuable training, the lack of EMT training at the camps, as well as the seeming prohibition against hiring former felons for many firefighting jobs statewide, amounts to "an exploitation of prison labor."
"They should be paid at least the minimum wage, which is $15 in L.A. County," Ralston added. "They're putting their lives on the line and saving California hundreds of millions a year."
The CDCR has estimated that the Conservation Camp program saves California taxpayers between $90 million and $100 million per year through firefighting and responses to other emergencies. Those who make it through the program, when not fighting active fires, may also be asked to clear firebreaks, maintain parks and clear fallen trees and debris. Since 1983 six inmate firefighters have died while working on fire containment, according to CDCR.
Recently California has taken steps to ease restrictions on former felons, though none of the measures would mandate local emergency medical services authorities to allow them to earn EMT licenses.
As part of the 2018 budget bill, Governor Jerry Brown expanded employment opportunities for former inmate firefighters through the Ventura Conservation Camp (VCC), in Ventura County. The program is for parolees only, and the first group of 20 is set to begin training this fall.
An omnibus safety bill, AB 1812, approved by Governor Brown in June, would allow graduates of approved fire camp training to apply for lower-level emergency medical responder (EMR) licenses, though not for EMT licenses.
California's legislature is taking other small steps toward lowering the employment bar for incarcerated firefighters and other ex-cons seeking professional employment.
Assembly Bill 2293, in its original version would have, with certain conditions, prevented the authority licensing paramedics and EMTs from denying certification to anyone with a criminal record. But faced with strong opposition from the Emergency Medical Services Administrators Association of California, and the National Association of Emergency Medical Technicians, who said hiring those with criminal histories could pose a public safety risk, AB 2293 was amended down to a data reporting bill, according to California Assemblywoman Eloise Gómez Reyes (D-San Bernardino), who assisted in crafting both versions of the bill.
"We decided to address a glaring deficiency, which is the lack of data [on who is being denied jobs]," Gómez Reyes said of AB 2293, which now heads to an uncertain future on the governor's desk.
Today, Gómez Reyes added, the state only has anecdotal data on many former prisoners being denied EMT certification or jobs based on their criminal past, but no hard numbers yet. "We're trying to see in what circumstances are people being given these licenses, and what we suspect are the majority of circumstances of people being denied because of past offenses. Whatever decision we make in the future is going to be based on accurate data."
Another bill, AB 2138, authored by Assemblymen Evan Low (D-San Jose) and David Chiu (D-San Francisco), would ease licensing restrictions for former inmates in a variety of occupations, but not firefighters. That's still an important step, according to David Fathi, director of the American Civil Liberties Union National Prison Project, because its passage could remove some "arbitrary" barriers to employment.
"In many states there are over 100 occupations that former prisoners can't pursue," Fathi said. "One of the best predictors of successful reentry is securing and keeping stable employment. And yet as a society we go out of our way to make it difficult for prisoners to get a job when they get out. This is especially absurd when the prisoner has learned the skill in prison."
Fathi points to a neighboring state, Arizona, which last year eased restrictions on ex-cons from becoming professional firefighters, as well as to a study from Arizona State University, which showed that states with larger employment barriers for felons have higher recidivism rates.
"Employment disqualification for former prisoners should be the rare exception," Fathi said, "and it should be based on an individualized assessment of the risk posed by the particular person — not simply upon a criminal conviction."
---
Copyright Capital & Main