Farm Workers Win Historic Overtime Pay Victory
Bill Raden reports on the Assembly's approval of overtime pay for California's farm laborers, based on an eight-hour workday.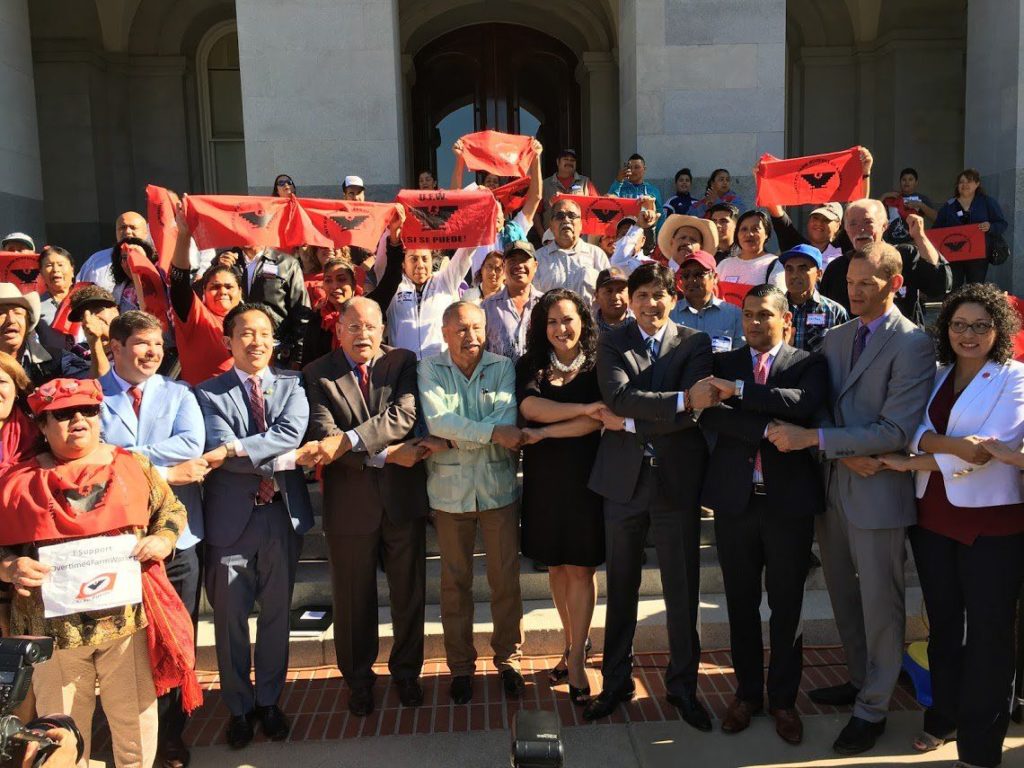 Image via the office of Assemblymember David Chiu.
In what is being hailed as a historic victory for more than 800,000 California farm workers, the Assembly on Monday approved overtime pay for farm laborers based on an eight-hour workday.
Assembly Bill 1066, authored by Assemblymember Lorena Gonzalez (D-San Diego), passed on a mostly party-line, 44-32 vote. The bill now goes to Governor Jerry Brown for his signature.
If signed into law by Brown, it would make California the first state in the country to bring farm worker pay in line with that of most workers. The bill would require farmers to pay overtime to laborers who work more than eight hours a day or 40 hours a week.
Brown has not yet said if he intends to sign the bill.
Monday's vote represents a dramatic turnaround from June when a similar bill, AB 2757 (also written by Gonzales), failed to clear the Assembly floor by three votes.
In a concession to California's powerful, $56 billion agribusiness lobby, the new bill includes a phase-in that gradually lowers the current 10-hour day to eight hours. AB 1066 would for the first time give farm workers a 40-hour standard work week, over a four-year period. When the overtime phase-in is completed in 2022, farmworkers will receive time-and-a-half after 8 hours and double time after 12 hours.
AB 1066 additionally authorizes the governor to temporarily suspend the phase-in should the state experience another crippling recession. But Brown could only do so by also suspending the phase-in of the state's $15 minimum wage, which most believe would be politically unfeasible.
The bill is the culmination of decades of lobbying and pressure by the United Farm Workers Union and a coalition of faith-based groups. Opponents had argued that the law would hurt farm workers, whose median annual income is currently only $14,000.
California Farm Bureau Federation President Paul Wenger predicted that it would cut farm worker income by a third. Growers, he said, would actually hire two shifts of workers, where currently one crew of workers labors throughout the day.
The Federation's weekly newspaper, AgAlert, claimed that "the higher cost of providing overtime pay — particularly when coupled with scheduled increases in the state minimum wage — would force farmers to reduce employee work hours to control labor costs."
Supporters, however, dismissed these claims and described the victory as part of a nearly 80-year effort to erase one of the last vestiges of Jim Crow. The New Deal-era Fair Labor Standards Act, passed by Congress in 1938, established the nation's first overtime pay requirement but exempted farm labor when Southern tobacco and cotton states objected to equal pay for white and black workers.
A state Senate bill guaranteeing overtime for domestic workers, who were also excluded from the Fair Labor Standards Act, passed the Assembly earlier this month and is also awaiting the governor's signature.
"We know this is the right thing to do," Gonzalez said in a statement after the AB 1066 vote, "and thanks to the hard work of an incredible coalition throughout the state and across the country, we're now one step closer to finally providing our hard-working farmworkers the dignity they deserve."