Aging in the Fields: Retirement Followed by a Return to Work
Consuelo Mendez was 23 when she arrived in the United States 45 years ago, looking for work. In Ventura County she found it, harvesting strawberries, tomatoes, cabbage, parsley and spinach.

For this two-part series about farm workers facing retirement, David Bacon received a Journalists in Aging Fellowship, a program of New America Media and the Gerontological Society of America, sponsored by the Scan Foundation. Pictured above: Consuelo Mendez. (Photo by David Bacon.)
Consuelo Mendez was 23 when she arrived in the United States 45 years ago, looking for work. In Ventura County she found it, harvesting strawberries, tomatoes, cabbage, parsley and spinach. She got those jobs by going from field to field, asking other workers to tell her who was hiring. Picking is hard work, and getting enough work to live on required her to move all the time from one farm to another.
"When I emigrated from a small town in Michoacán I had never worked before," she remembers. "I was young, raising my children. Then I went to work in the strawberry harvest. My husband was running an upholstery business, but that didn't pay very well, so he worked alongside me in the fields to make extra money. I never thought I would be working like that, and that the work would be so hard. I did it for three years, but after that I couldn't because I got so tired. I couldn't drive and didn't know how to speak English – to this day I struggle with it."
Also Read — Aging in the Fields: No Alternative But to Keep Working
Mendez wanted something more stable, and she found it. A woman told her Brokaw Nursery in Saticoy was hiring. She asked a foreman there again and again to hire her, and finally the owner took notice. "We told him we were looking for work because we had a family to support," she remembers. "He told us to come back the next day and gave us a job. I got a job indoors and my husband went to work in their fields. I've been here and never been unemployed since."
That was 41 years ago.
Most farm workers can't find steady employment for such a long time. About 2. 5 million people are wage workers in U. S. agriculture. More work in California (about 750,000) than any other state. And like Mendez, over a third have been working in agriculture more than 15 years – a majority, more than 10 years.
The number of older farm workers is growing. According to the U. S. Department of Labor's National Agricultural Workers Survey, almost a third of all farm workers are over 45. About 12 percent are 55 and over, and another 17 percent between 45 and 55. That percentage is rising – in 2001 only 19 percent were over 45.
Over the course of a long work life, Mendez has become a very experienced worker, with skills that are crucial to the nursery's operation. Brokaw Nursery supplies seedlings of avocado and citrus trees to orchard growers all over the world. "I graft citrus and avocado trees, and then plant them outside," she says. As a skilled grafter, she was deeply involved in finding new and better growing methods. "It used to be that most of the avocado trees were grafted and planted outside in June and July," she says. "After experimentation, we found the avocado trees did better when planted indoors first.
"I have had many jobs here and I consider myself a skilled worker. I know how to graft citrus, plant citrus, tie citrus, graft avocado and tie it, fill cups, rubber band the plant and inject hormones. I know how to do almost every job."
Mendez's expertise provided her with job security that is uncommon for farm workers. "It's the reason I'm still here," she explains. "This job is very different from picking strawberries. This is meticulous work. But I also believe that when a person is kept on that long it is not only because of experience and knowledge. There is a sense of respect. If there weren't, they wouldn't care that I do good work. They would simply let me go. I have had to learn a lot here – another reason why they have kept me on."
Grafting requires knowledge gained from experience. "Some tasks cannot be done simply with a month or two months of work," she asserts. "Most of the work takes a lot of experience and knowledge. One of the easiest tasks is washing and placing the seeds. Knowing how to graft and recognizing one plant from the other takes a lot more time. There are many varieties of avocados, like Haas and Pinkerton. One must become familiar with the different varieties and know one graft from another."
There is no school for learning this kind of work. Everyone gets trained on the job. And after learning, "then comes speed," Mendez says. "There are many people here who work quickly — who can move their hands rapidly. To stay you have to be a skilled worker, but you also have to have manual dexterity. When I make a graft I cut the plant and connect it with another so that it grabs the side of the cutting. Then I grab the rubber band and wrap the grafted plants tightly together, label the different plants with sticks, and brush on a kind of sealant that helps attach the plants and prevents them from drying."
Working rapidly with extremely sharp knives is dangerous, and sometimes workers cut themselves. "Many people fear the knife," she says. "I've cut myself three times in 40 years. But I don't cut myself anymore. Now my problem is that my fingers hurt at the end of the day. I think I have arthritis, because I work in a place that's so hot and humid. I wash my hands constantly because the plants are dirty and may carry bacteria."
Mendez recalls an incident in which she did cut herself and ran to the foreman. "He laughed that he was going to have to bring another worker from Michoacán to replace me, instead of giving me a bandage," she remembers. It was a joke, but not really so funny, because it reminded everyone that there are lots of people looking for work. And behind the joke is the message that asking for higher wages can also lead to replacement by another worker hungry for a job.
According to Philip Martin, a professor at the University of California, Davis who studies the labor market in agriculture, the oversupply of workers helps keep agricultural wages down. Such labor shortages are largely imaginary, he believes, because "they have not translated into significant statewide wage and earnings increases. There is also little evidence that growers are offering workers new benefits such as housing in an effort to keep them from leaving for nonfarm jobs."
The family that owns Brokaw Nursery, however, was better than most growers. It did offer higher wages and benefits. "I had health care for my children when they were young, because my employer provided medical insurance," Mendez recalls. "In the beginning we had to pay part of the cost, but then it became free when the United Farm Workers union came in [in 1975]. After the union left, the employer continued to provide medical insurance. When my 13-year-old son died, this insurance covered 80-90 percent of the costs [of treating his illness]. It didn't cover 100 percent because my son exceeded the $100,000 limit. But thanks to that insurance we were able to survive."
Very few farm workers have health insurance, but Mendez thinks it is essential.
"Medicine and doctor visits are so expensive," she emphasizes. "I'm taking about eight pills a day for high blood pressure, cholesterol, arthritis, calcium for my bones, iron and vitamins. My children don't need medication because they're young, but I'm old. That health plan was necessary just to continue working. Here they provide many things that we wouldn't have if we just worked in the fields — like medical insurance, vision, dental, holidays and paid sick leave."
Mendez thinks the UFW lost interest in representing Brokaw Nursery workers during a period in the mid-1980s when the business slowed and the number of employees dropped drastically. "They left three months shy of the 10-year mark, and the owners didn't want the union here either," she remembers. But some conditions established under the union contract remained. "The union brought the policy of respect for seniority. The owners promised that even after it left, they would continue to honor seniority, which to this day they have done in most jobs."
The company medical plan only covered the foremen before the union contract, and the Mendezes had to pay for family coverage. Under the contract the plan covered workers and their families. Later, even without the contract, "we still have it," Mendez says, "although just for permanent employees. They provide us insurance, holidays, sick leave, dental and vision."
Wages in all of California agriculture dropped in the decades after the peak of UFW strength in the late 1970s and early 1980s. In the union contracts of that period, entry-level wages were twice the state minimum wage, and often even higher. If farm worker wages had kept pace with the minimum wage, they'd be double the current hourly minimum of $10, or over $20. Instead, according to Martin, in 2006 "workers employed by contractors earned an average $288 a week or $7.20 an hour, just over the state's then-minimum wage of $6.75, while all workers employed on crop farms earned an average $466 a week, equivalent to $11.65 an hour." Farm worker wages are still close to minimum wage. The U.S. Department of Agriculture reports that the average wage for "farm workers and laborers: crop, nursery, and greenhouse" in 2015 was $9.62 an hour.
That's the story for Mendez too. "Today I make approximately $11.79 an hour, after 40 years. I don't think it's fair to earn this type of salary, because I've worked here a long time. But perhaps it's because I have no other skill. Farm labor is not well paid."
Mendez and her husband were among the hundreds of thousands of farm workers who gained legal status under the Special Agricultural Workers Program in 1986. They later became U. S. citizens. As legal residents and citizens, they got Social Security numbers, and eventually qualified for Social Security benefits based on their contributions.
Mendez tried retirement, and her husband, who became a foreman in a field crew, also retired. But then they couldn't live on Social Security, so she went back to work. "I'm still working, because you know that Social Security doesn't cover our expenses, especially the mortgage payment each month. It isn't enough to allow me to stay at home, so I can't afford to stop working. I'm also working for the health plan coverage. A health plan, even from the government, is expensive. Here I get it a little cheaper. We pay a share of the cost, and I pay for my husband's coverage."
Nevertheless, Mendez feels that she succeeded in winning a better life for her children. "My children did not work in the fields, only my husband and I," she says. "I gave birth to eight children, but I only have four who are living. We always encouraged them to get a good education so that they wouldn't have to do this type of labor. My youngest son went to college and is now a telecommunications engineer. My daughter works in accounting. Another son is an upholsterer and the last is a mechanic. They've all done well.
"This job has been a good way to support my family," she concludes. "The owners of the nursery were very good to all of us. They lent us money when we needed it, and if they knew we couldn't pay for our children's medicine, they would offer us financial help. They were involved in our lives and knew what we were going through. I don't regret anything."

Do Incarcerated Firefighters Deserve a Path to Employment?
Since 1983 six inmate firefighters have died while working on fire containment. Today they are paid $2 per day — and an extra $1 when fighting active fires.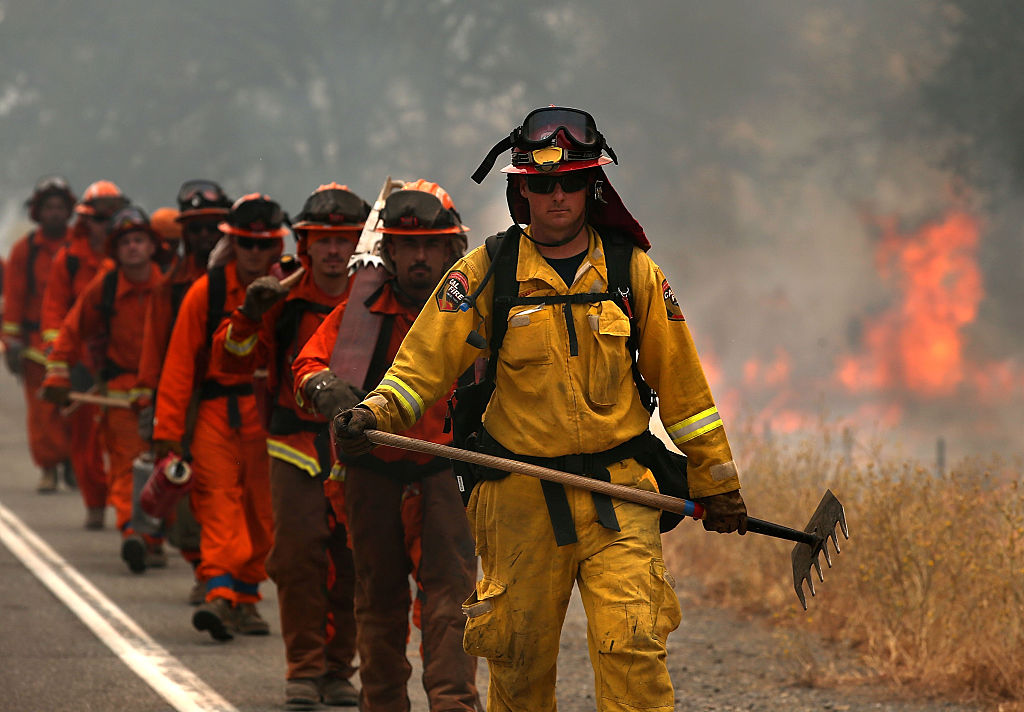 ---
California estimates that the Conservation Camp inmate-training program saves state taxpayers up to $100 million per year through firefighting and responses to other emergencies.
---
As California's wildfire season grows ever longer and more intense, the state has relied heavily on thousands of prisoners, including women, to battle blazes alongside approximately 6,000 professional full-time and seasonal firefighters. Prisoner advocates, however, point out that these inmates' criminal records prevent them from working as firefighters almost anywhere in California after their release.
Critics of the inmate program also say prisoners risking their lives to battle dozens of fires every year should get more out of the program than their current $2 per day and the additional $1 they receive whenever fighting active fires. The state's Cal Fire firefighters earn between $3,273 and $4,137 per month, plus benefits, not counting overtime, according to a Cal Fire spokesperson. California has been using inmate firefighters since World War II, when the workforce for Cal Fire was depleted.
---
Approximately 3,700 inmates work at fire camps and about 2,600 of those are qualified to work on the front lines of active fires.
---
When Laura Weigand applied to California's Conservation Camp, the program that trains inmates to fight wildfires, she knew it would be an uphill battle, literally. She was 43 when she joined the camp in 2009, twice the age of most of the women in pre-camp endurance trainings. One endurance test – hiking two miles straight uphill in 45 minutes – felled plenty of younger women, but Weigand was the first to the top of the hill, which meant she had her choice of camps to complete her trainings. She picked Malibu.
Two weeks after she completed training, she was working alongside Cal Fire firefighters to put out the Crown Fire, earning a fraction of what professional firefighters made for the same amount of risk. But she said she didn't feel exploited because she went into the program to get away from the prison grounds.
"The days flew by, because there were different experiences. Even though it was not good pay it was better than you get in prison," she said. But a foot injury threatened her limited freedom.
"I was hiking on a broken metatarsal bone for two years and was afraid to tell them about it because I didn't want to get kicked out of the program."
Weigand eventually became a "swamper" or trainer of other incarcerated firefighters. She estimated that she trained about 300 women before she left prison in 2012.
The California Department of Corrections and Rehabilitation (CDCR), cooperating with the California Department of Forestry and Fire Protection (Cal Fire) and the Los Angeles County Fire Department, operate 44 conservation camps across the state, including three female camps. Camp populations range from 80 to 160 inmates working and learning in minimum-security facilities, supervised by correctional staff. When they're working on an active fire, Cal Fire staff supervise them.
CDCR says approximately 30 percent of applicants who volunteer for the program successfully complete the curriculum. Not all inmates are eligible. Those who have committed more serious crimes, such as arson, rape or other sex offenses are disqualified.
Overall, there are approximately 3,700 inmates working at fire camps and approximately 2,600 of those are qualified to work on the front lines of active fires, according to CDCR. As of August 31 there were just over 1,100 inmate firefighters across 123 crews deployed to the Carr, Mendocino Complex, Hirz, Cooks, Cherae, Stone, Cache and Holy Fires.
After being released in 2011, Weigand didn't apply to be a professional firefighter because she was above most fire departments' threshold age. But Weigand, who now works at Social Model Recovery Systems, a substance abuse and mental health nonprofit, says even if she were younger, she probably couldn't have gotten such a job, because most local and county firefighting jobs require an emergency medical technician (EMT) license, and most former inmates, even those convicted of lower level felonies, can't obtain that.
In an email, a Cal Fire spokesperson said the department doesn't require an EMT license for employment, but admitted that many fire departments throughout the state have at least the expectation of an EMT license for employment.
Such a barrier doesn't make sense to Romarilyn Ralston, who was imprisoned 23 years and served as a fire camp swamper and clerk for Cal Fire while incarcerated. Now, as a member of the Los Angeles chapter of the California Coalition for Women Prisoners, and program coordinator for Project Rebound at California State University, Fullerton, she's advocating for raising state employment opportunities for former inmates who made it through the Conservation Camp program.
Ralston told Capital & Main that, even though the program offers valuable training, the lack of EMT training at the camps, as well as the seeming prohibition against hiring former felons for many firefighting jobs statewide, amounts to "an exploitation of prison labor."
"They should be paid at least the minimum wage, which is $15 in L.A. County," Ralston added. "They're putting their lives on the line and saving California hundreds of millions a year."
The CDCR has estimated that the Conservation Camp program saves California taxpayers between $90 million and $100 million per year through firefighting and responses to other emergencies. Those who make it through the program, when not fighting active fires, may also be asked to clear firebreaks, maintain parks and clear fallen trees and debris. Since 1983 six inmate firefighters have died while working on fire containment, according to CDCR.
Recently California has taken steps to ease restrictions on former felons, though none of the measures would mandate local emergency medical services authorities to allow them to earn EMT licenses.
As part of the 2018 budget bill, Governor Jerry Brown expanded employment opportunities for former inmate firefighters through the Ventura Conservation Camp (VCC), in Ventura County. The program is for parolees only, and the first group of 20 is set to begin training this fall.
An omnibus safety bill, AB 1812, approved by Governor Brown in June, would allow graduates of approved fire camp training to apply for lower-level emergency medical responder (EMR) licenses, though not for EMT licenses.
California's legislature is taking other small steps toward lowering the employment bar for incarcerated firefighters and other ex-cons seeking professional employment.
Assembly Bill 2293, in its original version would have, with certain conditions, prevented the authority licensing paramedics and EMTs from denying certification to anyone with a criminal record. But faced with strong opposition from the Emergency Medical Services Administrators Association of California, and the National Association of Emergency Medical Technicians, who said hiring those with criminal histories could pose a public safety risk, AB 2293 was amended down to a data reporting bill, according to California Assemblywoman Eloise Gómez Reyes (D-San Bernardino), who assisted in crafting both versions of the bill.
"We decided to address a glaring deficiency, which is the lack of data [on who is being denied jobs]," Gómez Reyes said of AB 2293, which now heads to an uncertain future on the governor's desk.
Today, Gómez Reyes added, the state only has anecdotal data on many former prisoners being denied EMT certification or jobs based on their criminal past, but no hard numbers yet. "We're trying to see in what circumstances are people being given these licenses, and what we suspect are the majority of circumstances of people being denied because of past offenses. Whatever decision we make in the future is going to be based on accurate data."
Another bill, AB 2138, authored by Assemblymen Evan Low (D-San Jose) and David Chiu (D-San Francisco), would ease licensing restrictions for former inmates in a variety of occupations, but not firefighters. That's still an important step, according to David Fathi, director of the American Civil Liberties Union National Prison Project, because its passage could remove some "arbitrary" barriers to employment.
"In many states there are over 100 occupations that former prisoners can't pursue," Fathi said. "One of the best predictors of successful reentry is securing and keeping stable employment. And yet as a society we go out of our way to make it difficult for prisoners to get a job when they get out. This is especially absurd when the prisoner has learned the skill in prison."
Fathi points to a neighboring state, Arizona, which last year eased restrictions on ex-cons from becoming professional firefighters, as well as to a study from Arizona State University, which showed that states with larger employment barriers for felons have higher recidivism rates.
"Employment disqualification for former prisoners should be the rare exception," Fathi said, "and it should be based on an individualized assessment of the risk posed by the particular person — not simply upon a criminal conviction."
---
Copyright Capital & Main