Sweet 15: Governor Signs $15 an Hour Minimum Wage Bill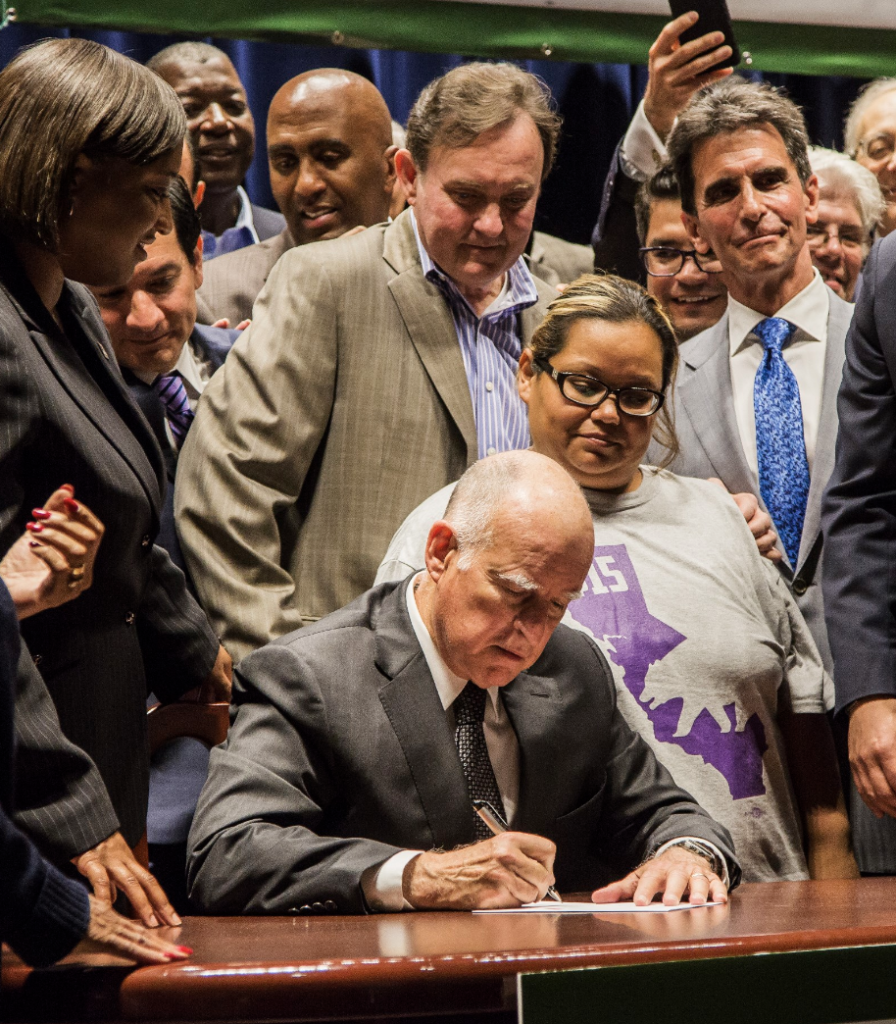 (Photo: Ted Soqui/Capital & Main)
The placards stacked outside the Ronald Reagan State Building said it all: "We Did It!" The hundreds of low-income workers who had just carried those signs had come to downtown Los Angeles Monday morning to celebrate "it" – the passage of a $15 an hour state minimum wage. The mood was jubilant, almost delirious, in anticipation of Governor Jerry Brown's arrival to sign the measure, known as Senate Bill 3.
To be clear: The new wage law does not mean fast-food workers, janitors, in-home caregivers or others are about to jump from earning $10 an hour to $15. Come January 1, 2017, people earning the current minimum wage will move to a $10.50 hourly wage. The following January, it will go up to $11, not reaching $15 until 2022 (2023 for workers employed in companies with 25 or fewer workers). But along the way, workers who previously had to get sick on their own time will be given three paid days off – a big boost for their health and the well-being of both the people they work with and serve. The numbers make clear the importance of the wage raise: Most workers earning $20,800 annually today will be earning $31,200 by 2022.
Minimum wage earners, State Senate President Pro Tem Kevin de León told a packed auditorium inside the Reagan Building, were the heart of California's workforce.
"They keep our economy moving," he said. "They keep our economy growing. No one who works full time should live in poverty."
To one side of de León on the crowded stage stood workers and the state union leaders who had pushed for the wage raise, including Laphonza Butler, the president of the United Long Term Care Workers; Doug Moore, president of the United Domestic Workers; and Art Pulaski, the executive secretary-treasurer of the California Labor Federation.
To de León's other side stood the legislators instrumental in SB 3's passage, including the bill's authors, senators Mark Leno (D-San Francisco) and Connie Leyva (D-Chino). Leno described himself as a longtime small business owner and former board member of the San Francisco Chamber of Commerce. Leno introduced Governor Brown, whose eyebrows under the overhead spotlights appeared like two enormous snowflakes. Brown has had his differences with labor during the past few years but today he was greeted with thunderous applause and called "the best governor in the United States" by de León.
"Economically, minimum wages may not make sense," Brown said, "but morally, socially and politically they make every sense because they allow parents to take care of their kids." Moments later the governor signed the bill and the celebration moved outside to a small plaza. There, a Riverside member of the United Domestic Workers named Rosa told Capital & Main what the new wage law meant to her personally.
"It will mean stability," she said. "It will mean a lot more financial security for my family."