The Business of Change: A New Series
Capital & Main looks back over a year of consumer boycotts and travel bans to explore the rise in CEO activism in response to the Trump administration.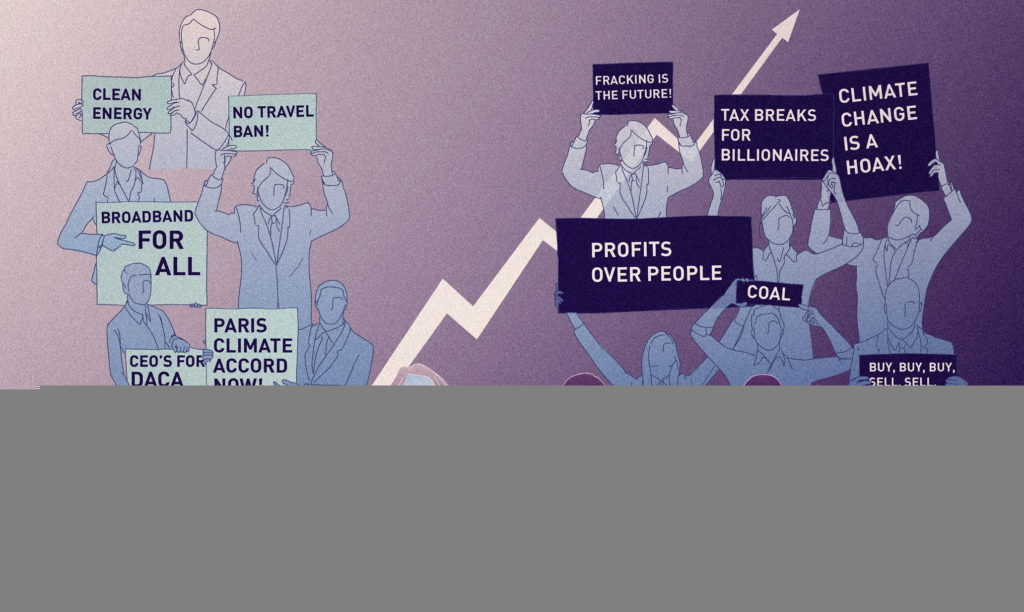 Since Donald Trump's surprise victory last year, corporate leaders have been at turns despairing and hopeful about an erratic presidency that defies the norms of both logic and decency, while dangling before them the promise of tax and regulatory relief.
The year began with corporate executives – many of them from California's tech sector – loudly protesting President Trump's hastily crafted executive order banning travel from seven predominantly Muslim countries and is ending with a rushed tax overhaul that is expected to benefit many of those same companies, even as it balloons the debt by more than $1.5 trillion over 10 years.
The companies have mostly done their tax-related lobbying behind the scenes. But they have been unusually vocal, over the past year, when it comes to taking stands on diversity, climate change and immigration.
Many corporate leaders opposed the U.S.'s decision to withdraw from the Paris climate accord, left presidential advisory bodies in protest of Trump's failure to condemn white supremacist violence in Charlottesville, Virginia and took legal action to reinstate the Deferred Action for Childhood Arrivals (DACA), the Obama administration program giving immigrants brought to the U.S. as children protection against deportation.
What does it all add up to? This week Capital & Main will look back over a year of consumer boycotts and travel bans to explore the rise in CEO activism, the roots of the corporate responsibility movement and the degree to which it can safeguard democratic values at a time of intense political polarization and widening income inequality.
Tuesday
Do Corporations Want to Save America? — Jessica Goodheart grounds this year's activism in the history of the corporate responsibility movement and visits a conference, where Microsoft president Brad Smith attempts to navigate tricky political terrain surrounding President Trump. Co-published by Fast Company
Consumer Movements Pour on the Pressure — Paul Tullis highlights renewed consumer activism, such as the #DeleteUber campaign, made possible by the power of social media. Co-published by Fast Company
Wednesday
Don't Ask Robert Reich About Socially Responsible CEOs — Corporate responsibility skeptic and former U.S. Labor Secretary Robert Reich tells Jessica Goodheart why he questions the value of CEO pledge-signing and statement-making, and points to structural limits to corporate leadership on social and environmental issues. Co-published by Fast Company
Can Business Schools Make Companies Ethical? — Megan Kamerick examines whether business schools are succeeding in turning out more ethically-minded leaders in an era when millennials say they think big business should be doing more to address social ills. Co-published by Fast Company
Thursday
On The Bottom Line podcast, private equity executive Leo Hindery talks to Rick Wartzman about how those in his industry are failing to be good stewards of society. The podcast also profiles the Patriotic Millionaires, a group of wealthy individuals concerned about mounting inequality in America. Co-published by Fast Company