The Business of Change: Do Corporations Want to Save America?
Co-published by Fast Company
Grounded in a longer tradition of engagement on social and environmental issues, CEO activism has no doubt been invigorated by Donald Trump's erratic and divisive leadership.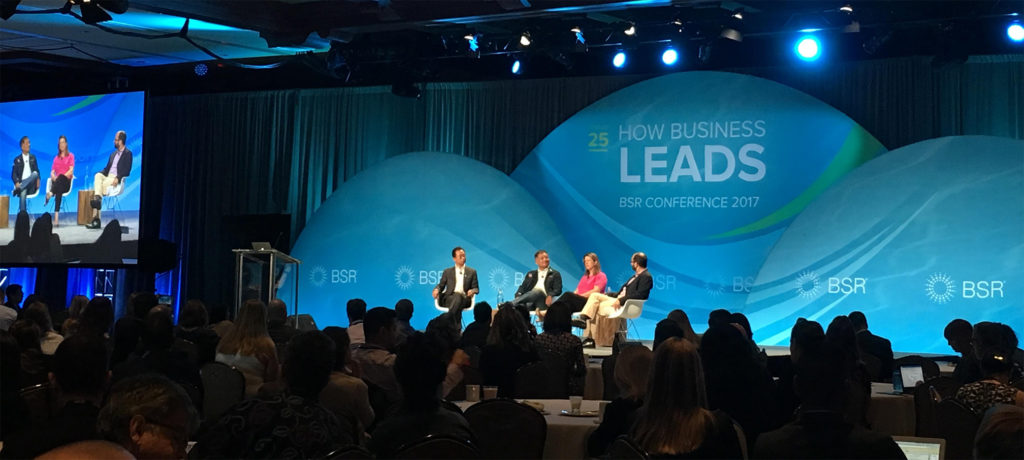 ---
Early CEO activism was reactive to disasters like the Exxon Valdez oil spill or Union Carbide's toxic gas leak in Bhopal, India. But other more recent developments have propelled the movement.
---
Co-published by Fast Company
In August the New York Times celebrated CEO leadership after white supremacist violence erupted in Charlottesville, Virginia in a story headlined "The Moral Voice of Corporate America." One of those CEOs, General Motors chairman Mary T. Barra, called on the country to come together "and reinforce values and ideals that unite us — tolerance, inclusion and diversity." Breitbart News, the radical-right voice of aggrieved whites, meanwhile, was lamenting a "corporate antifa," evoking the unlikely pairing of power ties and black bandanas.
What's really going on? In the era of Trump, are CEOs the new vanguard for upholding progressive ideals?
This past year, hundreds of corporate leaders have tweeted, signed letters, gone to court, sent out internal employee memos and quit presidential advisory councils in reaction to President Trump's racially charged statements and his actions on climate change, refugees, immigration and the right of transgender people to serve in the military.
"It's a very big sea change in the world of CEOs that [they] would publicly speak out and take stands on issues that are not necessarily tied to their bottom line," says Leslie Gaines-Ross, a reputation consultant for Weber-Shandwick, a New York public relations firm.
If Trump has been the most visible cause of CEO outspokenness over the past year, he is certainly not the only cause for C-suite consternation. Nationalist and anti-free-trade leaders – notably Marine Le Pen in France and Geert Wilders in the Netherlands — have been gaining ground in Europe as well. Britain's Brexit vote last year was propelled by anti-immigrant and anti-free-trade sentiment that is anathema to corporate leaders who generally favor free flows of capital and labor.
Widespread CEO condemnation of Trump's response to the deadly violence in Charlottesville led to an exodus of executives from his business advisory councils and the councils being dissolved.
"When governments are not effective or not reliable, that means that businesses often have to step in and play a role," says Aron Cramer, whose group BSR (formerly Businesses for Social Responsibility) advocates for progressive business practices. He adds, however, that it's critical that they not "overstep" that role.
The pressure to pay attention to social issues is not just coming from the nativist movements that have propelled the rise of right-wing leaders. It is also coming from political and social progressives. Tech companies, for instance, once media darlings, are being reviled as gentrifiers that are pricing working-class families out of some West Coast cities. Congressional leaders recently berated Google, Facebook and Twitter for failing to protect the public from Russian meddling during the 2016 presidential election. And Bernie Sanders' insurgent 2016 presidential campaign made unchecked corporate power its prime target.
Grounded in a longer tradition of engagement on social and environmental issues, CEO activism has no doubt been invigorated by Trump's erratic and divisive leadership, observers say. But skeptics note that executives' response to Trump will only go so far to advance the public interest in an era when companies are increasingly focused on short-term returns.
"This notion that consumers can be at once citizen-regulators, as well as consumers,
is kind of impossible."
CEOs began agitating soon after Trump was elected. More than 100 U.S. technology companies went to court in February to oppose the president's ban on immigration from seven majority Muslim countries. Hundreds of businesses – including tech companies, energy firms, and automakers – advocated staying in the Paris climate accords after Trump announced in June that the U.S. was pulling out. More than 1,700 companies and investors have signed a pledge to support climate action to meet the Paris targets.
Widespread CEO condemnation of Trump's response to the deadly violence in Charlottesville led to an exodus of executives from his business advisory councils in August and the councils being dissolved in what many observers thought would be a pivotal moment for the presidency.
Less than a month later, more than 400 CEOs and business leaders signed a letter urging Trump to reinstate the Deferred Action for Childhood Arrivals (DACA), an Obama administration program giving thousands of immigrants brought to this country as children protection against deportation. Brad Smith, Microsoft's president and chief legal officer, told NPR last August that in order for federal officials to deport any DACA recipients in the company's employ, it would "have to go through us." In early November, Google, Microsoft and Facebook joined 100-plus other tech companies to mount a legal challenge to President Trump's effort to end DACA.
The outspokenness of CEOs on race, immigration, climate and diversity this year may have been aided by the groundwork laid by the corporate social responsibility movement, says Allen White of the Tellus Institute, a Cambridge, Massachusetts non-profit research and policy organization.
Corporate social responsibility can be traced to the late 1800s, but it is largely a 20th century phenomenon that has gained momentum since the 1950s. The current movement was once the dominion of a few mission-driven companies like Ben & Jerry's and the Body Shop, but it is now incorporated into the operating practices of most multinational firms, which regularly set environmental goals, produce sustainability reports on meeting current needs without compromising the ability to meet future ones, and establish codes of conduct governing their practices in far-flung factories.
The genesis of the contemporary movement was reactive, says White, and came in the wake of the Exxon Valdez oil spill in Alaska and the Bhopal toxic gas leak at a Union Carbide pesticide plant in India that led to thousands of deaths. But other more recent developments have propelled the movement.
"We live in a Clark Kent economy where everybody has X-ray vision."
Recent research shows that consumers—especially millennials—are more purpose-driven. They want to work for companies that share their values. Consumers also want to buy from brands that offer sustainable products, although research suggests that there is a limit to their willingness to pay more for that privilege. An increasing share of U.S. assets are under management that incorporates sustainability investment strategies. And CEOs spend time and resources trying to foster work cultures that value diversity and inclusion. Google invested $265 million in diversity programs in 2014 and 2015.
The speed at which bad publicity can travel the Internet is also a motivating force. "The cost and the penalty for being a bad company has gone up radically," Mats Lederhausen told an October BSR conference in Huntington Beach. He is a self-described "concerned and confused capitalist" and founder of BE-CAUSE, a purpose-driven investment fund. "We live in a Clark Kent economy where everybody has X-ray vision," he says.
BSR is one of the organizations that has helped establish the corporate responsibility movement. When it started organizing in the early 1990s, it was made up of social entrepreneurs and known to some as a collection of "candle makers and sandal makers."
Twenty-five years later, BSR—a membership organization with offices on three continents—can bring together 21st century capitalism's major players—McDonald's, Microsoft, Walmart, the big boys and girls of tech, pharma, energy, food and retail.
"A lot of CEOs have spoken up loud and clear at a time when that has been so badly needed," said BSR's Cramer. He was warming up a dinner-time crowd for former Vice President Al Gore and a power point featuring climate refugees, the devastating super-storms of 2017 and an urgent call to action.
Hundreds of people filled the Hyatt Regency banquet room, many of them sustainability and compliance officers responsible for carrying out the day-to-day work of meeting environmental and social goals. Two days later, Planned Parenthood's Cecile Richards capped off the conference with a plea to make women's issues more central to the corporate agenda.
Meanwhile, Milton Friedman, conservative economist and corporate responsibility skeptic, was likely turning over in his grave. The only social responsibility of business is to "increase its profits," Friedman famously wrote in 1962. But eight years later, Paul Samuelson, a Nobel laureate in economics, said, "A large corporation these days not only may engage in social responsibility, it had damn well better try to do so." Critics on the left, like former U.S. Labor Secretary Robert Reich, though, argue that too many corporate responsibility initiatives merely constitute savvy marketing or, at worst, an attempt to avoid public scrutiny and needed regulations.
Executives avoid making their disagreements with Trump personal. Fewer than 35% of CEOs mention Trump's name when discussing the Muslim travel ban and Charlottesville.
Joanne Bauer, a human rights advocate who teaches corporate social responsibility at Columbia University, questions whether energized consumers can serve as a check on corporations, given that their own desires for well-made, low-priced goods can often stand in conflict with ethical concerns for how those products are made.
"This notion that consumers can be at once citizen-regulators, as well as consumers, is kind of impossible," says Bauer, who would sooner see the human rights agenda centered on the concerns of communities impacted by companies.
Another weakness of the corporate responsibility movement, critics say, is its inability to address the rising inequality that may be fueling right-wing movements sweeping the U.S. and Europe.
Tackling wealth inequality is a "no-go zone" for most executives, says the Tellus Institute's White. "Their success and their tenure are rooted in share prices," he says. White leads an initiative that seeks to remake the 21st century corporation in a way that would make a social purpose integral to its mission.
The BSR's Cramer is not giving up on the idea that companies, as they are currently configured, can help to address an economy where Intuit research projects nearly half of the jobs will be contingent — part-time or with independent contractors — by 2020.
Companies—working with partners–will increasingly need to figure out how "to create new models of employment" and "new ways of establishing lifelong learning" in order to adapt to the changing nature of work, Cramer told his Huntington Beach audience. The next day, at a session on the fraying social contract, participants floated such ideas as portable benefits and a universal basic income.
Corporations will never be the vanguard of the resistance to Trump, argues White, who points out that many administration proposals– from reduced corporate tax rates to the easing of environmental and financial regulations – are central to business leaders' agendas.
Many executives have tried to avoid making their disagreements with Trump personal. Fewer than 35 percent of CEOs mention Trump by name when discussing the Muslim travel ban and Charlottesville, according to an analysis of CEO responses conducted by Weber Shandwick's Gaines-Ross.
Microsoft's Smith performed that delicate dance as he spoke at the BSR conference. He credited the Trump administration for continuing an Obama-era initiative to fund computer science education and pointedly included a slide that pictured Smith in a Virginia classroom alongside Ivanka Trump. Smith said Microsoft will "partner whenever we can" and "stand apart when we should."
Microsoft, currently working to bring broadband to rural parts of the country, is performing well, beating Wall Street revenue expectations in all but one of the last nine quarters. But CEOs who invest in corporate responsibility initiatives do not last as long if their companies are faring poorly, according to a recent study by Tim Hubbard of Notre Dame's business school. This may also be true for those CEOs who speak out on controversial issues at a time when the country is so divided.
As Congress moved to repeal Obamacare—a central pledge of the Trump campaign— J. Mario Molina, of Long Beach-based Molina Healthcare, was the only insurance company executive who protested loudly. The company serves a mostly low-income clientele, including more than a million people through the Affordable Care Act exchanges.
Molina spoke critically of the Republican health-care legislation to the media and, in late April, wrote a letter to Congressional leaders projecting repeal would cause as many as 700,000 people to lose coverage in 2017.
In May, Molina and his brother, also an executive at the company, were abruptly fired from the firm their father founded. However, Molina's criticism of the proposed Republican health insurance overhaul may not have been the only reason for his ouster. The company also had "short-term problems," according to Chris Jennings, a Washington D.C.-based health-care policy consultant.
But if the company, which was profitable in the first quarter of 2017, was "doing extremely well across the board in all markets," his board would likely have kept him in place, Jennings said.
The day Molina was fired, the company's shares rose 20 percent.
---
Copyright Capital & Main
Do Incarcerated Firefighters Deserve a Path to Employment?
Since 1983 six inmate firefighters have died while working on fire containment. Today they are paid $2 per day — and an extra $1 when fighting active fires.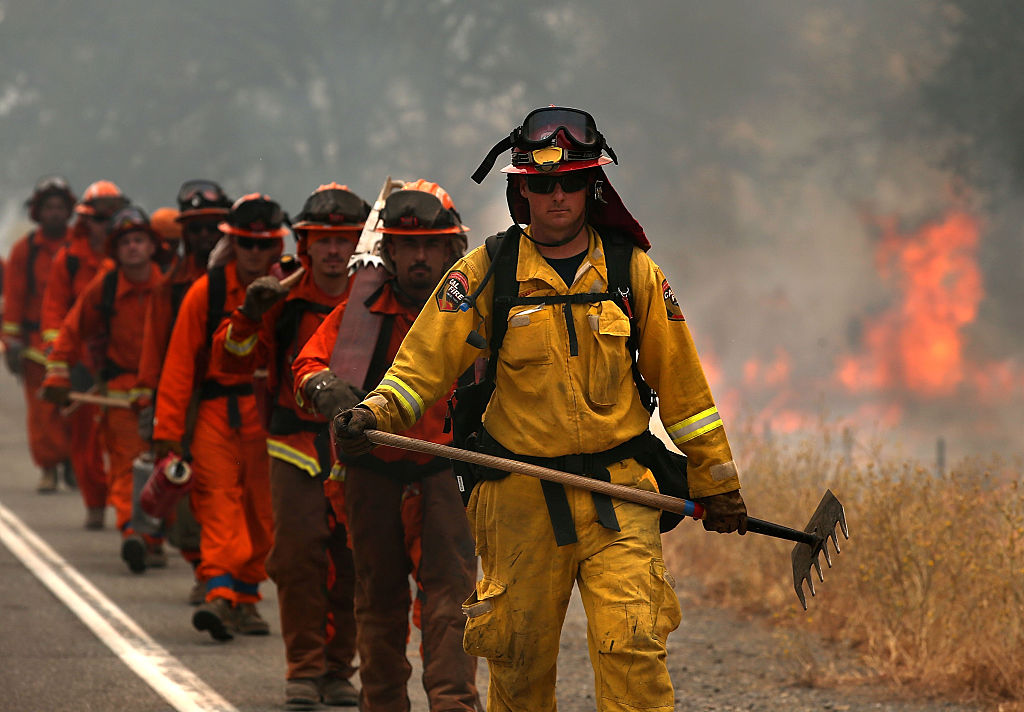 ---
California estimates that the Conservation Camp inmate-training program saves state taxpayers up to $100 million per year through firefighting and responses to other emergencies.
---
As California's wildfire season grows ever longer and more intense, the state has relied heavily on thousands of prisoners, including women, to battle blazes alongside approximately 6,000 professional full-time and seasonal firefighters. Prisoner advocates, however, point out that these inmates' criminal records prevent them from working as firefighters almost anywhere in California after their release.
Critics of the inmate program also say prisoners risking their lives to battle dozens of fires every year should get more out of the program than their current $2 per day and the additional $1 they receive whenever fighting active fires. The state's Cal Fire firefighters earn between $3,273 and $4,137 per month, plus benefits, not counting overtime, according to a Cal Fire spokesperson. California has been using inmate firefighters since World War II, when the workforce for Cal Fire was depleted.
---
Approximately 3,700 inmates work at fire camps and about 2,600 of those are qualified to work on the front lines of active fires.
---
When Laura Weigand applied to California's Conservation Camp, the program that trains inmates to fight wildfires, she knew it would be an uphill battle, literally. She was 43 when she joined the camp in 2009, twice the age of most of the women in pre-camp endurance trainings. One endurance test – hiking two miles straight uphill in 45 minutes – felled plenty of younger women, but Weigand was the first to the top of the hill, which meant she had her choice of camps to complete her trainings. She picked Malibu.
Two weeks after she completed training, she was working alongside Cal Fire firefighters to put out the Crown Fire, earning a fraction of what professional firefighters made for the same amount of risk. But she said she didn't feel exploited because she went into the program to get away from the prison grounds.
"The days flew by, because there were different experiences. Even though it was not good pay it was better than you get in prison," she said. But a foot injury threatened her limited freedom.
"I was hiking on a broken metatarsal bone for two years and was afraid to tell them about it because I didn't want to get kicked out of the program."
Weigand eventually became a "swamper" or trainer of other incarcerated firefighters. She estimated that she trained about 300 women before she left prison in 2012.
The California Department of Corrections and Rehabilitation (CDCR), cooperating with the California Department of Forestry and Fire Protection (Cal Fire) and the Los Angeles County Fire Department, operate 44 conservation camps across the state, including three female camps. Camp populations range from 80 to 160 inmates working and learning in minimum-security facilities, supervised by correctional staff. When they're working on an active fire, Cal Fire staff supervise them.
CDCR says approximately 30 percent of applicants who volunteer for the program successfully complete the curriculum. Not all inmates are eligible. Those who have committed more serious crimes, such as arson, rape or other sex offenses are disqualified.
Overall, there are approximately 3,700 inmates working at fire camps and approximately 2,600 of those are qualified to work on the front lines of active fires, according to CDCR. As of August 31 there were just over 1,100 inmate firefighters across 123 crews deployed to the Carr, Mendocino Complex, Hirz, Cooks, Cherae, Stone, Cache and Holy Fires.
After being released in 2011, Weigand didn't apply to be a professional firefighter because she was above most fire departments' threshold age. But Weigand, who now works at Social Model Recovery Systems, a substance abuse and mental health nonprofit, says even if she were younger, she probably couldn't have gotten such a job, because most local and county firefighting jobs require an emergency medical technician (EMT) license, and most former inmates, even those convicted of lower level felonies, can't obtain that.
In an email, a Cal Fire spokesperson said the department doesn't require an EMT license for employment, but admitted that many fire departments throughout the state have at least the expectation of an EMT license for employment.
Such a barrier doesn't make sense to Romarilyn Ralston, who was imprisoned 23 years and served as a fire camp swamper and clerk for Cal Fire while incarcerated. Now, as a member of the Los Angeles chapter of the California Coalition for Women Prisoners, and program coordinator for Project Rebound at California State University, Fullerton, she's advocating for raising state employment opportunities for former inmates who made it through the Conservation Camp program.
Ralston told Capital & Main that, even though the program offers valuable training, the lack of EMT training at the camps, as well as the seeming prohibition against hiring former felons for many firefighting jobs statewide, amounts to "an exploitation of prison labor."
"They should be paid at least the minimum wage, which is $15 in L.A. County," Ralston added. "They're putting their lives on the line and saving California hundreds of millions a year."
The CDCR has estimated that the Conservation Camp program saves California taxpayers between $90 million and $100 million per year through firefighting and responses to other emergencies. Those who make it through the program, when not fighting active fires, may also be asked to clear firebreaks, maintain parks and clear fallen trees and debris. Since 1983 six inmate firefighters have died while working on fire containment, according to CDCR.
Recently California has taken steps to ease restrictions on former felons, though none of the measures would mandate local emergency medical services authorities to allow them to earn EMT licenses.
As part of the 2018 budget bill, Governor Jerry Brown expanded employment opportunities for former inmate firefighters through the Ventura Conservation Camp (VCC), in Ventura County. The program is for parolees only, and the first group of 20 is set to begin training this fall.
An omnibus safety bill, AB 1812, approved by Governor Brown in June, would allow graduates of approved fire camp training to apply for lower-level emergency medical responder (EMR) licenses, though not for EMT licenses.
California's legislature is taking other small steps toward lowering the employment bar for incarcerated firefighters and other ex-cons seeking professional employment.
Assembly Bill 2293, in its original version would have, with certain conditions, prevented the authority licensing paramedics and EMTs from denying certification to anyone with a criminal record. But faced with strong opposition from the Emergency Medical Services Administrators Association of California, and the National Association of Emergency Medical Technicians, who said hiring those with criminal histories could pose a public safety risk, AB 2293 was amended down to a data reporting bill, according to California Assemblywoman Eloise Gómez Reyes (D-San Bernardino), who assisted in crafting both versions of the bill.
"We decided to address a glaring deficiency, which is the lack of data [on who is being denied jobs]," Gómez Reyes said of AB 2293, which now heads to an uncertain future on the governor's desk.
Today, Gómez Reyes added, the state only has anecdotal data on many former prisoners being denied EMT certification or jobs based on their criminal past, but no hard numbers yet. "We're trying to see in what circumstances are people being given these licenses, and what we suspect are the majority of circumstances of people being denied because of past offenses. Whatever decision we make in the future is going to be based on accurate data."
Another bill, AB 2138, authored by Assemblymen Evan Low (D-San Jose) and David Chiu (D-San Francisco), would ease licensing restrictions for former inmates in a variety of occupations, but not firefighters. That's still an important step, according to David Fathi, director of the American Civil Liberties Union National Prison Project, because its passage could remove some "arbitrary" barriers to employment.
"In many states there are over 100 occupations that former prisoners can't pursue," Fathi said. "One of the best predictors of successful reentry is securing and keeping stable employment. And yet as a society we go out of our way to make it difficult for prisoners to get a job when they get out. This is especially absurd when the prisoner has learned the skill in prison."
Fathi points to a neighboring state, Arizona, which last year eased restrictions on ex-cons from becoming professional firefighters, as well as to a study from Arizona State University, which showed that states with larger employment barriers for felons have higher recidivism rates.
"Employment disqualification for former prisoners should be the rare exception," Fathi said, "and it should be based on an individualized assessment of the risk posed by the particular person — not simply upon a criminal conviction."
---
Copyright Capital & Main