Serfing USA: New 'Bracero' Bill Could Cut Agriculture Workers' Rights and Wages
A new Congressional bill would reduce a broad range of agriculture workers to the status of "guest workers." California's dairy owners are ecstatic. Co-published by International Business Times.

---
The AG Act would prevent the government from inspecting worksites without first checking in with the employer, transfers all travel and housing costs to employees and allows employers to pay workers at a lower wage scale.
---
Co-published by International Business Times
On a cool December afternoon, Luis Alberto Echeverria Melchor approached a dusty corral on the western outskirts of Turlock, a city in California's Central Valley. Several young cows ambled over to greet him. "They are very intelligent," he said, reaching out to stroke the face of an animal. "Sensitive, too." Melchor should know. The 38 year old has spent half his life milking and feeding the cows of Stanislaus County, a mostly rural region whose landscapes are dominated by sprawling dairy farms that produced half a billion gallons of milk in 2016 worth more than $600 million.
During the 20-minute drive south from Melchor's Modesto apartment, we had passed more than a dozen dairies, including several where he had once worked. From the passenger's seat, Melchor, whose soft oval face is framed by a neatly trimmed beard, narrated the experiences in a sort of CliffsNotes of labor abuses: The boss who stiffed him a week's pay; the boss who refused to give breaks; the boss who yelled too much. But it was this Turlock dairy that Melchor remembered best, for it was here that he finally decided to complain about labor abuses, and those complaints would eventually result in his deportation to Mexico.
He had worked at the dairy for eight months when, in March of 2008, a cow kicked him in the chest. He didn't remember the kick, only that he woke up staring at the barn's ceiling while a coworker fanned his face with a shirt. His chest throbbed and he was unable to speak above a whisper. Melchor alleged that the dairy owner, Joe Sallaberry, took a glance at him and told Melchor to go back to his trailer, located on the property, and rest. "You'll be fine," Sallaberry said. (Sallaberry did not respond to multiple requests for comment.)
CRLA Attorney: "We've had workers who have been smashed by cows. The response from employers is often, 'Walk it off.' Many people won't complain, because they fear retaliation."
Melchor didn't feel fine. His wife drove him to the hospital, where he said he learned that his rib was fractured. That night, he handed Sallaberry a doctor's note that stated he couldn't work. The next day, Sallaberry fired him. "I only had three days to move out," Melchor recalled. On the third day, as he struggled to pack his things—the injury made even the slightest upper-body movement painful—two officers from the Sheriff's Department drove up and reminded him that he needed to vacate by sundown.
Stories like Melchor's are familiar to Esmeralda Zendejas, an attorney at California Rural Legal Assistance (CRLA) who has represented numerous dairy workers over the years. She told me that wage theft is routine in the dairy industry, and that employer-provided housing, often onsite, tends to be less than optimal. There can be serious safety hazards for children, like open manure lagoons, and injuries are common. "We've had workers who have been smashed by cows," she said. "The response from employers is often, 'Walk it off.' Many people won't complain, because they fear retaliation."
Yet if the dairy industry gets its way, the workforce they rely upon will soon become even more vulnerable to exploitation. This fall, Republican representative Bob Goodlatte of Virginia introduced the Agricultural Guestworker Act, or AG Act, which was voted out of the House Judiciary Committee in October. The proposal would replace the H-2A guestworker program, which currently only covers farmworkers, to include dairy workers and meat and poultry processors, while also gutting many of the existing worker protections.
Guest workers are even less likely than undocumented immigrants to lodge complaints about wage theft or dangerous workplaces, because their employers can quickly have them deported and replaced. Added to that power imbalance is the problem of debt. Saket Soni is the head of the National Guestworker Alliance, which in recent years has helped dozens of guest workers escape from labor camps patrolled by armed guards. He told me that many guest workers are charged illegal fees by labor brokers in their home countries, and so arrive in the U.S. "in virtual, and sometimes literal, debt peonage." Such workers, he said, "are afraid of being deported into debt, and so can't blow the whistle on unsafe and abusive conditions."
Critics often liken the current guest worker system to the Bracero Program, which brought in Mexicans from 1942 to 1964, and was notorious for labor abuses and lax oversight. But Adrienne DerVartanian of Farmworker Justice, a Washington, DC-based advocacy organization, told me that there "are even fewer protection in Goodlatte's bill than in the original Bracero program." The AG Act, which would create a new visa, the H-2C, prevents the government from inspecting worksites without first checking in with the employer, transfers all travel and housing costs to employees, has no provisions to outlaw labor recruitment fees and allows employers to pay workers at a lower wage scale. It also allows companies to prevent their workers from suing, instead forcing them into mandatory arbitration—an arbitration for which the guest workers have to shoulder half the costs. (Even a successful wage theft case would be partly paid for by the employee who was owed money.)
Perhaps most crucially, the new program would be overseen by the Department of Agriculture, not the Department of Labor. When Goodlatte announced the AG Act, he described the USDA as "an agency that clearly understands the unique needs of America's farm and ranch operations." The agency is certainly more closely aligned with the needs of farm operators than is the DOL. What it isn't is an agency that enforces labor laws. In fact, the USDA can be outright indifferent to worker safety. Several years ago, the USDA tried to increase the already dizzying line speeds at poultry plants from 140 to 175 birds a minute, a move that was supported by the National Chicken Council. Investigations by the National Institute of Occupational Safety and Health, an arm of the Centers for Disease Control, have found that carpal tunnel syndrome is widespread among poultry workers. But the USDA's speedup promised to save poultry companies $256 million a year, and the agency only caved when faced with sustained public outcry from groups that included Oxfam America and the Southern Poverty Law Center.
All of which helps explain why the AG Act is being championed by the American Dairy Coalition and the National Milk Producers Federation, and why donors to Goodlatte this year included California Dairies, Inc., a 400-member cooperative that produces 43 percent of the state's milk. "You would create a temporary workforce with no ability to become legal immigrants, who are completely dependent on their employers, and who have extremely minimal protections," DerVartanian of Farmworker Justice told me. "The lack of respect it shows towards hard-working people is really stunning."
Dairy Worker: "[Bosses] look at a worker as a machine. They don't want the worker to get sick or injured, or they'll get rid of you and look for someone else."
She said that the prospects of AG Act weren't clear, but that it represented what had been "on the agribusiness wish list for a long time," and what the industry now hoped to push through in the Trump administration. Indeed, the breadth of support for the proposal is impressive. The bill is backed by the American Farm Bureau Federation, the North American Meat Institute, the California Strawberry Commission and dozens of other food-related groups, along with the Cato Institute and the U.S. Chamber of Commerce.
During our tour of local dairy farms, Melchor told me that he had heard a supervisor talk about dairy owners hoping to some day bring workers directly from Mexico. He believed the reason was simple: abusive bosses had a hard time finding enough willing workers. "They look at a worker as a machine," he said. "They don't want the worker to get sick or injured, or they'll get rid of you and look for someone else. You are an instrument." He said that if people are faced with only two options—stay quiet on the job or be deported to Mexico—many will stay and endure all manner of labor abuses.
To illustrate how far some bosses will go, he referred to his own case. During his hospital visit, a nurse had passed along the CRLA number. Melchor called and told his story to Esmeralda Zendejas, who filed a case in 2010 against Joe Sallaberry for wrongful termination and back wages. The following year, they met for a deposition in Stockton. After the deposition had begun, Sallabery's lawyer, Anthony Raimondo, apologized and said that he had to take an urgent phone call. He returned several minutes later.
After the deposition, Melchor stopped to get gas before driving home. As he was leaving the station, two unmarked vehicles pulled him over, lights flashing. He was handcuffed and driven to Bakersfield, where he was put on a flight to San Diego and bused across the border. "Listen, I've been deported and I'm in Tijuana," he told Zendejas over the phone. "I don't know what happened."
Zendejas eventually pieced it together: Raimondo, who frequently represents dairy workers, had tipped off a contact at Immigration and Customs Enforcement. This was a tactic that he would employ numerous times against dairy workers who filed suits against his clients; as Raimondo admitted in an email to the Legal Services Corporation, "The attorneys find out when their clients are already gone."
Raimondo initially told me by email that he had not wanted Melchor deported, but did later admit that he had told ICE that Melchor would be at the deposition.
He also wrote that shortly before the deposition, Sallaberry claimed that Melchor, then an undocumented immigrant using the last name "Masedo," had attempted to murder Sallaberry. In a court document, Sallaberry said that, around midnight on April 3, 2011, he discovered "Masedo" outside his house with another man. Both fled, Sallaberry said, but not before one of them allegedly fired a bullet that nearly struck Sallaberry. A judge later issued a temporary restraining order against Masedo/Melchor based on Sallaberry's testimony, and set a future date for a hearing in which both sides could present their sides. By the time of the hearing, Melchor was in Mexico.
Melchor laughed when I asked him about the allegations, calling them "complete lies." (Neither "Masedo" nor "Melchor" was listed as a suspect in the police report of the incident.)
After several months of failed attempts, Melchor was able to crawl through a tunnel than ran along the border and return to California. As Raimondo had hoped, CRLA had been forced to settle the case in Melchor's absence, but Zendejas began a U visa application for her client, alleging that he had been intimidated while trying to assert his legal rights. He was granted the U visa in October 2016 and can now legally work in the country. He left a dairy job several months ago, after experiencing what were likely the early signs of carpal tunnel, and now is employed by a tile fabrication company in Stockton.
As for Raimondo, CRLA and the non-profit Legal Aid at Work filed a federal lawsuit against him in 2013, arguing that as a representative of the employer, he had violated the Fair Labor Standards Act by retaliating against another dairy worker named José Arias. Last June, the 9th U.S. Circuit of Appeals reversed an earlier decision and ruled against Raimondo, finding that the act applied not only to the employer but the employer's representatives as well. To protect his right to continue to use ICE to quash labor disputes, Raimondo has retained a powerhouse appellate firm, Horvitz & Levy, which recently petitioned the Supreme Court to hear the case.
Whether Raimondo is able to gain a Supreme Court audience, the dairy industry will continue to seek new sources of pliant labor. On his website, Raimondo describes himself as the "primary labor and employment resource for California's Western United Dairymen," a trade association based in Modesto. Anja Raudabaugh, the group's CEO, recently told a reporter with the investigative website FairWarning that her members considered Raimondo "something of a hero" for his work. She emailed me that her organization "considers having the AG Act pass out of committee a major step forward" and that it looks forward to working with House members "as legislation now moves to the floor for a vote." It is perhaps no surprise that the group, whose members produce 70 percent of California's milk, are excited by the AG Act. It is an act, after all, that has no protections against retaliation and that shifts labor enforcement to an agency that has never enforced labor laws. It is an act that Raimondo himself could have written.
---
Copyright Capital & Main
Do Incarcerated Firefighters Deserve a Path to Employment?
Since 1983 six inmate firefighters have died while working on fire containment. Today they are paid $2 per day — and an extra $1 when fighting active fires.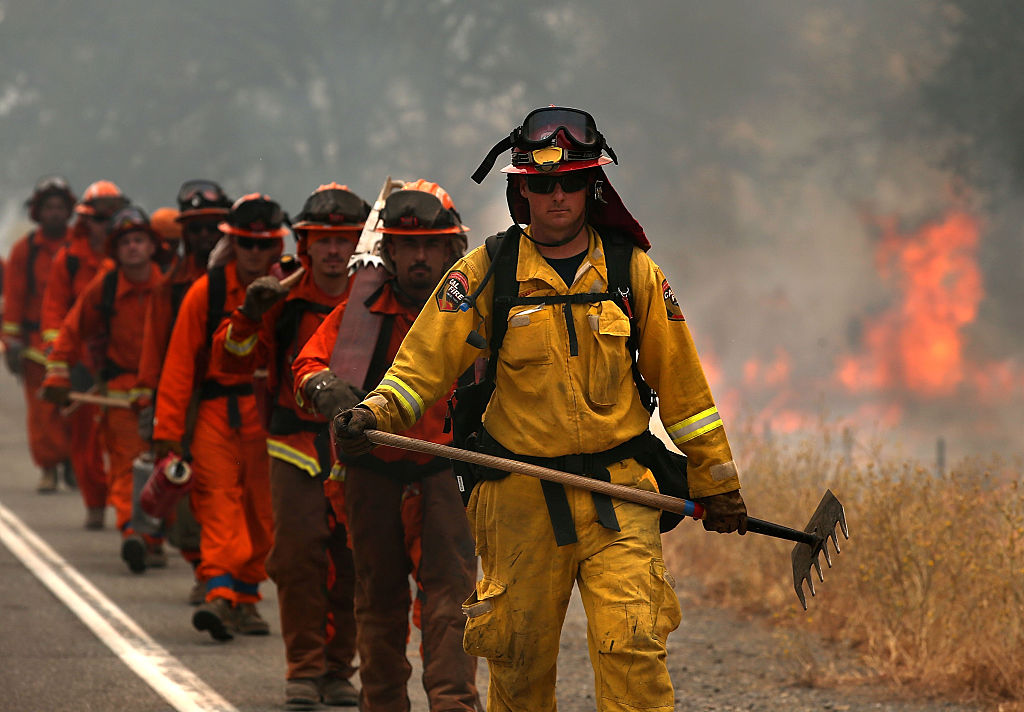 ---
California estimates that the Conservation Camp inmate-training program saves state taxpayers up to $100 million per year through firefighting and responses to other emergencies.
---
As California's wildfire season grows ever longer and more intense, the state has relied heavily on thousands of prisoners, including women, to battle blazes alongside approximately 6,000 professional full-time and seasonal firefighters. Prisoner advocates, however, point out that these inmates' criminal records prevent them from working as firefighters almost anywhere in California after their release.
Critics of the inmate program also say prisoners risking their lives to battle dozens of fires every year should get more out of the program than their current $2 per day and the additional $1 they receive whenever fighting active fires. The state's Cal Fire firefighters earn between $3,273 and $4,137 per month, plus benefits, not counting overtime, according to a Cal Fire spokesperson. California has been using inmate firefighters since World War II, when the workforce for Cal Fire was depleted.
---
Approximately 3,700 inmates work at fire camps and about 2,600 of those are qualified to work on the front lines of active fires.
---
When Laura Weigand applied to California's Conservation Camp, the program that trains inmates to fight wildfires, she knew it would be an uphill battle, literally. She was 43 when she joined the camp in 2009, twice the age of most of the women in pre-camp endurance trainings. One endurance test – hiking two miles straight uphill in 45 minutes – felled plenty of younger women, but Weigand was the first to the top of the hill, which meant she had her choice of camps to complete her trainings. She picked Malibu.
Two weeks after she completed training, she was working alongside Cal Fire firefighters to put out the Crown Fire, earning a fraction of what professional firefighters made for the same amount of risk. But she said she didn't feel exploited because she went into the program to get away from the prison grounds.
"The days flew by, because there were different experiences. Even though it was not good pay it was better than you get in prison," she said. But a foot injury threatened her limited freedom.
"I was hiking on a broken metatarsal bone for two years and was afraid to tell them about it because I didn't want to get kicked out of the program."
Weigand eventually became a "swamper" or trainer of other incarcerated firefighters. She estimated that she trained about 300 women before she left prison in 2012.
The California Department of Corrections and Rehabilitation (CDCR), cooperating with the California Department of Forestry and Fire Protection (Cal Fire) and the Los Angeles County Fire Department, operate 44 conservation camps across the state, including three female camps. Camp populations range from 80 to 160 inmates working and learning in minimum-security facilities, supervised by correctional staff. When they're working on an active fire, Cal Fire staff supervise them.
CDCR says approximately 30 percent of applicants who volunteer for the program successfully complete the curriculum. Not all inmates are eligible. Those who have committed more serious crimes, such as arson, rape or other sex offenses are disqualified.
Overall, there are approximately 3,700 inmates working at fire camps and approximately 2,600 of those are qualified to work on the front lines of active fires, according to CDCR. As of August 31 there were just over 1,100 inmate firefighters across 123 crews deployed to the Carr, Mendocino Complex, Hirz, Cooks, Cherae, Stone, Cache and Holy Fires.
After being released in 2011, Weigand didn't apply to be a professional firefighter because she was above most fire departments' threshold age. But Weigand, who now works at Social Model Recovery Systems, a substance abuse and mental health nonprofit, says even if she were younger, she probably couldn't have gotten such a job, because most local and county firefighting jobs require an emergency medical technician (EMT) license, and most former inmates, even those convicted of lower level felonies, can't obtain that.
In an email, a Cal Fire spokesperson said the department doesn't require an EMT license for employment, but admitted that many fire departments throughout the state have at least the expectation of an EMT license for employment.
Such a barrier doesn't make sense to Romarilyn Ralston, who was imprisoned 23 years and served as a fire camp swamper and clerk for Cal Fire while incarcerated. Now, as a member of the Los Angeles chapter of the California Coalition for Women Prisoners, and program coordinator for Project Rebound at California State University, Fullerton, she's advocating for raising state employment opportunities for former inmates who made it through the Conservation Camp program.
Ralston told Capital & Main that, even though the program offers valuable training, the lack of EMT training at the camps, as well as the seeming prohibition against hiring former felons for many firefighting jobs statewide, amounts to "an exploitation of prison labor."
"They should be paid at least the minimum wage, which is $15 in L.A. County," Ralston added. "They're putting their lives on the line and saving California hundreds of millions a year."
The CDCR has estimated that the Conservation Camp program saves California taxpayers between $90 million and $100 million per year through firefighting and responses to other emergencies. Those who make it through the program, when not fighting active fires, may also be asked to clear firebreaks, maintain parks and clear fallen trees and debris. Since 1983 six inmate firefighters have died while working on fire containment, according to CDCR.
Recently California has taken steps to ease restrictions on former felons, though none of the measures would mandate local emergency medical services authorities to allow them to earn EMT licenses.
As part of the 2018 budget bill, Governor Jerry Brown expanded employment opportunities for former inmate firefighters through the Ventura Conservation Camp (VCC), in Ventura County. The program is for parolees only, and the first group of 20 is set to begin training this fall.
An omnibus safety bill, AB 1812, approved by Governor Brown in June, would allow graduates of approved fire camp training to apply for lower-level emergency medical responder (EMR) licenses, though not for EMT licenses.
California's legislature is taking other small steps toward lowering the employment bar for incarcerated firefighters and other ex-cons seeking professional employment.
Assembly Bill 2293, in its original version would have, with certain conditions, prevented the authority licensing paramedics and EMTs from denying certification to anyone with a criminal record. But faced with strong opposition from the Emergency Medical Services Administrators Association of California, and the National Association of Emergency Medical Technicians, who said hiring those with criminal histories could pose a public safety risk, AB 2293 was amended down to a data reporting bill, according to California Assemblywoman Eloise Gómez Reyes (D-San Bernardino), who assisted in crafting both versions of the bill.
"We decided to address a glaring deficiency, which is the lack of data [on who is being denied jobs]," Gómez Reyes said of AB 2293, which now heads to an uncertain future on the governor's desk.
Today, Gómez Reyes added, the state only has anecdotal data on many former prisoners being denied EMT certification or jobs based on their criminal past, but no hard numbers yet. "We're trying to see in what circumstances are people being given these licenses, and what we suspect are the majority of circumstances of people being denied because of past offenses. Whatever decision we make in the future is going to be based on accurate data."
Another bill, AB 2138, authored by Assemblymen Evan Low (D-San Jose) and David Chiu (D-San Francisco), would ease licensing restrictions for former inmates in a variety of occupations, but not firefighters. That's still an important step, according to David Fathi, director of the American Civil Liberties Union National Prison Project, because its passage could remove some "arbitrary" barriers to employment.
"In many states there are over 100 occupations that former prisoners can't pursue," Fathi said. "One of the best predictors of successful reentry is securing and keeping stable employment. And yet as a society we go out of our way to make it difficult for prisoners to get a job when they get out. This is especially absurd when the prisoner has learned the skill in prison."
Fathi points to a neighboring state, Arizona, which last year eased restrictions on ex-cons from becoming professional firefighters, as well as to a study from Arizona State University, which showed that states with larger employment barriers for felons have higher recidivism rates.
"Employment disqualification for former prisoners should be the rare exception," Fathi said, "and it should be based on an individualized assessment of the risk posed by the particular person — not simply upon a criminal conviction."
---
Copyright Capital & Main