Living Homeless in California: For the Hungry, "Food Happens." Until It Doesn't.
The story of how California's homeless find their daily bread is one of luck, charity and resourcefulness—but also of how eradicating long-established communities can lead to worse food insecurity.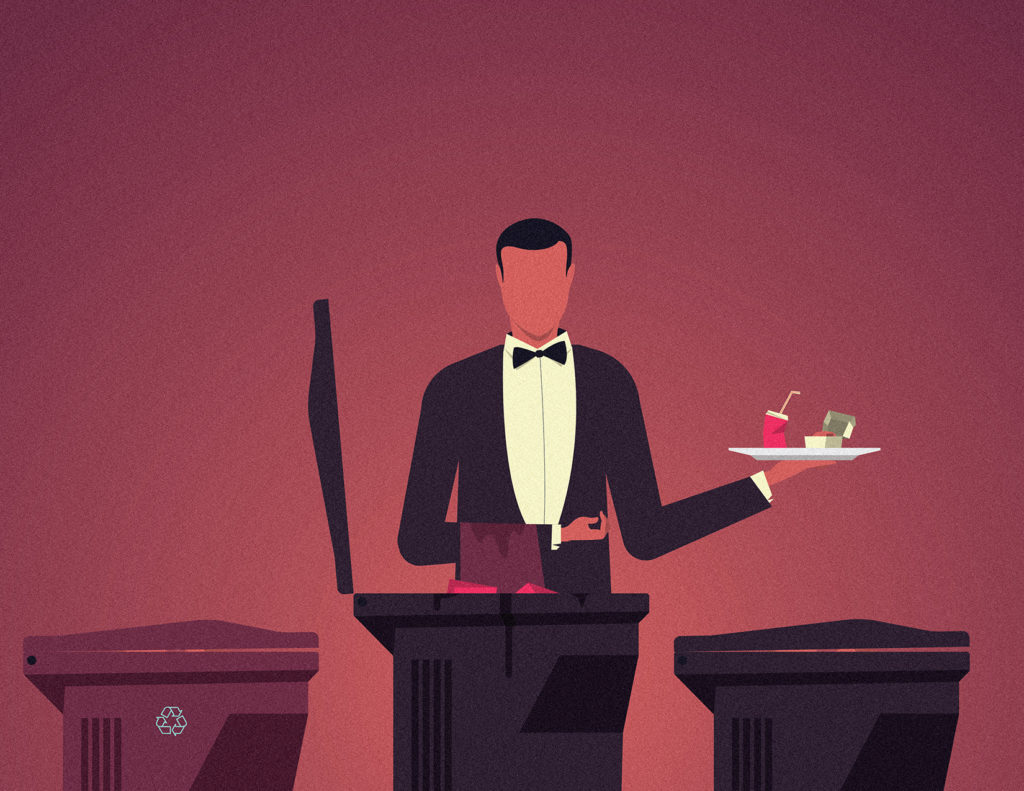 ---
For years Orange County nonprofits and churches served food at two homeless encampments. But when the sites were cleared of the homeless, their benefactors didn't know where to find them.
---
Back when Brian Champanich had steady work as an audio-visual production specialist at hotels and convention centers around Southern California, his favorite meal to cook at home was steak.
"Top sirloin, medium-rare," he recalled one recent afternoon, sitting under the shade of a picnic shelter at Anaheim's Twila Reid Park. "It's a freakin' good piece of meat. Sometimes, I'd throw in some French fries or a baked potato in the oven, but I was never really into veggies. I'd have friends try it, and they'd tell me, 'Damn, you can really cook!'"
But the 42-year-old Thai-American hasn't enjoyed a top sirloin ever since he became homeless three years ago.
Champanich is wiry and wry, with a short haircut and a beard that's graying at the chin. He's one of whom housing advocates in Orange County call the Lost Boys — men who lived along the Santa Ana riverbed for the past couple of years but now don't have a place to stay after the County of Orange cleared out its encampments in February. United States District Court Judge David O. Carter insisted that government officials offer temporary, 30-day motel vouchers to an estimated 600 long-term riverbed dwellers until the county figured out a permanent solution. But that push happened to coincide with a two-week stint at the Orange County Jail for Champanich, who says that made him ineligible for the program.
Many Lost Boys have relocated to Twila Reid because it's within walking distance of long-rundown motels on Beach Boulevard in Anaheim and Stanton that are now alive with former riverbed residents. The 27-acre park is in a neighborhood of newer townhomes and hosts a playground, tennis courts, horseshoe pits and a Frisbee golf course. As Champanich speaks, retirees power-walk through its trails nearby; a group of women laugh as they roll up their yoga mats, while elsewhere some young people lay on the grass and vape. But homeless people linger at the edges and RVs are parked in a lot toward the back, away from the traffic of Orange Avenue and the gaze of patrol cars.
Andre Harris arrives on a purple bicycle. The former nursing student grabs a bag of Brandless Sour Cream & Onion Potato Crisps from Champanich, ignoring a berry-flavored Propel water in front of his friend. Harris begins to snack on the chips; they're not half bad.
"You know freeganism?" Champanich says. "I've taken on some of those traits."
---
The Lost Boys are men who lived along the Santa Ana riverbed for the past couple of years but now have no place to stay after they were scattered from their encampments in February.
---
For the next hour, he and Harris explain how the homeless eat: how they cook, where they find food, the virtue of sharing with others. What emerges is a story of luck, charity and resourcefulness—but also of how eradicating long-established communities can lead to worse food insecurity for the homeless.
"[Homeless] people now, they're getting desperate for food," Harris says.
"Out here now," says Champanich, "it's cutthroat."
Champanich worked in audio-visual ("I don't like the term 'A/V guy'") for 20 years. The working-class salary afforded him an apartment in Anaheim but little else. He adopted a frugal lifestyle out of personal philosophy and necessity."I never liked to waste food," he said. "Mostly cooked at home. 'Going out' was something if you were dating someone — or going to the movies."
---
Top Ramen is "not really nutritious—empty calories and a bunch of sodium. But you can buy four for a dollar."
---
Three years ago, Champanich lost his apartment and took to sleeping in parks or abandoned homes in West Anaheim with other people. In those initial months of homelessness, he depended on friends who invited him to their house for dinner, or took him a meal wherever he was staying. But Champanich stopped doing that, because "you don't want to impose on people."
He got EBT for a while, which let him buy food with relative ease, before losing his eligibility. That further limited his food choices, mostly to instant oatmeal and Top Ramen.
"It's not really nutritious—empty calories and a bunch of sodium," Champanich admitted about the latter. "But you can buy four for a dollar, and you take what you got and ya put it in it. Even meat."
He pulls a weathered stovetop grate from his backpack. "You put that on a butane stove. Maybe you found a pot somewhere. Find some water, and boil it. There's your meal."Even during the hardest times, said Champanich, he never lacked for food. "I don't beg for food. I don't feel the need to," he said. "Food happens. I don't even think about it."
---
"Pizza places throw away a lot of pizza. If it's dry and clean and not soaking
under a bag of toilet paper, I'll eat it."
---
"You're one of the lucky ones!" Harris says with a laugh. Champanich doesn't carry much food on a day-to-day basis because it "just weighs you down. You need to have just the absolute necessities." But camping with others allowed for some food security. People could stock up and take turns guarding their makeshift pantry. He sometimes dumpster-dived at restaurants, grocery stores and homes, and found each setting had its own quirks.
"Pizza places throw away a lot of pizza," Champanich volunteered. "If it's dry and clean and not soaking under a bag of toilet paper, I'll eat it."
The pickings were always slim at supermarkets, because they only threw out rotten food. Trash bins near homes and apartment complexes, on the other hand, rewarded Champanich with virtual feasts. Perfectly good meat and vegetables, loaves upon loaves of bread and buns. One time, he found "a bunch" of frozen tilapia and turkey burgers that he gave out to others.
"People throw away a lot," he says. "It perplexes you."
The menu options became better when Champanich moved to the Santa Ana riverbed about a year ago. Almost daily, nonprofits, church groups and random individuals brought food to the largest encampments—one was near the Orange Crush freeway interchange, another next to Angel Stadium. During the baseball season, Halos fans who tailgated in the parking lot before games frequently left their extra barbecue and tacos to the homeless, handing it to them over a fence that separated the two groups.
---
"You eat food as it's available.
When you get it, you eat it."
---
Sometimes, Champanich and Harris ate fully catered meals; other times, just hot dogs and hamburgers. One group brought boxes of Little Caesar's pizzas every Sunday for months until a "snatchy grabby" homeless person spooked them. Another time, a man unloaded cases of what Champanich described as "weird, canned drinking water. It tasted like carbonated tap water."
"It was fine," he added. "None of [what people gave him] was deplorable. It wasn't unbearable to eat."
People would even leave gift certificates to restaurants, but Champanich dismissed such presents as "not economical. Like, you'd have to find a ride to a restaurant. And then people would just look at you weird while you're just trying to get food."
Riverbed residents supplemented the donated food with their own canned and dried goods. Some people kept coolers and ice and stuffed them with perishables that usually went bad fast. Rice and beans, and pastas were popular meals, because they kept well.
People tried to pool together what they had so that everyone could cook and eat together. No one was ever left hungry. "You didn't have the people sitting and watching" others eat, Harris said. "Everyone ate. It didn't matter whether you put in or not."
---
County officials promised to provide meal vouchers to the displaced, but one homeless advocate claims few have received them.
---
The biggest food problem people faced at the riverbed? Ants. "Southern California is a giant anthill," Champanich joked. "Brown, fire, army."
"They would quickly go after everything," Harris said.
Eating has become harder for the homeless since the county cleared out the riverbed, along with another big encampment, the Plaza of the Flags at the Santa Ana Civic Center. The nonprofits and churches that served food at the two spots for years don't know where to find their former clients. County officials promised to provide meal vouchers to the displaced, but homeless advocate Mohammed Aly claims few have received them.
Champanich remains nonchalant about his abilities to source his next supper.
"You eat food as it's available, when it's available," he says. "When you get it, you eat it."
Recently, a group of Muslim women held a lunchtime rally at Twila Reid and approached Champanich and a group of other homeless afterwards with their leftovers. "Chicken, rice, quinoa, flatbread with cheese, vegetables and sauces," he says. "It was a different taste to my palate. I can't even describe the flavors, but it was good."
He visits nearby motels during the day, where some nonprofits leave food.
"One day a guy showed up with frozen breakfast sandwiches and waters at the Covered Wagon," an Anaheim motel to where many riverbed homeless relocated. "And then he just left."
Harris isn't as optimistic. He's already hearing stories about homeless assaulting each other for food.
"Sharks smell blood in the water," Champanich observes.
"It's not good. It's not good for anyone," Harris adds. "As the Bible said, 'Break bread.'"
---
Copyright Capital & Main

Living Homeless in California: Pet Owners on the Streets
Pets can provide an invaluable source of companionship, comfort and security. That's especially true for those without stable housing.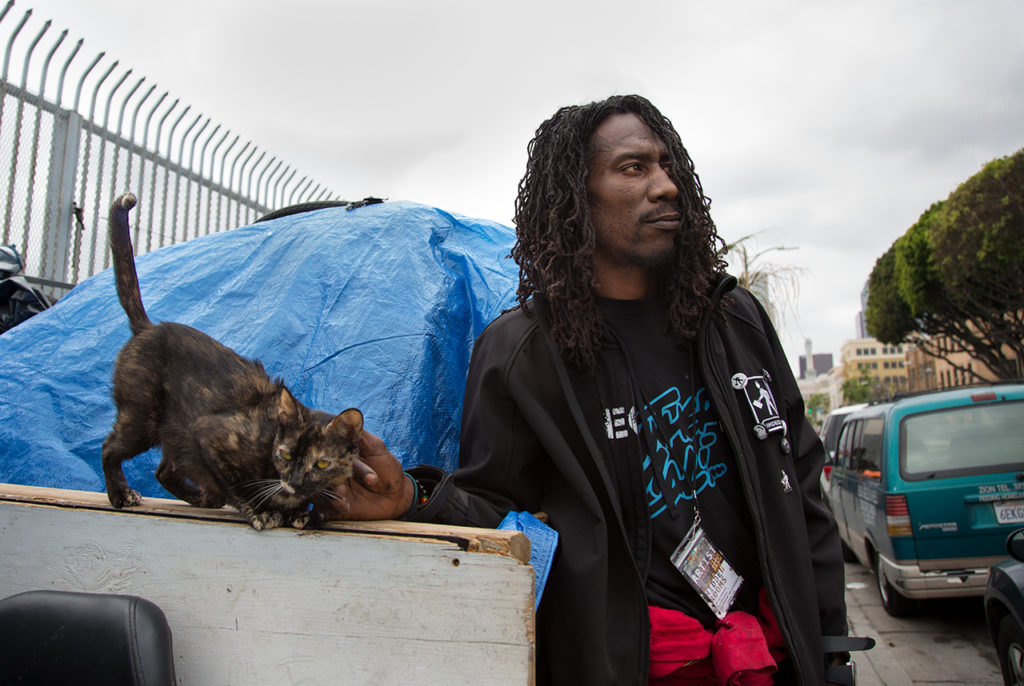 An estimated five to 10 percent of homeless people in the United States have pets, according to the Nevada nonprofit organization, Pets of the Homeless. Take a trip through the tent cities that line the sidewalks of downtown Los Angeles and you'll see dogs, cats, even birds. As any pet owner can tell you, animals provide affection, comfort and stability, something that can be particularly meaningful when your life's possessions could be swept away at any time by a police raid.
The animals benefit too. Most pets would prefer constant companionship outdoors to solitary shelter.
But many homeless shelters and housing programs don't allow pets. The expenses, logistics and liabilities involved in housing animals can be prohibitive for programs that are already underfunded. The number of shelters that allow animals are on the rise, however.
I recently visited with a handful of homeless and formerly homeless pet owners in Los Angeles to learn about their lives.
---
Maria, 64
Maria sells off-brand cigarettes in front of a row of tents on a busy street in downtown Los Angeles. She keeps her tobacco merchandise arranged neatly on a small plastic tray, and beside her a tiny Chihuahua puppy, Cici, runs and plays amid the sidewalk foot traffic, or naps in the small carrier at Maria's feet.
Maria has been living here since getting out of jail in November, she says, "for something I didn't do. It took them 35 days to realize I didn't do it." She emerged to find her husband of 37 years was gone. "He disappeared with all my money and all my stuff," she adds. "The day I came out I slept on the sidewalk. My pillow was the cement and my blanket was the jacket I was wearing."

"I was angry the first few months," she continues. But in February she bought Cici from a street vendor for $40. "She has taken me out of my depression over what my husband did. She's become everything to me. She's my life."

Maria knows everyone in her tent community. People stop by every few minutes to say hi. A couple even buy cigarettes, including a young man named Toby. "I call him my adopted son from the street, I take care of him. He's been on the street since he was 16." Toby recently turned 20, Maria says. "I got him a big-ass cake and some money, some clothes. I'm the first person who celebrated his birthday on the street."
In a little over a month, Maria is scheduled to move to federally subsidized Section 8 housing in Long Beach. It's far from her friends here, but she's happy to go. "All I want is a roof over my head. As long as me and my dog got that, I'll be alright."
---
Craig, aka Taco, 58
"He's my best friend," Taco says of his 10-month-old puppy, Hambone. "I didn't realize that a person could have such an attachment to an animal. But I do."
Taco tells me he's lived in California all his life, "except for I lived in Chicago for nine years. I loved Chicago, the weather, everything about Chicago. My ex-wife, she didn't like the weather. We relocated back to L.A."
Taco is single now. "My guards are still up, but I want to have those old feelings back again. Because I'm somewhat of a romantic type guy." But Taco doesn't get lonely, because he has Hambone. "He cheers me up when I'm sad. He'll nudge me. He'll come with concern, and then he'll start playing, trying to make me laugh."
Taco and Hambone live in a small single-room occupancy apartment, or SRO, in a building run by a nonprofit social services agency. "I came down here to Skid Row for the resources. A friend was telling me about the housing."
He says his apartment is nice, and much better than shelters he's stayed in, "but you're on Skid Row. Skid Row's like the courtyard, if you've ever been to the penitentiary. You have be ready, you have to have your shoes strapped up."
Taco says he's on the list for Section 8 housing, and looking forward to moving. He thinks he might like to live near Staples Center. A woman walks by with a small dog, and Hambone strains on his leash, whimpering and sniffing the other dog. "Stop it, stop it," Taco scolds. "That's a girl dog. She snapped at you, right? You'll learn, you'll learn women too."
---
Thomasina, 30
"I've had Flower since she was a puppy," Thomasina says of her yellow Chihuahua mix. "This lady had a box of them in front of a store. The people I was staying with at the time bought her for their daughter, but they didn't take care of her. She was so small, covered in fleas, so scared. So I started taking care of her. And ever since she's been by my side. My little partner in crime."
That was five years ago, when Thomasina's life was in chaos. She had no stable place to live, and few opportunities. "I wanted to be in the working world, but had to live my life in the street. I got into prostitution by default." She came to Skid Row in search of housing and social services, a move that was inspired in part by Oprah Winfrey. "I saw this clip of Oprah, and her words spoke to my heart," she says, laughing. "She was saying, you have to help yourself, you have to do what you have to do."
Thomasina was placed in dog-friendly SRO housing. "That room was my peace of mind," she said. But living on Skid Row was often frightening. "Females down there usually have brothers or a boyfriend, people that can help them. It was just me and my dog. I didn't have anyone watching my back. I was an easy target." She was frequently harassed, sometimes by other residents in the building, and spent a lot of time hiding in her room. It was claustrophobic, she says, but having her dog kept her sane.
When Flower had a litter of puppies a couple of years ago, Thomasina gave them all away, but one was returned because he was too timid. Now both dogs are registered emotional support animals. Last year Thomasina moved from Skid Row to a small apartment she describes as "perfect." But she was facing homelessness again when the landlord recently decided pets were no longer allowed. The nonprofit HEART helped her contest the eviction and stay in her home with her little Chihuahua family.
---
Crushow, 40
Crushow describes himself as a community activist and "art Jedi." He's on the way to his studio and can only talk for a few minutes. "I have show this weekend at Hotel Rendon. It's called Art at the Rendon. Each artist gets their own room to install their art."
Crushow introduces me to his three pit bulls and a tortoiseshell cat named Justice. The cat perches calmly of the edge of Crushow's makeshift shelter, surveying the neighborhood. Crushow says when he's away, neighbors take care of his pets, and he does the same for them. "We all try to look out for each other."
Crushow is philosophical about life on the street. "Your box is bigger than mine, so what? I got another box I go to. And an office I go to. And an art studio I go to. It doesn't matter what box it is. People are constricted and taught how to think. And I'm not."
He shrugs. "Get caught up in that rat race all you want to, but when you die, what do you have? What did you do while you were here? Just thought about yourself and your big-ass box?"
---
Carol, age unknown
"I like walking around here," Carol says, walking through Little Tokyo with a giant grey pit bull named Boss. She gestures toward Skid Row where she lives. "It's like a war zone down there." When I ask how long she's been there, she replies, "Too long. Too long!"
Carol says she's been depressed since Mother's Day. Her own mother died a couple years ago, and it's especially painful at certain times of the year. "Anniversaries are hard. Her birthday is hard." Walking Boss helps cheer her up a little.
Carol tells me that she looks after Boss and a few other dogs for friends. He was one of a litter of nine puppies. "I took care of his mama, Lady, when she was in labor. It took 14 hours for all those puppies to be born!" That was a year ago. "We didn't let their paws touch the sidewalk till they'd all had their shots. They can get Parvo that way."
Carol is happy to talk but decides against being photographed.
Two weeks later, I meet a man on Skid Row who introduces me to four pit bulls he keeps in a pen next to his tent. One slips out the side of the pen and comes running over. It's Boss! Then a couple of the other dogs follow his lead, and I realize the pen is nothing more that propped-up fencing. The dogs could easily knock it down – but they know better. After I play with the dogs for a while, their owner orders them back into the pen and they all trot home obediently. He tells them to sit for my camera, and they do, wagging their tails. I want to learn more about how he got so good at training dogs, but he shakes his head. "I don't do interviews."
---