The Tests Facing California's New Governor
In one month Gavin Newsom will lead the state with the nation's biggest economy and largest population — and one riven by economic inequality. What will be his most important challenges?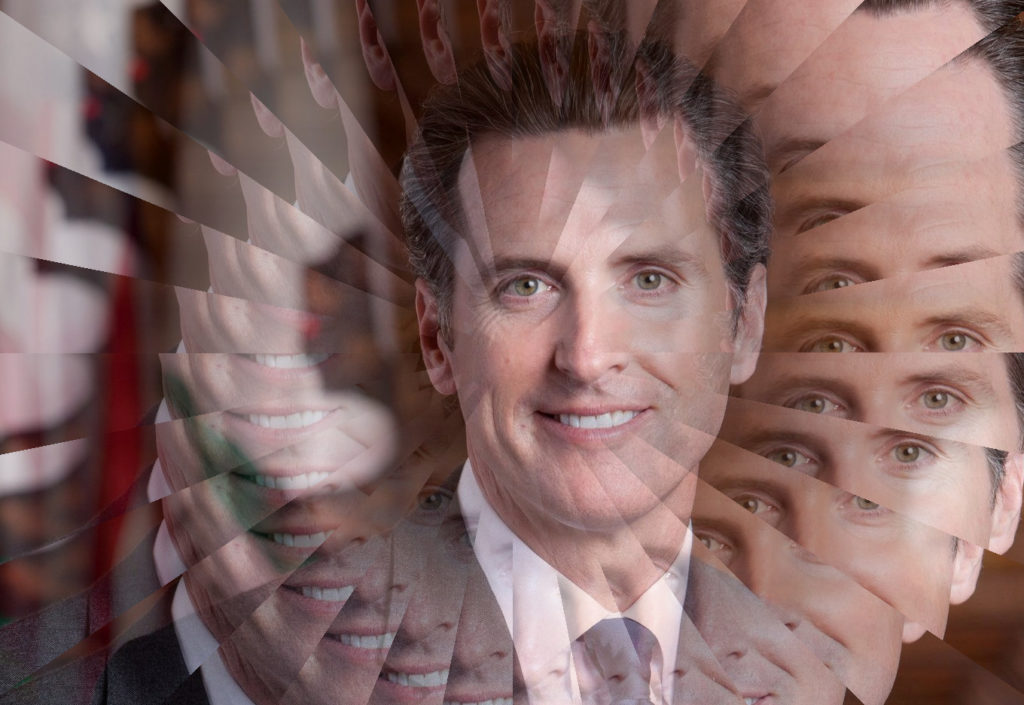 Gavin Newsom inherits a state that should be any governor's dream: A California that is the cradle of the tech revolution and brims with prosperity, a one-party state with supermajorities in both chambers for Newsom's Democrats. But there are clouds darkening the horizon: Daily prophecies tell of coming economic storms; legislative initiatives taken on behalf of immigrants, retirement security and the stemming of global warming are increasingly thwarted by a bellicose White House. And that Democratic Party monopoly in Sacramento masks a deepening ideological fault line dividing pro-business moderates and progressives – the latter of which have largely chafed for the last 16 years under the thrifty administrations of Jerry Brown and Arnold Schwarzenegger, and are eager to burst out with far-reaching (if pricey) legislation.
Then, there are memories of three high-riding liberal governors (Pat and Jerry Brown, and Gray Davis) whose programs or careers were derailed by resentful taxpayers. There are more recent memories, too: Of an impulsive, hard-partying San Francisco mayor whose blunted ambitions led him to spend eight years in the ceremonial wilderness of the lieutenant governor's office. Newsom is said to have matured into a more circumspect, pragmatic politician, although some of the old doubts were fanned back to life by an unflattering New Yorker profile that appeared shortly before his landslide victory November 6.
Perhaps overriding all these auguries is the undeniable fact that despite its enviable economy, its abundance of billionaires-in-residence and laudable array of social services, California still has the highest poverty rate in the U.S., nearly half of its children live in poverty or near-poverty, and merely finding an affordable place to live has become an existential challenge for many. These and similar factors superimpose on the state another kind of fault line, that of economic inequality. Most of the new governor's time will be spent wrangling crises that spring from this disparity. Which is why, in this week's new series about the problems faced by Newsom, Capital & Main primarily focuses on the inequality that separates so many Californians from one another.
Today:
Affordable Housing, by Jessica Goodheart.
Single-Payer Health Care, by Gabriel Thompson.
Wednesday:
Climate Change and Big Oil, by Judith Lewis Mernit.
Inequality Interviews with Manuel Pastor, Ann Huff Stevens and David Grusky.
Thursday:
Early Childhood Education, by Bill Raden.
Inequality in California: Six Takeaways.
---
Copyright Capital & Main
Can Newsom Make a Dent in California's Affordable Housing Crisis?
Most experts don't believe that the governor-elect's target of creating 3.5 million new units by 2025 is achievable. Still, they are energized by his bold plans.
---
Newsom may not be able to slay the housing hydra during his tenure as governor, but he has advantages over Governor Jerry Brown.
---
Governor-elect Gavin Newsom made tackling California's housing and homelessness crisis a centerpiece of his campaign, and set a goal of adding 3.5 million units to the state's supply of housing by 2025.
"You have to be bold as this problem is big," candidate Newsom told attendees at a conference held by affordable housing advocates in March.
However, most experts agree that Newsom's target, which was put forward in a 2016 study as the number of units needed to meet the state's housing deficit, is also not achievable.
As mayor of San Francisco, Newsom vowed to end homelessness in 10 years. His controversial "Care Not Cash" program—approved by voters in 2002—repurposed welfare grants to fund the construction of thousands of new supportive housing units for homeless San Franciscans, but homelessness in the city persists.
Still, housing advocates appear energized by the prospect of a new administration bent on addressing the state's housing emergency.
"[Governor] Jerry Brown never really wanted to be involved in trying to negotiate deals around housing development," says Randy Shaw, author of Generation Priced Out. Shaw's book blames the housing crunch in U.S. cities, in part, on wealth-hoarding baby boomers who regularly fight new housing proposals that they fear will alter the character of their neighborhood, as well as lower their property values.
---
Advocates say the new governor can use his bully pulpit to support affordable house — and to build on 15 housing bills Jerry Brown signed in 2017.
---
California's housing crisis could be viewed as a hydra whose many heads separately represent the failure to build enough housing to match the growing number of jobs in the state, historic underfunding of affordable housing, limited land availability, lengthy approval processes, local governments with little political or financial incentives to plan for more housing and inadequate protections for tenants who have not seen wages keep pace with rising rents.
Newsom may not be able to slay the beast during his tenure as governor. The crisis has been decades in the making, and solving it may take just as long. But he has advantages over Governor Brown, who faced a $27 billion budget deficit when he began his second stint as governor in 2011. By the end of the fiscal year, California's "rainy day" surplus fund is expected to reach nearly $14 billion, a sum that nearly matches Kansas' entire state budget. And in November, voters approved two measures that will provide $6 billion in bond funding to pay for infrastructure and affordable housing, including housing for homeless people with mental health problems. Also, Democrats will go into 2019 holding super-majorities in both houses of the state legislature.
Finally, Newsom can build on a package of 15 housing bills Brown signed in 2017, which Michael Lane, policy director of the Non-profit Housing Association of Northern California (NPH), calls "a down-payment and a first step" toward addressing the state's housing predicament. The package provides new funding sources for affordable housing construction, as well as a measures to streamline the housing approval process and increase the state's enforcement power over cites.
So what can Newsom do?
"He can use his bully pulpit," said State Senator Jim Beall (D-Silicon Valley) and he can "identify his parameters." Beall spoke to me in mid-November as a four-hour-long committee hearing on California's affordable housing crisis, held in downtown Los Angeles, was winding down. The real sausage-making will happen in the legislature. "[Newsom] wants to move pretty quick," said Beall, who foresees a package of bills emerging by June, although that may prove to be an optimistic timeline.
---
State Sen. Wiener's controversial Transit Zoning bill won over millennials but took a beating from enviros and others. A new version has been introduced.
---
What will that package include? Talk to housing advocates long enough and the subject of State Senator Scott Wiener's recent, failed bill to encourage mid-rise apartment development around transit hubs surfaces. The bill drew condemnation from local governments and environmentalists concerned that it was a blunt instrument that stripped localities of planning authority. It was also opposed by equity advocates who decried the lack of tenant protections in the bill and feared it would lead to more gentrification and the demolition of existing affordable housing around transit stops. His Senate Bill 827 drew support from tech industry leaders and a burgeoning movement of pro-housing millennial activists.
Newsom said in March he supported the intent of Wiener's so-called Transit Zoning Bill. In general, home-building around train and bus stations could account for as much as half of the new housing units generated in the state by 2025, according to the McKinsey Global Institute study that inspired Newsom's housing goal. From an environmental perspective, such development is also preferable to sprawl, especially if occupants of those new homes actually use public transportation. The redevelopment of the Hollywood neighborhood, which gained three new Metro stops almost two decades ago, provides a cautionary tale. The investment in the area boosted property values, but displaced low-income renters and led to a 32 percent decrease in households without a car, according to a 2012 study.
Wiener, whose bill died an early death in committee in April, has brought it back in the form of SB 50, and this time he appears to be consulting with a broader range of stakeholders.
---
"There's a fundamental problem with people in the Capitol deciding what works best in a particular neighborhood in Los Angeles."
---
Kathryn Phillips, director of Sierra Club California, supports Wiener's goal of encouraging development near bus stops and train stations, but says she "wouldn't start out with Scott's bill." Rather, she prefers legislation that is "more incentive based."
"There's a fundamental problem with people in the Capitol deciding from here what works best in a particular neighborhood in Los Angeles, and that was one of the problems you saw with the Wiener bill," she adds.
But Joan Ling, a former non-profit housing developer who teaches at the University of California, Los Angeles' Luskin School of Public Affairs, disagrees that local governments always know best. She testified at the mid-November State Senate hearing that they have squandered their chances to build housing under the current rules. "We've been 40 years [of] not zoning enough to provide housing for our population at the local level," she told the hearing. Ling believes a new bill that ensures the development of homes near transit hubs while also protecting vulnerable communities is possible.
Ling tempered the sense of urgency felt by housing advocates like herself with a note of caution, however. "We need to craft policies that do no harm, particularly to low-income and minority communities who have borne the side effects of well-intentioned policies," she said.
For Shaw, the author of Generation Priced Out, that means "upzoning," or allowing for denser development primarily in neighborhoods that are already upscale.
"It opens up middle-class housing opportunities in those otherwise off-limits communities without any risk of displacing low-income residents," writes Shaw, who also directs San Francisco's Tenderloin Housing Clinic, a provider of supportive housing for homeless adults.
When it comes to encouraging affordable housing, the state must offer some carrot with its stick. "Mandates come down from the state, but all the financing and other tools have been pulled away," observed NPH's Lane.
Governor Brown led a successful bid to abolish the state's local redevelopment agencies upon taking office in 2011. Newsom has promised to revive a version of redevelopment, which was once the second-biggest source of funds for affordable housing, after the federal government. (Under redevelopment, local governments can keep a portion of additional property taxes generated by new development in designated districts.) He also proposes a dramatic increase in the $85 million in annual tax credits that go to developers who invest in housing for low-income residents.
Finally, Newsom has made another bold pledge: to tackle the perverse fiscal incentives that cause cities to chase sales-tax-generating big box stores and car dealerships, instead of zoning land for housing. Residential development offers local governments few rewards in terms of local taxes and typically requires more infrastructure investment. Proposition 13, a 1978 constitutional amendment approved by voters, capped residential property tax rates, one of a handful of funding sources for cities.
"Mayors may claim they care about housing, but mayors really care more about retail because they capture sales tax increment," Newsom said at the March conference, sponsored by the advocacy group Housing California.
The state must explore ways to make housing development less of a "fiscal loser" for cities, says Lane. "I think if you don't attack that, then everything else would be… not completely useless, but would be less impactful."
Of course, incentivizing more home building without a plan to protect tenants and preserve the affordable housing that currently exists could be disastrous for California's low-income residents.
Coalition for Economic Survival's executive director Larry Gross points to the city of Los Angeles' loss of more than 24,000 rent-stabilized housing units since 2001 through evictions sanctioned by the Ellis Act. Under Ellis, landlords can evict tenants if they exit the rental business. The act, passed in 1985, in response to a California Supreme Court case, was intended to help small, mom-and-pop landlords covered by rent control. But advocates say the law has been abused by larger landlords wishing to evict low-income tenants.
"There is no way they can address the affordable housing crisis or the homeless crisis unless they shut off the faucet of what's pushing people out on the street, and out of their homes, and [the] Ellis Act is one of the main vehicles for that," says Gross, who hopes to see a repeal, or at least a reform, of the law.
Then there is the contentious question of expanding cities' abilities to adopt rent control policies. Tenant advocates failed to repeal the Costa-Hawkins Rental Housing Act at the state ballot box in November, leaving in place a decades-old law that prevents cities from applying rent control to post-1995 construction and to the growing number of single-family homes that are rented out by major Wall Street landlords, such as Invitation Homes. Newsom opposed Proposition 10, but not as vociferously as his Democratic Party rival, former Los Angeles Mayor Antonio Villaraigosa, who appeared in ads funded by the No campaign.
Any attempt to expand cities' capacities to regulate rents is likely to meet with pushback from a real estate industry emboldened by Prop. 10's lopsided defeat. But the tenant movement has grown in strength and gained new allies in labor and in the environmental movement after its face-off with landlords, who poured almost $80 million in the campaign to defeat the measure.
"That's where a package of bills comes in, where there is something for everyone," says Brian Augustus, legislative advocate for the California Rural Legal Assistance Foundation, which supports expanded rent control. He believes strong tenant protections—and expanded funding sources for affordable housing—will require "real estate groups at the table agreeing to some compromise," he says. "There's going to have to be some leadership on that."
---
Copyright Capital & Main