The Wage War's Two Fronts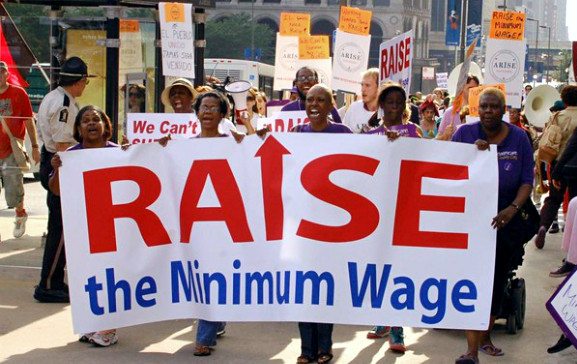 On Tuesday, the Los Angeles City Council voted 14-1 to adopt a citywide minimum wage of $15/hour by 2020. The next day, marching behind a giant banner that read, "McDonald's: $15 and Union Rights, Not Food Stamps," 5,000 cooks and cashiers show up at the company's corporate headquarters in Oak Brook, Illinois, to kick off the largest-ever protest to hit the burger giant's annual shareholder meeting.
These events represent the two battlegrounds in the growing war over wages taking place across the country. One strategy focuses on getting elected officials in local and state governments to adopt minimum wages above the federal level. The other strategy involves putting pressure on major employees — typically highly visible companies that depend on positive public relations to gain consumers' dollars — to raise the wages of their employees.
The two strategies complement rather than compete with each other, creating an increasingly powerful movement that involves both low-wage workers and their middle class allies. Even some business leaders understand that raising wages among the working poor is good for the economy because it increases consumer demand for goods and services.
Activists in an increasing number of cities — including Seattle, Chicago, Oakland, San Francisco and now Los Angeles — have pushed their local governments to pass municipal minimum wage laws. Today, 22 cities and counties set their minimum wages above the federal threshold of $7.25 an hour. Twenty-nine states also set their minimum wages above the federal level. Fifteen states index their minimum wages to rise automatically with the cost of living. In just the past two years, thirteen states and the District of Columbia have enacted minimum wage increases. Even voters in so-called conservative "red" states have expressed their frustration with stagnating wages. Last November, in Arkansas, Alaska, South Dakota and Nebraska, voters by very wide margins approved ballot initiatives to raise their state minimum wages.
Washington State's $9.47 minimum wage is currently the highest among the 50 states, but it will soon be overtaken by California, whose statewide minimum wage will jump to $10 next year.
The Economic Policy Institute recently released an issue brief regarding the projected impacts of the increased minimum wages in 20 U.S. states. The size of the increases ranged from Florida's $0.12/hour to a $1.25 increase in South Dakota.
According to the Economic Policy Institute (EPI), the increases would provide workers with $1.6 billion in additional wages in 2015. The study estimated that roughly 2.5 million workers would be directly impacted by the increases in 2015. That figure would be even higher if the EPI estimate included the minimum wage hikes in Seattle, San Francisco, and other cities. In Los Angeles, almost half of the city's private and public work force earns less than $15 an hour. Under the plan approved Tuesday, the minimum wage will rise from $9 to $15 over five years, a 66 percent boost. After 2020, the minimum wage would increase each year based on the inflation rate.
Simultaneously, low-wage workers for fast-food chains, big box retailers, janitors, security guards and others have forged a grassroots movement to pressure their employers to raise starting salaries and benefits. Over the past three years, workers at fast-food chains such as McDonald's, Taco Bell and Burger King have gone on strike and demanded a base wage of at least $15 per hour. Walmart workers have engaged in one-day work stoppages and protests as part of an escalating grassroots campaign to demand that the nation's largest private employer pay its workers at least $25,000 a year. Walmart workers and their community allies have organized highly visible protests at hundreds of Walmart stores on Black Friday — the day after Thanksgiving — the biggest shopping day of the year. Some workers and allies have engaged in civil disobedience and been arrested, similar to the tactics of the union movement of the 1930s, the civil rights movement of the 1960s, and the environmental and community organizing movements of the past quarter century.
These protests have won some important victories. In February, for example, Walmart — the nation's largest private employer with 1.3 million workers — announced that it would pay even its lowest-level workers at least $9 an hour starting this spring and raise that to $10 next year. The company also said that it would boost the pay of department managers' pay to at least $13 this year and $15 next, thus offering its low-wage "associates" a clearer path to advancement. Walmart estimated that about 500,000 employees will receive a raise, totaling roughly $1 billion a year.
Just one week after the Walmart announcement, TJX Cos, the owner of T.J. Maxx, Marshalls and Home Goods stores, said it would also pay employees to at least $9/hour in June, 2015. By, 2016, the company said that workers who had at least six months' seniority would receive at least $10 hour. This is nearly identical to the Walmart plan. A recent Credit Suisse analyst report estimated TJX's average hourly pay at $8.24/hour. TJX has 191,000 employees worldwide, including an estimated 150,800 in the United States. The company's new wage policy would increase employees' incomes by an estimated $75 million in the first year alone.
In March, the Wall Street Journal reported that Target planned to increase wages to at least $9/hour. A Target spokesperson said the company's goal was to "always be competitive with the marketplace." Target has 347,000 employees in the United States. The company had previously stated that it paid all employees more than the federal minimum wage of $7.25/hour, but the company did not disclose how many employees were earning less than $9/hour. A March 2015 report from investment firm Stifel, estimated that Target's announced changes would total an increase of $250 million a year in workers' wages.
In April, McDonald's announced its own wage increases. The company said that, beginning July 1 of this year, starting wages at company-owned McDonald's would be one dollar over the locally mandated minimum wage. The company also said that "the wages of all employees up to restaurant manager will be adjusted accordingly." The company said that these changes would impact more than 90,000 employees (at about 10 percent of McDonald's restaurants nationwide.)
Increasing Public Support for Higher Wages

The radical ideas of one generation often become the common sense ideas of the next generation. In the case of the minimum wage, the shift in public opinion has occurred much more quickly. The workers' protest is gaining public sympathy. Polling by Hart Research Associates has found that in just two years, strikes and other protests by low-wage workers have significantly changed public opinion. A poll conducted by Hart in January discovered that 63 percent of Americans support raising the federal minimum wage to $15.
Growing activism by low-wage workers around the country — assisted primarily by SEIU, UNITE HERE and the United Food and Commercial Workers union — has put a public face and sense of urgency over the plight of America's working poor. The proportion of American workers in unions has fallen to 11 percent — and to 6 percent in the private sector. Union activists view these campaigns among low-wage employees — disproportionately women, people of color and immigrants — as a potential catalyst to rebuild the labor movement as a force for economic justice and as a way to regain public support.
Two years ago, President Barack Obama called for an increase in the federal minimum wage to $9. Last year, he upped the ante to $10.10. Earlier this year, the Democrats in Congress announced their support for a $12 federal threshold. The momentum is so great that even some Republicans are jumping on board. When he ran for president in 2012, Mitt Romney opposed an increase in the federal minimum wage, but a year ago, in an interview on MSNBC's "Morning Joe," Romney urged Republicans to endorse a $10.10 minimum wage, arguing that it would help GOP candidates "convince the people who are in the working population, particularly the Hispanic community, that our party will help them get better jobs and better wages."
Given the current gridlock in Washington — where Congress hasn't boosted the federal minimum wage, stuck at $7.25 an hour, since 2009 — no one expects the Republican-controlled House and Senate to raise the wage floor. In April, 41 Senators — all Republican — voted to block a bill to raise the federal minimum wage to $10.10 per hour over three years.
But the dramatic changes in public opinion, growing grassroots activism and the escalating number of local and state minimum wages guarantee that this will be an issue in next year's races for President and Congress. Democrats and Republicans alike will be forced to answer the question, "Which side are you on?" in the growing debate over widening economic inequality, persistent poverty and stagnating wages.
An increase in the federal minimum wage to $12 would pump billions of dollars into the U.S. economy, according to a report by EPI and the National Employment Law Project (NELP). Workers who are both directly and indirectly affected would see nearly $80 billion in increased earnings over the next five years. Because low-wage workers tend to spend increased earnings locally on basic needs, this will benefit Main Street businesses that rely on consumer spending.
When employers don't pay their workers a living wage, taxpayers are forced to pick up the tab in the form of government assistance. A NELP study revealed that the low wages paid to employees of the 10 largest fast-food chains cost taxpayers an estimated $3.8 billion a year by forcing employees to rely on public assistance to afford food, health care and other basic necessities.
American taxpayers pay $153 billion in public assistance to working families each year, according to a recent study conducted by the University of California's Berkeley Center for Labor Research and Education. This is more than the annual budgets of the U.S. Department of Education and Health and Human Services combined.
Some states are considering telling the poor-paying companies to pick up the tab instead. Advocates call this the "Walmart tax."

"It's time for us to stop subsidizing these corporations. It's time they redesign their business models to pay their employees a wage they can live on," wrote Connecticut state representative Peter Tercyak, a Democrat who sponsored legislation to charge large companies a fee of $1 per hour, per worker, for all workers who make less than $15 an hour. Only companies with more than 500 employees would pay, with the money raised going into state programs for early childhood development and social services.
On Wednesday, in the midst of the protests at McDonald's' corporate headquarters, four U.S. public pension fund officials warned that McDonald's and other companies may be jeopardizing their own futures by returning excessive amounts of cash to investors via share buybacks. The four officials — New York City Comptroller Scott Stringer, New York State Comptroller Thomas DiNapoli, Chicago Treasurer Kurt Summers and California Controller Betty Yee — are fiduciaries to pension funds with $860 billion in assets.
Growing Momentum for Change

This upsurge in the wage wars hasn't come about all of a sudden. It is the result of years of both changing conditions, effective grassroots organizing, and changing public views about the poor.
Throughout his presidency (1981-1988), Ronald Reagan often told the story of a so-called "welfare queen" in Chicago who drove a Cadillac and had ripped off $150,000 from the government using 80 aliases, 30 addresses, a dozen Social Security cards and four fictional dead husbands. Journalists searched for this welfare cheat and discovered that she didn't exist. Nevertheless, Reagan kept using the anecdote to demonize the poor.
Reagan's bully pulpit, and the increasing success of right-wing think tanks and writers in dominating public discussion about poverty, led to a protracted political debate about welfare. To show that he was a different kind of Democrat, Bill Clinton campaigned in 1992 to "end welfare as we know it," in part by "making work pay." Congress enacted so-called welfare reform in 1996, limiting the time people can receive assistance.
Although liberals understandably decried this approach, it ironically helped shift public opinion and stereotypes about the poor. According to historians and sociologists, the public distinguishes between the "undeserving" and the "deserving" poor. The latter are viewed as more responsible, hard-working, and victims of circumstances beyond their control. Increasingly, Americans came to view low-income people as the "working poor," a group considered more sympathetic than the so-called "welfare poor."
In the 1990s, the mainstream news media began to pay more attention to the working poor, while academics and journalists expressed growing concern about the "Walmart-ization" of the economy — the growing number of low-wage jobs with few benefits. Barbara Ehrenreich's 2001 book, Nickel and Dimed: On (Not) Getting By in America, recounted her experiences toiling alongside hard-working low-wage employees who couldn't make ends meet. It soon became a national bestseller. In the 1990s and early 2000s, community and union organizers successfully pushed local governments in more than 100 cities to adopt "living wage" laws, narrowly targeted to employees of firms that had contracts and subsidies from local governments.
In 2004, San Francisco and Santa Fe, New Mexico were the first two localities to adopt citywide minimum wage laws, now $10.74 and $10.66, respectively. Then, in November 2013, 66 percent of the voters in Albuquerque, New Mexico, voted in favor of establishing a citywide wage that would automatically adjust in future years to keep up with the rising cost of living; it is currently $8.60 an hour.
That same day, 59 percent of voters in San Jose, California approved a citywide $10 an hour wage that would also increase with the cost of living. The San Jose victory created a regional momentum. In May of last year, the City Council of Sunnyvale — a San Jose suburb of over 140,000 residents — voted by a 6-1 margin to establish a local minimum wage of at least $10/hour, and to increase it annually with the cost of living. That same month, in a remarkable display of regional cooperation, Washington, D.C. and its suburban neighbors, Montgomery and Prince Georges County, Maryland, all adopted laws establishing a minimum wage of $11.50. The joint effort was forged to counter business warnings about an exodus of jobs if the nation's capital moved on its own. In 2012, Long Beach, California voters passed a ballot measure that raised the minimum wage for hotel workers in that tourist city to $13 per hour and guarantees hotel workers five paid sick days per year.
In November 2013, voters in the suburb of SeaTac approved a union-sponsored Good Jobs Initiative' to raise the minimum wage to $15 an hour for workers in Seattle-Tacoma International Airport and at airport-related businesses, including hotels, car-rental agencies and parking lots. The new law applied to only 6,000 workers, but the victory had huge ripple effects. Seattle Mayor Mike McGinn and his chief challenger Ed Murray both supported the SeaTac initiative and raised the possibility of doing the same thing in Washington's largest city.
On the same day that the SeaTac measure won, so did Murray and Kshama  Sawant, a socialist candidate for Seattle City Council who had made the $15/hour minimum wage a centerpiece of her campaign. After his victory, Murray followed through. He appointed a 24-person Income Inequality Committee — co-chaired by Howard Wright, CEO of Seattle Hospitality Group, and David Rolf, president of SEIU Local 775, who had been a major force behind the minimum wage proposal. Rolf was adept at playing the inside/outside game. While pushing to forge an agreement among the task force members, he worked with Seattle's labor movement and community activists to keep the pressure on city officials and to keep the issue in the media. He made sure that economists and other experts were available to educate the public, politicians and journalists and to rebut the business leaders' warnings that the $15 minimum wage would kill local jobs.
Both Rolf and Mayor Murray discovered that socialist Sawant was a useful, though unpredictable, ally. She was working with a group called 15 Now that threatened to put an initiative on the November 2014 ballot to raise the minimum wage to $15 an hour on January 1, 2015 for all businesses. Murray told business leaders that unless they reached an agreement with the unions, he would announce his own plan that was closer to Sawant's proposal than the phased-in plan that was being discussed in the mayoral task force.
Seattle's progressives clearly had the political momentum. Even after a series of compromises, the unions and their allies won a huge victory. They agreed to a three- to seven-year phase-in, with large businesses — those with at least 500 workers — required to reach the $15 wage first.
The combination of worker protests against stingy corporate employers and battles to get politicians to enact local and state minimum wage laws is part of a broader movement to address America's widening inequality. A recent study by the Institute for Policy Studies found that the bonuses handed to 165,200 executives by Wall Street banks in 2013 — totaling $26.7 billion — would be enough to more than double the pay for all 1,085,000 Americans who work full-time at the current federal minimum wage of $7.25 per hour.
The Occupy Wall Street movement, which began in New York City in September 2011 and quickly spread to cities and towns around the country, change the national conversation. At kitchen tables, in coffee shops, in offices and factories, and in newsrooms, Americans began talking about economic inequality, corporate greed, and how America's super rich have damaged our economy and our democracy. Occupy Wall Street provided Americans with a language — the "one percent" and the "99 percent" — to explain the nation's widening economic divide, the super-rich's undue political influence, and the damage triggered by Wall Street's reckless behavior that crashed the economy and caused enormous suffering and hardship.
A national survey by the Pew Research Center conducted in January 2014 found that 60 percent of Americans — including 75 percent of Democrats, 60 percent of independents, and even 42 percent of Republicans — think that the economic system unfairly favors the wealthy. The poll discovered that 69 percent of Americans believe that the government should do "a lot" or "some" to reduce the gap between the rich and everyone else. Nearly all Democrats (93 percent) and large majorities of independents (83 percent) and Republicans (64 percent) said they favor government action to reduce poverty. Over half (54 percent) of Americans support raising taxes on the wealthy and corporations in order to expand programs for the poor, compared with one third (35 percent) who believe that lowering taxes on the wealthy to encourage investment and economic growth would be the more effective approach.
Even after the Occupy protestors moved out of parks and public spaces, the movement's excitement and energy were soon harnessed and co-opted by labor unions, community organizers, and progressive politicians like mayors Ed Murray of Seattle, Bill de Blasio of New York, Betsy Hodges of Minneapolis, Eric Garcetti of Los Angeles, and many others, who have embraced the idea of using local government to address income inequality and low wages.
Business Lobby Groups Are Crying Wolf

Major business lobby groups routinely oppose raising the minimum wage at local, state and federal levels. But a recent survey of business executives suggests that these trade associations may not be speaking for the majority of their members. In fact, a majority of business executives surveyed by CareerBuilder.com actually favor raising the minimum wage, saying it would raise the standard of living among their employees and give the companies a better chance to hold on to their workers. A whopping 62 percent of employers said the minimum wage in their state should be increased. A mere 8 percent of those surveyed said that the current minimum wage of $7.25 an hour is fair. The majority of employers, 58 percent, said a fair minimum wage is between $8 and $10 an hour, while others nearly 20 percent said a fair minimum wage is between $11 and $14. And another 7 percent believed that minimum wage workers should make $15 or more per hour. (The study was based on a survey of 2,188 full-time hiring and human resource managers).
In other words, progressives have clearly won the moral argument. Americans believe that people who work should not live in poverty. So business groups have to resort to persuading the public that raising the federal minimum wage — or adopting a living wage or minimum wage plan at the local level — will hurt the economy. Business lobby groups and business-funded think tanks – including the U.S. Chamber of Commerce and its local affiliates, the National Restaurant Association, the American Legislative Exchange Council, the Employment Policies Institute (an advocacy group funded by the restaurant industry) and other industry trade associations — typically dust off studies by consultants-for-hire warning that firms employing low wage workers will be forced to close, hurting the very people the measure was designed to help.
But such dire predictions have never materialized. That's because they're bogus. In fact, many economic studies show that raising the minimum wage is good for business and the overall economy. Why? Because when low-wage workers have more money to spend, they spend it, almost entirely in the local community, on basic necessities like housing, food, clothing and transportation. When consumer demand grows, businesses thrive, earn more profits and create more jobs. Economists call this the "multiplier effect."
Moreover, most minimum-wage jobs are in "sticky" (immobile) industries — such as restaurants, hotels, hospitals and nursing homes and retail stores — that can't flee.
Business arguments against raising the minimum wage — particularly that it is a "job killer" — are crumbling. An analysis by Fortune magazine concluded that Wal-Mart can afford to give its employees a 50 percent raise without hurting the company's profits or stock price. The analysis explained that "[b]etter-paid employees are likely to work harder and stick around longer. If employees made more, they would have more to spend at Wal-Mart."
A recent University of Massachusetts study concluded that fast-food giants like McDonald's could raise wages to $15 without shedding jobs, which flies in the face of the National Restaurant Association claims that,"$15 would clearly jeopardize opportunities for existing and prospective employees." In a paper published in the Harvard Business Review, William Lazonick, a University of Massachusetts economist, and two colleagues documented that McDonald's has spent over $30 billion on share buybacks in the last decade. McDonald's, the world's largest fast-food chain, has 36,200 retail outlets in 119 countries, 6,700 of which are owned by the corporation; the rest are run as franchises. In the U.S., the company owns 1,500 of the 12,500 McDonald's restaurants with a total of 840,000 employees. Lazonick and his co-authors argue that McDonald's should have spent that money raising worker pay, or invested it in the company, instead of using it to "manipulate" its stock price and enrich executives and short-term investors.
---
(This feature was crossposted on the Huffington Post with permission.)

Is Goldman Sachs' New Fund Really Just Greenwashing Stocks?
Critics are questioning the motives behind a banking giant's socially responsible investment strategy.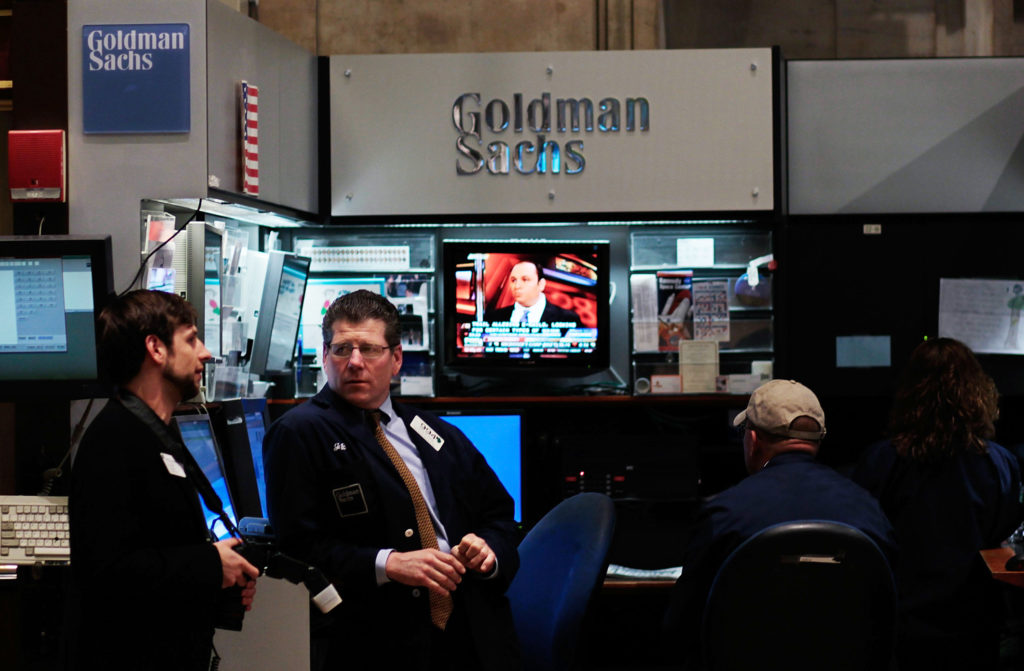 ---
Even as Goldman Sachs markets itself as a champion of social responsibility, it is helping CEOs block key environmental and social justice reforms proposed by their shareholders.
---
Co-published by The Guardian
When Goldman Sachs and billionaire Paul Tudor Jones announced a partnership three months ago to help socially conscious investors support "just business behavior," they promised that their new index fund would generate solid returns for savers while directing their investment dollars towards truly humane companies.
"Capitalism should be a positive force for change," said Jones in a press release announcing the fund, which is designed to track an index of socially responsible companies identified by his nonprofit JUST Capital. "Its future will be driven by a new definition of corporate success that is aligned with the values and priorities of the public."
---
 Socially responsible investing (SRI) offers
Wall Street an image makeover in a time of growing public distrust in the financial system.
---
The partnership comes as pension funds, university endowments and other institutional investors increasingly seek to put their financial weight behind ethical and sustainable corporate behavior — and as Goldman Sachs tries to shed its reputation as a "vampire squid." So far, the rebrand seems to be working: The JUST fund debuted in June to rave reviews from the financial press and ended its first day of trading with over $250 million in assets, making its launch one of the most successful in recent history.
However, a Capital & Main review of corporate documents shows that some of JUST's largest investments are in fossil fuel firms that have been sued for suppressing global climate research, Wall Street behemoths fined for defrauding investors, a social media platform accused of helping rig elections and a tech industry giant criticized for paying its workers starvation wages.
Moreover, proxy voting records reveal that even as Goldman Sachs now markets itself as a champion of social responsibility, the firm has been using its existing stakes in many JUST fund companies to help CEOs block key environmental and social justice reforms proposed by their shareholders. Those initiatives range from gender pay gap and diversity initiatives to corporate governance reforms; from efforts to increase lobbying transparency to prohibitions on doing business with companies tied to genocide and other human rights violations.
Meanwhile, in the months before JUST fund's launch, Goldman was slammed for blocking a human rights resolution at its own company — and one of Goldman's key lobbying groups in Washington was working to shape Republican legislation that would make it far more difficult for shareholders to file environmental, human rights and other socially minded initiatives in the future.
"You shouldn't be able to, with a straight face, invest in the Dakota Access Pipeline with your left hand, and with your right hand tell people that you're doing responsible investing," Lisa Lindsley, Capital Markets Advisor for the shareholder advocacy group SumOfUs, told Capital & Main. "The compartmentalization is very hypocritical."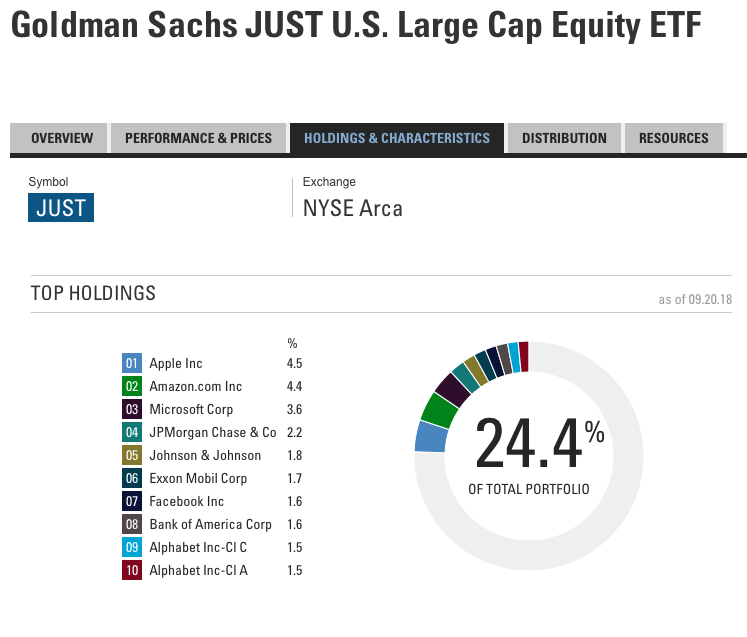 Through a spokesperson, Goldman Sachs declined to comment on the process by which its equity funds vote on shareholder proposals, and how that process may differ with the JUST fund — which, as a newly launched fund, has not yet participated in proxy voting for any of the companies in which it holds stock.
"Ethically Motivated Versus a More Greenwashing Approach"
Goldman's new fund spotlights socially responsible investing (SRI) — a financial strategy that represents Wall Street's more affirmative answer to negative or exclusionary "screening" tactics like divestment from fossil fuel producers and tobacco firms.
While a recent directive by the Trump administration has been viewed by some experts as an effort to limit SRI strategies, the market for such investments remains strong. According to the Forum for Sustainable and Responsible Investment, U.S.-based assets managed using SRI strategies more than doubled to $8.7 trillion between 2012 and 2016, and now account for more than one in five dollars under professional management in the country.
---
Goldman's hostility toward many SRI initiatives is illustrated by its votes on resolutions at the companies now in its JUST fund.
---
The rise in SRI investment comes amid questions about whether corporate boards are adequately evaluating environmental and social justice concerns when they look at their company's long-term financial prospects. PwC's 2017 survey of corporate officials found "that directors are clearly out of step with investor priorities in some critical areas" and the report added that "one of these areas is environmental issues."
High-profile initiatives like the JUST fund are a chance for the industry to tout its eagerness, as Goldman Sachs executive Timothy O'Neill put it in a press release, to "[allow] investment to flow toward a more sustainable and equitable future, while seeking to generate attractive returns for investors."
The trend has given Wall Street an opportunity for an image makeover in a time of growing public distrust in the financial system: According to a Gallup poll conducted last month, fewer than half of Americans under 30 report having a positive view of capitalism, a 12-point drop in just the past two years.
For some activists and investors, though, the rapid expansion of the market for SRI-branded financial products has raised concerns about greenwashing — the practice by which companies market themselves as socially or environmentally responsible without actually adopting business practices that meet those goals.
"Putting the word 'ethical' or 'sustainable' in the name of a fund does not make it so," said a report by British investment advisory firm Castlefield, whose recent reports documented how some environmental funds include investments in fossil fuel firms. "It is increasingly important to differentiate between those funds genuinely responding to customer demand for a sustainable approach and those which use terms like ethical, Socially Responsible Investment or stewardship in their name but include companies such as British American Tobacco or Shell in their key holdings."
Goldman's Record on Socially Responsible Investing
Amid surging interest in SRI funds, Goldman's JUST U.S. Large Cap Equity ETF aims to convince investors that the company is serious about injecting a spirit of ethics and morality into its financial strategies. To that end, the fund says it directs money only into companies that are ranked highly by JUST Capital.
The 426 companies featured in the JUST index were selected on the basis of their performance across seven different criteria, including labor practices, customer service and environmental impacts. Goldman itself ranks in the top tenth of the JUST rankings, despite the company being attacked for supporting the fossil fuel industry and also being fined $5 billion in 2016 by the Department of Justice for "serious misconduct in falsely assuring investors that securities it sold were backed by sound mortgages, when it knew that they were full of mortgages that were likely to fail."
Whether Goldman's new JUST fund represents a step in a larger shift towards socially responsible investment remains to be seen. Baruch College's Jared Peifer says that one way to judge a firm's commitment to social responsibility is to watch how it deals with resolutions brought by shareholders, whereby investors attempt to force management to adopt socially responsible policies.
"There is variance to the degree that SRI funds are ethically motivated versus a more greenwashing approach," Peifer told Capital & Main. "Is the fund dialoguing with management? Issuing shareholder proxy votes, voting on others? If so, that seems like a more ethically motivated fund to me, because they are exerting additional effort many other funds do not bother with."
In recent years, Goldman executives have been fighting off SRI resolutions at their own company, including initiatives that have asked management to more transparently disclose their political lobbying and create a human rights committee to review the company's policies regarding doing business with governments engaged in censorship and repression. Only three months before Goldman announced the JUST fund, Goldman successfully pressed the Securities and Exchange Commission to bless its move to block shareholders from voting on a resolution asking the company to honor indigenous peoples' rights.
"The company's extraordinary no action request shows the notable lengths that the Company is willing to go, and to stretch credulity, in order to prevent its directors from shouldering fiduciary obligations on indigenous and human rights," wrote shareholder proponents at the time.
Last year, Goldman was lauded by Share Action, an SRI activist group, for switching its position and using its holdings to support a series of climate-change-related shareholder initiatives. In its proxy voting guidelines, Goldman says it will generally vote for proposals asking companies to report on "policies, initiatives and oversight mechanisms related to environmental sustainability, or how the company may be impacted by climate change."
However, those guidelines do not make the same commitment when it comes to initiatives requiring companies to actually reduce their carbon emissions. The guidelines also say the company will generally vote against "proposals requesting increased disclosure of a company's policies with respect to political contributions." The company further says it will vote to remove representatives of employees or organized labor from a company's board if they are overseeing company audits or executive compensation, and if there is no legal requirement for them to be in that position.
Goldman Votes Against Resolutions at JUST Fund Companies
Goldman's hostility toward many SRI initiatives is illustrated by its votes on resolutions at the companies now in its JUST fund.
For example, there is Chevron Corporation, which ranks as the JUST fund's 17th-largest holding as it faces accusations that it is trying to intimidate environmentalists and avoid cleaning up pollution in the Amazon rainforest.
In May, the oil giant's shareholders were asked to vote on a slate of seven proposals, including a requirement for the company's board to nominate a director with environmental experience; the preparation of a report on transitioning to a low-carbon business model; increased transparency relating to lobbying activities; and stronger prohibitions on Chevron's interests overseas from doing business with governments that are complicit in genocide or crimes against humanity.
As shareholders in Chevron, 14 different Goldman Sachs Asset Management (GSAM) funds voted on these proposals. The majority of funds voted in support of just one, a request for the company to prepare a report on its efforts to minimize methane emissions. In every other case, the funds unanimously or overwhelmingly opposed the proposals.
Proxy-voting records from dozens of shareholder meetings reviewed by Capital & Main show a similar pattern. In rare cases, Goldman funds did vote in favor of some shareholder reforms, including the preparation of a report on the gender pay gap at Facebook and Google. At several pharmaceutical companies, including AbbVie, Amgen and Eli Lilly, Goldman funds supported increased accountability for executives regarding high drug prices.
Such votes, however, were few and far between. Of the 10 companies that make up the largest share of Goldman's JUST fund, eight considered shareholder-proposed reforms that were overwhelmingly opposed by Goldman-managed funds at their most recent annual meetings. The proposals included prohibitions on offshore tax avoidance schemes, increased transparency on lobbying activities and requirements that companies appoint an independent board chair — a governance model that advocates say leads to more responsible corporate behavior. The remaining two companies, Microsoft and Visa, did not consider any shareholder proposals.
At JPMorgan, the recipient of JUST's fourth-largest investment, Goldman funds voted unanimously against a requirement for the company to release a report on its investments in PetroChina, a firm that activists accuse of helping to fund crimes against humanity due to its ongoing business relationships with oppressive regimes in Syria and Sudan. Goldman made that move despite its own proxy voting guidelines saying the company would "generally vote for proposals requesting a report on company or company supplier labor and/or human rights standards and policies, or on the impact of its operations on society."
Eighteen of the 19 Goldman funds with shares in JPMorgan also voted against an effort to prohibit the accelerated vesting of awards for executives who enter government service, a practice often criticized for fueling the revolving door between Wall Street and financial regulators.
A shareholder proposal to the board of pharmaceutical manufacturer Johnson & Johnson, expressing concern that the company's compensation practices "may insulate senior executives from legal risks" relating to the opioids crisis, recommended that opioid-related litigation costs be factored into executive pay. All 16 Goldman funds with stock in Johnson & Johnson voted to defeat the proposal.
Goldman asserts that its fund is designed to invest in firms that rank well in JUST Capital's ratings. But even that assertion is not what it seems.
Because the index features companies ranked in the top half of their respective industries, it includes dozens of firms in sectors like energy and financial services that score poorly overall. For example, the fund invests in both National Oilwell Varco, a drilling equipment firm, and Entergy, a Louisiana utility, despite the fact that the companies rank 626th and 676th, respectively, among the 875 companies evaluated by JUST Capital.
"Every industry is represented at approximately the same weight as [in] the Russell 1000," said JUST Capital's Hernando Cortina, referring to the best-known index fund tracking the largest publicly traded companies. Cortina added that the JUST fund is designed to feature responsible companies "while providing diversified equity exposure to every industry."
Lisa Lindsley of SumOfUs said the situation spotlights how socially responsible investing is seen on Wall Street not as a values-based cause, but as yet another way to trick investors into believing that the investment industry has reformed itself a decade after the financial crisis.
"The reason they're going into this is that there's money there. It's all driven by greed," she said. "It's pretty easy to do some greenwashing and call yourself a responsible investment manager."
As Goldman now markets its JUST fund, it remains unclear whether the company will change its proxy voting or its posture towards shareholder resolutions in general. Those resolutions, though, could be more rare, if congressional Republicans pass their legislation that would make it more difficult for shareholder resolutions to qualify for a vote. Federal records show that the American Bankers Association — which lists Goldman Sachs as a member — has been lobbying on that bill, which critics say could undermine the SRI movement.
"Shareholder proposals play an important role in ensuring that owners get a say in how their companies are run, and in setting the broader agenda across the market," wrote Dimitri Zagoroff of the shareholder advisory firm Glass Lewis. "Making it harder for shareholder proposals to be resubmitted from year to year would make it that much harder for proponents to refine their ideas and build a coalition of support. This often takes several years, both to generate interest in the underlying topic, and to convince other shareholders that the specific proposal offers the appropriate means of addressing the topic."
---
Copyright Capital & Main