State to Study Charter Schools' Impact as Money Flows Into L.A. School Board Election
LAUSD marks the passing of Michelle King. The strange case of Sebastian Ridley-Thomas. Will Oakland teachers strike?
"Learning Curves" is a weekly roundup of news items, profiles and dish about the intersection of education and inequality. Send tips, feedback and announcements of upcoming events to braden@capitalandmain.com, @BillRaden.
---
California's charter school sector moved one step closer to accountability on Tuesday when Governor Gavin Newsom officially asked State Superintendent of Public Instruction Tony Thurmond to assemble an expert panel to assess the effect on public school district finances by unregulated charter school expansion. Thurmond's panel represents the first time California will have conducted any kind of in-depth analysis of charter impacts on public education since the state passed its original charter legislation in 1992. It has until July 1 to deliver its findings.
Meanwhile, the race for L.A Unified's March 5 school board special election entered its final stretch this week as candidates vied to fill out the term of pro-charter Board District 5 member Ref Rodriguez, who resigned in July following a felony conviction for campaign money laundering. At stake is the political balance of a split board as L.A. schools superintendent Austin Beutner prepares to roll out a controversial portfolio district reorganization plan.
Beutner's biggest fear has to be an outright March 5 win by former two-time BD 5 representative Jackie Goldberg, a progressive L.A. icon who is fourth in campaign contributions but is expected to benefit from her broad name recognition and the pivotal endorsement (and financial might) of United Teachers Los Angeles. Nipping at her heels as far as labor support goes is money leader Heather Repenning, a former aide to Mayor Eric Garcetti. Repenning comes to the race with the backing of Service Employees International Union Local 99, which represents school cafeteria workers, janitors and teachers' aides, and has already chipped in over $400K in independent expenditure money. The contest for the charter vote — and the endorsement of California Charter School Association Advocates, which announced it is waiting to see who makes it to a runoff — is between former charter school executive Allison Bajracharya and Huntington Park City Councilmember Graciela Ortiz, who are respectively number two and three in total campaign contributions.
Flags flew at half-staff this week at Los Angeles Unified in honor of Dr. Michelle King, the much-admired former LAUSD superintendent whose death from cancer at the age of 57 was announced by the district Feb. 2. King, who was hired in January 2016 to replace retiring L.A. schools supe Ramon C. Cortines, had risen through the district's ranks in a 33-year-career that was cut short by a September 2017 medical leave that became permanent the following January.
As LAUSD's first African-American woman superintendent, King's appointment also helped crack a longstanding glass ceiling in education where women account for less than a quarter of all superintendents, according to a 2015 survey by the School Superintendents Association. Her selection had capped weeks of intensive community input that turned out to match King to a tee — a lifelong educator and innovator with deep classroom roots and hands-on experience with LAUSD's 88 percent diverse enrollment and the challenges facing a massive school district whose student body is wracked by an 80 percent poverty rate.
One wrinkle to hiring career non-educators from Wall Street as your school superintendent turns out to be their unconventional ideas about ethical hiring practices for a public education leader. A week after Learning Curves called out Austin Beutner as one of the first to ink a lobbying deal with scandal-spattered and #MeToo-accused former State Assemblymember Sebastian Ridley-Thomas, a report by the L.A. Times' Melody Gutierrez fills in details on the LAUSD contract and Sacramento's insider politics-as-usual enabling. And investigative ed blogger Carl Petersen connects more of the curious dots between Beutner, Sebastian and the bad seed lobbyist's political potentate dad, L.A. County Supervisor Mark Ridley-Thomas.
Oakland teachers are now set to turn the East Bay red for ed in the wake of Monday's announcement by the Oakland Education Association that the OEA rank and file voted 2,206 to 105 to authorize a strike. The soonest that teachers could legally occupy picket lines is after Feb. 15, when a neutral, three-member fact-finding panel is expected to release its report on the teachers' stalemated contract talks with their district. Teacher demands closely echo those that resulted in last month's six-day walkout by L.A. teachers. They include a 12 percent raise over three years, smaller classes, additional counselors and school nurses, and scrapping a district plan to close up to 24 neighborhood public schools.
---
Copyright Capital & Main
West Virginia Teachers Flex Muscle Again
Meanwhile, Oakland teachers break out the picket signs and LAUSD discovers the joys of transparency.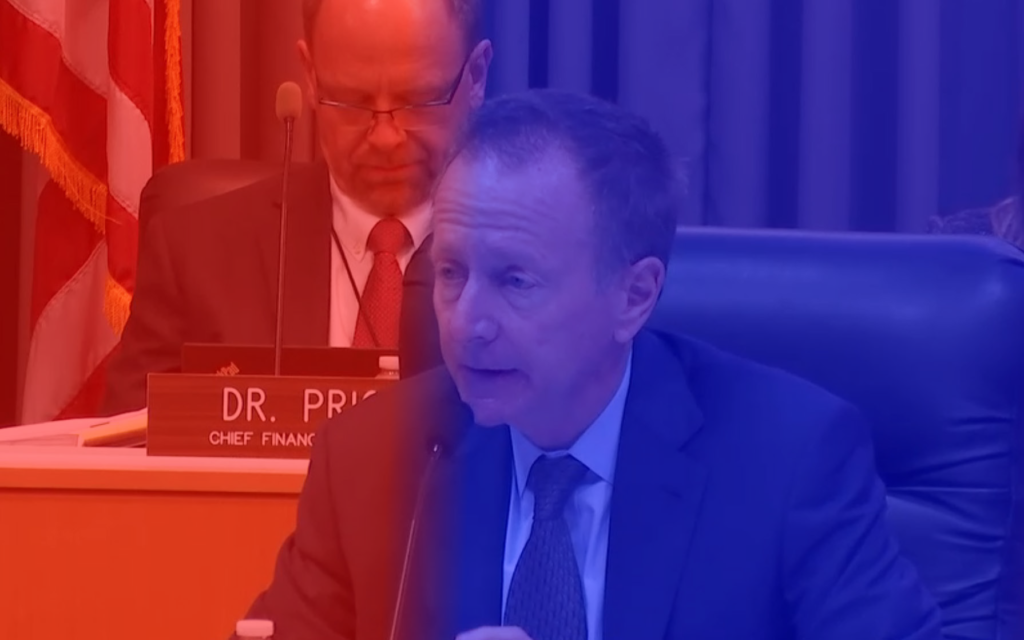 ---
"Learning Curves" is a weekly roundup of news items, profiles and dish about the intersection of education and inequality. Send tips, feedback and announcements of upcoming events to  braden@capitalandmain.com, @BillRaden.
---
"Yes, West Virginia, there is a teachers union, and it's still fighting mad." That was the message for Mountain State lawmakers this week when thousands of West Virginia teachers and school workers walked off the job to kill a privatization bill reputedly written in retaliation for last year's historic nine-day teachers strike. Only hours into the Tuesday-Wednesday walkout, the state's House of Delegates voted 53 to 45 to indefinitely table Senate Bill 451, which had linked a teacher pay raise to the gutting of job security and a first-time legalization for West Virginia of charters and private school vouchers. "Instead of trying to treat a symptom with garbage legislation that isn't even vetted or proven to work," Logan County teacher Kristina Gore told New York magazine, "let's brainstorm some legislation to fix the real problem — the social conditions in which our children live."
All eyes now turn to the East Bay, where over 3,000 Oakland Unified educators walked off the job today, following the recommendations issued last Friday by a neutral fact-finding panel, which agreed with key union bargaining positions but was unable to break the deadlock. "Years of underfunding, the unregulated growth of the charter school industry and district neglect [have] starved our schools of the necessary resources," OEA president Keith Brown charged at a Saturday press conference. In addition to a 12 percent raise over three years, the union is asking for class size reductions, more support staff and is opposing extreme austerity measures that could shutter up to 24 OUSD neighborhood schools.
That OUSD chopping block was the subject of Tuesday's almost Dickensian Oakland school board meeting in which a procession of tearful parents, students, teachers, activists and education leaders pleaded with trustees to spare programs targeted for cuts. School libraries, the district's restorative justice and foster youth programs, and its Asian Pacific Islander Student Achievement services have all been slated for deep reductions in the current, $21.75 million round of budget cuts. The final vote comes February 25.
A murky scheme to transform Los Angeles Unified into a"portfolio" or "network" school district became a little more transparent last week when LAUSD suddenly released a torrent of documents related to superintendent Austin Beutner's "Re-Imagine LAUSD" reorganization plan. After months of stonewalling on California Public Records Act requests from news media and BD 3 school board member Scott Schmerelson, the office of LAUSD General Counsel David Holmquist released hundreds of pages of Re-Imagine contracts and memoranda after Schmerelson upped the ante by introducing a resolution reprimanding the superintendent for his "lack of transparency and responsiveness." That measure passed in a 5-1 vote Tuesday after board members soundly rejected BD 4 member Nick Melvoin's attempt to resurrect an old ALEC model law attack on teacher job security called "mutual consent."
The most eye-popping of the PRAs is LAUSD's 24-page, $765,000 contract with national portfolio district retrofitters Kitamba. The company, which also designed the portfolio transformation of Camden, New Jersey schools that has turned that district into a parent-versus-parent war zone, was engaged to implement a performance-based rating system that, under the portfolio system of governance, is used by district "network leaders" to justify closing and replacing low-testing public schools — usually with charters. Kitamba CEO Rajeev Bajaj, who may be best remembered in New Jersey for his connection to a conflict-of-interest scandal involving former Newark schools chief Christopher Cerf, is leading the LAUSD effort.
California college sexual assault cases are on hold following last month's state appellate court decision that ruled a USC football player accused of sexual assault must be allowed to cross-examine his accuser. According to the L.A. Times, the January 4 reversal has left Golden State colleges and universities scrambling to revise their sexual misconduct policies. The decision followed controversial new federal Title IX sexual misconduct rules proposed by U.S. Education Secretary Betsy DeVos, who is seeking to rescind trauma-informed Obama guidelines and replace them with narrower, more trial-like proceedings, including the cross-examination of accusers in real time. Universities, including the UC and Cal State systems, have opposed direct questioning as an intimidation of assault victims. Since the ruling, Cal State has temporarily halted proceedings in 75 cases that are probably eligible for disciplinary hearings. CSU Title IX coordinator Linda Hoos told the Times that the university is crafting a policy where accusers will be cross-examined via videoconferencing and through a neutral intermediary. UC is expected to follow suit.
---
Copyright Capital & Main