Living Homeless in California: To Health and Back
One health-outreach group's mandate is to get homeless people into sustainable living situations. Even after a client is placed in permanent housing, the team will follow up and, ideally, get the person to regularly visit a clinic.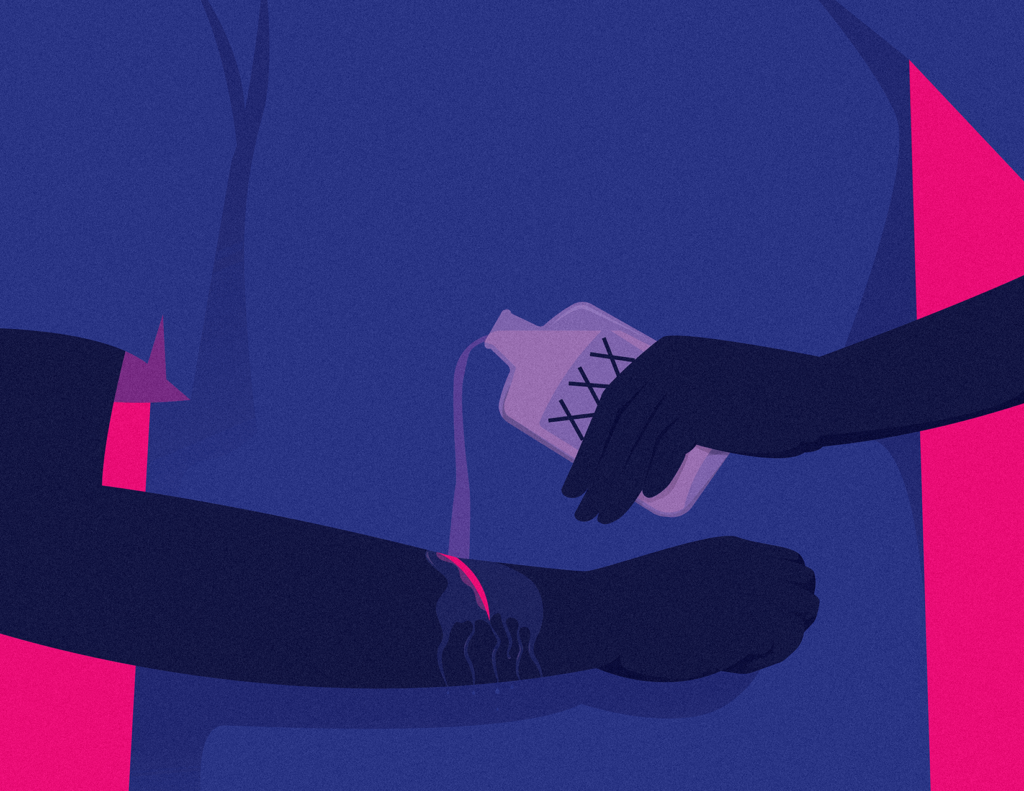 ---
Doctor: "Some medical conditions won't get better until a person is housed. How do you store diabetes meds without a fridge?"
---
The 2018 Los Angeles Homeless Services Authority estimates that about 53,000 homeless people live in Los Angeles County, a slight drop that reverses a significant six-year surge. Their backgrounds are as varied as Los Angeles itself. Some are in shelters. Many more live in cars or in tents, or in any variety of unpermitted spaces. You wouldn't necessarily know who's homeless just by looking at them, as I discovered on a ride-along with a multidisciplinary outreach team in March.
The team is part of the Judy and Bernard Briskin Malibu/Pacific Palisades Homeless Project, which was launched in January 2017 to fund health care, temporary housing and case management in Malibu and Pacific Palisades, as part of a continuum of care for the most vulnerable homeless, usually those with medical concerns.
I rode in a van with two professionals from the Venice Family Clinic, Dr. Coley King, DO, the clinic's director of homeless services, and a psychiatrist, Dr. Wes Ryan. A social worker from partner homeless service agency the People Concern, Alex Gittinger, rounded out the team.
"Some medical conditions won't get better until a person is housed," King said. "How do you store diabetes meds without a fridge?"
The group's mandate is to get people into a sustainable living situation, whether it's nearby – super expensive – or in the San Fernando Valley or Inland Empire. Even after a client is placed in permanent housing, the team will follow up and, ideally, get the person to regularly visit the clinic.
Some of their clients obtain temporary housing through vouchers that pay for residential motels. The funding is limited and, as King puts it, "super complicated," but is often a combination of money from the Department of Housing and Urban Development (HUD) and Housing Authority of the City of Los Angeles (HACLA). The team has to be judicious with who gets a voucher for temporary or permanent housing, especially on Los Angeles' Westside.
---
A tan and wiry 56-year-old, Michael was hit by a car while riding his bike on PCH. He insisted on using painkillers indefinitely.
---
"We don't just drop people off at an apartment," Gittinger said. "People who have been out on the streets for decades need continuous care to transition into living indoors [and] a new community, to build a network of friends, to become responsible with paying rent and utilities."
The afternoon's first stop was a small but clean Santa Monica motel where Michael was living while he recovered from injuries. A tan and wiry 56-year-old, Michael was hit by a car while riding his bike on Pacific Coast Highway in Malibu. It wasn't his first time. He had a titanium rod in one leg from another hit-and-run on PCH. As Dr. King took his blood pressure, he reminded Michael that he has to be weaned off pain meds to avoid getting addicted.
Michael walked with a bamboo cane topped by a plastic golf ball and insisted on using painkillers at night — indefinitely. Dr. King warned against getting hooked, telling Michael that the voucher money for the medication in question would run out soon. Michael acquiesced and took a blister pack of new, less addictive meds.
After taking his vitals, King brought Michael to the Ocean Park Community Center in Santa Monica, where a nurse gave him a B12 injection. There, King and one of the center's coordinators tried to convince him to consider one of the 70 beds in the OPCC shelter, noting that funding for his motel room will also soon run out.
---
Social Worker: "The first time I say, 'I'm Alex and I do outreach,' they shout at us to go away. And beer cans fly. But we keep showing up."
---
"I'm too old to be around people who annoy me," Michael replied. When King dropped Michael back at his motel, the injured man signed a form for $200 cash and a $200 EBT card, which will have to last him a month.
"You can buy a raw chicken with an EBT card but not prepared food," King said, on his way to the next client. "How does that make sense? None of these places has a kitchen."
At another small residential motel in Santa Monica, I met Dennis, a Vietnam vet in his 60s who's bedridden with a serious leg wound in his shabby but livable room. He let me photograph him, but didn't want to talk. While Dr. King took his vitals and asked him about his recent flu, Gittinger told me the Malibu team has been visiting Dennis for months, since they found him in an encampment in the bushes of Zuma Beach.
"Dennis didn't want anything to do with us in the beginning, but we kept coming and bringing food," Gittinger said.
Dennis is linked to the Veterans Affairs hospital in West Los Angeles, but didn't like the organization's red tape. He needed some consistency, someone to come to him, Gittinger said.
"We get to know the residents and the homeless population in an area, and it's a small area so we're not spread too thin," Gittinger said. "We work with the sheriff, the city and over time we have found the hot spots. It's all about building relationships. It may take 50 engagements with someone. The first time I say, 'I'm Alex and I do outreach,' they shout at us to go away. And beer cans fly. But we keep showing up."
---
A secluded Zuma Beach encampment is called "Margaritaville" because it seems like a good spot for a college party. But nobody is partying.
---
Dennis is on a short list for senior housing in the Inland Empire. If it works out, he will be living with a friend he met in an encampment in Malibu, and will be permanently housed for the first time in more than two decades.
Our next stop was a Zuma Beach encampment of a half-dozen men in the high scrubby bushes near the parking lot. The location was secluded and if you're homeless and living outside, you would probably want to crash there. The team called it "Margaritaville," because it seemed like a good location for a college party. But nobody was partying.
At Margaritaville I met another Dennis — a beefy and well-groomed man in his 30s who told me he's been at the encampment since last July 5 and that he wants to go back to school for photography. He was engaging and willing to talk, but vague about what led him to the beach. He had worked as a driver for Safeway and as a photographer, was an apprentice in the carpenters union for a while and had lived in San Francisco's Tenderloin until he "couldn't take the noise." The beach may be a salubrious setting, and it even has outdoor showers – meant for swimmers, but the homeless population stealthily uses them too – but Dennis said it's hard to fully relax. He worries that if he lets down his guard someone could take his things, and rats would come for his food.
---
"More and more are getting priced out. Either the rent has risen too much or they lost their job, and someone falls ill . . . The next step is a tent."
---
Further down the coast highway, in Malibu, the team split up to check on several clients outside an upscale mini-mall. One was a man in his mid-60s. Tom – not his real name – was well-groomed and wearing khakis and a black polo shirt. He might have been a friend of the members of the team, hanging out with them in front of Starbucks — except that King was taking his blood pressure. Tom didn't feel comfortable with my presence but I learned from the team that he was married and had owned a house, but has been living in his SUV for months and is suffering from chest pains, high blood pressure and general stress.
"He's in denial about being homeless," King said. The team has working on getting Tom a voucher for senior housing. They're concerned that Tom's age, health concerns and newness to being homeless make him more vulnerable to a life without shelter. A lot of the people living outdoors have been doing this for years and are very resourceful, knowing which establishments won't hassle them for using the restroom. And sometimes, like the younger men at Zuma, they consider their experience as simply living off the land. That is, until their health fails or the weather goes bad.
There are about 30 people in the Venice outreach orbit, and about three dozen or so similar teams around Los Angeles County, all with different funding, each serving up to several hundred clients. "Nowhere near meeting the need of the entire homeless population," Dr. King said.
Not everyone who experiences homelessness needs a team. But even those who pull themselves up by their bootstraps have relied on the kindness of strangers.
Gittinger said he looks at homelessness in the U.S. as a systemic problem, not an individual problem.
"More and more are getting priced out," he said. "For whatever reason they can't afford the rent anymore. Either the rent has risen too much or they lost their job, and someone falls ill. And with their last savings they may buy an RV or a van, and they try to keep it up. Then the van gets ticketed or towed and impounded, and they can't pay to get it back. The next step is a tent."
---
Copyright Capital & Main
Living Homeless in California: Pet Owners on the Streets
Pets can provide an invaluable source of companionship, comfort and security. That's especially true for those without stable housing.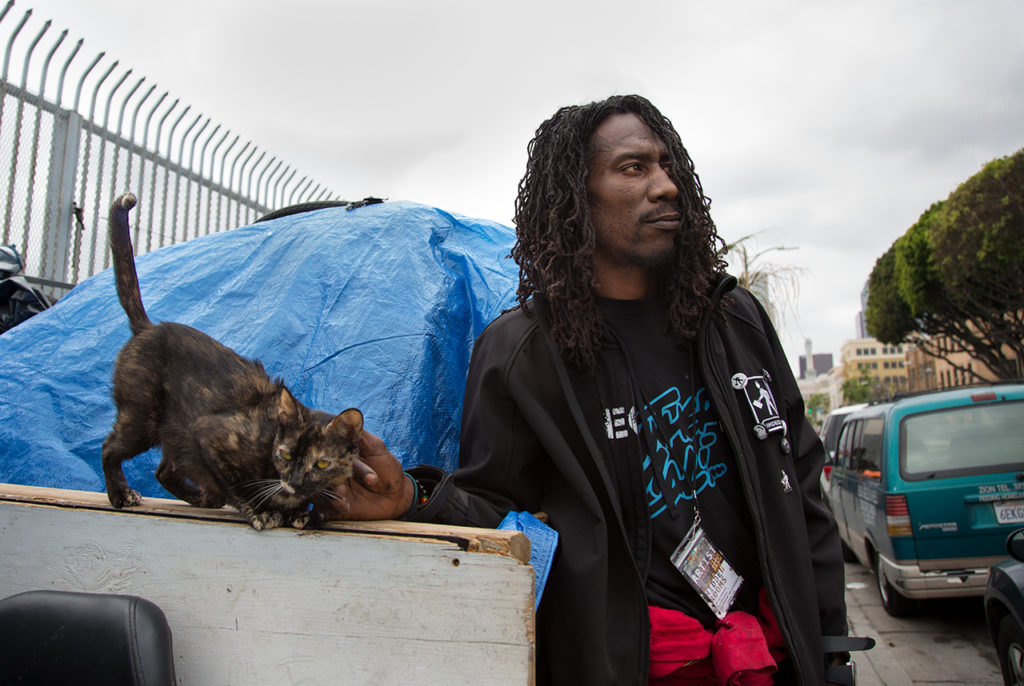 An estimated five to 10 percent of homeless people in the United States have pets, according to the Nevada nonprofit organization, Pets of the Homeless. Take a trip through the tent cities that line the sidewalks of downtown Los Angeles and you'll see dogs, cats, even birds. As any pet owner can tell you, animals provide affection, comfort and stability, something that can be particularly meaningful when your life's possessions could be swept away at any time by a police raid.
The animals benefit too. Most pets would prefer constant companionship outdoors to solitary shelter.
But many homeless shelters and housing programs don't allow pets. The expenses, logistics and liabilities involved in housing animals can be prohibitive for programs that are already underfunded. The number of shelters that allow animals are on the rise, however.
I recently visited with a handful of homeless and formerly homeless pet owners in Los Angeles to learn about their lives.
---
Maria, 64
Maria sells off-brand cigarettes in front of a row of tents on a busy street in downtown Los Angeles. She keeps her tobacco merchandise arranged neatly on a small plastic tray, and beside her a tiny Chihuahua puppy, Cici, runs and plays amid the sidewalk foot traffic, or naps in the small carrier at Maria's feet.
Maria has been living here since getting out of jail in November, she says, "for something I didn't do. It took them 35 days to realize I didn't do it." She emerged to find her husband of 37 years was gone. "He disappeared with all my money and all my stuff," she adds. "The day I came out I slept on the sidewalk. My pillow was the cement and my blanket was the jacket I was wearing."

"I was angry the first few months," she continues. But in February she bought Cici from a street vendor for $40. "She has taken me out of my depression over what my husband did. She's become everything to me. She's my life."

Maria knows everyone in her tent community. People stop by every few minutes to say hi. A couple even buy cigarettes, including a young man named Toby. "I call him my adopted son from the street, I take care of him. He's been on the street since he was 16." Toby recently turned 20, Maria says. "I got him a big-ass cake and some money, some clothes. I'm the first person who celebrated his birthday on the street."
In a little over a month, Maria is scheduled to move to federally subsidized Section 8 housing in Long Beach. It's far from her friends here, but she's happy to go. "All I want is a roof over my head. As long as me and my dog got that, I'll be alright."
---
Craig, aka Taco, 58
"He's my best friend," Taco says of his 10-month-old puppy, Hambone. "I didn't realize that a person could have such an attachment to an animal. But I do."
Taco tells me he's lived in California all his life, "except for I lived in Chicago for nine years. I loved Chicago, the weather, everything about Chicago. My ex-wife, she didn't like the weather. We relocated back to L.A."
Taco is single now. "My guards are still up, but I want to have those old feelings back again. Because I'm somewhat of a romantic type guy." But Taco doesn't get lonely, because he has Hambone. "He cheers me up when I'm sad. He'll nudge me. He'll come with concern, and then he'll start playing, trying to make me laugh."
Taco and Hambone live in a small single-room occupancy apartment, or SRO, in a building run by a nonprofit social services agency. "I came down here to Skid Row for the resources. A friend was telling me about the housing."
He says his apartment is nice, and much better than shelters he's stayed in, "but you're on Skid Row. Skid Row's like the courtyard, if you've ever been to the penitentiary. You have be ready, you have to have your shoes strapped up."
Taco says he's on the list for Section 8 housing, and looking forward to moving. He thinks he might like to live near Staples Center. A woman walks by with a small dog, and Hambone strains on his leash, whimpering and sniffing the other dog. "Stop it, stop it," Taco scolds. "That's a girl dog. She snapped at you, right? You'll learn, you'll learn women too."
---
Thomasina, 30
"I've had Flower since she was a puppy," Thomasina says of her yellow Chihuahua mix. "This lady had a box of them in front of a store. The people I was staying with at the time bought her for their daughter, but they didn't take care of her. She was so small, covered in fleas, so scared. So I started taking care of her. And ever since she's been by my side. My little partner in crime."
That was five years ago, when Thomasina's life was in chaos. She had no stable place to live, and few opportunities. "I wanted to be in the working world, but had to live my life in the street. I got into prostitution by default." She came to Skid Row in search of housing and social services, a move that was inspired in part by Oprah Winfrey. "I saw this clip of Oprah, and her words spoke to my heart," she says, laughing. "She was saying, you have to help yourself, you have to do what you have to do."
Thomasina was placed in dog-friendly SRO housing. "That room was my peace of mind," she said. But living on Skid Row was often frightening. "Females down there usually have brothers or a boyfriend, people that can help them. It was just me and my dog. I didn't have anyone watching my back. I was an easy target." She was frequently harassed, sometimes by other residents in the building, and spent a lot of time hiding in her room. It was claustrophobic, she says, but having her dog kept her sane.
When Flower had a litter of puppies a couple of years ago, Thomasina gave them all away, but one was returned because he was too timid. Now both dogs are registered emotional support animals. Last year Thomasina moved from Skid Row to a small apartment she describes as "perfect." But she was facing homelessness again when the landlord recently decided pets were no longer allowed. The nonprofit HEART helped her contest the eviction and stay in her home with her little Chihuahua family.
---
Crushow, 40
Crushow describes himself as a community activist and "art Jedi." He's on the way to his studio and can only talk for a few minutes. "I have show this weekend at Hotel Rendon. It's called Art at the Rendon. Each artist gets their own room to install their art."
Crushow introduces me to his three pit bulls and a tortoiseshell cat named Justice. The cat perches calmly of the edge of Crushow's makeshift shelter, surveying the neighborhood. Crushow says when he's away, neighbors take care of his pets, and he does the same for them. "We all try to look out for each other."
Crushow is philosophical about life on the street. "Your box is bigger than mine, so what? I got another box I go to. And an office I go to. And an art studio I go to. It doesn't matter what box it is. People are constricted and taught how to think. And I'm not."
He shrugs. "Get caught up in that rat race all you want to, but when you die, what do you have? What did you do while you were here? Just thought about yourself and your big-ass box?"
---
Carol, age unknown
"I like walking around here," Carol says, walking through Little Tokyo with a giant grey pit bull named Boss. She gestures toward Skid Row where she lives. "It's like a war zone down there." When I ask how long she's been there, she replies, "Too long. Too long!"
Carol says she's been depressed since Mother's Day. Her own mother died a couple years ago, and it's especially painful at certain times of the year. "Anniversaries are hard. Her birthday is hard." Walking Boss helps cheer her up a little.
Carol tells me that she looks after Boss and a few other dogs for friends. He was one of a litter of nine puppies. "I took care of his mama, Lady, when she was in labor. It took 14 hours for all those puppies to be born!" That was a year ago. "We didn't let their paws touch the sidewalk till they'd all had their shots. They can get Parvo that way."
Carol is happy to talk but decides against being photographed.
Two weeks later, I meet a man on Skid Row who introduces me to four pit bulls he keeps in a pen next to his tent. One slips out the side of the pen and comes running over. It's Boss! Then a couple of the other dogs follow his lead, and I realize the pen is nothing more that propped-up fencing. The dogs could easily knock it down – but they know better. After I play with the dogs for a while, their owner orders them back into the pen and they all trot home obediently. He tells them to sit for my camera, and they do, wagging their tails. I want to learn more about how he got so good at training dogs, but he shakes his head. "I don't do interviews."
---