Living Homeless in California: Public Bathrooms and Other Mirages
A 2017 audit found that in Los Angeles, from 9 p.m. to 6 a.m., there were only nine public toilets available for Skid Row's estimated 1,777 unsheltered homeless people.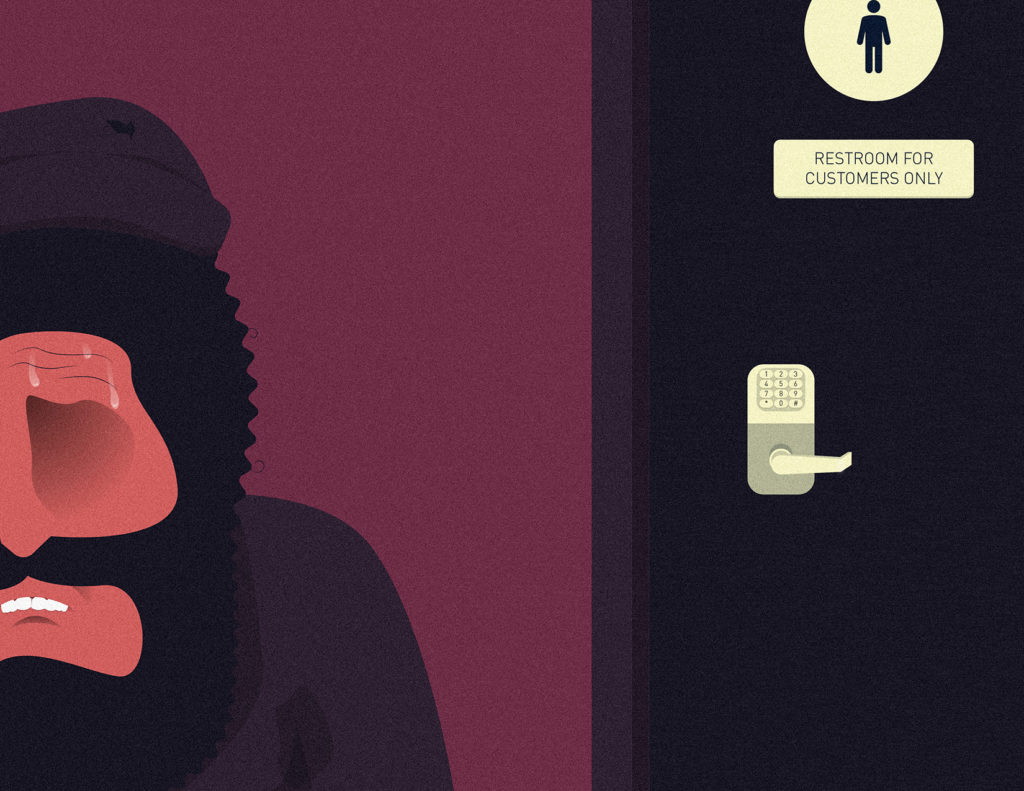 ---
"There's feces in the streets every day. When you're not paying attention you step in it, or roll through it with your wheelchair."
---
At nighttime on the eastern end of Los Angeles' Skid Row, a trek to the nearest public toilet is nearly unthinkable.
East of Crocker Street, the human scale of the homeless missions and single-room occupancy hotels recedes and the landscape becomes bleaker and more industrial.
Aaron Milsaps, known as Ace, says he knows better than to make the trip at night. In the outlying area near Fifth St. and Central Ave., where Milsaps has sheltered for nearly three years beneath a plastic tarpaulin, there are no guarantees of personal safety.
Toilets and showers are a 10-minute walk away, down streets lined with iron-fenced lots and shuttered wholesale businesses. The sidewalks are overcrowded in every direction with tents and tarps that, taken together, comprise the largest concentration of homeless people in the country.
The trouble Milsaps hears on the street at night keeps him inside his rudimentary dwelling until the rumbling of the first diesel trucks at dawn.
Milsaps, who worked as a systems administrator for the Jet Propulsion Laboratory in Pasadena two decades ago, keeps a bucket lined with a plastic trash bag in his tent. Like hundreds of others who sleep on the streets of Skid Row where toilets are scarce, he ties off the bag when he is finished and, when no one is looking, deposits it in a city trash can.
A 2017 audit of public toilets on Skid Row found that from 9 p.m. to 6 a.m., there were only nine available for Skid Row's estimated 1,777 unsheltered homeless people. County health officials recommended in 2013 that "Toilet facilities should be installed on all streets within the Skid Row Target Area with a maximum distance of 300 feet between units."
Los Angeles city officials are unveiling new programs intended to mitigate a public health crisis, but homeless advocates and Skid Row residents say the city needs to do more. (See "Stopping a Hygiene Crisis on Skid Row.")
---
Homeless Activist to L.A. Mayor:
"The toilets that you bringing, it's 10 years late and it's 300 too short!"
---
Milsaps, 56, is in decent health, but he sympathized with neighbors who rely on wheelchairs to get around or have physical ailments that can make them incontinent. For them, the 10-minute walk to the nearest bathroom is "time enough to crap in your pants."
"There's feces in the streets every day," he added. "It reaches everywhere. When you're not paying attention you step in it, or roll through it with your wheelchair, and you're back in your tent wondering where the smell's coming from."
Six blocks westward, on a commercial block at Sixth and Los Angeles streets, an Armenian woman arrives at 7:15 a.m. to raise a metal security door and open her small convenience store for business. She has owned the V.M.C. Cigarette & Snack Shop for 30 years.
Early mornings are the worst, she said. "They use this side of the street as a restroom," she said, referring to homeless people in the area.
---
The presence of urine and feces on public streets has jumped significantly, increasing the risk of people contracting infectious diseases, including meningitis and respiratory infections.
---
The businesswoman, who declined to give her name, was not initially in favor of the city's installing more public toilets nearby, but the severity of the problem has brought her around on the issue. "It's totally crazy. And it's getting more and more crazy," she said.
Astrid Escalante is the owner of Maple Restaurant, located across the block from V.M.C. Escalante has run Maple at this location for the last eight years and says public restrooms in the past have been havens for crack and heroin use. "Many are going in there to shoot up or smoke drugs," she said.
She noted that with the crisis of overcrowded homeless people on Skid Row, adding more toilets is just common sense: "It's a good idea. It's depressing to see so many going to the bathroom in the street."
Safety fears appear to have a heavy influence on many homeless people's preference for public streets over bathrooms. County auditors reported in 2013 that 40 percent of the urine and feces on public streets in Skid Row were found within 600 feet of a public restroom.
"You've got to have a spotter watching your back [if you use a public restroom]," said Michael Buggs, a 63-year-old man who was sitting in front of a tent where he lives at Sixth and San Pedro streets. "Take a friend with you to stand outside."
---
The Union Rescue Mission's CEO, Rev. Andy Bales, has contracted three types of bacteria — E. coli, strep and staph — while doing homeless outreach on Skid Row. He lost a leg in 2016.
---
At a Dec. 4 press conference inaugurating a new hygiene center on Crocker Street, a member of the Los Angeles Community Action Network (LA CAN), an anti-poverty activist group based in Skid Row, tore up a commendation from the mayor. A video of the moment shows the man, named General Dogon, charging, "The toilets that you bringing, it's 10 years late and it's 300 too short!"
"I was pissed off and tore up the certificate and told the mayor I'm not impressed," Dogon told Capital & Main. "People up there glamorized and clapping — I think it's a disgrace. People don't have the resources to keep themselves clean. No place to wash their hands. This is how disease is spread."
On one recent afternoon, a homeless woman named Venus was weaving on rollerblades through a chaotic scene on a sidewalk near Gladys Park. The stench of urine, present in varying degrees on every block of Skid Row, was as sour as vinegar.
She stopped at a large hole in the asphalt where a trickle of cloudy green liquid formed a malodorous pool.
"It's a cesspool," Venus, 48, said matter-of-factly, looking out from glasses frames that held no lenses. A trailer that offers free access to showers and bathrooms had opened a hydrant nearby, and the water drip diluted the green-dimmed flow somewhat.
Long before last year's Hepatitis A scare in Los Angeles, county health officials had warned that the continued presence of urine and feces in public streets was an incubator for infectious disease.
---
Union Rescue Mission will install 16 toilets for women and the Midnight Mission has already made toilets available to the public 24 hours a day — and showers until 9:30 p.m.
---
The Los Angeles County Department of Public Health studied environmental conditions in Skid Row in 2012, finding "small piles of feces and/or urine on the sidewalks and grass areas" on eight of the 10 blocks surveyed. A follow-up survey in 2013 found that the presence of urine and feces on public streets had jumped by 82 percent, increasing the risk of people contracting infectious diseases, including meningitis, respiratory infections, enteric pathogens like Hepatitis A and Salmonella, and Staphylococcus aureus, or Staph skin infections.
Afterward, the city launched Operation Healthy Streets, a power-wash and disinfecting of Skid Row's major sidewalks, alleys, parks and other public access areas. Sanitation workers used backhoes to scoop trash from gutters, and other equipment to vacuum storm drains.
Nonetheless, public health concerns continue.
"Skid Row has never been in worse condition," says the Rev. Andy Bales, CEO of Union Rescue Mission for more than 20 years.
Bales has contracted three types of bacteria — E. coli, strep and staph — while doing homeless outreach on Skid Row in 2014, and lost a leg in 2016.
County Coroner data show that 805 people died while homeless in 2017, a 12 percent increase over the prior year. Bales attributed the rise in deaths in part to infections that arise from urine and feces on the street. "There's been lots of talk but not nearly enough action around toilets," he said.
Union Rescue Mission will install 16 toilets for women in a prefabricated or sprung structure in the mission's back parking lot, Bales said. He added that the stalls will be accessible 24 hours a day with round-the-clock security, and that he expects them to be open to the public by July.
The Midnight Mission has already made toilets available to the public 24 hours a day (and showers until 9:30 p.m.) and recently assigned private security to ensure safety and prevent drug use.
Bales said the days when portable toilets and showers might have triggered insurmountable opposition from certain quarters are past. The potential for a future public health crisis has helped engineer a consensus that action is needed.
"I think we're all beyond that. I think we've reached a compromise. But a shortage of restrooms on Skid Row still remains a potentially deadly issue."
---
Copyright Capital & Main
Living Homeless in California: Pet Owners on the Streets
Pets can provide an invaluable source of companionship, comfort and security. That's especially true for those without stable housing.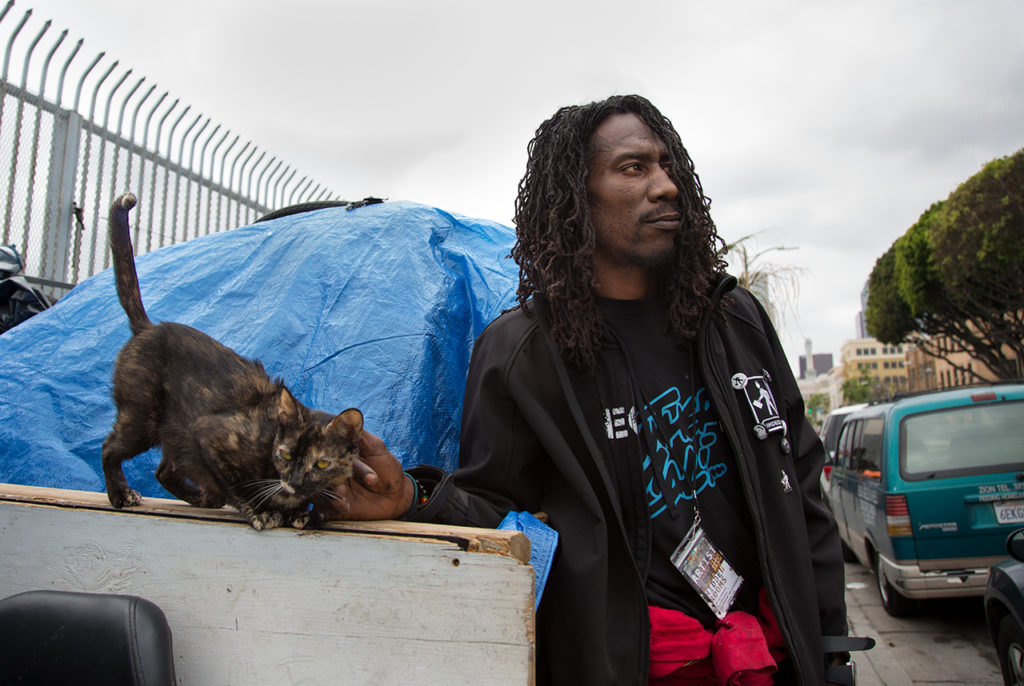 An estimated five to 10 percent of homeless people in the United States have pets, according to the Nevada nonprofit organization, Pets of the Homeless. Take a trip through the tent cities that line the sidewalks of downtown Los Angeles and you'll see dogs, cats, even birds. As any pet owner can tell you, animals provide affection, comfort and stability, something that can be particularly meaningful when your life's possessions could be swept away at any time by a police raid.
The animals benefit too. Most pets would prefer constant companionship outdoors to solitary shelter.
But many homeless shelters and housing programs don't allow pets. The expenses, logistics and liabilities involved in housing animals can be prohibitive for programs that are already underfunded. The number of shelters that allow animals are on the rise, however.
I recently visited with a handful of homeless and formerly homeless pet owners in Los Angeles to learn about their lives.
---
Maria, 64
Maria sells off-brand cigarettes in front of a row of tents on a busy street in downtown Los Angeles. She keeps her tobacco merchandise arranged neatly on a small plastic tray, and beside her a tiny Chihuahua puppy, Cici, runs and plays amid the sidewalk foot traffic, or naps in the small carrier at Maria's feet.
Maria has been living here since getting out of jail in November, she says, "for something I didn't do. It took them 35 days to realize I didn't do it." She emerged to find her husband of 37 years was gone. "He disappeared with all my money and all my stuff," she adds. "The day I came out I slept on the sidewalk. My pillow was the cement and my blanket was the jacket I was wearing."

"I was angry the first few months," she continues. But in February she bought Cici from a street vendor for $40. "She has taken me out of my depression over what my husband did. She's become everything to me. She's my life."

Maria knows everyone in her tent community. People stop by every few minutes to say hi. A couple even buy cigarettes, including a young man named Toby. "I call him my adopted son from the street, I take care of him. He's been on the street since he was 16." Toby recently turned 20, Maria says. "I got him a big-ass cake and some money, some clothes. I'm the first person who celebrated his birthday on the street."
In a little over a month, Maria is scheduled to move to federally subsidized Section 8 housing in Long Beach. It's far from her friends here, but she's happy to go. "All I want is a roof over my head. As long as me and my dog got that, I'll be alright."
---
Craig, aka Taco, 58
"He's my best friend," Taco says of his 10-month-old puppy, Hambone. "I didn't realize that a person could have such an attachment to an animal. But I do."
Taco tells me he's lived in California all his life, "except for I lived in Chicago for nine years. I loved Chicago, the weather, everything about Chicago. My ex-wife, she didn't like the weather. We relocated back to L.A."
Taco is single now. "My guards are still up, but I want to have those old feelings back again. Because I'm somewhat of a romantic type guy." But Taco doesn't get lonely, because he has Hambone. "He cheers me up when I'm sad. He'll nudge me. He'll come with concern, and then he'll start playing, trying to make me laugh."
Taco and Hambone live in a small single-room occupancy apartment, or SRO, in a building run by a nonprofit social services agency. "I came down here to Skid Row for the resources. A friend was telling me about the housing."
He says his apartment is nice, and much better than shelters he's stayed in, "but you're on Skid Row. Skid Row's like the courtyard, if you've ever been to the penitentiary. You have be ready, you have to have your shoes strapped up."
Taco says he's on the list for Section 8 housing, and looking forward to moving. He thinks he might like to live near Staples Center. A woman walks by with a small dog, and Hambone strains on his leash, whimpering and sniffing the other dog. "Stop it, stop it," Taco scolds. "That's a girl dog. She snapped at you, right? You'll learn, you'll learn women too."
---
Thomasina, 30
"I've had Flower since she was a puppy," Thomasina says of her yellow Chihuahua mix. "This lady had a box of them in front of a store. The people I was staying with at the time bought her for their daughter, but they didn't take care of her. She was so small, covered in fleas, so scared. So I started taking care of her. And ever since she's been by my side. My little partner in crime."
That was five years ago, when Thomasina's life was in chaos. She had no stable place to live, and few opportunities. "I wanted to be in the working world, but had to live my life in the street. I got into prostitution by default." She came to Skid Row in search of housing and social services, a move that was inspired in part by Oprah Winfrey. "I saw this clip of Oprah, and her words spoke to my heart," she says, laughing. "She was saying, you have to help yourself, you have to do what you have to do."
Thomasina was placed in dog-friendly SRO housing. "That room was my peace of mind," she said. But living on Skid Row was often frightening. "Females down there usually have brothers or a boyfriend, people that can help them. It was just me and my dog. I didn't have anyone watching my back. I was an easy target." She was frequently harassed, sometimes by other residents in the building, and spent a lot of time hiding in her room. It was claustrophobic, she says, but having her dog kept her sane.
When Flower had a litter of puppies a couple of years ago, Thomasina gave them all away, but one was returned because he was too timid. Now both dogs are registered emotional support animals. Last year Thomasina moved from Skid Row to a small apartment she describes as "perfect." But she was facing homelessness again when the landlord recently decided pets were no longer allowed. The nonprofit HEART helped her contest the eviction and stay in her home with her little Chihuahua family.
---
Crushow, 40
Crushow describes himself as a community activist and "art Jedi." He's on the way to his studio and can only talk for a few minutes. "I have show this weekend at Hotel Rendon. It's called Art at the Rendon. Each artist gets their own room to install their art."
Crushow introduces me to his three pit bulls and a tortoiseshell cat named Justice. The cat perches calmly of the edge of Crushow's makeshift shelter, surveying the neighborhood. Crushow says when he's away, neighbors take care of his pets, and he does the same for them. "We all try to look out for each other."
Crushow is philosophical about life on the street. "Your box is bigger than mine, so what? I got another box I go to. And an office I go to. And an art studio I go to. It doesn't matter what box it is. People are constricted and taught how to think. And I'm not."
He shrugs. "Get caught up in that rat race all you want to, but when you die, what do you have? What did you do while you were here? Just thought about yourself and your big-ass box?"
---
Carol, age unknown
"I like walking around here," Carol says, walking through Little Tokyo with a giant grey pit bull named Boss. She gestures toward Skid Row where she lives. "It's like a war zone down there." When I ask how long she's been there, she replies, "Too long. Too long!"
Carol says she's been depressed since Mother's Day. Her own mother died a couple years ago, and it's especially painful at certain times of the year. "Anniversaries are hard. Her birthday is hard." Walking Boss helps cheer her up a little.
Carol tells me that she looks after Boss and a few other dogs for friends. He was one of a litter of nine puppies. "I took care of his mama, Lady, when she was in labor. It took 14 hours for all those puppies to be born!" That was a year ago. "We didn't let their paws touch the sidewalk till they'd all had their shots. They can get Parvo that way."
Carol is happy to talk but decides against being photographed.
Two weeks later, I meet a man on Skid Row who introduces me to four pit bulls he keeps in a pen next to his tent. One slips out the side of the pen and comes running over. It's Boss! Then a couple of the other dogs follow his lead, and I realize the pen is nothing more that propped-up fencing. The dogs could easily knock it down – but they know better. After I play with the dogs for a while, their owner orders them back into the pen and they all trot home obediently. He tells them to sit for my camera, and they do, wagging their tails. I want to learn more about how he got so good at training dogs, but he shakes his head. "I don't do interviews."
---