Living Homeless in California: On the Street, There's More to Eating Than Food
Food safety, security and storage are three problems that influence the meal choices of people living without the other conveniences of shelter.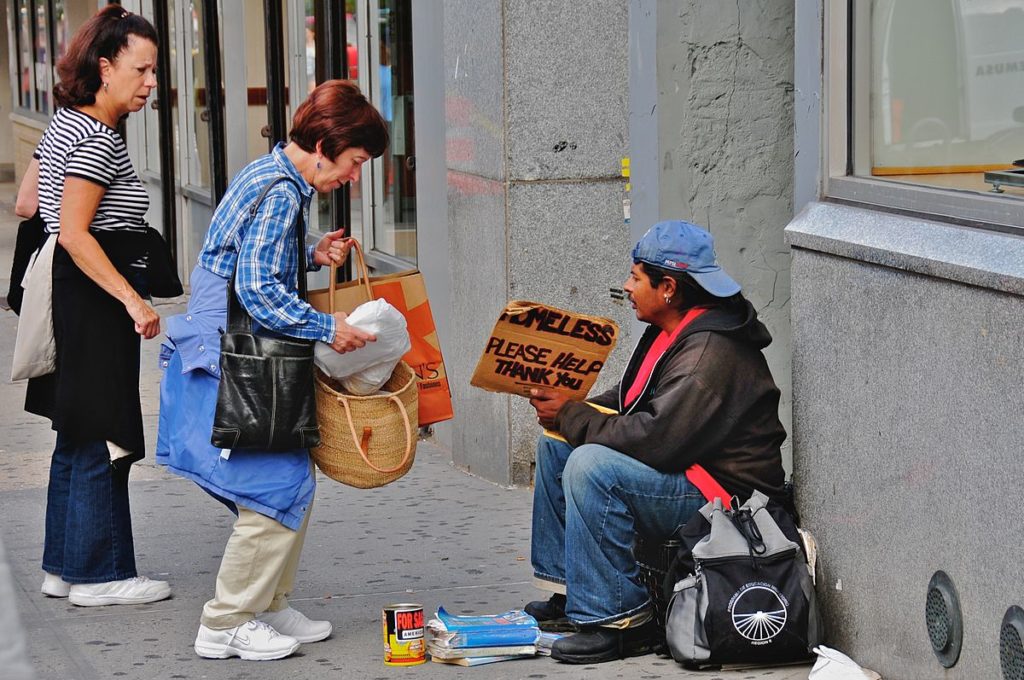 ---
One problem with itinerant people's eating habits isn't the lack of nutrition education. It is a lack of access to healthy foods.
---
If you've ever lived on the street or in your car, or have suffered any other kind of itinerant existence, you will know there's more to feeding yourself than not starving. There is, for instance, the question of whether the food you manage to scare up is fresh, clean and, in some cases, sufficiently cooked to not infect you with any number of foodborne illnesses, from salmonella to hepatitis A. Then you have to worry about whether, even if the food is safe, your hands are not. Hand-washing has been found to reduce gastrointestinal illness by as much as 31 percent.
Complicating matters even more, you might have a diet-related illness: type 2 diabetes, heart disease, high blood pressure or the inability to digest certain foods. You might have lost many of your teeth — people who live on the street have scant access to dental care — which rules out that fresh, crunchy carrot. And you might have to limit your food choices to what's on the shelves in a convenience store. When you're carting everything you own with you everywhere you go, a trip inside a grocery store means finding a place to stash your gear and pray that no one swipes it.
Food safety, security, storage — these are the problems that necessarily influence the meal choices of people living without the other conveniences of shelter. "People who live without a place to cook or prepare their food, or a place to wash their hands, have considerations that are different than those for people who are housed," says Jessica Bartholow, policy advocate with the Western Center on Law and Poverty. "Buying in bulk is not an option for them. Buying food that's fresher and can spoil easily is not an option for them."
Nor is spending a lot of time obsessing about bacteria. "At the top of people's minds when they're living homeless is not, 'How do I keep my food safe?' They're thinking about how to prevent arrest."
Seven years ago, in an effort to steer homeless people and their advocates toward better food choices, the Sacramento Hunger Coalition issued a nutrition education toolkit for people living without permanent shelter. "There was a wave of interest to make things more nutritious for people," says Sabrina Hamm, who, as an Emerson National Hunger Fellow, wrote and compiled the toolkit. But she soon realized, as did others on the project, that the problem with itinerant people's eating habits wasn't a lack of nutrition education. It was a lack of access to healthy foods.
---
California ranks 45th among states participating in the federal government's SNAP nutrition program, even though a quarter of the nation's homeless live in the state.
---
"I've been doing this work for 35 years, and I always get the same question," says Bob Erlenbusch of the Sacramento Regional Coalition to End Homelessness. "Why, if people are food insecure, are they overweight?" The reason, he says, is that the cheapest and most filling foods pack in the maximum salt, sugar and fat. "You might know what's good for you. But when you go into 7-Eleven, what you can buy is a bag of potato chips and a coke."
Erlenbusch and Bartholow are at the forefront of a movement to make healthy food accessible to homeless people. Most of their wins have involved expanding options for recipients of SNAP — the federal government's Supplemental Nutrition Assistance Program, rebranded in California as CalFresh. Recipients have their benefits loaded onto an Electronic Benefits Card, which they can use to buy food at grocery stores. They can also, in some counties, use their cards at farmers markets.
But for someone without a permanent address, CalFresh can seem complicated. "SNAP doesn't always fit into homeless people's lives," Bartholow says. California ranks 45th among states in SNAP participation, even though a quarter of the nation's homeless live in California. "People don't know about it," Erlenbusch says. They might not even know that someone without a mailbox qualifies.
Worse, conservatives in Congress continue to wage war on SNAP. Since the passage of President Bill Clinton's 1996 "welfare reform law," able-bodied, unemployed adults without dependents get only three months of food assistance in any three-year period. Many states were allowed to suspend the time limit during the recession, but no longer. California's waiver expires in September 2018. In the latest iteration of a farm bill proposed in the U.S. House of Representatives, SNAP benefits for unemployed adults without dependents would have covered only one month before work requirements kicked in. Erlenbusch called it "hideous," adding that it would have increased "homelessness and food insecurity among millions of people."
---
If you're homeless the worst thing isn't that you ate a hamburger today. It's that you went hungry.
---
The bill fell 15 votes short when the House took it up on May 18, but only because some Republicans who defected to vote with Democrats wanted to tie it to a more punishing deal on immigration. "It's not a fatal blow," Rep. Mark Meadows (R-NC), head of the ultra-conservative Freedom Caucus, told reporters. "It's just a reorganizing."
Even with full CalFresh benefits, however, the unsheltered can find the program's limitations stifling. Prepared hot meals might be the safest and most convenient option for people without kitchen access, for instance. But SNAP can't be used for prepared hot meals. One exception is the U.S. Department of Agriculture's Restaurant Meals Program, which allows CalFresh recipients who are homeless, elderly or disabled to use their benefits at participating restaurants in certain counties. Disappointingly, only five states currently participate in the program, and in California, only nine counties have opted in. Assemblywoman Shirley Weber (D-San Diego) is currently carrying a bill that would extend the program to California State University students, even if they live in a county that hasn't adopted the program.
The restaurant meals exemption is not without controversy. Marion Nestlé, the renowned nutritionist and author, has been sharply critical of people using benefits in fast-food restaurants, musing that Yum! Brands in particular, which owns Taco Bell, KFC and Pizza Hut, participates only to earn a cut of SNAP payouts, which were $68.1 billion in 2017. (Yum! Brands has "actively encouraged their franchised restaurants," to sign up, Bartholow says.)
Nestlé might be correct about Yum! Brands' motives. But anti-hunger activists consider the moralizing akin to telling people that walking barefoot is better than wearing flimsy shoes. "If you're hungry and living homeless, the worst outcome isn't that you ate a hamburger today," Bartholow says. "The worst outcome is that you went hungry."
Restaurant eating also allows people to use a bathroom, wash their hands and break bread in the presence of other people — an ever-more vital part of mealtime, now that authorities have criminalized encampments such as Orange County's Santa Ana riverbed. "Food isn't just about getting something in your body," Bartholow says. "Food is also a way that, culturally, we come together." Sometimes that matters almost as much as the food itself.
---
Copyright Capital & Main
Living Homeless in California: Pet Owners on the Streets
Pets can provide an invaluable source of companionship, comfort and security. That's especially true for those without stable housing.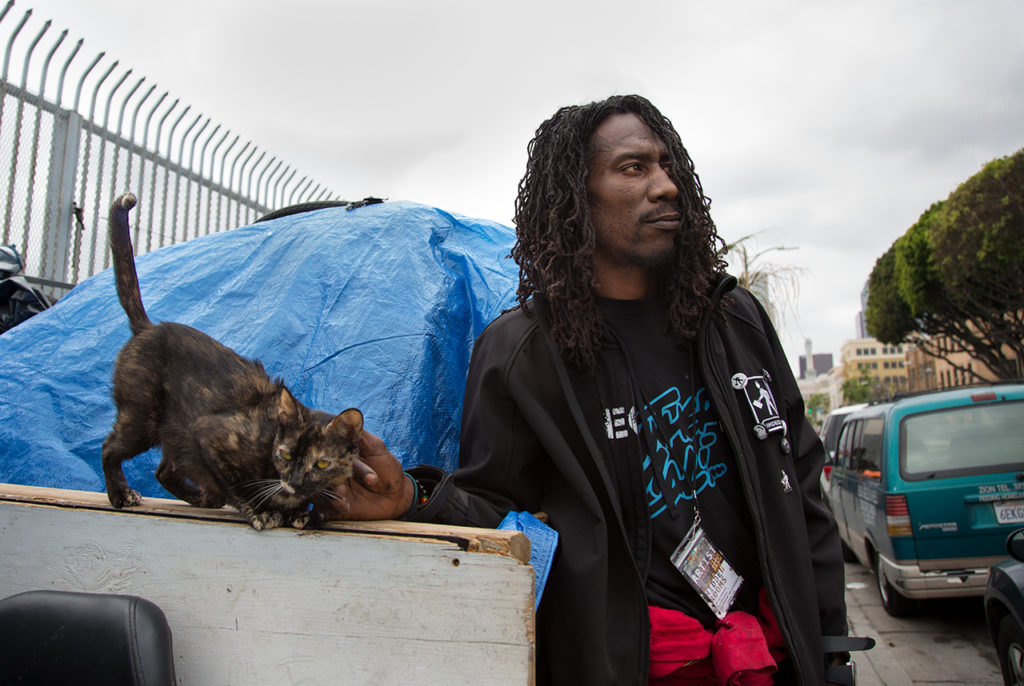 An estimated five to 10 percent of homeless people in the United States have pets, according to the Nevada nonprofit organization, Pets of the Homeless. Take a trip through the tent cities that line the sidewalks of downtown Los Angeles and you'll see dogs, cats, even birds. As any pet owner can tell you, animals provide affection, comfort and stability, something that can be particularly meaningful when your life's possessions could be swept away at any time by a police raid.
The animals benefit too. Most pets would prefer constant companionship outdoors to solitary shelter.
But many homeless shelters and housing programs don't allow pets. The expenses, logistics and liabilities involved in housing animals can be prohibitive for programs that are already underfunded. The number of shelters that allow animals are on the rise, however.
I recently visited with a handful of homeless and formerly homeless pet owners in Los Angeles to learn about their lives.
---
Maria, 64
Maria sells off-brand cigarettes in front of a row of tents on a busy street in downtown Los Angeles. She keeps her tobacco merchandise arranged neatly on a small plastic tray, and beside her a tiny Chihuahua puppy, Cici, runs and plays amid the sidewalk foot traffic, or naps in the small carrier at Maria's feet.
Maria has been living here since getting out of jail in November, she says, "for something I didn't do. It took them 35 days to realize I didn't do it." She emerged to find her husband of 37 years was gone. "He disappeared with all my money and all my stuff," she adds. "The day I came out I slept on the sidewalk. My pillow was the cement and my blanket was the jacket I was wearing."

"I was angry the first few months," she continues. But in February she bought Cici from a street vendor for $40. "She has taken me out of my depression over what my husband did. She's become everything to me. She's my life."

Maria knows everyone in her tent community. People stop by every few minutes to say hi. A couple even buy cigarettes, including a young man named Toby. "I call him my adopted son from the street, I take care of him. He's been on the street since he was 16." Toby recently turned 20, Maria says. "I got him a big-ass cake and some money, some clothes. I'm the first person who celebrated his birthday on the street."
In a little over a month, Maria is scheduled to move to federally subsidized Section 8 housing in Long Beach. It's far from her friends here, but she's happy to go. "All I want is a roof over my head. As long as me and my dog got that, I'll be alright."
---
Craig, aka Taco, 58
"He's my best friend," Taco says of his 10-month-old puppy, Hambone. "I didn't realize that a person could have such an attachment to an animal. But I do."
Taco tells me he's lived in California all his life, "except for I lived in Chicago for nine years. I loved Chicago, the weather, everything about Chicago. My ex-wife, she didn't like the weather. We relocated back to L.A."
Taco is single now. "My guards are still up, but I want to have those old feelings back again. Because I'm somewhat of a romantic type guy." But Taco doesn't get lonely, because he has Hambone. "He cheers me up when I'm sad. He'll nudge me. He'll come with concern, and then he'll start playing, trying to make me laugh."
Taco and Hambone live in a small single-room occupancy apartment, or SRO, in a building run by a nonprofit social services agency. "I came down here to Skid Row for the resources. A friend was telling me about the housing."
He says his apartment is nice, and much better than shelters he's stayed in, "but you're on Skid Row. Skid Row's like the courtyard, if you've ever been to the penitentiary. You have be ready, you have to have your shoes strapped up."
Taco says he's on the list for Section 8 housing, and looking forward to moving. He thinks he might like to live near Staples Center. A woman walks by with a small dog, and Hambone strains on his leash, whimpering and sniffing the other dog. "Stop it, stop it," Taco scolds. "That's a girl dog. She snapped at you, right? You'll learn, you'll learn women too."
---
Thomasina, 30
"I've had Flower since she was a puppy," Thomasina says of her yellow Chihuahua mix. "This lady had a box of them in front of a store. The people I was staying with at the time bought her for their daughter, but they didn't take care of her. She was so small, covered in fleas, so scared. So I started taking care of her. And ever since she's been by my side. My little partner in crime."
That was five years ago, when Thomasina's life was in chaos. She had no stable place to live, and few opportunities. "I wanted to be in the working world, but had to live my life in the street. I got into prostitution by default." She came to Skid Row in search of housing and social services, a move that was inspired in part by Oprah Winfrey. "I saw this clip of Oprah, and her words spoke to my heart," she says, laughing. "She was saying, you have to help yourself, you have to do what you have to do."
Thomasina was placed in dog-friendly SRO housing. "That room was my peace of mind," she said. But living on Skid Row was often frightening. "Females down there usually have brothers or a boyfriend, people that can help them. It was just me and my dog. I didn't have anyone watching my back. I was an easy target." She was frequently harassed, sometimes by other residents in the building, and spent a lot of time hiding in her room. It was claustrophobic, she says, but having her dog kept her sane.
When Flower had a litter of puppies a couple of years ago, Thomasina gave them all away, but one was returned because he was too timid. Now both dogs are registered emotional support animals. Last year Thomasina moved from Skid Row to a small apartment she describes as "perfect." But she was facing homelessness again when the landlord recently decided pets were no longer allowed. The nonprofit HEART helped her contest the eviction and stay in her home with her little Chihuahua family.
---
Crushow, 40
Crushow describes himself as a community activist and "art Jedi." He's on the way to his studio and can only talk for a few minutes. "I have show this weekend at Hotel Rendon. It's called Art at the Rendon. Each artist gets their own room to install their art."
Crushow introduces me to his three pit bulls and a tortoiseshell cat named Justice. The cat perches calmly of the edge of Crushow's makeshift shelter, surveying the neighborhood. Crushow says when he's away, neighbors take care of his pets, and he does the same for them. "We all try to look out for each other."
Crushow is philosophical about life on the street. "Your box is bigger than mine, so what? I got another box I go to. And an office I go to. And an art studio I go to. It doesn't matter what box it is. People are constricted and taught how to think. And I'm not."
He shrugs. "Get caught up in that rat race all you want to, but when you die, what do you have? What did you do while you were here? Just thought about yourself and your big-ass box?"
---
Carol, age unknown
"I like walking around here," Carol says, walking through Little Tokyo with a giant grey pit bull named Boss. She gestures toward Skid Row where she lives. "It's like a war zone down there." When I ask how long she's been there, she replies, "Too long. Too long!"
Carol says she's been depressed since Mother's Day. Her own mother died a couple years ago, and it's especially painful at certain times of the year. "Anniversaries are hard. Her birthday is hard." Walking Boss helps cheer her up a little.
Carol tells me that she looks after Boss and a few other dogs for friends. He was one of a litter of nine puppies. "I took care of his mama, Lady, when she was in labor. It took 14 hours for all those puppies to be born!" That was a year ago. "We didn't let their paws touch the sidewalk till they'd all had their shots. They can get Parvo that way."
Carol is happy to talk but decides against being photographed.
Two weeks later, I meet a man on Skid Row who introduces me to four pit bulls he keeps in a pen next to his tent. One slips out the side of the pen and comes running over. It's Boss! Then a couple of the other dogs follow his lead, and I realize the pen is nothing more that propped-up fencing. The dogs could easily knock it down – but they know better. After I play with the dogs for a while, their owner orders them back into the pen and they all trot home obediently. He tells them to sit for my camera, and they do, wagging their tails. I want to learn more about how he got so good at training dogs, but he shakes his head. "I don't do interviews."
---