Historic Wage Vote Tomorrow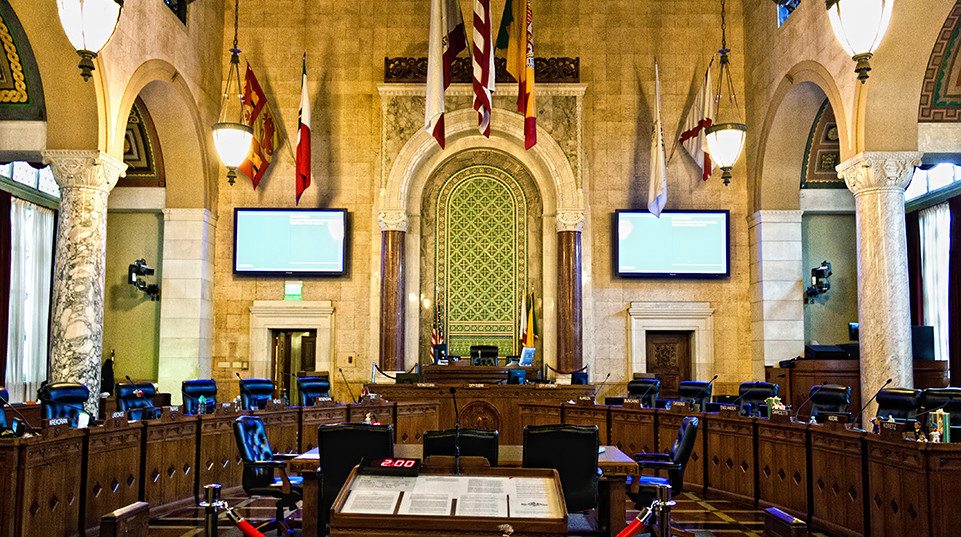 Thousands of low-wage workers in Los Angeles are poised to receive a substantial pay bump, depending on a critical City Council vote scheduled for Wednesday. On the table: a $15.37 hourly wage for hotel employees at some of the biggest and most lucrative non-unionized hotels in the City of Los Angeles.
In June a Los Angeles City Council committee directed city staff to draft an ordinance that would require hotels with 300-plus rooms to meet a $15.37 hourly wage benchmark by July 2015. Hotels with more than 125 rooms would have to meet the standard in 2016. The full council is expected to take up the proposal Wednesday morning after a Tuesday hearing at the Economic Development Committee.
Business interests complain that the measure would cost jobs, but proponents argue that tourism and the hotel industry are experiencing record growth and creating local jobs. A study prepared by the Economic Roundtable, a Los Angeles nonprofit research organization,  estimates that the wage boost would pump $39.6 million annually into local businesses. The study is one of three reports being considered by the City Council.
There's obviously a lot of money at stake in Wednesday's vote. The Los Angeles Economic Development Corporation calls hospitality and tourism "the heart of Los Angeles economy" and calculates that 29.9 million overnight guests in L.A. spent $18 billion in 2013.
Yet the Economic Policy Institute estimates that some 40 percent of L.A.'s hospitality workers live below the poverty line.
"If an industry has been growing and experiencing rising profitability coming out of a recession, why can't that be shared?" asks Patrick Burns, co-author with Daniel Flaming of the Economic Roundtable study. Problems emerge, he says, when you have workers or groups of workers that can't afford housing and become increasingly mired in household debt. "If [the hotels] can't make the economic model work, do we have a public interest in subsidizing the workforce?"
A robust revenue stream is exactly why hotels can afford to boost pay scales for employees that work at well-heeled hotels while currently earning scant hourly wages says, Raise LA, a coalition of labor, faith-based and community organizations (including the Los Angeles Alliance for a New Economy, which is Capital & Main's sponsor).
Raise LA director James Elmendorf estimates that some 12,000 workers at local upscale hotels would benefit if the measure passes. More than half of those workers make well below the $15.37 hourly rate proposed in the measure.
Among them: workers at the Hilton Garden Inn near Hollywood Boulevard and Highland Avenue. Tourists who want a room within walking distance of the famous boulevard can pay a rate of $249 nightly, with lower-cost Hilton packages hovering at $169.
Not jaw-dropping, perhaps, compared to such nearby luxury hotels as the W, at Hollywood and Vine, with a high-end nightly rate of $639, or the Four Seasons in Beverly Hills, with a $525 to $765 price range.
Nevertheless, $9.23 billion in last year's revenue put Hilton Worldwide 38th on Forbes' list of America's top 100 private companies.
According to one Hilton Garden Inn housekeeper, the hotel's day-to-day working conditions  hardly seem to reflect the company's shiny Forbes status.
This woman, concerned about reprisals, requested anonymity to speak with Capital & Main. First on her wish list if she got a wage raise: "I want my kids to study, to send them to a university." She and her husband still have one high school student at home; two of her other children attend community college—but that's not the same as a university, she says.
Beyond these hopes for her kids, she also wistfully puts a car on her list. Her work commute via Metro buses from South L.A. to Hollywood takes 90 minutes and her low wages make car ownership out of the question. She and her co-workers clean 16 rooms during an eight-hour shift. That comes to a half-hour per room, although she claims she and her fellow housekeepers are constantly admonished to move faster.
Hilton's Garden Inn benefits from the $1 billion that by year's end, Raise LA claims, the City of L.A. will have marshaled to support the hospitality industry. This public investment, the coalition argues, has created an attractive location to hotels that should pass along their good fortune in the form of livable wages.
Prior to 2001, central Hollywood had become a blighted landscape of gum-spotted sidewalks and drug-dealing. It was transformed to its present day tourist-magnet status with support from $90 million in city investment that created the Hollywood and Highland Center, downtown Hollywood's glitzy anchor development.
Raise LA doesn't oppose the public investment but believes a subsidy tide should lift all boats—particularly those of the employees that propel the tourism industry and whose wages average $10.55 an hour. The Economic Roundtable puts the average hourly wage for L.A. maids and housekeepers at $9.03, desk clerk pay at $11.17, with $12.03 per hour (including tips) for bellhops.
The subsidies come from many directions, Elmendorf says. City funds that create attractive tourist destinations, the direct construction funds that create such venues as the downtown Marriott and L.A. Live, and deferrals of the "transient occupancy tax" (the "hotel bed tax") are among the ways the public invests in the hospitality industry.
(A June story on KCRW's Which Way, L.A.?'s blog reports the City Council is mulling offering close to $180 million in tax breaks for two new downtown hotel projects.)
Council members Mike Bonin, Nury Martinez and Curren Price authored the hotel worker wage proposal. A spokeswoman for Martinez calls the measure "part of the real movement to increase wages for a full day's work." The affected corporations are multinational, she says, not mom and pop shops, and the costs of the pay raise—estimated at $8 per room per night at the high end and $2-$4 per night at the lower end—will be absorbed by people from out of town, not Angelenos.
Martinez's council colleague, Bernard Parks, stands resolutely against the measure. An email from his office said he "is opposed to one sector (in this case hotel workers) receiving higher wages than people in other sectors. The field should be even."
Robert Amano, executive director of the Hotel Association of Los Angeles agrees.
"It discriminates against one industry," he says of the proposed wage measure, adding his industry pays its way with the transient occupancy tax that generates $160 million annually for L.A.'s general fund. "And economic benefits go to the community—people who stay in hotels take taxis, go out to eat."
Amano, who started in the hotel industry as a reservationist at the old Sheraton Grand in downtown Los Angeles, says that companies pay competitive rates because they want to keep good people. "We do competitive wage and benefit analysis—we pay well."
He charges that the pay hike would result in job cuts. The Economic Roundtable study disputes this, saying that modest room rate increases would absorb costs, and the reduced turnover afforded by a stable workforce backed by dependable wages also saves the companies money, along with "scaled back profits to hotel owners."
Echoing Nury Martinez's spokeswoman, the study concluded that out-of-town visitors would pay three-quarters of the cost for the proposed minimum wage ordinance.
The housekeeper at Hilton Garden Inn has hopes for tomorrow's council vote.
"We just want a decent wage that would cover our expenses," she says.

The Real Costs of Living in California
A new report from United Ways of California shows that 1 in 3 working families struggle to make ends meet.

These seem to be boom times for Americans, as monthly statistics from the U.S. Labor Department tout a fast-rising economy and dwindling unemployment since the final years of the Obama administration. What those numbers fail to measure is the real cost of making ends meet, and how far out of reach that remains for many working households that continue to struggle.
The reality in California is that one in three households are falling short, according to Struggling to Stay Afloat: The Real Cost Measure in California 2018, a new report from the nonprofit United Ways of California. The study sought to document the actual costs of a "a bare-bones decent standard of living," says Peter Manzo, president of the nonpartisan advocacy group, and include the real-world impact of housing costs, transportation, education and other immovable factors.
The report is downloadable from the United Ways website, which also has interactive features where each county is examined in detail. In an interview with Capital & Main this week, Manzo explained the report's findings.
---
Captial & Main: What inspired this study?
Peter Manzo: The federal poverty level doesn't really take into account the cost of living in California. It also doesn't tell you where we would like families to be. It doesn't show you what is doing OK and how far most households are from it. Everyone knows it can be expensive to live in California, but this adds more detail.
How did you determine what the real costs were?
The real cost measure we used is a basic needs budget: housing, food, transportation, health care, childcare, taxes and 10 percent of the total for miscellaneous – things like your mobile phone bill. The interesting thing about the real cost measure is that the household budget varies by composition. So if you have two adults working full-time minimum-wage jobs, the household budget was different from the same two adults with an infant. The cost structure changes significantly by adding family members.
It looks like different parts of the state are affected differently.
Obviously, coastal areas are more expensive to live in than inland areas in terms of housing. Even so, there are high numbers of households struggling to meet the cost of a decent standard of living in those lower-cost areas. It's interesting to contrast much of the Bay Area with L.A. County, which has a much higher rate of struggling households: 38 percent of households in L.A. County struggle vs. the composite number across those Bay Area counties, which is about 25 percent. It's very expensive to live in Santa Clara County, but there are more households that are earning above what they need.
If you look at Fresno County, that's a very different situation.
On our website, you can look at neighborhood level data. You can look at it by neighborhood, which is real important. With Fresno, you have a high rate of need. And if you look at West Fresno, which sadly is pretty well known for having a very high unemployment rate and a lot of struggling families, it looks worse than other parts of Fresno.
In the Bay Area there is more opportunity, while in Fresno County the opportunities are less and people are struggling at a higher rate than other parts of the state.
Yes. It's very tough in a lot of place in the Central Valley and the Inland Empire. There are struggling households in just about every part of the state. Every ethnic and racial group struggles. No one's immune to it.
The Bay Area has been going through a difficult boom period where a lot of people moved in and housing costs went up. L.A. seems to be in the middle of that too. How do those kinds of changes affect people's ability to keep up?
HUD fair market rent, which is a proxy for actual rents, increased almost 45 percent in the last three years in Alameda County. That's a steep jump. The Bay Area cost ripple is still going on. L.A. County has rising rents. Our offices are in Downtown L.A., and you can't turn around without bumping into a crane. In the last three years, there has been an incredible boom in construction. And it seems to be mostly high-market condos that aren't very affordable and aren't that well occupied. My sense is that people are buying them for a second home. Obviously we need more housing units, but they need to be affordable. What we want to point out in our study is that we need to do more for renters. There are many more people living in apartments whose rents may go up than would be housed by new construction. Maintaining affordability is key.
How does education play into it?
We see a correlation between a higher level of education and a lower rate of struggle. Households led by college graduates, only 15 percent of those households struggle, compared to 78 percent for households led by somebody who doesn't have a high school diploma.
How do children in a household affect the ability to keep up?
That's one of our big findings. A household with kids really changes the budget of what a decent standard of living looks like. Some people would quarrel with us about this, but we feel children should have access to quality pre-school and childcare. We know most kids don't actually get access to that, but we think they should, and that's included in our budget. We find that 6 in 10 households with a child under 6 are struggling – especially when they're led by a single mother.
It looks like in many parts of the state, transportation is also a big cost, approaching the level that people pay for housing.
Our assumption is that families need a car. We talk to people who do studies back east, and often the assumption there is that low-income households are using public transportation. But even in the Bay Area, most people need a car. It's like a lifeline, to drive around and get to work. It's a little like Grapes of Wrath: You need to be able to move. Our costs are based on reported expenditures from the Bureau of Labor Statistics. If we had a high functioning public transportation system down here, that would help a lot of people.
These are overwhelmingly working households: 9 in 10 of them have a working adult, and in 80 percent of them the household is working full-time. Oftentimes, when people talk about poverty, they just know what the poverty level is – but it doesn't really tell you what they're contending with, and the trade-offs they're having to make. And there's often an assumption that poor people are lazy and if they just get a job, things would be better. Our point is that these are overwhelmingly working families. They have jobs and they're still not earning enough for a decent standard of living.