Freedom Medal Campaign for Fred Ross
Activists, organizers and elected officials across the United States have come together to urge President Barack Obama to award posthumously the Presidential Medal of Freedom to the legendary organizer, Fred Ross Sr. The first to organize people through house meetings, a mentor to both Cesar Chavez and Dolores Huerta, and a pioneer in Latino voter outreach since 1949 when he helped elect Ed Roybal as Los Angeles's first Latino council member, Ross' influence on social change movements remains strong two decades after his death in 1992. If there were a Mount Rushmore for community organizers, Ross's angular face would be on it. Here is a brief summary of Ross's remarkable legacy, along with instructions on how to get your message of support to President Obama in time for the February 28 deadline.
Like all activists familiar with his work, I had a reverence for Fred Ross, Sr. before I knew the full record of his accomplishments. I learned much more about him when researching my book, Beyond the Fields, on the ongoing legacy of the farmworkers movement.
For example, many are unaware that Fred Ross conceived the voter outreach strategy that not only elected Ed Roybal as Los Angeles' first Latino Councilmember in 1949, but also laid the groundwork for the Obama campaign's Latino voter outreach campaign in 2008. Ross trained UFW organizers Marshall Ganz, Miguel Contreras and Eliseo Medina in voter outreach strategies to reach "occasional" voting Latinos, and these three took what they learned to California politics. Ganz and Medina then brought this voter outreach model to the Obama campaign.
Unlike the thousands of organizers he trained, Ross had no mentor and was self-taught. He was a keen observer of CIO organizers in the fields during the Grapes of Wrath days, and figured out how best to organize the disenfranchised to build power.
While Saul Alinsky funded Ross's work at the Community Services Organization (CS0), the innovative organizing strategies, including the house meeting approach that recruited Cesar Chavez and helped build the farmworkers movement, all came from Ross.
The Presidential Medal of Freedom
Since 1963, the Presidential Medal of Freedom recognizes those individuals who have made "an especially meritorious contribution to the security or national interests of the United States, world peace, cultural or other significant public or private endeavors." Last year, President Obama conferred the award on Dolores Huerta who recognized Ross as the organizer who mentored both her and Cesar Chavez.
For nearly half a century, Fred educated, agitated and inspired people of all races and backgrounds to overcome fear, despair and cynicism. He was a pioneer who fought for racial and economic justice. On the occasion of his 80th birthday, House Minority Leader Nancy Pelosi said, "Fred Ross Sr. left a legacy of good works that have given many the courage of their convictions, the powers of their ideals, and the strength to do heroic deeds on behalf of the common person."
At Fred Ross Sr.'s Memorial Service in 1992, Jerry Cohen, former UFW General Counsel stated, "Fred fought more fights, trained more organizers and planted more seeds of righteous indignation against social injustice than anyone we're ever likely to see again." The late Jessica Govea, a UFW organizer trained by Ross as a teenager, described him as "the purest organizer I ever knew."
Fred Ross, Jr., himself one of the great organizers of our time, views an award of the Medal of Freedom to his father as honoring far more than a single person. "Honoring Fred Ross, Sr. is really recognition for the foot soldiers in all struggles that do the day to day work but rarely get acknowledged for their labors. It's about honoring the farmworkers, low-wage urban workers, and all those fighting for social justice against what many see as insurmountable odds."
Action Needed Now
If you agree that Fred Ross, Sr. deserves this honor, you must contact President Obama by February 28. Here are four actions you can take:
Write to President Obama via the President c/o Julie Chavez Rodriguez, Associate Director of Latino Affairs and Immigration for the Office of Public Engagement at the White House: Julie_C_Rodriguez@who.eop.gov.
 Call your Congressional Representative to urge them to sign the congressional letter to President Obama right away. The Capitol Switchboard # is: 202-224-3121. Note: San Francisco Bay Area Reps are already on board
 Contact your own U.S. Senators and urge them to write their own letters of support to President Obama.
Organize your friends to take the above actions; use social media, face book, your blogs to share Fred Ross Sr.'s legacy and promote his nomination for the Presidential Medal of Freedom.
Fred Ross used to say, "Good organizers never give up—they get the opposition to do that!" In that spirit, please take a few minutes on Fred Ross Sr.'s behalf and join others across the nation in urging the President to honor one of the great unsung heroes of our time.
(Randy Shaw is Editor of Beyond Chron, where his post first appeared. He is the author of Beyond the Fields: Cesar Chavez, the UFW and the Struggle for Justice in the 21st Century, and The Activist's Handbook. Republished with permission.)

'Skeleton Crew' Is a Play With a Moral Spine
Set in a Detroit automobile outfitting plant, Dominique Morisseau's drama grabs you from the start with its focus on blue-collar men and women, and their struggle for dignity and self-respect.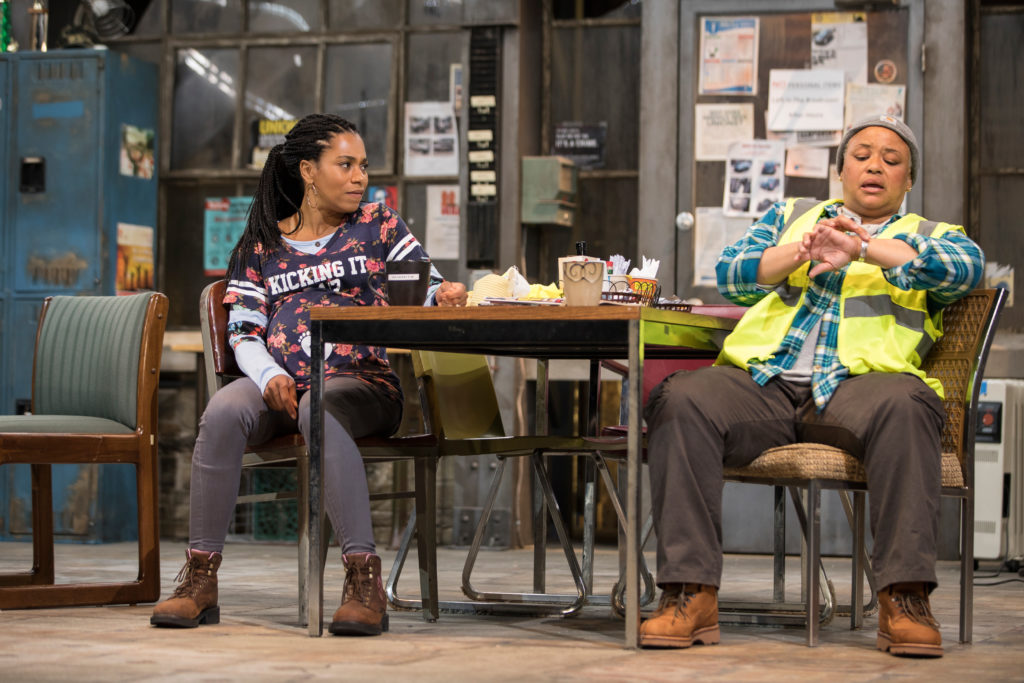 Working-class men and women of color are rarely front and center in today's media and, likewise, are presented all too occasionally on the American stage. So it's buoying to see that trend bucked in playwright Dominique Morisseau's percipient and well-crafted drama, Skeleton Crew. The play is the final installment in her Detroit  Project Trilogy; the first, Paradise Blue, is set in the 1940s amidst displacement caused by urban renewal and gentrification, while the second, Detroit '67, transpires on the eve of the 1967 Detroit riots sparked by a police action.
Directed by Patricia McGregor at Los Angeles' Geffen Playhouse, Skeleton Crew is a play with a moral spine. It takes place in 2008, when the shrinking U.S. auto industry is being further downsized. Morisseau's engaging quartet of characters — Faye (Caroline Stefanie Clay), Dez (Armari Cheatom), Shanita (Kelly McCreary) and Reggie (DB Woodside) – are employed at an automobile outfitting plant. Faye, Dez and Shanita are workers on the line while Reggie (who has a wife and kids, and has pulled himself together after a troubled youth) is their supervisor.
The first three customarily mingle in their break room (designer Rachel Myers' impressively cluttered, dingy and detailed set), trading the sort of familiar barbs and genuine concern for each other common among longtime co-workers. They also face off on philosophy: Upper-middle-aged Faye and the younger, pregnant Shanita take pride in their labor, while Dez, though a good worker, is a malcontent scornful of management and firm in the belief that everyone needs to watch out for himself. He's a thorn in Reggie's side, for while Reggie wants to be supportive of his workers, he must act at the behest of higher management. For his part, Dez resents Reggie's authority, and a palpable unease exists between them.
Besides this male matchup, we're made privy to Dez's attraction to Shanita, who mostly turns away his advances, but every now and then displays a hint of interest. Most poignant is Reggie's regard and affection for the lesbian Faye, which has roots in his boyhood when she loved, and lived, with his now-deceased mom.
These people's various predicaments intensify when rumors spread of the plant's shutdown — a disaster for all, but a particular calamity for the already near-broke Faye who, one year short of retirement, would lose her pension. The crisis forces each of these people to make a choice.
A sound piece of social realism, Skeleton Crew grabs you from the start in its focus on blue-collar men and women, and their struggle against odds for dignity and self-respect. Morisseau not only furnishes these characters a platform for their travails, she endows them with strong values, big hearts and the opportunity to choose between right and wrong.
Unfortunately, the performance I attended did not soar. Many exchanges lacked a fresh edge. The actors certainly had their characters down, but too often they appeared to be coasting on technique. (This seemed particularly true of Clay, who performed the role to great accolades in Washington, DC in 2017, also under McGregor's direction). Additionally, some of the stage movement was not entirely fluid; in confrontations, actors sometimes would just stand and face each other in an artificial way. And Cheatom's interpretation of Dez struck me as a bit overly churlish and depressive: I needed more glimpses of the intelligence and edge that would secretly attract the strong, self-directed Shanita.
The most compelling moments belong to Woodside, well-cast as a man trying his best in difficult circumstances to do the right thing.
---
Gil Cates Theater at the Geffen Playhouse, 10886 Le Conte Ave., Westwood Village; Tues.-Fri., 8 p.m.; Sat., 3 & 8 p.m. Sun., 2 & 7 p.m.; through July 8. (310) 208-5454 or www.geffenplayhouse.org