DOA: Behind the Chamber of Commerce's "Job Killers" List
Illustration: Lalo Alcaraz
The California Chamber of Commerce represents more than 13,000 businesses, from companies such as Microsoft and Walt Disney, to local companies with small numbers of employees. From its K Street headquarters in Sacramento, the "Cal Chamber," as it's colloquially known, analyzes some 3,000 pieces of legislation every year. In the past 10 years, 341 of 353 — nearly 97 percent — of the bills opposed by the California Chamber of Commerce failed to become law. The vast majority of these were never passed by the Legislature and sent to the Governor. Instead, they were killed in committee or voted down by the Legislature or amended to take out provisions opposed by the chamber.
The chamber's weapon of choice is its highly publicized "Job Killers List," a roll call of bills the chamber claims threaten the interests of business, though its press releases tend to stress the bills' menace to California's economy and its workers' jobs.
The chamber's job killers list has nearly been as effective under the governorship of the Democrat Jerry Brown as under that of the Republican Arnold Schwarzenegger, begging the question, How can the chamber stop so many bills in a state Legislature in which Democrats enjoy supermajorities in both houses? Despite repeated requests for interviews, representatives of the Cal Chamber did not to speak to Capital and Main. A spokesperson did, however, provide requested statistics on its job killers project and offered this explanation of the chamber's success in an email:
The reason the Chamber has been so successful over the years with our Job Killer campaign is that we have done an excellent job of educating legislators and Governors about how these bills will hurt job creators and California's competitiveness.
Exactly how that is accomplished will be a subject for discussion in a later feature. For now, we offer a survey of bills that were shot down over the last two years, thanks in part to the chamber branding them as job killers. (Read about more targets of the job killers list in Bill Raden's "Capitol Punishment" sidebar.)
The Walmart Loophole
This year Los Angeles Assemblyman Jimmy Gomez, a Democrat, thought he had found a solution to a vexing problem involving medical coverage for low-wage workers. The federal Affordable Care Act requires large employers to pay a penalty to offset the costs of public subsidies for their employees' healthcare. But under a loophole, there is no penalty for the employers whose approximately 250,000 California workers are enrolled in Medi-Cal, the state's Medicaid program for the poor. That is because large companies that pay low wages can shift full-time workers to part-time status. For Walmart employees that shift would mean they are no longer eligible for company health benefits and would instead become eligible for Medi-Cal.
Gomez proposed to close the loophole by imposing stiff penalties on large companies that push their employees onto the Medi-Cal rolls. Assembly Bill 880 would have done that by fining companies with at least 500 employees about $5,000 for each employee who became eligible for Medi-Cal.
AB 880 seemed like a winner in an Assembly controlled by a Democratic supermajority, and it also enjoyed a powerful ally in organized labor. But then one of the state's most effective business lobbies swung into action on behalf of the country's biggest private employer.
Gomez's bill, the Chamber of Commerce claimed, would discourage the hiring of entry or re-entry workers, harm California's fragile economy and unfairly punish state employers. The chamber wasn't alone in fighting Walmart's war: Other business groups piled on, including the California Retailers Association, the California Grocers Association, the California Hotel and Lodging Association, the International Council of Shopping Centers and the Orange Council Business Council. The chamber released a video that opened with a montage of California workers picking fruit, labeling boxes at a distribution center and driving trucks. Those hardest hit by AB 880, the video claimed, would be farmers, restaurants, students and nonprofit organizations, such as the California Community College Foundation. Nowhere was Walmart's name heard or seen in the two and a half minute clip, which stated that violating companies would be on the hook for fines ranging from $6,000 to $15,000.
AB 880 made it onto the chamber's Job Killer list on April 25; on June 27 it was declared dead after it failed to win a supermajority in the assembly. It received 46 Yes votes, with 27 lawmakers voting against it and six abstaining. A total of 54 Yes votes, or a two-thirds majority, was required.
Paid Family Leave: A Mega Job Killer?
Does the chamber really believe its own rhetoric about nearly any new regulatory law being a job killer? A recently published book that details the chamber's opposition to California's landmark paid family leave law — despite being on the chamber's job-killer list – suggests it doesn't. The book, Unfinished Business, is based on original data from fieldwork and surveys of employers, employees and the larger California population. It challenges the chamber's claims of job loss and economic disarray.
California passed the nation's first comprehensive paid family leave program in 2002. The law, which provides employees with up to six weeks of paid leave to care for a new baby or seriously ill child, parent or spouse, was approved by the Legislature and signed by then Governor Gray Davis in September, 2002.
At the time, the bill was bitterly opposed by business groups led by the California Chamber of Commerce, which placed it on its job killer list. After it passed, Cal Chamber president Allan Zaremberg said, "We've opposed a lot of bills, but this is one of the worst." And in an opinion column in the San Diego Union-Tribune after its passage, Zaremberg and the presidents of the California Manufacturers and Technology Association, and the California Business Roundtable denounced the new family leave law as a "mega job-killing bill."
Have, nearly a decade after the law went into effect in 2004, any of those job killing predictions come true? Not according to Unfinished Business' authors, Ruth Milkman, a professor of sociology at the City University of New York Graduate Center, and Eileen Appelbaum, senior economist at the Center for Economic and Policy Research in Washington, D.C.
"These widely expressed fears regarding [the bill's] potentially negative effects on business have not materialized," the authors write. They say that large majorities of employers reported that its impact on productivity, profitability and performance was negligible or positive. "Most of the managers we interviewed felt that the positive benefits of [the law] outweighed its negative features and some were positively enthusiastic," they conclude.
While their results show that the family leave act hasn't been a job killer after all, Milkman says that the California Chamber is quick to put that label on bills it simply doesn't like.
"That's the rhetoric," she says in an interview. "People want growth. If they can link a proposed bill and say it retards growth and kills jobs, that can be very persuasive. They take that approach. They basically oppose anything that affects their members. They don't want to be told what to do."
A decade after the family paid act successfully went into effect, the California Chamber continues to fight against expansion of the law. Its 2013 job killer list targeted a bill from state Senator Mark DeSaulnier (D-Concord) that would have prevented California businesses from firing or otherwise retaliating against employees who take advantage of the paid family leave program.
Supporters said Senate Bill 761 was needed since many people did not seek the program's benefits because they were afraid of being fired or retaliated against in other ways. The California Chamber branded the bill a job killer because it would transform the family leave program from a wage replacement program to a new protected leave of absence that would burden businesses. DeSaulnier's bill failed to pass the Legislature.
Killing the Sugary Drinks Tax
The chamber's efforts to stop a bill intended to curb childhood obesity shows how it uses its job-killer label to fight legislation that could help millions of Californians – in order to protect a narrow spectrum of business interests.
Last February, state Senator Bill Monning (D-Carmel) introduced Senate Bill 622, which would have raised $1.7 billion annually by imposing a penny per ounce tax on soda and other sugary drinks. The money was intended to help solve the childhood obesity and diabetes epidemics in California by funding school and community programs, according to California Center for Public Health Advocacy, a nonprofit organization and the bill's sponsor.
The group noted that obesity rates have more than doubled among children and tripled among adolescents in the past three decades; the center claims that unless the obesity epidemic is reversed, one in three children born after 2000 — and nearly half of Latino and African-American children — will develop Type 2 diabetes in their lifetime.
Elizabeth Velten, state and national policy coordinator for the center, says that soda and other sugary drinks play a "unique role in development of obesity and diabetes and obesity," and that the bill called on the manufacturers of those products to "take responsibility."
Genoveva Islas-Hooker, program director of the Fresno-based Central California Regional Obesity Prevention Program, adds, "A soda tax would have tremendous benefits in helping to provide resources to the communities such as the one I work in." Islas-Hooker's motivation is fueled in part by her own history: As a sixth grader, she gave her aunt insulin injections for diabetes.
SB 622 targeted sugary drinks and no other junk food because sugary drinks are the worst culprits, supporters said. Dr. Thomas Frieden, director of the federal Centers for Disease Control and Prevention, has stated that taxing sugary drinks could be the "single most effective measure to reverse the obesity epidemic."
The soda tax wasn't favored solely by health-care advocates. A 2012 Field poll of likely California voters found that 68 percent would support a sugar-sweetened beverage tax to fund childhood obesity prevention programs, such as healthier school menus and more physical education.
The chamber vehemently disagreed. In an April letter to the state Senate Committee on Governance and Finance, it stated, "The California Chamber of Commerce OPPOSES SB 622, as introduced on February 22, 2013, which has been labeled as a JOB KILLER, as it is a targeted tax on one industry that will ultimately harm consumers or workers within the beverage industry."
Opposition to the bill also came from more than a dozen other groups, including PepsiCo, the California Distributors Association, California Grocers Association, California Nevada Soft Drink Association, California Restaurant Association, the Howard Jarvis Taxpayers Association and the National Organization of Theater Owners of California and Nevada.
Nonetheless, the bill was approved by the Senate Governance and Finance Committee in April and by the Senate Health and Appropriations committees in May. But it never came up for a floor vote because it was held on the Senate Appropriations suspense file in late May. (Placing a bill in the suspense file is a maneuver that allows legislative leaders to quietly kill or place on hold bills that a majority of legislators might support if the bills were allowed to be voted on in public sessions.)
Prior to SB 622's introduction, studies conducted by the Institute for Health Research and Policy at the University of Illinois at Chicago discredited beverage industry claims that sweet-drink taxes would kill jobs. An April 2013 letter, sent to the California state Governance and Finance Committee, specifically addressed industry charges against AB 622. The letter, signed by four senior researchers at the institute, first attacked the methodology of business-hired research "proving" the bill's devastating effect on jobs, then concluded that the institute's own research showed that the opposite was true:
Results from this non-industry sponsored research estimate that the net impact of a 20 percent SSB tax revealed increased employment of approximately 6,000 jobs in California, representing about a 0.03 percent change in employment. Declines in employment within the beverage industry of approximately 2,000 jobs occurred but were offset by larger new employment in non-beverage industry and government sectors. Therefore, SSB taxes would have a negligible though slightly positive net impact on overall state-level employment in California.
"It makes me mad on a number of levels," Genoveva Islas-Hooker says of the chamber's work on SB 622. "We should be doing better by our children and using every resource to promote their health instead of putting profits over people." As for the argument made by the chamber and beverage industry that the soda tax is a job killer, she says, "This is just tactics meant to mislead. In fact, it's a life saver."
No Overtime for Farm Workers
Farm workers have long been excluded from many of the same protections granted to workers in other industries, including the right to collect overtime pay. The problem was partially corrected when Governor Jerry Brown signed a bill into law that established overtime pay for farm workers after 10 hours a day or 60 hours a week.
But that was back in 1976 — the last time California granted overtime rights to farm workers, who toil daily in back-breaking jobs and often in blistering heat. In 2010, the state Legislature passed a bill to ensure overtime for farm workers after eight hours a day or 40 hours a week – which then-Governor Arnold Schwarzenegger promptly vetoed.
In 2012, Assemblyman Michael Allen (D-Santa Rosa) introduced AB 1313 to grant farm workers the same overtime rights as other types of workers. "Seventy-five years of waiting is long enough," he said.
The 2010 and 2012 bills had two things in common. First, they were both included on the California Chamber of Commerce job killer list. And the second is that neither became law.
In a letter sent to members of the California State Senate on August 8, 2012, the chamber said that Allen's bill has been "labeled as a JOB KILLER, as it imposes costly new mandates on California farmers that will limit their ability to maintain their operations and will place them at a competitive disadvantage."
On its job killer website, the chamber crowed that the bill never made it to the governor for consideration because the "Assembly refused to concur in Senate amendments."
Fighting Fracking Moratoriums
One of the most contentious issues in California today involves hydraulic fracturing or "fracking," the high-pressure injection of water mixed with sand and chemicals to fracture rock in order to unlock oil or gas. Petroleum companies are particularly eager to use this method in the Monterey Shale, an area in the Central Valley that stretches from Bakersfield to Monterey, and that might contain 15 billion barrels of shale oil.
Environmentalists have warned that fracking will increase pollution and that it causes serious risks to public health and the environment. They have called for a moratorium on use of the process until the risks are studied, as New York State has done. The energy industry disputes the need for moratoriums.
"Any kind of public policy that suppresses employment and economic development in the absence of need is simply bad policy," says Tupper Hull, a spokesman for the Western States Petroleum Association, a powerful oil industry lobbying group. The association opposed several fracking moratorium bills in California, claiming there was no evidence that fracking was harmful to the environment.
Hull said that some studies have projected that new fracking operations could result in as many as 200,000 new jobs in the job-starved San Joaquin Valley. Environmental lobbyists say that the Western States Petroleum Association is a tough opponent that works closely with the California Chamber.
This past year, several bills calling for a fracking moratorium were introduced in Sacramento. The bills all figured prominently on the California Chamber of Commerce job killer list and were fought bitterly by the chamber, the Western States Petroleum Association and individual oil companies, including Chevron. All three bills failed to become law.
One bill, from Assembly member Holly Mitchell (D-Los Angeles) called for a moratorium on fracking until at least January 1, 2019, while a moratorium bill introduced by Assembly member Adrin Nazarian (D-Sherman Oaks) would have similarly curtailed fracking operations. Assembly member Richard Bloom (D-Santa Monica) introduced a third bill that called for a moratorium until the Legislature passed new laws determining under what circumstances fracking could be used.
"I am a big proponent of economic development," Bloom told Capital and Main, "but I also am an environmentalist and we have to balance environmental concerns. We don't really know the effects of the chemical mixture [utilized in fracking]. There's some evidence fracking contributes to earthquakes. All of that argues for a moratorium — we need to slow down rather than rush forward."
Bloom's bill, like Nazarian's, failed to even make it out of the Appropriations Committee, while Mitchell's was voted down on the Assembly floor.
The state Senate, however, did pass a bill written by Fran Pavley (D-Agoura Hills) that sets up a permitting system and requires companies to give notice of fracking operations. Many influential environmental groups, including the California League of Conservation Voters and the Natural Resources Defense Council (NRDC), at first supported Senator Pavley's bill, but pulled their support after it was substantially weakened at the last minute. Governor Jerry Brown signed the bill into law in September.
One measure of the resources thrown into the ferocious lobbying against the bills can be found in figures from the California Secretary of State's office. They show that in the first half of 2013 alone, the Western States Petroleum Association spent $2.3 million to influence legislation and government regulation — more than any other group. The California Chamber ranked third at $1.8 million and Chevron Corp. ranked sixth at $1.3 million. All three were heavily involved in lobbying against bills to impose a moratorium on fracking.
"We're continually in touch with them," Tupper says of his group's close relationship with the chamber.
The fracking moratorium bills failed despite the fact that 56 percent of likely state voters polled by the Public Policy Institute of California said they favor stricter regulation. Fifty-one percent of Californians were completely opposed to the expansion of fracking in the state.
Today Richard Bloom says he wasn't surprised by the chamber's opposition. And David Pettit, director of the NRDC of Southern California's air program, says that studies cited by fracking supporters are full of unproven assumptions.
"There's still a lot of uncertainty," Pettit says about how much oil would be available and how expensive it would be to extract and refine it. "Until we really know all of the numbers, it's just a total crapshoot." He adds that there is also considerable doubt surrounding the oil industry's claims that fracking would create large numbers of jobs.
In characterizing the moratorium bills as job killers, the chamber said that a moratorium on fracking would impede California's economy.
"While we fully appreciate the desire of lawmakers to better understand this well-stimulation technique and make sure it is being conducted in a safe manner," the chamber wrote Holly Mitchell on April 9, 2013, "imposing a moratorium without evidence that the practice poses an immediate threat to public health or safety unnecessarily and substantially undercuts state production of oil and natural gas, raising energy costs for businesses and consumers and harming California's economy."
Annie Notthoff, NRDC's California's advocacy director, says that the chamber's "job killer label is often more hyperbole than reality."
She adds, "The California Chamber of Commerce has definitely not gotten the memo that the citizens of California support clean air, clean energy and a healthy environment. The fact that the chamber is wielding such influence with the Legislature and is preventing bills the public says they support shows [the chamber] has out of proportion influence with the Legislature."
Homeless and Powerless
To Assemblyman Tom Ammiano, the job killer list is not simply a lobbying tool but reflects a chamber out of sync with the majority of Californians on matters of social conscience. In December 2012, the San Francisco Democrat introduced a bill, the Homeless Person's Bill of Rights and Fairness Act, which gave sweeping protections to the homeless – and which the chamber added to its hit list.
"Aside from the inhumanity, it's very shortsighted," Ammiano says of the state chamber. "Frankly, the chamber needs to catch up with the current dynamic in California with regard to social justice issues."
Ammiano's bill was intended to prevent municipalities from harassing homeless people who were engaging in "life sustaining" activities on public property.
Supporters, including Paul Boden, who is the organizing director of the Western Regional Advocacy Project, which co-sponsored the bill, say it was needed to prevent cities and communities from arresting or citing homeless people for sleeping, loitering or simply sitting in public spaces.
"This country has a long history of using local laws to criminalize the presence of people that the government wants to get rid of," Boden says, citing the Jim Crow laws in the South during the segregation era and anti-Okie laws of the 1930s, which made it a misdemeanor to bring poor Dust Bowl immigrants into California. Boden wasn't surprised that the chamber put Ammiano's measure on its job killer list.
"That's the chamber's way of saying these are priority bills. It's all about public relations – they use the phrase 'job killer' whether a bill is an actual job killer or not. It's a nicer way of saying, 'This is our hit list.'"
Initially, Boden says, the chamber's opposition to AB 5 was fairly restrained. The chamber sent a letter to the state Assembly Judiciary Committee in April announcing the bill "has been identified as a JOB KILLER as it places overly broad and onerous requirements on every business in California, which will ultimately expose them to frivolous and excessive litigation."
The Assembly Judiciary Committee passed AB 5 by a vote of 7 to 3.
Boden says the chamber and other business groups seemed somewhat caught by surprise after the bill passed. Making up for lost time, the chamber and the League of California Cities lobbied hard against Ammiano's bill. Boden claims that the chamber began telling legislators that "if the bill passed, local governments would have to supply housing and services to all homeless people, even though that's not what the bill said."
In May, AB 5 was effectively killed when it was placed in the Appropriations Committee's suspense file. To Boden, the homeless bill's defeat was a sign of business as usual.
"We didn't expect passage in one year – we're not naïve," he says. "The chamber did its job. They killed our bill. We spent three minutes licking our wounds and we're right back into it."
Boden adds, "When it comes to government and who it responds to, [the bill's defeat] shows that business interests trump human interests."
To Ammiano, there was little suspense about the chamber's role in stopping his work.
"The chamber is very shortsighted." Ammiano says. "They see the homeless as a problem that hurts business." He adds that rather than help to find solutions to the pervasive problem of homelessness in California, "they go for the jugular immediately."
Adelanto Report Card: Year Zero of the Parent Trigger Revolution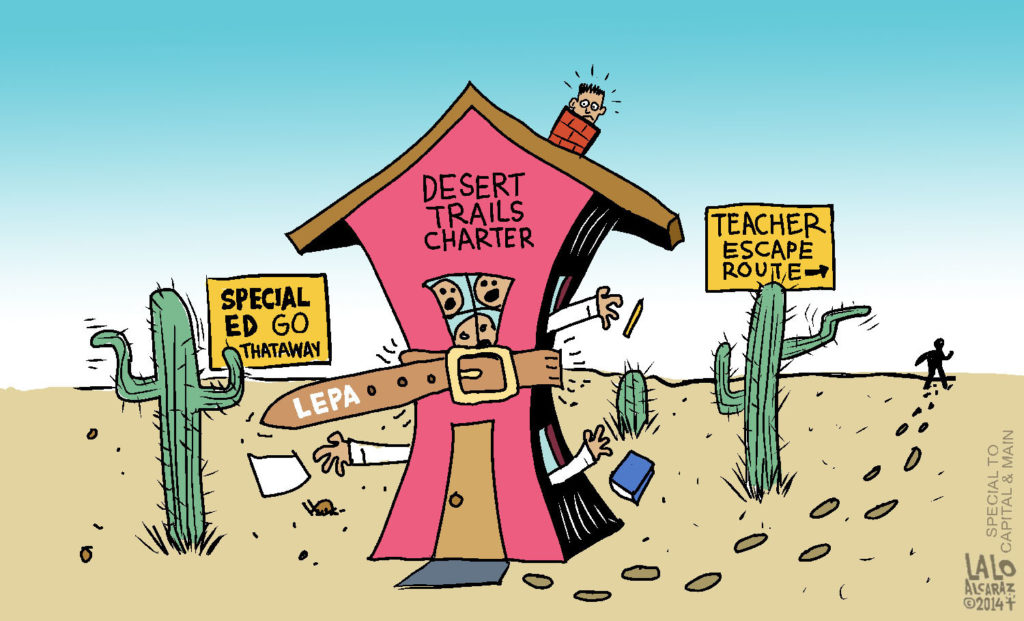 Illustration by Lalo Alcaraz
Throughout 2011 and 2012, the eyes of the education world were focused on Adelanto, a small, working class town in California's High Desert. A war had broken out there over the future of the K-6 Desert Trails Elementary School and its 660 low-income Latino and African-American students. When the dust settled, Desert Trails Elementary was gone. In its place was a bitterly divided community and the Desert Trails Preparatory Academy, the first (and so far, only) school in California and the U.S. to be fully chartered under a Parent Trigger law, which allows a simple majority of a school's parents to wrest control of a low-performing school from a public school district, and transform it into a charter school.
Tiny Adelanto's turmoil reflects a much larger battle now being fought across America between defenders of traditional public education and a self-described reform movement whose partisans often favor the privatization and deregulation of education. At least 25 states have considered parent trigger legislation and seven of them have enacted some version of the law, including Connecticut, Indiana, Louisiana, Mississippi, Ohio and Texas. Though funded by tax dollars, the trigger charter is private, meaning it is not bound by many of the rules and much of the governing oversight or transparency of a traditional public school.
At the end of Desert Trail's inaugural, 2013-14 school year, a group of eight former Desert Trails teachers hand-delivered a 15-page complaint to the Adelanto Elementary School District (AESD), charging Desert Trails with an array of improprieties and its executive director, Debra Tarver, with unprofessional and sometimes unethical conduct.
Among the most serious accusations are charges that administrative chaos at Desert Trails has resulted in both a stampede of exiting teachers and staff; that uncredentialed instructors have taught in its classrooms; and that Desert Trails had an unwritten policy of dissuading parents of students with special learning needs from seeking special education. The teachers also allege that they had to endure a bullying regime in which, they say, they were continually screamed at, spied on, lied to and humiliated in front of parents and their peers by Tarver and her deputies. Capital & Main spoke with the teachers, four of whom agreed to go on the record for this story. ("The High Desert is a small place and Debbie Tarver has a long reach," said one teacher who requested anonymity.)
"Not only was it dysfunctional and unprofessional," says second grade teacher Renee Salazar, a five-year veteran of Los Angeles' inner-city public schools, "it was law-breakingly unprofessional."
The teachers interviewed for this story, who were paid about $3,300 a month, claim the school's extreme miserliness shortchanged teachers and students on basic classroom tools. Over the first year, they said they each spent up to a full month's salary, and in some cases more, on unreimbursed, out-of-pocket expenses.
"At the start of the year," recalled kindergarten teacher Bertha Miramontes, "I ended up spending $1,000 because the décor in my classroom, [Tarver] said, was not good enough. I would spend anywhere between $200 to $300 per month to get supplies — writing paper, pencils, construction paper, tissues for my kids' noses, hand sanitizer, crayons."
These teachers also say that Tarver, who as executive director of a charter school is paid a salary commensurate to that of a San Bernardino county school district superintendent by both Desert Trails and LaVerne Elementary Preparatory Academy — a combined annual salary of around $200,000 — ordered the student water fountains shut off for the duration of the bitterly cold High Desert winter, rather than pay for overnight heat to prevent the pipes from freezing.
When contacted by Capital & Main, Tarver dismissed the allegations of cheapness, along with the other former teachers' charges, with which she said she was already familiar, as the sour grapes of "a couple of teachers who have been disgruntled," though she admitted that Desert Trails' budget was stretched thin.
"Last year was the first year of a school start-up. You don't get all your funding right away," she explained. "[But] every teacher was provided curriculum and everything they needed to operate a classroom. As a matter of fact, they had more than what my teachers had when we started at my other school."
That other school is LaVerne Elementary Preparatory Academy (LEPA) in nearby Hesperia, where Tarver also serves as executive director. It was LaVerne's impressive record at posting high assessment scores and its "old-school" model of a well-rounded, classical education that put Tarver's Adelanto charter application at the head of the shortlist compiled by the Desert Trails Parents Union (the name of the Adelanto Trigger faction) and its sponsor, the Gates Foundation- and Walton Family Foundation-backed Parent Revolution.
Charter school critics, however, charge that such schools often raise their test scores by winnowing out special-needs students. Federal law requires all taxpayer-supported schools to admit students with disabilities. Schools are required to carry out an individualized education plan (IEP) for each disabled student, which could include extra tutoring or a placement in a smaller — and costlier — specialized classroom. Desert Trails' charter application promised to accommodate the elementary school's estimated 90 special education students by hiring "a Special Education Coordinator, three full-time special education teachers and five instructional aides." In its first year, however, the Desert Trails Special Ed program consisted of a single teacher, Special Education Coordinator Tina Fryberger, and a sole classroom aide.
"We weren't allowed to talk about special education to anyone," third grade teacher Nani Colmer asserted and claimed she taught kids who needed special ed. "I had students that I really wanted to have a shot at some sort of academic success, and they could not get it in my classroom. I wasn't allowed to talk about special ed except to say, 'Go see Debbie Tarver.'"
"She told us, 'Do not tell your parents that there's any special education testing or assessments available,'" echoed Renee Salazar. "'Do not even talk about special education or testing for any of your scholars. If that ever arises, send them to the office, I will talk to them.'"
Tarver denied this. "Everything is done legally and accordingly as special ed is supposed to operate. The teachers are responsible for following a child's IEP if the child has an IEP. A teacher, and that's anywhere, cannot diagnose if a child has a disability unless that child has been tested."
Miramontes said she was told by one parent that Desert Trails staff advised her that her bipolar-diagnosed and severely ADHD, five-year-old twin "would be better served elsewhere." Miramontes described the kindergartener as prone to extreme rages that included punching, biting, throwing classroom furniture and, on one occasion, trying to scale the playground fence and run away. Eventually he was put in Fryberger's Special Ed classroom, from where he was then "mainstreamed" into Miramontes' class for an hour each day during lunch. But the violent tantrums continued and began to trigger outbursts in the child's twin sister, who was one of Miramontes' regular students.
"The [children's] mom would come in my class," recounted Miramontes, "and she would say, 'This is what I deal with every day at home.' She was like, 'I need help. I'm asking for help from this school and they're not helping me. I don't know what to do.'"
According to Miramontes, things came to a head when, during one of the rages, the five-year-old struck school registrar Janice Dominguez. Miramontes never saw the child again but says that she was later told by the disbelieving mother that Desert Trails' behavior specialist, Anthonie Etienne, requested that she remove her son from the school. When the mother repeatedly asked if the boy was being suspended, she said that Etienne would only reply, "No, he's not being suspended. He just can't come back to school." Etienne has since left Desert Trails and was unavailable for comment.
However, Fryberger confirmed to Capital & Main the outline of Miramontes' account, but both she and Tarver adamantly denied that the child — or any children — were requested to leave Desert Trails last year.
"That's false," Fryberger countered. "Upon discussion with the parents and staff members, [the] mom was in agreement that [her son] would need a more suitable environment to meet his needs. So this was not our decision as far as telling him that he wasn't welcome or anything. This was a decision that mom thought was best for her kid."
The teachers say that the parents of at least two other students were also persuaded that their children would be better served elsewhere.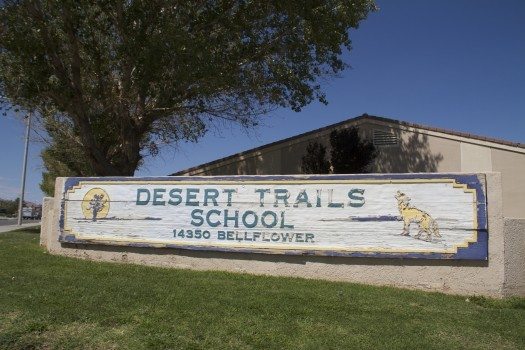 The most telling outward sign that all was not right at Desert Trails, however, may be its startling turnover in administration and teaching staff. During its first year, teachers say, the charter lost a principal (Don Wilkinson) and a director (Ron Griffin) — both before the Christmas break — its vice principal, six classroom teachers and its behavioral specialist. In addition, only nine of Desert Trails' first-year teacher roster — or 33 percent — are returnees this year. Desert Trails' charter promises "less than five percent annual employee turnover." And, teachers say, Desert Trails seems to be running true to form for the 2014-15 year, with four teachers jumping ship as of this writing — including two from the kindergarten level.
Tarver, who refused to discuss administration turnover, claimed the school's overall staff retention, which includes uncredentialed classroom aides and office workers, was 92 percent. She attributed teacher turnover to the recovering economy.
"You have over 10,000 [education] jobs that opened up in the state of California," she insisted, "whereas a lot of schools — not just mine, but many schools — have had a turnover because people wanted to move closer to their home base. . . . That has been the case in every school district, not only in the High Desert but all over California."
At Desert Trail's somewhat smaller but demographic twin, Adelanto Elementary School, 16 out of 21 teachers managed to find their way back this year, making for a roughly 76 percent teacher retention rate during the period of economic recovery.
The former Desert Trails teachers characterize the abundance of public school teaching jobs not as their reason for leaving Desert Trails, but as a means of escaping what they say became an increasingly unbearable and capriciously erratic place to teach.
"We were always getting conflicting information from our superiors," Salazar said.  "I was told by multiple different supervisors what things were okay to do. Second grade was told, 'Do not use Treasures,' which is the core reading curriculum. It includes phonics, spelling, grammar, writing, components of social studies, science and all of your reading and reading comprehension strategies. So for months at a time, we improvised; we used other support material, we tried to hit every standard to the best possible way that we could without using that curriculum. And two months later, Debra Tarver comes in and says, 'Oh my god, why aren't you using Treasures?"
"We were all getting really stressed out," confirmed third grade teacher Rachel Garvin Villarreal. "There were so many mixed messages from the different parts of administration, and having so much changeover in administration, you never quite knew who your boss was, and you didn't get the guidance that you wanted."
"They just told lies to cover themselves over and over and over again, and they contradicted themselves left and right," said Nani Colmer. "So many things were done in defense of things that they did in the past, and then we paid the price for it."
One of those lies appears to involve teacher credentialing.
The state's education code is explicit on credentials.  Section 47605(l) requires that "Teachers in charter schools shall hold a Commission on Teacher Credentialing certificate, permit, or other document equivalent to that which a teacher in other public schools would be required to hold."
However, the online database of the state's Commission on Teaching Credentialing (CTC), indicates that for 2013-14 Desert Trails kindergarten teacher Elfie Landa didn't receive a preliminary Multiple Subject credential until July 24 of this year. (Landa left Desert Trails during the current term.) And the database turns up only an emergency, 30-Day Substitute Teaching Permit (issued March 21, 2014) for Honey Welker, a third grade level teaching lead last year, who took over Colmer's third grade classroom mid-year.
Tarver refused to confirm or deny that she used uncredentialed teachers in the classroom last year, and instead insisted repeatedly that Desert Trails passed a credentialing audit conducted by the Adelanto Elementary School District last April.
Then there is the matter of the composition of Desert Trails' five-member board of trustees.
As with the publicly elected school board of a traditional school district, which sets the policies that the superintendent must then carry out, the independence of a charter school's board is a critical check and balance —a guarantee that the voice of parents will be heard and respected by the school administration.
The school's former teachers who publicly question the Desert Trails board's autonomy said they were long suspicious of the secrecy that seemed to surround it, noting that, unlike most charters, neither its composition nor its meeting minutes could be found anywhere on the school's website.
When asked by Capital & Main, Tarver volunteered the board members' names, adding that the membership was on record at AESD. She also added an unequivocal denial when asked about teacher suspicions that its members were employed by either Desert Trails or LEPA, which Tarver also runs.
However, not only is board member Latrice Brown listed on LEPA's own website staff roster as a "parent liaison," but an online search of LEPA's federal 2012 IRS Form 990 tax return revealed that two Desert Trails board members are listed as LEPA company officers — Marnella Mayberry as president and Ruby Ford (who also works as a tutor at both schools) as vice president.
Also Read: High Noon for Parent Trigger?
What mostly angered the ex-Desert Trails teachers, however, was what they characterized as the cumulative betrayal of the education promised to the parents and children of Adelanto.
Renee Salazar said she was drawn to Desert Trails by Tarver's sales pitch about unlimited resources and classroom freedom, and the opportunity to innovate curriculum.
"For a while, at least, we had that," Salazar said. "But all that changed after the winter break when the school began ramping up for the spring assessment testing. We had a director that was telling us, 'You can create your own curriculum.' We were told there wasn't going to be a test-prep focus. But from February on, there was."
Salazar said the pressure fell heaviest on the second grade, which the administration considered the "giveaway year" — the grade that could usually be relied on to bring in a high score and help raise the school's overall Academic Performance Index. The second grade class of 2013-14, however, was measuring as low as kindergarten level for math and language arts.
"We were told, 'You have to get their test scores up,' Salazar remembers. "Our vice principal was told, 'If their test scores don't come up, you won't have a job.' So they sat all of second grade down and said, 'You're no longer allowed to teach writing, you're no longer allowed to teach social studies, science — anything else. No P.E. You're only to [teach] language arts and math. This is the schedule that you're to do it on, these are the only materials that you're allowed to use, this is how you're to do it.'"
One thing on which the two sides do agree is that Desert Trails did post test-score gains.
"We had 47 percent of our scholars who [rated] proficient and advanced," Tarver said of the California Standards Test results for 5th grade science, "and we only had a 15 percent rate of those that were below and far below [state standards], which is a huge difference from the 30 to 40 percent that school had for the past 10 years."
More comprehensive, schoolwide scores, she said, wouldn't be released by the school for another month.
For the ex-teachers, it is a tarnished achievement that came at the terrible price of shattered morale and the stability and consistency that underpin a quality education.
"It wasn't the holistic, well-rounded education that they were promised," Salazar asserted. And [teachers leaving] is difficult. It's hard on the scholars and it's hard on their families."
At least one parent who spoke to Capital & Main on the condition of anonymity agreed.
"I don't know what's going on," this parent said. "I feel like so many teachers have left. There's been, like three principals that left, and every time you ask somebody about it, they just make it seem like it's no big deal. But when kids are in school, consistency is important."
"When teachers are able to stay multiple years," Rachel Garvin Villarreal noted, "they become part of that community and make an even stronger, healthy school culture that over time grows. . . . And even though we had invested so much, I guarantee you, we would have invested so much more."
"We're not trying to get even," Miramontes said of the teachers' complaint. "We just really care about those kids and just want the best for them. I mean, they don't even have soap and paper towels in the bathroom! Kids deserve better than that."
---
Photos and video by Shireen Alihaji.