COVID-19 in Court: Legal Coalition Sues to Stop Some In-Person Civil Trials
Pro bono law firms say L.A. court system prioritizes nonessential operations over community safety.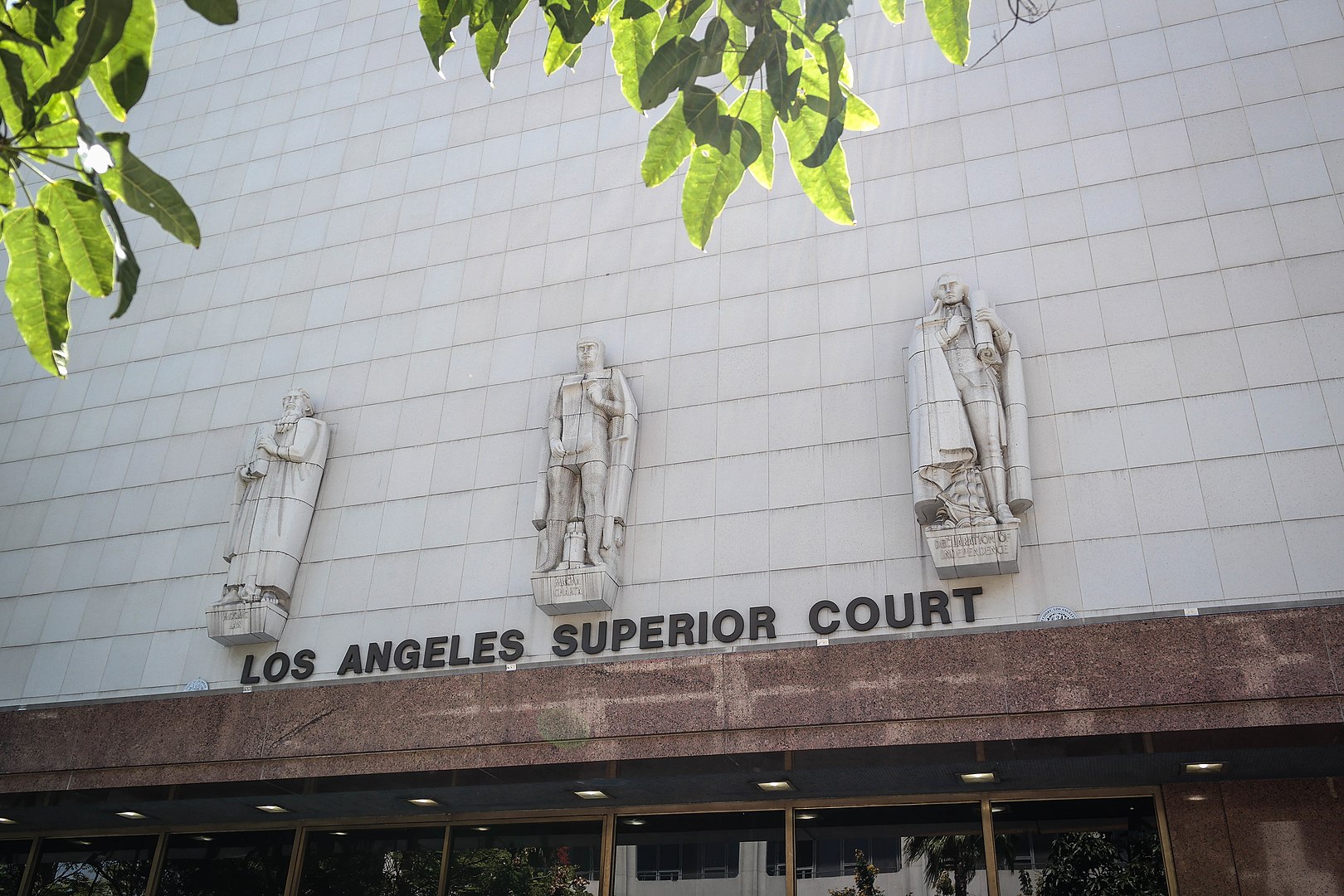 A lawsuit filed against Los Angeles County Superior Court by five pro bono legal services asks the court to suspend in-person hearings for traffic and unlawful detainer cases "until doing so no longer poses a public health threat," and they claim problems with remote access, which is offered now, though sporadically, also presents an undue burden for many of their clients.

The nonprofit firms, Public Counsel, Inner City Law Center, Legal Aid Foundation of Los Angeles, Bet Tzedek and Neighborhood Legal Services of Los Angeles County, sued after months of negotiations with the court broke down, according to Public Counsel attorney Silvana Naguib, who wrote a declaration in suit on behalf of clients.
 
---
"It is possible that our superior courts have become superspreaders, but we don't know because of the lack of contact tracing.
— Laurie Levenson,  Loyola Law School

---
 
"[The coalition] serves mostly low-income and indigent Angelenos," Naguib said. "These people often can't afford to pay the fine for traffic infractions, like a broken windshield, that wealthier people can. So they are forced to come to court. These [cases] are non-essential and are indefensibly proceeding in person."
As for unlawful detainer cases against tenants, although there is a moratorium on evictions due to the COVID-19 health crisis, people facing eviction procedures must still defend themselves, often in person, in order to stay in their homes.
Since the beginning of the year, three Los Angeles Superior Court employees have died from COVID-19, including two interpreters and one traffic court clerk, as well as one contract interpreter. Interpreters have complained about inadequate protections, insufficient contact tracing and an unwillingness of management to allow paid time off after possible exposure. While there is some contact tracing of employees, the courts do not trace members of the public who access the courts.
"It is possible that our superior courts have become superspreaders, but we don't know because of the lack of contact tracing," said Laurie Levenson, a professor at Loyola Law School in Los Angeles.
"L.A. has been aggressive in keeping court hearings open, and it is unrealistic," she told Capital & Main. "It's not just the courtroom, but what's required to get to the courtroom, like having to take public transit, that can put people at risk. And for what? If we put in a 90 day moratorium on cases that are about money only, that would improve the situation and keep people safer."
More than 400 of the court's 5,100 employees and judges have tested positive since March, court spokeswoman Ann Donlan told the Los Angeles Times. More than 4,000 inmates, and about 2,900 Sheriff's Department employees, have tested positive for COVID-19 since March 2020. Some 177 district attorney employees have also tested positive, according to the DA's office.
In an email to Capital & Main, Donlan declined to comment on the pending litigation but said the court follows Centers for Disease Control and L.A. County Department of Public Health (LACDPH) guidelines in notifying close contacts, "including justice partners and attorneys, of those individuals who have tested positive for or been diagnosed with COVID-19."
The LACDPH, in an emailed statement, said there have not been any inspection findings that would warrant a temporary suspension of court operations.
The complaint includes declarations from health experts who feel differently about continuing court operations. One expert, Dr. Ranit Mishori, Georgetown University's chief public health officer, stated that Los Angeles courts are not equipped to implement the necessary protocols and practices to prevent or minimize the spread of the virus, and that the court's administration of in-person hearings at this time "is reckless and needlessly endangers people's lives."
A Patchwork of Rules
Last year the L.A. County court system did defer some nonessential civil business for months, but since July it has been hearing traffic and unlawful detainer cases. California allows remote depositions but has not suspended jury trials, instead leaving the decision to each county, and each court within its county.
"Legislative and executive branches punted this to courts to decide whether it is safe," said Adam Murray, executive director of Inner City Law Center.
 
---
"It is perverse to put tenants in this position. Court puts you at risk of COVID, and getting kicked out of your home also puts you at risk of COVID."
— Jake Crammer, Inner City Law Center

---
 
In Los Angeles courts, there is an option, depending on the decision of the judge, to use remote access through Webex or the court's portal, LACourtConnect. But plaintiffs in the lawsuit say that even if all nonessential hearings were done remotely, this would not be enough.
"Remote access is really difficult," said Jake Crammer, an attorney with Inner City Law, who has coordinated with some clients to conduct the proceeding remotely from his office. "Unrepresented [defendants] need Wi-Fi access and laptops, and that's a barrier, plus all of the awkwardness of a work Zoom call with really high stakes."
If someone does have Wi-Fi access, using LACourtConnect can be challenging, according to Levenson. "The platform they use is the worst I've dealt with, as far as reliability and bandwidth. They haven't put in the technology and the money, and when we need it most it isn't there. Overall the court system needed updating for some time."
The complaint was filed as some counties in California are opening up their in-person court proceedings, possibly due to declining COVID-19 case counts. In San Diego, hearings for unlawful detainer and traffic infractions have been virtual throughout the pandemic until recently, when in-person trials were included as an option, according to a spokesperson. Orange County Superior Court suspended civil operations in November, when COVID cases were beginning to spike, but resumed some in February, although unlawful detainer cases are not being heard, even remotely, according to a spokesperson. That spokesperson, Kostas Kalaitzidis, said their rules are "changing week to week."
Los Angeles court management has recently added more telework options for translators, at least for those who are at high risk of complications from COVID-19. However, one contract interpreter with the court, Policarpo Chaj died two weeks ago due to COVID-19 after 41 days in the hospital, according to his girlfriend. Begonya De Salvo, an interpreter at the Criminal Justice Center in downtown Los Angeles, said that management should have notified coworkers that Chaj, one of two contract translators of K'iche, an indigenous language of Guatemala, was sick with COVID.
"Nobody told me that Policarpo tested positive or was in the hospital," De Salvo said. "Why didn't they put Policarpo on telework? He was high risk. This is so preventable it makes me sad and mad." De Salvo added that Chaj often spent long sessions in "lock up," to interpret for criminal defendants. "Some defendants wear masks made from their own uniforms, and they don't fit."
In an email, Donlan said the court had no official information regarding the cause of Chaj's death. "Mr. Chaj did not report to the Court that he had COVID-19 and court records do not reflect that any COVID-19-infected person at the Court identified Mr. Chaj as a close contact. Mr. Chaj canceled several interpreter assignments in January and on January 19, 2021, one of Mr. Chaj's relatives notified the Court that Mr. Chaj was hospitalized and unavailable for assignments."
She continued, saying the court "does not know the cause of death of members of our court family, but nothing indicates they contracted COVID-19 in their line of work. The Court has had in place strict protocols to keep employees and the public safe. If followed, no employee or member of the public should contract the virus or spread it according to the CDC and County Dept. of Public Health."
Plaintiffs in the suit say that despite the improving COVID numbers, transmission of the coronavirus could still be occurring in courthouses, and that their clients face extra risks. Inner City Law's Crammer said his clients, especially those with medical conditions, believe they are not safe in court: "It is perverse to put tenants in this position. Court puts you at risk of COVID, and getting kicked out of your home also puts you at risk of COVID."
---
Copyright 2021 Capital & Main