BlueLA E-Vehicles Hit the Streets
With rates roughly equal to rideshare services like Lyft and Uber, BlueLA appears unlikely to make a significant dent in Angelenos' travel habits anytime soon.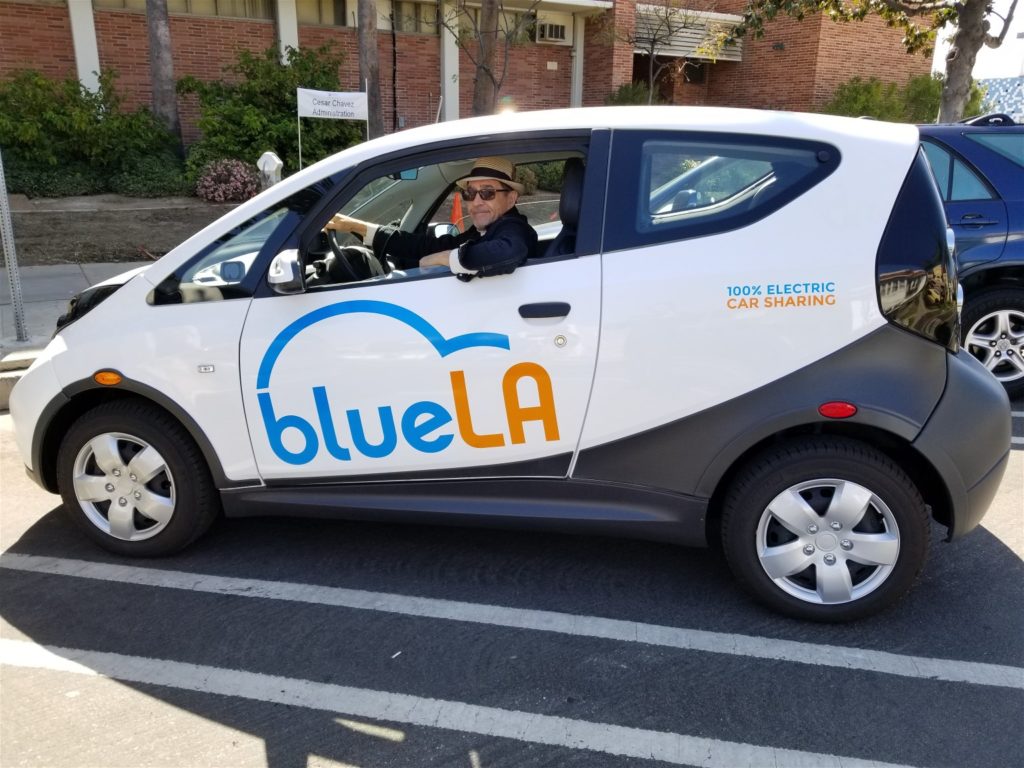 Last month a controversial French company and the Los Angeles Department of Transportation rolled out the blue-carpet at a full-launch party for BlueLA, an eco-friendly car-sharing service. BlueLA enjoys enthusiastic municipal backing for its mission of helping to ease L.A.'s desperate transportation woes with a fleet of electric cars and charging stations, initially targeting, LADOT says, some of the city's lowest-income neighborhoods. (A soft-launch of the L.A. program was unveiled last June.)
Although questions remain about the viability of BlueLA's business model, on April 20 — while a DJ spun tunes under sunny skies on the L.A. Community College campus in East Hollywood, community organizers and environmental groups dispensed brochures, food trucks served lunch and reporters test-drove the nifty blue e-vehicles — local pols hailed the co-venture between LADOT and Blue Solutions, the parent company of BlueLA.
"BlueLA is making a difference," said Sandy Berg, vice chair of the California Air Resources Board, which is granting $1.7 million of cap-and-trade regulation funds to the $10 million project. A statement from Mayor Eric Garcetti declared that the company would provide "underserved communities with an environmentally-friendly way to get around town—at an affordable price."
BlueLA's first seven stations are located at Los Angeles City College, Koreatown, MacArthur Park and downtown Los Angeles. The next round of stations will include Los Angeles Trade Technical College, Echo Park and Westlake. The program's first phase aims to have 100 vehicles available in 40 locations, with subsequent expansions tripling the program's reach by the end of 2021. A phone app allows users to locate and reserve available cars.
The pricing structure offers users a "Community" level subscription: one dollar per month and 15 cents per minute, provided the user is "low-income qualified," with a total annual gross income of less than $31,550 for an individual. Proof requires pay stubs, tax returns or enrollment in Medicaid/Medi-Cal, SNAP or other public-assistance programs. At this level the second and third hours of any rental period are free, adding up to a cost of $9 for the first three hours, after which the 15-cent-per-minute rate applies.
A statement from Marie Bolloré, CEO of Blue Solutions, a division of the Paris-based Bolloré Group, which manufactures the Blue Cars and the e-vehicle's battery, reiterated the goals of sustainability and "creating inclusive communities," and saluted CARB and LADOT for "unwavering support" for their co-venture.
Yet it's not all been a win-win for her company. The 30-year-old heiress to the Bolloré business, which dates back to 1822, and "director of the Electric Side of The Empire," according to the French press, might not have known that less than a week later her father, Vincent Bolloré, would be arrested by French judicial police. The 66-year-old head of one of France's richest conglomerates—counting Universal Music Group and a large tranche of French TV and film media companies among its diversified holdings, which yielded 18.3 billion euros in 2017 revenues—is the target of a bribery investigation involving the presidents of Togo and Guinea in West Africa, where the Bolloré Groups' myriad interests in transport, palm oil plantations and shipping make it one of the continent's biggest investors.
"That is about things that happened 10 years ago," Blue Solutions managing director Christophe Arnaud told Capital & Main by phone about the senior Bolloré's arrest. "It won't affect our operations in L.A."
Indeed, l'affaire Bolloré has not yet affected AutoLib', the company's 3,000-car rideshare service in Paris, or BlueIndy, the company's three-year-old American test project in Indianapolis. But, even if the parent company's distant troubles don't impact the rollout of BlueLA on the streets of Los Angeles, other factors present daunting challenges to the car-share venture's success here.
BlueLA is not expected to turn a profit for 12 to 13 years, says Arnaud, describing it as a "long-term investment." The business plan envisions revenue, beyond customer subscriptions, coming from three main sources: the offering of its charging stations to other e-vehicles; advertising on the sides of Blue Cars; and selling the car batteries' stored juice back into the grid. Arnaud admitted, however, that for the scheme to pay off, BlueLA's infrastructure will have to scale up quickly.
With rates roughly equal to rideshare services like Lyft and Uber, and competition from rapidly expanding bike-share services around the city, as well as other share-ventures such as Santa Monica-based Bird electric scooters, BlueLA appears unlikely to make a significant dent in Angelenos' travel habits anytime soon.
As for the idea of servicing the EV community, BlueLA's charging stations do not currently accommodate other e-vehicles, nor are the Blue Cars compatible with any of the city's existing charging stations, despite the fact that Los Angeles is one of the country's top 10 EV cities, according to a recent study by Indiana University, with more than 1,200 plug-ins within 10 miles around the city.
The car's solid-state lithium battery has its pluses—such as "no cobalt," Arnaud emphasized, referring to the rare-earth element that is often mined under conflict conditions for other batteries—but faces overwhelming competition from Tesla and other battery manufacturers. Also, outside of sunny California, the Blue Solutions battery must be kept plugged in and warmed above a certain temperature.
Still, a quick spin around L.A.'s Mid City neighborhood in a BlueCar was easy, with radio and AC functioning on a recent hot day, built-in GPS guiding my way and pretty good acceleration, although I wouldn't take it on the Santa Monica Freeway. Want to practice your French? Tap the Help button; it connects to customer service in France. But don't forget the nine-hour time difference. "It is two in the morning!" said the voice with a touch of Parisian impatience, as I rounded the corner of Melrose and Vermont avenues.
---
Copyright Capital & Main
Did Disneyland Try to Sink a Bill Protecting Workers from Lead Poisoning? 
Why would Disneyland, which hosts thousands of kids every day, be part of an effort to defeat a bill that simply requires reporting of blood-lead levels high enough to produce heart disease and serious brain disorders?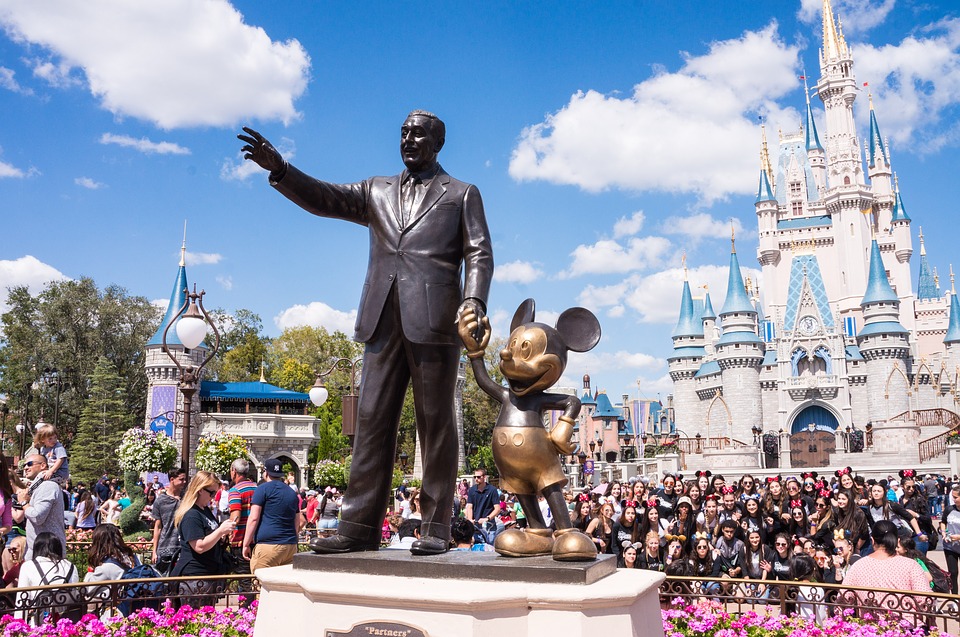 When Assemblyperson Ash Kalra (D-San Jose) learned about Capital & Main and USC's Center for Health Journalism investigation into how hundreds of workers at the former Exide Battery Recycling Plant near downtown Los Angeles became victims of lead poisoning, he created a modest bill to try and ensure it wouldn't happen again.
Among our report's revelations was the fact that the California Department of Public Health was aware of thousands of troubling blood tests revealing high levels of lead, but failed to tell the Division of Occupational Safety and Health (Cal/OSHA) about the problem.
Kalra's bill, Assembly Bill 2963, requires that the Department of Health inform Cal/OSHA when workers have seriously elevated blood levels and Cal/OSHA performs inspections.
The bill has had clear sailing until now, easily passing in the Assembly Labor Committee in March and winning unanimous approval from Democrats on the Appropriations Committee last week. But as the worker-protection measure headed to a crucial floor vote this week, a coalition of industry groups, one of which includes the iconic Disneyland Resort, worked the halls of the Capitol to kill the bill. The lobbying effort nearly prevailed: AB 2963 passed by a single vote Wednesday evening and now faces what is certain to be a battle in the California state Senate.
So why would Disneyland, which hosts thousands of kids every day, be part of an effort to defeat a bill that simply requires reporting of blood-lead levels high enough to produce heart disease and serious brain disorders? A May 29 letter endorsed by 15 industry groups, including the Battery Council International, the California Chamber of Commerce and the California Hotel and Lodging Association (which includes a Disneyland Resort vice president on its board) argues that California's current system to protect employees, depending largely on voluntary compliance, is working just fine.
The letter states: "Perversely, AB 2963 would transform this existing well-functioning public health program into an enforcement program that creates an allegation of a serious violation where none exists in Cal/OSHA law and the workplace may not even be the source of exposure."
The bill will be costly, the opposition letter also says, with an estimated price tag of $267,000 to implement and requiring Cal/OSHA to hire one or two additional inspectors.
"That's a small price to pay" said Bill Allayaud, California Director of Government Affairs for the Environmental Working Group, which is trying to keep moderate Democrats from being swayed by the industry lobby.
"The California Chamber of Commerce and their allies are misrepresenting what the bill does and convincing industries like the hotel industry to lend their name to the fight, even though this bill would have zero impact on hotels," Allayaud said. "The law focuses on workplaces where lead is in heavy use, like firing ranges and battery recycling facilities where workers are actually being impacted by a dangerous neurotoxin.  Besides, I can't imagine [that] parents who visit a resort like Disneyland would want their kids anywhere near lead if found at the levels that would have employees testing at the alarm bell level. Who wouldn't want an OSHA inspection in that case?"
Suzi Brown, vice president of communications at Disneyland Resorts, said that the "California Lodging Association is just one organization that we are involved with. As you can imagine we are involved with many trade organizations." Brown said that Disney vice president Elliot Mills, who sits on the association's board, was not present for the vote to oppose AB 2963. "To somehow link Disney to this in a specific way is not accurate," she added. "And to somehow position this that we are not concerned about worker safety is flawed as well."
At the March California State Assembly Labor and Employment Committee hearing, Kalra introduced his bill by reading a letter from former Exide lead smelter Alvin Richardson (who struggles with lead poisoning symptoms we documented in our investigation) and his wife, LaShawn. "We read a recent investigative story, and it was very hurtful to learn that Cal/OSHA excused the high lead levels that Alvin and the other Exide workers were constantly exposed to," the letter said. "People shouldn't be treated like they are disposable. That's not what America or California is supposed to be about."
Assemblymember Reggie Jones-Sawyer (D-Los Angeles) was moved to vote yes. "My district's right next to the Exide plant, and it's had an impact on my community and my residents," he said. "And if this is something that could have prevented what happened at Exide, we should have been doing this a while ago."
AB 2963 needed Jones-Sawyer's vote again on Wednesday to barely pass it out of the Assembly. Whether the bill makes it to Governor Jerry Brown's desk is dependent on how well the arguments of the California Chamber of Commerce and other industry voices opposing the bill go over in the Senate.
---
Copyright Capital & Main