BlueLA E-Vehicles Hit the Streets
With rates roughly equal to rideshare services like Lyft and Uber, BlueLA appears unlikely to make a significant dent in Angelenos' travel habits anytime soon.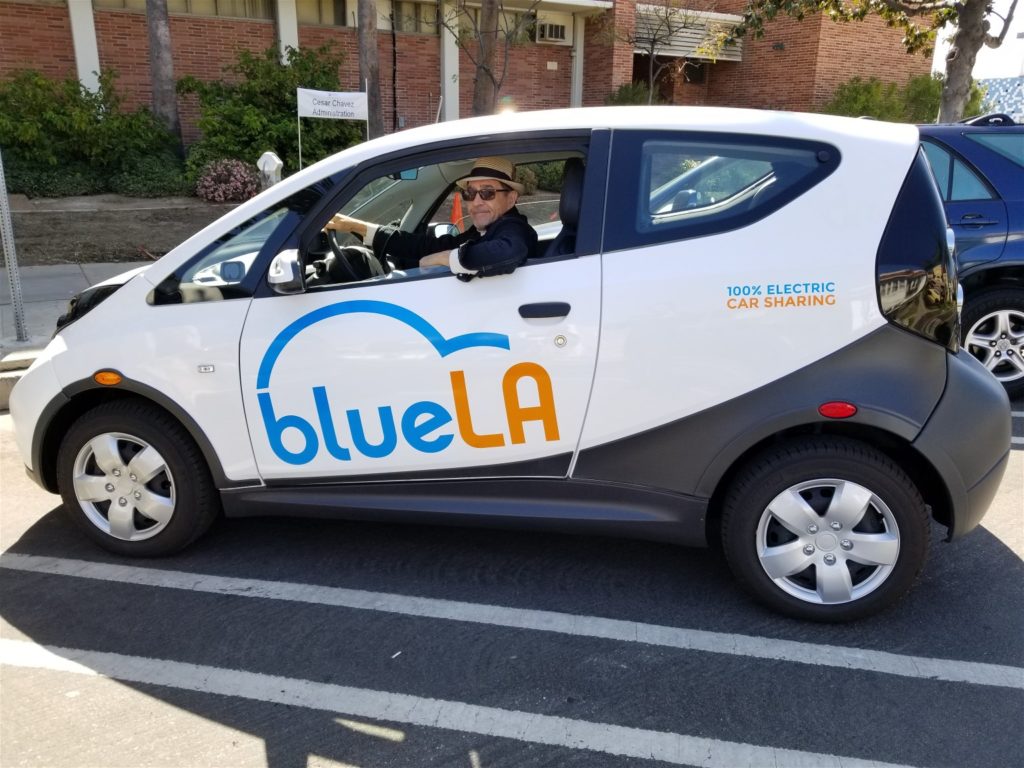 Last month a controversial French company and the Los Angeles Department of Transportation rolled out the blue-carpet at a full-launch party for BlueLA, an eco-friendly car-sharing service. BlueLA enjoys enthusiastic municipal backing for its mission of helping to ease L.A.'s desperate transportation woes with a fleet of electric cars and charging stations, initially targeting, LADOT says, some of the city's lowest-income neighborhoods. (A soft-launch of the L.A. program was unveiled last June.)
Although questions remain about the viability of BlueLA's business model, on April 20 — while a DJ spun tunes under sunny skies on the L.A. Community College campus in East Hollywood, community organizers and environmental groups dispensed brochures, food trucks served lunch and reporters test-drove the nifty blue e-vehicles — local pols hailed the co-venture between LADOT and Blue Solutions, the parent company of BlueLA.
"BlueLA is making a difference," said Sandy Berg, vice chair of the California Air Resources Board, which is granting $1.7 million of cap-and-trade regulation funds to the $10 million project. A statement from Mayor Eric Garcetti declared that the company would provide "underserved communities with an environmentally-friendly way to get around town—at an affordable price."
BlueLA's first seven stations are located at Los Angeles City College, Koreatown, MacArthur Park and downtown Los Angeles. The next round of stations will include Los Angeles Trade Technical College, Echo Park and Westlake. The program's first phase aims to have 100 vehicles available in 40 locations, with subsequent expansions tripling the program's reach by the end of 2021. A phone app allows users to locate and reserve available cars.
The pricing structure offers users a "Community" level subscription: one dollar per month and 15 cents per minute, provided the user is "low-income qualified," with a total annual gross income of less than $31,550 for an individual. Proof requires pay stubs, tax returns or enrollment in Medicaid/Medi-Cal, SNAP or other public-assistance programs. At this level the second and third hours of any rental period are free, adding up to a cost of $9 for the first three hours, after which the 15-cent-per-minute rate applies.
A statement from Marie Bolloré, CEO of Blue Solutions, a division of the Paris-based Bolloré Group, which manufactures the Blue Cars and the e-vehicle's battery, reiterated the goals of sustainability and "creating inclusive communities," and saluted CARB and LADOT for "unwavering support" for their co-venture.
Yet it's not all been a win-win for her company. The 30-year-old heiress to the Bolloré business, which dates back to 1822, and "director of the Electric Side of The Empire," according to the French press, might not have known that less than a week later her father, Vincent Bolloré, would be arrested by French judicial police. The 66-year-old head of one of France's richest conglomerates—counting Universal Music Group and a large tranche of French TV and film media companies among its diversified holdings, which yielded 18.3 billion euros in 2017 revenues—is the target of a bribery investigation involving the presidents of Togo and Guinea in West Africa, where the Bolloré Groups' myriad interests in transport, palm oil plantations and shipping make it one of the continent's biggest investors.
"That is about things that happened 10 years ago," Blue Solutions managing director Christophe Arnaud told Capital & Main by phone about the senior Bolloré's arrest. "It won't affect our operations in L.A."
Indeed, l'affaire Bolloré has not yet affected AutoLib', the company's 3,000-car rideshare service in Paris, or BlueIndy, the company's three-year-old American test project in Indianapolis. But, even if the parent company's distant troubles don't impact the rollout of BlueLA on the streets of Los Angeles, other factors present daunting challenges to the car-share venture's success here.
BlueLA is not expected to turn a profit for 12 to 13 years, says Arnaud, describing it as a "long-term investment." The business plan envisions revenue, beyond customer subscriptions, coming from three main sources: the offering of its charging stations to other e-vehicles; advertising on the sides of Blue Cars; and selling the car batteries' stored juice back into the grid. Arnaud admitted, however, that for the scheme to pay off, BlueLA's infrastructure will have to scale up quickly.
With rates roughly equal to rideshare services like Lyft and Uber, and competition from rapidly expanding bike-share services around the city, as well as other share-ventures such as Santa Monica-based Bird electric scooters, BlueLA appears unlikely to make a significant dent in Angelenos' travel habits anytime soon.
As for the idea of servicing the EV community, BlueLA's charging stations do not currently accommodate other e-vehicles, nor are the Blue Cars compatible with any of the city's existing charging stations, despite the fact that Los Angeles is one of the country's top 10 EV cities, according to a recent study by Indiana University, with more than 1,200 plug-ins within 10 miles around the city.
The car's solid-state lithium battery has its pluses—such as "no cobalt," Arnaud emphasized, referring to the rare-earth element that is often mined under conflict conditions for other batteries—but faces overwhelming competition from Tesla and other battery manufacturers. Also, outside of sunny California, the Blue Solutions battery must be kept plugged in and warmed above a certain temperature.
Still, a quick spin around L.A.'s Mid City neighborhood in a BlueCar was easy, with radio and AC functioning on a recent hot day, built-in GPS guiding my way and pretty good acceleration, although I wouldn't take it on the Santa Monica Freeway. Want to practice your French? Tap the Help button; it connects to customer service in France. But don't forget the nine-hour time difference. "It is two in the morning!" said the voice with a touch of Parisian impatience, as I rounded the corner of Melrose and Vermont avenues.
---
Copyright Capital & Main
The Climate Summit's Inconvenient Truth: People Need Jobs
Much of the recent gathering in San Francisco involved corporate and government backslapping — noble but too easily mocked.

Amid the swell of protesters demanding California put an end to oil, and a police force growing irritated with their monotonous chanting ("I'm going to be singing that one in my sleep," said one officer), I met Theodore Hunt. It was not a chance meeting. Earlier, on the first day of the Global Climate Action Summit at San Francisco's Moscone Center, I had rented an electric-assist bike to get to a lunch meeting, navigating the downtown streets by way of Google Maps with my iPhone in the bike's basket. In a rush to lock up the bike outside the restaurant, I left my phone behind.
Hunt was my savior. When I called my number on a borrowed phone, he answered, and promised to leave the phone for me later at the office of the bike company. But the office was far, and I needed my phone, so instead I tracked him down using an iPad and the Find Your iPhone app. When the tiny phone icon showed up at a building across the street, I scurried down three flights of escalators, borrowing phones along the way to sync up my coordinates with Hunt. Cops, security guards, random strangers — by the time we all spotted a tall African-American man on a bright red bike waving from across Third Street, it seemed all of San Francisco had become invested in our saga. When Hunt and I made the handoff and I hugged him with gratitude, a small cheer went up.
It was a magically reassuring moment during an international gathering of climate activists, elected officials and corporate leaders who had come here committed to holding the United States to the terms of the 2015 Paris Climate Agreement, Trump and his administration be damned.
Much of the summit was simple corporate and government backslapping — noble but too easily mocked. What does it matter if General Electric presents its climate ideals when the corporation refuses to back down on plans for a new coal plant in Kenya? Starbucks might have banned plastic straws, but emissions still accumulate in the long lines at its many drive-throughs. And McDonald's? Really?
For protesters outside the fences, maintaining global temperature below the point-of-no-return threshold means that, in some cases, entire industries have to be shut down. "We have to keep 80 percent of the fossil-fuel reserves that we know about underground," the noted author and climate warrior Bill McKibben has written. "If we don't—if we dig up the coal and oil and gas and burn them—we will overwhelm the planet's physical systems, heating the Earth far past the red lines drawn by scientists and governments."
The problem with that strategy is that with those industries, oil and coal, come many thousands of well-paying, often union jobs. "Climate strategies that leave coal miners' pension funds bankrupt, power plant workers unemployed, construction workers making less than they do now," said AFL-CIO President Richard Trumka in a speech on opening day, "fundamentally undermine the power of the political coalition needed to address the climate crisis." The issue of the climate versus jobs will be used by the foes of both labor and clean energy to divide the country, Trumka noted. It already has.
In the near term, if oil extraction were to suddenly come to an end in California, 30,000 people would lose their livelihoods, and thousands more will be out of work in places where industries depend on California oil. In the long term, jobs wouldn't be available to a new generation full of people like Theodore Hunt — smart, honest and capable, but not necessarily pre-armed with the privilege and educational credentials to parlay those qualities into a six-figure job. Hunt, who is 28 and single, told me he works as much as he can: As a mechanic servicing the city's network of electric bikes, he can earn as much as $800 on a busy week. If he meshes his maintenance duties with a food-delivery service, like Uber Eats, he might make $1,200 in a week — a decent living wage almost anywhere besides San Francisco, where he can't afford to live.
But the big weeks are rare, and if Hunt gets sick, or injured, or takes a mental-health break, he doesn't get paid at all. He belongs to the 8.5 percent of California workers whom the University of California, Berkeley Labor Center calls the "unincorporated self-employed." He gets paid when he delivers a meal or services a bike. He does not get paid when he stops to eat lunch. If he wants health insurance, he must buy it himself.
Hunt likes his job: The hours vary, he gets to be outside, he interacts with people. Like so many other "green" jobs, Hunt's is many times more pleasant and safer than mining coal, or working on an oil rig. But it's not a steady living on which to buy a house or support a family.
Nor is installing solar panels on rooftops, a job that generally pays $14 to $20 and hour, rarely with benefits. Trumka told the summit that 4,000 megawatts of solar had been installed in the San Joaquin Valley over the last two decades. "Fifteen million job-hours of union work, at union wages and with union benefits, made that possible," he said. But once those plants are built, it takes only a few people to keep them operating, and no one has to mine the fuel. The same math applies to wind farms: Once the turbines are up, most of the work is done.
Paul Getsos, national director of the People's Climate Movement, has spent more than a decade thinking through what it means to bring the labor movement into the climate fight by way of a just transition for workers. He organized in disadvantaged communities around the Obama administration's stimulus package. Later, he assessed green jobs for the Center for Community Change, and found that "the promise of 'green jobs' wasn't fulfilled for a lot of communities. There's a very narrow view of what a 'green job' is." The solution to the worker-transition conundrum for a 100 percent clean energy economy is to expand that definition. "Manufacturing electric cars is a 'green job,' said Getsos. "Rebuilding infrastructure in North Carolina to keep people safe from coal ash — that's a 'green job.'"
Retrofitting homes and business to use less energy is also a green job — and one of the best, according to Getsos: "[Energy efficiency] is one of the areas where there is access to new jobs that don't require higher education." It's also ripe for job growth. In New York City, a mandate to retrofit the city's buildings — which account for two-thirds of the city's greenhouse gas emissions — will yield 17,000 jobs between now and 2030.
Energy efficiency isn't a big field in some of the smaller towns where dirty fossil-fuel plants exist. In Centralia, Washington, where a coal plant employing 300 workers making $80,000 a year will begin shutting down in 2020, environmentalists and labor negotiated an agreement with the city and the plant operator, TransAlta, to invest $55 million in worker retraining and community development in exchange for an expedited permit to build a natural gas plant on the same site. (Natural gas isn't perfect, but for the climate it's better than coal.)
Legislators could also intervene with laws granting benefits and collective bargaining rights to people like Theodore Hunt. As smart technology expands further into transportation and utilities, some necessary jobs will become more fluid for employers and less rewarding for workers. California Assemblymember Lorena Gonzalez Fletcher has introduced two bills over the past few years to give contract employees workers' compensation benefits and the right to form and join unions, and Assemblymember Evan Low last session brought up a bill that would guarantee contract workers portable benefits. None have yet made it to the governor's desk.
"We can't just say 'green jobs'," Getsos said. "We need to say green jobs, good jobs and worker access."
Those principles might be as consequential to the clean-energy economy as are the protesters' demands.
---
Copyright Capital & Main