#belowthelinesowhite? Hollywood's Rank & File Leaders Tackle Diversity
Cinematographer Quyen Tran. (Photo: Shana Betz)
Hollywood insiders scanning the #Oscarsowhite lists of this year's Academy Award nominees have not failed to notice that the five candidates for Best Cinematography are all male and all white—and to no one's surprise. While the Academy of Motion Picture Arts and Sciences has announced changes in membership rules to make its voters more inclusive in years to come, not a single woman or person of color in the "lenser" category, as the trades call directors of photography, has ever been tapped to receive the coveted gold statuette to be handed out this year at the Academy's 88th ceremonials on February 28 at the Dolby Theater.
Also Read: Race and the Oscar Race
"It's a shame," says Rebecca Rhine, national executive director of the International Cinematographers Guild Local 600, which is part of the International Alliance of Theatrical Stage Employees (IATSE). Noting that "access and opportunity" to employment determine who gets to win awards, Rhine told Capital & Main, in her first interview since taking over leadership late last year of the 7,700 member union, that achieving diversity behind the camera is one of her top priorities.
"As a woman in a predominantly male field on the labor side, and in an industry that has been predominantly male, I'm particularly sensitive to and interested in this issue," Rhine said. "I believe that reflecting the society we live in should be a key goal for the labor movement and I bring that belief to Local 600, where it's shared by the officers and the board."
The task before Rhine and other below-the-line labor leaders is knottier  than the one facing the more glamorous players currently in the diversity-issue spotlight and involves the largest number of people on the receiving end of a film or TV production paycheck. California's film and TV industry employs more than 159,000 people hired by 7,570 businesses, with total wages topping $17.9 billion in 2014, according to the most recent data compiled by FilmLA analyst Adrian McDonald. The state's entertainment industry "below-the-line" craft guild and union rank and file, numbering 35,000 to 40,000, according to one union source, are vying for their share of those jobs and wages as part of film and TV production crews.
Labor leaders representing electricians, drivers, camera department, art department, wardrobe, makeup, script supervisors, production accountants, animators, special and visual effects, and others stand between the major studios who are the industry's biggest employers and the women and minorities of the entertainment industry's struggling middle class, who are seeking a greater piece of the action. The impact of changes in hiring on this sector of the area's economy is potentially huge.
A typical studio feature film averages more than 500 crew members, according to a study published by film data researcher Stephen Follows. On a big studio blockbuster such as Iron Man 3, where the credit crawl lists 3,310 crew members, 260 toiled in the camera and electrical department.
The challenge facing Rhine, together with ICG president Steven Poster, is to make sure those numbers include a fair share of ICG's women and minority members.
A veteran labor executive, Rhine was handpicked by the union leadership to succeed Bruce Doering, who retired after 30 years in the job. She is the first woman to take the reins in the organization's history, which goes back to 1926. Rhine was previously executive director of the Municipal Executives Association in San Francisco, served as northern area director of Service Employees International Union Local 1000 and as executive director of the American Federation of Teachers University Council, representing University of California lecturers and librarians. No stranger to the entertainment industry, Rhine served 10 years as executive director of a combined American Federation of Television and Radio Artists (AFTRA)  and Screen Actors Guild (SAG) office in San Francisco, in addition to several years of overseeing public policy and strategic planning as assistant national executive director of AFTRA, repping actors, broadcasters and sound recording artists in the Bay Area.
Rhine's experience with on-camera talent gives her seasoned insight into Hollywood's ways. "We live in a world," she says, "where people hire based on who they know and who they've worked with in the past, and that means you have to be proactive. It doesn't happen organically, so we have to make sure the people who make those decisions are aware of, and connected to people who they might not think of automatically for opportunities."
She points to a number of different ways in which her union—which also includes the Publicists Guild— is attempting to tackle a multifaceted challenge. One of her first actions was to assign Xiomara Comrie, a veteran ICG business representative, to manage diversity initiatives at the Guild, under Rhine's leadership. Other examples she offers include educational and mentorship programs yet to be implemented, and talking with employers about partnering on internships. Full-page ads placed last year in Variety and the Hollywood Reporter highlighting ICG's women members may also be repeated, she says. "Our role is educational and we're here to remind people that we have members who are experts in their craft, men and women of all races and ethnicities, and that they deserve a chance to earn a living in this industry." Rhine points to the ICG's annual Emerging Cinematographers Award, as one of the union's efforts to "identify, encourage, cultivate and put forward young, new diverse cinematographers."
Rhine also mentions Sarah Jones Opportunity, an internship program dedicated to minority training established last year in honor of Sarah Jones, the 27-year-old camera assistant killed two years ago in Georgia on the set of Midnight Rider. The program is sponsored by the Warner Bros Television Group, the Vampire Diaries TV series, Local 600 and Georgia IATSE Local 479, along with other partners and support from the Atlanta Mayor's Office of Film & Entertainment. Though it accepts only one person annually, the program, says Rhine "is a symbol of what we care about and believe in."
The unions are generally reluctant to speak on the record about the numbers of women and minorities in their ranks, or even if they possess that data at all. But Rhine says that about 15 percent of Local 600 members are female. "We're still in the process of getting good data on racial diversity and that's awkward because people don't want to be categorized. They want to be judged on their work. The collection of that data is voluntary so the numbers we're developing will still be fairly subjective. We want to be honest with ourselves. There's plenty of work to do."
That work could become more urgent if trends around the country, fueled by calls for more diversity in the industry, are adopted in California. The Illinois Film Commission requires that film and TV productions seeking tax rebates submit forms showing percentages of minority hiring in their crews. Rebates can be denied if those percentages don't meet the film commission's approval.
In New York City, the nation's second largest market for film production, IATSE Local 52, representing electrical, grip, property, sound and video technicians on film and television shoots in New York and four other states, reached a settlement in 2014 after complaints were filed with the state attorney general "concerning the Local's admissions process and the exclusion of African-Americans and Latinos from the union," according to a statement by the attorney general's office. Local 52 agreed to "an overhaul of its admissions process to ensure equal opportunity for membership without regard to race, ethnicity or national origin." Local 52 also agreed to pay a $475,000 fine.
At least one director is taking matters into her own hands. Selma director Ava DuVernay, whose 13-episode Queen Sugar series is set to air on Oprah's OWN network, will have an "an all-women directorial team," she has declared in press interviews. With the hashtag #inclusivecrew, she addresses the issue in a series of tweets beginning with: "They say it's hard. They say there aren't enough of us who are qualified. They say we're [sic] aren't ready. Excuses. ‪#InclusiveCrew ‪#QueenSugar."
Rhine, whose late father was San Francisco attorney Joseph Rhine, who represented Vietnam War resisters, community activists and counterculture figures of the 1960s ("I was the 11-year-old singing "The Age of Aquarius" at the Christmas party"), seems determined to overcome such obstacles. "Change is coming to our country and to this industry," she says, "and we want to be part of pushing that change forward."
The Power of the Poster
Carol Wells, the founder of the Center for the Study of Political Graphics in Los Angeles, talks to Capital & Main about the enduring power of political art.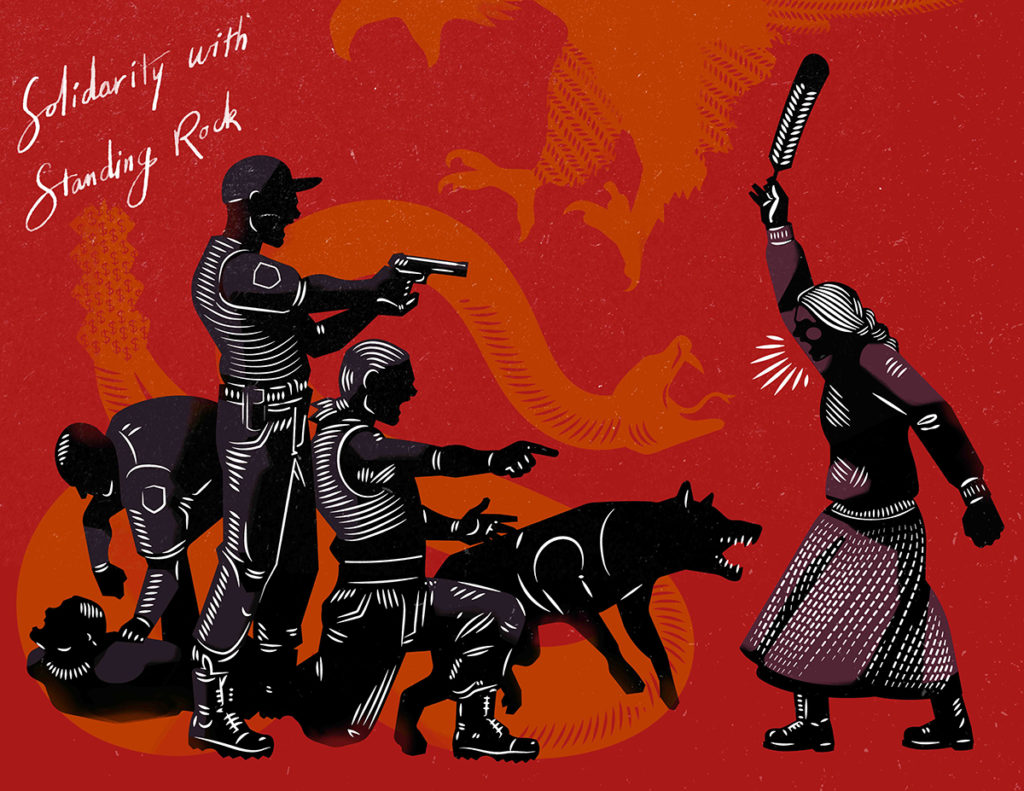 Carol Wells remembers the exact moment she discovered her calling. An art historian at the time, she was on a trip to Nicaragua with her friend David Kunzle, a UCLA art history professor, who was collecting political posters to add to his burgeoning collection. While staying with friends, Wells watched a neighbor's 8-year-old son approach a poster on the wall, stare at it intently, and then start to silently mouth the words. Wells was struck by how engaged the boy was. "In that moment I became obsessed with collecting posters."
Now over 40 years later, Wells is the founder and executive director of the Center for the Study of Political Graphics in Los Angeles. Wells has amassed approximately 90,000 posters, building one of the largest collections of its kind in the world. The Center shares its collection with the public in part through curated exhibits. This year the CSPG has produced Feminae: Typographic Voices of Women by Women and its latest is To Protect & Serve? Five Decades of Posters Protesting Police Violence, running through July 15 at the Mercado La Paloma in downtown Los Angeles.
Since that encounter in Nicaragua in 1981, Wells' obsession with collecting posters hasn't waned. In CSPG's nondescript West L.A. office space, Wells pulls out poster after poster, lecturing passionately on the backstory and cultural impact of each, including one that superimposes text from a New York Times interview with a shocking image of the My Lai massacre ("Q: And babies? A: And babies."). Recently, she managed to sit down with C&M to discuss her passion.
---
Capital & Main: So, you were an art history professor, you happen to see a kid on a trip, and suddenly your life was changed forever?
Carol Wells: Yeah, I'm in Nicaragua alone in the living room with this kid. He's looking around, and all of a sudden, he sees the poster. It was pretty big, bright green, a thick outlines of a woman holding a big basket of coffee beans. And the text in Spanish said, "In constructing the new country, we are becoming the new woman." I see him walk over to the poster and I'm watching him mouth the words. It was a pretty sophisticated concept, so I doubt he figured it out. But I literally had this epiphany: "Oh my God. That's how posters work." You're going about your daily life, and all of a sudden something breaks through the bubble, and it grabs your attention. It's the graphic, it's the color, it's the combination, and it pulls you out of your head and into that poster and it makes you ask a question. "Why is this here? What is this about? What does this mean?" And every time you ask a question, you're a different person than you were before you asked the question.
How many posters do you get a year?
We get between two to five thousand a year donated from all over the world. The bulk of our collection is [from] 1945 and later.
I assume technology has probably hurt the art form, but has it helped get the messages out?
Most people think that, and it's actually not true. Since the internet age started, there's actually a poster renaissance of works on paper. Because you can't walk with your computer monitor in a demonstration. You can't plant your monitor on your lawn.
And you can't put a laptop on the wall…
Exactly. You want to hear a really great story? Truthdig.org published a cartoon [made by] a political cartoonist named Mr. Fish. It was during the Arab spring, and he had superimposed Che Guevara with the stylized beard and King Tut's face, but it had Che's beret. And it [was titled], "Walk like an Egyptian." So, it was a reference to the music, but [it was also] a reference to what was going on the streets of Cairo. I sent it out as our poster of the week to 9,000 people. The very next day, somebody took a photograph on the street of Cairo, with somebody holding a piece of paper with that image on it. A poster can literally go around the world and people will print it out.
What struck me in viewing your exhibits is how many of these posters could still be used today, not only artistically but also, sadly, in the timeliness of their messages.
We had this fabulous poster by Yolanda Lopez, a Bay Area artist, which she first did in 1978. It depicts a young man in Aztec garb pointing a finger like Uncle Sam saying, "Who's the illegal alien, PILGRIM?" And it's a great poster, it's simple, not too many words, funny, provocative. So, we had an exhibit at UCLA in the mid '90s and there were 4 or 5 high school students standing around this poster saying, "Wow, you've got posters up to the minute." And I went over to them and I said, "Look at the date. This is before you were born."
Is that one of your goals with the exhibitions? To show the evergreen nature of this work?
Absolutely. I mean that's why we did the police abuse exhibition now. It basically goes back five decades. It's 50 years of posters protesting police abuse. Mainly in the United States, but also internationally.
What's the goal for CSPG?
Well the aim right now is really to digitize the collection and get it online. We have 10% of the collection digitized. But the mission is to collect and to document, because stories get lost. All the exhibitions, they're showing massacres, they're showing genocide, they're showing police abuse, they're showing all of these horrible things. And people often ask me, "How can you look at this stuff all day long?" I said, "Because the poster artists are optimists. They believe people can change if they have the information."
Yes, that's the reason why they're doing it, right?
That's why they're doing it, and that's why I'm doing this, because I believe that people can change if they knew the truth.
And what happens 20, 50 years from now?
Well, my goal is to stay independent, because the other option is to become part of the university. Universities, for all the fabulous things that they do, they also censor. We did an exhibition at USC in 1992 on the 500 years since Columbus, and how the legacy of racism and exploitation and genocide continues. And one of the board of trustees was Italian and took [the exhibit] as an affront to Columbus. It really wasn't about Columbus, it was about colonialism. And he ordered it down.
Do you have a favorite poster?
I'm always amazed at the creativity and vision of artists. Every week I'll say, "Oh my God, how do they think of that?" But it's always still going to be the poster I saw that kid trying to figure out. It has to be my favorite one because that one changed my life.
What makes a perfect poster?
The right balance between aesthetics and message. If you only rely on the corporate press, the New York Times and L.A. Times, for your information, you're not going to get the side from the street, from the movement, from the activists. The posters are primary historical documents that are recording the issues that were at the time, and the passions that were at the time, and the divisions that were at the time. You're not going to get it anyplace else.
---
Copyright Capital & Main