The Developer's Story: Why Affordable Housing Doesn't Get Built
Housing developers – whether they specialize in market-rate properties or affordable housing – face tremendous hurdles in getting projects off the ground in California.
"There's probably a hundred challenges," says Cynthia Parker, the president  and chief executive officer of BRIDGE Housing, a nonprofit housing developer based in San Francisco.
See More Stories in Capital & Main's Affordable Housing Series
Material prices keep going up, with the costs of steel and glass  not expected to come down any time soon. Labor expenses also keep rising. Even with the lowest interest rates in our lifetime, it still can be very difficult to make economic sense for starting a new construction project without some sort of guarantee that it will not be a bust. Developers say that perhaps the toughest impediment to new housing construction is local opposition, especially if the proposed construction site is in a safe neighborhood with good schools.
But dealing with prejudice against affordable housing dwellers and NIMBYism (Not In My Back Yard) is not a new struggle.
"If the community or the city council doesn't want the project, they can hinder it," says Clifford Goldstein, who has been in Southern California's commercial and multifamily real estate development business for more than 30 years. "If you delay a developer long enough, that can kill it."
Goldstein complains that most legislators don't take the time to understand the costs of construction, or the financial return requirements of lenders and investors. A developer can only operate within certain parameters in order to move forward.
"Time, meaning the time to obtain approvals — and the risk of not obtaining approvals  – is perhaps one of the most important issues that causes the financial and investor community to require higher returns," he says. "It is these higher return thresholds that often drive up the minimum rent that a developer seeks."
Evan Gerberding, a spokeswoman for the California Department of Housing and Community Development, spells out the bane of developers: "Projects with more community opposition, with significant changes imposed by local design-review requirements or that received funding from a redevelopment agency, cost more on average."
Stereotypes and negative perceptions of what an affordable-housing dweller looks like don't help. Parker has heard them all. Potential neighbors fear that the low-income inhabitants will drive "junkers" and mar their pristine suburban landscape. The newcomers have too many children and, of course, the building will resemble a Soviet housing project.
Nothing could be further from the truth, Parker says.
"I can't underscore [enough] the community acceptance piece of this," she says, her voice streaked with frustration.
BRIDGE's website proudly displays numerous awards from such prestigious bodies as the Urban Land Institute for the developer's aesthetically pleasing LEED buildings (structures certified by the Leadership in Energy and Environmental Design).  Besides, residents range from grandmothers living on fixed incomes to teachers and those who, through no fault of their own, have a physical or mental disability.
Parker's BRIDGE group locates projects near transit corridors and currently has 5,000 units in the development pipeline, with 800 to 1,200 units being produced each year.
"That's very busy but it's not even a drop in the bucket," says Parker.
"Frankly, what we need to do is simplify the way we develop and finance affordable housing in our country," Parker says in regard to the risks faced by developers. Part of the issue is having to report to different "masters." She adds that nonprofit affordable housing developers are in the business of following rules and making sure there is compliance with all of their funders' requirements.
Many projects can end up with 15 sources of funding, which often complicates matters when the funding sources have their own sets of requirements, rules and expectations.
Housing developers cite "risk" as being their biggest impediment. Such risks include the same ones that Goldstein voiced – rising construction costs, zoning changes, permitting changes and "entitlements" — the term that is used to describe the various approvals allowing a specific development or use of real property.
"It can take six years for one project. It's very inefficient and trying to do this in concert with the community – there's just a lot of twists and turns," Parker says. "You have risk until you get all of these things in place."
Community redevelopment agencies that were dismantled in 2011 by Governor Jerry Brown and the state legislature left a gaping hole in affordable housing construction. The agencies used a portion of property tax money to partner with developers, encourage development and combat blight. "It was the most efficient vehicle that we had," Parker says. "About a billion dollars in California set aside for affordable housing and now we don't have it."
In Los Angeles alone, Goldstein says, there are arguably 40,000 units that  need to be built each year to catch up to the demand for housing.
"We are only producing about 10,000 units a year so there is a shortfall of 30,000 units – ranging from low income, moderate to any level of income."
Downtown Los Angeles and Hollywood are currently  hot spots for new housing but their pricey projects are tailored to the wealthy. According to Goldstein, there are good reasons why it's easier to get project approvals in those areas.
For many years Hollywood, despite its antiquated reputation to the outside world as a glamorous locale, was essentially a blighted town. There was a desire to clean up the area with new, attractive housing and the political leadership was heavily invested in the idea, so it happened.
In downtown Los Angeles, meanwhile, because there weren't any neighborhoods or residents to engage in heated discussions over parking or overcrowding in schools, developers were welcomed and given a sort of blank slate to work with.
"Capital," Goldstein notes, "is attracted to places where there is less risk."
One current novel idea is to rezone large swaths of the city currently zoned for manufacturing and turn them into residential neighborhoods.
"There is some lower hanging fruit that could spur affordable housing," Goldstein says. "We could rezone industrial and manufacturing areas that long ago lost their manufacturing base. Many politicians are fearful of losing land set aside for manufacturing and that makes sense to a point, but the world of manufacturing has changed. [Many] manufacturers have moved to other areas. You always want a balance but if we are so strict in our rules and guidelines, then things become black and white, and housing doesn't get built."

Is a Conflict-Minerals Law Helping or Harming African Miners?
A Dodd-Frank rule requires Silicon Valley tech companies and others to reveal whether minerals in their supply chains fund conflicts in Central Africa. Why do some progressives oppose this requirement?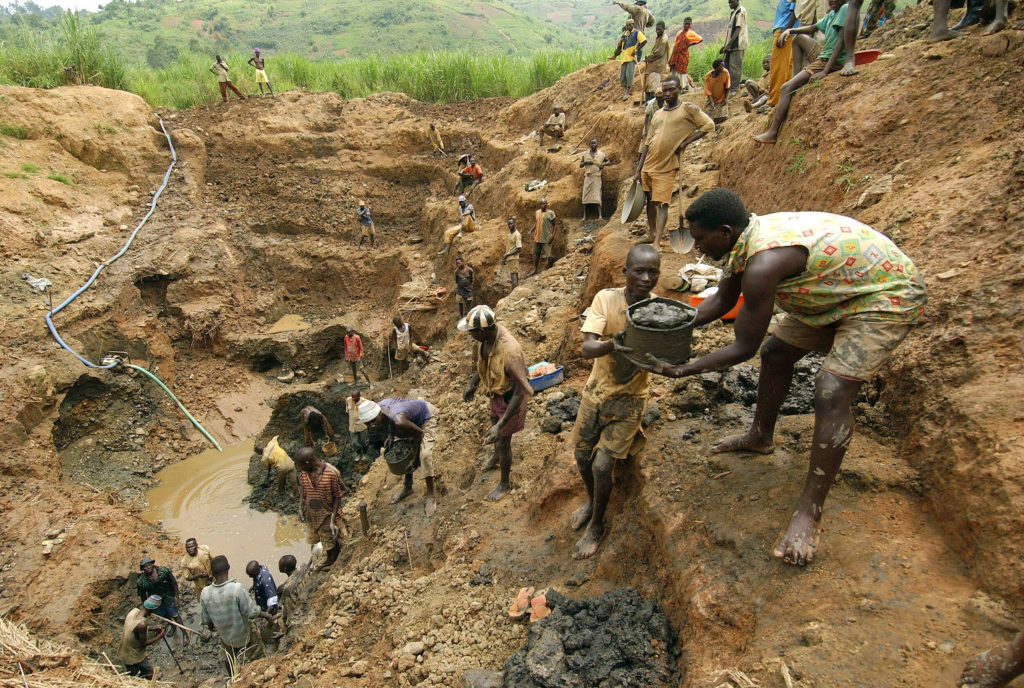 ---
The conflict-minerals law's opponents include progressive journalists and academics who say the rule rests on an overly simplistic analysis of a complex crisis.
---
By the end of next month Intel, HP and more than a thousand publicly traded companies are expected to report to the U.S. Securities and Exchange Commission on whether the minerals in their cellphones, laptops or other products were used to fund armed conflict in Central Africa.
This, despite concerted attempts by the Trump administration and Republicans in Congress to do away with an Obama-era rule that requires them to reveal whether their supply chains include tin, tantalum, tungsten or gold from the Democratic Republic of Congo (DRC) and surrounding countries.
The survival of Section 1502 of the Dodd-Frank Wall Street Reform and Consumer Protection Act may look at first glance like a case of blue-state resistance with California's tech companies—backed by their ethically minded consumers—standing strong against Republicans bent on destroying progressive, forward-looking regulations.
---
"The legislation has actually made the situation worse for these [miners]."
---
"Tech companies are the ones leading the way," says Annie Callaway, deputy director of advocacy at the Enough Project, a Washington, DC-based human rights organization that led the campaign to pass the conflict mineral law. Their due diligence efforts have been among the best arguments against those who say the law is too burdensome, she says.
But the law's opponents include progressive journalists and academics who say the rule rests on an overly simplistic analysis of a complex crisis. Some say it has done more harm than good to Eastern Congolese mining communities, whose livelihoods are already precarious.
The law has deprived "very vulnerable populations, already very poor people, of their sole means of livelihood," says Séverine Autesserre, a political science professor at Barnard College and Columbia University, and a former humanitarian aid worker who studies the DRC. "The legislation has actually made the situation worse for these people."
The law seems to have staying power, nonetheless. Eight years after its passage, tech companies have changed their sourcing practices, making it unlikely that the law's repeal would alleviate companies' concerns about having their products associated with violent militias, supporters and a critic of the measure say.
There are "very strong business reasons" to maintain the relationships and programs connected to Dodd-Frank, according to Michael Rohwer, who worked on conflict minerals for the Electronic Industry Citizenship Coalition, now known as the Responsible Business Alliance.
Companies increasingly recognize the efficiencies as well as the "risk mitigation" benefits, says Rohwer, now with BSR, a non-profit business network focused on sustainability.
The risks of sourcing from the DRC were made clear to companies in 2008 when U.S. human rights organizations launched a campaign that highlighted the role that the minerals found in jewelry and electronics play in funding violence, including sexual violence used as a weapon of war against women and girls, in the eastern DRC.
---
The goals of multinational companies—and their ethically-minded consumers—are not identical to those of any region, war-torn or otherwise.
---
That campaign drafted high profile celebrities, like actors Ben Affleck and Robin Wright, as well as idealistic college students eager to leverage their buying power and social media prowess to help a region that has seen millions die over the last two decades in the deadliest conflict since World War II.
Last fall, the Enough Project, a lead organization in the campaign, released a progress report that ranked the 20 largest jewelry retail and consumer electronics companies—industries that consume the most tin, tantalum, tungsten and gold–on their sourcing practices. Four of the five best performers—in terms of responsible sourcing practices–were Silicon Valley-based tech companies, with Apple securing the lead spot.
Thus far, the rule has withstood a lawsuit brought by the National Association of Manufacturers, a threatened executive order and House legislation aimed at its elimination. (The biggest threat to the rule remains the attachment of a rider to a continuing resolution in Congress, according to Arvind Ganesan of Human Rights Watch.)
The law has also withstood criticism from more than 70 critics who signed an open letter in 2014 that blamed Dodd-Frank for driving some unemployed miners to join militias or to turn to smuggling, and for misunderstanding the cause of the conflict. Last year, a journalist completed a two-part investigative series that found that the law imposed a monopoly on miners that suppressed prices and forced some to trade their wares illegally.
Both the rule's advocates and critics agree that its roll-out was problematic. The DRC's president, Joseph Kabila, instituted a six-month ban on mining shortly after the law was passed in 2010 but before it was implemented. A United Nations Working Paper, published in 2016, attributed a child mortality increase of 143 percent in mining communities to the implementation of the Dodd-Frank conflict mineral rule.
The Enough Project's Callaway argues that most of the criticism of the Dodd-Frank rule relies on information from 2014 and earlier, in the aftermath of its implementation. "Since then, there's been tons of progress," she says. She points out that of miners producing tin, tantalum and tungsten, 79 percent of those surveyed in 2016 by the International Peace Information Society are no longer working under threat of armed groups and that less violence can pave the way for other improvements, "once the conflict is out of the mines."
But "overall, armed presence at mining sites has persisted over the last years in eastern DRC," according to the study by the Belgian International Peace Information Service that Callaway cites. That's because the majority of gold mines – the most important mining sector in the region – remain under the influence of armed actors, even as the tin, tantalum and tungsten mines have seen dramatic reductions in violence, according to the report.
The law has supporters from the region. Representatives from more than a 100 Congolese civil society organizations signed letters in support in of the rule when SEC commissioner Michael Piwowar opened up public comment to explore whether it should be implemented early last year. "The people who are most impacted by these changes are saying please don't mess with this," Callaway said.
Ben Radley, a British doctoral student, who helped make a 2015 documentary sharply critical of the Enough Project, remains a skeptic of the law. But he argues that repealing it would also constitute "a backward step" and a futile one at a time when the DRC and the European Union are creating sourcing standards for mining.
It's very difficult to measure the impacts of the law because information is so hard to come by in the region, adds Radley, who lives in Kinshasa. "The numbers are so easily manipulated from both sides of the debate" because of lack of quality data, he says.
Furthermore, the Dodd-Frank rule is not the only force affecting miners' livelihoods for better or worse. The price of minerals has been falling in recent years. Meanwhile, a U.N. peacekeeping force of 18,000, the world's largest, is stationed in the eastern part of the country.
The laws' critics say there are lessons to be learned for consumers and businesses that want to make a positive difference in the region. Autesserre would like to see Western advocacy groups do a much better job consulting Congolese mining communities as they develop their policy agenda. Radley suggests that advocates focus on labor and human rights issues instead of ensuring products are "conflict free."
The Enough Project's report calls for increased investment in "livelihood projects" on the part of end-user companies doing business in the region. So far, such investment has been inadequate . Apple, Microsoft Corp., Google, Signet and Tiffany contributed a paltry $500,000 toward improvements in Congolese mining communities in the last fiscal year, a mere "rounding error of the more than $3 trillion combined market capitalization of the 20 companies Enough ranked," as the report points out.
Most of the due diligence work conducted by multinational corporations happens outside the DRC, at smelters, the factories that extract the minerals from the ore. Radley says companies would have more credibility if they undertook the more resource-intensive approach of working directly at the mine site, where advocates hope to improve conditions.
Some companies are already moving in that direction. Bloomberg reported in February that Apple is in negotiations to secure cobalt, a mineral used in batteries, directly from miners. Cobalt is not covered under the Dodd-Frank rule, but a 2016 investigation conducted by Amnesty International found cobalt was mined by child laborers.
Still, the goals of multinational companies—and their ethically-minded consumers—are not identical to those of any region, war-torn or otherwise. Perhaps partly with the tangled politics and human rights landscape of Central Africa in mind, Apple pledged last April to one day end its reliance on mining entirely and make products only from renewable resources or recycled material.
That has BSR's Rohwer feeling optimistic. "I'm eager to see more companies get involved in product reuse, repair, refurbishment and recycling," he says. "I think that would be a huge benefit for the tech sector."
---
Copyright Capital & Main