Will Trump White House Flatline Medi-Cal?
When President-elect Donald Trump announced he had chosen Rep. Tom Price, a Georgia Republican, to head up the Department of Health and Human Services, he sent a clear signal that most pieces of the Affordable Care Act r will be dismantled, including even some of the provisions his voters like.

It was possible, up until the morning of Tuesday, November 29, to believe that the incoming Republican administration wasn't serious about repealing the Affordable Care Act, the 2010 law intended to enhance the accessibility of health insurance. As other media have reported, many of the people who voted for candidate Donald Trump depend on the law for their medical care; at least some of them believed his promise to repeal was an election-season bluff.
But when President-elect Donald Trump announced he had chosen Rep. Tom Price, a Georgia Republican, to head up the Department of Health and Human Services, he sent a clear signal that most pieces of the health reform law will be dismantled, including even some of the provisions his voters like. "[Tom Price's] proposal for replacing the law is dramatic," says Anthony Wright, executive director of Health Access, a nonprofit consumer health advocacy group. "He's to the right of all other replacement plans in terms of the changes he would make and the drastic nature of those changes."
Price, an orthopedic surgeon who represents several affluent suburbs of Atlanta, is the author of what most health care analysts consider the most austere replacement for the ACA, the Empowering Patients First Act. Introduced in Congress last year for the fourth time since 2009, the bill would end most provisions of the current health-care law, allowing insurance companies to offer bare-bones plans and raise rates on people who are already sick or have been in the past.
It also makes the most radical cuts of any Republican-sponsored ACA replacement to the federal program that funds health care for people in poverty, Medicaid. Two other proposals for health-care reform in Congress, one floated by current House majority leader Rep. Paul Ryan and another by Texas Republican Sen. Ted Cruz, would repeal parts of Obamacare but leave the law's Medicaid expansion more or less intact (although Ryan's plan would significantly roll back funding and forbid more states from expanding Medicaid in the future). Price would eliminate it altogether, returning Medicaid's eligibility rules to what they were before the ACA.
California administers the federal-state Medicaid through the California Medical Assistance Program, or Medi-Cal. Before the ACA, the program was open to only adults if they had dependent children, or if they had a significant disability that impaired their ability to work. After the ACA took effect, states could opt to take advantage of a program expansion, folding in childless adults earning 138 percent of the federal poverty line, which in 2016 is just over $16,000. The federal government would pay all costs for the first three years; after that, the state pays a portion, topping out at 10 percent in 2020.
The U.S. Supreme Court in 2012 ruled that states didn't have to extend Medicaid eligibility, and many states with Republican leadership did not. But in California and the 30 other states that did, federal subsidies have boosted economies and slashed the ranks of the uninsured. In the past two years, Medi-Cal enrollment swelled from around nine million to more than 13 million, including 3.5 million homeless, jobless or underemployed adults who hadn't qualified before. Federal subsidies associated with those new enrollees total more than $15 billion annually.
If the Trump administration were to claw back the Medicaid expansion, California would lose that funding, which "would have a cascading, catastrophic effect throughout the entire health-care system," Wright says. In poorer California counties, such as Tulare and Kern, significant numbers of residents are enrolled in Medi-Cal: 55 percent in Tulare and 45 percent in Kern. "If you cut their subsidies, it affects every hospital, every doctor, every patient whether they're on Medi-Cal or not. You'll have a smaller and sicker pool [in Medi-Cal] and skyrocketing medical costs for everyone else."
Rep. Devin Nunes, whose district includes much of Tulare County, voted twice for Price's ACA repeal in 2016, first to pass the law, then, a month later, to override President Obama's veto. Rep. Kevin McCarthy, who represents parts of Tulare and most of Kern County, did the same. The veto override failed, but the Republicans' next attempt, after Trump takes office, will not face the threat of a veto at all. Neither legislator responded to Capital & Main's requests for information on how they would propose to pay for medical coverage for the portion of their respective populations who will no longer receive health coverage, should their goals succeed.
[Update: Devin Nunes sent this reply after this story was published:
"As health insurance rates continue to rise and a wave of insurers quit the Obamacare exchanges, it's clear Obamacare is unworkable and unsustainable. House Republicans have an Obamacare replacement plan that aims to make good coverage available—without penalties or fines for those who don't want it—to those who have inadequate coverage or no coverage at all."]
In Speaker of the House Paul Ryan's ACA-replacement proposal, titled A Better Way, Medicaid was labeled "a broken insurance program that has historically failed lower-income families." It "fails to provide adequate access to care for enrollees," said the report, while claiming that the entitlement program strains state budgets and drains the federal treasury. Price has argued that the program is an expensive means of providing inadequate care.
But patients enrolled in the program tell a different story. "It allowed me to see a specialist for the first time," says Carole Pearson, who was laid off from her job as an office manager in 2014, and now makes $12,000 a year as a part-time dog walker in Los Angeles. "I was able to get my allergies diagnosed and treated." (Among those allergies, unfortunately, is dog dander.)
At 64, Pearson is a year away from qualifying for Medicare; Medi-Cal has served as a stopgap between the health plan she was able to afford on unemployment and the federal government's subsidized health-care plan for seniors 65 and over. She'd prefer to remain on the state plan for people in her income bracket even after next year. "I'd have to pay more for Medicare," she says. "And that would be tough." She'd also have to pay for lab work. Under Medi-Cal, she says, "pap smears are free, mammograms are free. If it goes away, I'm screwed."
But even the Medicare option may be lost to her if the Republican Congress gets its way. Vox's Sarah Kliff, who has done detailed work analyzing the seven ACA-replacement plans floating about in conservative circles, concludes that they all have one thing in common: "They are better for younger, healthy people and worse for older, sicker people." Both Price's and Ryan's plans propose reducing Medicare to a "premium support" system, in which seniors receive a set payment to buy into insurance plans. Whether that sum is enough to pay for the high-level care seniors often need is uncertain. It's also possible that their constituents' opposition will stop them.
That resistance depends, of course, on whether the public understands what the Republican Congress is proposing in its health-care changes, and thinks critically about whether entitlement health-care programs are indeed broken, or verging on insolvency. And that could get complicated. Even Wright acknowledges Medicaid's weaknesses, which exist even in its robust California iteration. But they are problems, he says, that have nothing to do with the fundamental structure of the program. Instead, they're difficulties caused by underfunding: access to care, for instance, and in some areas, a paucity of doctors.
"As consumer advocates we have worked for many years to improve these programs with regard to benefits and better access to care," he says, "and we've been making important progress." He notes that increased Medi-Cal infusions will come from the tobacco tax Californians approved in the November election, as well as budget relief from Proposition 55, which preserves an income tax hike on high earners for another 12 years. But the $1 billion that economists predict the tobacco tax will dedicate to Medi-Cal can't begin to compensate for the losses that will come with the ACA's repeal.
So how should Californians brace themselves for the impending decline in health care for the poor, as well as the sick and elderly? "It's not about bracing ourselves," Wright insists. "It's about fighting back.
"It's wildly irresponsible," he adds, "to cut tens of billions of dollars to a health-care program that covers a third of the state. This is about getting our congressional representatives to understand that."
---
Detail from photo by Downtowngal/Creative Commons

Why 24 Hour Fitness Is Going to the Mat Against Its Own Employees
Co-published by Fast Company
24 Hour Fitness' policies have brought the fitness chain in the crosshairs of the National Labor Relations Board, which has said the company's employee arbitration agreements violate federal labor law.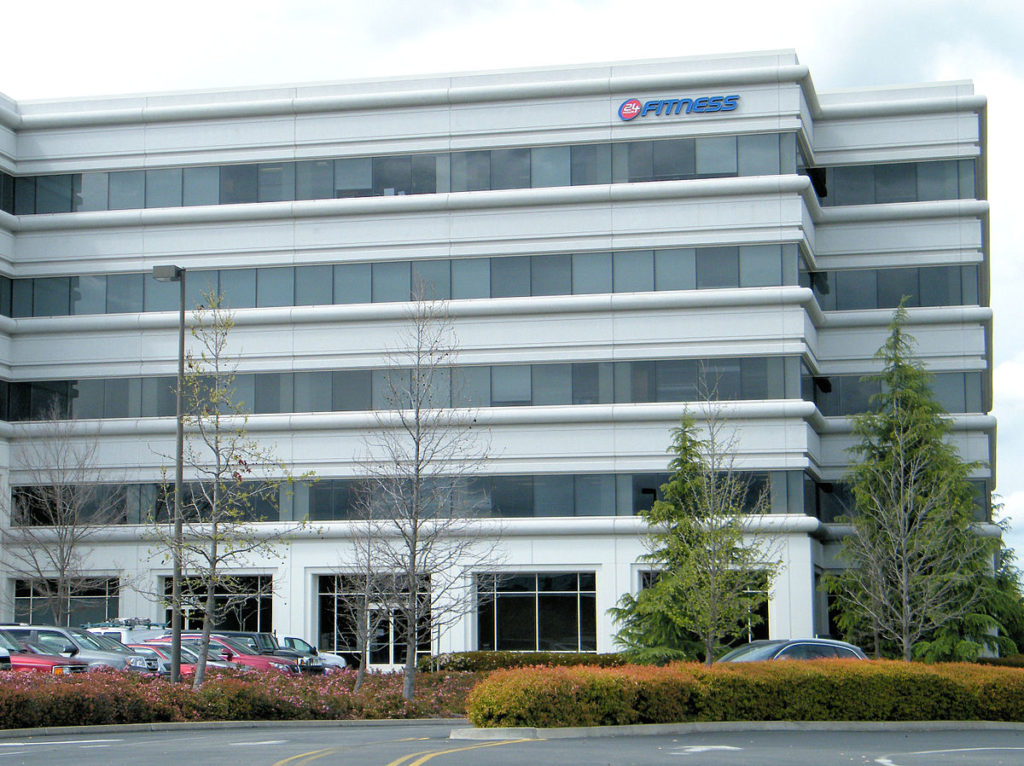 ---
Relentless pressure to sign up new members made one man question the chain's commitment to changing people's lives.
---
Co-published by Fast Company
On its website, 24 Hour Fitness says it has thousands of job openings. That's great news for fitness buffs hunting for work. Or is it?
Disgruntled former employees of the San Ramon, California-based company have filed hundreds of cases over almost two decades, some resulting in settlements in the millions of dollars.
And the large payouts appear to have made 24 Hour Fitness one of the nation's more aggressive advocates for curtailing workers' ability to defend their rights in court, labor lawyers say. That advocacy has also put the almost four-million-member-strong fitness chain in the crosshairs of the National Labor Relations Board, which has said the firm's employee arbitration agreements violate federal labor law.
The company's dispute with the NLRB may make it to the U.S. Supreme Court, which could hear oral arguments next term as to whether the contracts the firm asks workers to sign when they are hired violate historic worker protections put in place as part of New Deal legislation adopted in the 1930s. Those contracts ask employees to waive their right to come together to file class action lawsuits.
---
Attorney:  "24 Hour Fitness has been pretty aggressive in stripping workers of their rights."
---
Some workers say the company's single-minded focus on selling memberships caused it to run afoul of wage and hour law.
"We worked basically 8 to 8 every day no matter what, and if you got a lunch break it was usually at the club, or you went out and came right back," said Gabe Beauperthuy, a former general manager, who worked in fitness centers in Colorado before leaving the company in 2006.
At first, Beauperthuy said, he loved the work and embraced the company's philosophy of personal transformation. But the long days and relentless pressure to sign up new members made him question the company's commitment to changing people's lives, and even his own priorities. He developed a single-minded focus on bringing in the "almighty dollar" for the company because, he explained, "you're a product of your environment."
"I'm thankful that I realized that, and I'm thankful that I'm no longer there," said Beauperthuy, now a competitive amateur wrestler and coach.
24 Hour Fitness declined to comment for this story.
Beauperthuy was one of more than 900 managers, sales counselors and trainers to bring a collective action lawsuit under the Fair Labor Standards Act, alleging the company had misclassified them and denied them overtime pay. After the class was decertified and following seven years of litigation, the group settled for $17.5 million in 2013, according to published reports. The company settled another lawsuit involving thousands of California employees for $38 million, the nation's sixth largest wage and hour class action settlement of 2006.
Those cases may have made 24 Hour Fitness more steadfast in defending their employee arbitration agreement that asks employees to waive their right to bring class action lawsuits in NLRB v. 24 Hour Fitness, which the U.S. Supreme Court may review next year, depending on the outcome of a related case. The fact that 24 Hour Fitness has an employee arbitration agreement with a "class action waiver" does not make it unusual. But the company has been especially aggressive in defending its arbitration agreement in the courts, labor advocates say.
"Historically, there have been a few companies who went out of their way to fight and defend arbitration," says Cliff Palefsky, a San Francisco attorney who filed the unfair labor practice case resulting in the NLRB's finding that 24 Hour Fitness had violated the law. "They've been pretty aggressive in stripping workers of their rights."
About 60 million people—more than half of the non-union private sector workforce—are covered by mandatory arbitration agreements, according to an Economic Policy Institute study. These agreements require employees to resolve disputes through private arbitrators chosen by employers, rather than go through the courts.
An estimated 25 million of these arbitration agreements also include class action waivers, like those used by 24 Hour Fitness, in which employees give up their rights to band together to bring class action suits to address workplace disputes in the courts.
The contract language has received attention in recent months as the "Me Too" campaign has gained steam, and advocates pointed to the difficulty of raising workplace concerns individually in confidential arbitration proceedings that are crafted by the employer. Last year, U.S. Rep. Cheri Bustos (D-IL) introduced a bi-partisan bill that would prevent companies from keeping sexual harassment and sex discrimination claims from going to court, where the proceedings are typically in the public record.
A landmark case expected to be decided by the U.S. Supreme Court this term, National Labor Relations Board v. Murphy Oil USA, will determine whether class action waivers will be a continuing feature of employment contracts. It will also decide the fate of NLRB's dispute with 24 Hour Fitness.
"If the NLRB loses Murphy Oil, then our case would suffer the same fate, essentially," says Palefsky. In its Supreme Court brief, 24 Hour Fitness distinguishes its employment agreements from those at issue in the Murphy Oil case because the fitness employees are given 30 days to opt out of the class action ban.
But Palefsky counters that the rarely-used "opt out" provision is irrelevant because a worker's right to act collectively is one that cannot be signed away.
The argument about class action waivers might seem an academic one to job seekers if 24 Hour Fitness is now complying with the law.
There have been 621 employment cases filed in the federal courts against 24 Hour Fitness since 2000. On a per-establishment basis, that's more than eight times as many as have been filed against its competitor, Gold's Gym, during the same time period, according to a Capital & Main review of federal court records.
The disproportionately large number of cases is likely linked to the battle that took place between 24 Hour Fitness and Beauperthuy's attorney, Richard Donahoo, who continued to fight for his 900 or so clients even after a federal judge in San Francisco granted a 24 Hour Fitness motion in 2011 to decertify the class. (The judge's ruling that the plaintiffs' claims were not sufficiently similar prevented the case from moving forward as a collective action—not the class action decertification language–but the effect was similar.)
"Many times that means it's the death of the case because people don't want to proceed individually," said Donahoo, who is based in Orange County. "Attorneys can't do it economically."
Nevertheless, Donahoo and his colleagues decided to "swallow hard" and fight for each plaintiff individually. They filed hundreds of individual petitions in federal court to compel the company to arbitrate claims in Northern California, where 24 Hour Fitness is headquartered, and successfully fended off 24 Hour Fitness's efforts in 21 federal courts across the country to force the arbitration proceedings to take place near the clubs where each of the former employees had worked.
"Our case became a 'careful what you wish for' scenario for the company," Donahoo said. The company ultimately agreed to a settlement that resolved the individual claims at once.
Since then, 24 Hour Fitness has changed ownership. AEA Investors LP, a New York-based private equity firm, Fitness Capital Partners of Palm Beach, Florida, and the Toronto-based Ontario Teachers' Pension Plan purchased the firm in 2014 in a leveraged buyout. But reasons remain to be concerned about the practice of the fitness company, which employs about 20,000 workers and operates in a highly competitive industry.
In November, the company agreed to pay restitution and settled a lawsuit for $1.3 million filed by Orange County prosecutors, stemming from allegations the company increased annual renewal rates on prepaid memberships beginning in 2015 in violation of its contracts with customers. Customers were sold prepaid memberships and charged upfront fees with the guarantee of a low life-time renewal rate in 2006 but saw their rates rise as much as 300 percent nine years later, according to the Orange County Register. The company admitted no wrongdoing in the settlement agreement.
Last May, the ratings agency Moody's changed 24 Hour Fitness' investment outlook from "stable" to "negative." In justifying the downgrade, the report pointed to the growing number of fitness centers and the fact that the company is highly leveraged. The purchase of the company in 2014 was financed with $1.35 billion in debt, about 75 percent of the total cost, according to the Moody's report.
Moody's also singled out rising labor costs due to increases in the minimum wage in many of the regions where 24 Hour Fitness operates, suggesting the company employs a large number of low wage workers. Most of the clubs are concentrated in three states — California, Texas and Colorado.
"The company should be able to offset some of the pressure from minimum wage increases by using labor optimization, and reallocating the labor force within clubs based upon their age and member profile," according to Moody's report.
The economic pressures 24 Hour Fitness faces may explain the experience of one Ms. Randle, a former Kids' Club attendant, who asked that her first name not be used. She worked at a 24 Hour Fitness in Orange County from 2014 to 2016.
She said managers told her not to leave her post to take a break or use the rest room during her four-hour shift because the other staff on duty lacked the necessary clearance to work with children. She complained to managers and eventually to the human resources department, but had to file a complaint with the California Labor Commissioner's Office to resolve the issue and secure back pay for missed rest breaks, she said.
Ms. Randle thought that one of her co-workers endured repeated urinary tract infections that could have been caused by not being able to take bathroom breaks. Randle felt the managers lacked proper training. "They were always focused on selling memberships," she said. "They didn't care too much about their employees."
---
Roxane Auer provided additional research for this story.
Copyright Capital & Main