Will Nick Melvoin Be Los Angeles Charter Schools' Game-Changer?
A low-turnout Los Angeles election, which set a new record as the most expensive school board contest in U.S. history, resulted in a 57-43 percent victory margin for an affable defender of "school choice."

New LAUSD school board member Nick Melvoin
It should have been a cakewalk. Instead, Steve Zimmer, the progressive school board president of the Los Angeles Unified School District (LAUSD), who was running for his third term and enjoyed the full backing of the powerful United Teachers Los Angeles, suffered a shocking defeat May 16 against 31-year-old political newcomer Nick Melvoin.
Together with fellow first-timer Kelly Gonez and veteran charter supporter Mónica García, who was re-elected outright in the March primary, Melvoin delivered for the California Charter School Association (CCSA) and his slate's big-spending charter philanthropists what they haven't had since 2010 — a pro-charter majority school board for the largest charter school district in the nation.
"This was ours to win and we lost. I mean there's no sugarcoating it," Zimmer told Capital & Main in a phone call. "We've been up against big money before. That's not enough. That we weren't able to turn out more of our base is on us completely."
Well, maybe. In a low-turnout election that set a new record as the most expensive school board contest in U.S. history, CCSA and charter philanthropists raised $9.7 million versus $5.2 million from unions — but outspent Zimmer on Melvoin's behalf by $6.6 million to $2.7 million. The result was a 57-43 percent victory for a bright, affable and passionate defender of "school choice."
Steve Zimmer (Photo by Pandora Young)
In a phone interview, Melvoin described his political leanings as "left" and said he's long been a supporter of labor. And like Zimmer, he entered education via Teach for America (TFA) just as the Great Recession teacher layoffs were entering their peak.
It was while a TFA English as a Second Language teacher at Edwin Markham Middle School in Watts that he signed on to the American Civil Liberties Union's Reed v. California. The 2010 lawsuit challenged district teacher-layoff policies on civil rights grounds, and Melvoin found its creative disruption so appealing that he also testified at 2014's Vergara v. California, a more far-reaching Reed retread financed by the antiunion Silicon Valley entrepreneur David Welch that attempted to have long-time teacher protections declared unconstitutional.
If that wasn't enough to rub organized labor the wrong way, candidate Melvoin added the liabilities of recession-ravaged teacher pension funds to his platform by reviving a tiered-benefit scheme for new hires that has been anathema to unions ever since moderate Democrats like David Crane first began stalking public-sector retirement security from inside the Schwarzenegger administration.
"Fixing that seems to me a huge priority," said Melvoin, "so we can continue to attract great teachers but also make sure we're fair to the teachers we have. But I think to do that, we're going to have to be creative about how we pay new teachers, whether we look at new retirement packages for new teachers, so we can adequately protect those for current teachers. And those are things that have just been dead on arrival for a few years."
Melvoin's confidence in his ability to engage both sides of the charter divide — based on a conviction that there should be more uniting progressive labor and neoliberal charter Democrats than dividing the two factions — is reminiscent of the Zimmer of eight years ago, when the 17-year Marshall High School teacher was first elected to the board. Melvoin's nonstop flow of ideas can be as seductive as it is exhausting to hear — his imagining of community schooling health provider partnerships with campus clinics, and counseling for the district's most traumatized kids and families (much like an initiative recently co-launched by UTLA); or the "mitigating" of parent charter demand by investing in traditional neighborhood public schools, and then showcasing them as community centers.
"This is what excites me at the moment," he said. "I think there's a lot of area of agreement when it comes to lowering class sizes, [putting] more money in education — potentially through a parcel tax or bond measure — and [creating] great working conditions for teachers, finding ways to stem the teacher shortage. Now, there might be differences in policy solutions for that, but I think there's a lot of opportunity [for cooperation]."
All are tantalizing thoughts. But when questions turn to the possibility of regulating a system that has left neighborhoods blighted by charter oversaturation, or by charters that simply refuse to play by the transparency, oversight and accountability rules demanded of public schools, and has trapped public school kids in emotionally toxic Proposition 39 co-locations, Melvoin falls back on the familiar charter tautology of some-kids/not-all-kids laissez faire economics that marks the LAUSD board-member-elect as the Anti-Zimmer.
"You know, when you look back at the charter movement," he reflected, "those rules weren't meeting kids' needs. And so the 130,000 kids' [parents] who have chosen charters clearly believe that we need a new set of rules, and so there's definitely a difference between regulation and rules. But this idea that we should get all charters to play by the same rules as the district school completely defeats the purpose of the whole movement."
Like many charter watchers, John Rogers, a University of California, Los Angeles' Graduate School of Education professor, doesn't foresee the floodgates opening anytime soon, at least if the board's veteran pro-charter members are any indication: "It is not yet clear to me what policies Monica Garcia and Ref Rodriguez will want to advance. Monica has long-standing relationships with community organizations that will not be in favor of unbridled charter expansion and I suspect the same is true for Ref."
Nevertheless, a school board would merely need to relax its scrutiny and allow new charter petitions to roll in and allow the market incentives written into California's charter authorization process to take their course. Which is more or less what Nick Melvoin promised voters during his campaign.
And there's also a theoretical point at which the electoral scales will permanently tip in favor of what becomes, increasingly, an unassailable inflationary spiral: More charter students translate into a political constituency of more charter parents who support more resources for more charter schools, which translates into bigger school board election war chests. It's why, when Eli Broad's short-lived secret charter school expansion plan for LAUSD was leaked to the press in 2015, it was described as a hostile takeover attempt. That ambition continues to be echoed in the statewide push announced last year by CCSA that would almost double California's charter enrollment to roughly 18 percent by 2022.
"It's just going to happen over and over again in public education," warned Zimmer. "It's going to happen in smaller districts, it's going to happen on county boards of education. They now have the template; they now have the money. If they could do this in Los Angeles, with a fairly well-liked, established incumbent, think of what they're going to do in other places. They've got their playbook."

County Ballot Measures Would Fund Child Care, Early Education
Research that shows early childhood education can profoundly impact the future success of children. But early childhood educators are still chronically underpaid.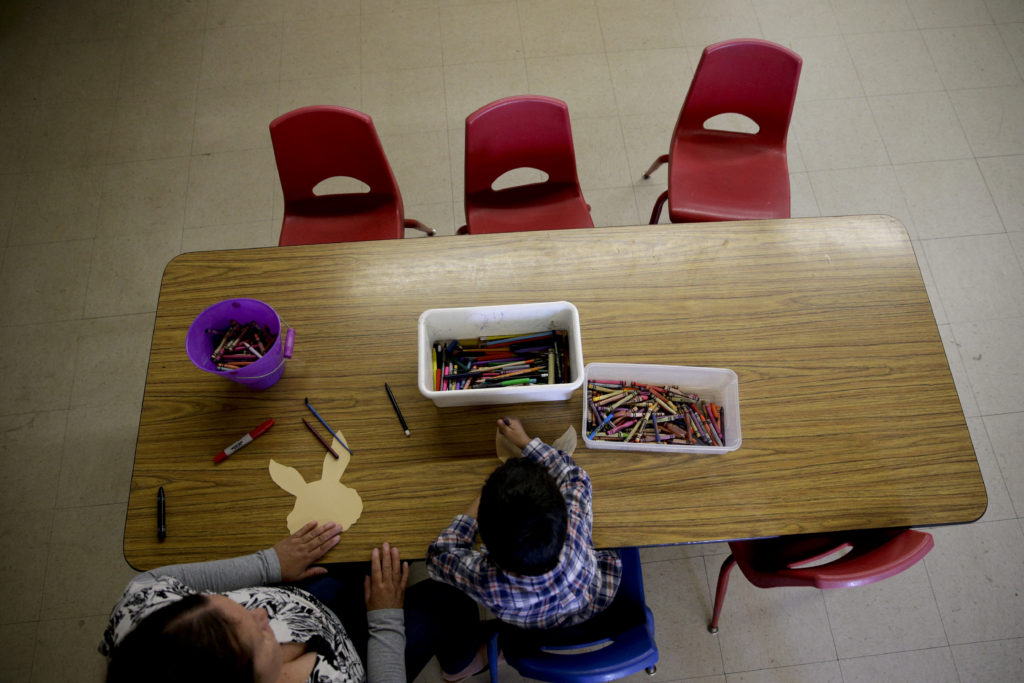 Teachers in West Virginia, Arizona and Oklahoma are not the only educators struggling to improve conditions in a profession they say is undervalued.
Alameda County's low-income child care workers are joining cash-strapped parents in an attempt to raise wages, improve quality and expand access to care in a region where pay has not kept pace with the dramatic increases in housing costs for many families.
They are taking their fight to the ballot on June 5 with Measure A, an initiative to raise approximately $140 million per year to expand preschool and child care access and improve retention of teachers by boosting pay. In neighboring San Francisco, already considered a leader in early childhood education, voters will also have the option to vote for Proposition C, which would expand the number of child care slots and increase wages.

In many ways, child care workers face a steeper climb than newly emboldened red state K-12 teachers. As tough as things may be for school teachers in right-to-work states, there is some consensus that what they do is a necessary public good.
That's not been so for early childhood educators in spite of research that shows that 90 percent of a child's brain develops in the first five years of life and that quality child care programs can fuel the future success of children and stabilize families, especially those who are low income.
"Some of it has to do with historical baggage about whether mothers should be working outside the home," says Marcy Whitebook, an expert on the childcare labor force at the Institute for Research on Labor and Employment at the University of California, Berkeley.
---
The United States lags far behind other developed nations in both preschool funding and enrollment.
---
Unlike the public schools, which are centralized and government funded, the early childhood education system is decentralized — taking place at a mix of private and public schools, centers and homes — and the funding is fragmented, with parents expected to shoulder the lion's share of the cost.
Nancy Harvey, a former elementary school teacher, who runs a child care business out of her West Oakland home, feels the consequences of this underinvestment.
She serves a mix of middle and working class families in a diverse neighborhood that she says has been gentrifying. "Every other year, I'm looking for new staff because they get burned out or they need higher wages," says Harvey. Meanwhile, she says, some of her families have had to leave the state because "between having to pay child care and rent, they simply couldn't make it."
Alameda County's Measure A, a half-cent sales tax, would expand access to child care and preschool for low and middle income families, provide supports for homeless and at-risk children, and raise the wages of child care workers to at least $15 per hour. The scholarships could impact more than 20,000 children as the program ramps up, according to Angie Garling, who heads Alameda County's Early Childhood Education Office.
In neighboring San Francisco, advocates gathered enough signatures to place Proposition C, a 3.5 percent surtax on commercial rents over $1 million a year on the ballot. The estimated $146 million raised annually would clear a waitlist of families who are in line to receive early child care and education services.
Prop. C would also make quality early child care more affordable for families earning as much as $207,500, and increase wages for child care workers beyond the $15 per hour to be required by the city's minimum wage law as of July 1. A little over $20 million of the revenue would be set aside for the general fund.
The two local ballot initiatives – in Alameda County and San Francisco – represent a "down-payment" on the kind of investment that only the state and federal government can provide, says Whitebook. And the measures are part of a wave of activism at the local level, according to Margaret Brodkin of Funding the Next Generation, who says other cities and counties plan to include child care measures on their ballots in future elections.
The state has been gradually increasing funding for child care since the end of the Great Recession, after cutting funding for 110,000 child care slots, according to Chris Hoene, executive director of the California Budget and Policy Center. But California is still 67,000 slots short of where it was, he adds. Even a substantial boost in federal child care dollars, recently approved by Congress, will not be enough to address the funding deficit, say advocates.
Those revenue sources help those who meet income eligibility thresholds. The U.S. generally lags behind other industrialized countries when it comes to providing universal preschool. The overall enrollment in preschool of 3-to 5-year-olds in the United States is 67 percent, the lowest of all but two of the 34 countries that are part of the Organization for Economic Cooperation and Development, according to an OECD study published last year.
And both measures will also help child care workers, many of whom rely on public assistance, according to a recent UC Berkeley study co-authored by Whitebook. Those who obtain bachelor's degrees, as required by Head Start and some public pre-K programs, do not usually earn much more for their troubles, according to the study.
---
In Alameda County, center-based child care exceeds tuition at UC Berkeley and is often a family's second largest cost after housing.
---
A child care worker in Alameda County earns $29,000 a year on average, about 79 percent of what it would take for a single person in the county to afford the bare necessities, according to the California Budget and Policy Project. Meanwhile, the cost of center-based care exceeds tuition at UC Berkeley and is often a family's second largest cost after housing.
These statistics are more than just academic to Morgan Pringle, a child care center substitute teacher who is also pursuing a degree in human development at California State University, East Bay.
While she was growing up, she says her mother, also a child care worker, supplemented her main job with fast food and house cleaning gigs. When the car's transmission gave out, "we just had to go without a car for a couple of years," says Pringle, who also recalls stints living with her grandmother and aunts. "The pay of an early childhood educator has never matched the cost of living here in Alameda County," she adds.
Like Harvey, she's joined Raising Alameda, a coalition that has brought family day care providers, parents and child care center employees together in support of Measure A. The Service Employees International Union Local 521, which represents child care providers, is a member of the coalition.
Even advocates acknowledge that an increase in sales tax, which is generally considered a regressive tax, is not ideal. Measure A will raise the sales tax in some Alameda County cities to close to 10 percent.
But local governments do not have many progressive funding options since the passage of Proposition 13, the 1978 ballot initiative that limited tax increases on real estate, according to Hoene.
Voters who want to expand child care services in San Francisco will be able to vote to levy a surtax on commercial rents. However, they must choose between Proposition C and a rival measure, Proposition D, which would fund housing and supportive services for seniors, the mentally ill and homeless youth. Proposition D, which also would tax commercial rents, is endorsed by the city's acting mayor and five supervisors, including mayoral candidate London Breed.
Proposition C, an initiative backed by Supervisor Norman Yee and Breed's rival in the mayor's race Supervisor Jane Kim, only requires a majority vote, while Proposition D — which was placed on the ballot by a vote of County supervisors — requires a two-thirds vote. However, if they both win, only the one with the most votes will be enacted.
At least one voter has already voiced frustration that the city's political leaders have pitted the need for affordable housing against the need for child care.
"In my day, we would go into a room with these two competing great ideas and take as much time as we needed, and not come out until we'd resolved them," former Mayor Art Agnos said at a Board of Supervisors committee meeting earlier this year, according to a report in Mission Local.
Back in Alameda County, Trisha Thomas, who runs a family day care in North Oakland while also selling life insurance and working as a church musician, says she is happy to be raising the visibility of her profession through a ballot campaign that has involved testifying at public meetings and phone banking.
"For many years, people just saw us as babysitters," says Thomas, who has a bachelor's degree and plans to pursue a master's degree. "My kids can do math. My kids can read. My kids are well above the average child starting school."
"To be viewed as a teacher, it's important to me," she says.