At a rally in Dimondale, Michigan, in August 2016, candidate Donald Trump promised a shining future in which "millions of workers on the sidelines will return to the workforce." He went through a list of accurate statistics showing how Michigan and the auto industry had been hurt by trade policy – pointing out, for example, that one in four Michigan manufacturing jobs has been lost since passage of the North American Free Trade Agreement (NAFTA). Trump claimed that he would bring "a complete revitalization of the Michigan manufacturing sector," and that his win would be "a victory for the wage-earner [and] the factory worker."
In order to be elected, says Jason Krzysiak, an electrician for the Ford Motor Company in Dearborn, Michigan, Trump "had to convince enough people to vote for him who were looking for answers to legitimate questions." Legitimate questions like, "Where did all these jobs go?" or "Why did my parents work at the [General Motors] plant making a comfortable living, and now I work at Subway?" he says.
Krzysiak remembers going to United Auto Worker (UAW) picket lines when he was a child, tagging along with his dad who worked for Chrysler in Metro Detroit. Nick Krzysiak spent more than 40 years "hauling cars off the line," and Jason's uncles worked in the auto factories too.
Like the generation before him, Jason became a UAW member, joining Ford in 1996, first at the (soon to close) plant in Romeo, until his job moved to Dearborn.
While Trump's appeals to Midwestern workers helped him secure the presidency, his rhetoric has not exactly lined up with reality over the past four years.
In 2019, the number of manufacturing jobs in Michigan, Ohio, Wisconsin and Pennsylvania fell by 0.5 percent, according to a report by Michael Shields, researcher at Policy Matters Ohio and Andrew Stettner, senior fellow at the Century Foundation. With the onset of the coronavirus pandemic, 381,000 additional manufacturing workers in these states were laid off or furloughed. Two auto plants in Michigan have closed since 2017, with a third on its way out (the Romeo engine plant where Krzysiak got his start).
"Trump doesn't give a rat's ass about manufacturing workers," says Krzysiak. "He got elected and [spent] the last four years undercutting workers' abilities to organize, make a decent wage, and [maintain their] job security."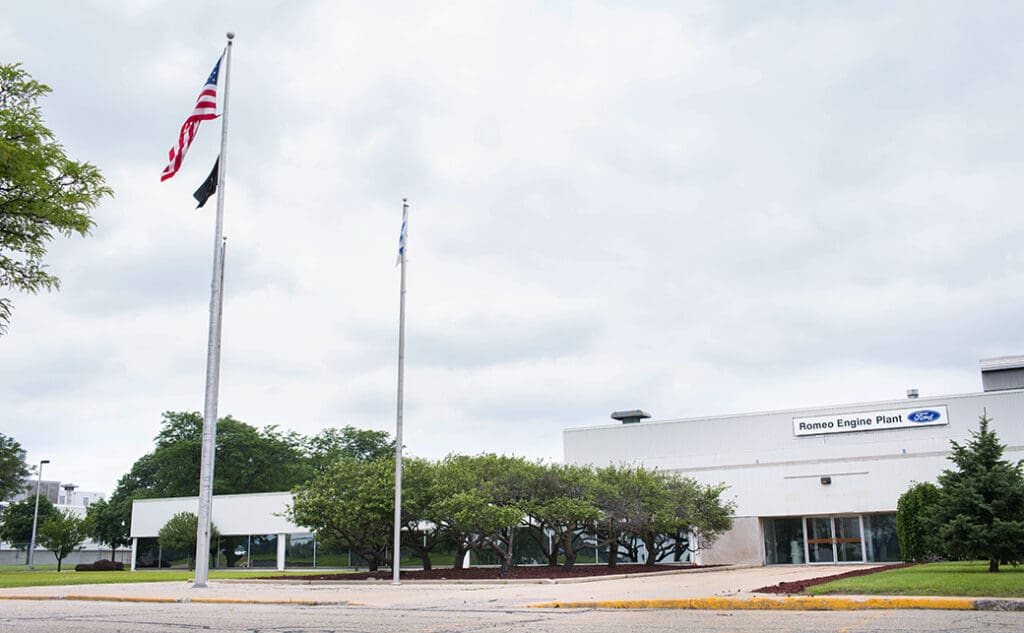 According to Krzysiak, Democrats allowed Trump to occupy the space of caring about working class issues – a space that Democrats "should have been defending," he says. Instead, over the past few decades, union membership has stagnated and "whole industries have been offshored." Krzysiak himself never believed the president's confident speeches – but he can see why many people in the Midwest did.
Krzysiak tells me that he tries to instill union values in his three kids. He and his wife work to "[help] them understand that the house we live in, the food we have, the things we're able to afford, are by virtue of my membership in the labor union and collective bargaining."
But with the current state of manufacturing in Michigan, Krzysiak's children may not be able to continue the tradition even if they wanted to. At 47, Krzysiak is still younger than a lot of manufacturing workers today. The sector is aging; as of 2017, roughly a quarter of these workers were over the age of 55. And while the Trump administration promised great gains for manufacturing and industry, it did not deliver; under Trump, manufacturing job growth has slowed, after several years of growth during the Obama administration.
Some believe there are opportunities for American manufacturing to make a comeback – but it will depend on whether government will invest in new, greener industries that will look quite different from what Krzysiak's father experienced.
A Trump administration package of manufacturing, trade and labor policies has contributed to job decline and insecurity. The trade war with China triggered a manufacturing recession, Stettner says, and cost hundreds of thousands of U.S. jobs, including manufacturing jobs in the Midwestern states that helped push Trump to victory.
Trump's "new NAFTA" (now called the United States-Mexico-Canada Agreement, or USMCA) is largely the same as the previous version and will have negligible effects on U.S. jobs. It contains new wins for tech companies, however, ensuring they won't be legally liable for what's posted on their platforms. While the AFL-CIO praised the deal, particularly the changes forced by a Democratic House (like removing intellectual property protections for pharmaceutical companies), the UAW's reaction was less enthusiastic. "[W]e are under no illusion that this revised agreement alone will restore America's middle-class manufacturing base. USMCA will not bring back the hundreds of thousands of good U.S. manufacturing jobs that have already been shipped to Mexico," the union said in a statement at the time of the deal's signing in January 2020.
Trump also erected ill-targeted tariffs on steel and aluminum. They backfired on workers, as total employment in the steel and aluminum industries is lower today than when the president took office. And contrary to Republican claims, the 2017 Tax Cuts and Jobs Act encouraged companies to move offshore by rewarding foreign profits over domestic profits.
In Michigan, investments by auto companies declined 29 percent in the first three years of the Trump presidency, according to the new report How Trade Policy Failed U.S. Workers – And How To Fix It by Groundwork Collaborative, Boston University's Global Development Policy Center and the Institute for Policy Studies. Michigan manufacturing had been enjoying a modest recovery, but under Trump total job growth was the lowest it had been in a decade – even before the pandemic.
Over the past 40 years, trade policy has been concerned with little more than protecting the interests of American corporations abroad, allowing offshoring to proliferate, says Sandra Polaski, co-author of the trade policy report. "The polices [the president] has pursued, at their core, continue to protect U.S. multinational [corporations] overseas," she says. "When you combine that with his tax policies and labor policies, the terms affecting U.S. workers are worse on several fronts."
Krzysiak is one of the lucky workers. He joined Ford in the 1990s and enjoys the benefits of being a legacy UAW member, including a full pension – he is not affected by the two-tier structure introduced in 2007 that the UAW conceded to help then-struggling auto companies. Someone who is hired in his same position today would have a less-secure 401k, "after they spend a career making less than I did and paying more in health care," he says bitterly.
The Trump administration's National Labor Relations Board has continued to undermine workers' collective bargaining rights, weakening the union election process while giving more power to employers. In all, the administration exacerbated the effects of an economy that was already unequal.
But for Tom Croft, executive director of the Steel Valley Authority, which aims to create jobs and avert layoffs in Western Pennsylvania, there is room to hope. American manufacturing won't look like it once did, but a substantial shift to renewable energy could create a new and necessary role for manufacturing. Croft says if the Democrats win, "My sense is there will be a European-tinted movement of our manufacturing base toward sustainability." Europe has seen success in investing in new, regenerative technologies.
Biden has proposed a $700 billion "Made in All of America" plan to create 5 million jobs through investing in clean energy, infrastructure and manufacturing research and development. Building up the United States' manufacturing infrastructure could allow the country to bring back supply chains and promote a "circular industrial economy" – in which manufacturers focus on sharing – "reusing materials in the product stream to make new products," like recycling, says Croft. New investments could also focus on training for younger generations and bring the median age of the manufacturing worker down.
Croft hopes, too, that reshoring American jobs will become a priority. He believes that the Democrats have learned some lessons about bad trade deals – "that they're bad for jobs and the economy, but also unions and their political base," which is "maybe the only reason some are paying attention." The Authority has done reshoring ("It's not easy," says Croft). In 2015, Croft assisted the Bollman Hat Company in its return from Guangzhou, China, to Adamstown, Pennsylvania.
"We want [American] industries to stay alive so that as [we are pushed] into a more sustainable economy, we have the building blocks to [be a part of] it," he says. "Otherwise, all the manufacturing is going to stay offshore."
Back in Metro Detroit, Krzysiak was thinking about how to get to that future with a revitalized manufacturing sector. In Krzysiak's view, "Biden was definitely not my favorite, but he has a relationship with unions that has been somewhat positive." He laments some of Biden's previous positions, like his NAFTA vote, but ultimately, Krzysiak says, "I'm comfortable voting for Joe Biden."
And if Biden wins, then it will be crucial to push Biden to adopt a worker-centered manufacturing plan. Krzysiak is particularly excited about how manufacturing could fuel a Green New Deal – something Biden doesn't support, but which is key in the future that Krzysiak hopes for.
"American manufacturing is part of the solution for environmental sustainability," he says, and that "doesn't mean we lose jobs." He points out that Ford, founded on the internal combustion engine, is at the forefront of manufacturing electric vehicles.
"With union labor, we can build the infrastructure for a sustainable future."
Copyright 2020 Capital & Main
Top photo: President Trump speaks before signing the United States-Mexico-Canada Trade Agreement (USMCA) during a ceremony at the White House on January 29, 2020. Photo by Drew Angerer/Getty Images.