Is Voter Turnoff Inviting a Progressive Rollback?
It's become an unsettling fact of political life that as election turnouts dwindle, campaign spending skyrockets. Los Angeles' recently concluded school board races, which drew a paltry 7.6 percent of potential voters, underscored this point. Ref Rodriguez, who unseated the District 5 incumbent, received most of the $2.2 million contributed by political action committees (PACs) controlled by the California Charter Schools Association Advocates. Rodriguez has co-created several charter schools and his backers, unsurprisingly, came from that community. Among the familiar local names of extreme wealth and influence were Eli Broad, Richard Riordan and William Bloomfield. Equally familiar to followers of school privatization were more distant funders such as Netflix CEO Reed Hastings, Walmart heir Jim Walton, Laurene Powell Jobs, the Gap Inc.'s Fisher family members and former New York Mayor Michael Bloomberg.
Rounding out Rodriguez's cascade of thousand-dollar checks were names associated with high-powered investment firms, various charter schools and charter-advocacy groups, such as Parent Revolution and StudentsFirst. Even among this varied and far-flung group, two names stuck out: Amplify Learning president Larry Berger of New York, and New Majority California, which calls itself the state's largest Republican PAC.
Amplify Learning is probably the easier of the pair to figure out. It's Rupert Murdoch's education information division, headed by Joel Klein and built on the foundation of Berger's old Wireless Generation company, which Murdoch's News Corporation purchased in 2010. The friendlier the nation's second-largest school system's board of education is toward charter schools, the more likely Amplify is to land lucrative contracts with the Los Angeles Unified School District. New Majority California, on the other hand, is a political money funnel for corporate interests.
The homepage for New Majority California's website features an image of burning $100 bills – presumably a symbol of the "government waste" the PAC publicly deplores but, perhaps, also a metaphor for the limitless cash that conservative groups are prepared to burn through in order to shape American opinion and elections. One such organization, the American Legislative Exchange Council (ALEC), is feeling comfortable enough with California to hold its annual convention in San Diego this July – even though its annual Rich State, Poor State report ranks us 44th in "economic outlook" and 50th when it comes to not being a right-to-work state.
Primarily known for creating "model legislation" – that is, laws modeled on the business interests of people like the Koch brothers – ALEC's corporate members may figure that if their politicians of choice in California cannot win a single statewide office and remain a battered minority in Sacramento, there's still promise in focusing on change at the local level. Perhaps with that in mind, ALEC last year created the American City County Exchange, which aims to promote ALEC's "free market" values (low wages, zero government regulation of goods and services, and bans on fracking bans) at the city hall level.
There's some early evidence that even in this bluest of states, the will of the electorate and its representatives is being thwarted, with or without ALEC's direct involvement. California's plastic bag ban has been put on hold, thanks to a plastics industry sponsored 2016 ballot measure, which would overturn the new law if passed. And on Tuesday night, May 26, Irvine's city council rescinded its living wage ordinance that had been in effect since 2007.
Affluent Irvine's attempted rollback of a historic movement to raise the standard of living for America's lowest-paid workers may be a one-off anomaly, or it could foreshadow what can happen in a progressive state when voters don't vote and corporate interests are able to put their representatives in power council by council, board by board.

Is a Conflict-Minerals Law Helping or Harming African Miners?
A Dodd-Frank rule requires Silicon Valley tech companies and others to reveal whether minerals in their supply chains fund conflicts in Central Africa. Why do some progressives oppose this requirement?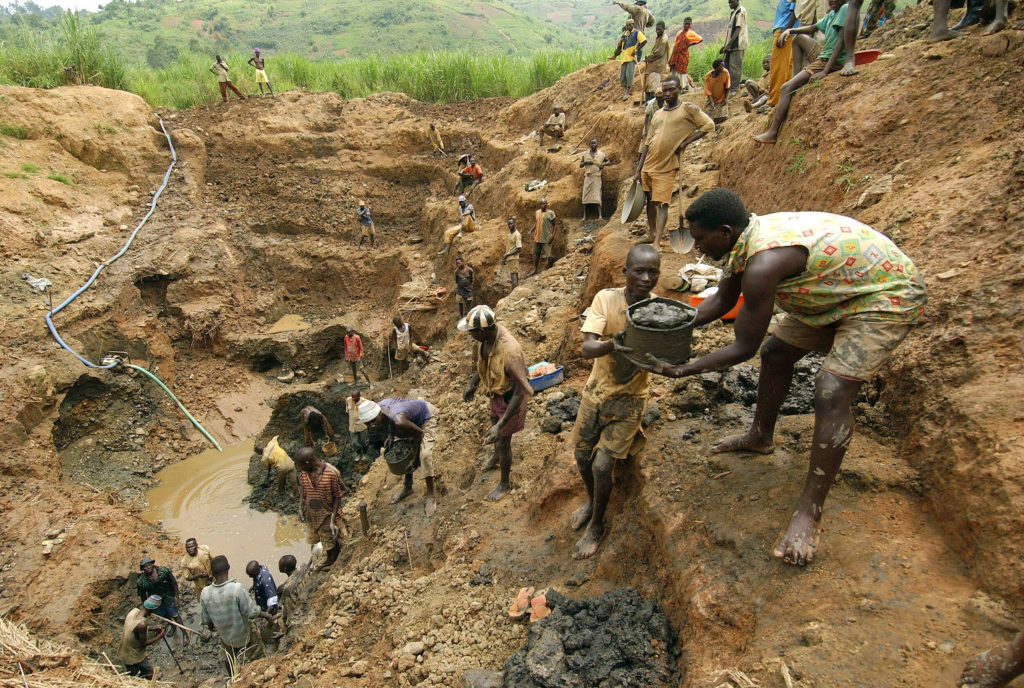 ---
The conflict-minerals law's opponents include progressive journalists and academics who say the rule rests on an overly simplistic analysis of a complex crisis.
---
By the end of next month Intel, HP and more than a thousand publicly traded companies are expected to report to the U.S. Securities and Exchange Commission on whether the minerals in their cellphones, laptops or other products were used to fund armed conflict in Central Africa.
This, despite concerted attempts by the Trump administration and Republicans in Congress to do away with an Obama-era rule that requires them to reveal whether their supply chains include tin, tantalum, tungsten or gold from the Democratic Republic of Congo (DRC) and surrounding countries.
The survival of Section 1502 of the Dodd-Frank Wall Street Reform and Consumer Protection Act may look at first glance like a case of blue-state resistance with California's tech companies—backed by their ethically minded consumers—standing strong against Republicans bent on destroying progressive, forward-looking regulations.
---
"The legislation has actually made the situation worse for these [miners]."
---
"Tech companies are the ones leading the way," says Annie Callaway, deputy director of advocacy at the Enough Project, a Washington, DC-based human rights organization that led the campaign to pass the conflict mineral law. Their due diligence efforts have been among the best arguments against those who say the law is too burdensome, she says.
But the law's opponents include progressive journalists and academics who say the rule rests on an overly simplistic analysis of a complex crisis. Some say it has done more harm than good to Eastern Congolese mining communities, whose livelihoods are already precarious.
The law has deprived "very vulnerable populations, already very poor people, of their sole means of livelihood," says Séverine Autesserre, a political science professor at Barnard College and Columbia University, and a former humanitarian aid worker who studies the DRC. "The legislation has actually made the situation worse for these people."
The law seems to have staying power, nonetheless. Eight years after its passage, tech companies have changed their sourcing practices, making it unlikely that the law's repeal would alleviate companies' concerns about having their products associated with violent militias, supporters and a critic of the measure say.
There are "very strong business reasons" to maintain the relationships and programs connected to Dodd-Frank, according to Michael Rohwer, who worked on conflict minerals for the Electronic Industry Citizenship Coalition, now known as the Responsible Business Alliance.
Companies increasingly recognize the efficiencies as well as the "risk mitigation" benefits, says Rohwer, now with BSR, a non-profit business network focused on sustainability.
The risks of sourcing from the DRC were made clear to companies in 2008 when U.S. human rights organizations launched a campaign that highlighted the role that the minerals found in jewelry and electronics play in funding violence, including sexual violence used as a weapon of war against women and girls, in the eastern DRC.
---
The goals of multinational companies—and their ethically-minded consumers—are not identical to those of any region, war-torn or otherwise.
---
That campaign drafted high profile celebrities, like actors Ben Affleck and Robin Wright, as well as idealistic college students eager to leverage their buying power and social media prowess to help a region that has seen millions die over the last two decades in the deadliest conflict since World War II.
Last fall, the Enough Project, a lead organization in the campaign, released a progress report that ranked the 20 largest jewelry retail and consumer electronics companies—industries that consume the most tin, tantalum, tungsten and gold–on their sourcing practices. Four of the five best performers—in terms of responsible sourcing practices–were Silicon Valley-based tech companies, with Apple securing the lead spot.
Thus far, the rule has withstood a lawsuit brought by the National Association of Manufacturers, a threatened executive order and House legislation aimed at its elimination. (The biggest threat to the rule remains the attachment of a rider to a continuing resolution in Congress, according to Arvind Ganesan of Human Rights Watch.)
The law has also withstood criticism from more than 70 critics who signed an open letter in 2014 that blamed Dodd-Frank for driving some unemployed miners to join militias or to turn to smuggling, and for misunderstanding the cause of the conflict. Last year, a journalist completed a two-part investigative series that found that the law imposed a monopoly on miners that suppressed prices and forced some to trade their wares illegally.
Both the rule's advocates and critics agree that its roll-out was problematic. The DRC's president, Joseph Kabila, instituted a six-month ban on mining shortly after the law was passed in 2010 but before it was implemented. A United Nations Working Paper, published in 2016, attributed a child mortality increase of 143 percent in mining communities to the implementation of the Dodd-Frank conflict mineral rule.
The Enough Project's Callaway argues that most of the criticism of the Dodd-Frank rule relies on information from 2014 and earlier, in the aftermath of its implementation. "Since then, there's been tons of progress," she says. She points out that of miners producing tin, tantalum and tungsten, 79 percent of those surveyed in 2016 by the International Peace Information Society are no longer working under threat of armed groups and that less violence can pave the way for other improvements, "once the conflict is out of the mines."
But "overall, armed presence at mining sites has persisted over the last years in eastern DRC," according to the study by the Belgian International Peace Information Service that Callaway cites. That's because the majority of gold mines – the most important mining sector in the region – remain under the influence of armed actors, even as the tin, tantalum and tungsten mines have seen dramatic reductions in violence, according to the report.
The law has supporters from the region. Representatives from more than a 100 Congolese civil society organizations signed letters in support in of the rule when SEC commissioner Michael Piwowar opened up public comment to explore whether it should be implemented early last year. "The people who are most impacted by these changes are saying please don't mess with this," Callaway said.
Ben Radley, a British doctoral student, who helped make a 2015 documentary sharply critical of the Enough Project, remains a skeptic of the law. But he argues that repealing it would also constitute "a backward step" and a futile one at a time when the DRC and the European Union are creating sourcing standards for mining.
It's very difficult to measure the impacts of the law because information is so hard to come by in the region, adds Radley, who lives in Kinshasa. "The numbers are so easily manipulated from both sides of the debate" because of lack of quality data, he says.
Furthermore, the Dodd-Frank rule is not the only force affecting miners' livelihoods for better or worse. The price of minerals has been falling in recent years. Meanwhile, a U.N. peacekeeping force of 18,000, the world's largest, is stationed in the eastern part of the country.
The laws' critics say there are lessons to be learned for consumers and businesses that want to make a positive difference in the region. Autesserre would like to see Western advocacy groups do a much better job consulting Congolese mining communities as they develop their policy agenda. Radley suggests that advocates focus on labor and human rights issues instead of ensuring products are "conflict free."
The Enough Project's report calls for increased investment in "livelihood projects" on the part of end-user companies doing business in the region. So far, such investment has been inadequate . Apple, Microsoft Corp., Google, Signet and Tiffany contributed a paltry $500,000 toward improvements in Congolese mining communities in the last fiscal year, a mere "rounding error of the more than $3 trillion combined market capitalization of the 20 companies Enough ranked," as the report points out.
Most of the due diligence work conducted by multinational corporations happens outside the DRC, at smelters, the factories that extract the minerals from the ore. Radley says companies would have more credibility if they undertook the more resource-intensive approach of working directly at the mine site, where advocates hope to improve conditions.
Some companies are already moving in that direction. Bloomberg reported in February that Apple is in negotiations to secure cobalt, a mineral used in batteries, directly from miners. Cobalt is not covered under the Dodd-Frank rule, but a 2016 investigation conducted by Amnesty International found cobalt was mined by child laborers.
Still, the goals of multinational companies—and their ethically-minded consumers—are not identical to those of any region, war-torn or otherwise. Perhaps partly with the tangled politics and human rights landscape of Central Africa in mind, Apple pledged last April to one day end its reliance on mining entirely and make products only from renewable resources or recycled material.
That has BSR's Rohwer feeling optimistic. "I'm eager to see more companies get involved in product reuse, repair, refurbishment and recycling," he says. "I think that would be a huge benefit for the tech sector."
---
Copyright Capital & Main