VisionLA Climate Change Arts Festival: November 30 Events
"DREMPELS"
Today kicks off the start of VisionLA '15, a Los Angeles arts festival performed to coincide with the United Nations' Conference on Climate Change (COP 21) as it unfolds in Paris. Below are program notes from VisionLA '15 – please refer to the group's site for a complete schedule and more information.
---
November 30 @ 6 p.m. – 10 p.m.
VisionLA Home Gallery – Bergamot Station, 
2525 Michigan Ave., Building G1
Santa Monica
Join us for a celebration of the Power of Art to Make Change at our Gala Opening party for the VisionLA '15 Climate Action Arts Festival. This opening event will launch L.A.'s first citywide climate action arts festival and is also the opening gala for our wonderful ART MAKES CHANGE fine art exhibition, curated by Dale Youngman and Lilli Muller.
Enjoy the sounds of DJ Jeremy Sole (KCRW), a performance by Domes, beer and wine, organic food trucks, great art…and some ideas on ways to save the planet — what could be better? It's the perfect way to find out more about what's going on with the festival and to join us in calling for a strong response to climate change, and a sustainable L.A.
Tickets $20 will support the nonprofit work of VisionLA Fest, dedicated to engaging art makers and art lovers in the vision of a sustainable future.
Free parking: In the lot and street.
November 30 @ 6:30 p.m.
VisionLA Home Gallery – Bergamot Station, 
2525 Michigan Ave., Building G1
Santa Monica
The L.A. MUDPEOPLE may be glimpsed hanging out at the opening event. Avoiding anthropological research and correctness, the L.A. tribe evolved over a few years into a slow-moving, nonverbal curious tribe who often finds what they need for clothing & ornamentation during walkabouts around town, our local deserts and mountains. LAMP find wonderful moments in the place most people bypass, overlook or step through. Each step, and space between the step, is ripe and rich. There is a connection between the homeless living on the edge of society and the MUDPEOPLE; however, the L.A. MUDPEOPLE are happy and in no need of hope.
November 30 @ 7 p.m.
VisionLA Home Gallery – Bergamot Station, 
2525 Michigan Ave., Building G1
Santa Monica
Armed with brushes and sponges, buckets and towels, Claudia Borgna and Jenny Kane of Domestic Apocalypse will hand-clean your event and purify your conscience of thoughtlessly disposed single-use plastic. These everyday invisible gestures are basic and simple, yet soul cleansing. Dressed in apocalyptic domestic outfits, the artists are the bearers of our culture's dirty domestic conscience.
Artists' statement: We are tired of witnessing the relentless production of waste, of waste overflowing even in sight of the art gatherings of the most socially conscious culture producers of this generation. At the Getty, drinking tea out of "stylish" plastic cups, we, Jenny Kane and Claudia Borgna, decided we'd had it! Enough of waste generated by unsustainable community gatherings, we have a plan now! We will wear our domestic outfits, equipped to wash dishes!
$29.50
DREMPELS – The Short But Happy Life of the Drempel Hieronymus Aloisius Plonk
November 30 @ 8 p.m.
1211 Fourth St.
Santa Monica
DREMPELS is a world premiere Evelyn Rudie-Chris DeCarlo allegorical musical theater tale about a small but powerful society of displaced Drempels – the tiny sub-species of human who live in the cracks of the earth and are caretakers to the Green – and their quest to save their society, and by so doing, save the world. Internationally acclaimed Actors Repertory Theatre conjures up a dark miniature world laced with biting comedy, DREMPELS is a tale of remembrance and renewal. But it is also a tale of warning, exploring and examining environmentalism, genocide, gentrification, revitalization, rebirth and political, as well as literal, bulldozing.
For tickets: www.showclix.com/event/DREMPELS2015
Free

'Skeleton Crew' Is a Play With a Moral Spine
Set in a Detroit automobile outfitting plant, Dominique Morisseau's drama grabs you from the start with its focus on blue-collar men and women, and their struggle for dignity and self-respect.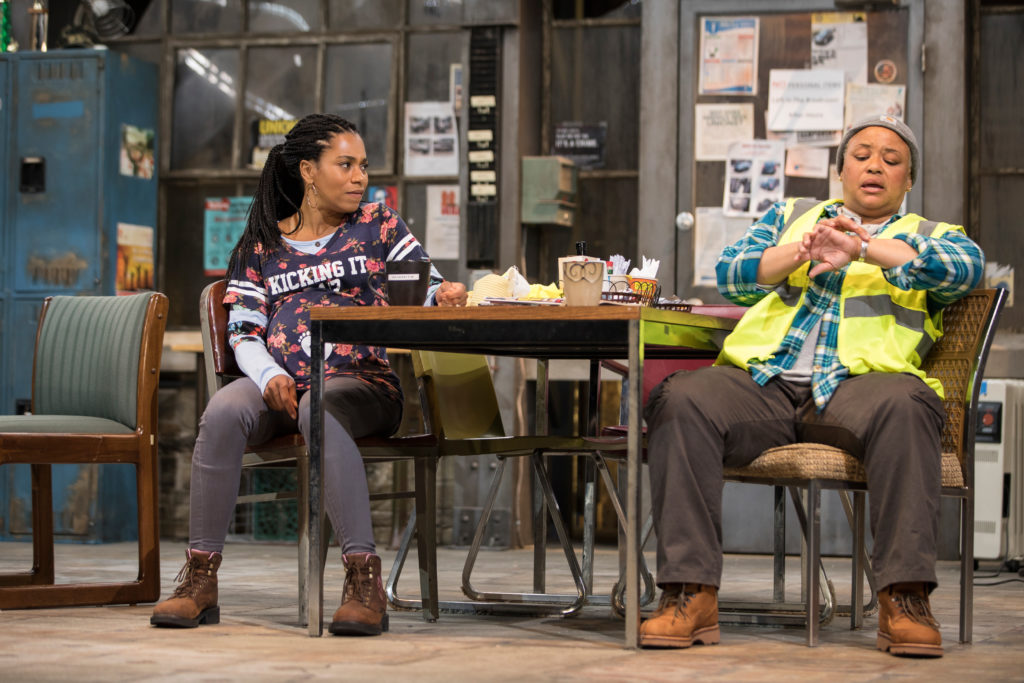 Working-class men and women of color are rarely front and center in today's media and, likewise, are presented all too occasionally on the American stage. So it's buoying to see that trend bucked in playwright Dominique Morisseau's percipient and well-crafted drama, Skeleton Crew. The play is the final installment in her Detroit  Project Trilogy; the first, Paradise Blue, is set in the 1940s amidst displacement caused by urban renewal and gentrification, while the second, Detroit '67, transpires on the eve of the 1967 Detroit riots sparked by a police action.
Directed by Patricia McGregor at Los Angeles' Geffen Playhouse, Skeleton Crew is a play with a moral spine. It takes place in 2008, when the shrinking U.S. auto industry is being further downsized. Morisseau's engaging quartet of characters — Faye (Caroline Stefanie Clay), Dez (Armari Cheatom), Shanita (Kelly McCreary) and Reggie (DB Woodside) – are employed at an automobile outfitting plant. Faye, Dez and Shanita are workers on the line while Reggie (who has a wife and kids, and has pulled himself together after a troubled youth) is their supervisor.
The first three customarily mingle in their break room (designer Rachel Myers' impressively cluttered, dingy and detailed set), trading the sort of familiar barbs and genuine concern for each other common among longtime co-workers. They also face off on philosophy: Upper-middle-aged Faye and the younger, pregnant Shanita take pride in their labor, while Dez, though a good worker, is a malcontent scornful of management and firm in the belief that everyone needs to watch out for himself. He's a thorn in Reggie's side, for while Reggie wants to be supportive of his workers, he must act at the behest of higher management. For his part, Dez resents Reggie's authority, and a palpable unease exists between them.
Besides this male matchup, we're made privy to Dez's attraction to Shanita, who mostly turns away his advances, but every now and then displays a hint of interest. Most poignant is Reggie's regard and affection for the lesbian Faye, which has roots in his boyhood when she loved, and lived, with his now-deceased mom.
These people's various predicaments intensify when rumors spread of the plant's shutdown — a disaster for all, but a particular calamity for the already near-broke Faye who, one year short of retirement, would lose her pension. The crisis forces each of these people to make a choice.
A sound piece of social realism, Skeleton Crew grabs you from the start in its focus on blue-collar men and women, and their struggle against odds for dignity and self-respect. Morisseau not only furnishes these characters a platform for their travails, she endows them with strong values, big hearts and the opportunity to choose between right and wrong.
Unfortunately, the performance I attended did not soar. Many exchanges lacked a fresh edge. The actors certainly had their characters down, but too often they appeared to be coasting on technique. (This seemed particularly true of Clay, who performed the role to great accolades in Washington, DC in 2017, also under McGregor's direction). Additionally, some of the stage movement was not entirely fluid; in confrontations, actors sometimes would just stand and face each other in an artificial way. And Cheatom's interpretation of Dez struck me as a bit overly churlish and depressive: I needed more glimpses of the intelligence and edge that would secretly attract the strong, self-directed Shanita.
The most compelling moments belong to Woodside, well-cast as a man trying his best in difficult circumstances to do the right thing.
---
Gil Cates Theater at the Geffen Playhouse, 10886 Le Conte Ave., Westwood Village; Tues.-Fri., 8 p.m.; Sat., 3 & 8 p.m. Sun., 2 & 7 p.m.; through July 8. (310) 208-5454 or www.geffenplayhouse.org