VisionLA Climate Change Arts Festival: November 30 Events
"DREMPELS"
Today kicks off the start of VisionLA '15, a Los Angeles arts festival performed to coincide with the United Nations' Conference on Climate Change (COP 21) as it unfolds in Paris. Below are program notes from VisionLA '15 – please refer to the group's site for a complete schedule and more information.
---
November 30 @ 6 p.m. – 10 p.m.
VisionLA Home Gallery – Bergamot Station, 
2525 Michigan Ave., Building G1
Santa Monica
Join us for a celebration of the Power of Art to Make Change at our Gala Opening party for the VisionLA '15 Climate Action Arts Festival. This opening event will launch L.A.'s first citywide climate action arts festival and is also the opening gala for our wonderful ART MAKES CHANGE fine art exhibition, curated by Dale Youngman and Lilli Muller.
Enjoy the sounds of DJ Jeremy Sole (KCRW), a performance by Domes, beer and wine, organic food trucks, great art…and some ideas on ways to save the planet — what could be better? It's the perfect way to find out more about what's going on with the festival and to join us in calling for a strong response to climate change, and a sustainable L.A.
Tickets $20 will support the nonprofit work of VisionLA Fest, dedicated to engaging art makers and art lovers in the vision of a sustainable future.
Free parking: In the lot and street.
November 30 @ 6:30 p.m.
VisionLA Home Gallery – Bergamot Station, 
2525 Michigan Ave., Building G1
Santa Monica
The L.A. MUDPEOPLE may be glimpsed hanging out at the opening event. Avoiding anthropological research and correctness, the L.A. tribe evolved over a few years into a slow-moving, nonverbal curious tribe who often finds what they need for clothing & ornamentation during walkabouts around town, our local deserts and mountains. LAMP find wonderful moments in the place most people bypass, overlook or step through. Each step, and space between the step, is ripe and rich. There is a connection between the homeless living on the edge of society and the MUDPEOPLE; however, the L.A. MUDPEOPLE are happy and in no need of hope.
November 30 @ 7 p.m.
VisionLA Home Gallery – Bergamot Station, 
2525 Michigan Ave., Building G1
Santa Monica
Armed with brushes and sponges, buckets and towels, Claudia Borgna and Jenny Kane of Domestic Apocalypse will hand-clean your event and purify your conscience of thoughtlessly disposed single-use plastic. These everyday invisible gestures are basic and simple, yet soul cleansing. Dressed in apocalyptic domestic outfits, the artists are the bearers of our culture's dirty domestic conscience.
Artists' statement: We are tired of witnessing the relentless production of waste, of waste overflowing even in sight of the art gatherings of the most socially conscious culture producers of this generation. At the Getty, drinking tea out of "stylish" plastic cups, we, Jenny Kane and Claudia Borgna, decided we'd had it! Enough of waste generated by unsustainable community gatherings, we have a plan now! We will wear our domestic outfits, equipped to wash dishes!
$29.50
DREMPELS – The Short But Happy Life of the Drempel Hieronymus Aloisius Plonk
November 30 @ 8 p.m.
1211 Fourth St.
Santa Monica
DREMPELS is a world premiere Evelyn Rudie-Chris DeCarlo allegorical musical theater tale about a small but powerful society of displaced Drempels – the tiny sub-species of human who live in the cracks of the earth and are caretakers to the Green – and their quest to save their society, and by so doing, save the world. Internationally acclaimed Actors Repertory Theatre conjures up a dark miniature world laced with biting comedy, DREMPELS is a tale of remembrance and renewal. But it is also a tale of warning, exploring and examining environmentalism, genocide, gentrification, revitalization, rebirth and political, as well as literal, bulldozing.
For tickets: www.showclix.com/event/DREMPELS2015
Free
The Power of the Poster
Carol Wells, the founder of the Center for the Study of Political Graphics in Los Angeles, talks to Capital & Main about the enduring power of political art.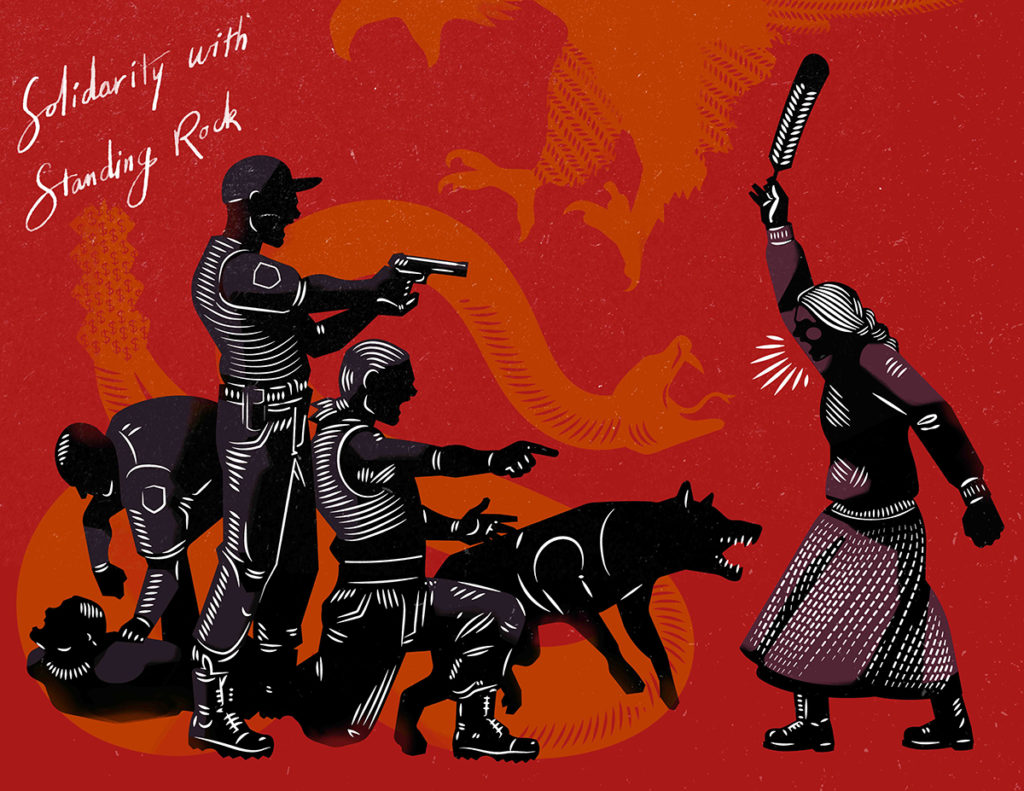 Carol Wells remembers the exact moment she discovered her calling. An art historian at the time, she was on a trip to Nicaragua with her friend David Kunzle, a UCLA art history professor, who was collecting political posters to add to his burgeoning collection. While staying with friends, Wells watched a neighbor's 8-year-old son approach a poster on the wall, stare at it intently, and then start to silently mouth the words. Wells was struck by how engaged the boy was. "In that moment I became obsessed with collecting posters."
Now over 40 years later, Wells is the founder and executive director of the Center for the Study of Political Graphics in Los Angeles. Wells has amassed approximately 90,000 posters, building one of the largest collections of its kind in the world. The Center shares its collection with the public in part through curated exhibits. This year the CSPG has produced Feminae: Typographic Voices of Women by Women and its latest is To Protect & Serve? Five Decades of Posters Protesting Police Violence, running through July 15 at the Mercado La Paloma in downtown Los Angeles.
Since that encounter in Nicaragua in 1981, Wells' obsession with collecting posters hasn't waned. In CSPG's nondescript West L.A. office space, Wells pulls out poster after poster, lecturing passionately on the backstory and cultural impact of each, including one that superimposes text from a New York Times interview with a shocking image of the My Lai massacre ("Q: And babies? A: And babies."). Recently, she managed to sit down with C&M to discuss her passion.
---
Capital & Main: So, you were an art history professor, you happen to see a kid on a trip, and suddenly your life was changed forever?
Carol Wells: Yeah, I'm in Nicaragua alone in the living room with this kid. He's looking around, and all of a sudden, he sees the poster. It was pretty big, bright green, a thick outlines of a woman holding a big basket of coffee beans. And the text in Spanish said, "In constructing the new country, we are becoming the new woman." I see him walk over to the poster and I'm watching him mouth the words. It was a pretty sophisticated concept, so I doubt he figured it out. But I literally had this epiphany: "Oh my God. That's how posters work." You're going about your daily life, and all of a sudden something breaks through the bubble, and it grabs your attention. It's the graphic, it's the color, it's the combination, and it pulls you out of your head and into that poster and it makes you ask a question. "Why is this here? What is this about? What does this mean?" And every time you ask a question, you're a different person than you were before you asked the question.
How many posters do you get a year?
We get between two to five thousand a year donated from all over the world. The bulk of our collection is [from] 1945 and later.
I assume technology has probably hurt the art form, but has it helped get the messages out?
Most people think that, and it's actually not true. Since the internet age started, there's actually a poster renaissance of works on paper. Because you can't walk with your computer monitor in a demonstration. You can't plant your monitor on your lawn.
And you can't put a laptop on the wall…
Exactly. You want to hear a really great story? Truthdig.org published a cartoon [made by] a political cartoonist named Mr. Fish. It was during the Arab spring, and he had superimposed Che Guevara with the stylized beard and King Tut's face, but it had Che's beret. And it [was titled], "Walk like an Egyptian." So, it was a reference to the music, but [it was also] a reference to what was going on the streets of Cairo. I sent it out as our poster of the week to 9,000 people. The very next day, somebody took a photograph on the street of Cairo, with somebody holding a piece of paper with that image on it. A poster can literally go around the world and people will print it out.
What struck me in viewing your exhibits is how many of these posters could still be used today, not only artistically but also, sadly, in the timeliness of their messages.
We had this fabulous poster by Yolanda Lopez, a Bay Area artist, which she first did in 1978. It depicts a young man in Aztec garb pointing a finger like Uncle Sam saying, "Who's the illegal alien, PILGRIM?" And it's a great poster, it's simple, not too many words, funny, provocative. So, we had an exhibit at UCLA in the mid '90s and there were 4 or 5 high school students standing around this poster saying, "Wow, you've got posters up to the minute." And I went over to them and I said, "Look at the date. This is before you were born."
Is that one of your goals with the exhibitions? To show the evergreen nature of this work?
Absolutely. I mean that's why we did the police abuse exhibition now. It basically goes back five decades. It's 50 years of posters protesting police abuse. Mainly in the United States, but also internationally.
What's the goal for CSPG?
Well the aim right now is really to digitize the collection and get it online. We have 10% of the collection digitized. But the mission is to collect and to document, because stories get lost. All the exhibitions, they're showing massacres, they're showing genocide, they're showing police abuse, they're showing all of these horrible things. And people often ask me, "How can you look at this stuff all day long?" I said, "Because the poster artists are optimists. They believe people can change if they have the information."
Yes, that's the reason why they're doing it, right?
That's why they're doing it, and that's why I'm doing this, because I believe that people can change if they knew the truth.
And what happens 20, 50 years from now?
Well, my goal is to stay independent, because the other option is to become part of the university. Universities, for all the fabulous things that they do, they also censor. We did an exhibition at USC in 1992 on the 500 years since Columbus, and how the legacy of racism and exploitation and genocide continues. And one of the board of trustees was Italian and took [the exhibit] as an affront to Columbus. It really wasn't about Columbus, it was about colonialism. And he ordered it down.
Do you have a favorite poster?
I'm always amazed at the creativity and vision of artists. Every week I'll say, "Oh my God, how do they think of that?" But it's always still going to be the poster I saw that kid trying to figure out. It has to be my favorite one because that one changed my life.
What makes a perfect poster?
The right balance between aesthetics and message. If you only rely on the corporate press, the New York Times and L.A. Times, for your information, you're not going to get the side from the street, from the movement, from the activists. The posters are primary historical documents that are recording the issues that were at the time, and the passions that were at the time, and the divisions that were at the time. You're not going to get it anyplace else.
---
Copyright Capital & Main