USC Childcare Centers to Close After Union Victory
Lovell Estell III: Will a major university be without childcare services?

A table at KinderCare's University Park Campus center (Photo: Lovell Estell III)
On May 25 employees at the University of Southern California's University Park Campus Child Care Center, one of two USC daycare sites, voted to unionize in association with Education Workers United, which represents employees in public and nonpublic organizations in early education, child care, K-12, and at community college levels; it is part of Service Employees International Union Local 99. The center is operated by Children's Creative Learning Center (CCLC), whose parent company, KinderCare, is a nationwide leader in child care and early childhood education services, with reported 2012 earnings in excess of a billion dollars. (The university's second CCLC daycare center, the Health Sciences Campus Center in East Los Angeles, was not part of the unionizing effort.)
Then, less than a month after the union victory, CCLC suddenly ended its contractual relationship with the university at both its locations, leaving many parents wondering what to do for child care — and KinderCare teachers concerned about their jobs, and union leaders crying foul. A letter dated June 14 from Provost and Senior Vice President for Academic Affairs Michael Quick reads in part:
"Children's Creative Learning Center has notified us that they will cease providing child care services for the university. CCLC tell us that their decision was due in large part to recent adversarial interactions with some parents at the University Park location that have eroded CCLC's ability to meet their commitments to USC."
Workers claim the initial push to unionize came in reaction to what they describe as deplorable working conditions at the University Park center — with, they say, support from many parents. According to SEIU spokesperson Terry Carter, there were ongoing issues with wages, unsafe staffing ratios, an absence of custodial and sanitation services, and insufficient classroom materials and supplies. The union further alleged that the center served inadequate meals for the children, who, it says, were often left hungry. CCLC did not respond to requests for comment about these charges.
The unionization vote passed with a comfortable majority, in spite of KinderCare's hiring of Cruz & Associates, the same union-avoidance consulting firm used by Las Vegas' Trump International Hotel to undermine its housekeepers' successful unionization campaign. The tactics at USC allegedly included a mailing campaign to parents and teachers, as well as a lot of group meetings, whose purpose was to "educate" teachers and staff about unions. Gina Sandoval, who led the unionization effort, and has worked at the center for over 20 years, told Capital & Main that "there was never a problem with staff coverage for these meetings — all of a sudden we had all the help we needed." She added, "The one thing I will never forget was them saying to us, 'You guys are so small, why would you want a union?'"
Provost Quick's letter mentions "unreasonable demands put forward by parents," and "intimidating behavior" directed toward CCLC staff. The university has not responded to requests for elaboration. KinderCare communications director Colleen Moran emailed Capital & Main that she was "gathering information" in response to its requests for an explanation of these claims.
KinderCare teachers and union leaders have no doubt that CCLC's action was intended to punish employees for unionizing. In the interim, parents and KinderCare teachers are left navigating an unsettling and uncertain road of transition. "I think families and staff are angry that this giant, billion-dollar daycare company would basically crush efforts to provide better care for infants and toddlers," says Max Arias, Local 99's executive director.
For now, the centers remain open until KinderCare decides on a date when it will cease operations. SEIU's Carter told Capital & Main that the union filed an unfair labor practices charge against CCLC on July 7, and shortly after, the National Labor Relations Board received affidavits from the concerned parties. The union is waiting to see if the NLRB will hear the case, and is in continuing discussions with CCLC to ease the transition for parents, teachers and children.
Meanwhile, employees are in limbo, wondering how the closure or transfer to a new operator will affect their jobs—or if they will still have them. Gina Sandoval remains warily optimistic, but is disappointed and saddened by what has happened. "We could have been a great center," she said, "if we had been run by a great company."

County Ballot Measures Would Fund Child Care, Early Education
Research that shows early childhood education can profoundly impact the future success of children. But early childhood educators are still chronically underpaid.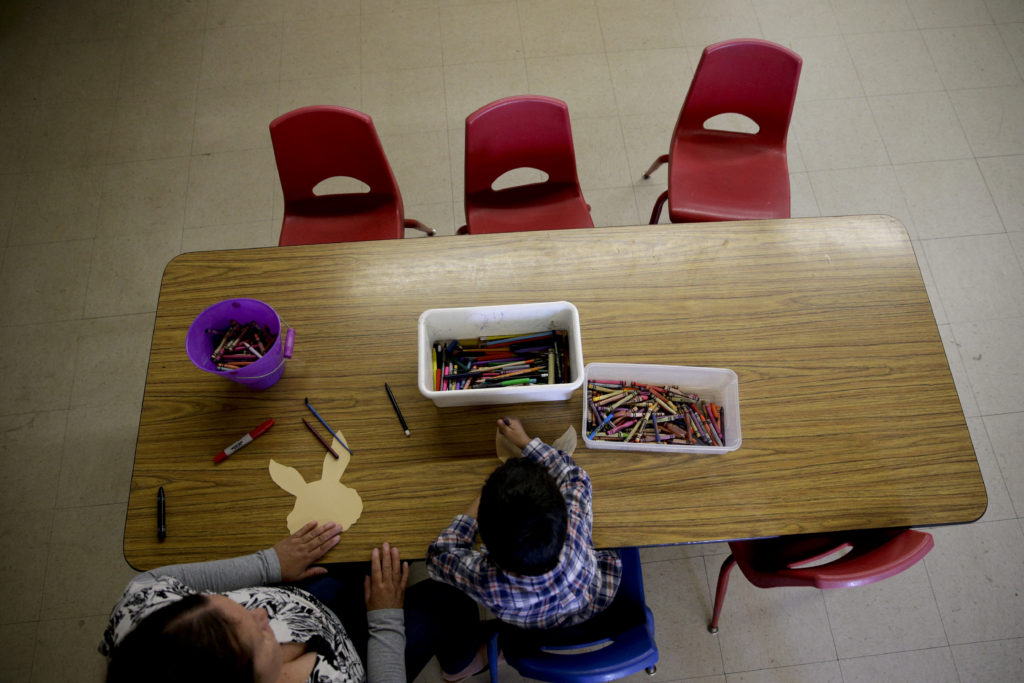 Teachers in West Virginia, Arizona and Oklahoma are not the only educators struggling to improve conditions in a profession they say is undervalued.
Alameda County's low-income child care workers are joining cash-strapped parents in an attempt to raise wages, improve quality and expand access to care in a region where pay has not kept pace with the dramatic increases in housing costs for many families.
They are taking their fight to the ballot on June 5 with Measure A, an initiative to raise approximately $140 million per year to expand preschool and child care access and improve retention of teachers by boosting pay. In neighboring San Francisco, already considered a leader in early childhood education, voters will also have the option to vote for Proposition C, which would expand the number of child care slots and increase wages.

In many ways, child care workers face a steeper climb than newly emboldened red state K-12 teachers. As tough as things may be for school teachers in right-to-work states, there is some consensus that what they do is a necessary public good.
That's not been so for early childhood educators in spite of research that shows that 90 percent of a child's brain develops in the first five years of life and that quality child care programs can fuel the future success of children and stabilize families, especially those who are low income.
"Some of it has to do with historical baggage about whether mothers should be working outside the home," says Marcy Whitebook, an expert on the childcare labor force at the Institute for Research on Labor and Employment at the University of California, Berkeley.
---
The United States lags far behind other developed nations in both preschool funding and enrollment.
---
Unlike the public schools, which are centralized and government funded, the early childhood education system is decentralized — taking place at a mix of private and public schools, centers and homes — and the funding is fragmented, with parents expected to shoulder the lion's share of the cost.
Nancy Harvey, a former elementary school teacher, who runs a child care business out of her West Oakland home, feels the consequences of this underinvestment.
She serves a mix of middle and working class families in a diverse neighborhood that she says has been gentrifying. "Every other year, I'm looking for new staff because they get burned out or they need higher wages," says Harvey. Meanwhile, she says, some of her families have had to leave the state because "between having to pay child care and rent, they simply couldn't make it."
Alameda County's Measure A, a half-cent sales tax, would expand access to child care and preschool for low and middle income families, provide supports for homeless and at-risk children, and raise the wages of child care workers to at least $15 per hour. The scholarships could impact more than 20,000 children as the program ramps up, according to Angie Garling, who heads Alameda County's Early Childhood Education Office.
In neighboring San Francisco, advocates gathered enough signatures to place Proposition C, a 3.5 percent surtax on commercial rents over $1 million a year on the ballot. The estimated $146 million raised annually would clear a waitlist of families who are in line to receive early child care and education services.
Prop. C would also make quality early child care more affordable for families earning as much as $207,500, and increase wages for child care workers beyond the $15 per hour to be required by the city's minimum wage law as of July 1. A little over $20 million of the revenue would be set aside for the general fund.
The two local ballot initiatives – in Alameda County and San Francisco – represent a "down-payment" on the kind of investment that only the state and federal government can provide, says Whitebook. And the measures are part of a wave of activism at the local level, according to Margaret Brodkin of Funding the Next Generation, who says other cities and counties plan to include child care measures on their ballots in future elections.
The state has been gradually increasing funding for child care since the end of the Great Recession, after cutting funding for 110,000 child care slots, according to Chris Hoene, executive director of the California Budget and Policy Center. But California is still 67,000 slots short of where it was, he adds. Even a substantial boost in federal child care dollars, recently approved by Congress, will not be enough to address the funding deficit, say advocates.
Those revenue sources help those who meet income eligibility thresholds. The U.S. generally lags behind other industrialized countries when it comes to providing universal preschool. The overall enrollment in preschool of 3-to 5-year-olds in the United States is 67 percent, the lowest of all but two of the 34 countries that are part of the Organization for Economic Cooperation and Development, according to an OECD study published last year.
And both measures will also help child care workers, many of whom rely on public assistance, according to a recent UC Berkeley study co-authored by Whitebook. Those who obtain bachelor's degrees, as required by Head Start and some public pre-K programs, do not usually earn much more for their troubles, according to the study.
---
In Alameda County, center-based child care exceeds tuition at UC Berkeley and is often a family's second largest cost after housing.
---
A child care worker in Alameda County earns $29,000 a year on average, about 79 percent of what it would take for a single person in the county to afford the bare necessities, according to the California Budget and Policy Project. Meanwhile, the cost of center-based care exceeds tuition at UC Berkeley and is often a family's second largest cost after housing.
These statistics are more than just academic to Morgan Pringle, a child care center substitute teacher who is also pursuing a degree in human development at California State University, East Bay.
While she was growing up, she says her mother, also a child care worker, supplemented her main job with fast food and house cleaning gigs. When the car's transmission gave out, "we just had to go without a car for a couple of years," says Pringle, who also recalls stints living with her grandmother and aunts. "The pay of an early childhood educator has never matched the cost of living here in Alameda County," she adds.
Like Harvey, she's joined Raising Alameda, a coalition that has brought family day care providers, parents and child care center employees together in support of Measure A. The Service Employees International Union Local 521, which represents child care providers, is a member of the coalition.
Even advocates acknowledge that an increase in sales tax, which is generally considered a regressive tax, is not ideal. Measure A will raise the sales tax in some Alameda County cities to close to 10 percent.
But local governments do not have many progressive funding options since the passage of Proposition 13, the 1978 ballot initiative that limited tax increases on real estate, according to Hoene.
Voters who want to expand child care services in San Francisco will be able to vote to levy a surtax on commercial rents. However, they must choose between Proposition C and a rival measure, Proposition D, which would fund housing and supportive services for seniors, the mentally ill and homeless youth. Proposition D, which also would tax commercial rents, is endorsed by the city's acting mayor and five supervisors, including mayoral candidate London Breed.
Proposition C, an initiative backed by Supervisor Norman Yee and Breed's rival in the mayor's race Supervisor Jane Kim, only requires a majority vote, while Proposition D — which was placed on the ballot by a vote of County supervisors — requires a two-thirds vote. However, if they both win, only the one with the most votes will be enacted.
At least one voter has already voiced frustration that the city's political leaders have pitted the need for affordable housing against the need for child care.
"In my day, we would go into a room with these two competing great ideas and take as much time as we needed, and not come out until we'd resolved them," former Mayor Art Agnos said at a Board of Supervisors committee meeting earlier this year, according to a report in Mission Local.
Back in Alameda County, Trisha Thomas, who runs a family day care in North Oakland while also selling life insurance and working as a church musician, says she is happy to be raising the visibility of her profession through a ballot campaign that has involved testifying at public meetings and phone banking.
"For many years, people just saw us as babysitters," says Thomas, who has a bachelor's degree and plans to pursue a master's degree. "My kids can do math. My kids can read. My kids are well above the average child starting school."
"To be viewed as a teacher, it's important to me," she says.