Unhappy Days Are Here Again
On the alternate Earth where some pundits live, the worst thing to ever befall Americans during the Great Depression was the New Deal. To them, federal recovery programs were wasteful extravagances that straight-jacketed men of wealth from creating jobs while inventing a nation of loafers. Some revisionist historians have even suggested that the Depression wasn't as bad as people say it was – at least not Grapes of Wrath bad. These Depression deniers and the fairy tales they spread on talk radio and in blogs help explain why today's political wilderness rings with the sound of falling axes as Congress merrily chops down the social programs that protect the poor, unemployed and injured.
Men and women grow old and die, but there are documents, both large and small, that loudly declare these new interpretations of the Depression to be the myths they are. One of the small but forceful records is White Collar, a wordless graphic novel first self-published in 1939 by its artist auteur, Giacomo Patri — an Italian immigrant who graduated from art school in San Francisco during the 1920s and became involved in the Bay Area labor movement a decade later.
I first came across Patri's book in the mid 1970s. Celestial Arts press had recently put out the first modern reprint of its 1940 edition, which included a brief introduction by painter Rockwell Kent and a rather perfunctory afterword from United Mine Workers leader John L. Lewis.
In between these two commentaries are 128 harrowing illustrations carved into linoleum blocks. Each vividly tells a chapter in the life of a nameless illustrator who, somewhat like Patri himself, loses his path to success after the Wall Street crash, only to discovery his identity in what the book's dedication calls "The great progressive labor movement." In Patri's narrative the villain is as much the prejudice of white-collar professionals against blue collar workers, as it is economic injustice.
The book is full of dramatic vignettes: The Illustrator's family newly evicted from their house, the man and his wife visiting a back alley abortionist, etc. The power of these iconic tableaux is that of the indelible image of the silent movie or the public mural. But White Collar also draws strength from little details and in the subtle changes of facial expressions: The condescending smirk on the Illustrator's face as he passes a man and woman picketing a factory, the gargoylesque masks of the family's creditors and, finally, the grim determination on the faces of thousands of newly united white- and blue-collar workers, whose ranks stretch back to a troubled horizon.
Today it's easy to dismiss White Collar with an airy wave of the hand, consigning it to the pulp bin of propaganda. But this is to willfully overlook its charms, for like the very best agitprop the book inspires timeless curiosity about its era. By turns Expressionistic and a work of WPA-style art, it still provokes. I would favorably hold it up to Lynn Ward's classic woodcut novel, God's Man – in fact,  both artists appeared in the anthology, Graphic Witness: Four Wordless Graphic Novels (2007, Firefly Books). This collection is one relatively easy way to find White Collar – another is the Internet, where Patri's work can found in several places, or the occasional art exhibit.
It's at our own peril that we grow sentimental about the Great Depression, or don't imagine that it can happen again – or is happening again. Patri's linocuts teach us that hard times are never far away — and are nothing to get nostalgic about.

A Woman's Art Is Never Done: The Feminae Exhibition
A striking juxtaposition between the past and present courses throughout the small gallery. Celia Blomberg's "International Women's Day March 8" can't help but make one think of 2017's Women's March, which occurred 37 years after the print's first appearance.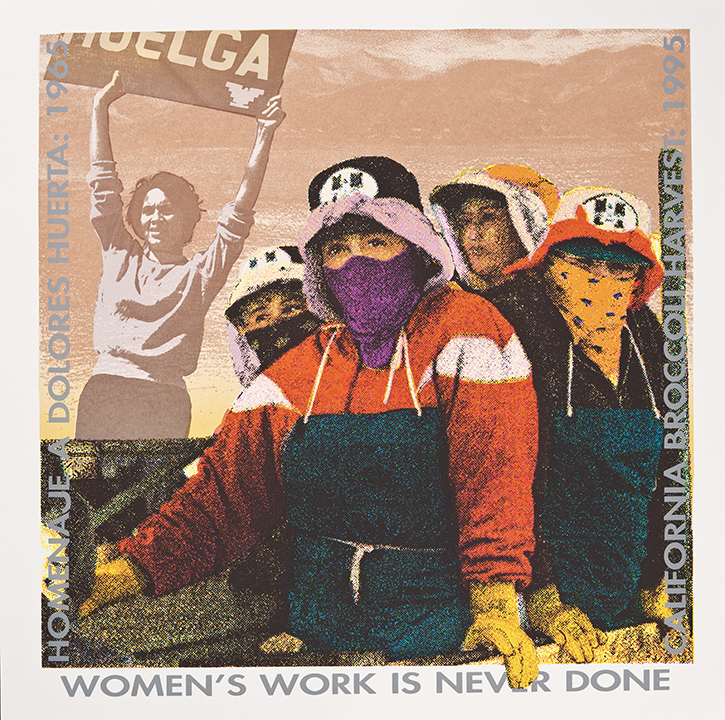 Among the 50-plus works in the Feminae: Typographic Voices of Women By Women exhibit is Yolanda Lopez's "Women's Work is Never Done." Lopez's title is particularly ironic, given the exhibit's gender-based subject matter. The show spans work from the past 50 years, making it easy to understand how much society is still grappling with its themes of gender inequality. Culled from the archives of the Center for the Study of Political Graphics, the graphic images of protest, persuasion and empowerment are truly works of art in their own right.
However, political posters aren't made to merely spruce up walls, but to help figuratively bring barriers down as well.
Two silkscreens from the 1970s, Liliana Porter and John Schneider's "This Woman is Vietnamese" and See Red Woman's Workshop's "So Long As Women Are Not Free People Are Not Free," are particularly powerful, underscoring, as they do, the fact that the subjugation and persecution of women crosses borders and cultures as an unfortunate shared global experience. These two pieces' stark simplicity exemplifies most of the work in the exhibit. In the former, a New York Times photo of a distraught Vietnamese woman with a gun held to her head is centered above these basic words typed out in a typewriter font: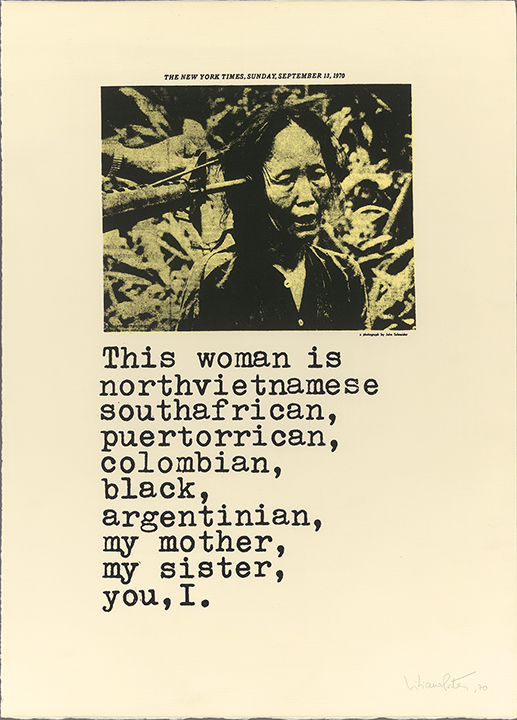 This woman is
northvietnamese
southafrican
puertorrican,
colombian,
black,
argentinian,
my mother,
my sister,
you, I.
By juxtaposing the photo with these words, the creators take the plight of this woman and immediately globalize her pain. In the latter, three female demonstrators are silkscreened in red onto a yellow background. They are marginalized by being stuck in the lower left third of the poster, but two of them are raising their fists skyward and their mouths are open, screaming in defiance. Its non-serif, eponymous type reads: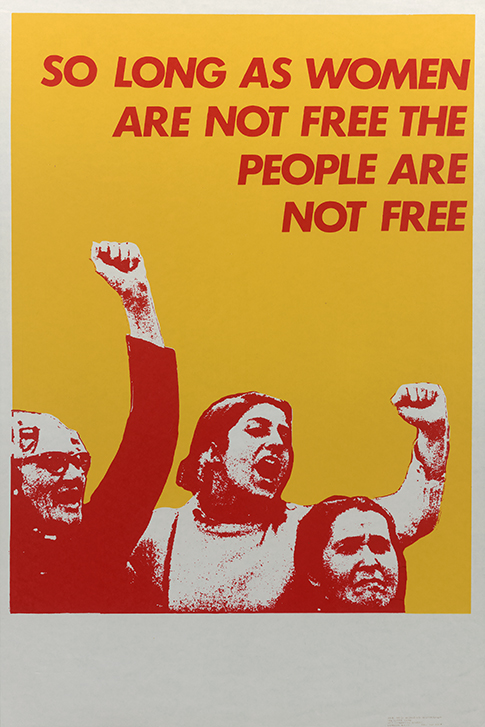 SO LONG AS WOMEN
ARE NOT FREE THE
PEOPLE ARE
NOT FREE
This piece's message takes the global message even farther, making the plight of women a human one — a common theme in the exhibition.
There is also a striking juxtaposition between the past and present that seethes throughout the small gallery. Celia Blomberg's "International Women's Day March 8" can't help but make one think of 2017's Women's March that would take place 37 years later. See Red Woman's Workshop's 1977 "Black Women Will Not Be Intimidated" could easily be repurposed to address the recent spate of blue-on-black brutality. Notable works by Barbara Kruger, Sister Corita Kent and the Guerilla Girls are also included.
Ironically , while it can be surmised that most of these works were made as populist posters to be distributed at the time as banners of protest, their beautiful simplicity and nostalgic elegance probably have resulted in the originals (mostly now found in art museums) sporting hefty vintage-resale prices.
But it is not just the art that has stood the test of time. The fact that the issues addressed in the show — feminism, choice, gender equality, war, immigration, police brutality or violence against women — are all issues at the forefront of debate in 2018 ultimately engenders conflicting feelings.
On one the hand, it is inspiring to see a vibrant exhibit that showcases such diversity in artistic styles, no doubt spawned by the diversity of the artists' own backgrounds. On the other hand, there is a realization that while there has been some progress over the past half century, there is so much work to be done.
Art Center's Hoffmitz Milken Center for Typography, 950 South Raymond Ave., Pasadena; through May 15.
---
Copyright Capital & Main