Unhappy Days Are Here Again
On the alternate Earth where some pundits live, the worst thing to ever befall Americans during the Great Depression was the New Deal. To them, federal recovery programs were wasteful extravagances that straight-jacketed men of wealth from creating jobs while inventing a nation of loafers. Some revisionist historians have even suggested that the Depression wasn't as bad as people say it was – at least not Grapes of Wrath bad. These Depression deniers and the fairy tales they spread on talk radio and in blogs help explain why today's political wilderness rings with the sound of falling axes as Congress merrily chops down the social programs that protect the poor, unemployed and injured.
Men and women grow old and die, but there are documents, both large and small, that loudly declare these new interpretations of the Depression to be the myths they are. One of the small but forceful records is White Collar, a wordless graphic novel first self-published in 1939 by its artist auteur, Giacomo Patri — an Italian immigrant who graduated from art school in San Francisco during the 1920s and became involved in the Bay Area labor movement a decade later.
I first came across Patri's book in the mid 1970s. Celestial Arts press had recently put out the first modern reprint of its 1940 edition, which included a brief introduction by painter Rockwell Kent and a rather perfunctory afterword from United Mine Workers leader John L. Lewis.
In between these two commentaries are 128 harrowing illustrations carved into linoleum blocks. Each vividly tells a chapter in the life of a nameless illustrator who, somewhat like Patri himself, loses his path to success after the Wall Street crash, only to discovery his identity in what the book's dedication calls "The great progressive labor movement." In Patri's narrative the villain is as much the prejudice of white-collar professionals against blue collar workers, as it is economic injustice.
The book is full of dramatic vignettes: The Illustrator's family newly evicted from their house, the man and his wife visiting a back alley abortionist, etc. The power of these iconic tableaux is that of the indelible image of the silent movie or the public mural. But White Collar also draws strength from little details and in the subtle changes of facial expressions: The condescending smirk on the Illustrator's face as he passes a man and woman picketing a factory, the gargoylesque masks of the family's creditors and, finally, the grim determination on the faces of thousands of newly united white- and blue-collar workers, whose ranks stretch back to a troubled horizon.
Today it's easy to dismiss White Collar with an airy wave of the hand, consigning it to the pulp bin of propaganda. But this is to willfully overlook its charms, for like the very best agitprop the book inspires timeless curiosity about its era. By turns Expressionistic and a work of WPA-style art, it still provokes. I would favorably hold it up to Lynn Ward's classic woodcut novel, God's Man – in fact,  both artists appeared in the anthology, Graphic Witness: Four Wordless Graphic Novels (2007, Firefly Books). This collection is one relatively easy way to find White Collar – another is the Internet, where Patri's work can found in several places, or the occasional art exhibit.
It's at our own peril that we grow sentimental about the Great Depression, or don't imagine that it can happen again – or is happening again. Patri's linocuts teach us that hard times are never far away — and are nothing to get nostalgic about.

'Skeleton Crew' Is a Play With a Moral Spine
Set in a Detroit automobile outfitting plant, Dominique Morisseau's drama grabs you from the start with its focus on blue-collar men and women, and their struggle for dignity and self-respect.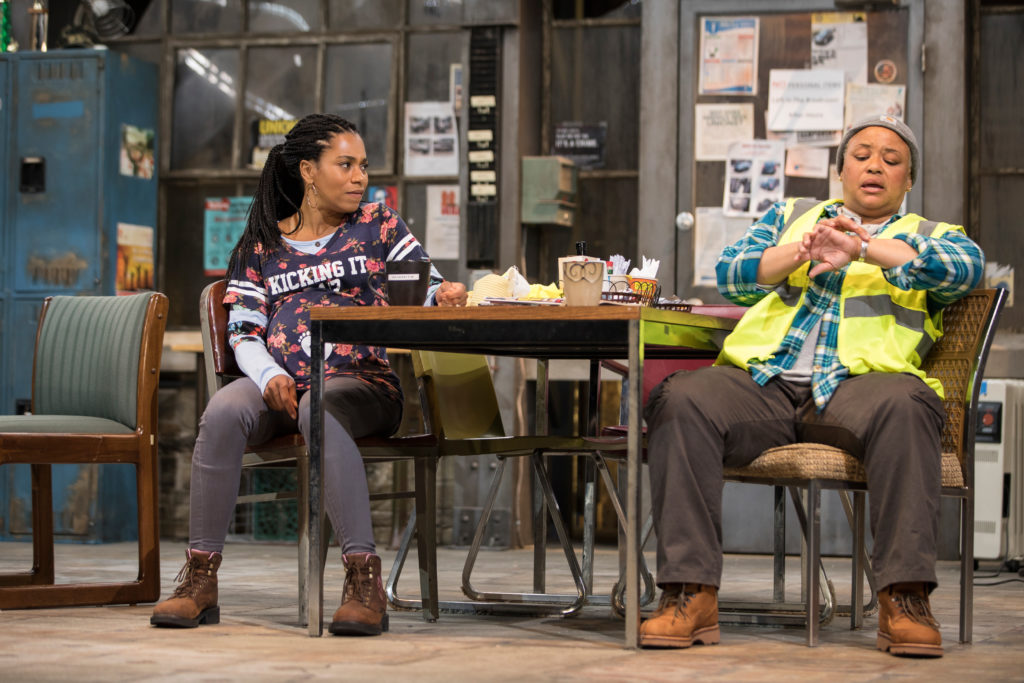 Working-class men and women of color are rarely front and center in today's media and, likewise, are presented all too occasionally on the American stage. So it's buoying to see that trend bucked in playwright Dominique Morisseau's percipient and well-crafted drama, Skeleton Crew. The play is the final installment in her Detroit  Project Trilogy; the first, Paradise Blue, is set in the 1940s amidst displacement caused by urban renewal and gentrification, while the second, Detroit '67, transpires on the eve of the 1967 Detroit riots sparked by a police action.
Directed by Patricia McGregor at Los Angeles' Geffen Playhouse, Skeleton Crew is a play with a moral spine. It takes place in 2008, when the shrinking U.S. auto industry is being further downsized. Morisseau's engaging quartet of characters — Faye (Caroline Stefanie Clay), Dez (Armari Cheatom), Shanita (Kelly McCreary) and Reggie (DB Woodside) – are employed at an automobile outfitting plant. Faye, Dez and Shanita are workers on the line while Reggie (who has a wife and kids, and has pulled himself together after a troubled youth) is their supervisor.
The first three customarily mingle in their break room (designer Rachel Myers' impressively cluttered, dingy and detailed set), trading the sort of familiar barbs and genuine concern for each other common among longtime co-workers. They also face off on philosophy: Upper-middle-aged Faye and the younger, pregnant Shanita take pride in their labor, while Dez, though a good worker, is a malcontent scornful of management and firm in the belief that everyone needs to watch out for himself. He's a thorn in Reggie's side, for while Reggie wants to be supportive of his workers, he must act at the behest of higher management. For his part, Dez resents Reggie's authority, and a palpable unease exists between them.
Besides this male matchup, we're made privy to Dez's attraction to Shanita, who mostly turns away his advances, but every now and then displays a hint of interest. Most poignant is Reggie's regard and affection for the lesbian Faye, which has roots in his boyhood when she loved, and lived, with his now-deceased mom.
These people's various predicaments intensify when rumors spread of the plant's shutdown — a disaster for all, but a particular calamity for the already near-broke Faye who, one year short of retirement, would lose her pension. The crisis forces each of these people to make a choice.
A sound piece of social realism, Skeleton Crew grabs you from the start in its focus on blue-collar men and women, and their struggle against odds for dignity and self-respect. Morisseau not only furnishes these characters a platform for their travails, she endows them with strong values, big hearts and the opportunity to choose between right and wrong.
Unfortunately, the performance I attended did not soar. Many exchanges lacked a fresh edge. The actors certainly had their characters down, but too often they appeared to be coasting on technique. (This seemed particularly true of Clay, who performed the role to great accolades in Washington, DC in 2017, also under McGregor's direction). Additionally, some of the stage movement was not entirely fluid; in confrontations, actors sometimes would just stand and face each other in an artificial way. And Cheatom's interpretation of Dez struck me as a bit overly churlish and depressive: I needed more glimpses of the intelligence and edge that would secretly attract the strong, self-directed Shanita.
The most compelling moments belong to Woodside, well-cast as a man trying his best in difficult circumstances to do the right thing.
---
Gil Cates Theater at the Geffen Playhouse, 10886 Le Conte Ave., Westwood Village; Tues.-Fri., 8 p.m.; Sat., 3 & 8 p.m. Sun., 2 & 7 p.m.; through July 8. (310) 208-5454 or www.geffenplayhouse.org