Tuition Woes Hurting Women Students More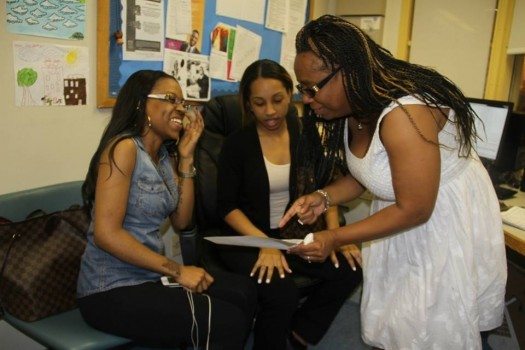 As anyone thinking about enrolling in a college or university knows, tuition is not cheap. The National Association of Student Financial Aid Administrators (NASFAA) notes that since the early 1980s, tuition has risen by approximately seven percent a year, causing two-thirds of students to borrow to complete their degrees. Although grants and outright scholarships exist, part of the problem, NASFAA's website explains, is that "in 1975 the states picked up 60 percent of the tab while families shouldered 33 percent" and the federal government picked up the balance. Thirty-eight years later, the states pay approximately 34 percent and the feds pay 16 percent, leaving students and their families to shell out – often through loans – the remaining half.
And it's getting worse. According to the Center on Budget and Policy Priorities, since the start of the recession in 2008, "cuts to higher education have been severe and almost universal." As a result, every state except North Dakota and Wyoming spends less on student aid than it did five years ago.
Worse, as staggering as these numbers are, when gender enters the mix, the impact is heightened. There are two reasons for this: First, there are more women than men on campus – 56.4 percent vs. 43.6 percent nationwide. Secondly, females earn less than men in virtually every occupation, from business to medicine to the arts, but pay the same amount to go to school, making any outstanding loans a larger repayment burden.
This finding was underscored by a study conducted by the American Association of University Women and released in October 2012 that found that women earn 82 percent of what men earn; one year after finishing college, women's salaries averaged $35,296, compared with $42,918 for men. This is far from chump change: Over a lifetime, the AAUW estimates that the disparity amounts to half a million dollars less for female workers, a reality that makes a direct, heavy impact on the possibility of repaying loans.
The study further documents the impact of loan repayment on women's everyday lives: 47 percent of women told the AAUW that they pay more than 8 percent of their net earnings toward their loans, while only 39 percent of men pay this percentage. What's more, 20 percent of women expend more than 15 percent of their take-home salaries on educational debt.
The long-term repercussions of this are stark: The pay gap, compounded by large monthly loan payments, means that most women save far less than men. This directly correlates to higher poverty rates for women as they age. To wit, by the time women hit their mid- to late 60s, 11 percent are living in poverty, compared with 6 percent of men. The loan imbalance also decreases women's likelihood of retirement.
Another study, this one called The Strategic National Arts Alumni Project Survey, looks at whether arts graduates are able to pursue their chosen fields after college. In its most recent iteration, researchers scrutinized the 2011 and 2012 earnings of 65,837 alumni from 120 US and Canadian colleges and universities. They defined arts broadly to include architecture, choreography, creative writing, filmmaking, fine arts, graphic design, illustration, interior design, photography, theater and videography. They found that while 56 percent of males were earning an annual salary of $50,000 or more, only 36 percent of comparably educated females had reached this earnings threshold. The upshot, SNAAP concluded, was that "loan debt determines if graduates can even work as artists."
It's a situation that Jennifer Stohlmann, a 2011 graduate of Pratt Institute in Brooklyn, New York, knows well. Thanks to large merit grants and three years as a resident adviser and part-time office worker, Stohlmann's $180,000 education involved minimal borrowing – $26,000 for a bachelor's degree in creative writing. Nonetheless, she did not pursue a career as a writer after she graduated – and won't do so until her debts are paid off in 2021. "I realized that I needed a steady salary in order to pay my loans without damaging my credit," she said. "The cost of living in New York City is high, but I live a good lifestyle and am financially independent." Still, Stohlmann, 24 and single, acknowledges that she has had to make concessions. "I live with a roommate instead of having my own apartment. I rely solely on public transportation. Car ownership is a pipe dream."
Mathematics major Stephanie Lee (a pseudonym), age 26, borrowed $63,000 to attend the University of Michigan as an out-of-state resident and has not been as fortunate as Stohlmann. She presently works three jobs and lives at home so that she can make a dent on her debt. "After graduating in 2010, I considered a lot of options," she told Truthout. "While in school, I heavily considered working for the government or working in math research, but I decided I would like to use my math skills in a business setting such as project management or consumer insights." It hasn't happened. "Having little practical experience in these fields makes it difficult to even get interviews for entry-level positions," she said. Instead, Lee works at a long-term temp job that pays $18 an hour. She also has a weekend job in retail, where she earns $10 an hour, and runs a once-monthly workshop for teens at the local library for $150 a shot. "My car gave out last December, and I haven't been able to save up to buy another," she said. "I also haven't been able to move from my mother's suburban Illinois home, travel, go on vacation, or indulge in personal wants." On the upside, however, Lee will have paid off one loan by the end of 2013, another by the end of 2016 and a third by the end of 2018.
Paying off debt – however distant the date – is something that Stohlmann and Lee can envision. This is not the case for 27-year-old Midwesterner Lisa Romero [a pseudonym]. Romero attended an Ivy League college for undergraduate and graduate study then went to the United Kingdom for medical school. The total owed: $350,000. "Over the next 20 or more years, I'll be paying nearly $750,000 thanks to interest on both my subsidized and unsubsidized loans," she said. "Right now I'm doing a research fellowship. But when I'm ready to choose a residency, I'm going to have to go to wherever the cost of living is lowest. This means I'll likely be far from my family and won't be able to visit for a weekend since every train fare or flight is money I could be using to repay my loans. I want to go into obstetrics/gynecology. Many of the American medical students I know are going into dermatology, plastic surgery or radiology, rather than primary care, because these fields pay more and it will be easier for them to pay back their loans. This is not what we should be encouraging."
Chanel Dubofsky, a 34-year-old graduate student at the Vermont College of Fine Arts, agrees that minimizing living costs is essential. Like Stephanie Lee, Dubofsky has several jobs. But because her rent is just $450 a month, she has so far managed to keep the creditors at bay. Nevertheless, by the time she finishes her master's degree in 2015, she will owe $56,000, $20,000 of it from her years as an undergraduate at the University of Massachusetts. "It wasn't an option for me not to borrow as an undergraduate, because without loans, I wouldn't have been able to attend college," she said. "My mom and grandmother, who raised me, organized my loan stuff and signed off on it, but we never talked about what it would mean to have to pay it off."
Dubofsky's financial education took a dramatic turn when she was 19 and her mother died. Seemingly overnight, she had to manage her own money, find part-time work and finish school – the only way she knew to achieve some modicum of social and intellectual mobility.
Likewise, Stacey Browne (a pseudonym). Now in her late 30s, Browne is married, has a 12-year-old son, and lives in Buffalo, New York. "I went to the Eugene Lang College in New York City in the 1990s," she says. "Tuition was $16,000, plus costs for room and board. I went there because I grew up in a small New England town – only 6,000 residents – that was economically depressed with mostly factory jobs that were steadily being off-shored to China. It was important to me to get out of that town and get to New York. I liked Lang because it was a small college smack-dab in the middle of a huge city. It offered a feeling of community, but the city itself served as the campus." Browne later earned a master's in library science and now works as a business consultant.
Her educational debt? Approximately $53,000 for her bachelor's and master's. Unfortunately, that's just the tip of a large loan iceberg: She and her spouse owe an additional $100,000 for his bachelor's, MBA and pharmacology degrees. "We moved to Buffalo because we were state residents and the State University of New York was damned cheap compared to the other possibilities," Browne said. "We were able to buy a house and pay a mortgage of $410 a month. We also pay $1,000 a month in student loans, but the cost of living in Buffalo makes it possible for us to be OK."
Was it worth it? "I have regrets," she said.
Others voice similar sentiments. "I've spoken to a lot of people who've gone to law school or medical school, and most say they would not do it again," Dr. Lisa Romero said. "Even if they now have good jobs, they think it was a mistake to get so deeply in debt."
(Eleanor J. Bader is a freelance writer, teacher and feminist activist from Brooklyn, New York. Her post first appeared on Truthout and is republished with permission.)

California's Schools Chief: Why a Low-Profile Job Matters — And Is Awash in Election Money
Whoever is elected Superintendent of Public Instruction in November will have a historic opportunity to correct the course of a system in which the public good has increasingly been compromised by the competing demands of private interest.

---
What makes the superintendent far more than a glorified administrator is the authority that comes with a popularly elected mandate.
---
The most persuasive evidence that the California Dream is rooted in Enlightenment notions of free public education, democratic governance and equity can be found in the state's founding document. Not only does the 1849 Constitution sketch out the contours of public schools, accountability, a funding mechanism and a Department of Education, but the framers stipulate that it be led by an elected State Superintendent of Public Instruction (SPI).
Fast-forward 169 years to the election of a new superintendent and the latest test of California's commitment to its foundational cornerstone. The stakes are high. Though California spends 40 percent (or $56 billion) of its $138 billion budget on its six-million student public school system, the past four decades have seen the state slip from among the top-five states for school funding to consistently ranking in the bottom five. Whoever is elected on November 6 will have a historic opportunity to correct the course of a system in which the public good has increasingly been compromised by the competing demands of private interest.
What, exactly, does the superintendent do? The political shorthand typically describes the $175,000-a-year position as Sacramento's elected equivalent to Betsy DeVos, the Trump-appointed U.S. Secretary of Education.
---
The superintendent can use the post's bully pulpit to act as a super-lobbyist
on behalf of students.
---
On paper, the SPI interprets regulations, sets curriculum and teaching standards, collects school accountability data and manages the day-to-day business of the sprawling California Department of Education. The superintendent is thus an implementer but not a maker of policy — which is the bailiwick of the governor and his appointed president of the State Board of Education.
But those roles represent a great deal of power, and not just for their direct impact on California students and their families. Jack O'Connell, whose two-term tenure as schools superintendent immediately preceded Tom Torlakson's election as superintendent in 2010, says the sheer size of the California Department of Education means that decisions by its superintendent reverberate far beyond state borders.
"There's an organization that all 50 state superintendents belong to," notes O'Connell, "and there's a line on their agenda — 'Hey California, what's happening?' Because [we're doing] what's going to come next [elsewhere]. So when we start requiring algebra in eighth grade, textbook companies are going to start putting algebra in eighth grade, and those are the same textbooks that other states are going to use."
What ultimately makes the SPI far more than a glorified administrator or compliance officer is the authority that comes from having a mandate. Unlike the 37 states that follow the federal model by appointing the chief executive of their education agencies, California is among a select group that gives voters the final say. Winning a statewide election translates into power, says Julian Vasquez Heilig, a professor of educational leadership and policy studies, and the director of the Doctorate in Educational Leadership at California State University, Sacramento.
"You look at other states, like Texas, [where] the Commissioner of Education is appointed. This position is different," Heilig explains. "The Superintendent of Public Instruction is not beholden to the governor but is setting an agenda for education. So it's a really important office. Teacher associations have [the superintendent race] as one of their top priorities, because they understand the sort of independence that this elected official has."
That institutional independence, plus the opportunities afforded by the SPI's automatic seat on the State Board of Education, has evolved into an almost mystical power of personal persuasion. Superintendents often refer to it as "the bully pulpit," though during the 1960s, that term was realized in its worst sense — when populist Republican segregationist Max L. Rafferty used his pulpit for declaring war on the counterculture, and became a national figure in the process.
In its best sense, however, the SPI can use those powers of persuasion and independence to act as a kind of super-lobbyist and coalition-builder from inside or outside the state schools bureaucracy to advocate for students. Democrat Bill Honig, who spent a decade in the job from 1983 to 1993, was renowned for his public battles with Republican Governor George Deukmejian. In 1990, that meant organizing a statewide resistance against Deukmejian's attempted cut of $800 million from the schools. Honig calls it the "convening power," and he credits Torlakson's mastery of it, in tandem with Jerry Brown, for transformative changes like Local Control Funding Formulas, alternative school-accountability measures and bringing Common Core to California.
"This is a very complex educational system in California, with local school districts and boards, and teachers, unions, counties, the Department of Ed and the State Board," Honig says. "I mean, there's a lot of moving parts. When we are the most effective is when we're moving in a common direction under a common philosophy, and that's what's happened in the last eight years under Brown and [board president] Michael Kirst and Tom Torlakson."
Democrat Delaine Eastin concurs. State schools superintendent from 1995 to 2003, Eastin had to operate under both the governorships of Republican Pete Wilson and Democrat Gray Davis. It was under Wilson that she similarly found herself politically isolated and facing a hostile governor, who she also had to sue for illegally withholding money from schools. She adds, however, that effective independence can also depend on the determination of the individual occupying the office.
"Having a voice at the table that's steadfast and articulate is really important," Eastin says. "The superintendent can be ineffective if the superintendent sits on his hands, or her hands. But it is important that the superintendent be nimble and to not paint with too broad a brush. … Sometimes you have to go toe to toe."
The superintendent race has already attracted the inflationary levels of campaign spending by education PACs and independent expenditure committees that critics say is rattling the integrity of California elections. But the June gubernatorial primary reached a new spending height with a political belly flop that was solely the work of a PAC controlled by the California Charter Schools Association (CCSA). In a failed attempt to boost the election hopes of pro-charter candidate Antonio Villaraigosa, the charter lobbying group dropped $22 million into the former Los Angeles mayor's flagging campaign against Lieutenant Governor Gavin Newsom.
Now, five weeks out from the general election, the only option open for charter school forces is to repeat that performance by pulling out the money stops in the superintendent's race, where Marshall Tuck, a former Los Angeles charter school operator in his second run for superintendent, is facing teachers-backed Tony Thurmond, a progressive Assemblymember and former social worker from Richmond. The two Democrats finished the primary with Tuck barely edging out Thurmond, 37 to 35.6 percent. Although officially nonpartisan, the PAC spending makes the race the latest proxy for the broader battle between progressives and neoliberals for the soul of California's fractious Democratic Party.
Because charters are ground zero for that fight in California education, it's little surprise that Tuck and Thurmond's sharpest differences revolve around fixes to the state's deeply divisive charter school law. Public schools have long complained that the law's authorization and funding mechanisms doom struggling schools and push fiscally stressed districts into insolvency. Thurmond has said he'd consider supporting a "pause" to new charters; Tuck has flatly rejected any brake to charter expansion but would give extra funding to districts hemorrhaging enrollment to keep them afloat during downsizing.
The issue has made Superintendent the only non-ballot initiative race to make the California Fair Political Practices Commission website's "Top Ten" list of heaviest PAC spending for the general election. Recent filings with California Secretary of State show the Tuck campaign far out front in the super-PAC money race, with Tuck at $14.3 million, mostly from EdVoice for the Kids PAC, a charter PAC associated with Reed Hastings, the billionaire Netflix CEO and a major charter school funder. The Thurmond campaign stands at roughly $5 million, mostly from unions. (Disclosure: Some of Thurmond's campaign contributors are financial supporters of this website.)
At the end of the day, the effectiveness of any superintendent hinges on an ability to strike an amicable working partnership with the State Board of Education and the governor — to move an agenda in "a common direction" under a common philosophy. And if bad blood left by the charter lobby's bare-knuckle primary campaign against Gavin Newsom should mean that a Superintendent Tuck wouldn't be off to a running start with a Governor Newsom, there's still plenty of common ground between the two camps on school funding, early education, California's teacher crisis and closing the achievement gap.
But whoever wins, there remains a unique opportunity for a superintendent and governor on the same philosophical page to change the paradigm for reform and bring peace to a destructive quarter-century of charter-versus-public school warfare that has come mostly at the expense of students.
---
Copyright Capital & Main