Total Recoil: Why I'm Boycotting Schwarzenegger's Book
I never had any intention of purchasing Arnold Schwarzenegger's pathetic new biography, so it would be disingenuous to say that I am "boycotting" the book.
The truth is, few people of conscience — who certainly abhor Schwarzenegger as both a person and a politician — are likely to buy the book. But to register my protest against his behavior toward his wife, his children, women in general and the people of California, I've donated the price of the book — $35.00 – to the Feminist Majority Foundation. and to the National Domestic Workers Alliance. Where these websites ask "donation in honor of," I wrote, "Opposition to Arnold Schwarzenegger." I encourage others to join me in this protest.
Schwarzenegger has a long history of abuse toward women. The most recent outrage is his reluctant acknowledgement of having fathered a child with his family's housekeeper, with whom he had a covert affair, and then denying it to his wife, Maria Shriver, until the child's resemblance became too obvious to ignore. What's most outrageous is Schwarzenegger's claim that he didn't disclose this earlier in order to protect his family's "privacy," but now he's written a book that apparently includes lots of the details about this and other affairs. After years of lying about his pathological personal life, all of a sudden he seems to have total recall. He's put his own ego and career ahead of the privacy of his children. How pathetic!
Even worse, Schwarzenegger is all over the airwaves promoting his new book and upcoming movies and trying to jump-start his second career as an aging action hero. I understand why 60 Minutes and other entertainment shows invited him on for a celebrity interview. But did Jon Stewart really have to invite Schwarzenegger to the Daily Show and give him another platform to promote his book and lie about his accomplishments as California governor? Stewart admitted that he was uncomfortable interviewing Schwarzenegger about the sordid details of his personal life.
Stewart could have avoided the whole awkward situation by inviting instead Ai-Jen Poo, the feisty head of the National Domestic Workers Alliance, an advocacy group for housekeepers, nannies, and others who have been organizing to pass legislation to give these vulnerable workers the legal protections they deserve. Poo is everything that Schwarzenegger is not — a selfless fighter for social and economic justice. (She will be speaking at Occidental College on Tuesday, October 23. Her talk is open to the public).
Los Angeles Times columnist Steve Lopez did a brilliant job dissecting Schwarzenegger's despicable hypocrisy. He titled his column, "Arnold Schwarzenegger's tell-all book takes bad taste to a new level." Lopez noted that "Schwarzenegger went from sexual harassment allegations as he entered office to a sex scandal on his way out of office. There's a neat symmetry to it all, especially when you consider that while he was governor, all of California got screwed."
As California governor, Schwarzenegger was a lackey of the state's business community. He refused to raise taxes on business or the very rich (i.e. people like him), slashed funds for public schools, health care, and human services, and viciously attacked nurses and their union as well as public school teachers and other public servants.
Schwarzenegger was an awful governor and is an awful human being. He is a multi-millionaire and doesn't need the money that his book and movies will bring him. He just wants to stay in the limelight, and doesn't seem to care whom he hurts or abuses in the process. Indeed, I hesitated to even write about this moronic misogynist megalomaniac because he obviously craves attention, and even negative publicity is publicity.
I believe in free speech, so I favor protecting Schwarzenegger's right to write (or have someone else ghost-write) his book, make bad movies, and try to rehab his repulsive reputation. But people of conscience don't have to buy his books or buy tickets to his movies, and can urge others to do likewise. He is an embarrassment to all Californians.

'Skeleton Crew' Is a Play With a Moral Spine
Set in a Detroit automobile outfitting plant, Dominique Morisseau's drama grabs you from the start with its focus on blue-collar men and women, and their struggle for dignity and self-respect.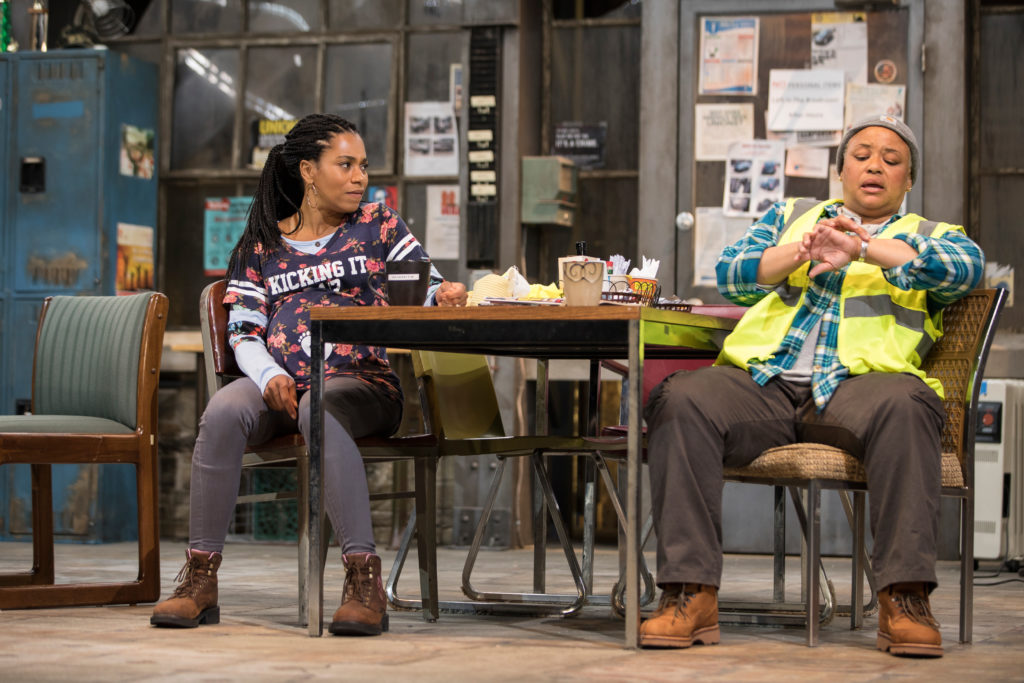 Working-class men and women of color are rarely front and center in today's media and, likewise, are presented all too occasionally on the American stage. So it's buoying to see that trend bucked in playwright Dominique Morisseau's percipient and well-crafted drama, Skeleton Crew. The play is the final installment in her Detroit  Project Trilogy; the first, Paradise Blue, is set in the 1940s amidst displacement caused by urban renewal and gentrification, while the second, Detroit '67, transpires on the eve of the 1967 Detroit riots sparked by a police action.
Directed by Patricia McGregor at Los Angeles' Geffen Playhouse, Skeleton Crew is a play with a moral spine. It takes place in 2008, when the shrinking U.S. auto industry is being further downsized. Morisseau's engaging quartet of characters — Faye (Caroline Stefanie Clay), Dez (Armari Cheatom), Shanita (Kelly McCreary) and Reggie (DB Woodside) – are employed at an automobile outfitting plant. Faye, Dez and Shanita are workers on the line while Reggie (who has a wife and kids, and has pulled himself together after a troubled youth) is their supervisor.
The first three customarily mingle in their break room (designer Rachel Myers' impressively cluttered, dingy and detailed set), trading the sort of familiar barbs and genuine concern for each other common among longtime co-workers. They also face off on philosophy: Upper-middle-aged Faye and the younger, pregnant Shanita take pride in their labor, while Dez, though a good worker, is a malcontent scornful of management and firm in the belief that everyone needs to watch out for himself. He's a thorn in Reggie's side, for while Reggie wants to be supportive of his workers, he must act at the behest of higher management. For his part, Dez resents Reggie's authority, and a palpable unease exists between them.
Besides this male matchup, we're made privy to Dez's attraction to Shanita, who mostly turns away his advances, but every now and then displays a hint of interest. Most poignant is Reggie's regard and affection for the lesbian Faye, which has roots in his boyhood when she loved, and lived, with his now-deceased mom.
These people's various predicaments intensify when rumors spread of the plant's shutdown — a disaster for all, but a particular calamity for the already near-broke Faye who, one year short of retirement, would lose her pension. The crisis forces each of these people to make a choice.
A sound piece of social realism, Skeleton Crew grabs you from the start in its focus on blue-collar men and women, and their struggle against odds for dignity and self-respect. Morisseau not only furnishes these characters a platform for their travails, she endows them with strong values, big hearts and the opportunity to choose between right and wrong.
Unfortunately, the performance I attended did not soar. Many exchanges lacked a fresh edge. The actors certainly had their characters down, but too often they appeared to be coasting on technique. (This seemed particularly true of Clay, who performed the role to great accolades in Washington, DC in 2017, also under McGregor's direction). Additionally, some of the stage movement was not entirely fluid; in confrontations, actors sometimes would just stand and face each other in an artificial way. And Cheatom's interpretation of Dez struck me as a bit overly churlish and depressive: I needed more glimpses of the intelligence and edge that would secretly attract the strong, self-directed Shanita.
The most compelling moments belong to Woodside, well-cast as a man trying his best in difficult circumstances to do the right thing.
---
Gil Cates Theater at the Geffen Playhouse, 10886 Le Conte Ave., Westwood Village; Tues.-Fri., 8 p.m.; Sat., 3 & 8 p.m. Sun., 2 & 7 p.m.; through July 8. (310) 208-5454 or www.geffenplayhouse.org