Tim Rutten: Corporate Media Concentration a Big Threat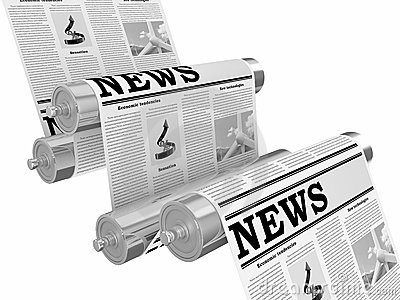 The Pasadena/Foothills Chapter of American Civil Liberties Union of Southern California ACLU-SC honored longtime Los Angeles Times journalist, editor and commentator Tim Rutten at its 12th Annual Garden Party on October 2 at the Western Justice Center in Pasadena. Rutten, who had been let go this past summer after nearly 40 years at the Times, spoke to the more than 100 attendees of the threat to civil liberties by the demise of the press in the country and concentration into fewer and fewer corporate hands. He talked about a wide range of topics concerning knowledge, ignorance, and the consequences of media conglomeration.
"The coming concentration of the media is probably a bigger threat to your civil liberties than anything the government's doing right now," he said.
"Knowledge isn't just power, it's self-protection. Most of the newspapers in this country today are hollow shells of what they were 10 years ago and sadly diminished from what they were five years ago," Rutten continued. "This simple diminution of the flow of information would be bad enough; it is dangerous, it is unhealthy, but something else is going to occur here that on the surface doesn't look really alarming but ought to really concern people."
"And that is because the other major newspapers have essentially abandoned their ambitions to be full service national newspapers. When this recession ends, and it will end, you are going to see two true full service national newspapers left standing, and they're going to be divided ideologically, Rutten said, referring to The New York Times and The Wall Street Journal.
"What they are already doing and will increase their efforts on is that their national editions that are sent to subscribers will have three or four pages of local news for whatever city you're in. It's news generated by these new nonprofit news collectives," Rutten said.
Tim Rutten with ACLU Pasadena/Foothills Chapter Chair Michelle White.
"And what that will do is basically gut the rationale for subscribing to the local paper. It's a terrible risk, and it's mostly happening for reasons of greed. To have only two papers that have the ambition and are willing to do the heavy lifting that provide the stories and the narratives that the rest of the media follows, for a country of 300 million people the reality is that a tremendous amount of information is going to fall through the cracks," he said.
Going forward, a  great silence will descend, and in that silence it's likely that awful things will happen, according to Rutten.
"And we won't know until it's time to count the bodies or until we hear the cries from a prison full of people who have been sent there without due process, wrongly convicted, or until we start tallying up all the wrongful executions. Ignorance is the great enemy of freedom."
Rutten also spoke about the increasing erosion of public discourse, where people perceive their opinions as facts, especially when it comes to religion and the US constitution.
"The issue of tolerance versus intolerance comes up all the time, but it's coming up particularly now in a way that I think would concern an organization like the ACLU because of the claims that the Tea Party and a lot of people on the religious right make about the constitution," he said.
"The most outrageous things are asserted. When it comes to commentary we have for some time lived in a culture of assertion, where there's no need for evidence, there's no need for facts, so you just assert things," he continued. "People assert that the founding fathers were all religious or that they meant for this to be a Christian nation, but of course we know they weren't and they didn't."
"There are lots of people on the Tea Party wing of the Republican Party who believe in a history of the 1st Amendment that asserts it was intended to apply only to Christians, that Christians should have free exercise of religion but no one else," Rutten concluded. "Creationism is not an intellectually respectable position. I know lots of people hold it in good faith, but it's not intellectually respectable because it's subject to disproval by evidence. You can hold a view in the face of all evidence if you choose to, but the rest of us don't have to treat you as if you're serious. And to pretend that it's serious is faux tolerance."
Justin Chapman is a board member of the ACLU Pasadena/Foothills chapter. His post first appeared on LA Progressive and is republished here with permission.

A Woman's Art Is Never Done: The Feminae Exhibition
A striking juxtaposition between the past and present courses throughout the small gallery. Celia Blomberg's "International Women's Day March 8" can't help but make one think of 2017's Women's March, which occurred 37 years after the print's first appearance.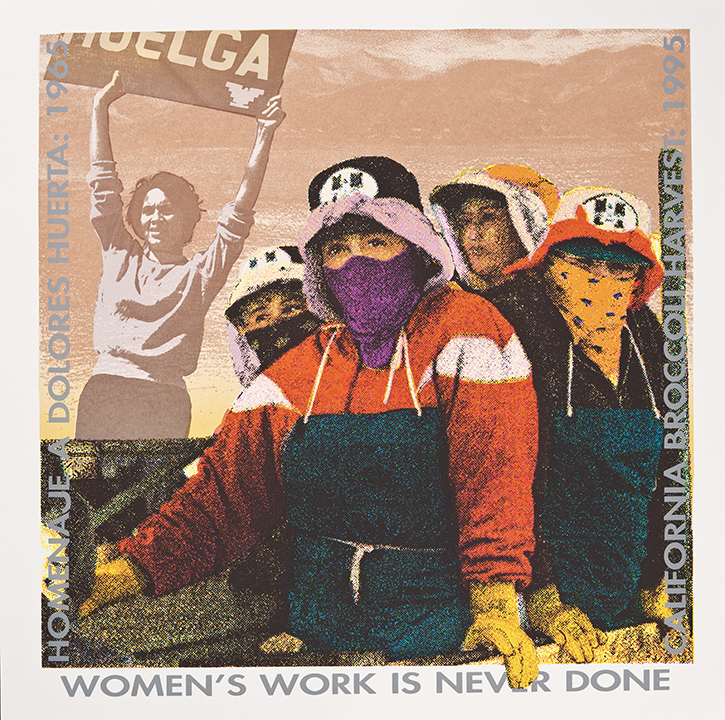 Among the 50-plus works in the Feminae: Typographic Voices of Women By Women exhibit is Yolanda Lopez's "Women's Work is Never Done." Lopez's title is particularly ironic, given the exhibit's gender-based subject matter. The show spans work from the past 50 years, making it easy to understand how much society is still grappling with its themes of gender inequality. Culled from the archives of the Center for the Study of Political Graphics, the graphic images of protest, persuasion and empowerment are truly works of art in their own right.
However, political posters aren't made to merely spruce up walls, but to help figuratively bring barriers down as well.
Two silkscreens from the 1970s, Liliana Porter and John Schneider's "This Woman is Vietnamese" and See Red Woman's Workshop's "So Long As Women Are Not Free People Are Not Free," are particularly powerful, underscoring, as they do, the fact that the subjugation and persecution of women crosses borders and cultures as an unfortunate shared global experience. These two pieces' stark simplicity exemplifies most of the work in the exhibit. In the former, a New York Times photo of a distraught Vietnamese woman with a gun held to her head is centered above these basic words typed out in a typewriter font: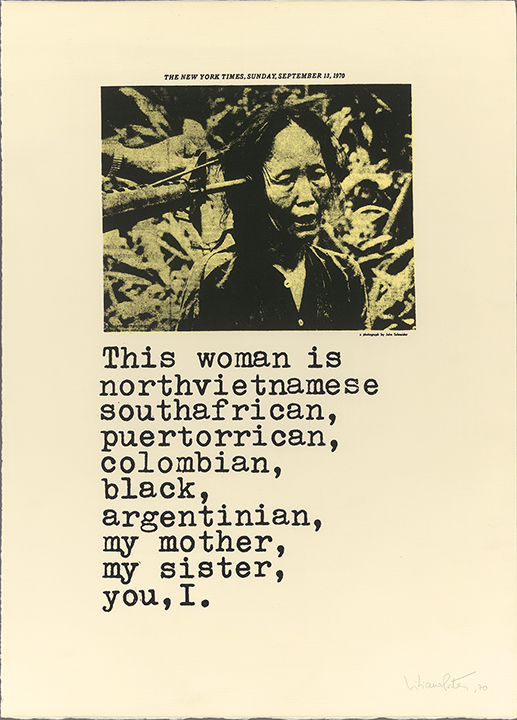 This woman is
northvietnamese
southafrican
puertorrican,
colombian,
black,
argentinian,
my mother,
my sister,
you, I.
By juxtaposing the photo with these words, the creators take the plight of this woman and immediately globalize her pain. In the latter, three female demonstrators are silkscreened in red onto a yellow background. They are marginalized by being stuck in the lower left third of the poster, but two of them are raising their fists skyward and their mouths are open, screaming in defiance. Its non-serif, eponymous type reads: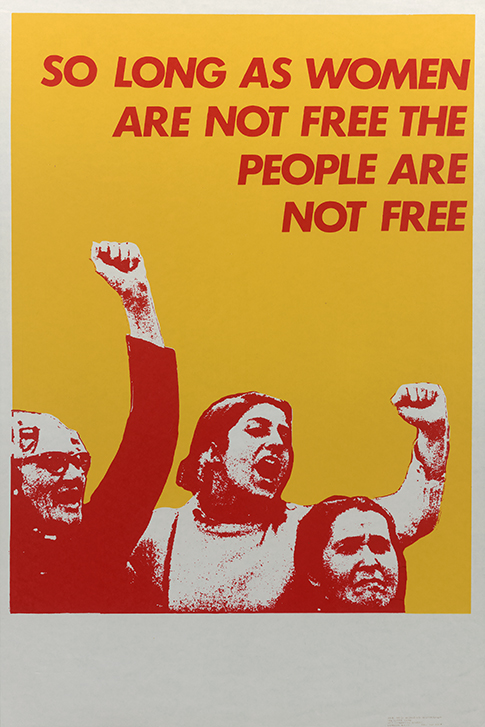 SO LONG AS WOMEN
ARE NOT FREE THE
PEOPLE ARE
NOT FREE
This piece's message takes the global message even farther, making the plight of women a human one — a common theme in the exhibition.
There is also a striking juxtaposition between the past and present that seethes throughout the small gallery. Celia Blomberg's "International Women's Day March 8" can't help but make one think of 2017's Women's March that would take place 37 years later. See Red Woman's Workshop's 1977 "Black Women Will Not Be Intimidated" could easily be repurposed to address the recent spate of blue-on-black brutality. Notable works by Barbara Kruger, Sister Corita Kent and the Guerilla Girls are also included.
Ironically , while it can be surmised that most of these works were made as populist posters to be distributed at the time as banners of protest, their beautiful simplicity and nostalgic elegance probably have resulted in the originals (mostly now found in art museums) sporting hefty vintage-resale prices.
But it is not just the art that has stood the test of time. The fact that the issues addressed in the show — feminism, choice, gender equality, war, immigration, police brutality or violence against women — are all issues at the forefront of debate in 2018 ultimately engenders conflicting feelings.
On one the hand, it is inspiring to see a vibrant exhibit that showcases such diversity in artistic styles, no doubt spawned by the diversity of the artists' own backgrounds. On the other hand, there is a realization that while there has been some progress over the past half century, there is so much work to be done.
Art Center's Hoffmitz Milken Center for Typography, 950 South Raymond Ave., Pasadena; through May 15.
---
Copyright Capital & Main