Young & Restless: 50 Activists Who Are Changing America
In the next decade, America will be transformed by a new wave of progressive activism, led primarily by organizers, thinkers, and politicians born after 1960. It is already bubbling below the surface, in workplaces, neighborhoods, churches, college campuses, think tanks, and foundation offices. Many of these young progressives have already waged successful campaigns to win public office, change public policy, and inject new ideas into our political culture.
There is no simple formula for successful social movements, but they all share a few characteristics. First, they embrace an "inside/outside" strategy, mobilizing people to protest, boycott, lobby, and vote, while simultaneously working closely with allies in government. Second, they don't expect to bring about change overnight. They are long-distance runners, not sprinters. They try to win stepping-stone victories that lay the groundwork for further reforms. Third, while they work on separate issues, they recognize that they are part of a broader movement that requires building coalitions and developing trust. In this mosaic of movements, activists draw strength from each other as they work to change public opinion and policy policy on many fronts.
Every generation of activists confronts new challenges and seeks to move the country in a new direction. But all social movements involve an overlap of generations. Older activists recruit and mentor the next generation. Younger activists learn from the successes and failures of their older counterparts. Barack Obama (born in 1961) learned his community organizing skills from older mentors, and then found others who helped him learn the ropes when he decided to run for office. Jon Stewart (born in 1962), who was "very into Eugene Debs" in high school, began his career as an actor and stand-up comic before gaining popularity, Emmys and influence as the iconoclastic host of The Daily Show.
As the generations of progressives shaped by the Depression, the Cold War, and the '60s hand the baton to the new cohort, they don't just fade away. They continue to be part of the chain of change. So, not surprisingly, many of the people included in my new book The 100 Greatest Americans of the 20th Century: A Social Justice Hall of Fame — including Pete Seeger, Barry Commoner (who died last month), Rev. James Lawson, Ralph Nader, Gloria Steinem, Bill Moyers, Bob Moses, Tom Hayden, John Lewis, Joan Baez, Barbara Ehrenreich, Rev. Jesse Jackson, Billie Jean King, Michael Moore, and Tony Kushner — were born in the early- or mid-20th century, but have remained engaged in struggles for change in the new century.
But the future belongs to those born after 1960. The 50 individuals listed here represent a new generation of activists, artists, thinkers, and politicians who have already become leaders of exciting movements for social justice. They offer hope that the 21st century will witness dramatic changes toward greater equality and democracy.
Key to any progressive resurgence is the growing wave of innovative community organizing. Among the most effective young organizers are Cheri Andes (Greater Boston Interfaith Organization), Aaron Bartley (People United for Sustainable Housing in Buffalo), Deepak Bhargava (Center for Community Change), Jeremy Bird (formerly with Wake-Up Wal-Mart, now running Organizing for America), Joy Cushman (New Organizing Institute), George Goehl (National People's Action), Kirk Noden (Ohio Organizing Collaborative), Ethan Rome (Health Care for America Now) and Amy Schur (Alliance of Californians for Community Empowerment).
The labor movement is making a comeback, developing new strategies and coalitions, as seen in recent efforts to mobilize Walmart workers and others in the burgeoning "service" sector of big-box stores, hospitals, and fast-food chains. Helping to lead this new upsurge are organizers like Fred Azcarate and Liz Shuler (both with the AFL-CIO), Lucas Benitez (Coalition of Immokalee Workers), Leah Fried and Armando Robles (United Electrical Workers), Sarita Gupta (Jobs with Justice), Mary Beth Maxwell (founder of American Rights at Work, now a top Department of Labor official), Ai-Jen Poo (National Domestic Workers Alliance), and Roxana Tynan (Los Angeles Alliance for a New Economy).
Since being chosen as its president in 2008, organizer Ben Jealous has helped reinvigorate the National Association for the Advancement of Colored People. Teresa Cheng, born in 1987, has helped lead several successful campaigns by United Students Against Sweatshops.
Young leaders of the burgeoning immigrant rights movement — including Marissa Graciosa (Fair Immigration Reform Movement), Pramila Jayapal (One America), Christine Neumann-Ortiz (Voces de la Frontera), Carlos Saavedra (United We Dream), and Angelica Salas (Coalition for Humane Immigrant Rights of Los Angeles) — will continue to make waves as the century evolves, as will a new generation of environmental activists, such as Phaedra Ellis-Lamkins (Green for All), Van Jones (former Obama adviser and founder of Rebuild the Dream), Erich Pica (Friends of the Earth), and Phil Radford (Greenpeace).
Writers Naomi Klein (author of No Logo and The Shock Doctrine), Ezra Klein (Washington Post columnist), and Tamara Draut and Heather McGhee (both of the think tank Demos), television news analysts Rachel Maddow and Chris Hayes, media critic David Brock of Media Matters for America, Yale political scientist Jacob Hacker (coauthor of Winner-Take-All Politics, among many other books), New York University historian Kim Phillips-Fein (author of Invisible Hands), Rinku Sen (editor of Colorlines), sportswriter Dave Zirin, and singer and musician Tom Morello have been provocative interpreters and advocates for the progressive movement.
Robin Brand (Gay and Lesbian Victory Fund) and Jennifer Chrisler (Family Equality Council) represent a young cohort of lesbian, gay, bisexual, and transgender leaders. Eli Pariser of MoveOn has been a pioneer in the fast-changing world of netroots activism. Simon Greer, a former community organizer and then head of Jewish Funds for Justice, is now reshaping progressive philanthropy as president of the Nathan Cummings Foundation.
U.S. Senator-elect Tammy Baldwin of Wisconsin, Tallahassee City Commission member Andrew Gillum, South Carolina state legislator Anton Gunn, New York City Council member and former community organizer Brad Lander, and activist Darcy Burner of Seattle are among the many young politicians who serve as the progressive movement's key allies inside the world of politics.
Born in the 1960s, 1970s, and 1980s, these 50 people inherited an America that seems to be holding its breath, trying to decide what kind of country it wants to be. Many of them are not well known to the general public, but each of them, as part of organizations and movements for change, has already shaped the contours of American society in the 21st century, and each is destined to keep reshaping it in the coming decades.
This post first appeared on the Huffington Post and is republished with permission.

'Skeleton Crew' Is a Play With a Moral Spine
Set in a Detroit automobile outfitting plant, Dominique Morisseau's drama grabs you from the start with its focus on blue-collar men and women, and their struggle for dignity and self-respect.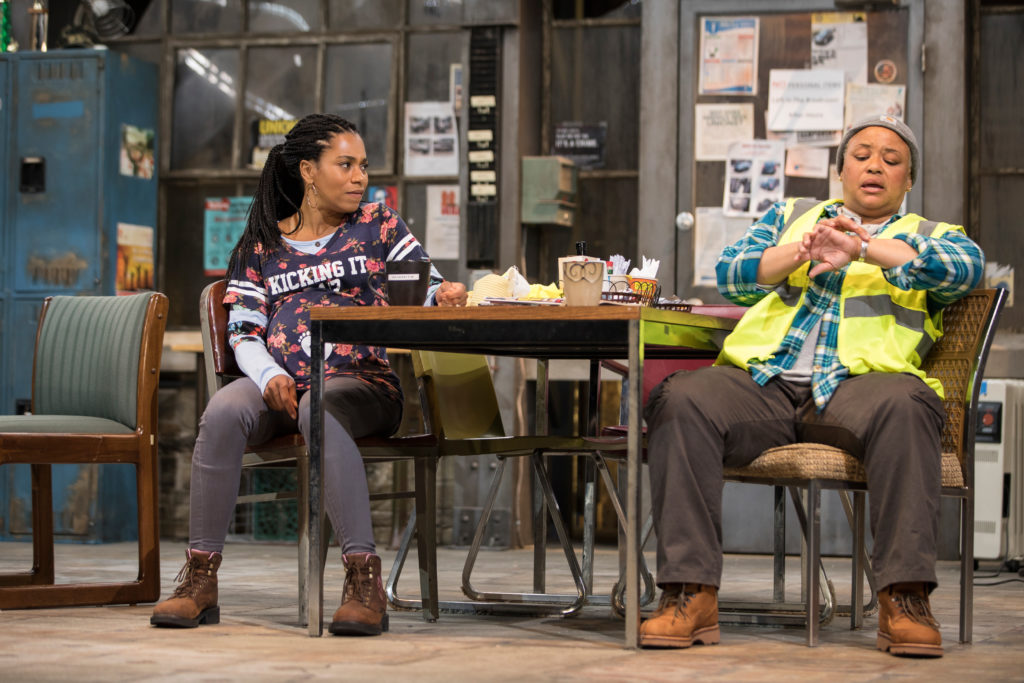 Working-class men and women of color are rarely front and center in today's media and, likewise, are presented all too occasionally on the American stage. So it's buoying to see that trend bucked in playwright Dominique Morisseau's percipient and well-crafted drama, Skeleton Crew. The play is the final installment in her Detroit  Project Trilogy; the first, Paradise Blue, is set in the 1940s amidst displacement caused by urban renewal and gentrification, while the second, Detroit '67, transpires on the eve of the 1967 Detroit riots sparked by a police action.
Directed by Patricia McGregor at Los Angeles' Geffen Playhouse, Skeleton Crew is a play with a moral spine. It takes place in 2008, when the shrinking U.S. auto industry is being further downsized. Morisseau's engaging quartet of characters — Faye (Caroline Stefanie Clay), Dez (Armari Cheatom), Shanita (Kelly McCreary) and Reggie (DB Woodside) – are employed at an automobile outfitting plant. Faye, Dez and Shanita are workers on the line while Reggie (who has a wife and kids, and has pulled himself together after a troubled youth) is their supervisor.
The first three customarily mingle in their break room (designer Rachel Myers' impressively cluttered, dingy and detailed set), trading the sort of familiar barbs and genuine concern for each other common among longtime co-workers. They also face off on philosophy: Upper-middle-aged Faye and the younger, pregnant Shanita take pride in their labor, while Dez, though a good worker, is a malcontent scornful of management and firm in the belief that everyone needs to watch out for himself. He's a thorn in Reggie's side, for while Reggie wants to be supportive of his workers, he must act at the behest of higher management. For his part, Dez resents Reggie's authority, and a palpable unease exists between them.
Besides this male matchup, we're made privy to Dez's attraction to Shanita, who mostly turns away his advances, but every now and then displays a hint of interest. Most poignant is Reggie's regard and affection for the lesbian Faye, which has roots in his boyhood when she loved, and lived, with his now-deceased mom.
These people's various predicaments intensify when rumors spread of the plant's shutdown — a disaster for all, but a particular calamity for the already near-broke Faye who, one year short of retirement, would lose her pension. The crisis forces each of these people to make a choice.
A sound piece of social realism, Skeleton Crew grabs you from the start in its focus on blue-collar men and women, and their struggle against odds for dignity and self-respect. Morisseau not only furnishes these characters a platform for their travails, she endows them with strong values, big hearts and the opportunity to choose between right and wrong.
Unfortunately, the performance I attended did not soar. Many exchanges lacked a fresh edge. The actors certainly had their characters down, but too often they appeared to be coasting on technique. (This seemed particularly true of Clay, who performed the role to great accolades in Washington, DC in 2017, also under McGregor's direction). Additionally, some of the stage movement was not entirely fluid; in confrontations, actors sometimes would just stand and face each other in an artificial way. And Cheatom's interpretation of Dez struck me as a bit overly churlish and depressive: I needed more glimpses of the intelligence and edge that would secretly attract the strong, self-directed Shanita.
The most compelling moments belong to Woodside, well-cast as a man trying his best in difficult circumstances to do the right thing.
---
Gil Cates Theater at the Geffen Playhouse, 10886 Le Conte Ave., Westwood Village; Tues.-Fri., 8 p.m.; Sat., 3 & 8 p.m. Sun., 2 & 7 p.m.; through July 8. (310) 208-5454 or www.geffenplayhouse.org