The Fight to Bring Transparency to California's Charter Schools
Aimee Roylance was thrilled when her son was accepted into Livermore Valley Charter School in 2010. "The experience overall was very positive," she says. But she didn't know what was going on behind the scenes.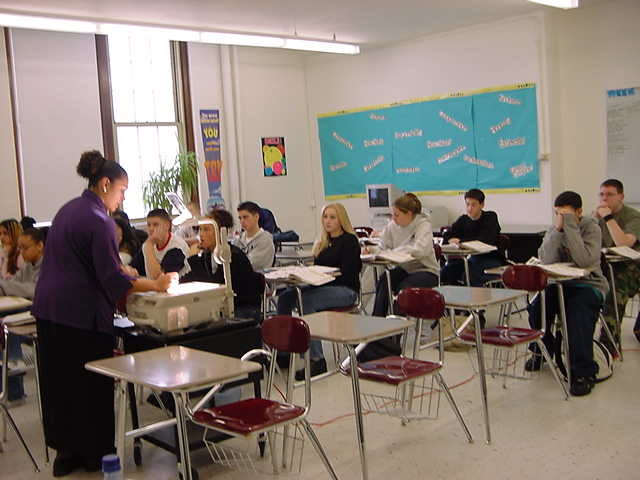 Aimee Roylance was thrilled when her son was accepted into Livermore Valley Charter School in 2010. The traditional public schools in their part of the Bay Area were cash-strapped and struggling, and the K-8 charter school, with a waiting list 300 kids long, was known to be an excellent alternative. Sure enough, her son thrived at Livermore Valley, thanks to its diverse programming and strong leadership of its well-liked principal. Eventually, Roylance enrolled her younger two children at Livermore Valley, too.
"The experience overall was very positive," she says. But she didn't know what was going on behind the scenes.
She first heard inklings of financial and management troubles at the school early this year. Curious, she used her real estate background to look up the tax status of the land parcels on which the school sat – and found the charter was months behind in payments. Soon, Roylance and other parents were packing board meetings of the Tri-Valley Learning Corporation, the nonprofit that operates the school, demanding answers that didn't come. Board members, Roylance claims, refused to address their tax troubles, release budget information or explain how they were using public funds. The board limited public comment at its hearings, changed meeting locations and released only snippets of pertinent financial documents, says Roylance. Livermore Valley didn't return a request for comment by press time, but the charter school's troubles have continued to mount: Tri-Valley is now under investigation by the Alameda County District Attorney for fraud, mismanagement of its foreign exchange program and child endangerment.
Roylance believes many of these problems could have been avoided if Livermore Valley and its operator were required to be more transparent. "I don't think [management] would have been able to take advantage of the system," she says. "If there was more transparency, the public would have known what was going on. We could have avoided a lot of the trauma we went through."
Roylance isn't alone in such beliefs. An alliance of teachers, community activists and state officials is advocating that California's charter school industry – the largest in the country, with more than 1,200 charter schools statewide – be held to the same accountability standards as traditional public schools. It's calling for the passage of Assembly Bill 709, which would require charter schools to follow open-records and open-meeting laws, and disclose how they use taxpayer funds, as well as to prohibit charter board members from profiting from their schools. Currently, that bill sits on the desk of Governor Jerry Brown, who launched two charter schools while mayor of Oakland and has a history of opposing new charter regulations. But maybe, hope activists, with scandals and public outcry mounting, California's charter schools are ready to be held accountable.
When the first charter school law passed in Minnesota in 1991, the idea was that these independently run schools would boast increased inventiveness and accountability, since they'd be run by parents, teachers and community members who'd have the students' best interests at heart. But as the charter movement spread across the country, for-profit enterprises saw the potential for tapping into the $620 billion the United States spends on elementary and secondary schools without the regulatory restrictions placed on traditional public schools.
"Charter schools were originally a union concept," says Eric Heins, president of the California Teachers Association. "We'd create these laboratory schools, exempt from the usual restrictions — then if we see things work, we'd scale them up to the traditional system. But they have become co-opted by a for-profit industry and backed by this small cabal of billionaires." (Disclosure: CTA is a financial supporter of this website.)
Since these charters are exempt from most school district laws, there's nothing on the books compelling them to abide by California's open-meeting and open-records rules. And these days, California is being singled out for lax oversight of its booming charter school industry. "I came away appalled," says Carol Burris, executive director of the New York-based Network for Public Education, after a recent fact-finding trip to the state for a four-part series she's writing on the state of charters in California. "I was really taken aback by how unregulated charters are in the state."
Part of the problem, says Burris, is Governor Brown's pro-charter stance; last year he vetoed a bill that would have banned for-profit charter schools in the state, a restriction that even many charter school advocates support. Another factor, says Burris, is that the California Charter Schools Association, which did not respond to a request for comment for this article, has become a powerful lobbying force against many reforms, thanks to major funding from deep-pocketed charter advocates.
Charter critics contend that the absence of regulations contributes to the scandals that have plagued California's charter schools, including:
Last year, a report by the Center for Popular Democracy, the Alliance of Californians for Community Empowerment Institute and Public Advocates Inc. concluded that charter school fraud and mismanagement had already cost California taxpayers more than $81 million. And last month, the American Civil Liberties Union of Southern California and Public Advocates reported that more than 250 California charter schools – one-fifth of the state's total – violated state law by excluding low-performing and other potentially undesirable students. In both reports, authors concluded that because of minimal oversight, such misconduct findings are likely to be "just the tip of the iceberg."
Such troubles don't just generate headlines; they impact students, says Sarah Vigrass, a longtime K-8 teacher at California Virtual Academies (CAVA), the state's largest online charter school. In July, K12 Inc., the Virginia-based for-profit that manages CAVA, agreed to a $168.5 million settlement with California in the wake of a state Attorney General probe and a Mercury News investigation into whether the company had manipulated its success rates and attendance records. According to Vigrass, over the years she's seen K12 reduce the quality and quantity of education materials it provides to its students – but she and her colleagues have no way of knowing why that might be happening.
"We are a public school and information should be easily accessible on our budgets and our school board meetings, but you can't find anything online," she says. "The board meetings are really very closed, and sometimes they are just a phone call. It's really hard to find information on where the money is going."
Additional transparency, says Vigrass, would pressure "the school [to] refocus its resources on the students and not play fast and loose with its finances. A great percentage of our money goes to a for-profit company in Virginia. I would [prefer] to keep resources here in California."
It's why a coalition that includes the California Teachers Association, State Treasurer John Chiang, Assemblyman Mike Gipson (D-Compton) and various school administrators and civil rights activists spoke out at a media teleconference call two weeks ago in favor of AB 709. There are signs that the group has public support on its side; a 2015 poll of 700 California voters by the research group In the Public Interest found that roughly 90 percent of respondents wanted charter schools to hold open board meetings and release financial information to the public.
The fact that California's largest teachers union is among those leading the charge on AB 709 and also recently launched a Kids Not Profits charter reform campaign, is noteworthy, says Julian Vasquez Heilig, a professor and director of the doctorate of educational leadership at California State University, Sacramento. "The unions have for a long time stayed on the sidelines on this issue in most states," he says. "That's because their strategy was trying to unionize charters one by one. But they realized this is a growing issue and they have taken a stronger stand for transparency and accountability."
Now, says Vasquez Heilig, the ball is in Governor Brown's court: "Does he want his legacy to be the anti-democratic privatization of our public schools?"
Whatever Brown decides to do about charter school transparency, it won't impact Aimee Roylance. A week before school started at Livermore Valley Charter School this year, she pulled her kids from the charter and enrolled them in a traditional neighborhood school. It wasn't easy, she says, leaving behind the school they'd loved, it wasn't easy leaving the fight to make the school better. But there were just too many unknowns about what the future would hold for her kids at Livermore Valley, and no easy way for her to find out the truth.
"I wanted to be a mom," she says. "I didn't want to be an investigator."

Living Homeless in California: The University of Hunger
A January study found that 11 percent of students on the California State University's 23-campuses reported being homeless during the past year. At Humboldt State nearly a fifth said they'd been homeless at one point during 2017.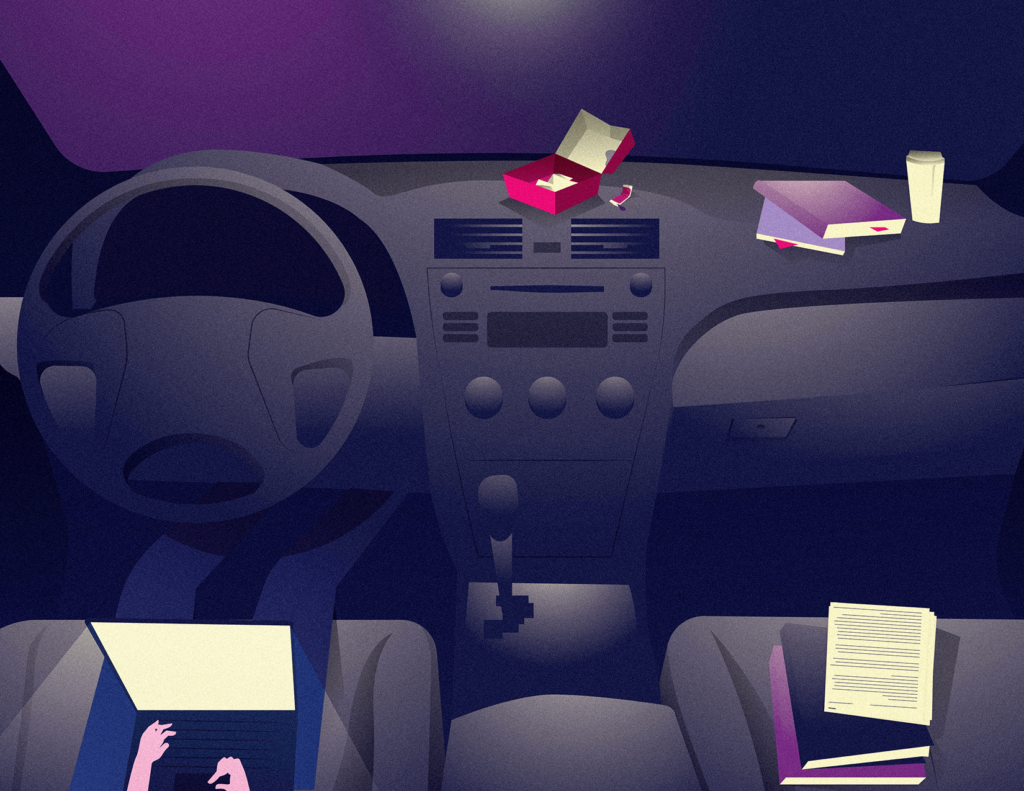 ---
Homeless students told of sleeping in the woods and of completing research assignments at McDonald's, to take advantage of free Wi-Fi.
---
In August of 2016, Chanté Marie Catt left her home in Redding, in the Sacramento Valley, to begin her first semester at Humboldt State University. Catt was 36, with a boyfriend and 1-year-old daughter, and possessed a booming laugh and no small amount of confidence. After nearly two decades running her own pet-care business in Los Angeles, she had begun to feel limited by her lack of a college degree, and several years earlier followed her parents north and enrolled at Redding's Shasta College. The transfer to Humboldt had her dreaming of towering redwoods and cool ocean breezes. "We were excited to start a new life, maybe buy a house," she says.
The couple tried to find a place from Redding, scouring Craigslist for openings without luck. In person, Catt figured, her prospects would improve. Once they had checked into a campground north of the university and enrolled their daughter in daycare, she dedicated her time to visiting property management companies. A week went by, then another. She paid application fees to management companies—$20 here, $43 there—and called through every listing she found, but even with a solid credit and rental history, never heard back. The family bounced from one campsite to another, with occasional stops at a motel to clean up. It was an expensive way to live, and she rapidly blew through $16,000 in financial aid and student loans. One day, out of a combination of anger and desperation, Catt took to Craigslist from her motel room. "I'm a sociology student," she wrote, "starting research on our homeless students and on the property management companies here. Anyone want to share their stories!?"
Within hours, she received more than 150 responses. Homeless students told her of moving from couch to couch, of sleeping in the woods and of completing their research assignments at McDonald's, where they took advantage of free Wi-Fi. "My children are cold, we are broke from all the rental application fees and I'm tired of it," wrote a mother of two. A graduate student who worked full-time revealed that he was living in his car for the second consecutive semester: "I never knew it would be this hard to find a place to rent."
Several weeks later, while still homeless, Catt had organized a campus group, the Homeless Student Advocate Alliance, and was spending her free time passing out fliers to attract more members. They weren't hard to find. "Every couple of students I talked to was experiencing some sort of displacement," she says. For many students at Humboldt, going to college meant becoming homeless.
---
One homeless-student conference included workshops on outdoor living, covering topics like how to light fires to keep homework dry.
---
The true scale of this crisis was revealed last January in a groundbreaking report commissioned by the California State University system. The study found that 11 percent of students on the university's 23-campuses reported being homeless during the past year. The problem was most acute at Humboldt State, where nearly a fifth of the student body had been homeless at one point the previous year.
"In large part, students are homeless because they don't get enough financial aid," says Jennifer Maguire, a Humboldt social work professor, who co-authored the study with Rashida Crutchfield of Long Beach State. "It's even worse here, because we're in a rural area with a very limited housing stock." According to the North Coast Journal, a local newspaper, there aren't even enough rental units in the city of Arcata, where the university is located, for the students who need housing—much less anywhere else. And while the university plans to build more student housing, it can currently only guarantee slots for first-year students.
This shortage allows landlords to crank up rents and reject applicants at whim. For students without a financial cushion, the situation can quickly turn into a full-blown emergency—and in the CSU system, that's a lot of students. More than half the students at Humboldt are the first in their family to attend college, and a third are Latino. Many work full-time; some have kids. "The 'non-traditional' student is now the traditional student," says Maguire.
On a cool April morning, more than 200 people packed into a theater at the College of the Redwoods in nearby Eureka, for a forum on homelessness co-hosted by Humboldt State. "I mentioned to a community member last week that I would be attending this summit today and she asked me, 'What does homelessness have to do with HSU?'" said Humboldt State president Lisa Rossbacher. The crowd laughed, which represented at least some progress. It's no longer a secret that Humboldt State students struggle with homelessness.
---
"My children are cold, we are broke from all the rental application fees and I'm tired of it," wrote a Humboldt State University student.
---
Much of the progress is due to the efforts of activists like Catt. After several months of homelessness, her family eventually landed an apartment, thanks in part to an emergency welfare grant. By that time, she had organized the homeless student alliance, which was pressing the university to finally address the problem. Last fall, the group held a three-day conference at Humboldt State that included workshops on outdoor living, which covered topics like how to light a fire and keep your homework dry. On the third day, a group of students put up tents on the quad and stayed for two nights. They then moved to the library, which they occupied, and demanded that it remain open 24 hours a day to give homeless students a safe and warm place to be.
The next day, an administrator contacted Catt and offered her the position of off-campus housing liaison, which had been one of the alliance's demands. Since January, Catt has worked with more than 100 students, many of whom are in need of housing or have dealt with retaliation from landlords. It's a start, though there are limits to what she can accomplish. One student who was living out of her car recently came to Catt's office, and Catt gave her a code to the campus lockers, which are normally reserved for students taking physical education classes. The student broke down in tears at the prospect of a hot shower. A few days later, Catt texted her that a landlord had recently called with a room to rent, but the student had moved back in with her parents. "She told me it had just been too cold out there," says Catt.
A couple of days after the homeless summit, I met Jasmine Bigham, a 23-year-old transfer student, on the steps of the campus library. Like Catt, she had arrived at Humboldt in 2016, and anticipated finding housing within a week or two. "Weeks turned to months," she says. She spent a semester living out of her Subaru Outback, searching for places to park at night that looked safe, then curling up on the back seat. She didn't tell her parents. "No parents want their kids living like that," she says—and anyways, they didn't have much extra money. Bigham is from a small town in neighboring Siskiyou County, and before college had lived inside a metal shop designed to store tractors and supplies; her parents created walls by hanging tarps. "I sort of grew up having to figure shit out," she says.
---
Homelessness has caused Jasmine to give up on some dreams. She wants a college education, so that means giving up a home.
---
After a semester in the Subaru, she bought a used trailer for $1,000 and parked it at a KOA campground for $600 a month. That felt safer, but then the trailer's ceiling collapsed and an intoxicated neighbor harassed her, so she left for a room in a house that was infested with mold and rats. She could only handle the grime for so long, so last year she sold her Subaru and plowed the rest of her savings—which she earned by waitressing in Lake Tahoe—into a GMC van. Since January, she's been living at a parking lot next to student housing.
As we walk from the library to the parking lot, Bigham outlines her semester budget. Scholarships nearly cover her tuition, and she's in charge of the rest. Right now she's not working, because she's taking 19 units, the maximum allowed. The parking pass is $180 a year, and she rents two lockers, at $5 a piece, for the semester. Each day she stops by the campus food pantry, where she fills plastic containers with soup and picks up rice and beans. She describes the area around campus as a food desert but in reverse—filled with only "really expensive healthy food" that's out of her reach. She takes a bus to Eureka, then walks a mile to reach a more affordable grocery store, where she can load up on quinoa, bell peppers and mangos. She has a camping stove, or else prepares meals for the week at friends' homes.
At the parking lot, she points out several other vehicles where students are living. She'll graduate in December, and tells me that when she returns this fall she hopes to get the other homeless students to park together, to create a greater sense of safety. She opens the back of her van, which is meticulously organized: a plastic container for her clothes, a folded mattress she bought on sale at Ross Dress for Less, an ice chest and cans of beans. "I had to learn what food stays good and what doesn't," she says.
Bigham tells me that she's always felt different. She is an African American from an all-white rural community. She grew up on a "broken-down ranch" with cows and pigs, while many students at Humboldt talk about eating meat as if it were a crime. "The hardest thing is people not understanding," she says, leaning against her van. "If you talk about how people don't have enough to eat, they say, 'Well, why don't they just feed themselves?'"
Homelessness has caused her to give up on some dreams. She loved track, and was recruited by a couple of larger colleges to throw the javelin, but didn't want to live in a big city. She hoped to continue with athletics, but juggling a full academic load while being homeless didn't leave much room for anything else. She shrugs and smiles. "You can either be sad or you can figure it out. If you don't have money, but you still want to do things, you have to give up something," she says. She wants a college education, so that means giving up a home.
---
Copyright Capital & Main