The Fight to Bring Transparency to California's Charter Schools
Aimee Roylance was thrilled when her son was accepted into Livermore Valley Charter School in 2010. "The experience overall was very positive," she says. But she didn't know what was going on behind the scenes.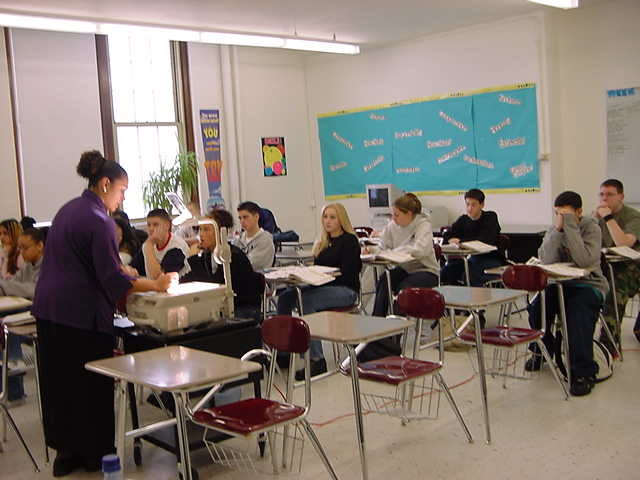 Aimee Roylance was thrilled when her son was accepted into Livermore Valley Charter School in 2010. The traditional public schools in their part of the Bay Area were cash-strapped and struggling, and the K-8 charter school, with a waiting list 300 kids long, was known to be an excellent alternative. Sure enough, her son thrived at Livermore Valley, thanks to its diverse programming and strong leadership of its well-liked principal. Eventually, Roylance enrolled her younger two children at Livermore Valley, too.
"The experience overall was very positive," she says. But she didn't know what was going on behind the scenes.
She first heard inklings of financial and management troubles at the school early this year. Curious, she used her real estate background to look up the tax status of the land parcels on which the school sat – and found the charter was months behind in payments. Soon, Roylance and other parents were packing board meetings of the Tri-Valley Learning Corporation, the nonprofit that operates the school, demanding answers that didn't come. Board members, Roylance claims, refused to address their tax troubles, release budget information or explain how they were using public funds. The board limited public comment at its hearings, changed meeting locations and released only snippets of pertinent financial documents, says Roylance. Livermore Valley didn't return a request for comment by press time, but the charter school's troubles have continued to mount: Tri-Valley is now under investigation by the Alameda County District Attorney for fraud, mismanagement of its foreign exchange program and child endangerment.
Roylance believes many of these problems could have been avoided if Livermore Valley and its operator were required to be more transparent. "I don't think [management] would have been able to take advantage of the system," she says. "If there was more transparency, the public would have known what was going on. We could have avoided a lot of the trauma we went through."
Roylance isn't alone in such beliefs. An alliance of teachers, community activists and state officials is advocating that California's charter school industry – the largest in the country, with more than 1,200 charter schools statewide – be held to the same accountability standards as traditional public schools. It's calling for the passage of Assembly Bill 709, which would require charter schools to follow open-records and open-meeting laws, and disclose how they use taxpayer funds, as well as to prohibit charter board members from profiting from their schools. Currently, that bill sits on the desk of Governor Jerry Brown, who launched two charter schools while mayor of Oakland and has a history of opposing new charter regulations. But maybe, hope activists, with scandals and public outcry mounting, California's charter schools are ready to be held accountable.
When the first charter school law passed in Minnesota in 1991, the idea was that these independently run schools would boast increased inventiveness and accountability, since they'd be run by parents, teachers and community members who'd have the students' best interests at heart. But as the charter movement spread across the country, for-profit enterprises saw the potential for tapping into the $620 billion the United States spends on elementary and secondary schools without the regulatory restrictions placed on traditional public schools.
"Charter schools were originally a union concept," says Eric Heins, president of the California Teachers Association. "We'd create these laboratory schools, exempt from the usual restrictions — then if we see things work, we'd scale them up to the traditional system. But they have become co-opted by a for-profit industry and backed by this small cabal of billionaires." (Disclosure: CTA is a financial supporter of this website.)
Since these charters are exempt from most school district laws, there's nothing on the books compelling them to abide by California's open-meeting and open-records rules. And these days, California is being singled out for lax oversight of its booming charter school industry. "I came away appalled," says Carol Burris, executive director of the New York-based Network for Public Education, after a recent fact-finding trip to the state for a four-part series she's writing on the state of charters in California. "I was really taken aback by how unregulated charters are in the state."
Part of the problem, says Burris, is Governor Brown's pro-charter stance; last year he vetoed a bill that would have banned for-profit charter schools in the state, a restriction that even many charter school advocates support. Another factor, says Burris, is that the California Charter Schools Association, which did not respond to a request for comment for this article, has become a powerful lobbying force against many reforms, thanks to major funding from deep-pocketed charter advocates.
Charter critics contend that the absence of regulations contributes to the scandals that have plagued California's charter schools, including:
Last year, a report by the Center for Popular Democracy, the Alliance of Californians for Community Empowerment Institute and Public Advocates Inc. concluded that charter school fraud and mismanagement had already cost California taxpayers more than $81 million. And last month, the American Civil Liberties Union of Southern California and Public Advocates reported that more than 250 California charter schools – one-fifth of the state's total – violated state law by excluding low-performing and other potentially undesirable students. In both reports, authors concluded that because of minimal oversight, such misconduct findings are likely to be "just the tip of the iceberg."
Such troubles don't just generate headlines; they impact students, says Sarah Vigrass, a longtime K-8 teacher at California Virtual Academies (CAVA), the state's largest online charter school. In July, K12 Inc., the Virginia-based for-profit that manages CAVA, agreed to a $168.5 million settlement with California in the wake of a state Attorney General probe and a Mercury News investigation into whether the company had manipulated its success rates and attendance records. According to Vigrass, over the years she's seen K12 reduce the quality and quantity of education materials it provides to its students – but she and her colleagues have no way of knowing why that might be happening.
"We are a public school and information should be easily accessible on our budgets and our school board meetings, but you can't find anything online," she says. "The board meetings are really very closed, and sometimes they are just a phone call. It's really hard to find information on where the money is going."
Additional transparency, says Vigrass, would pressure "the school [to] refocus its resources on the students and not play fast and loose with its finances. A great percentage of our money goes to a for-profit company in Virginia. I would [prefer] to keep resources here in California."
It's why a coalition that includes the California Teachers Association, State Treasurer John Chiang, Assemblyman Mike Gipson (D-Compton) and various school administrators and civil rights activists spoke out at a media teleconference call two weeks ago in favor of AB 709. There are signs that the group has public support on its side; a 2015 poll of 700 California voters by the research group In the Public Interest found that roughly 90 percent of respondents wanted charter schools to hold open board meetings and release financial information to the public.
The fact that California's largest teachers union is among those leading the charge on AB 709 and also recently launched a Kids Not Profits charter reform campaign, is noteworthy, says Julian Vasquez Heilig, a professor and director of the doctorate of educational leadership at California State University, Sacramento. "The unions have for a long time stayed on the sidelines on this issue in most states," he says. "That's because their strategy was trying to unionize charters one by one. But they realized this is a growing issue and they have taken a stronger stand for transparency and accountability."
Now, says Vasquez Heilig, the ball is in Governor Brown's court: "Does he want his legacy to be the anti-democratic privatization of our public schools?"
Whatever Brown decides to do about charter school transparency, it won't impact Aimee Roylance. A week before school started at Livermore Valley Charter School this year, she pulled her kids from the charter and enrolled them in a traditional neighborhood school. It wasn't easy, she says, leaving behind the school they'd loved, it wasn't easy leaving the fight to make the school better. But there were just too many unknowns about what the future would hold for her kids at Livermore Valley, and no easy way for her to find out the truth.
"I wanted to be a mom," she says. "I didn't want to be an investigator."

Education Critics Attack California's New Online College
Flex Learning Options for Workers (FLOW), a new online addition to the 115-school community college system, is set to launch in fall, 2019.

One study has found that far from expanding access for the state's hard-to-reach students of color, online classes have been an "engine of racial inequality."
---
"What I like about Chipotle is the limited menu," said Governor Jerry Brown in May, praising the fast-food chain's build-your-own-burrito approach as a model for California higher education. "You put a little cheese, a little this, a little that, and you're out of there. I think that's a model some of our universities need to follow. … It takes kids six years instead of four years. If [universities] would go to a limited menu concept, everyone would graduate on time."
A week later, Brown got his burrito when the legislature passed a nearly $200 billion state spending bill that offered little monetary relief for tightly squeezed University of California and California State University budgets — but included $100 million to launch California's first wholly online, statewide virtual community college. Called Flex Learning Options for Workers (FLOW), the new two-year addition to the 115-school community college system is set to launch in fall, 2019.
Yet despite enthusiastic backing by California Community Colleges (CCC) chancellor Eloy Ortiz Oakley, FLOW had to run a gauntlet of opposition comprised of community college stakeholders and Sacramento lawmakers, whose consensus is that the measure is being overly rushed and under-thought. One study, in fact, has found that far from expanding access for the state's hard-to-reach students of color, online classes have been an "engine of racial inequality."
---
FLOW has remained a tough sell for a governor who has demonstrated a decided tendency to adopt the latest, untested fad in cost-cutting education reform.
---
Although no teachers have been hired or courses announced yet, the cyber-college comes loaded with rosy assumptions that it will successfully serve what an April study by a Bill Gates-supported education policy nonprofit says are 2.5 million of the state's most difficult-to-reach pupils — older, "stranded workers" who are typically unable to drive to a campus but who still need access to the career and technical training that will allow them to get ahead economically.
Nevertheless, FLOW has remained a tough sell for a governor who has demonstrated a decided tendency to adopt the latest, untested fad in education reform, so long as it holds out a promise of doing more with far fewer resources. Brown was quick to jump aboard the school-choice bandwagon and, as mayor of Oakland, founded two charters — the Oakland School for the Arts and the Oakland Military Institute — that have consistently failed to distinguish themselves from their public school neighbors, in spite of lavish private funding.
Two of FLOW's severest critics are University of California, Santa Barbara professor and education author Christopher Newfield, and researcher Cameron Sublett, an associate professor of education at Pepperdine University's Graduate School of Education and Psychology. Earlier this year, in a paper published by Inside Higher Ed, the pair disaggregated the numbers provided by the CCC's chancellor's office to starkly illuminate the deficiencies of moving face-to-face classroom learning online for students of color.
"When we did that, you find that the stories that the chancellor's office is telling us are not accurate," Sublett explained to Capital & Main. "In developmental ed courses — so-called remedial courses — the face-to-face/online disparity is actually greater. Furthermore, if you look at it by racial category, the disparity is actually not closing but remaining stable over time. So the whole idea they're at parity between face-to-face and online courses is only a partial representation of the truth. In fact, for certain subpopulations of student groups within the community college system in the state, success rates remain flat in online courses, and those success rates remain persistently lower than they are in face-to-face courses."
The misrepresentation doesn't stop there. Some of the FLOW proposal's most impressive claims for parity between — and even the superiority of — online over face-to-face learning rely on data from the Action Lab, the research arm of public online learning behemoth Arizona State University.
But in a June Forbes exposé, investigative reporter Derek Newton discredited wide swaths of Action Lab findings in "Making Digital Learning Work," a Gates Foundation-funded research partnership between ASU and the Boston Consulting Group. Newton accused the study's authors of outlandish, if self-dealing misreadings of elementary data: "To describe the ASU report as sloppy is generous. Dishonest is more accurate," the reporter charged.
Some of the most persuasive rebuttals of the FLOW numbers come from data harvested far closer to home. Public Policy Institute of California's higher education research team of Hans Johnson, Marisol Cuellar Mejia and Kevin Cook has regularly sifted through the student outcomes of learners from the Online Education Initiative (OEI), the statewide project that is ironically led by the California Community Colleges Chancellor's Office and has long made CCC the largest provider of online classes in the nation, surpassing the one million enrollment mark in 2013.
"African American and Hispanic students have respectively 17.5 and 9.8 percentage points lower online course success rates than white students," reports 2015's "Successful Online Courses in California's Community Colleges." Also, "we find that online course success rates are between 11 and 14 percentage points lower than traditional course success rates. In addition, we find that online learning does nothing to overcome achievement gaps across racial/ethnic groups — in fact, these gaps are even larger in online classes," adds PPIC's 2014 report, "Online Learning and Student Outcomes in California's Community Colleges."
"We already have the infrastructure in place to offer this program they're seeking," notes Jim Mahler, a veteran San Diego Community College math and engineering professor, and president of the Community College Council of the California Federation of Teachers. (Disclosure: CFT is a financial supporter of this website.) "I don't see a need to create a new college from a policy standpoint. The amount of money they're throwing into it is larger than the budget of most community colleges. It's the kind of money that could be used for better purposes that would serve students in a better way."
This is not the first time, Sublett noted, that Brown has aggressively pursued the cyber-education dream of reaping cost benefits on the backs of students by moving high quality, face-to-face instruction online. In 2013, the governor famously brokered a private-public partnership between the for-profit Massive Open Online Course (MOOC) provider Udacity and San Jose State University. Six months later, the deal imploded following revelations that more than half the students in the rollout failed their final exams and that Udacity's online courses actually reduced remedial education outcomes.
"I think that is Governor Brown's paradigm," Sublett reflected. "I think he does embrace online learning to the degree that he does because he sees potential cost savings. "There's this idea among many people that online is cheaper and faster, but I don't think you'll find lots of support among people that know how online learning actually operates."
---
Copyright Capital & Main