The Fight to Bring Transparency to California's Charter Schools
Aimee Roylance was thrilled when her son was accepted into Livermore Valley Charter School in 2010. "The experience overall was very positive," she says. But she didn't know what was going on behind the scenes.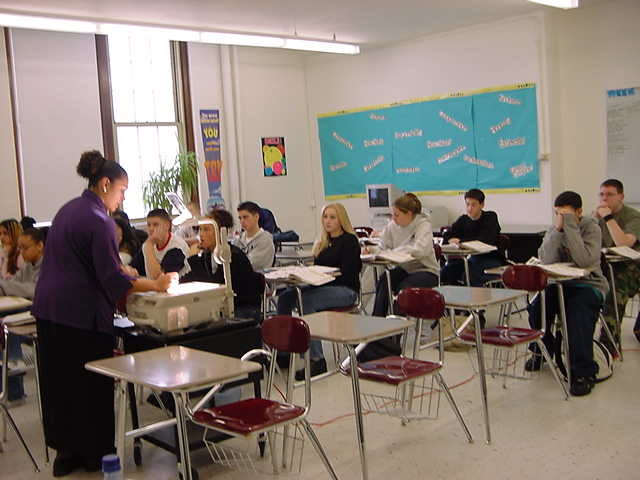 Aimee Roylance was thrilled when her son was accepted into Livermore Valley Charter School in 2010. The traditional public schools in their part of the Bay Area were cash-strapped and struggling, and the K-8 charter school, with a waiting list 300 kids long, was known to be an excellent alternative. Sure enough, her son thrived at Livermore Valley, thanks to its diverse programming and strong leadership of its well-liked principal. Eventually, Roylance enrolled her younger two children at Livermore Valley, too.
"The experience overall was very positive," she says. But she didn't know what was going on behind the scenes.
She first heard inklings of financial and management troubles at the school early this year. Curious, she used her real estate background to look up the tax status of the land parcels on which the school sat – and found the charter was months behind in payments. Soon, Roylance and other parents were packing board meetings of the Tri-Valley Learning Corporation, the nonprofit that operates the school, demanding answers that didn't come. Board members, Roylance claims, refused to address their tax troubles, release budget information or explain how they were using public funds. The board limited public comment at its hearings, changed meeting locations and released only snippets of pertinent financial documents, says Roylance. Livermore Valley didn't return a request for comment by press time, but the charter school's troubles have continued to mount: Tri-Valley is now under investigation by the Alameda County District Attorney for fraud, mismanagement of its foreign exchange program and child endangerment.
Roylance believes many of these problems could have been avoided if Livermore Valley and its operator were required to be more transparent. "I don't think [management] would have been able to take advantage of the system," she says. "If there was more transparency, the public would have known what was going on. We could have avoided a lot of the trauma we went through."
Roylance isn't alone in such beliefs. An alliance of teachers, community activists and state officials is advocating that California's charter school industry – the largest in the country, with more than 1,200 charter schools statewide – be held to the same accountability standards as traditional public schools. It's calling for the passage of Assembly Bill 709, which would require charter schools to follow open-records and open-meeting laws, and disclose how they use taxpayer funds, as well as to prohibit charter board members from profiting from their schools. Currently, that bill sits on the desk of Governor Jerry Brown, who launched two charter schools while mayor of Oakland and has a history of opposing new charter regulations. But maybe, hope activists, with scandals and public outcry mounting, California's charter schools are ready to be held accountable.
When the first charter school law passed in Minnesota in 1991, the idea was that these independently run schools would boast increased inventiveness and accountability, since they'd be run by parents, teachers and community members who'd have the students' best interests at heart. But as the charter movement spread across the country, for-profit enterprises saw the potential for tapping into the $620 billion the United States spends on elementary and secondary schools without the regulatory restrictions placed on traditional public schools.
"Charter schools were originally a union concept," says Eric Heins, president of the California Teachers Association. "We'd create these laboratory schools, exempt from the usual restrictions — then if we see things work, we'd scale them up to the traditional system. But they have become co-opted by a for-profit industry and backed by this small cabal of billionaires." (Disclosure: CTA is a financial supporter of this website.)
Since these charters are exempt from most school district laws, there's nothing on the books compelling them to abide by California's open-meeting and open-records rules. And these days, California is being singled out for lax oversight of its booming charter school industry. "I came away appalled," says Carol Burris, executive director of the New York-based Network for Public Education, after a recent fact-finding trip to the state for a four-part series she's writing on the state of charters in California. "I was really taken aback by how unregulated charters are in the state."
Part of the problem, says Burris, is Governor Brown's pro-charter stance; last year he vetoed a bill that would have banned for-profit charter schools in the state, a restriction that even many charter school advocates support. Another factor, says Burris, is that the California Charter Schools Association, which did not respond to a request for comment for this article, has become a powerful lobbying force against many reforms, thanks to major funding from deep-pocketed charter advocates.
Charter critics contend that the absence of regulations contributes to the scandals that have plagued California's charter schools, including:
Last year, a report by the Center for Popular Democracy, the Alliance of Californians for Community Empowerment Institute and Public Advocates Inc. concluded that charter school fraud and mismanagement had already cost California taxpayers more than $81 million. And last month, the American Civil Liberties Union of Southern California and Public Advocates reported that more than 250 California charter schools – one-fifth of the state's total – violated state law by excluding low-performing and other potentially undesirable students. In both reports, authors concluded that because of minimal oversight, such misconduct findings are likely to be "just the tip of the iceberg."
Such troubles don't just generate headlines; they impact students, says Sarah Vigrass, a longtime K-8 teacher at California Virtual Academies (CAVA), the state's largest online charter school. In July, K12 Inc., the Virginia-based for-profit that manages CAVA, agreed to a $168.5 million settlement with California in the wake of a state Attorney General probe and a Mercury News investigation into whether the company had manipulated its success rates and attendance records. According to Vigrass, over the years she's seen K12 reduce the quality and quantity of education materials it provides to its students – but she and her colleagues have no way of knowing why that might be happening.
"We are a public school and information should be easily accessible on our budgets and our school board meetings, but you can't find anything online," she says. "The board meetings are really very closed, and sometimes they are just a phone call. It's really hard to find information on where the money is going."
Additional transparency, says Vigrass, would pressure "the school [to] refocus its resources on the students and not play fast and loose with its finances. A great percentage of our money goes to a for-profit company in Virginia. I would [prefer] to keep resources here in California."
It's why a coalition that includes the California Teachers Association, State Treasurer John Chiang, Assemblyman Mike Gipson (D-Compton) and various school administrators and civil rights activists spoke out at a media teleconference call two weeks ago in favor of AB 709. There are signs that the group has public support on its side; a 2015 poll of 700 California voters by the research group In the Public Interest found that roughly 90 percent of respondents wanted charter schools to hold open board meetings and release financial information to the public.
The fact that California's largest teachers union is among those leading the charge on AB 709 and also recently launched a Kids Not Profits charter reform campaign, is noteworthy, says Julian Vasquez Heilig, a professor and director of the doctorate of educational leadership at California State University, Sacramento. "The unions have for a long time stayed on the sidelines on this issue in most states," he says. "That's because their strategy was trying to unionize charters one by one. But they realized this is a growing issue and they have taken a stronger stand for transparency and accountability."
Now, says Vasquez Heilig, the ball is in Governor Brown's court: "Does he want his legacy to be the anti-democratic privatization of our public schools?"
Whatever Brown decides to do about charter school transparency, it won't impact Aimee Roylance. A week before school started at Livermore Valley Charter School this year, she pulled her kids from the charter and enrolled them in a traditional neighborhood school. It wasn't easy, she says, leaving behind the school they'd loved, it wasn't easy leaving the fight to make the school better. But there were just too many unknowns about what the future would hold for her kids at Livermore Valley, and no easy way for her to find out the truth.
"I wanted to be a mom," she says. "I didn't want to be an investigator."
California Ramps Up College Education Behind Bars
Prisons have been called universities of crime. What if they became, instead, actual universities?
---
A 2014 law is turning state lockups into de facto institutions of higher learning.
---
In January 2017, Peter Fulks, a former police officer, stepped inside the California Correctional Institution (CCI), a sprawling supermax prison of more than 4,000 inmates, located just west of the foothill community of Tehachapi. The previous year, Fulks had accepted a teaching job at Cerro Coso Community College, which serves the sparsely populated eastern end of Kern County. The baby-faced 32-year-old had only a semester under his belt when he had volunteered to take his course about criminal justice inside a criminal justice facility, part of a daring experiment in California to provide face-to-face college courses to people behind bars.
Fulks wasn't sure what to expect at CCI. He admired the idea of teaching prisoners, and believed education could be transformative, but he was also prepared for resistance. "I was ready to argue for four months straight," he said. The first day was rocky. After he announced that he would be dividing the inmates into groups, a man at the back of the classroom interjected, "Professor, I believe we have already established our groups." Fulks looked at his new students, who had organized their seating arrangements by race, as so much else was organized inside the prison, and let it be.
---
Inmate: "Everywhere I turned, people were talking about what classes they have, what homework they had due, how many units they needed to complete their degree. I had to see what this was all about."
---
Like Fulks, his students seemed to believe in the value of education—they had signed up for his intro course, after all—but he sensed they were skeptical that anything positive could come from their time in prison. (And for good reason, Fulks conceded.) The skepticism didn't last. During the semester, they studied the history of prisons, analyzed the budget of the California Department of Corrections and Rehabilitation (CDCR), and wrote letters to elected officials regarding various public safety bills. The inmates were enthusiastic and sharp, and they were soon high-fiving and chest-bumping each other without regard to the institution's racial order.
"I got to see in front of my eyes a complete breakdown of the prison's subculture," Fulks told me. He also saw a side of the criminal justice system that hadn't been visible from the perspective of a beat cop: the talent, drive and dreams of the people he had once put away. After that first semester, he set out with his colleagues to scale up the program and has turned Cerro Coso into what is likely the largest provider of face-to-face college education in the nation. This academic year, 10 full-time and 36 part-time Cerro Coso instructors will teach more than 1,200 inmates at CCI and another state prison located in Kern County, the California City Correctional Facility.
*   *   *
Fulks and Cerro Coso stand at the forefront of a remarkable effort to turn California's prisons into de facto institutions of higher learning, made possible by the passage, in 2014, of state Senate Bill 1391. Inmates had previously been mostly limited to GED, career technical and correspondence programs, but the new law allowed community college professors to teach inside prisons and be compensated for instructing inmates as if they were students on the outside. Though the experiment has been operating largely below the radar, the results have been striking: In the fall of 2018, nearly 5,000 inmates from all security clearance levels took face-to-face college courses. That's more than in any other state, and more than the total number of students enrolled in the federal Second Chance Pell Pilot Program, which began under the Obama administration in 2016.
---
Prison Teacher: "You are entering an area
of supreme control, of which you have none."
---
There is plenty of evidence to support bringing higher education classes into prisons. Nearly all inmates will eventually be released, and a comprehensive 2013 RAND Corporation study found that inmates who participated in educational programs lowered their chances of recidivating by 43 percent. The RAND study also found that each dollar invested in correctional education returns between four and five dollars. And prisoners are often hungry to learn: Thus far, incarcerated students in California who take community college courses are consistently receiving higher grades than their campus counterparts.
One inmate, a student of Fulks who didn't want to include his name, wrote that he had been transferred to a prison for disciplinary reasons. He described himself as a "multi-striker" who had first entered prison in 1993. After his transfer, he noticed "a buzz around the facility that I have never experienced in this environment. Everywhere I turned, people were talking about what classes they have, what homework they had due, how many units they needed to complete their degree. I had to see what this was all about and signed up for whatever I could get."
Last fall, he took five courses, including art history and psychology, and is on track to earn his associate degree later this year. "For the first time in a long time, I don't feel like a 'lost cause,'" he concluded, adding that he was "on the right path to becoming a success story [and a human being again]."
*   *   *
"People talk about reduced recidivism, safer communities, and saving money, and those things are true," said Rebecca Silbert, a senior fellow at the Opportunity Institute in Berkeley and co-director of a statewide initiative, Renewing Communities, that supports providing higher education in prison. "But, fundamentally, this matters because we are a nation that believes in opportunity for all. What is the point of public higher education, if not to create opportunity for the public—meaning all of us, even those who made bad decisions in the past?"
Silbert has been heartened by what California has been able to achieve in a relatively short period. Still, challenges remain. Textbooks are expensive, especially for inmates who might earn only 25 cents an hour. Much of the administrative work is labor intensive and unfunded—to register students, someone has to physically travel to the prison yard with a clipboard. And professors must learn how to design lesson plans that don't require the Internet and avoid assigning banned books, which in California include such titles as Dante's Inferno and Freud for Beginners. There are delicate relationships, as well, to manage between CDCR and the California Correctional Peace Officers Association, the union that represents prison guards. As a teacher in a prison, Fulks told me, "You are entering an area of supreme control, of which you have none."
However, both Fulks and Silbert feel that California is on the right path and can provide a model for other states. Fulks told me that he had recently returned to teach a more advanced course to his initial students, a handful of whom have earned their associate degrees and want to pursue a PhD program. To meet this demand, Cerro Coso will soon be bringing in doctoral students from the University of California, Los Angeles, who will mentor inmates during their final year in prison and help place them into a bachelors-to-PhD program upon their release.
Fulks laughed, thinking about this prison-to-PhD pipeline: "That has happened zero times with my students on the outside."
---
Copyright Capital & Main