The Dixon Family Chronicles: "The People United"
Illustration by Manoel Magalhães
"Ain't that about nothing," Macy Farmdale said. "Nine to zip, including the so-called liberals." She shook her head. "What chance does the working woman have, I ask you."
Jess Dixon said, "It's all about keeping the big conveyor belt going, Macy. Us peasants have no choice but to fight and scrabble each day for our rice and beans."
"Sheeet," her friend sneered.
The two chuckled mirthlessly. They lamented the recent Supreme Court ruling wherein employees were expected to go through their end of shift security screenings on their own time—no matter if it took five minutes or half an hour.
Farmdale leaned across the lunch table toward the other woman. "This is why we need a union," she whispered. She leaned back and had more of her chicken salad sandwich.
Jess hunched her shoulders. "That wouldn't change the ruling. I bet them unions filed, you know, friend of the court briefs in this case and where did it get them or their members? Screwed royally like always."
"I don't know they did but that's not a reason to roll over."
Aware there were others in the room and not sure if one of them wasn't a company snitch, Jess tempered her words as she spoke softly. "Come on, Macy, the reality is we got to do for ourselves the best we can. Keep our heads down and do the job they give us."
"And hope they throw us a bone now and then."
"At this stage of the game, what else? Well," she added, brightening, "that and hope to win the lottery."
"Great."
Jess spread her arms wide. "That's the system we're fighting to bring to Iraq and Afghanistan."
"Lucky bastards," Farmdale said.
"Aren't they?"
.    .    .
Hank Dixon and Larry Wardlow sat at Dixon's small kitchen table working out a plan of action. Each had a cup of coffee before him. Dixon's was the one with the Batman logo his sister had bought him for a birthday some years ago. Before she slipped again and disappeared down the rabbit hole of addiction.
"Alma's going to talk to Belle later today," Dixon said.
"Nothing came of that before," Wardlow pointed out. "Belle played it close to the vest then, which probably means she's holding out for a good price from the university."
"Maybe," Dixon conceded, "but she's grateful Alma was so helpful back when she was married to that doctor or whatever he was in the Valley."
Wardlow made a sound in his throat. "Till he dumped Belle for that blonde with the rack. Anyway, money has a funny way of overcoming those feelings."
"No argument. But if we can get the tenants fired up, organized, we can push back."
"We can't stop the sale if she wants to do that, Hank."
"That is so. But there are rights we have as tenants. Dig this, L.A. has a higher percentage of renters than New York City."
Wardlow sipped from his coffee. "Damn, you wouldn't figure that." He frowned, then said, "But to really be serious, are we talking about trying to get a lawyer? One of those what do you call them, pro something types from like Legal Aid, something like that?"
"It could get to that," Dixon admitted. "Juanita tells me even though landlords have the upper hand, they hate going to Department 94, that's where they hear eviction cases at the downtown courthouse."
He hadn't mentioned to Wardlow or anyone else that his nephew could possibly obtain some inside dope from a man he'd met at his poker game the other week. Nothing had come of that yet. He saw then no reason to state what might turn out to be a hollow boast—to sell a wolf ticket, in the neighborhood parlance. That is Dixon assumed the man, a lawyer who'd worked for a large firm, would have such contacts, given he'd offered to provide information useful to his niece on her situation.
"Anyway, it could be worse," Dixon continued. "From what I've been learning, something like sixty to seventy thousand people are evicted in L.A. each year. Median rents are now over two grand a month."
"What are poor folks like us supposed to do?' The retired barber made a sour face.
Dixon smiled. "That's why we got to work together, brother."
"Go down swinging, huh?"
"Shit yeah."
"Okay," Wardlow said, clapping his hands lightly, "Armando in 4C said he'll meet with us, but not in his apartment."
"What's he scared of? It ain't like Grace is going to show up at his door swinging a crowbar."
Wardlow cocked his head, giving Dixon an odd look. "The gunshot thing has him, you know, edgy. Quiet as it's kept, it sits there in the back of my mind too."
"Probably some pants saggers high on who knows what."
"You keep saying that, Hank, but you know how it gets. People gonna supply their own explanations in a situation like this."
"Our job is to keep them on point, Larry."
"I hear you, Sergeant Rock," the other man joked.
Dixon's smartphone buzzed. It lay next to his Batman cup. He picked it up to read a text from his nephew.
"Huh," Dixon said, deciding to share the information. "Little Joe just sent me this. It's about what might be the university's plans." He held the phone so his friend could read the message.
Wardlow exclaimed, "Da-yum. That could change everything."
-To Be Continued-
---
The Dixon Family Chronicles appears every Wednesday. See also:
Chapter 1: "The Sink Man"
Chapter 2: "SOL"
Chapter 3: "Time Is Tight"
Chapter 4: "Early in the Morning"
Chapter 5: "You Gonna Step Up?"
Chapter 6: "Esoterica"
Chapter 7: "Which Side Are You On?"
Chapter 8: "A Little Past Seven"
Chapter 9: "No Justice …"
Chapter 10: "Live for Today"
No Walk in the Garden for the Urban Homeless
Throughout Los Angeles, landscaping is put to aggressive use, functioning as a weapon of anti-homelessness under the guise of beautification.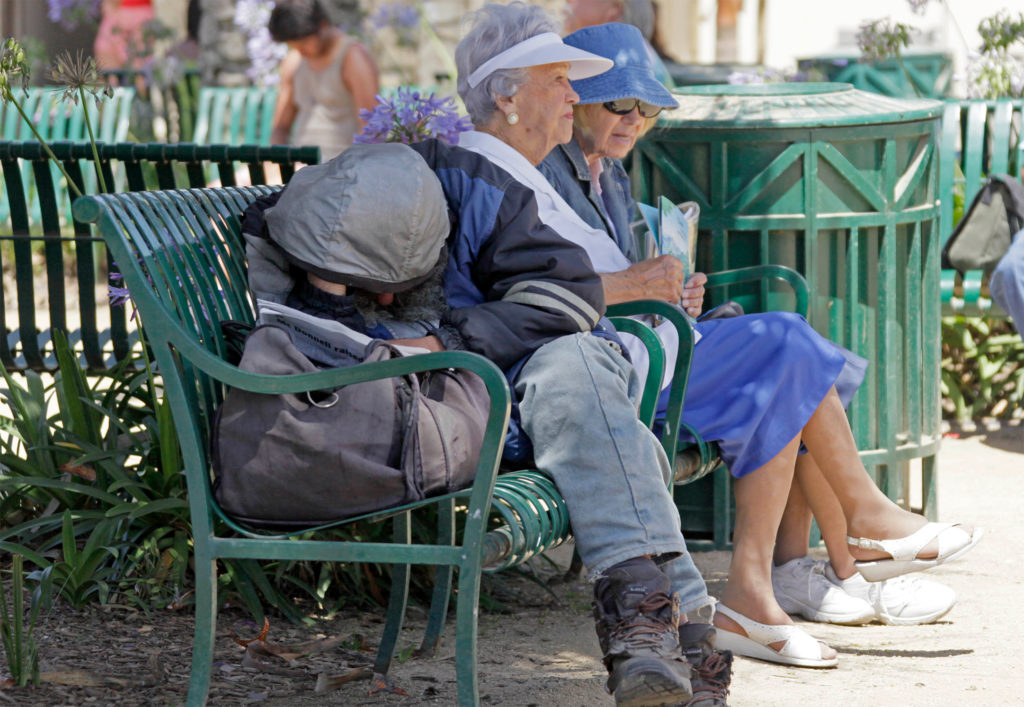 ---
The phenomenon of hostile landscaping in Los Angeles has further marginalized a swelling unhoused population.
---
Last May, in Los Angeles' coastal Venice neighborhood, Adam Smith noticed a series of planter boxes in the middle of a familiar sidewalk. Affixed near the intersection of Third and Sunset avenues, mere blocks from a Google campus and a suite of oceanside cafes, the standalone planters ran roughly the length of a wall delineating a parking lot behind a luxury condo complex.
Previously, Smith told Capital & Main, a group of six to 10 homeless people had regularly slept in tents on that block, favoring it for its relatively plentiful street light. A volunteer for the Culver-Palms Burrito Project, which prepares and serves the titular food to the unhoused of West Los Angeles, he'd become acquainted with individuals living there over the course of several years.
Once the planters were installed, however, the sidewalk was clear. "That next day, after I saw [the planter boxes] for the first time, I went there to look around because I figured they were sleeping somewhere else," Smith said. "I found people up around the corner, just, like, a block away."
---
Companies are privatizing public space to create more "landscape" for their businesses.
---
Throughout Los Angeles, landscaping is put to aggressive use, functioning as a weapon of anti-homelessness under the guise of beautification. Just as both public and private architectural design throttle space available to the unhoused internationally — via, among other examples, spikes on ledges and bars on benches to discourage sitting and lying down — and cities such as San Francisco arrange boulders to deter homeless encampments, the phenomenon of hostile landscaping in Los Angeles has further marginalized a swelling unhoused population.
Nearly 20 miles from Venice, a Los Feliz traffic median at the intersection of Vermont and Prospect avenues, and Hollywood Blvd., has regularly seen encampments arranged on its concrete ground, abutting a raised patch of desert landscaping and sycamore trees.
Christened "Vermont Triangle," the median's first redesign occurred in 2008, when the now-defunct Community Redevelopment Agency spearheaded a project to "improv[e] the pedestrian amenities" and "enhanc[e] the physical appearance of the existing median park." According to the Los Angeles Times, this yielded seating areas, lampposts to echo those at nearby Barnsdall Art Park, and the sycamores. Eventually, unhoused people began to pitch tents, availing themselves of the median's modest stretches of open public space.
Now, due to pressure from local business owners, Vermont Triangle is in flux. City Councilmember David Ryu's office, the Times noted, plans to invest $18,000 in another redesign, following a 2013 re-landscape. The 2013 update was financed in part by the Hollywood Hotel and Kaiser Permanente, according to Jeff Zarrinnam, who serves on the board of governors of the East Hollywood Business Improvement District. (Ryu's office couldn't be reached for comment.) Current proposals range from adding art installations and neighborhood signs, which Zarrinnam said the Los Feliz Neighborhood Council and East Hollywood Neighborhood Council have floated, to putting in planters.
Zarrinnam said he supports "bridge housing," a term the municipal government, neighborhood councils and local businesses use to favorably denote temporary homeless shelters and transitional housing. Yet reports indicate that the current state of temporary housing for many homeless people in Los Angeles County — who, as of May, numbered approximately 53,000 — is nothing short of abysmal. A recent investigation by radio station KPCC found infestations, harassment and medical negligence, among other scourges at various facilities throughout Los Angeles County, including those funded by the Los Angeles Homeless Services Authority (LAHSA), which conducts the county's annual homeless census.
Steve Diaz, an organizer for Los Angeles Community Action Network (LA CAN) who works with unhoused populations in downtown and South L.A., calls hostile landscaping of public space "the next level of criminalization" of homelessness. He alluded to an industrial neighborhood overlapping Skid Row, whose business owners call "The North Sea": a cluster of converted seafood warehouses and factories painted the same hues of oceanic blue — complete with landscaped sidewalks.
"They started breaking the concrete and taking away from the sidewalk to place different types of flowers, whatever garden they were putting in," Diaz said. "You have a major street [on] Skid Row that, at one point, was home to a lot of homeless folks now being gated off, and then the concrete being broken to start using these gardening pockets within the space to eliminate sidewalk access." (Miguel Nelson, a North Sea business owner involved in the area's marketing efforts, declined to respond publicly.)
As private property owners adopt guerrilla tactics to thwart homeless encampments, legal issues arise. Skid Row activist General Jeff Page has observed that, while property owners are permitted to control up to three feet of sidewalk extending from their buildings, "The North Sea is taking upwards of five to 10 feet of sidewalk, allowing only for ADA (Americans with Disabilities Act) compliance and zero space for homeless tents and/or encampments." (The Los Angeles Department of Public Works stated that the North Sea sidewalk landscaping is currently under investigation and thus couldn't comment further on the matter.)
What's more, business owners in South L.A. have illegally installed fences around their property, which, according to Diaz, will eventually give way to sidewalk landscaping. Relatedly, Adam Smith has been corresponding with city officials to ascertain the permit status of the Venice planters. The West L.A. office of the Bureau of Engineering, which issues revocable permits, told Capital & Main that it did not have a permit on file for the planters. Without one, according to the bureau, "no portion of the public right-of-way, including sidewalk, is allowed for private use."
Nevertheless, the planters remain and, according to Smith, have multiplied. Additional boxes, he said, are now ensconced in the sidewalk around the corner, to where the previously ousted people had first moved.
"For some people, [landscaping] sounds like a great idea," Diaz said. "But you're literally privatizing public space to create more 'landscape' for your business."
---
Copyright Capital & Main