The Dixon Family Chronicles: "The People United"
Illustration by Manoel Magalhães
"Ain't that about nothing," Macy Farmdale said. "Nine to zip, including the so-called liberals." She shook her head. "What chance does the working woman have, I ask you."
Jess Dixon said, "It's all about keeping the big conveyor belt going, Macy. Us peasants have no choice but to fight and scrabble each day for our rice and beans."
"Sheeet," her friend sneered.
The two chuckled mirthlessly. They lamented the recent Supreme Court ruling wherein employees were expected to go through their end of shift security screenings on their own time—no matter if it took five minutes or half an hour.
Farmdale leaned across the lunch table toward the other woman. "This is why we need a union," she whispered. She leaned back and had more of her chicken salad sandwich.
Jess hunched her shoulders. "That wouldn't change the ruling. I bet them unions filed, you know, friend of the court briefs in this case and where did it get them or their members? Screwed royally like always."
"I don't know they did but that's not a reason to roll over."
Aware there were others in the room and not sure if one of them wasn't a company snitch, Jess tempered her words as she spoke softly. "Come on, Macy, the reality is we got to do for ourselves the best we can. Keep our heads down and do the job they give us."
"And hope they throw us a bone now and then."
"At this stage of the game, what else? Well," she added, brightening, "that and hope to win the lottery."
"Great."
Jess spread her arms wide. "That's the system we're fighting to bring to Iraq and Afghanistan."
"Lucky bastards," Farmdale said.
"Aren't they?"
.    .    .
Hank Dixon and Larry Wardlow sat at Dixon's small kitchen table working out a plan of action. Each had a cup of coffee before him. Dixon's was the one with the Batman logo his sister had bought him for a birthday some years ago. Before she slipped again and disappeared down the rabbit hole of addiction.
"Alma's going to talk to Belle later today," Dixon said.
"Nothing came of that before," Wardlow pointed out. "Belle played it close to the vest then, which probably means she's holding out for a good price from the university."
"Maybe," Dixon conceded, "but she's grateful Alma was so helpful back when she was married to that doctor or whatever he was in the Valley."
Wardlow made a sound in his throat. "Till he dumped Belle for that blonde with the rack. Anyway, money has a funny way of overcoming those feelings."
"No argument. But if we can get the tenants fired up, organized, we can push back."
"We can't stop the sale if she wants to do that, Hank."
"That is so. But there are rights we have as tenants. Dig this, L.A. has a higher percentage of renters than New York City."
Wardlow sipped from his coffee. "Damn, you wouldn't figure that." He frowned, then said, "But to really be serious, are we talking about trying to get a lawyer? One of those what do you call them, pro something types from like Legal Aid, something like that?"
"It could get to that," Dixon admitted. "Juanita tells me even though landlords have the upper hand, they hate going to Department 94, that's where they hear eviction cases at the downtown courthouse."
He hadn't mentioned to Wardlow or anyone else that his nephew could possibly obtain some inside dope from a man he'd met at his poker game the other week. Nothing had come of that yet. He saw then no reason to state what might turn out to be a hollow boast—to sell a wolf ticket, in the neighborhood parlance. That is Dixon assumed the man, a lawyer who'd worked for a large firm, would have such contacts, given he'd offered to provide information useful to his niece on her situation.
"Anyway, it could be worse," Dixon continued. "From what I've been learning, something like sixty to seventy thousand people are evicted in L.A. each year. Median rents are now over two grand a month."
"What are poor folks like us supposed to do?' The retired barber made a sour face.
Dixon smiled. "That's why we got to work together, brother."
"Go down swinging, huh?"
"Shit yeah."
"Okay," Wardlow said, clapping his hands lightly, "Armando in 4C said he'll meet with us, but not in his apartment."
"What's he scared of? It ain't like Grace is going to show up at his door swinging a crowbar."
Wardlow cocked his head, giving Dixon an odd look. "The gunshot thing has him, you know, edgy. Quiet as it's kept, it sits there in the back of my mind too."
"Probably some pants saggers high on who knows what."
"You keep saying that, Hank, but you know how it gets. People gonna supply their own explanations in a situation like this."
"Our job is to keep them on point, Larry."
"I hear you, Sergeant Rock," the other man joked.
Dixon's smartphone buzzed. It lay next to his Batman cup. He picked it up to read a text from his nephew.
"Huh," Dixon said, deciding to share the information. "Little Joe just sent me this. It's about what might be the university's plans." He held the phone so his friend could read the message.
Wardlow exclaimed, "Da-yum. That could change everything."
-To Be Continued-
---
The Dixon Family Chronicles appears every Wednesday. See also:
Chapter 1: "The Sink Man"
Chapter 2: "SOL"
Chapter 3: "Time Is Tight"
Chapter 4: "Early in the Morning"
Chapter 5: "You Gonna Step Up?"
Chapter 6: "Esoterica"
Chapter 7: "Which Side Are You On?"
Chapter 8: "A Little Past Seven"
Chapter 9: "No Justice …"
Chapter 10: "Live for Today"

LISTEN: How Two African-American Entrepreneurs Are Determined To Change Diets In The Black Community
On the latest episode of "The Bottom Line" podcast, Naturade's Claude Tellis and Kareem Cook share how their own families' experience with diabetes has spurred them to promote healthy eating options.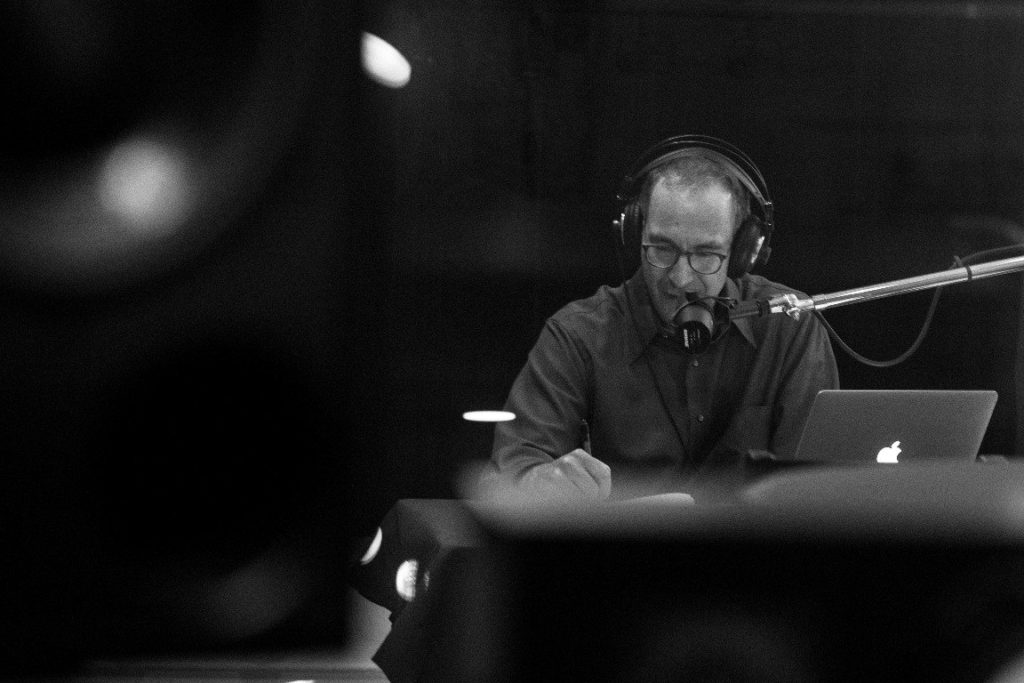 Many entrepreneurs pride themselves on solving some sort of "pain point" for their customers. But as Claude Tellis and Kareem Cook, the co-owners of health-products provider Naturade make clear, some pain points are a lot more serious than others.
"I had an uncle that went into the doctor, wasn't morbidly obese or anything, lived in Louisiana and . . . the family was faced with, 'Do we amputate both of his legs or not?'" Tellis told me on the latest episode of my podcast, The Bottom Line. "He never made it out of the hospital. He died, and he was about 55 years old."
Another uncle, says Tellis, who serves as Naturade's CEO, "was faced with losing a couple toes." Eventually, "they had to take his leg from the knee down."
In the African-American community, dealing with this grim loss of life and limb—often brought on by diabetes and peripheral arterial disease—has become disturbingly routine. "You just kind of grew up with insulin in the refrigerator," says Cook, Naturade's chief marketing officer.
And so Tellis and Cook have set out to combat this crisis by helping underserved populations—especially those in black neighborhoods—eat better. Their vehicle for sparking change is Naturade, which they acquired in 2012 for $8 million.
Although the Orange, Calif., company is nearly a century old, Tellis and Cook have revamped it completely, including introducing a new product that is now their No. 1 seller: VeganSmart, a plant-based meal replacement that is high in protein, low in sugar, and full of vitamins and minerals. Its suggested retail price is $35 for 15 servings.
"What we really wanted," says Tellis, "was something that had Whole Foods quality that could be sold to a Walmart consumer."
To achieve that vision, they've built the brand methodically. Step one, Tellis says, was making sure that vegans bought in, so that "people when they look online will see that there's an authenticity and there's a rigor" to what's being offered.
From there, they handed out VeganSmart at Wanderlust yoga festivals, aiming to attract a hip, upscale crowd. This helped advance a "premium viewpoint of the product," Tellis says.
Finally, there came the last step: bridging into urban America. To catch on there, they've adopted an influencer strategy, tapping rappers like Styles P and Da Brat and professional basketball players to promote VeganSmart. (Grant Hill, soon to be inducted into the NBA Hall of Fame, is an investor in Naturade.)
The result is a profitable company that is now selling into, among other retailers, both Whole Foods and Walmart—just as Tellis and Cook had planned it.
Not that any of this has come easy. The duo, who met as Duke University students in the early 1990s, have played in the health-food space for more than 15 years now.
Their first venture, launched in 2002, was a vending machine company called Healthy Body Products, which supplied nutritious snacks and drinks instead of junk food and soda. The business won contracts with the Los Angeles Unified School District, but it was difficult to scale. So Cook and Tellis ultimately sold the venture—but not before gaining some insight into what it takes to persuade those in the mainstream to eat right.
At one point, they brought in actor Michael Ealy (then fresh off one of the Barbershop films) to talk to the students about the importance of maintaining a good diet. "One of the biggest things we learned in our first business was how to make it cool," Tellis explains.
And, of course, if that doesn't work as a motivator, there's always a second message to fall back on. "Everyone wants to be cool," says Cook. "And no one wants to die."
You can listen to my entire interview with Tellis and Cook here, along with Bridget Huber reporting on Impact America Fund's efforts to help improve low- to moderate-income areas, and Karan Chopra laying out what small rice farmers in West Africa can teach American business leaders.
The Bottom Line is a production of Capital & Main.