The Dawn of a New Racial Justice Movement
Unrest in Ferguson, Missouri. (Photo: Loavesofbread)
A year and a half ago, I wrote an article for the Huffington Post that I called "Will the Killing of Trayvon Martin Catalyze a Movement Like Emmett Till Did?" I pointed out that Rosa Parks was thinking about Emmett Till — a 14-year-old African American who was brutally murdered by two white thugs in Mississippi in August 1955 — when she refused to move to the back of the bus in December of that year and sparked the Montgomery bus boycott which, in turn, triggered the civil rights movement.
At the time, I hoped the answer to my question would be yes, but I wasn't sure. I wondered whether the protests over the murder of Trayvon Martin, and the acquittal of his killer George Zimmerman, would coalesce into a sustained movement.
Now we can see that, indeed, a movement for social and racial justice has emerged from the Trayvon Martin murder and more recent events — among them, the tragic killings of Michael Brown in Ferguson and Eric Garner in NYC, and the outrageous failings of our criminal justice system to indict their killers, and the murders of 19-year old Kendrec McDade in Pasadena and 12-year-old Tamir Rice in Cleveland.
Protests around the country have escalated over the past two years. Activists have transformed the outrage into local community organizing projects, voter registration drives, and mass protest campaigns like the Moral Monday movement in North Carolina. They've focused on the epidemic of murders, opposition to Stand Your Ground ("shoot first") laws in many states, the persistence of racial profiling and stop-and-frisk tactics by police, sentencing reform, and the overlapping issue of voter suppression and ex-felon disenfranchisement.
One of the clear successes of these efforts occurred last month, when California voters passed Proposition 47, which lowers penalties for drug possession and petty theft. It is part of a growing effort to challenge America's mass incarceration crisis, the for-profit prison-industrial complex, and the school-to-prison pipeline that has devastated low-income communities, especially among Black and Latino youth. The new law now makes California a national leader in progressive prison reform. The advocates for Proposition 47 mounted an impressive grassroots effort to identity, register, and turn out "yes" voters. But they also used the campaign to strengthen local community organizing efforts in cities across the state that will continue to mobilize people on issues in-between election cycles.
This wave of activism reflects the difference between what community organizer Ernie Cortes calls hot anger and cold anger. With hot anger we act irrationally and misdirect it toward the wrong people. With cold anger we focus on what we can do to change oppression, exploitation and injustice. (You can learn more about these ideas and Cortes' work in the book Cold Anger by Mary Beth Rogers).
There is widespread anger around the country about the racial and class injustices. The struggle to reform our criminal justice system is just one aspect of this growing progressive movement.
Occupy Wall Street was and is part of that trend. Although the Occupy protests have ended, the movement's message has changed the national conversation. Everyone knows what "the One Percent" and "the 99 Percent" means. Americans are talking about the widening economic divide. More and more politicians are echoing Occupy's themes, even if they didn't agree with its tactics. Public opinion polls show that a significant majority of Americans think that Wall Street and big business have too much political power, that the super-rich don't pay their fair share of taxes, that the minimum wage should increase to at least10 an hour, and that the federal government should do more to address poverty, inequality, and pollution.
The growing protests by Walmart employees, fast-food workers, janitors, nurses, and others — demanding a living wage and respect at work — is another part of this burgeoning movement. On Black Friday, for example, tens of thousands of people showed up at over 1,600 Walmart stories to support the company's workers, many of whom courageously went on strike against a corporation that earned16 billion in profits last year but pays most of its employees poverty-level wages. Earlier this year, Seattle adopted a15 an hour citywide municipal wage — double the federal standard. Now, a growing number of cities are likely to follow in Seattle's footsteps. After Los Angeles Mayor Eric Garcetti recently proposed a $13.25 minimum wage, a group of City Council members countered with a $15 plan.
The incredible upsurge of activism for immigrant rights, especially among high school and college students like the Dream Defenders, is gaining headway. President Obama's recent executive order on immigration is one of its key victories.
The epidemic of home foreclosures and "underwater" homeowners has ignited a movement in many working class communities to pressure banks to rewrite mortgages to protect homeowners who, through no fault of their own, saw the value of their homes plummet. The so-called housing "recovery" has bypassed many communities and millions of homeowners. Ground-zero in this battle is Richmond, CA, where a progressive mayor and city council, backed by the Alliance of Californians for Community Empowerment and the Service Employees International Union, among other groups, have mobilized residents against Wall Street banks. Their movement-building efforts also paid off last month when progressive candidates defeated $3 million effort by Chevron — the oil giant that has a huge refinery in Richmond — to take over the municipal government by backing oil-friendly candidates. The progressive coalition defeated all four Chevron-backed candidates, including one running for mayor, to retain control of the local government.
On more than 300 campuses across the country, students are demanding that colleges and universities divest from large fossil-fuel corporations that exacerbate global warming and threaten public health. A student of major institutions, including Stanford, have already changed their investment policies in response to student pressure.
Last October, more than a thousand students from 17 high schools in suburban Jefferson County, Colorado — outside Denver — walked out for several days in protest of their right-wing school board's efforts to eliminate the teaching of dissent and protest in the high school American history curriculum. Many of their parents joined them on picket lines along the area's major roads. They pledged to launch a voter registration and turnout drive to outside the conservative majority on the school board. For most of these students, this was their first experience with political activism. But many of them have subsequently participated in local protests over the killings of Michael Brown and Eric Garner.
Another issue that is catalyzing activism is rising college tuition and skyrocketing student debt. Cumulative student loan debt has now reached1.2 trillion. The average student loan debt held by 25-year-olds has jumped 91 percent in the past decade alone. This burden is troublesome not only to current college students, but to many college graduates and drop-outs in their 30s and 40s who are downing in debt and can't afford to purchase homes or attain a middle-class standard of living. For high school students from low-income families, tuition is so high that they can't even afford to attend college. With a strong ally in Senator Elizabeth Warren, a movement to reform the cost of higher education is gaining steam.
Five years ago, hardly anyone would have predicted that by 2014, same-sex marriage would be legal in 33 states that contain over 60 percent of the U.S. population. But the LGBT rights movement has made enormous progress in the past few years. Public opinion polls reveal that a majority of Americans favor legalization of same-sex marriage, but attitudes don't always translate into changes in public policy. Grassroots organizing, protest, engagement in electoral politics, and a sophisticated litigation strategy have netted historic victories for gay and lesbian Americans.
What's especially impressive is the large number of young people who are involved in these efforts. They are taking to the streets, the ballot box, and the campuses to make sure that their voices are heard in the corridors of power. And they have been inspired, and taught organizing skills, by a remarkable cohort of 20-, 30-, and 40-something Millennial activists who have become the new leaders of the movements for workers' rights, women and LGBT equality, environmental justice, criminal justice reform, voting rights, and other issues.
On Friday, Occidental College held a teach-in about the events in Ferguson and the broader issues of racial injustice, organized by Ella Turenne, the college's director of community engagement. Classes ended this week and students are studying for finals and finishing term papers, so I wouldn't have been surprised if only 25 students showed up. But more than 200 students, as well as a significant number of staff and faculty, showed up, and stayed for over two hours. In addition to four faculty speakers (Regina Freer, Thalia Gonzalez, James Ford, and me), the students heard from Patrisse Cullors, a founder of Black Lives Matter and a remarkable community organizer.
My 17-year old daughter Sarah, a high school senior, came to the teach-in and we discussed it afterwards. She said she learned a lot and was impressed by the large turnout of students. So was I. It is one more thing that makes me hopeful.
Occidental isn't alone. On college campus across the country, students are educating themselves about a wide range of issues, but their outrage over the acquittal of Michael Brown's and Eric Garner's killers has been particularly palpable. Students are joining forces with activists in surrounding low-income and working class communities who experience the devastating consequences of violence in general, and police brutality in particular, every day.
This generation of young people has grown up in the shadows of 9/11 and Katrina, and came of age just as the mortgage meltdown and the Wall Street-induced recession devastated many of their families. In middle school and high school, many volunteered for Barack Obama's campaigns for president, inspired by the possibility of electing a young black president who promised to change business-as-usual. He's delivered on many of his promises, but what most young people see when they look at our national politics is gridlock, the overwhelming influence of money, and a Supreme Court that is out of touch with prevailing attitudes on most issues. Certainly they have reason to be cynical and angry. But more and more of them are learning how to turn their hot anger into cold anger.
If you're feeling hopeless, or just restless, read Dani McClain's new article in The Nation, "The Civil Rights Movement Came Out of a Moment Like This," about the aftermath of the murder of Emmett Till and its parallels today. Sometimes we don't know that we're in the middle of a movement-building period. McClain's article helps us see that now without having to wait for the benefit of hindsight.
In 1964, at the height of the civil rights movement, the great organizer Ella Baker said: "Until the killing of black men, black mothers' sons, becomes as important to the rest of the country as the killing of a white mother's sons, we who believe in freedom cannot rest."
Her words still resonate. We need a bold inter-racial movement to demand social justice for all of America's sons and daughters. That movement is already underway.
---
(This feature was crossposted at Huffington Post.)

Santa Cruz Leads the Push for Affordable Housing
California's housing shortage has made it difficult to be middle class and harder to be poor. Today's median-priced California home costs more than twice the median-priced U.S. home, according to Zillow.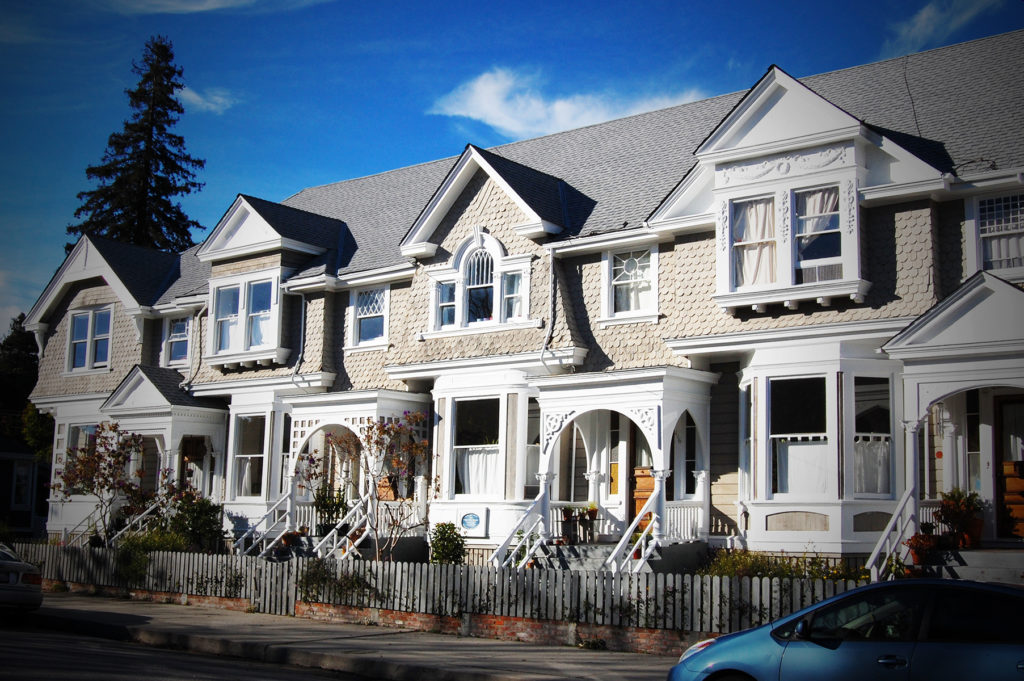 ---
California has been more expensive than most of the country for a long time, but the gap became a chasm beginning in the 1970s.
---
John Holguin should be in a celebratory mood. He is just about to close escrow on his first house. But like too many Californians, he's feeling a sense of diminished possibilities.
Holguin, 48, works for the Santa Cruz County Department of Public Works, striping roads and maintaining the county's bridges and storm drains. His wife is a school receptionist, and their combined annual income of $82,000 places them squarely in Santa Cruz County's middle class.
---
---
Yet Holguin had to withdraw from his retirement fund to afford his piece of the California Dream: a house in Watsonville, an agricultural community that has seen home prices shoot up as Bay Area tech workers and investors snatch up homes in the region.
His $3,200 monthly mortgage payment will eat up 75 percent of his take-home pay, he says. When he does retire, eight years later than planned, he and his wife will probably head for Arizona, where some of his high school classmates have already settled.
---
Activists and civic leaders are recognizing the extent of California's housing crisis. They are organizing around changes to housing codes, rent control, and local and state bond measures.
---
Holguin's two kids, junior college students, will help with the mortgage on the new home, but he does not expect them to remain in the state. "They know if they want to buy something, if they want to succeed, it's not going to be here in California," he says.
California's housing shortage has made it difficult to be middle class and harder to be poor. But there are signs in Holguin's home county, and elsewhere in the state, that activists and civic leaders are recognizing the extent of the crisis. They are organizing around changes to housing codes, rent control, and local and state bond measures.
At a June 12 Santa Cruz County Board of Supervisors meeting, Supervisor Zach Friend suggested that residents may have "reached a real tipping point" in their willingness to support new affordable housing. He was responding to almost a dozen community, business and nonprofit leaders who spoke in support of the board's unanimous vote that day to direct staff to prepare revisions to the county housing code to ease the way for more affordable housing development.
---
"It's one thing to say that you are in favor of affordable housing," but when a project is proposed in your neighborhood, "you can find a lot of reasons as to why you don't support it."
---
But it may take time to fix a problem that has been decades in the making, and it will certainly take political will to build and maintain affordable housing in sought-after coastal regions. Santa Cruz activists hope that Friend and other supervisors will vote this summer to place a bond measure of up to $250 million on the November ballot that could fund affordable rental housing, support first-time homebuyers, and provide housing for the homelessness.
Funding and policy changes are only the beginning. City and county officials must greenlight projects, sometimes over neighborhood opposition.
"It's one thing to say that you are in favor of affordable housing," Friend noted at the June 12 meeting, but when "a project actually comes forward, especially one in your neighborhood, you can find a lot of reasons as to why you don't support it."
California has been more expensive than most of the country for a long time. But the gap widened beginning in the 1970s when home prices grew from 30 percent above national levels to more than 80 percent higher by the end of the decade. Now the median-priced California home costs more than twice the median-priced U.S. home, according to Zillow.
Research suggests that the public "feels the pain" but is "not really enamored by some of the most obvious solutions," says Jim Mayer of California Forward, a nonprofit organization that focuses on fiscal and government reform. "They're really not supportive of a whole lot more homes if they think it is going to lead to more traffic and congestion, and more crime, and impact the schools."
California would need as many as 100,000 more housing units a year than it is currently building to meet the demands of its growing population, according to the state's Legislative Analyst's Office.
Meanwhile, some of John Holguin's co-workers rise in the dark to commute from Los Banos, a small bedroom community some 80 miles east. Others stay with family in Santa Cruz during the week, only to travel 150 miles home to Sacramento on the weekend. (Holguin's 17-mile commute from Watsonville along Highway 1 will take as long as 45 minutes because of traffic.) "Only in California do we have watersheds and commute sheds," says Mayer.
"My parents bought their first place at 25, and I'm 48," Holguin notes. "To me it seemed like they had it easier back then." He's right about his parents' generation of homebuyers. Back in 1975, the median home price in the state was $193,774 (in 2017 dollars). Last year, according to the California Realtors Association, it was $537,860 — nearly three times that much.
Of course, Santa Cruz is a particularly pricey slice of the California real estate market. Its sun, surf and scenery draw tourists, as well as tech industry workers from "over the hill" in Silicon Valley, who have money to spend. The median price for a single family home in Santa Cruz County shot up to $935,100 in March, a record high, the Santa Cruz Sentinel reported.
Santa Cruz County is home to lower-wage agricultural and service industries, making affordability a particular challenge for those who work there. Also, local redevelopment agencies, one of the few funding sources for affordable housing available to local governments, were eliminated in 2012, contributing to the housing shortage across the state.
Small-town Santa Cruz also faces pressure from its University of California campus, whose chancellor announced plans last fall to increase its student body by as many as 10,000 students by 2040. In a sign of voter frustration, the city of Santa Cruz approved a non-binding measure opposing the university's growth plans by a margin of 76-23 percent.
And then there is the resistance on the part of some residents to accommodate growth. Some simply want to "preserve the open space and restrain the growth" as much as possible, says Don Lane, one of the leaders of Affordable Housing Santa Cruz County, a local coalition that is advocating for a housing bond measure to be placed on the November ballot. "But you've just got all this high-priced housing, and it's still crowded, and traffic is still getting worse."
Lane, a former mayor of the city of Santa Cruz, says denser "infill" housing in commercial corridors will lead to a more efficient and effective use of space without compromising the region's preservationist traditions.
The plight of Santa Cruz's middle-income residents is not as dire as that of its poor, of which there are many. The county has among the highest poverty rates in the state. Farmworkers live in overcrowded and sometimes dangerous conditions. At the June 12 board meeting, Ann López, the director of the Center for Farmworker Families, relayed an instance of 16 people living together in a home of less than 1,000 square feet.
Matthew Nathanson, a public health nurse with the county, was motivated to advocate for an affordable housing ballot measure after witnessing the clients he serves "falling into homelessness" because of their inability to afford rent. The median rent for a two-bedroom home in Santa Cruz was $2,450 a month in May, a 4.7 percent increase from a year ago, the Santa Cruz Sentinel reported.
Nathanson, who is also a regional vice president with Service Employees International Union Local 521, says that housing has become a central issue for city and county workers like Holguin, who are becoming increasingly difficult to recruit. Road workers who are on call during the rainy season need to live "within a reasonable distance" of their jobs, he adds. And pay increases won at the bargaining table risk being "all wiped out" by the cost of housing.
The measure, which would require a two-thirds vote of the public, would be paid for by commercial and residential property owners, according to Lane. The original proposal was for $250 million, but he says the bond measure is now "looking more like $150 million" and could benefit between 1,500 and 2,000 households.
The campaign was inspired by the success of housing measures in Alameda and Santa Clara counties, he says. Another $4 billion housing measure will be on the state ballot this November.
Still, once the funding is in place, the projects will need to get approved by local governments and built. The bond measure proposed for November is only one piece of the puzzle, according to Nathanson.
"It took us a long time to get into this situation," he says. "I think there is a shift going on, but it's going to be a struggle."
---
Research assistance provided by Jake Conran.
Copyright Capital & Main