The Dawn of a New Racial Justice Movement
Unrest in Ferguson, Missouri. (Photo: Loavesofbread)
A year and a half ago, I wrote an article for the Huffington Post that I called "Will the Killing of Trayvon Martin Catalyze a Movement Like Emmett Till Did?" I pointed out that Rosa Parks was thinking about Emmett Till — a 14-year-old African American who was brutally murdered by two white thugs in Mississippi in August 1955 — when she refused to move to the back of the bus in December of that year and sparked the Montgomery bus boycott which, in turn, triggered the civil rights movement.
At the time, I hoped the answer to my question would be yes, but I wasn't sure. I wondered whether the protests over the murder of Trayvon Martin, and the acquittal of his killer George Zimmerman, would coalesce into a sustained movement.
Now we can see that, indeed, a movement for social and racial justice has emerged from the Trayvon Martin murder and more recent events — among them, the tragic killings of Michael Brown in Ferguson and Eric Garner in NYC, and the outrageous failings of our criminal justice system to indict their killers, and the murders of 19-year old Kendrec McDade in Pasadena and 12-year-old Tamir Rice in Cleveland.
Protests around the country have escalated over the past two years. Activists have transformed the outrage into local community organizing projects, voter registration drives, and mass protest campaigns like the Moral Monday movement in North Carolina. They've focused on the epidemic of murders, opposition to Stand Your Ground ("shoot first") laws in many states, the persistence of racial profiling and stop-and-frisk tactics by police, sentencing reform, and the overlapping issue of voter suppression and ex-felon disenfranchisement.
One of the clear successes of these efforts occurred last month, when California voters passed Proposition 47, which lowers penalties for drug possession and petty theft. It is part of a growing effort to challenge America's mass incarceration crisis, the for-profit prison-industrial complex, and the school-to-prison pipeline that has devastated low-income communities, especially among Black and Latino youth. The new law now makes California a national leader in progressive prison reform. The advocates for Proposition 47 mounted an impressive grassroots effort to identity, register, and turn out "yes" voters. But they also used the campaign to strengthen local community organizing efforts in cities across the state that will continue to mobilize people on issues in-between election cycles.
This wave of activism reflects the difference between what community organizer Ernie Cortes calls hot anger and cold anger. With hot anger we act irrationally and misdirect it toward the wrong people. With cold anger we focus on what we can do to change oppression, exploitation and injustice. (You can learn more about these ideas and Cortes' work in the book Cold Anger by Mary Beth Rogers).
There is widespread anger around the country about the racial and class injustices. The struggle to reform our criminal justice system is just one aspect of this growing progressive movement.
Occupy Wall Street was and is part of that trend. Although the Occupy protests have ended, the movement's message has changed the national conversation. Everyone knows what "the One Percent" and "the 99 Percent" means. Americans are talking about the widening economic divide. More and more politicians are echoing Occupy's themes, even if they didn't agree with its tactics. Public opinion polls show that a significant majority of Americans think that Wall Street and big business have too much political power, that the super-rich don't pay their fair share of taxes, that the minimum wage should increase to at least10 an hour, and that the federal government should do more to address poverty, inequality, and pollution.
The growing protests by Walmart employees, fast-food workers, janitors, nurses, and others — demanding a living wage and respect at work — is another part of this burgeoning movement. On Black Friday, for example, tens of thousands of people showed up at over 1,600 Walmart stories to support the company's workers, many of whom courageously went on strike against a corporation that earned16 billion in profits last year but pays most of its employees poverty-level wages. Earlier this year, Seattle adopted a15 an hour citywide municipal wage — double the federal standard. Now, a growing number of cities are likely to follow in Seattle's footsteps. After Los Angeles Mayor Eric Garcetti recently proposed a $13.25 minimum wage, a group of City Council members countered with a $15 plan.
The incredible upsurge of activism for immigrant rights, especially among high school and college students like the Dream Defenders, is gaining headway. President Obama's recent executive order on immigration is one of its key victories.
The epidemic of home foreclosures and "underwater" homeowners has ignited a movement in many working class communities to pressure banks to rewrite mortgages to protect homeowners who, through no fault of their own, saw the value of their homes plummet. The so-called housing "recovery" has bypassed many communities and millions of homeowners. Ground-zero in this battle is Richmond, CA, where a progressive mayor and city council, backed by the Alliance of Californians for Community Empowerment and the Service Employees International Union, among other groups, have mobilized residents against Wall Street banks. Their movement-building efforts also paid off last month when progressive candidates defeated $3 million effort by Chevron — the oil giant that has a huge refinery in Richmond — to take over the municipal government by backing oil-friendly candidates. The progressive coalition defeated all four Chevron-backed candidates, including one running for mayor, to retain control of the local government.
On more than 300 campuses across the country, students are demanding that colleges and universities divest from large fossil-fuel corporations that exacerbate global warming and threaten public health. A student of major institutions, including Stanford, have already changed their investment policies in response to student pressure.
Last October, more than a thousand students from 17 high schools in suburban Jefferson County, Colorado — outside Denver — walked out for several days in protest of their right-wing school board's efforts to eliminate the teaching of dissent and protest in the high school American history curriculum. Many of their parents joined them on picket lines along the area's major roads. They pledged to launch a voter registration and turnout drive to outside the conservative majority on the school board. For most of these students, this was their first experience with political activism. But many of them have subsequently participated in local protests over the killings of Michael Brown and Eric Garner.
Another issue that is catalyzing activism is rising college tuition and skyrocketing student debt. Cumulative student loan debt has now reached1.2 trillion. The average student loan debt held by 25-year-olds has jumped 91 percent in the past decade alone. This burden is troublesome not only to current college students, but to many college graduates and drop-outs in their 30s and 40s who are downing in debt and can't afford to purchase homes or attain a middle-class standard of living. For high school students from low-income families, tuition is so high that they can't even afford to attend college. With a strong ally in Senator Elizabeth Warren, a movement to reform the cost of higher education is gaining steam.
Five years ago, hardly anyone would have predicted that by 2014, same-sex marriage would be legal in 33 states that contain over 60 percent of the U.S. population. But the LGBT rights movement has made enormous progress in the past few years. Public opinion polls reveal that a majority of Americans favor legalization of same-sex marriage, but attitudes don't always translate into changes in public policy. Grassroots organizing, protest, engagement in electoral politics, and a sophisticated litigation strategy have netted historic victories for gay and lesbian Americans.
What's especially impressive is the large number of young people who are involved in these efforts. They are taking to the streets, the ballot box, and the campuses to make sure that their voices are heard in the corridors of power. And they have been inspired, and taught organizing skills, by a remarkable cohort of 20-, 30-, and 40-something Millennial activists who have become the new leaders of the movements for workers' rights, women and LGBT equality, environmental justice, criminal justice reform, voting rights, and other issues.
On Friday, Occidental College held a teach-in about the events in Ferguson and the broader issues of racial injustice, organized by Ella Turenne, the college's director of community engagement. Classes ended this week and students are studying for finals and finishing term papers, so I wouldn't have been surprised if only 25 students showed up. But more than 200 students, as well as a significant number of staff and faculty, showed up, and stayed for over two hours. In addition to four faculty speakers (Regina Freer, Thalia Gonzalez, James Ford, and me), the students heard from Patrisse Cullors, a founder of Black Lives Matter and a remarkable community organizer.
My 17-year old daughter Sarah, a high school senior, came to the teach-in and we discussed it afterwards. She said she learned a lot and was impressed by the large turnout of students. So was I. It is one more thing that makes me hopeful.
Occidental isn't alone. On college campus across the country, students are educating themselves about a wide range of issues, but their outrage over the acquittal of Michael Brown's and Eric Garner's killers has been particularly palpable. Students are joining forces with activists in surrounding low-income and working class communities who experience the devastating consequences of violence in general, and police brutality in particular, every day.
This generation of young people has grown up in the shadows of 9/11 and Katrina, and came of age just as the mortgage meltdown and the Wall Street-induced recession devastated many of their families. In middle school and high school, many volunteered for Barack Obama's campaigns for president, inspired by the possibility of electing a young black president who promised to change business-as-usual. He's delivered on many of his promises, but what most young people see when they look at our national politics is gridlock, the overwhelming influence of money, and a Supreme Court that is out of touch with prevailing attitudes on most issues. Certainly they have reason to be cynical and angry. But more and more of them are learning how to turn their hot anger into cold anger.
If you're feeling hopeless, or just restless, read Dani McClain's new article in The Nation, "The Civil Rights Movement Came Out of a Moment Like This," about the aftermath of the murder of Emmett Till and its parallels today. Sometimes we don't know that we're in the middle of a movement-building period. McClain's article helps us see that now without having to wait for the benefit of hindsight.
In 1964, at the height of the civil rights movement, the great organizer Ella Baker said: "Until the killing of black men, black mothers' sons, becomes as important to the rest of the country as the killing of a white mother's sons, we who believe in freedom cannot rest."
Her words still resonate. We need a bold inter-racial movement to demand social justice for all of America's sons and daughters. That movement is already underway.
---
(This feature was crossposted at Huffington Post.)

No Walk in the Garden for the Urban Homeless
Throughout Los Angeles, landscaping is put to aggressive use, functioning as a weapon of anti-homelessness under the guise of beautification.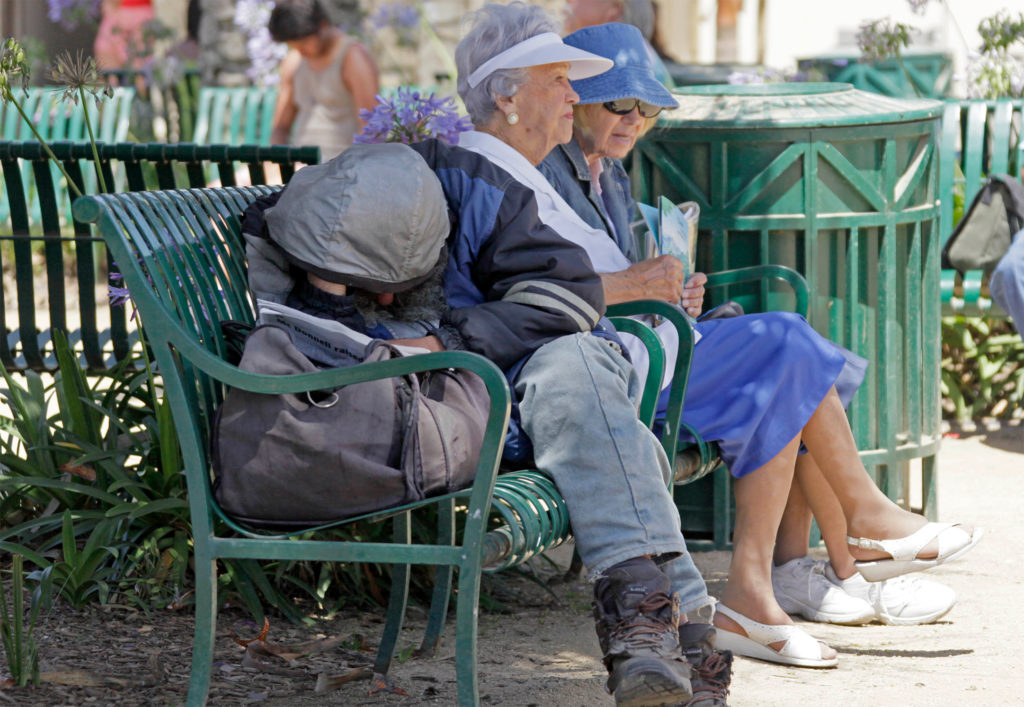 ---
The phenomenon of hostile landscaping in Los Angeles has further marginalized a swelling unhoused population.
---
Last May, in Los Angeles' coastal Venice neighborhood, Adam Smith noticed a series of planter boxes in the middle of a familiar sidewalk. Affixed near the intersection of Third and Sunset avenues, mere blocks from a Google campus and a suite of oceanside cafes, the standalone planters ran roughly the length of a wall delineating a parking lot behind a luxury condo complex.
Previously, Smith told Capital & Main, a group of six to 10 homeless people had regularly slept in tents on that block, favoring it for its relatively plentiful street light. A volunteer for the Culver-Palms Burrito Project, which prepares and serves the titular food to the unhoused of West Los Angeles, he'd become acquainted with individuals living there over the course of several years.
Once the planters were installed, however, the sidewalk was clear. "That next day, after I saw [the planter boxes] for the first time, I went there to look around because I figured they were sleeping somewhere else," Smith said. "I found people up around the corner, just, like, a block away."
---
Companies are privatizing public space to create more "landscape" for their businesses.
---
Throughout Los Angeles, landscaping is put to aggressive use, functioning as a weapon of anti-homelessness under the guise of beautification. Just as both public and private architectural design throttle space available to the unhoused internationally — via, among other examples, spikes on ledges and bars on benches to discourage sitting and lying down — and cities such as San Francisco arrange boulders to deter homeless encampments, the phenomenon of hostile landscaping in Los Angeles has further marginalized a swelling unhoused population.
Nearly 20 miles from Venice, a Los Feliz traffic median at the intersection of Vermont and Prospect avenues, and Hollywood Blvd., has regularly seen encampments arranged on its concrete ground, abutting a raised patch of desert landscaping and sycamore trees.
Christened "Vermont Triangle," the median's first redesign occurred in 2008, when the now-defunct Community Redevelopment Agency spearheaded a project to "improv[e] the pedestrian amenities" and "enhanc[e] the physical appearance of the existing median park." According to the Los Angeles Times, this yielded seating areas, lampposts to echo those at nearby Barnsdall Art Park, and the sycamores. Eventually, unhoused people began to pitch tents, availing themselves of the median's modest stretches of open public space.
Now, due to pressure from local business owners, Vermont Triangle is in flux. City Councilmember David Ryu's office, the Times noted, plans to invest $18,000 in another redesign, following a 2013 re-landscape. The 2013 update was financed in part by the Hollywood Hotel and Kaiser Permanente, according to Jeff Zarrinnam, who serves on the board of governors of the East Hollywood Business Improvement District. (Ryu's office couldn't be reached for comment.) Current proposals range from adding art installations and neighborhood signs, which Zarrinnam said the Los Feliz Neighborhood Council and East Hollywood Neighborhood Council have floated, to putting in planters.
Zarrinnam said he supports "bridge housing," a term the municipal government, neighborhood councils and local businesses use to favorably denote temporary homeless shelters and transitional housing. Yet reports indicate that the current state of temporary housing for many homeless people in Los Angeles County — who, as of May, numbered approximately 53,000 — is nothing short of abysmal. A recent investigation by radio station KPCC found infestations, harassment and medical negligence, among other scourges at various facilities throughout Los Angeles County, including those funded by the Los Angeles Homeless Services Authority (LAHSA), which conducts the county's annual homeless census.
Steve Diaz, an organizer for Los Angeles Community Action Network (LA CAN) who works with unhoused populations in downtown and South L.A., calls hostile landscaping of public space "the next level of criminalization" of homelessness. He alluded to an industrial neighborhood overlapping Skid Row, whose business owners call "The North Sea": a cluster of converted seafood warehouses and factories painted the same hues of oceanic blue — complete with landscaped sidewalks.
"They started breaking the concrete and taking away from the sidewalk to place different types of flowers, whatever garden they were putting in," Diaz said. "You have a major street [on] Skid Row that, at one point, was home to a lot of homeless folks now being gated off, and then the concrete being broken to start using these gardening pockets within the space to eliminate sidewalk access." (Miguel Nelson, a North Sea business owner involved in the area's marketing efforts, declined to respond publicly.)
As private property owners adopt guerrilla tactics to thwart homeless encampments, legal issues arise. Skid Row activist General Jeff Page has observed that, while property owners are permitted to control up to three feet of sidewalk extending from their buildings, "The North Sea is taking upwards of five to 10 feet of sidewalk, allowing only for ADA (Americans with Disabilities Act) compliance and zero space for homeless tents and/or encampments." (The Los Angeles Department of Public Works stated that the North Sea sidewalk landscaping is currently under investigation and thus couldn't comment further on the matter.)
What's more, business owners in South L.A. have illegally installed fences around their property, which, according to Diaz, will eventually give way to sidewalk landscaping. Relatedly, Adam Smith has been corresponding with city officials to ascertain the permit status of the Venice planters. The West L.A. office of the Bureau of Engineering, which issues revocable permits, told Capital & Main that it did not have a permit on file for the planters. Without one, according to the bureau, "no portion of the public right-of-way, including sidewalk, is allowed for private use."
Nevertheless, the planters remain and, according to Smith, have multiplied. Additional boxes, he said, are now ensconced in the sidewalk around the corner, to where the previously ousted people had first moved.
"For some people, [landscaping] sounds like a great idea," Diaz said. "But you're literally privatizing public space to create more 'landscape' for your business."
---
Copyright Capital & Main