The Charge of the the Morality Brigade
We're still legislating and regulating private morality, while at the same time ignoring the much larger crisis of public morality in America.
In recent weeks Republican state legislators have decided to thwart the Supreme Court's 1973 decision in "Roe v. Wade," which gave women the right to have an abortion until the fetus is viable outside the womb, usually around 24 weeks into pregnancy.
Legislators in North Dakota passed a bill banning abortions after six weeks or after a fetal heart beat had been detected, and approved a fall referendum that would ban all abortions by defining human life as beginning with conception. Lawmakers in Arkansas have banned abortions within twelve weeks of conception.
The morality brigade worries about fetuses, but not what happens to children after they're born. They and other conservatives have been cutting funding for child nutrition, healthcare for infants and their mothers, and schools.
The new House Republican budget gets a big chunk of its savings from programs designed to help poor kids. The budget sequester already in effect takes aim at programs like Head Start, designed to improve the life chances of disadvantaged children.
Meanwhile, the morality brigade continues to battle same-sex marriage.
Despite the Supreme Court's willingness to consider the constitutionality of California's ban, no one should assume a majority of the justices will strike it down. The Court could just as easily decide the issue is up to the states, or strike down California's law while allowing other states to continue their bans.
Conservative moralists don't want women to have control over their bodies or same-sex couples to marry, but they don't give a hoot about billionaires taking over our democracy for personal gain or big bankers taking over our economy.
Yet these violations of public morality are far more dangerous to our society because they undermine the public trust that's essential to both our democracy and economy.
Three years ago, at the behest of a right-wing group called "Citizen's United," the Supreme Court opened the floodgates to big money in politics by deciding corporations were "people" under the First Amendment.
A record $12 billion was spent on election campaigns in 2012, affecting all levels of government. Much of it came from billionaires like the Koch brothers and casino-magnate Sheldon Adelson —seeking fewer regulations, lower taxes, and weaker trade unions.
They didn't entirely succeed but the billionaires established a beachhead for the midterm elections of 2014 and beyond.
Yet where is the morality brigade when it comes to these moves to take over our democracy?
Among the worst violators of public morality have been executives and traders on Wall Street.
Last week, JPMorgan Chase, the nation's biggest bank, was found to have misled its shareholders and the public about its $6 billion "London Whale" losses in 2012.
This is the same JPMorgan that's lead the charge against the Dodd-Frank Act, designed to protect the public from another Wall Street meltdown and taxpayer-funded bailout.
Lobbyists for the giant banks have been systematically taking the teeth out of Dodd-Frank, leaving nothing but the gums.
The so-called "Volcker Rule," intended to prevent the banks from making risky bets with federally-insured commercial deposits – itself a watered-down version of the old Glass-Steagall Act – still hasn't seen the light of day.
Last week, Republicans and Democrats on the House Agriculture Committee passed bills to weaken Dodd-Frank – expanding exemptions and allowing banks that do their derivative trading in other countries (i.e., JPMorgan) to avoid the new rules altogether.
Meanwhile, House Republicans voted to repeal the Dodd-Frank Act in its entirety, as part of their budget plan.
And still no major Wall Street executives have been held accountable for the wild betting that led to the near meltdown in 2008. Attorney General Eric Holder says the big banks are too big to prosecute.
Why doesn't the morality brigade complain about the rampant greed on the Street that's already brought the economy to its knees, wiping out the savings of millions of Americans and subjecting countless others to joblessness and insecurity — and seems set on doing it again?
What people do in their bedrooms shouldn't be the public's business. Women should have rights over their own bodies. Same-sex couples should be allowed to marry.
But what powerful people do in their boardrooms is the public's business. Our democracy needs to be protected from the depredations of big money. Our economy needs to be guarded against the excesses of too-big-to-fail banks.
(Robert B. Reich, Chancellor's Professor of Public Policy at the University of California at Berkeley, was Secretary of Labor in the Clinton administration. Reposted from his website with permission.)

Rick Scott Super PAC Donations Challenge Federal Anti-Corruption Rule
Co-published by Fast Company
The Florida governor led a group that raked in cash from Wall Street firms after Scott's administration gave them pension deals.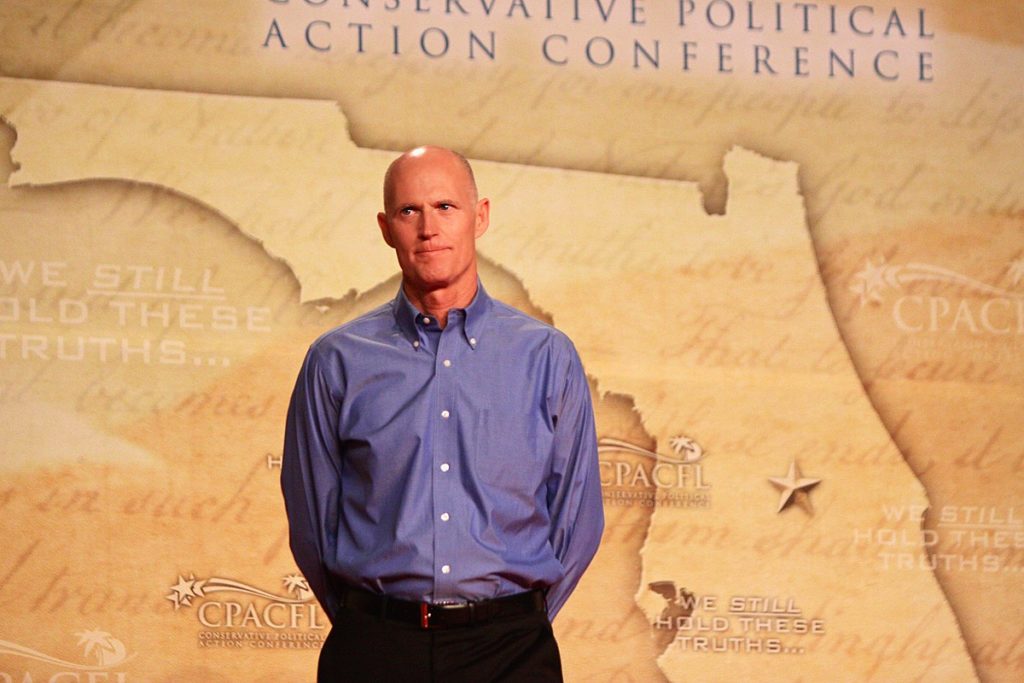 Co-published by Fast Company
A super PAC led by Florida Gov. Rick Scott raked in donations from two private equity executives after Scott's administration directed lucrative state pension investments to their firms, according to government records reviewed by MapLight and Capital & Main.
The donations were made to a committee that's now supporting Scott's U.S. Senate bid, despite a federal rule designed to prevent financial firms from bankrolling the election campaigns of public officials who oversee state pension investments.
Scott, a Republican, began chairing the New Republican PAC in May 2017 and announced his former campaign manager would serve as its executive director. Soon after, the group received $5,000 from New Mountain Capital Chief Executive Officer Steve Klinsky and $50,000 from Energy Capital Partners founder Douglas Kimmelman.
The contributions flowed to the super PAC after New Mountain Capital and Energy Capital Partners received a combined $250 million worth of new investment commitments from Florida's state pension system in 2014 and 2015. Scott is one of three state officials who oversee the $160 billion pension system. During the most recent fiscal year, the Florida investments generated more than $3 million in fees for the firms.
A 2010 Securities and Exchange Commission (SEC) rule prohibits firms from receiving investment fees from public pension systems if their executives donate campaign cash to pension overseers like Scott. SEC officials aimed to prevent investment decisions from being shaped by political influence.
But the commission didn't explicitly bar donations to "independent" political groups, unless the donations were deliberately designed to circumvent the restrictions. And it hasn't addressed whether a state official can lead a super PAC that received donations from firms with pension business and later be supported by the super PAC.
John Kuczwanski, a spokesperson for the Florida State Board of Administration, told MapLight/Capital & Main that Florida's first investments in the two private equity firms happened in 2005 and 2009, and he said Scott had nothing to do with new investments during his governorship, which started in 2011.
"The [state's] initial relationships with both managers predate Governor Scott's time in office," said Kuczwanski, whose agency manages the day-to-day operations of the pension system. "Neither the trustees, nor their appointed investment advisory council members are involved in the investment manager/fund selection process."
Scott's campaign and the super PAC did not respond to questions from MapLight/Capital & Main. New Mountain Capital and Energy Capital Partners did not return requests for comment.
Energy Capital recently completed the purchase of Calpine, whose natural gas power plant near Tampa is regulated by Scott's appointees at the Florida Public Service Commission. Kimmelman, who is now a director of Calpine, also donated $35,000 in 2017 to the National Republican Senatorial Committee, which is backing Scott's Senate campaign.
"A Very Clear Case"
Under the SEC rule — which GOP state parties have tried to overturn — investment executives are not prohibited from donating to independent political groups. But the rule allows regulators to apply restrictions to donations that are deliberately routed through third parties in order to support public officials — a situation that critics argue is happening with Scott and his super PAC.
After the governor announced his Senate bid last week, New Republican PAC's website began promoting his candidacy. End Citizens United, a Democratic-leaning political action committee based in Washington, DC, filed a complaint alleging that Scott has violated Federal Election Commission rules and is using the super PAC, which can accept unlimited donations, to evade contribution limits. Scott's campaign says he stepped down as New Republican PAC's chair in February.
In writing the original rule, SEC officials noted that while they could not restrict all donations to political action committees, contributions to third parties "may effectively operate as a funnel to the campaigns of the government officials." They said the final rule "prohibits acts done indirectly, which, if done directly, would violate the rule."
One ethics expert said that those anti-circumvention provisions should apply to the donations to Scott's super PAC.
"This appears to be a very clear case of close coordination and circumvention of the pay-to-play rule," said Craig Holman, an ethics lobbyist at the government watchdog group Public Citizen. "This is something that I'd like the SEC to pay attention to."
"No Loopholes"
The SEC has only occasionally enforced the pay-to-play rule, and the agency hasn't applied the provisions dealing with third parties to donations to super PACs. Because Scott is a sitting governor who can influence pension investments, he is covered by the rule, which has hampered the fundraising of past governors who tried to run for federal office.
A spokesman for former Texas Gov. Rick Perry's presidential campaign said the rule prevented him from raising enough money to be competitive in the 2012 race. Bloomberg reported that during the same election cycle, then-New Jersey Gov. Chris Christie was rejected as the vice presidential nominee, partly because Republicans feared the rule would prevent them from raising money from Wall Street firms that do business with his state's pension system.
"There is no way around it, and there are no loopholes," said Bill Palatucci, Christie's longtime advisor.
Even so, in recent years the rule has not deterred financial executives from donating to groups that help lawmakers who can influence pension investments. Financial executives whose firms received New Jersey and New Mexico investments continued to donate to the Republican Governors Association (RGA) when Christie and New Mexico Gov. Susana Martinez led the group. During the 2016 election cycle, executives at firms managing state pension money donated nearly $1.3 million to the GOP association, even as the group boosted the campaigns of Republican governors with power over state pension investments.
Last year, U.S. Sen. Tom Udall, D-N.M., called for the SEC to apply the pay-to-play rule to outside groups "to ensure that no one is able to circumvent these laws by using super PACs, dark money groups or other campaign spending vehicles." The RGA has argued that because it funds multiple candidates and does not allow donors to earmark contributions for particular races, it can accept donations from firms with investment business that can be influenced by individual governors. The SEC said in 2016 that donations to outside political groups "are independent expenditures that do not trigger" the rule.
"So long as the PAC faithfully observes the requirement to operate independently of candidates, a contribution to a super PAC will not trigger the [rule], even if the super PAC supports a covered official," Sam Brown, a former advisor to Federal Election Commissioner Ellen Weintraub, wrote in 2016. "Super PACs are increasingly being used in novel ways, and it remains to be seen whether these changes will result in increased circumvention risks."
---
This story is a collaboration between MapLight and Capital & Main.