StudentsFirst Sues Teachers Unions Over Dues
The latest legal assault on the right of the state's public-sector unions to collect dues was filed in Los Angeles earlier this month by StudentsFirst, the Sacramento-based, national school-privatization organization.
The federal suit, Bain v. California Teachers Association, was brought on behalf of four California public school teacher union members who claim that the state's current "fair share" rules infringe on their rights by forcing them to choose between paying for union-supported political causes with which they disagree or quitting the union. It seeks to bar unions from collecting dues money earmarked for political purposes as a condition of membership.
At stake are an estimated tens of millions of dollars — and a corresponding political clout — that unions stand to lose if the suit succeeds in making voluntary the 30 percent to 40 percent of dues that members currently pay for political activities.
In addition to California Teachers Association and its parent organization, the National Education Association, the suit names as defendants the California Federation of Teachers (CFT) and its parent, the American Federation of Teachers, as well as United Teachers Los Angeles. (Disclosure: The CTA and CFT are financial supporters of Capital & Main.)
Also being sued are the union locals where three of the teachers work along with the superintendents of Los Angeles Unified (LAUSD), West Contra Costa Unified and Arcadia Unified school districts.
"These folks essentially want to have their cake and eat it too," CFT president Joshua Pechthalt told Capital & Main. "They disagree, I guess, with all of the union's political stances, and so they want to be able to opt out of that portion. … It seems pretty clear to me that part of the intent of this suit is to weaken public sector unions."
Not so, insists StudentsFirst spokesperson Kellen Arno. "I think that all the plaintiffs involved in this case are ardent supporters of the union. They want to be a part of the union. They appreciate all the representation that the union provides. I think they just don't want to be coerced into also supporting a political agenda."
The plaintiffs include StudentsFirst activists April Bain, a math teacher with LAUSD, and Bhavini Bhakta, an Arcadia Unified teacher who has testified on behalf of StudentsFirst in the past on proposed state education legislation, and testifed for plaintiffs in last year's Vergara trial, which successfully challenged the state's teacher tenure laws.
The high-powered corporate law firm that brought that suit, Gibson, Dunn & Crutcher LLP, is also behind Bain.
Also named as plaintiffs are LAUSD teacher Kiechelle Russell, a member of Educators 4 Excellence (a Gates Foundation-funded anti-teachers union group), and Clare Sobetski, a Teach for America high school teacher with the West Contra Costa Unified School District.
California law requires that a union represent all workers at a so-called agency shop in matters of collective bargaining and workplace grievances, regardless of membership status. In return, the union can charge nonmembers a fair share of costs incurred under its statutory obligation to represent them in collective bargaining.
The Bain lawsuit, however, contends that by forcing dissenting teachers to forego union membership and the additional benefits provided by unions for its members, the law represents an unconstitutional First Amendment burden.
"There's something like 40 years of legal precedent establishing our right to determine the qualifications for membership," Pechthalt said. "And to that extent, from our perspective, I wouldn't call this a frivolous lawsuit, but it doesn't have merit."
Bain signals the first major attack against teachers unions by StudentsFirst since its founder, former Washington D.C. school superintendent Michelle Rhee, resigned under a cloud last August. She was replaced as the group's president by Jim Blew, who has worked as an advisor to the Walton family, the owners of Walmart.
The group's funders represent a who's who of billionaires and right-wing education reform foundations that include the Walton Family Foundation, the Eli and Edythe Broad Foundation, the Charles and Helen Schwab Foundation, former New York Mayor Michael Bloomberg, hedge-fund managers David Tepper and Alan Fournier, the for-profit charter school management company Charter Schools USA, and the Laura and John Arnold Foundation.
Bain also follows on the heels of a barrage of lawsuits brought against unions in the wake of Supreme Court decisions in 2012's Knox v. Service Employees International Union, Local 1000 and last year's Harris v. Quinn, in which a conservative majority, led by Justice Samuel A. Alito Jr., used First Amendment arguments to chip away at state laws requiring public-sector workers to pay union dues.
Those decisions signaled the high court's willingness to hear test cases aimed at overturning 1977's landmark Abood v. Detroit Board of Education decision that allowed states to require all public employees represented by unions to pay union dues.
Chief among those cases is Friedrichs v. California Teachers Association, a suit similar to Bain that was filed in 2013 by the ideologically conservative law firm Center for Individual Rights. The suit was submitted on behalf a group of 10 nonunion teachers challenging Calfornia's law that authorizes teachers' unions to charge agency fees to nonmembers. That lawsuit is now on appeal to the Supreme Court.
"Friedrichs is sort of attacking [Abood] head-on," labor attorney and Century Foundation fellow Moshe Marvit told Capital & Main, "saying that it should be overturned, that the whole agency fee or fair share provision model that Abood sort of formalized in the public sector should be deemed unconstitutional. Bain is not attacking Abood in the same way. It's saying that a fair share balance should be struck, not necessarily in favor of a right to work, but more in favor of the idea that nonmembers should get all the benefits of membership."
The common denominator, Marvit added, is an argument conservatives have been making for a long time — that people shouldn't have to join a union, and even if the majority votes for it, they shouldn't have to pay for political activities. That doesn't mean the logic employed by Bain isn't convoluted.
"They're saying it's your First Amendment right to not be a member," Marvit noted, "and also a violation of your First Amendment rights not to be a member. You know, that you should still have the right to vote in an organization that you don't want to be a part of, which is very bizarre. I'm not saying it won't go anywhere in the courts, but it is a strange First Amendment argument to make."
For California teachers unions, bearing the brunt of the suits has forced them to reallocate resources away from initiatives aimed at benefiting public schools. But, Joshua Pechthalt adds, it also highlights the competing, market-driven vision for education of the corporate reformers.
"It's about testing kids to death," the CFT president declared. "It's about frankly creating greater disparity between kids from well-to-do families … and the growing number of middle- and working-class kids who are both finding higher education out of reach while attending schools that have, over the last 10 to 15 years, deadened learning."
With Friedrichs a strong possiblity to land on the Supreme Court's calendar, Marvit isn't optimistic about the future of Abood.
"It seems like in Alito's decisions," observed the attorney, "he's very much kind of laying the groundwork for destroying Abood and inviting a case that attacks it head-on. I think that's what Friedrichs was made for, and I can't imagine they won't accept it. And if they do, if they don't use it to kill Abood, I think they'll just take one more kind of furious swipe at it. But I think over the next few years, it'll probably be overturned."
Is LAUSD Crying Wolf With Its Claims of Financial Distress?
Persistent claims of poverty by the district have been the most contentious issue separating LAUSD and UTLA.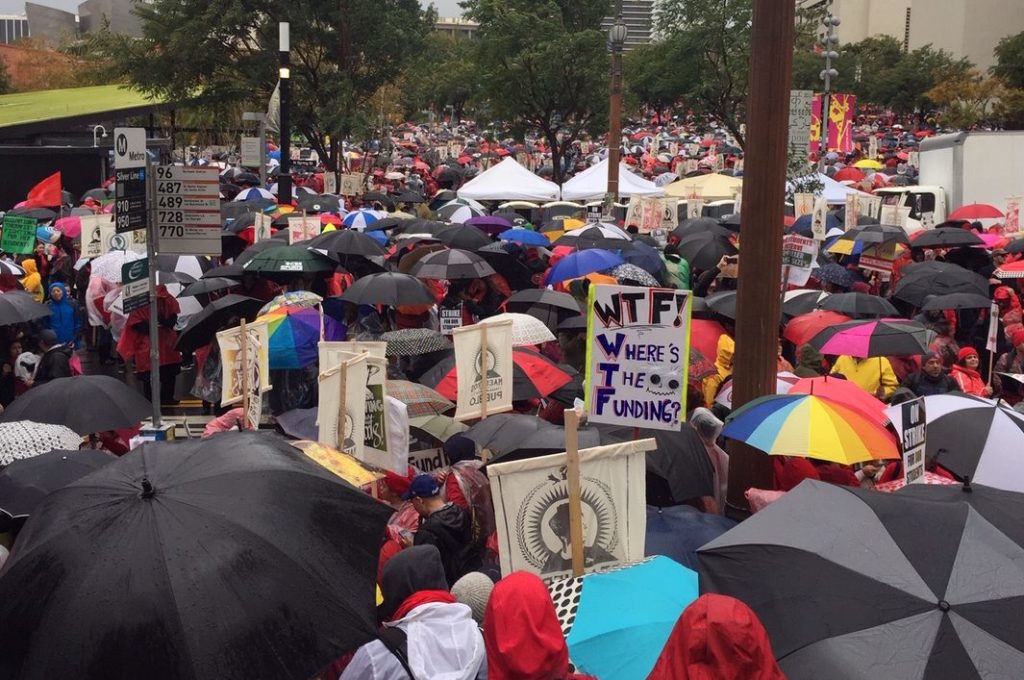 ---
UTLA has aggressively challenged LAUSD on its "structural deficit" narrative that the union dismisses as little more than political theater.
---
As the first Los Angeles teachers strike in 30 years entered its fifth day, negotiators from both sides returned to the bargaining table, this time at L.A. City Hall, with Mayor Eric Garcetti mediating. United Teachers Los Angeles (UTLA) bargaining team co-chair Arlene Inouye said on Wednesday that the talks, which had been arranged through a back channel that included Garcetti and state schools superintendent Tony Thurmond, would likely continue through the weekend and that teachers would remain at the pickets.
Persistent claims of poverty by the district have perhaps been the most contentious issue separating LAUSD and UTLA. The district has steadfastly insisted that LAUSD runs an annual operating deficit of $500 million and is already projected to dip .04 percent below the threshold of its $75 million statutory reserve. The cost, it adds, of the union's core demands, which it puts at just over $800 million, will quickly lead to insolvency.
Capital & Main's own analysis of the LAUSD budget finds that funding exists that would more than cover UTLA's core demands without touching the district's surplus. Our research also raises questions over how much of LAUSD's budget projections are more of a creative art than a hard-nosed science.
"There is a history of the district crying wolf over negative balances two years out that then never seem to arrive," agreed former Board District 5 member David Tokofsky. "If the budget were a basketball game, LAUSD would see a 20 point, final quarter lead by the Clippers as too close to call."
---
LAUSD: "Los Angeles Unified simply does not have enough money to meet all of UTLA's demands."
---
The union has framed the walkout around core educational justice demands that go beyond wages and confront foundational questions about the future of public education and what kind of schooling best serves the needs of Los Angeles families.
"This is about our students," said Inouye of declaring an impasse at a January 11 press conference. "It is about their learning conditions and the educators' working conditions."
The unresolved issues include contract demands for lowered class sizes, additional nurses, librarians, counselors and social workers. The union also insists that the district commit a significant chunk of a contested, nearly $2 billion budget surplus to increases to bilingual and adult education, and to making major investments in community schooling. The union has also been advocating for curriculum reforms that include a teacher say in achievement testing (UTLA wants less testing) and ethnic studies at every school.
---
Class-size reduction is a basic sticking point in the negotiations.
---
If there has been a single deal-breaker on the table, it is the district's lack of movement on "Section 1.5" — a contractual holdover from the Great Recession unique to LAUSD and anathema to UTLA because it allows the district to unilaterally raise class sizes. The union wants it gone; the district wants it replace with "Section 1.8," which would raise some class sizes beyond the current memorandum of understanding that Section 1.5 has nullified.
"Class size is the fundamental issue that we've got to deal with," argued UTLA president Alex Caputo-Pearl at the January 11 news conference. "Their [insistence] of continuing to . . . be an outlier in the state of California is unacceptable."
LAUSD's last known offer (both sides have agreed to a media blackout during the current round of bargaining) hadn't budged from its position that the union's demand for a 6.5 percent pay raise be contingent on cannibalizing the retirement security of future teachers to fund it. What was new on Friday, January 11, was the district's modest offer to add 200 new hires — or 1,200 in all — for class-size reduction, nurses, librarians and counselors. But for the nation's second-largest school district, this represented a $130 million drop in a 900-campus bucket — and the lowered levels would expire after one year.
---
Much if not all of LAUSD's gap could easily be closed simply by applying for waivers.
---
The offer was extraordinary both for its timing and its explanation of how LAUSD would fund the classroom reductions. The $25 million increase to the $105 million it had previously offered, a district press statement said, would include a recent $10 million pledge by Los Angeles County.  It also kicked in $15 million from what LAUSD had estimated would be the $40 million in savings from $3 billion in pay-downs of rate increases and pension liability for CalSTRS, California's giant teachers' pension fund, that Governor Gavin Newsom unveiled January 10 in his first state budget.
UTLA immediately challenged the district's $40 million windfall estimate, claiming that its own call to the state Department of Finance turned up an additional $100 million in ongoing revenue. By Wednesday, LAUSD had clarified that the $40 million figure merely represented the district's share from Newsom's recalculation of this year's Local Control Funding Formula (LCFF) cost of living adjustment increase, which was revised upward from the November's projected 2.57 percent to 3.46 percent. (The actual gain, which represents an additional $120 per student for L.A. Unified's non-charter enrollment, should bring the district closer to $49.2 million).
---
The school district didn't allow Governor Newsom's recent good financial news to dispel its fiscal gloom.
---
The district estimated its takeaway from Newsom's $700 million contribution rate buy-downs at $60 million over the next three years. But there will also be ongoing cash savings from lowered liability that should be dramatic. (Some have estimated that the buy-downs could be worth as much as $200 million to the district.)
Newsom's budget had other good news for LAUSD. It included an extra $576 million to school districts in special education funding, which would be worth roughly $75 million to LAUSD. The biggest windfall, earmarked for early education, should net Los Angeles roughly $180 million as its share of $1.8 billion for expanded kindergarten and preschool and childcare infrastructure (using a longstanding ballpark calculation that LAUSD claims roughly 10 percent of many statewide education appropriations).
The district didn't allow the new wealth to dispel its fiscal gloom. "Every independent expert who has reviewed Los Angeles Unified's finances agrees the District has serious budget issues," its January 11 press statement noted. "Los Angeles Unified simply does not have enough money to meet all of UTLA's demands."
To underscore LAUSD's claims of near-insolvency, the Los Angeles County Office of Education (LACOE) last week waded into the disagreement — the union asserts at the invitation of schools superintendent Austin Beutner — with a LACOE "fiscal expert" expressing "great alarm and concern," according to a LAUSD press release.
---
UTLA argues that a contract cannot be bargained on future promises.
---
UTLA, which said it has its own forensic accountant pouring over the district's books, has aggressively challenged LAUSD on the budget and a "structural deficit" narrative that the union dismisses as little more than political theater embroidered with scripted performances from allies within LACOE.
"There's a $2 billion reserve that we believe is not all accounted for," Caputo-Pearl said again on Wednesday. "We've pointed out that in the books and supplies line item, they consistently over-project, so there is money over-projected to the tune of $200, $300 million per year. … There's no doubt about it. California is the richest state in the country. The money's there for kids."
To prove its point, the union notes that the reserve has been increasing over the past five years from $500 million in 2013-2014 to today's $1.9 billion — a yearly average of roughly $300 million more than the district is spending.  UTLA also points out a fact that has been mostly lost in the budgetary debate — namely, that neither the county, the state's Department of Education, December's fact-finding panel nor the other experts cited by the district have actually independently performed an audit. Never, the union adds, has it ever seen LACOE contradict a district budget when the district claims that it is in financial crisis. Everybody — the press included — has simply accepted LAUSD's three-year projections at face value.
Capital & Main has sifted through the public reports of new and existing district revenues to see how LAUSD's poverty claims stack up against the core contract demands that could get teachers back to the classroom.
---
LAUSD might have had $330 million more to bargain with had a July parcel tax resolution pushed by two school board members made it to the November ballot.
---
The union says that its demand to reduce the counselor-to-student ratio can be cost-neutral merely by redistributing the district's existing counselors to meet a one-to-500 ratio at each school instead of district-wide. But we've thrown some new hires into our core contract offer along with more school psychologists. As such, the price tag for UTLA's core demands works out to $411.3 million for each year of the contract.
UTLA Core Demands
$189 million (LAUSD's figure) for a 6.5 percent across-the-board raise, retroactive to one year
$188 million for a 2,000 new-hire package of class-size reduction, and school counselor and school psychologist increase (based on a median annual salary and benefits cost of $94,000 per hire)
$25.3 million for a full-time nurse at each of the district's 720 elementary, middle and high schools (or 299 new hires at $84,809 per nurse for salary and benefits)
$10 million for a full-time school librarian at each of LAUSD's 223 secondary schools (or 118 new hires at $84,809 per librarian for salary and benefits)
To pay for it, we've included both LAUSD's onetime windfalls from the governor's budget plus UTLA's less conservative estimate of $140 million in ongoing savings — a total of $944.2 million in additional revenue. But the roughly $640 million of additional annual unrestricted funding alone — new money from the governor plus excavated over-projections of books and supplies and LAUSD's hidden annual LCFF increases — more than covers the core demands without touching a surplus that is 2533 percent over the statutory reserve of $75 million. The $217.43 million left over is enough for a generous commitment to community schooling or bringing schools up to full strength in psychiatric social workers, plant managers, assistant principals, restorative justice advisors and psychiatric social workers.
LAUSD Additional Revenues
$180 million for L.A.'s roughly 10 percent share of onetime early education
$49.2 million onetime net for the 2019-2020 Proposition 98 LCFF COLA bump to 3.46 percent.
$75 million onetime special ed money
$300 million in average ongoing hidden LCFF revenues
$140 million ongoing pension contribution savings
$200 ongoing for the pot based on annual over-projections of books & supplies spending.
Some of that, of course, represents state promises still two or three years out, but bridging revenue gaps has become a matter of routine education finance in California. A recent study by the nonpartisan research group WestEd found that 53 percent of the districts sampled did not expect revenues to cover expenditures over the period of 2017/18 to 2019/20. And many holes that appear can temporarily be patched simply by applying to the State Board of Education for waivers — for example, to shift, say, restricted special ed funds for computers to class-size reduction.
The irony is that the district might have had $330 million more to bargain with had a June parcel tax resolution pushed by LAUSD school board members Scott Schmerelson and George McKenna as an act of bargaining good faith made it to the November ballot. Despite polling that suggested strong voter support, the measure was blocked by Beutner and his allies in the pro-charter board majority. "It just seems like too ad hoc of a strategy," said Board District 4 member Nick Melvoin in casting his no vote.
In an abrupt about-face, the same board last week signed onto a new resolution by Schmerelson and McKenna to put a parcel tax and a facilities bond on the 2020 ballot.
"This is an olive branch to try to say … we want to work with the union to generate more revenue for this district," Melvoin explained to Capital & Main.
In fact, all the money for the education justice investments demanded by teachers could already be on the way. Backers of the Proposition 13 split-roll tax reform initiative that will be on the 2020 ballot estimate it will pump $1.4 billion more annually into Los Angeles County K-12 schools and community colleges.
Other potential revenue ideas include persuading the new U.S. Congress to fully fund federal Title I and IDEA supplemental funding for children living in poverty and students with disabilities, which could conservatively bring LAUSD as much as $400 million. The district could also begin collecting the $2 million each year in additional oversight fees allowed under the law from under-enrolled charter schools co-located on public school campuses, or, as former board member Tokofsky has urged, aggressively pursue developer fees owed the district out of billions of dollars in new construction. And Sacramento could close the carried interest income tax loophole, which would bring LAUSD a share of the estimated $1 billion that would pour into state coffers.
But, as the union has been arguing, a contract cannot be bargained on future promises. To bring the teachers in from the cold, LAUSD will need to offer concessions at the city hall negotiations that seriously address UTLA's concerns about enrollment stabilization, which to the union means reining in the proliferation of new charter schools. And Beutner will need to finally deal teachers into his portfolio district downsizing initiative, "Re-Imagine LAUSD," the elephant in the bargaining room that both sides know has profound implications for district-labor relations. Striking a deal will mean each side allowing the other the optics of a meaningful win in a contract that ultimately affirms L.A. Unified's belief in itself.
---
Copyright Capital & Main