State of Resistance: Health Care or Trumpcare?
What exactly Trumpcare will be remains vague, but for the more than 50 percent of South L.A. that now relies on the state's ACA Medi-Cal expansion for health coverage, the future is frighteningly uncertain.
Fernando E. Hurtado scrolled through photos on his mobile phone in a pristine new examination room of South Los Angeles' federally funded St. John's Well Child and Family Center. Nearby, his wife, Amy Areli, waited with two of their four children as the younger boy fidgeted nervously.
"He's getting his immunization shots today," Hurtado grinned at the 3-year-old before pausing at a close-up of a woman's forearm and what looked like a mosquito-bite-sized bump surrounded by a patch of ruddy inflammation. The next image revealed a gaping, half-dollar-sized crater where the bump had been.
"My wife got a tiny cut on her arm that became infected," Hurtado explained. "It was [Methicillin-resistant] staphylococcus. She spent nine days in the hospital. They told me that if we hadn't had Medi-Cal, the bill would have been more than $100,000. If this would have happened without medical coverage, there would have been no way for us to afford to pay that kind of expense."
On the same day that congressional Republicans set the stage to repeal the Affordable Care Act, the 35-year-old father, who installs artificial lawns, grimly reflected on the shadow that his family and the majority of St. John's patients have been living under since the election of Donald Trump signaled the coming end of the law that has dramatically transformed California's health-care landscape.
"Before my wife got the infection," Hurtado said, "our 2-month-old baby was also in the hospital, with an infection for [chicken pox], when he got an infection in his head and he was hospitalized for four days for the same [staph] bacteria. I imagine them not having medical coverage. Yes. Of course I'm worried."
Though the form that Trumpcare will take remains vague, for Hurtado and his family — and the more than 50 percent of their newly insured South L.A. neighbors, who now rely on the state's ACA Medi-Cal expansion for their health coverage — the future remains frighteningly uncertain. They are not alone.
Over five million Californians have received coverage under Obamacare — 3.7 million through Medi-Cal and 1.4 million through Covered California — and the state has logged the largest percentage-point decline in its uninsured rate of any state, dropping from nearly 17.2 percent in 2013 to 8.6 percent in 2015.
St. John's alone has enrolled over 18,000 previously uninsured Angelinos, nearly all of them black or Latino, and more than doubled its insured-patient base. The health center has aggressively embraced the new ACA population to dramatically expand preventative and primary care throughout the region, which before the law had been ground zero of California's uninsured crisis.
"We provide free medical, dental, mental health and support services, and case management in about 300,000 patient visits a year at 14 sites and two mobile [clinics]," St. John's Well Child and Family CEO Jim Mangia told Capital & Main. "We provide health-care services to the homeless. We serve thousands of homeless folks through two mobiles that go into the riverbeds and to help buy homeless shelters. And we're the largest health provider in South L.A., which is the largest area of contiguous poverty in the United States."
But with Trump now in the White House, those gains are in the crosshairs of the new president and the Republican congress. At stake for Californians is $20.5 billion a year in federal ACA subsidies. The murkiness surrounding what will happen next has left the state's political and public health leadership with little choice but to brace for the worst and hope for the best.
"It is almost impossible to develop a contingency without knowing exactly what we are dealing with," state Senate Health Committee Chair Dr. Ed Hernandez (D-West Covina) told Capital & Main in an email. "A loss of federal funding would be devastating for low-income and middle-class Californians who rely on the ACA for their health insurance. We plan to do everything we can to protect the people of our state and ensure stability in the health insurance market and Medi-Cal program."
St. John's spotlights a lesser-known aspect of the Affordable Care Act — namely, its role as a conduit for $12 billion in construction infrastructure spending and operational funding for the expansion of private nonprofit health centers, which are known as Federally Qualified Health Centers (FQHC). These provide low-income and immigrant communities with quality health care, regardless of a patient's ability to pay. That makes the center both an exemplar of how much California stands to lose, as well as an unexpected harbinger of what resistance to the abolition of the ACA might look like.
"I started that literally the day after the election," Mangia said about planning for the Trump era, "and now I've got all of these players. There's a lot of special interests that benefited from the Affordable Care Act. … We're talking about, 'Okay. What's our advocacy need to look like? Who do we need to be talking to? Who do we need to bring to the table to craft a solution in the state?'"
Forty-five percent of St. John's patients are ineligible for insurance under ACA because of their immigration status. According to Mangia, who was part of President Obama's health policy committee when the Affordable Care Act was first being drawn up, addressing the plight of those ineligible for Obamacare because of immigration status was always part of the plan. Care for the undocumented is partially paid by My Health LA, a no-cost health-care program run by L.A. County. Private fundraising makes up the rest.
The FQHCs have been instrumental in braking the country's decades-long expansion of America's health-care inequality gap, which continues to be one of Obamacare's most significant achievements.
Even more transformative, perhaps, is the quality of the medical care and the innovations that ACA has delivered. The law reorganized payment methodology and radically re-prioritized the health-care system with pay-for-performance measures that shifted the focus of providers from end-of-life and sick care to prevention and primary care. It encouraged innovations like the patient-centered "medical home" — a holistic delivery model designed to improve quality of care through team-based coordination of care, for the "whole" patient. Tying Medicare payments to the quality, rather than the quantity, of care that characterized the pricey, pre-Obamacare fee-for-service model, created efficiencies and surpluses for health centers like St. John's that could then be used to serve California's estimated 3.3 million uninsured, along with its undocumented population.
"These relatively modest reforms actually ended up being revolutionary in all sorts of different ways," recalled Anthony Wright, executive director of the advocacy coalition Health Access California. "There was all this really exciting work to provide people medical homes, and have early intervention to keep people healthy before they got sick in the first place. There was exciting work about how to treat issues around substance abuse and behavioral health medically, rather than criminally, which was starting to have profound benefits to not just our health system but to our criminal justice and corrections systems . If we undo the Medicaid expansion, we undo all that progress in one swoop."
Preserving that expansion has been the focus of California resistors, including consumer groups, labor unions and Democratic lawmakers, since election day, both in the current campaign by patient advocates, to bring public pressure on Trump and Republicans, and in anticipating the full extent of the damage to California's Medi-Cal expansion that will need to be controlled.
Nevertheless, it's difficult to resist what is still unknown. And the extent of that damage won't be clear until the plan is unveiled sometime after Trump's nominee for secretary of Health and Human Services, Georgia Representative Tom Price, is approved by the Senate.
Recent promises by Trump for a speedy and concurrent repeal and replacement of ACA with "insurance for everybody" that is "much less expensive and much better" have only further muddled the picture. The broad strokes remain at odds with what has been outlined in separate ACA alternatives by Price, who opposed ACA's fundamental reforms, and by House Speaker Paul Ryan. And Price's Tea Party antipathy to federal entitlements makes future attempts to cut Medicare and Medicaid likely.
"Both of [the plans] would repeal most of the regulations under the ACA, but they would restore some aspects of the law, including subsidies for people to buy health insurance," explained Gerald Kominski, Professor of Health Policy and Management, and director of the University of California, Los Angeles Center for Health Policy Research. "But their subsidies would be substantially lower than those currently available under the ACA, and would [go] back to a market that's largely regulated at the state level rather than [have] the layer of federal regulations [that has standardized] the individual insurance market. So it'd be a little bit of a free-for-all."
California resistors are divided as to whether the state would have the political will or financial wherewithal to make up the federal government's $20 billion share of the Medi-Cal expansion and Covered California, should it be cut, or to even go it alone with a version of single-payer.
"I have always believed that health care is a right for everyone in California and the country," state senator Ed Hernandez said. "The dilemma arises on how to finance it and whether the public supports it. … The state would be unable to backfill the loss of $20 billion in federal funds without massive tax increases or major program reductions."
Wright illustrated California's difficulty in translating a moral imperative into a health-care entitlement by pointing out that the recent passage of Proposition 56, the two-dollar cigarette tax that, beginning in April, will generate a billion dollars annually for Medi-Cal, had faced three ballot fights — and $200 million in opposition spending by tobacco companies — to become law.
"Before we get to what California does," he cautioned, "we all need to be focused on the federal fight. The framework and financing that they provide is going to be very determinative about what is possible for California to do, whether it is an Obamacare lookalike or single-payer or anything else."
Mangia expressed what might be the ultimate vision of California resistance. "I think it would make a very, very strong political statement across the country if the Republicans repeal [Obamacare] and California says, 'Okay. Well, we're going to keep it.' Democrats control two thirds of the legislature. There's a Democratic governor. I think we have a real opportunity."
State of Resistance: Artists Push Back
What space is left for art, now that its traditional license of intellect, invention and poetic imagination have been so effectively seized by Donald Trump's own brand of performance art?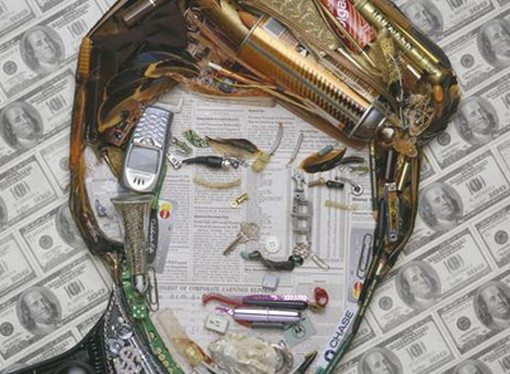 "Donald Trump," by Jason Mecier
One particularly unsettling portent from the presidential election may have been the role that artists didn't play. Though political caricaturists and satirists had a field day, no Shepard Fairey stepped forward from the art world to crystalize the ideals and aspirations of a candidate, or to electrify and inspire voters in the way that the Los Angeles street artist's iconic "Hope" portrait did for Barack Obama in 2008.
Then again, what space was left for art when its traditional license of intellect, invention and poetic imagination was so effectively seized by Donald Trump's own brand of performance art?
As president, Trump has wasted little time in formalizing his stranglehold on artistic, journalistic and intellectual expression that doesn't bend to a reality constructed of "alternative facts" and Orwellian doublespeak.
Meanwhile, a report by The Hill noted that the new administration will follow a scorched-earth budget blueprint, published last year by The Heritage Foundation, that calls for the privatization of the Corporation for Public Broadcasting and the outright elimination of both the National Endowment for the Arts and the National Endowment for the Humanities.
The good news is that California artists along a wide horizon of  styles  have been rallying and organizing.
In December, a group of Bay Area-based artists, writers and cultural producers launched 100 Days Action, an online forum and calendar of daily activist and art-driven activities proposing a "counternarrative" to the one hundred day plan that Trump outlined during his campaign.
In Los Angeles, Hollywood's World of Wonder Storefront Gallery counter-programmed the Trump inauguration with a show of transgressive protest art called "Surviving Trump: The Art of Resistance," featuring new works from a roster that includes Ginger (from the activist collective INDECLINE), Kenny Scharf, Raja, Pandora Boxx, Trevor Wayne, Jason Mecier, Sham Ibrahim and media critics the Kaplan Twins.
Shepard Fairey offered free downloads on his Obey Giant website of his "We the People" portraits celebrating America's multicultural and racial diversity. The new images turned up on placards carried by thousands at the Women's March on Washington and offered a human face to those affected by Trump's anti-immigrant agenda of mass deportations, a border wall and an indefinite ban on Syrian refugees.
Art's greatest power is its ability to articulate that which is literally unspeakable. And countering the brutalism of the new Performance Artist-in-Chief may demand an artistic resistance that goes beyond galleries or the conventional rhetoric of the demonstration march — or, as Yoko Ono famously phrased it, art that is a verb rather than a noun.
For a sense of what that verb may look like, Capital & Main spoke to two California artists working in the medium of what has been called "social practice" art, a participatory, multidisciplinary medium that uses social engagement and collaboration in works that transcend traditional categories of art and political activism.
San Francisco artist and media designer Amy Franceschini's roots in farming, environmental and food sovereignty issues have been central to Futurefarmers, the renowned S.F.-based art collective she founded in 1995. Raised in California by divorced farmer parents — her father was a large industrial grower and owner of a pesticide company in the San Joaquin Valley, her mother an organic farmer and activist near San Luis Obispo — Franceschini is no stranger to ideological divides or food politics.
"Seed Journey" (Photo: Marthe Van Dessel)
That formative insight not only shaped Futurefarmers's political focus, but it informs a collective practice in which members bring their distinct skill sets to bear in socially engaged work that has ranged from Victory Garden, which transformed the front of San Francisco's City Hall into an urban farming demonstration garden, to Soil Kitchen, a wind-driven neighborhood soup kitchen that offered free soil testing to low-income Philadelphia residents. Currently the collective is mounting Seed Journey, an international sailing expedition organized around the preservation of natural seed stocks, information about the dangers of GMOs and as a resistance to the privatization of the public commons.
Seed Journey may be the group's most explicit rejoinder to the unbridled privatization behind the Trump agenda. The focus of the sailing expedition, which completed its first leg from Oslo to Antwerp in the fall and will begin its second leg from Antwerp to Istanbul in April, is the disappearing of the commons due to the privatization and corporate ownership of knowledge and the importance of preserving the public domain.
Franceschini, who doesn't like the label social practitioner, describes Futurefarmers' work in terms that sounds like a cross between conceptual art and political organizing. When the group accepts an invitation to create a work in a new city, she explained, they first investigate the local ecology of political and artistic relationships — who's working in local grassroots movements, where the anarchist book store is and attending local art openings.
Futurefarmers constructed a rusticated windmill on top of an abandoned diner in North Philadelphia that generated enough electricity to power lights on the ground floor. The windmill was an homage to Cervantes' Don Quixote and the tilting at the windmill that both commented on the green energy future of Philadelphia even as the temporary installation operated with the city on a grassroots level.
"We were able to work with the Environmental Protection Agency, the mayor's office, local farmer, and create some demand, because our public artwork was commissioned by the mayor as a call to imagine a green Philly in 2015," she reflected. "The EPA actually took on our model and traveled it to different cities."
On board the sailing of Seed Journey will be seeds "rescued" from the Siege of Leningrad during World War II, going all the way back to Viking-era Finnish Rye seeds recovered by archaeologists from a site in Hamar, Norway.
"Seeds are a beautiful metaphor," Franceschini explained. "Literally and metaphorically they're shared through many hands, and so what we say is, 'How do we keep the power of our commons in the hands of many, rather than the hands of few and, in the case of seeds, in the hands of fewer and fewer huge companies?'"
At the opposite end of the social practice spectrum is Los Angeles multidisciplinary "life-artist" Jennifer Moon. Since emerging as a breakout star of Los Angeles' Hammer Museum's Made in L.A. biennial exhibition in 2014, Moon has become a wildly whimsical crossover attraction in group political art shows on both coasts, most recently sharing the bill of the 31-artist S/Election: Democracy, Citizenship and Freedom exhibition at East Hollywood's Municipal Gallery.
Jennifer Moon, "You Can Kill My Body, But You Can't Kill My Soul," 2013 (Photo: Patrick Connor)
Even though her work doesn't deal in conventional direct-action politics or Futurefarmers' brand of policy-focused social engagement, Moon sees the election of Trump as an opportunity for politically progressive artists.
"Before the election," she declared, "people were asking, 'What happens if Trump gets elected?' I told them, 'Maybe the revolution can actually happen then.' … I hope artists — including myself — do start thinking, Who I'm in partnership with? Why am I making art? Who is this benefiting?"
Moon's highly autobiographical blend of political theory, psychotherapy and elaborate fantasy explores the idea of love as a revolutionary force — a mix of lived experience and activism that she calls "The Revolution." Through performances, videos, manifestos and sculptures that playfully draw from the ideas and postures of theoretical physics, cognitive science, self-help gurus and TED talks, Moon undertakes, through her own highly idiosyncratic framework, the very serious business of challenging the underlying belief systems and political economies that perpetuate problems like economic and social inequality, climate change and the depletion of resources.
"My tagline on my website is 'Jennifer Moon, artist, adventurer, and revolutionary,'" Moon explained. "To me, popular politics, which is where Trump exists, is not a form of [authentic] politics in terms of how Hannah Arendt talks about the polis, which is a sphere of freedom."
Moon's recent work borrows heavily from quantum mechanics and cosmological theory — how 95 percent of the universe consists of unknown forces and matter that can't be seen or observed — to explore the tenuous connection between systems of belief and the real world. In 2015's Phoenix Rising: Part 3: laub, me and the Revolution (The Theory of Everything) at Los Angeles' Commonwealth and Council art gallery, Moon illustrated that fraught connection with an outlandish installation that melded fantasy with the language of self-help cant and included a room-size model of the Large Hadron Collider cobbled from Popsicle sticks, duct tape and Habitrail tubes.
The shared "five percent reality," as Moon describes it, represents a kind of conceptual prison that ultimately enabled white women and Latinos to ignore to Trump's attitudes toward women or immigrants in order to cast their vote for him.
"What we're seeing is not everything that's there," Moon explained. "I'm interested in how to access the things that we can't see as a way to point towards expanding our reality beyond the five percent reality. … If I'm really affected by Trump, my job is to go in and identify what he represents, because he's essentially a carrier of a certain belief, or bad beliefs."