State of Resistance: California Braces for Immigration Battle With Trump
Three-quarters of Californians oppose mass deportation measures of the kind that President Donald Trump has repeatedly called for.
Republicans didn't just win total control of the federal government last November. They also emerged holding a record number of governorships and retained their overwhelming dominance of state legislatures. There are now only five states in which Democrats have a "trifecta" — control of both legislative chambers as well as the governorship — compared to 24 for the Republicans. That's two fewer such states than Democrats had held before the election, which was in turn the fewest they'd held since the Civil War, when there were only 35 states.
Fortunately for the Democrats, one of those trifecta states is the most populous and economically powerful in the country. Additionally, California has, by far, the largest number of undocumented immigrants in the U.S.: 2.4 million out of about 11 million total. Moreover, three-quarters of Californians oppose mass deportation measures of the kind that President Donald Trump has repeatedly called for, and nearly two-thirds believe immigrants who are already here should be able to apply for U.S. citizenship. California is now simultaneously the welcome home (relatively speaking) to more than a fifth of America's unauthorized residents, and one of the last strongholds of a besieged Democratic Party.
A collision between the Trump administration and Democratic lawmakers in Sacramento is inevitable. California lawmakers are counting on it. Today the president is expected to sign an executive order authorizing construction of his vaunted border wall, and to withhold federal funds from so-called "sanctuary cities" like Los Angeles and San Francisco. Since November, in anticipation of actions such as these, state legislators in California have been rushing to pass a slate of new laws to put the state's undocumented population as far out of reach of federal authorities as possible, and to give them at least a modicum of protection from summary deportation once they're ensnared by Trump's Immigration and Customs Enforcement (ICE) agents.
Here are the ways state lawmakers are preparing for the coming showdown.
Non-Cooperation With ICE
Shortly after Trump was elected, Los Angeles Police Department Chief Charlie Beck declared that his officers would continue to adhere to the department's long-standing policy of not assisting federal agents in deporting immigrants. Beck referenced Special Order 40, a directive from 1979 that prohibits LAPD officers from questioning people about their immigration status.
The LAPD's hands-off approach to immigration enforcement is part of why Los Angeles is considered a "sanctuary city." But despite Special Order 40, the department in fact routinely collaborates with ICE, whose agents and the LAPD conduct joint operations together. The LAPD shares intelligence with ICE, and LAPD officers have rounded people up on raids ostensibly unrelated to immigration, then allowed ICE to take custody of those arrestees for the purpose of deportation. Outside of the LAPD's jurisdiction, the Los Angeles Sheriff's Department has allowed ICE agents to operate inside county jails.
Immigration attorneys and immigrant-rights advocates have criticized this kind of cooperation between local police forces and federal agents throughout the Obama administration. Now, with Trump pledging to deport two to three million immigrants — the equivalent of the total number of removals through eight years of record-setting deportations under Obama — California lawmakers are finally proposing to put an end to the practice.
A bill introduced last month by Senate President Pro Tem Kevin de León of Los Angeles would bar state, local and school police officers from pursuing or helping federal agents track down people for immigration violations. That includes sharing information with ICE that's gathered in databases such as California's "CalGang" system, which purports to track gang affiliations. The bill would also stop law enforcement from helping the feds put anyone on an identity-based registry, such as Trump has proposed for Muslims living in the United States. In effect, the bill would make California a sanctuary state.
Passing this bill would throw a pretty big monkey wrench into Trump's deportation machine. Without active, concerted assistance from local law enforcement, it's hard to imagine the federal government having the intelligence or the sheer manpower to track down millions of undocumented California immigrants. "Trump's deportation plans really depend on cooperation or voluntary assistance from states and localities," Jessica Karp Bansal, an attorney with the National Day Laborer Organizing Network, told me. "This bill just says no. We're not using our local resources to assist in deportation."
No Data Sharing
De León's bill would also prevent state agencies from collecting information from people beyond what they need to perform their official duties, and from sharing that information for any reason other than fulfilling the services they're tasked with.
In an era of Big Data, this might be one of the most significant requirements of the entire package of legislation. One immigration attorney told me that there are probably two to three million undocumented immigrants who the government can already track down easily through biometric data gathered from prior interactions with the state, whether through criminal convictions or simply going to the DMV.
It's unclear how many and which state agencies have already shared their data with ICE, though we know that law enforcement agencies have done so as a matter of course. However extensive the practice has been, de León's bill would work to put an end to it.
Due Process for Deportation Defendants
Under federal law, non-citizens have no legal right to government-provided lawyers in deportation proceedings — there is no public defender system in the immigration courts. Most defendants, unable to afford an attorney, are forced to represent themselves. A 2015 study of over 1.2 million deportation cases between 2007 and 2012 found that just 37 percent of defendants had counsel, and only 14 percent of defendants who were in detention did. Having a lawyer makes a difference – with legal representation, detained defendants were up to 10.5 times more likely to avoid deportation.
The Central American refugee crisis, which peaked in 2014, provided example after example of what "due process" can look like without the guarantee of legal representation. When I reported on the subject for Capital & Main two-and-a-half years ago, Lindsay Toczylowski, currently executive director of the Immigrant Defenders Law Center, told me: "I've seen infants going into court. I've seen a five-year-old girl questioned by a judge while she's sitting in a chair big enough so her feet don't even touch the floor." Ahilan Arulanantham, deputy legal director with the American Civil Liberties Union of Southern California, and senior staff attorney at the ACLU Immigrants' Rights Project, described the process as "a joke."
Last month, State Senator Ben Hueso of San Diego introduced a bill that would require the state to guarantee legal representation to immigrants who are in detention and facing removal proceedings by contracting or subcontracting out to nonprofit law firms. The bill would also establish a legal defense fund that could take donations from private foundations to pay for the lawyers.
Pro-immigrant municipal and county officials are also creating legal defense funds at the local level. In San Francisco, where an estimated 44,000 undocumented immigrants live, Supervisor David Campos has proposed that the city and county put $5 million toward establishing such a fund (the measure has become bogged down in a dispute with the mayor over whether the funds should go largely to the city's Public Defender's office or exclusively to private nonprofit community legal-services groups). In Los Angeles, the county has voted to contribute to a $10 million legal fund for immigrants in removal proceedings; the city is expected to take a similar vote.
Immigration Law Training for Public Defenders
Another bill, introduced by East Bay Assemblymember Rob Bonta, sets up centers to train public defenders in immigration law. When undocumented immigrants are charged with crimes, their plea deals can often create unexpected problems related to their immigration status, even when they might result in a lighter criminal penalty. Public defenders who are versed only in criminal, and not immigration, law can unwittingly advise clients to agree to accept charges that end in deportation. Bonta's bill aims to solve this problem.
The Upshot
The immense power of the federal executive can be dangerously abused, especially when a prickly chief with autocratic tendencies and single-party control of all three branches of government sits atop it. But rounding up, detaining and deporting millions of people is a hard enough task even with pliable and obedient state and local agencies to work with. In California's case, these agencies are soon likely to become not just unhelpful, but legally obligated to recalcitrance. And these agencies happen to serve the largest concentration of undocumented immigrants in the country.
Open, unbridled confrontation with a hostile federal government is an unenviable scenario to be in. But so is having the core commitment of your entire presidential campaign depend, in large part, on the decisions of people who are committed to defy everything you stand for. The emerging showdown between Sacramento and Washington over the fate of millions of California residents will be forced into a standoff, a compromise or an epic political battle.
State of Resistance: Artists Push Back
What space is left for art, now that its traditional license of intellect, invention and poetic imagination have been so effectively seized by Donald Trump's own brand of performance art?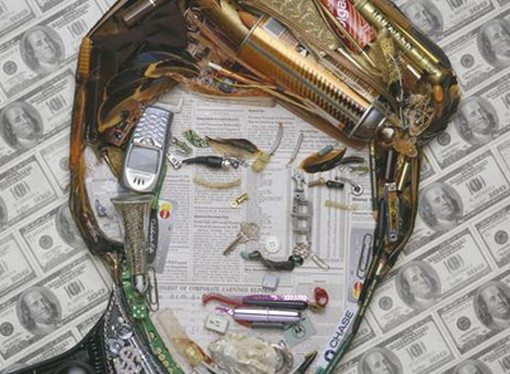 "Donald Trump," by Jason Mecier
One particularly unsettling portent from the presidential election may have been the role that artists didn't play. Though political caricaturists and satirists had a field day, no Shepard Fairey stepped forward from the art world to crystalize the ideals and aspirations of a candidate, or to electrify and inspire voters in the way that the Los Angeles street artist's iconic "Hope" portrait did for Barack Obama in 2008.
Then again, what space was left for art when its traditional license of intellect, invention and poetic imagination was so effectively seized by Donald Trump's own brand of performance art?
As president, Trump has wasted little time in formalizing his stranglehold on artistic, journalistic and intellectual expression that doesn't bend to a reality constructed of "alternative facts" and Orwellian doublespeak.
Meanwhile, a report by The Hill noted that the new administration will follow a scorched-earth budget blueprint, published last year by The Heritage Foundation, that calls for the privatization of the Corporation for Public Broadcasting and the outright elimination of both the National Endowment for the Arts and the National Endowment for the Humanities.
The good news is that California artists along a wide horizon of  styles  have been rallying and organizing.
In December, a group of Bay Area-based artists, writers and cultural producers launched 100 Days Action, an online forum and calendar of daily activist and art-driven activities proposing a "counternarrative" to the one hundred day plan that Trump outlined during his campaign.
In Los Angeles, Hollywood's World of Wonder Storefront Gallery counter-programmed the Trump inauguration with a show of transgressive protest art called "Surviving Trump: The Art of Resistance," featuring new works from a roster that includes Ginger (from the activist collective INDECLINE), Kenny Scharf, Raja, Pandora Boxx, Trevor Wayne, Jason Mecier, Sham Ibrahim and media critics the Kaplan Twins.
Shepard Fairey offered free downloads on his Obey Giant website of his "We the People" portraits celebrating America's multicultural and racial diversity. The new images turned up on placards carried by thousands at the Women's March on Washington and offered a human face to those affected by Trump's anti-immigrant agenda of mass deportations, a border wall and an indefinite ban on Syrian refugees.
Art's greatest power is its ability to articulate that which is literally unspeakable. And countering the brutalism of the new Performance Artist-in-Chief may demand an artistic resistance that goes beyond galleries or the conventional rhetoric of the demonstration march — or, as Yoko Ono famously phrased it, art that is a verb rather than a noun.
For a sense of what that verb may look like, Capital & Main spoke to two California artists working in the medium of what has been called "social practice" art, a participatory, multidisciplinary medium that uses social engagement and collaboration in works that transcend traditional categories of art and political activism.
San Francisco artist and media designer Amy Franceschini's roots in farming, environmental and food sovereignty issues have been central to Futurefarmers, the renowned S.F.-based art collective she founded in 1995. Raised in California by divorced farmer parents — her father was a large industrial grower and owner of a pesticide company in the San Joaquin Valley, her mother an organic farmer and activist near San Luis Obispo — Franceschini is no stranger to ideological divides or food politics.
"Seed Journey" (Photo: Marthe Van Dessel)
That formative insight not only shaped Futurefarmers's political focus, but it informs a collective practice in which members bring their distinct skill sets to bear in socially engaged work that has ranged from Victory Garden, which transformed the front of San Francisco's City Hall into an urban farming demonstration garden, to Soil Kitchen, a wind-driven neighborhood soup kitchen that offered free soil testing to low-income Philadelphia residents. Currently the collective is mounting Seed Journey, an international sailing expedition organized around the preservation of natural seed stocks, information about the dangers of GMOs and as a resistance to the privatization of the public commons.
Seed Journey may be the group's most explicit rejoinder to the unbridled privatization behind the Trump agenda. The focus of the sailing expedition, which completed its first leg from Oslo to Antwerp in the fall and will begin its second leg from Antwerp to Istanbul in April, is the disappearing of the commons due to the privatization and corporate ownership of knowledge and the importance of preserving the public domain.
Franceschini, who doesn't like the label social practitioner, describes Futurefarmers' work in terms that sounds like a cross between conceptual art and political organizing. When the group accepts an invitation to create a work in a new city, she explained, they first investigate the local ecology of political and artistic relationships — who's working in local grassroots movements, where the anarchist book store is and attending local art openings.
Futurefarmers constructed a rusticated windmill on top of an abandoned diner in North Philadelphia that generated enough electricity to power lights on the ground floor. The windmill was an homage to Cervantes' Don Quixote and the tilting at the windmill that both commented on the green energy future of Philadelphia even as the temporary installation operated with the city on a grassroots level.
"We were able to work with the Environmental Protection Agency, the mayor's office, local farmer, and create some demand, because our public artwork was commissioned by the mayor as a call to imagine a green Philly in 2015," she reflected. "The EPA actually took on our model and traveled it to different cities."
On board the sailing of Seed Journey will be seeds "rescued" from the Siege of Leningrad during World War II, going all the way back to Viking-era Finnish Rye seeds recovered by archaeologists from a site in Hamar, Norway.
"Seeds are a beautiful metaphor," Franceschini explained. "Literally and metaphorically they're shared through many hands, and so what we say is, 'How do we keep the power of our commons in the hands of many, rather than the hands of few and, in the case of seeds, in the hands of fewer and fewer huge companies?'"
At the opposite end of the social practice spectrum is Los Angeles multidisciplinary "life-artist" Jennifer Moon. Since emerging as a breakout star of Los Angeles' Hammer Museum's Made in L.A. biennial exhibition in 2014, Moon has become a wildly whimsical crossover attraction in group political art shows on both coasts, most recently sharing the bill of the 31-artist S/Election: Democracy, Citizenship and Freedom exhibition at East Hollywood's Municipal Gallery.
Jennifer Moon, "You Can Kill My Body, But You Can't Kill My Soul," 2013 (Photo: Patrick Connor)
Even though her work doesn't deal in conventional direct-action politics or Futurefarmers' brand of policy-focused social engagement, Moon sees the election of Trump as an opportunity for politically progressive artists.
"Before the election," she declared, "people were asking, 'What happens if Trump gets elected?' I told them, 'Maybe the revolution can actually happen then.' … I hope artists — including myself — do start thinking, Who I'm in partnership with? Why am I making art? Who is this benefiting?"
Moon's highly autobiographical blend of political theory, psychotherapy and elaborate fantasy explores the idea of love as a revolutionary force — a mix of lived experience and activism that she calls "The Revolution." Through performances, videos, manifestos and sculptures that playfully draw from the ideas and postures of theoretical physics, cognitive science, self-help gurus and TED talks, Moon undertakes, through her own highly idiosyncratic framework, the very serious business of challenging the underlying belief systems and political economies that perpetuate problems like economic and social inequality, climate change and the depletion of resources.
"My tagline on my website is 'Jennifer Moon, artist, adventurer, and revolutionary,'" Moon explained. "To me, popular politics, which is where Trump exists, is not a form of [authentic] politics in terms of how Hannah Arendt talks about the polis, which is a sphere of freedom."
Moon's recent work borrows heavily from quantum mechanics and cosmological theory — how 95 percent of the universe consists of unknown forces and matter that can't be seen or observed — to explore the tenuous connection between systems of belief and the real world. In 2015's Phoenix Rising: Part 3: laub, me and the Revolution (The Theory of Everything) at Los Angeles' Commonwealth and Council art gallery, Moon illustrated that fraught connection with an outlandish installation that melded fantasy with the language of self-help cant and included a room-size model of the Large Hadron Collider cobbled from Popsicle sticks, duct tape and Habitrail tubes.
The shared "five percent reality," as Moon describes it, represents a kind of conceptual prison that ultimately enabled white women and Latinos to ignore to Trump's attitudes toward women or immigrants in order to cast their vote for him.
"What we're seeing is not everything that's there," Moon explained. "I'm interested in how to access the things that we can't see as a way to point towards expanding our reality beyond the five percent reality. … If I'm really affected by Trump, my job is to go in and identify what he represents, because he's essentially a carrier of a certain belief, or bad beliefs."