Alone and Afraid: Refugee Children Face Deportation Without Legal Representation
Photo by James Rodríguez
Isabel Mejia was 17 years old when she arrived in the United States from El Salvador, having fled her home country for reasons even the most hardened immigration opponent might have trouble dismissing. Some local gang members had decided to conscript her as the "gang's girlfriend" — to force her into a life of sexual slavery. At home, the situation was no better: She had been a victim of domestic sexual violence. Faced with rape, death or flight, she chose to flee.
Today, Isabel (not her real name), now 18, lives in a small apartment in Southern California with her aunt. Her respite is only temporary. After crossing over the Mexican border into Texas, she had been captured by Border Patrol agents and held in a Houston detention facility before being released into her aunt's care. Some time in the next few months, she will go before an immigration judge and, with the assistance of a pro bono attorney, present her case for asylum. If her argument is rejected and her appeals fail, she will be deported and sent right back into the impossible bind she risked her life to escape.
Alone and Afraid from Capital & Main on Vimeo.
In one important respect, Isabel is fortunate: She has a lawyer. Most of the thousands of unaccompanied minors from Central America currently being processed through the immigration court system do so without legal representation. In deportation proceedings, the United States government does not provide free, court-appointed attorneys to refugees who have no other access to counsel, as it is obligated to do for American citizens facing criminal prosecution. Defendants in the immigration courts, regardless of their age or education level, are forced to represent themselves within a body of law that is frequently compared to the Internal Revenue Code in its degree of complexity.
"I've seen infants going into court," says Lindsay Toczylowski, Directing Attorney for the Esperanza Immigrant Rights Project, a Los Angeles-based nonprofit law office affiliated with Catholic Charities. "I've seen a five-year-old girl questioned by a judge while she's sitting in a chair big enough for an adult so her feet don't even touch the floor. I have not seen a case in which a minor is successfully able to navigate the asylum process and successfully obtain asylum without an attorney's assistance."
On July 9, the American Civil Liberties Union, along with Public Counsel, the Northwest Immigrant Rights Project, the American Immigration Council and the law firm K&L Gates LLP, filed suit against Attorney General Eric Holder, Homeland Security Secretary Jeh Johnson and six other Obama administration officials in federal court in Seattle. The suit seeks to compel the government to "ensure that no child faces the life-altering prospect of deportation without legal representation."
"Our view is not that every child that comes here should have a legal right to stay here," Ahilan Arulanantham, Deputy Legal Director for the ACLU Foundation of Southern California, explains. "Really it's just that many of them, in this one UNHCR [United Nations High Commissioner for Refugees] survey, about 58 percent of them, have serious claims to protection under the refugee laws or other humanitarian relief that exists in the immigration law. And the question is just, are we going to give them a fair day in court? Are we going to give them the opportunity to present that claim?"
If the UNHCR figure is accurate, then as many as 33,000 of the 57,000 Central American children who have been picked up by Border Patrol since October 1 may have valid claims to refuge under U.S. law. This massive humanitarian emergency is the result of deteriorating social conditions in three countries — El Salvador, Guatemala and Honduras — that have led to the dominance of transnational gangs over extensive territories within them.
Those gangs were, in part, imported into the region from the United States during the 1980s and '90s, when thousands of youths who had fled U.S.-financed civil wars in the three countries and emigrated to Los Angeles were imprisoned during the "War on Drugs" crackdown, exposed to California street gang culture and then deported en masse back to their countries of origin. Some of the gangs still bear the names of the L.A. streets that birthed them: The Normandie Locos clique of La Mara Salvatrucha and the 18th Street Gang.
Now those gangs are terrorizing entire nations with something close to impunity.
Sonia Menendez (not her real name) is one of the plaintiffs in the lawsuit. Now 14 years old, Sonia fled El Salvador out of fear of being targeted by gang members because her uncle, a police officer, refused to agree to look the other way when it came to gang activity. The gang members retaliated against her uncle by threatening Sonia's elder sister.
"When they target one sister, and that sister runs, then they target another," Arulantham says. "And so all the sisters fled."
Sonia is temporarily staying with her father, Juan Pablo, in the Los Angeles area.
Juan Pablo, who was a police officer in El Salvador for nine years, describes life in his home country this way:
"After the peace accords [following the civil war], people generally lived well . . . Then, from 1995 on, this problem started. No one thought it would get this big. Many people say that it was better to live in the civil war than what is happening now. The reason why they think that is that 'they' live among us. You go out of your house and you don't know if you will come back alive because just around the corner they are waiting for you."
"If you don't let them do what they want, they will kidnap and rape you, even kill you," Isabel says.
In the coming months, Sonia, like Isabel, will have her fate determined by an immigration judge interpreting laws she cannot understand in a legal process that is stacked against her. If the judge's decision is not in her favor, Sonia's options for escaping the gangs will be exhausted.
The chances for future refugees may be slimmer still. The Obama administration has indicated its intention to expedite future deportations of Central American children by working with Congress to gut a law passed under the Bush administration that offers a modicum of due process to asylum seekers from the region. A bill called "The HUMANE Act" would repeal the law's requirement that unaccompanied minors from countries that do not share a border with the U.S. have an opportunity to plead their case before an immigration judge prior to a deportation order.
"My guess," speculated  Texas Senator John Cornyn upon introducing the bill, "is that once the word gets back to Guatemala, Honduras and elsewhere that, 'Look, it's not a free pass. This permiso doesn't work. They actually will send you back,' that people will not start the journey."
But there is reason to question whether the more callous legal regime that President Obama and Congressional Republicans seek will have any impact on the number of Salvadoran, Guatemalan and Honduran refugees seeking to enter the United States. According to the UNHCR, the U.S. is far from alone in seeing a dramatic uptick in asylum applications. Combined, the countries of Mexico, Panama, Nicaragua, Costa Rica and Belize have seen a 432 percent increase in refugees from El Salvador, Guatemala and Honduras seeking asylum. These figures suggest that refugees from the three countries are not seeking to come to the United States based on a perception of the country's uniquely hospitable immigration laws; they are simply going anywhere they can get to, including the U.S., to escape the nightmare of their circumstances at home.
"Many of these minors are looking at certain death if they remain in their communities, or face the treacherous journey to the United States and an uncertain legal future once they get here," Toczylowski contends.
"It would be a mistake to think that this is entirely a product or even mostly a product of the change in our immigration policies in the recent past or anything other than a massive humanitarian refugee crisis," argues Arulanantham.
Even without the further reduction in the legal rights of asylum seekers that the Obama administration is pursuing, what presently passes for due process for tens of thousands of unaccompanied minors from El Salvador, Guatemala and Honduras has, at best, a dubious claim on justice.
"It has been true for over 100 years under American law that non-citizens do have certain critical Constitutional rights, most importantly the due process clause does not protect 'citizens,' it protects 'persons,'" Arulanantham argues. "That's what the framers of the Constitution wrote in a very deliberate way. Similarly the 14th Amendment … It has been true for over 100 years that one of those basic protections is the right to a fair hearing before you are to be deported from this country."
"Proceedings against a 10-year-old child," Arulanantham continues, "with a lawyer on one side for the government but no lawyer for a child — they're a joke."

Rick Scott Invested in the Same Financial Firms As Florida's Pension System
Co-published by MapLight
For most of his time in office, Florida's governor has shielded his investments from public view. A new disclosure shows Rick Scott and his wife have invested at least $18 million in financial firms managing money for the state's pension system that he oversees.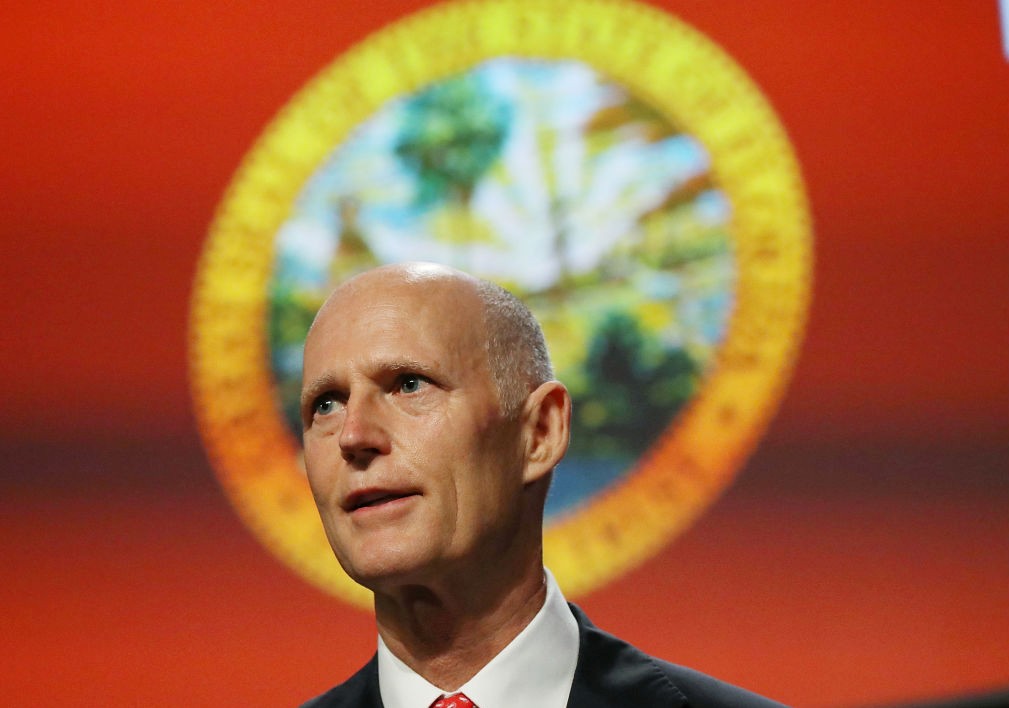 ---
Former SEC Lawyer: "There needs to be an investigation into whether the state is subsidizing Rick Scott's personal returns."
---
Co-published by MapLight
Florida Gov. Rick Scott and his wife have invested at least $18 million in three financial firms managing money for the state's pension system that Scott oversees — a situation that intertwines the governor's personal finances with his responsibility for supervising state employees' retirement savings.
The investments were first divulged in a federal financial disclosure form that Scott filed as part of his U.S. Senate campaign in July. For most of his time in office, Scott has shielded his investments from public view, and only reported their overall value in his blind trust.
The terms of Scott's investments remain undisclosed. The firms' own corporate documents say they can give certain investors special preferences not afforded to other investors — and experts have in recent years argued that hedge funds, private equity firms, and other "alternative investments" are giving such preferences to elite investors. One former Securities and Exchange Commission attorney told MapLight and Capital & Main that Scott must disclose whether he is being given such preferences.
---
Critics have raised questions about how blind the Scott family trusts really are.
---
Florida ethics laws are supposed to prohibit state officials from entering into contractual relationships with companies that do business with their agencies. However, after Scott became governor in 2011, state ethics officials said he and his family members could put their assets into a blind trust to avoid conflicts of interest and still maintain their investments in companies operating in Florida.
Critics have raised questions about how blind the Scott family trusts really are. Scott placed one of his longtime business associates in charge of managing his blind trust. The Tampa Bay Times reported that Scott's blind trust has invested with a private equity firm tied to a high-speed rail project in Florida. The trust also had an indirect interest in a cancer treatment company that received tax breaks from Scott's administration.
---
"The question is whether Rick Scott is being allowed to invest on better terms than the state pension fund."
---
"When Governor Scott was elected, he put all of his assets in a blind trust, which is managed by an independent financial professional who decides what assets are bought, sold or changed," said Scott campaign spokesperson Lauren Schenone. "The rules of the blind trust prevent any specific assets or the value of those assets within the trust from being disclosed to the governor, and those requirements have always been followed."
Scott is one of three state officials who serve as trustees for the Florida State Board of Administration, which manages a $160 billion fund for roughly 400,000 retirees. Scott, Attorney General Pam Bondi, and Chief Financial Officer Jimmy Patronis oversee lucrative state investment deals granted to cash-hungry Wall Street firms.
The three firms that have received $325 million worth of Florida pension investments have allowed the Scott family's blind trusts to simultaneously invest their personal fortunes in these funds. Scott's investments in the funds did not appear in a 2014 disclosure itemizing his holdings. His campaign did not say when the investments were made.
"There are no ethics rules that prohibit or limit a trustee from investing in funds also invested in by the SBA," said SBA spokesperson John Kuczwanski, though he added that trustees are subject to Florida's general code of ethics. Kuczwanski said that the governor has no involvement in specific pension investment decisions.
Don Hinkle, a Democratic lawyer, filed a lawsuit last year alleging that the governor has failed to comply with the state's blind trust and financial disclosure laws. He said he was surprised by the news that Scott had invested in the same firms as the Florida pension system.
"I would think that he would have avoided investments where the state of Florida's money is propping his up," Hinkle told MapLight and Capital & Main.
In 2011, a few months after Scott became governor, the SBA committed $150 million to Highline Capital Partners, a New York-based hedge fund. Scott's financial disclosure shows that his family's trusts have invested at least $4 million in the same Highline fund as the state.
The SBA also committed $100 million in 2015 to a hedge fund managed by Canyon Capital Advisors, a Los Angeles-based firm created by veterans of the notorious investment bank Drexel Burnham Lambert, which was driven into bankruptcy as a result of illegal and unethical trading practices. Scott and his family have invested at least $12 million in Canyon funds, according to his financial disclosure.
Before Scott became governor, the SBA invested $75 million with VSS, a New York-based private equity firm that was launched by a co-founder of Psychology Today. Scott and his wife, Ann, have invested more than $2.2 million in another VSS fund. A spokesperson for VSS said the firm doesn't comment on its investors.
All three firms' SEC filings say they can offer certain investors special fee terms or other benefits not offered to other investors.
"Alternative investment funds have the ability to offer every investor different fees at a different rate of return, so the question is whether Rick Scott is being allowed to invest on better terms than the state pension fund," said former SEC attorney Edward Siedle, whose Florida-based firm conducts forensic investigations of state pension systems.
"If you give one investor an advantage, another investor has to be disadvantaged," Siedle said. "That means there needs to be an investigation into whether the state is actually subsidizing Rick Scott's personal returns and whether the governor enjoys advantages that are harming the retirees."
Schenone, Scott's spokesperson, said that his blind trust has "been upheld multiple times by the State Commission on Ethics and the court system. Governor Scott has also followed the requirements of all state and federal financial filings."
She noted that former Florida Republican Gov. Jeb Bush and Scott's 2010 Democratic opponent Alex Sink had also used blind trusts, although Scott's campaign attacked Sink for hers at the time.
"Blind trusts sound good but can run afoul of state laws requiring public officials to disclose their personal finances," a Scott campaign ad said in 2010. "[But] simply moving large amounts of money into a blind trust does not magically erase the knowledge of what you own."
---
This piece was reported by Andrew Perez of MapLight and David Sirota of Capital & Main, and published in partnership with the Florida Center for Investigative Reporting.