Stage Reviews: Three Provocative Broadway Dramas
Human frailty and societal faults are being vividly probed on Broadway as the season draws to a close.

The Humans (Photo by Brigitte Lacombe)
Human frailty and societal faults are being vividly probed on Broadway as the season draws to a close. Tony-nominated and a finalist for this year's Pulitzer Prize in drama, Stephen Karam's The Humans, performing at the Helen Hayes, is the most talked about of these works, and rightly so, for it taps into the zeitgeist in uncommonly smart, touching and humorous ways – frequently simultaneously.
Set in a dilapidated, if spacious, apartment (designed with impressive verisimilitude by David Zinn) in New York's Chinatown on Thanksgiving, the play unfolds in real time. Parents Erik and Deirdre Blake (Reed Birney and Jayne Houdyshell) have driven from Scranton, Pennsylvania – the playwright's hometown – to visit their younger daughter, Brigid (Sarah Steele), who has just moved in with her boyfriend, Rich (Arian Moayed). Brigid's older sister, Aimee (Cassie Beck), has also come for the holiday, as has Erik's frail and demented mother, Fiona (Lauren Klein, in a largely silent role), who lives with Erik and Deirdre.
Karam writes with abundant wit; several of the play's zingers elicit hearty laughs, as well as winces and gasps. He also writes with great economy: We learn much about this middle-class family's current travails and its history during the show's roughly 90-minute, intermission-less run time. The characters' work-related complaints matter – the present economy doesn't favor these folks, and there's a clear suggestion that gender bias has contributed further impediments – but it's the relentless tiny digs these obviously loving people can't help themselves from making that provide the play's most heartrending moments.
Deirdre struggles with her weight, Aimee with work and illness. Brigid isn't getting anywhere as a composer, and even the seemingly stable Rich, soon to be a social worker, has had challenges in his past. And something is clearly eating at Erik, though only at the play's end do we find out what. There's a larger metaphor here, expressed mostly by the tension between these flawed yet ultimately decent people, but also by an inchoate, borderline supernatural apprehension, manifested in power failures (credit Justin Townsend's lighting design) and slammed doors. This is Karam's weakest gambit, but under the under the sure and subtle – and, yes, Tony-nominated – direction of the estimable Joe Mantello it hardly lessens the impact of this potent, disturbing, timely play.
Mantello has also directed the Tony-nominated revival of David Harrower's gripping but manipulative Blackbird, a two-hander starring Jeff Daniels and Michelle Williams at the Belasco. The play, another without intermission, opens in media res, as Ray (Daniels) hauls Una (Williams) into an office break room. Their encounter is clearly awkward, but thanks to his purposely elliptical dialog Harrower keeps the source of the tension, and its profound implications, a tantalizing mystery until well into the drama. Along the way, we learn that Ray is troubled by Una's sudden reappearance, that Una has something on Ray, and that these two haven't seen each other in some time. Ultimately it's revealed that Ray and Una had a physical relationship when he was over 40 and she was…12. But why Una has tracked down Ray (known in his present life as Peter), and why she cares so much about the details of his current situation remain frustratingly unexplored. More significant is Harrower's stubborn insistence on detailing the sexual aspects of their repugnant bond through graphic description, when a more subtle approach would not only have been less rebarbative, but also more provocative.
As Ray, Daniels vacillates between panic and defiance, as Williams hovers on the verge of a breakdown, even as she clearly (and understandably) enjoys taunting Ray. The difference is that whereas Daniels disappears completely into his role in a nuanced performance that makes us both loathe and pity the character, Williams delights in a mannered, twitchy portrayal of Una. Mantello keeps what might have been static action almost constantly in flux, and Harrower offers one last twist as the play concludes on a distressingly ambiguous note.
Also up for a best-revival Tony is Ivo van Hove's taut, harrowingly compelling reinvention of Arthur Miller's The Crucible, the second of this Belgian director's thrilling reconceptions of a Miller play this season – the first was A View From the Bridge. (Both productions have earned a nomination for best revival of a play, as well as for Jan Versweyveld's lighting design.)
Van Hove abandons preconceptions of what can be a preachy and predictable – to say nothing of prolix – play and in the process erases the prejudices that jaded audiences might bring. The virtues here are many, even if several of the boldest moves – modern dress, a classroom for a set, a mixture of accents and anachronistic multiracial casting – don't sound as though they'd work with this material. Yet all these innovations succeed, including some aerial special effects and haunting choral background music. That's because van Hove treads thoughtfully and respectfully, but also because – heaven help us – Miller's McCarthy-era cri de coeur feels relevant again.
Those who (wrongly) fear a musty revival may come anyway thanks to the extraordinary company of actors assembled by van Hove. Miller requires 18 individual characters, irrespective of extras, and having two Oscar nominees (Saoirse Ronan and Sophie Okonedo) and a Tony winner (Jim Norton) among them counts as luxury casting. That's to say nothing of seeing Ben Wishaw reinvent the central role of John Proctor and Ciarán Hinds practically spew sulfur as he walks the stage as Deputy Governor Danforth, the personification of bureaucratic evil.
Okonedo shines in her compassionate turn as Elizabeth Proctor, as does Ronan as Abigail, who defies and bullies her elders with chilling authority. And who would guess that 20-year-old Tavi Gevinson – still best known as a teen fashion blogger – could personify the conflicted Mary Warren with such touching vulnerability?
The list of effective portrayals continues: Bill Camp's turn as the Reverend Hale, who nearly misses his chance to save his conscience; Jason Butler Harner's craven, contemptible Reverend Parris; and Norton's Giles Corey and Brenda Wehle's Rebecca Nurse, who stand on the opposite side of the moral equation.
If Broadway is to be more than a place for tourists to enjoy expensive musicals, it must maintain its commitment to serious dramas like these – where important issues play out under gifted directors and companies of actors who can astonish audiences with their communicative powers.

A Woman's Art Is Never Done: The Feminae Exhibition
A striking juxtaposition between the past and present courses throughout the small gallery. Celia Blomberg's "International Women's Day March 8" can't help but make one think of 2017's Women's March, which occurred 37 years after the print's first appearance.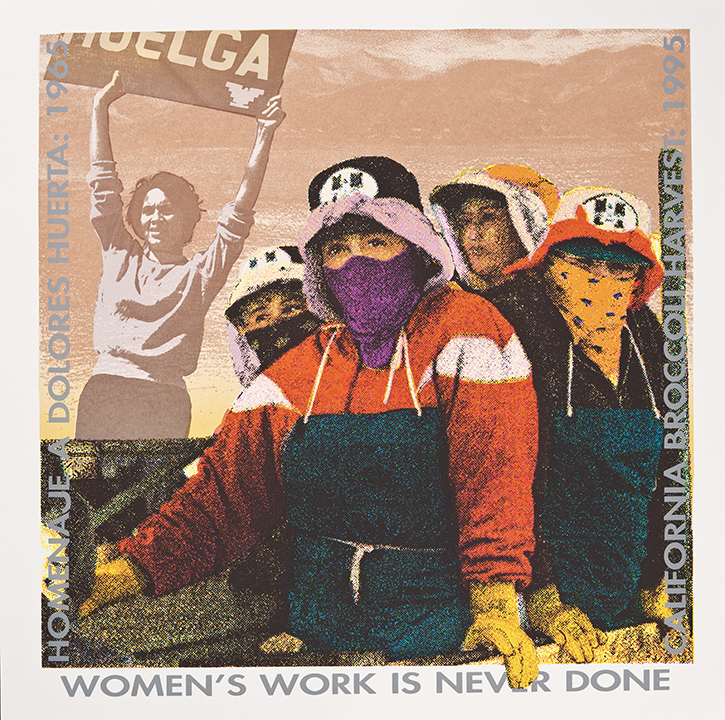 Among the 50-plus works in the Feminae: Typographic Voices of Women By Women exhibit is Yolanda Lopez's "Women's Work is Never Done." Lopez's title is particularly ironic, given the exhibit's gender-based subject matter. The show spans work from the past 50 years, making it easy to understand how much society is still grappling with its themes of gender inequality. Culled from the archives of the Center for the Study of Political Graphics, the graphic images of protest, persuasion and empowerment are truly works of art in their own right.
However, political posters aren't made to merely spruce up walls, but to help figuratively bring barriers down as well.
Two silkscreens from the 1970s, Liliana Porter and John Schneider's "This Woman is Vietnamese" and See Red Woman's Workshop's "So Long As Women Are Not Free People Are Not Free," are particularly powerful, underscoring, as they do, the fact that the subjugation and persecution of women crosses borders and cultures as an unfortunate shared global experience. These two pieces' stark simplicity exemplifies most of the work in the exhibit. In the former, a New York Times photo of a distraught Vietnamese woman with a gun held to her head is centered above these basic words typed out in a typewriter font: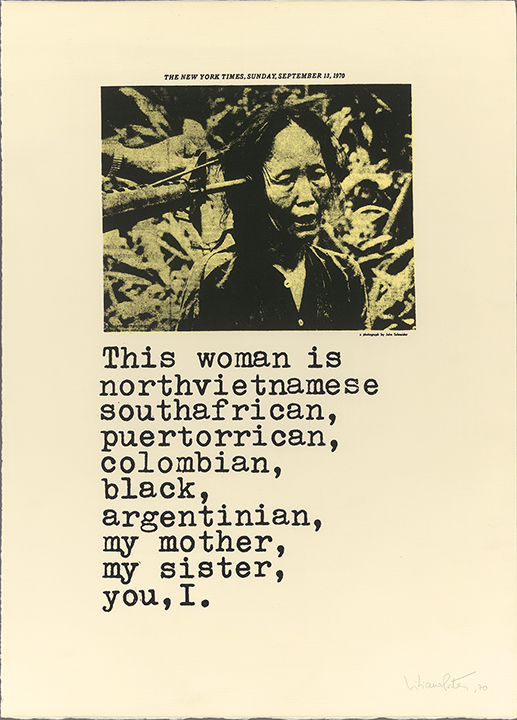 This woman is
northvietnamese
southafrican
puertorrican,
colombian,
black,
argentinian,
my mother,
my sister,
you, I.
By juxtaposing the photo with these words, the creators take the plight of this woman and immediately globalize her pain. In the latter, three female demonstrators are silkscreened in red onto a yellow background. They are marginalized by being stuck in the lower left third of the poster, but two of them are raising their fists skyward and their mouths are open, screaming in defiance. Its non-serif, eponymous type reads: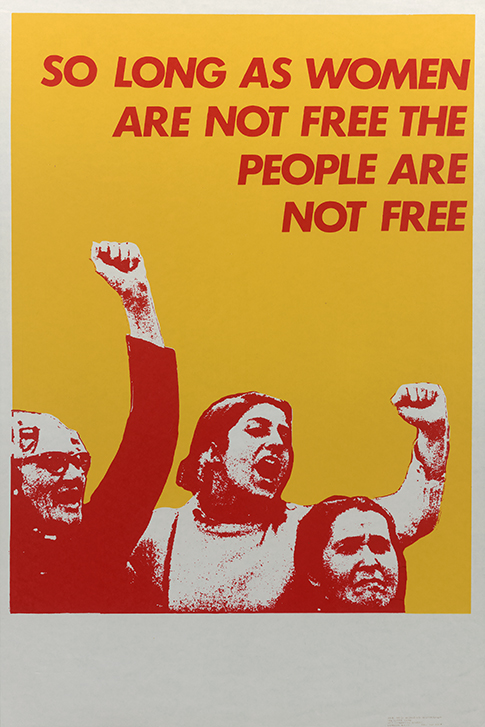 SO LONG AS WOMEN
ARE NOT FREE THE
PEOPLE ARE
NOT FREE
This piece's message takes the global message even farther, making the plight of women a human one — a common theme in the exhibition.
There is also a striking juxtaposition between the past and present that seethes throughout the small gallery. Celia Blomberg's "International Women's Day March 8" can't help but make one think of 2017's Women's March that would take place 37 years later. See Red Woman's Workshop's 1977 "Black Women Will Not Be Intimidated" could easily be repurposed to address the recent spate of blue-on-black brutality. Notable works by Barbara Kruger, Sister Corita Kent and the Guerilla Girls are also included.
Ironically , while it can be surmised that most of these works were made as populist posters to be distributed at the time as banners of protest, their beautiful simplicity and nostalgic elegance probably have resulted in the originals (mostly now found in art museums) sporting hefty vintage-resale prices.
But it is not just the art that has stood the test of time. The fact that the issues addressed in the show — feminism, choice, gender equality, war, immigration, police brutality or violence against women — are all issues at the forefront of debate in 2018 ultimately engenders conflicting feelings.
On one the hand, it is inspiring to see a vibrant exhibit that showcases such diversity in artistic styles, no doubt spawned by the diversity of the artists' own backgrounds. On the other hand, there is a realization that while there has been some progress over the past half century, there is so much work to be done.
Art Center's Hoffmitz Milken Center for Typography, 950 South Raymond Ave., Pasadena; through May 15.
---
Copyright Capital & Main