Stage Reviews: Three Provocative Broadway Dramas
Human frailty and societal faults are being vividly probed on Broadway as the season draws to a close.
The Humans (Photo by Brigitte Lacombe)
Human frailty and societal faults are being vividly probed on Broadway as the season draws to a close. Tony-nominated and a finalist for this year's Pulitzer Prize in drama, Stephen Karam's The Humans, performing at the Helen Hayes, is the most talked about of these works, and rightly so, for it taps into the zeitgeist in uncommonly smart, touching and humorous ways – frequently simultaneously.
Set in a dilapidated, if spacious, apartment (designed with impressive verisimilitude by David Zinn) in New York's Chinatown on Thanksgiving, the play unfolds in real time. Parents Erik and Deirdre Blake (Reed Birney and Jayne Houdyshell) have driven from Scranton, Pennsylvania – the playwright's hometown – to visit their younger daughter, Brigid (Sarah Steele), who has just moved in with her boyfriend, Rich (Arian Moayed). Brigid's older sister, Aimee (Cassie Beck), has also come for the holiday, as has Erik's frail and demented mother, Fiona (Lauren Klein, in a largely silent role), who lives with Erik and Deirdre.
Karam writes with abundant wit; several of the play's zingers elicit hearty laughs, as well as winces and gasps. He also writes with great economy: We learn much about this middle-class family's current travails and its history during the show's roughly 90-minute, intermission-less run time. The characters' work-related complaints matter – the present economy doesn't favor these folks, and there's a clear suggestion that gender bias has contributed further impediments – but it's the relentless tiny digs these obviously loving people can't help themselves from making that provide the play's most heartrending moments.
Deirdre struggles with her weight, Aimee with work and illness. Brigid isn't getting anywhere as a composer, and even the seemingly stable Rich, soon to be a social worker, has had challenges in his past. And something is clearly eating at Erik, though only at the play's end do we find out what. There's a larger metaphor here, expressed mostly by the tension between these flawed yet ultimately decent people, but also by an inchoate, borderline supernatural apprehension, manifested in power failures (credit Justin Townsend's lighting design) and slammed doors. This is Karam's weakest gambit, but under the under the sure and subtle – and, yes, Tony-nominated – direction of the estimable Joe Mantello it hardly lessens the impact of this potent, disturbing, timely play.
Mantello has also directed the Tony-nominated revival of David Harrower's gripping but manipulative Blackbird, a two-hander starring Jeff Daniels and Michelle Williams at the Belasco. The play, another without intermission, opens in media res, as Ray (Daniels) hauls Una (Williams) into an office break room. Their encounter is clearly awkward, but thanks to his purposely elliptical dialog Harrower keeps the source of the tension, and its profound implications, a tantalizing mystery until well into the drama. Along the way, we learn that Ray is troubled by Una's sudden reappearance, that Una has something on Ray, and that these two haven't seen each other in some time. Ultimately it's revealed that Ray and Una had a physical relationship when he was over 40 and she was…12. But why Una has tracked down Ray (known in his present life as Peter), and why she cares so much about the details of his current situation remain frustratingly unexplored. More significant is Harrower's stubborn insistence on detailing the sexual aspects of their repugnant bond through graphic description, when a more subtle approach would not only have been less rebarbative, but also more provocative.
As Ray, Daniels vacillates between panic and defiance, as Williams hovers on the verge of a breakdown, even as she clearly (and understandably) enjoys taunting Ray. The difference is that whereas Daniels disappears completely into his role in a nuanced performance that makes us both loathe and pity the character, Williams delights in a mannered, twitchy portrayal of Una. Mantello keeps what might have been static action almost constantly in flux, and Harrower offers one last twist as the play concludes on a distressingly ambiguous note.
Also up for a best-revival Tony is Ivo van Hove's taut, harrowingly compelling reinvention of Arthur Miller's The Crucible, the second of this Belgian director's thrilling reconceptions of a Miller play this season – the first was A View From the Bridge. (Both productions have earned a nomination for best revival of a play, as well as for Jan Versweyveld's lighting design.)
Van Hove abandons preconceptions of what can be a preachy and predictable – to say nothing of prolix – play and in the process erases the prejudices that jaded audiences might bring. The virtues here are many, even if several of the boldest moves – modern dress, a classroom for a set, a mixture of accents and anachronistic multiracial casting – don't sound as though they'd work with this material. Yet all these innovations succeed, including some aerial special effects and haunting choral background music. That's because van Hove treads thoughtfully and respectfully, but also because – heaven help us – Miller's McCarthy-era cri de coeur feels relevant again.
Those who (wrongly) fear a musty revival may come anyway thanks to the extraordinary company of actors assembled by van Hove. Miller requires 18 individual characters, irrespective of extras, and having two Oscar nominees (Saoirse Ronan and Sophie Okonedo) and a Tony winner (Jim Norton) among them counts as luxury casting. That's to say nothing of seeing Ben Wishaw reinvent the central role of John Proctor and Ciarán Hinds practically spew sulfur as he walks the stage as Deputy Governor Danforth, the personification of bureaucratic evil.
Okonedo shines in her compassionate turn as Elizabeth Proctor, as does Ronan as Abigail, who defies and bullies her elders with chilling authority. And who would guess that 20-year-old Tavi Gevinson – still best known as a teen fashion blogger – could personify the conflicted Mary Warren with such touching vulnerability?
The list of effective portrayals continues: Bill Camp's turn as the Reverend Hale, who nearly misses his chance to save his conscience; Jason Butler Harner's craven, contemptible Reverend Parris; and Norton's Giles Corey and Brenda Wehle's Rebecca Nurse, who stand on the opposite side of the moral equation.
If Broadway is to be more than a place for tourists to enjoy expensive musicals, it must maintain its commitment to serious dramas like these – where important issues play out under gifted directors and companies of actors who can astonish audiences with their communicative powers.
The Power of the Poster
Carol Wells, the founder of the Center for the Study of Political Graphics in Los Angeles, talks to Capital & Main about the enduring power of political art.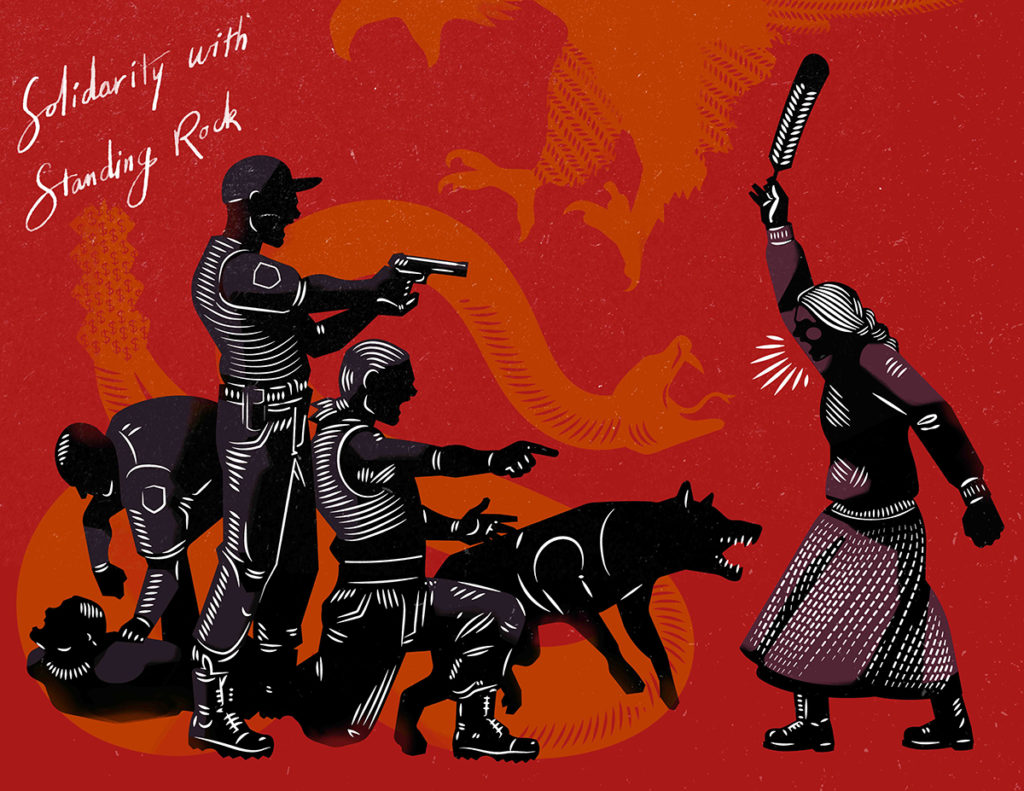 Carol Wells remembers the exact moment she discovered her calling. An art historian at the time, she was on a trip to Nicaragua with her friend David Kunzle, a UCLA art history professor, who was collecting political posters to add to his burgeoning collection. While staying with friends, Wells watched a neighbor's 8-year-old son approach a poster on the wall, stare at it intently, and then start to silently mouth the words. Wells was struck by how engaged the boy was. "In that moment I became obsessed with collecting posters."
Now over 40 years later, Wells is the founder and executive director of the Center for the Study of Political Graphics in Los Angeles. Wells has amassed approximately 90,000 posters, building one of the largest collections of its kind in the world. The Center shares its collection with the public in part through curated exhibits. This year the CSPG has produced Feminae: Typographic Voices of Women by Women and its latest is To Protect & Serve? Five Decades of Posters Protesting Police Violence, running through July 15 at the Mercado La Paloma in downtown Los Angeles.
Since that encounter in Nicaragua in 1981, Wells' obsession with collecting posters hasn't waned. In CSPG's nondescript West L.A. office space, Wells pulls out poster after poster, lecturing passionately on the backstory and cultural impact of each, including one that superimposes text from a New York Times interview with a shocking image of the My Lai massacre ("Q: And babies? A: And babies."). Recently, she managed to sit down with C&M to discuss her passion.
---
Capital & Main: So, you were an art history professor, you happen to see a kid on a trip, and suddenly your life was changed forever?
Carol Wells: Yeah, I'm in Nicaragua alone in the living room with this kid. He's looking around, and all of a sudden, he sees the poster. It was pretty big, bright green, a thick outlines of a woman holding a big basket of coffee beans. And the text in Spanish said, "In constructing the new country, we are becoming the new woman." I see him walk over to the poster and I'm watching him mouth the words. It was a pretty sophisticated concept, so I doubt he figured it out. But I literally had this epiphany: "Oh my God. That's how posters work." You're going about your daily life, and all of a sudden something breaks through the bubble, and it grabs your attention. It's the graphic, it's the color, it's the combination, and it pulls you out of your head and into that poster and it makes you ask a question. "Why is this here? What is this about? What does this mean?" And every time you ask a question, you're a different person than you were before you asked the question.
How many posters do you get a year?
We get between two to five thousand a year donated from all over the world. The bulk of our collection is [from] 1945 and later.
I assume technology has probably hurt the art form, but has it helped get the messages out?
Most people think that, and it's actually not true. Since the internet age started, there's actually a poster renaissance of works on paper. Because you can't walk with your computer monitor in a demonstration. You can't plant your monitor on your lawn.
And you can't put a laptop on the wall…
Exactly. You want to hear a really great story? Truthdig.org published a cartoon [made by] a political cartoonist named Mr. Fish. It was during the Arab spring, and he had superimposed Che Guevara with the stylized beard and King Tut's face, but it had Che's beret. And it [was titled], "Walk like an Egyptian." So, it was a reference to the music, but [it was also] a reference to what was going on the streets of Cairo. I sent it out as our poster of the week to 9,000 people. The very next day, somebody took a photograph on the street of Cairo, with somebody holding a piece of paper with that image on it. A poster can literally go around the world and people will print it out.
What struck me in viewing your exhibits is how many of these posters could still be used today, not only artistically but also, sadly, in the timeliness of their messages.
We had this fabulous poster by Yolanda Lopez, a Bay Area artist, which she first did in 1978. It depicts a young man in Aztec garb pointing a finger like Uncle Sam saying, "Who's the illegal alien, PILGRIM?" And it's a great poster, it's simple, not too many words, funny, provocative. So, we had an exhibit at UCLA in the mid '90s and there were 4 or 5 high school students standing around this poster saying, "Wow, you've got posters up to the minute." And I went over to them and I said, "Look at the date. This is before you were born."
Is that one of your goals with the exhibitions? To show the evergreen nature of this work?
Absolutely. I mean that's why we did the police abuse exhibition now. It basically goes back five decades. It's 50 years of posters protesting police abuse. Mainly in the United States, but also internationally.
What's the goal for CSPG?
Well the aim right now is really to digitize the collection and get it online. We have 10% of the collection digitized. But the mission is to collect and to document, because stories get lost. All the exhibitions, they're showing massacres, they're showing genocide, they're showing police abuse, they're showing all of these horrible things. And people often ask me, "How can you look at this stuff all day long?" I said, "Because the poster artists are optimists. They believe people can change if they have the information."
Yes, that's the reason why they're doing it, right?
That's why they're doing it, and that's why I'm doing this, because I believe that people can change if they knew the truth.
And what happens 20, 50 years from now?
Well, my goal is to stay independent, because the other option is to become part of the university. Universities, for all the fabulous things that they do, they also censor. We did an exhibition at USC in 1992 on the 500 years since Columbus, and how the legacy of racism and exploitation and genocide continues. And one of the board of trustees was Italian and took [the exhibit] as an affront to Columbus. It really wasn't about Columbus, it was about colonialism. And he ordered it down.
Do you have a favorite poster?
I'm always amazed at the creativity and vision of artists. Every week I'll say, "Oh my God, how do they think of that?" But it's always still going to be the poster I saw that kid trying to figure out. It has to be my favorite one because that one changed my life.
What makes a perfect poster?
The right balance between aesthetics and message. If you only rely on the corporate press, the New York Times and L.A. Times, for your information, you're not going to get the side from the street, from the movement, from the activists. The posters are primary historical documents that are recording the issues that were at the time, and the passions that were at the time, and the divisions that were at the time. You're not going to get it anyplace else.
---
Copyright Capital & Main