Stage Review: 'Blueprint for Paradise'
The premise for Blueprint for Paradise sounds like a punchline: Nazi sympathizers looking for someone to design a secret compound in Southern California decide to hire a leading architect — only to discover that he is African-American. But playwright Laurel Wetzork's conceit is no joke. It's based on real-life events.

Regi Davis and Meredith Thomas (Photo by Ed Krieger).
The premise for Blueprint for Paradise sounds like a punchline: Nazi sympathizers looking for someone to design a secret compound in Southern California decide to hire a leading architect — only to discover that he is African-American. But playwright Laurel Wetzork's conceit is no joke. It's based on real life events. Apparently, in the 1930s, a wealthy couple, part of a group of SoCal Nazi sympathizers, hired noted architect Paul Revere Williams, who was responsible for Beverly Hills' Saks Fifth Avenue store, the Los Angeles County Courthouse and numerous celebrity homes. The real-life details are sketchy, but Wetzork uses the paradoxical juxtaposition of a black man designing a Nazi compound as the foundation for a work that resonates even more in light of this country's current political polarization.
One month before Pearl Harbor, a shadowy German, Wolfgang Shreiber (Peter McGlynn), along with a sidekick, Ludwig Gottschalk (Steve Marvel), envision an America under Hitler's rule. They have convinced the impressionable Herbert and Clara Taylor (David Jahn and Meredith Thomas) that it is their duty to help fund a utopian compound being built on 50 lush acres in Pacific Palisades — the remnants of which exist today as a popular hiking destination in Rustic Canyon. (See photo below.)
Clara is a classic Stepford wife, obedient to her husband and seemingly living a solid yet ultimately unfulfilling life in her elegant home, the interior of which she designed herself. She has dutiful servants in Chinese immigrant Fenny (Ann Hu) and Italian butler Alex (Alex Best). Clara participates in women's groups such as the Mothers of America and the Human Betterment Society. But there are cracks in this facade: Clara has a restlessness borne of both the memory of her only child, who was lost in a tragic accident, and a dormant desire to be more than just a pretty face. Her ignorance is in fact not bliss, as deep inside she yearns for more. She shades this all with a steady supply of martinis and social activities.
The fascists in Blueprint for Paradise gain strength and allegiance by sowing hate and division, targeting and demonizing those with different skin colors, while advocating for the sterilization of the "feeble-minded" to purify the gene pool of disabled citizens. Their bright white vision of the future is suddenly colored by architect Williams' (Regi Davis) arrival. Further muddying their pristine waters, Williams sparks and then encourages Clara to pursue her dream of being an interior designer.
This setup makes up most of Act 1, with Wetzork and director Laura Steinroeder deftly keeping the conflicts all simmering, with only a flash of the coming conflagration seen in a startling Hitler salute by the Nazi sympathizers right before intermission. Coming after so much covert maneuvering, the overt gesture is the most powerful and best moment in the piece.
The acting for the most part is fantastic, and special kudos must be given to casting director Michael Donovan — the skilled thespians truly embody their roles without embracing stereotypes. Especially fine is Hu as Fenny. Her facial expressions convey more about her conflicting emotions than other actors may utter in a thousand words. And Thomas, while she at times overacts, has to carry much of the play, and delivers a complex woman struggling under the weight of the sexism of the time.
Marring the production, though, is a jarring technical mistake that distracts at times, especially when the actors move downstage. Lighting designer Matthew Gorka's gels filter light onto the actors' heads in such a way as to make  their hair glow purple. Sometimes McGlynn's platinum coif glows so bright he looks like a Nazi Smurf.
Far worse, Act One's bright promise is trumped by a second act that devolves into a series of events that are both curious and ill-advised. When butler Alex reveals a big secret to Williams, Davis chews so much scenery you'd think he was a landscape architect. Suddenly this drama's last act becomes a mix of bad choreography, histrionic acting and misfiring gunplay. It's as if Michael Bay suddenly took direction three quarters through the play. One could argue that the ending is an homage to the pulpy World War II tales of that time, but when contrasted with the rest of the piece it seems like a strange addition. It's a bad ending to a bad hair day.
---
Blueprint for Paradise, Hudson Mainstage Theatre, 6539 Santa Monica Blvd., Hollywood; through Sept. 4; Fri.-Sat., 8 p.m.; Sun., 3 p.m.  (323) 960-4412 or blueprintforparadise.com

'Skeleton Crew' Is a Play With a Moral Spine
Set in a Detroit automobile outfitting plant, Dominique Morisseau's drama grabs you from the start with its focus on blue-collar men and women, and their struggle for dignity and self-respect.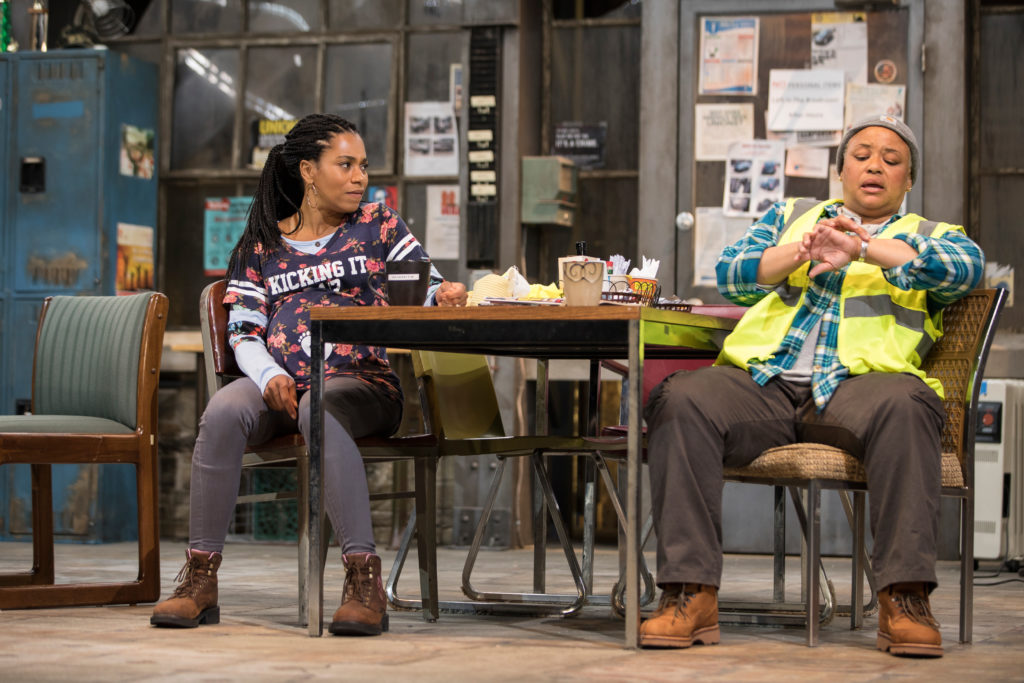 Working-class men and women of color are rarely front and center in today's media and, likewise, are presented all too occasionally on the American stage. So it's buoying to see that trend bucked in playwright Dominique Morisseau's percipient and well-crafted drama, Skeleton Crew. The play is the final installment in her Detroit  Project Trilogy; the first, Paradise Blue, is set in the 1940s amidst displacement caused by urban renewal and gentrification, while the second, Detroit '67, transpires on the eve of the 1967 Detroit riots sparked by a police action.
Directed by Patricia McGregor at Los Angeles' Geffen Playhouse, Skeleton Crew is a play with a moral spine. It takes place in 2008, when the shrinking U.S. auto industry is being further downsized. Morisseau's engaging quartet of characters — Faye (Caroline Stefanie Clay), Dez (Armari Cheatom), Shanita (Kelly McCreary) and Reggie (DB Woodside) – are employed at an automobile outfitting plant. Faye, Dez and Shanita are workers on the line while Reggie (who has a wife and kids, and has pulled himself together after a troubled youth) is their supervisor.
The first three customarily mingle in their break room (designer Rachel Myers' impressively cluttered, dingy and detailed set), trading the sort of familiar barbs and genuine concern for each other common among longtime co-workers. They also face off on philosophy: Upper-middle-aged Faye and the younger, pregnant Shanita take pride in their labor, while Dez, though a good worker, is a malcontent scornful of management and firm in the belief that everyone needs to watch out for himself. He's a thorn in Reggie's side, for while Reggie wants to be supportive of his workers, he must act at the behest of higher management. For his part, Dez resents Reggie's authority, and a palpable unease exists between them.
Besides this male matchup, we're made privy to Dez's attraction to Shanita, who mostly turns away his advances, but every now and then displays a hint of interest. Most poignant is Reggie's regard and affection for the lesbian Faye, which has roots in his boyhood when she loved, and lived, with his now-deceased mom.
These people's various predicaments intensify when rumors spread of the plant's shutdown — a disaster for all, but a particular calamity for the already near-broke Faye who, one year short of retirement, would lose her pension. The crisis forces each of these people to make a choice.
A sound piece of social realism, Skeleton Crew grabs you from the start in its focus on blue-collar men and women, and their struggle against odds for dignity and self-respect. Morisseau not only furnishes these characters a platform for their travails, she endows them with strong values, big hearts and the opportunity to choose between right and wrong.
Unfortunately, the performance I attended did not soar. Many exchanges lacked a fresh edge. The actors certainly had their characters down, but too often they appeared to be coasting on technique. (This seemed particularly true of Clay, who performed the role to great accolades in Washington, DC in 2017, also under McGregor's direction). Additionally, some of the stage movement was not entirely fluid; in confrontations, actors sometimes would just stand and face each other in an artificial way. And Cheatom's interpretation of Dez struck me as a bit overly churlish and depressive: I needed more glimpses of the intelligence and edge that would secretly attract the strong, self-directed Shanita.
The most compelling moments belong to Woodside, well-cast as a man trying his best in difficult circumstances to do the right thing.
---
Gil Cates Theater at the Geffen Playhouse, 10886 Le Conte Ave., Westwood Village; Tues.-Fri., 8 p.m.; Sat., 3 & 8 p.m. Sun., 2 & 7 p.m.; through July 8. (310) 208-5454 or www.geffenplayhouse.org