EPA's Scrapping of Fuel Efficiency Standards Sets Up Fight With California
Based on EPA Administrator Scott Pruitt's public statements, clean-air advocates fear that federal fuel-economy standards for automobiles are likely to be lowered.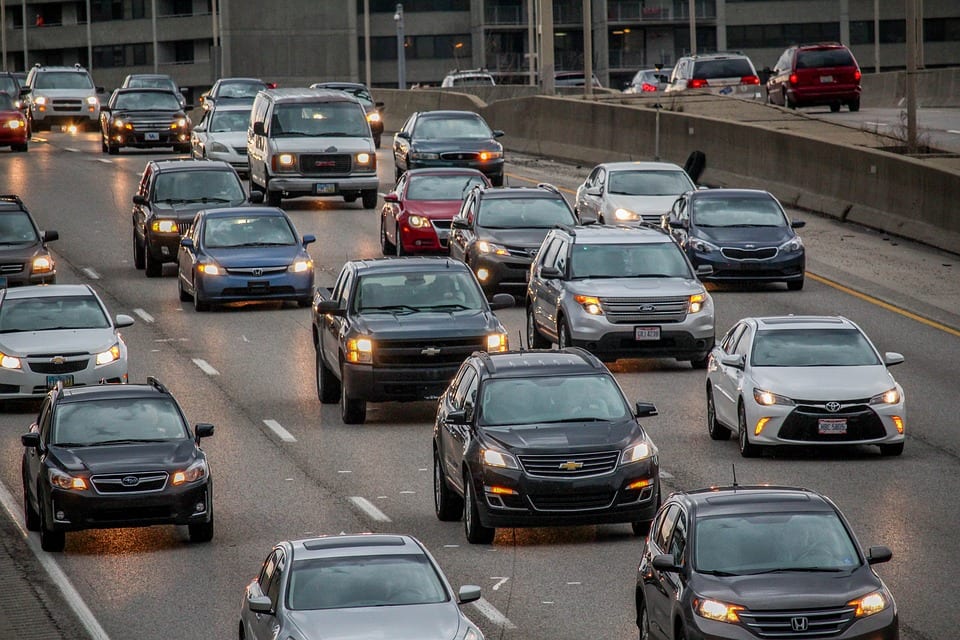 The Trump administration signaled Monday that it would lower vehicle fuel economy standards, a move that would undermine one of former President Barack Obama's major efforts to combat climate change by reducing greenhouse gas emissions.
The Environmental Protection Agency (EPA) said it would re-examine the Obama administration's Corporate Average Fuel Economy (CAFE) standard of achieving an average 54.5 miles per gallon for cars and light duty vehicles by 2025. That target was reached in a compromise between the Obama administration and the auto industry. Trump's EPA isn't calling for a specific new CAFE average, but based on EPA Administrator Scott Pruitt's public statements, the standards are likely to be lowered.
In 2009, via a special provision in the Clean Air Act, California was granted a waiver to enact tougher controls on greenhouse gas emissions. The EPA could be setting up a new battle between California and the federal government if the agency tries to revoke that waiver.
California's Air Resources Board (CARB) developed an Advanced Clean Cars program, including mandates to reduce greenhouse gases and smog-forming contaminants from vehicles. Cutting vehicle emissions is a key part of California's goal of slashing carbon emissions 40 percent below 1990 levels by 2030. Thirteen states and the District of Columbia also follow California's more stringent rules.
Pruitt had been a zealous defender of states' rights when he was Oklahoma's attorney general, but he may not be that staunch a supporter of those rights in California's actions to reduce greenhouse gas emissions. Although EPA's Monday decision did not mention California's waiver, Pruitt's public statements suggest that the EPA will make it harder for California to justify its own standards. On Monday Pruitt said, "Cooperative federalism doesn't mean that one state can dictate standards for the rest of the country." He also said he looks forward to "partnering with all states, including California, as we work to finalize that standard."
"Historically the EPA has said that California has compelling reasons, meaning it [has] worse air quality, for enacting stricter rules," said Sean Hecht, co-executive director of the Emmett Institute on Climate Change and the Environment at the University of California, Los Angeles Law School. "The federal government could put a higher burden on California to prove it deserves a waiver, or it could simply say, as the Bush administration did, that California doesn't deserve a waiver."
Governor Jerry Brown slammed the EPA's decision as a "cynical and meretricious abuse of power." California Attorney General Xavier Becerra has said he will sue the EPA over any attempt to weaken vehicle fuel efficiency standards.
Clean energy advocates say relaxing vehicle efficiency rules could put the U.S. at a competitive disadvantage worldwide. Developing more electric and hybrid vehicles is critical for companies to reach the corporate average fuel economy standard set during the Obama administration. Two automakers, Ford and Honda, have signaled that they're not on board with attempts to weaken standards. Volvo, for its part, has pledged to offer multiple electric vehicles in the 2020 model year. China is already claiming leadership in electric and hybrid vehicles.
"Possibly a transition to alternative fuel vehicles will happen without regulation, and there's already a movement in that direction," Hecht said. "But the most effective way to make change happen faster, whether it's by adding airbags or even seatbelts, is through regulation."
---
Copyright Capital & Main
Is Environmental Law to Blame for California's Housing Crisis?
Developers blame a half-century-old law for slowing development. Studies show there are other factors at work.
---
The debate intensifies over how much the California Environmental Quality Act is an impediment to the construction of affordable housing.
---
Since it was enacted in 1970, California environmentalists have hailed the state's most sweeping environmental law, the California Environmental Quality Act, as a bulwark against destruction of California's natural resources and endangerment of its most vulnerable residents. The law requires developers to involve the public in their building plans, and to minimize damage to the environment in accordance with public input and scientific study.
But now, with Governor Gavin Newsom's push to see 3.5 million homes built by 2025, CEQA may be in Sacramento's crosshairs. Developers and trade unions have long complained that the law was written so broadly that neighborhood groups and certain unions have used it to start litigation that slows or stops necessary projects. Newsom's goal, which would require a six-fold increase in current housing production over the next seven years, could lead to their complaints overriding environmental concerns.
Cesar Diaz, legal and political director of the State Building and Construction Trades Council of California, confirmed to Capital & Main that that his union was working with builders and legislators to streamline CEQA. But he denies that their plans amount to gutting the landmark law. "We have been fighting to protect CEQA for years," Diaz says, "and we will fight to make sure any changes to CEQA are done surgically, rather than getting rid of it." In January Diaz signed on to a letter, with environmental justice and low-income housing advocates, urging the governor and legislators to not weaken CEQA.
Diaz says his union and the California Building Industry Association were instead working to refine two already-introduced housing bills, SB 50 and SB 4, both aimed at spurring high-density housing near jobs and transit centers. The additions to those bills, and possibly more, Diaz said, would "provide certainty to developers and stronger labor protections and pay increases for construction workers." Certainty for developers, he clarified, would mean relief from impact fees and construction defect litigation that can entangle builders in litigation. In exchange, construction workers would receive higher wages and benefits.
But the fact that environmental groups and low-income housing advocates, thus far, are not at the table concerns Caroline Farrell, Executive Director of the Center for Race, Poverty and the Environment. "Discussions between the building trade and developers have led to a lot of confusion and frustration among environmentalists. The people who would be impacted by any change [to CEQA] have to be heard."
* * *
There is significant debate over how much CEQA is an impediment to development. Environmental interests worry that views expressed by two researchers in recent New York Times op-ed, arguing that CEQA alone is a significant contributor to the housing crisis, will prevail in any housing legislation. David Pettit, a senior attorney with the Natural Resources Defense Council (NRDC) says that there are already CEQA speed-ups and work-arounds for some large construction projects, including a 27-story development in Los Angeles' Chinatown.
"There has been the occasional abuse of CEQA, as with any area of the law, like locals in Venice using the law to fight a homeless shelter," he says. "That's appalling, but you don't get rid of the whole law."
A recent (and continuing) study of nine California cities conducted by the University of California, Berkeley has so far concluded that CEQA is not the primary driver of delays in new developments. Eric Biber, a UC Berkeley law professor who was involved in the study, says local governments and local zoning restrictions have more to do with lengthening the development timeline.
"We don't say CEQA itself is not important, but [reforming it] is not the silver bullet to solve the building crisis. CEQA lawsuits are triggered when local governments impose judgments on whether their own standards are met."
Jennfier Hernandez, a partner at the Holland & Knight law firm, disagrees with that assessment. "CEQA is tremendous, but it has been used as a tool to stop any project at any time." Suggesting that CEQA reformers and low-income housing activists should be on the same side, Hernandez cited her study, which concluded 100 percent of Bay Area CEQA lawsuits and 98 percent of Los Angeles CEQA suits targeted "infill" development in existing communities. CEQA, she says, is "an excuse by NIMBYs to preserve the status quo."
Yet other data back up Biber's findings. A 2018 survey from the Association of Environmental Professionals looked at over 140,000 housing projects that went through CEQA review from 2015 to 2017 across California, and found that exemptions to or streamlining of environmental law were used in 42 percent of the projects. As with Biber's study, the survey concluded that the top inhibitors to housing production were not related to CEQA.
Alexander Harnden, a housing policy advocate for the Western Center on Law and Poverty, agrees that CEQA has been occasionally abused by exclusionary neighborhood groups and city councils. But he argues that lengthy legal challenges under CEQA account for a small fraction of projects. "The rest of the projects are altered in appropriate ways and getting approved."
Harnden says that streamlining housing development should include incentives for developers – such as eliminating parking requirements – in exchange for commitments to build a larger percentage of affordable units. He also advocates expanding rent-control measures and prohibiting landlords from refusing Section 8 vouchers, subsidize housing for low-income tenants. But he emphasizes that supply-side solutions like building houses at more than six times the current rate won't fix everything. No matter how many millions of units go up in the next seven years, he says, "it won't solve the increases in homelessness and rent gouging." Nearly everyone in the debate agrees that there's no single solution to the housing crisis. And they say taking on all of these aspects requires both compromise and political will.
---
Copyright Capital & Main