Sacramento Waiters Make $50 an Hour, TV Station Claims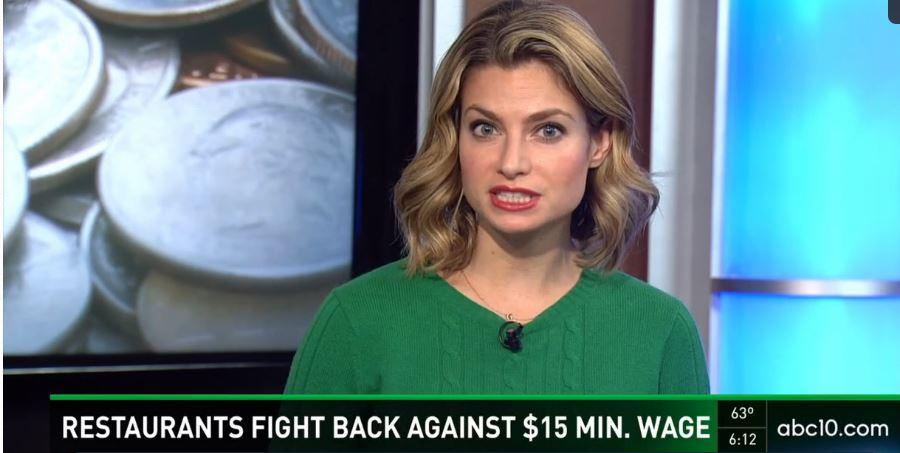 What can happen when voters use electoral politics to raise the minimum wage? For one thing, some mainstream media can go on the attack by editorializing in coverage that poses as "news."
Take, for example, ABC Channel 10's recent television coverage of business' fight to strangle Sacramento's $15-an-hour minimum-wage measure in the petition process. Region Restaurants, a trade group of caterers and eateries, is rallying public opinion against the capital city's minimum-wage measure that could, with 21,503 registered voter signatures, qualify for the November 2016 ballot. The current California minimum wage is $10 an hour.
In a February 10 broadcast of the station's "Real Money" news segment, co-anchor Dale Schornack announced the $15 measure would begin in 2017. His statement was off by three years – close enough for a game of horseshoes, but a bit wide of the mark for news. The ballot measure would actually up Sacramento's minimum wage to $11.50 an hour in January 2017. (A separate, statewide campaign has been launched for a $15 minimum-wage measure hike to be in place by 2021; it is also in the signature-gathering process and, like the local Sacramento initiative, it seeks to appear before  voters this November.)
Joshua Wood, chief executive officer of Region Restaurants, said during ABC 10's broadcast that a starting minimum wage of $15 an hour would reduce jobs and might force businesses to flee Sacramento. His critique in part mirrors that of the state Chamber of Commerce, whose "job killer" label for whatever it deems business-unfriendly bills is often the end of them under the Capitol dome. Wood's lobbying group, he told ABC 10 viewers, aims to convince voters who have already signed the Sacramento ballot-qualifying measure to withdraw their names.
But exactly how he would rescind ballot-qualifying signatures, Woods did not say. Nor did Gabrielle Karol, an ABC 10 reporter appearing on the February 10 broadcast. Tamie Dramer, a representative of Organize Sacramento and Raise the Wage Sacramento, told Capital & Main by phone that it is unclear how Region Restaurant's strategy would work. The submission of signatures to the city clerk is scheduled for June, Dramer said, adding, "Karol never contacted me for this story."
Karol did, though, contrast workers employed at fast-food outlets to some servers at high-end restaurants in Sacramento. The latter are "making $50 an hour" with tips, according to her.
Karol declined a request to back up her claim by naming a single public poll, research study or even one anecdote about servers at posh eateries earning "$50 an hour" and who, she implied, would be "very concerned" about the ballot measure. It is worth noting that anti-minimum wage sources such as Wood and a Sacramento caterer were interviewed for this ABC 10 segment, while pro-minimum wage backers were completely shut out for comment. "Be careful of the unintended consequences for something like this," co-anchor Schornack warned Sacramento's minimum wage earners about their petition drive.
The cold-shouldering of pro-minimum-wage advocates also characterized the reporting of Fox News Channel 40. Consider a story headlined "New Battle Over Minimum Wage in Sacramento." Like ABC 10, the Sacramento Fox News affiliate only sourced Wood and a restaurant operator. Meanwhile, at the Sacramento Bee, the capital's lone daily paper, reporters Hudson Sangree and Mark Glover at least mentioned – but did not bother to quote – advocates for a higher minimum wage and improved worker benefits.