Richmond Considers Saving Troubled Mortgages
RICHMOND, Calif. – In a run-down shopping center in the heart of this San Francisco Bay Area community, about a half dozen activists are plotting to turn the housing market on its head.
Their aim: stem home mortgage foreclosures and preserve neighborhoods in a city hit hard by the housing bust. But, this time, the activists have some unusual allies.
They have enlisted officials from the city of Richmond and beyond. They're working alongside a group of investors who stand to make a profit if the plan works. And they're advocating government seizures.
Wait ­- seizing private property? Profiting from neighborhood preservation? Is this the Bizarro World? Well, sort of. But the way the activists see it, they've hit upon an idea that's so counterintuitive, it just might work.
That idea involves eminent domain, the power of government to take private property for public purposes. It's generally used to obtain land for civic projects such as highway expansion and public utility rights-of-way. Often, the targeted properties are in poor neighborhoods and residents get pushed out of their homes because the "public good" trumps property rights.
But, recently, some academics hit on another application: government seizure of underwater mortgages to help struggling homeowners. Through a series of quick transactions, supporters say, such seizures would allow homeowners to reduce their payments and avoid foreclosure.
Supporters believe the approach could ultimately help millions of families and shore up economically-fragile cities. It's already being discussed across the country, in Oakland, Minneapolis, Seattle and Newark, N.J.
"After years of waiting on banks and government, we finally have a strategy," said Amy Schur, who is helping lead the activists' campaign. She said in 25 years of community organizing, it's the most exciting project she's ever worked on. "We now have something that's terrifying them."
By "them," Schur means Wall Street.
The financial industry is taking the threat seriously. Its leaders are likening the plan to outright theft and have descended on the hard-scrabble city of Richmond, filing a federal lawsuit and ramping up political pressure. Some members of Congress are trying to stop these efforts and federal housing agencies have weighed in as well.
"If there ever was a David versus Goliath fight," Schur said, "this is it."
There's big money at stake here and big ideas. But even the plan's chief salesman, a wealthy progressive who stands to make a tidy profit if it's successful, learned the hard way that people, not money, are the key to winning this battle.
The Big Idea
Steven Gluckstern, makes no excuses: He's part of the 1 percent. But he fashions himself an "accidental rich person," a San Francisco resident who started out as a school teacher before making his fortune on Wall Street. He was the founding chair of the Democracy Alliance, a group of wealthy progressive donors. Now, he's pushing the eminent domain idea through a new company, Mortgage Resolution Partners (MRP).
Like everybody, he saw the housing market collapse. And although the country is now in the midst of a slow economic recovery, he knows that many communities, like Richmond, are still struggling.
Currently, about 11 million homeowners are underwater – that is, the market value of their homes is less than what they owe on their mortgage.
In Richmond, whose population of 106,000 is mostly working-class African-Americans and Latinos, about 51 percent of mortgaged homes are underwater and many are worth as little as half their loan amount, said City Manager Bill Lindsay.
Foreclosures don't hit the Glucksterns of the world. They hit the lower-income couple who was sold a predatory loan. Or the mom who spent time on unemployment during the Great Recession. These foreclosures hurt not only the families, but often send neighborhoods into a kind of death spiral.
They hit people like Adolfo Senior, a registered nurse from Jamaica who has a wife and two kids.
"I wanted to live the American dream," he explained of his decision, in 2004, to buy a home. His house is now assessed at $265,000, but he has a mortgage of $465,000 with an adjustable interest rate – and he has lost one of his two jobs.
"I'm just barely meeting the basic needs right now," he said. When the interest rate rises and bumps up his monthly payment, Senior noted, "I'm really going to be washed away."
There are programs to help, but most don't address the problem of being so deeply underwater. Statistically, those mortgages are far more likely to go into foreclosure. Experts say millions more foreclosures are on the horizon.
Some say the only solution is principal reduction: that is, reducing the mortgage amount to the home's current value and forgiving the rest. The banks and investors that hold the mortgages, however, would rather continue collecting on the original big loan, though that sometimes risks foreclosure.
Download Eminent Domain Infographic
A few years ago, Gluckstern learned about principal reduction through eminent domain. The idea is that government has the power to force mortgage holders to sell the loan if it's for the public good. Cities would buy the underwater mortgages, getting them at a discount because the house's value has declined so much and because the risk of default is high. (A court would determine the fair value.) The homeowner would no longer be underwater and would pay off the city with a new mortgage.
Richmond wouldn't use tax dollars for this. Gluckstern has lined up investors who would be able bankroll it. He says his motive is to prevent foreclosures. But the investors would earn a return and MRP would earn $4,500 for each mortgage acquired.
MRP is focusing on specific mortgages that have been bundled together as private-label securities. That's key. These include the loans made willy-nilly during the housing boom years, sometimes at high rates, sometimes to people who probably shouldn't have qualified. Now, those loans are the most likely to default.
They're also publicly traded, which means they are priced by market forces and are now worth less than their original face value. That's reflected in the investors' balance sheet, Gluckstern said.
"The loss has already been absorbed by the marketplace," he explained. "Except, we never relieve the homeowner of that difference."
It all seemed logical to him. So, he was surprised when he had trouble getting traction. "We were getting beat up," he recalled.
Then he met Amy Schur.
Schur, the campaign director for Alliance of Californians for Community Empowerment (ACCE), a nonprofit social justice group, came as a skeptic. "Eminent domain? Sounds sketchy," she thought.
"Then we heard it was about principal reduction and that Wall Street really hated it," Schur recalled. "We thought, 'This looks interesting.'"
Before getting behind the idea, however, Schur told Gluckstern exactly what she thought. As he recalled it, "She said, 'You guys don't know what you're doing.'"
MRP had used a "top down" strategy, focusing on government officials. What this effort needed was a groundswell of public support to get the politicians to commit. Grassroots work was Schur's bailiwick. Last spring, Gluckstern and Schur essentially switched places.
ACCE began taking the lead and they focused on Richmond.
Within months, Gluckstern began to realize something. "It's gotten to be a movement."
Finding Community Support
To be sure, there are some very nice homes in Richmond, including million-dollar properties overlooking the San Francisco Bay. And property values are gradually increasing, albeit more slowly than in surrounding communities.
But the majority of the city is working class. On city streets, there are empty storefronts. Before the crash, the median home price was about $400,000; now, it's half that. That's left residential areas pockmarked by foreclosures­­ – about 2,000 in three years. Drive around and you realize it takes only one boarded up home to cast a pall on a block.
"Families get foreclosure notices and they leave," explained Eva Mann, a Richmond code enforcement officer. Some banks, however, aren't quick to act and some of the homes sit empty for years. Abandoned homes attract crime and delinquency and bring down property values. Vagrants break down the walls to get at the pipes and wiring, which they can sell. All of this costs the city money. Meanwhile, property tax revenues have dropped substantially.
On a recent afternoon, Mann was stopped by a neighbor as she left one such property.
"You going to do something about this?" the woman asked, pointing at the house. A few years earlier, the house had caught fire, which left a hole in the roof. Rain has been falling into the house since.
"We come out here, we board it up and what do we have now?" said Tim Higares, Mann's supervisor at the city of Richmond. "Blight. The neighborhood is the victim."
Last spring, Schur and her group went door to door armed with lists of underwater homes and quickly found support among people like Robert and Patty Castillo.
The couple has two children, one of whom, Leon, now 24, has severe autism and needs 24-hour supervision. Leon is part of the reason the Castillos decided to buy a home. Leon had a tendency to smash things and that didn't sit well with landlords. In 2005, they bought a modest three-bedroom house for $420,000.
The crash sent the home's value plummeting by some $300,000. The Castillos are making their mortgage payments, but when the interest rate increases, they don't know if they'll be able to keep up.
"It just doesn't seem fair," Robert, a school bus mechanic, said.
One day, someone from ACCE left a flier at the Castillos' house about an upcoming community meeting. There, they found hope.
"It really helped me to see that I wasn't in this situation by myself," Robert Castillo said.
Family by family, the principal reduction idea has caught fire in Richmond. Finally, struggling homeowners felt like they had some power.
"It was exhilarating for people," Schur said. "This was not the city laying out a program. It was run by community leaders."
Meanwhile, the city agreed to work with MRP. In July 2013, it took a big step, sending letters to the mortgage holders on 624 distressed properties asking them to sell the loans to the city. The letters were intended as a starting point for negotiations but also noted that the city could use its power of eminent domain to force the lenders to sell.
Not a single one took up the offer.
Drying Up Lending?
By that time, Wall Street had begun lobbying in Richmond and beyond. Other groups sprung up in opposition, too, including the local association of Realtors, which believes purchasing the underwater mortgages through eminent domain would hurt, not help, property values.
Jeffrey Wright, a Richmond Realtor, has several issues with the eminent domain idea. First, he said, the market in Richmond is not as bleak as has been portrayed and is actually on an upswing.
"Logic says if [the homeowners] managed to hold on during the worst of times, they can continue to hold on," he said.
Wright also thinks the approach engenders false hope because only a select few homeowners would qualify. His biggest concern, however, is how lenders will react. If they think their mortgages can be taken at the city's whim, he's convinced, they won't continue to make loans in Richmond.
In fact, the Federal Housing Finance Agency has issued a notice saying it has "serious concerns" about the plan and could decide to direct U.S. mortgage giants to "cease business activities" in Richmond. That would dry up lending.
Opponents of the city's eminent domain plan began their own ground campaign, including printing up T-shirts, putting up a website (stopinvestorgreed.com) and mailing out literature. They positioned MRP as the bad guy ­- yet another arm of big, bad Wall Street.
"Wall Street bankers and MRP have sold the city council on a plan that will make them millions," one glossy flier said. "But it will sink Richmond home prices, drown our city in debt and leave us awash in legal bills. Don't let Wall Street get rich off Richmond AGAIN!"
In August, several major financial institutions filed a lawsuit arguing the plan was unconstitutional. They estimate the city would acquire each mortgage for $100,000 to $200,000 less than its face value, which would hurt not only the financial institutions but the people whose pension funds have been invested in mortgage-backed securities.
The plan is a "brazen scheme to abuse government powers for [MRP's] own profit," one of the industry lawyers was quoted as saying.
The lawsuit was dismissed as premature, but the banks have appealed.
Richmond Makes a Move
Richmond's "offer letters" were the first of their kind in the country. That makes the city a leading test case, but Richmond city government is still a long way from seizing mortgages under eminent domain. City manager Lindsay said he wants to negotiate.
"This isn't about going after the banks," he said. "This is about neighborhood preservation."
If negotiation fails and the city pursues eminent domain, each mortgage seizure would require not only court approval, but also a supermajority of the City Council, which at the moment supporters do not have.
By now, the idea has reached beyond Richmond to cities across the country. The mortgage industry views the plan as "a virus," Gluckstern said. "They have to stop it from succeeding anywhere.
"We," on the other hand, "just need to win one lawsuit."
Then, he believes, they'll start to negotiate.
(Maureen O'Hagan is the reporter for Equal Voice News, where her post first appeared. Republished with permission.)
No Apologies: Bill de Blasio on Economic Inequality, 2020 and the Amazon Deal
"We must nominate a solid progressive," says New York's mayor about the Democrats' next presidential candidate. "That's the only way we can change the country. It's also the only way we can win."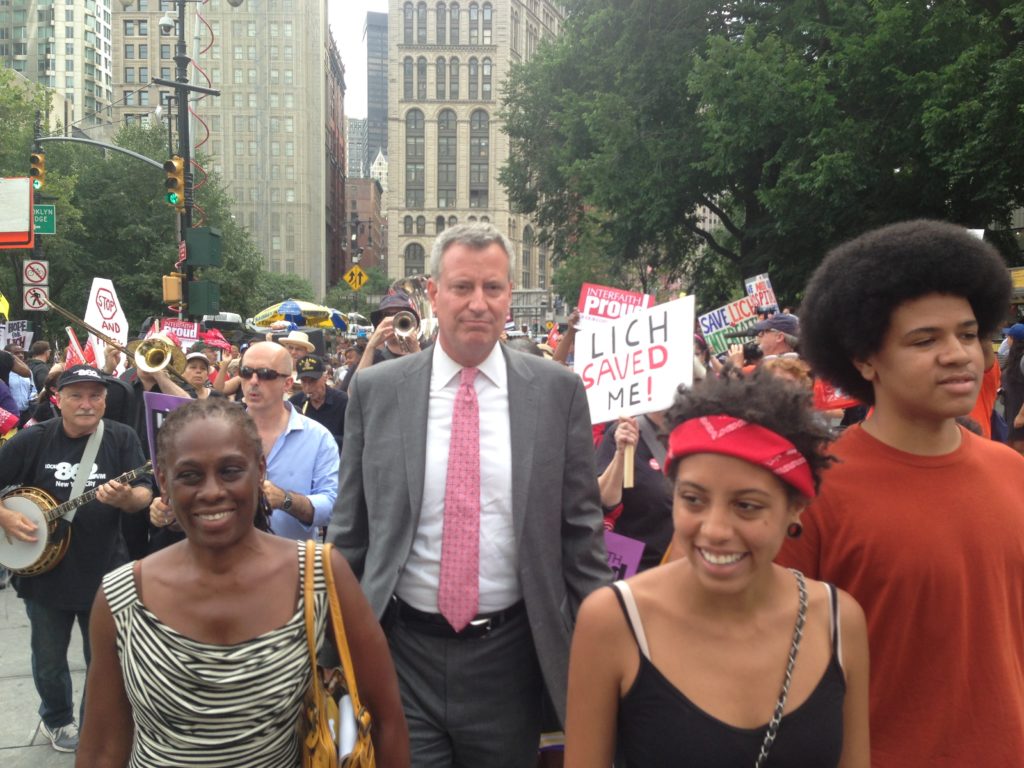 What can municipal leaders do about economic inequality? New York Mayor Bill de Blasio says they can do a lot — and he argues that the Big Apple is proof. He also contends that in the upcoming 2020 presidential election, Democrats must boldly confront the issue and reject centrist candidates like his predecessor Michael Bloomberg, who de Blasio says represent the interests of the wealthy.
De Blasio was elected to the city's top office after he made economic inequality the central issue in his campaign. During his 2013 run, he said New York had "become a tale of two cities, a place where City Hall has too often catered to the interests of the elite rather than the needs of everyday New Yorkers." The facts underscored his assertion: the New York City area is one of America's most economically unequal locales — a place that has both the world's largest number of billionaires and a 19 percent poverty rate.
As mayor, de Blasio has backed a universal health care initiative, rent stabilization laws, affordable housing programs and wage increases for municipal workers.
In recent weeks he has faced criticism for supporting the now-defunct deal to bring Amazon's second headquarters to New York. Deal critics claimed that the deal would have needlessly enriched a wealthy corporation whose business model has been laying waste to small local businesses.
Capital & Main reporter David Sirota caught up with de Blasio to discuss his record, the Amazon deal and the next presidential election. What follows is an edited excerpt of the conversation.
---
What can municipal leaders do at the local level to address economic inequality?
When I ran in 2013, I talked about economic inequality. I talked about a tale of two cities, and the constant refrain I heard from a lot of pundits and journalists was: That's not something that can be addressed locally — that can only be handled on a federal level, maybe a state level. [But] I argued that we had extraordinary tools…to really have an impact in the here and now…
At the local level, we increased the minimum wage to $15 an hour for public workers and nonprofit workers that got public support through their nonprofits. We did a paid parental leave…Pre-K for all — [whose] average expense for a family [is] $10,000 to $15,000 a year per child, if you had to pay for the same kind of time for your kid during the day in a private setting…We're providing afterschool as a universal guarantee for all middle school kids…With guaranteed health care, we're ensuring that 600,000 New Yorkers who have no health insurance will have either very low cost health insurance on a sliding scale or it will be refi'ed for free if they can't afford it.
All of this puts money back in people's pockets [and] I think that question in every locality in America is, how far can you go? How far can you go to addressing income inequality because it really adds up….We don't have the tools to tax the wealthy in the way we should at the local level, but we do have the ability to redistribute. We do have the ability in a powerful way to raise the floor.
Where have you had to make the biggest compromises?
Everything dealing with the state government has been a practicing compromise. I said, "I think the fair way to go about funding Pre-K would have been a millionaire's tax." We couldn't get it. We had to figure out a different funding formula to get enough money to get it up and running nonetheless.
We found a huge challenge also [with] the state government on how to handle the problem of our subways. So far we've ended up with bits and pieces of agreement and some forward motion, but not enough.
Here we are in the center of global capitalism and in a place where there's some very powerful interests that don't share my philosophy, but I have not felt held back in the scheme of things that much, and I attribute it to having strong political support on the ground. I attribute it to the fact that there's a real belief in a progressive vision. There's a real energy behind the notion of addressing these core issues, and honestly, the folks who tried to stand in our way have not had a lot of success in the bigger scheme of things.
The Amazon HQ2 deal that you supported has generated a lot of criticism from those who argued that it was a taxpayer giveaway to a big corporation. What is your response to that criticism?
The vast majority of the incentives in place were state law incentive programs available to any companies that met certain criteria. They have been on the books for a long time and Amazon tapped into them the way any company could have.
I respect the variety of voices that have been raised against the deal. I really do. But I want to say there's really not been a discussion previous to this deal about these kind of programs that have existed for a long time. Some of the folks who are very strongly criticizing this deal had previously voted for these very same incentive programs. I think there needs to be a bigger examination of what's going on here…
The state had one piece of the subsidy plan that they tailor-made [for] Amazon. The city would not do that…Under my administration we will not make a tailor-made incentive plan for any company. Whether it's about coming here or staying here, we just won't do it. We've made that clear. I think that's a race to the bottom. Amazon wanted us to give them specific incentives, we wouldn't do it…
Then the obvious pragmatic question: Was I going to let 25,000 to 40,000 jobs go because a lot of us have differences with Amazon as a company? Was that a reason to let those jobs go to Virginia or to Dallas, Texas or someplace else, when they could have a very positive impact for New Yorkers in terms of their lives and their employment, but also on the revenue base that we have?
This [was] going to bring in a huge amount of revenue to help us with the things that we focus on as a progressive city. With affordable housing and with initiatives to get people jobs and all sorts of other things we do. All of those pieces went into the equation for me.
After years of divided control, the New York legislature has full Democratic majorities in both houses, and the governor of New York is a Democrat. What do you want to see from this Democratic state government in the upcoming year?
So they've already passed major new gun safety legislation. They've passed the New York version of the Dream Act. They've passed reproductive rights legislation and fundamental election reforms. Things that we never could have gotten in this state for decades, like early voting, same-day registration. A huge number of things are happening already.
I think going forward we have to fix our subways and I think a billionaire's tax is the best way to do it…We need to strengthen our rent regulations. I know our colleagues out in California tried to get a referendum passed and it didn't succeed, but in this state we have created strong rent laws at least for New York City, but we need to make them a lot stronger given the cost of living here.
We [need] a school system with mayoral control [and] a vacancy tax. This is something that stops landlords from withholding their properties from small business…We need to eliminate cash bail. We need to have the legislation to speed up the trial process so we can reduce the number of people incarcerated.
You are not ruling out a presidential bid in 2020. What do you think needs to be front and center in those Democratic primaries?
My basic message is [that] this is a progressive moment, we must nominate a solid progressive. That's the only way we can change the country, but it's also the only way we can win. I am very clear that nominating a centrist would just set us back and I've said publicly that centrists need not apply in 2020 in the Democratic Party.
The only thing I think that would cause us to lose in this moment, where we should be poised for great victory, is if the American people can't really tell the Democratic Party apart from the Republican Party, and that's been the case in way too many elections. But we have a chance here to be uncompromising and to be clear. And it starts with addressing income inequality.
It has to be abundantly clear that we are comfortable calling for higher taxes on the wealthy, that we're comfortable acknowledging that this is a very wealthy country. There's plenty of money, it's just in the wrong hands, and we have to be open about that.
We have to be a clear and blunt and progressive populism. The word "populist" to me should never be applied to the right wing like they have a trademark on it, and it's a negative. When I think of populism, I think of progressive economic populism that has existed for many, many decades, which is progressives saying we're on the side of the people and we are willing to take on the elites of the status quo.
But that begins with real simple litmus-test ideas. Are you willing to greatly increase taxes on the wealthy or not? If you're willing to do it, you're a solid progressive. You're going to have a really energetic audience out there. You're going to show the difference between our party and the other party…
I think this party should stand for Medicare for All [and] should be absolutely unapologetic about it…You're paying way too much in all sorts of ways right now for your health care. A Medicare for All system would be more fair, more consistent, more universal.
If we're talking that language, we're going to move people and we're going to redefine what the Democratic Party is, and I think it can turn into a party that wins consistently. But if we don't speak that language, it's not going to surprise me if we once again struggle in places like the industrial Midwest or Florida, and so I want to see the party come to a real consensus around this…
I want to see that whatever we do in the end, it's clear that we both have a sharp, strong ideology that we're comfortable [with] and that we actually have an idea how to make it happen. Because if people perceive it as [being] long on theory, short on reality, that will also alienate working people who are depending on us to get it done, so we have to show this is the kind of thing that can actually happen in real life.
Your immediate predecessor, billionaire Michael Bloomberg, is considering running in the Democratic primary. What do you think of his potential candidacy?
There were things I agreed with Michael Bloomberg on as mayor and there were very clearly things I disagreed [with], but as a candidate for president, let's begin at the beginning. This party is not nominating a billionaire, nor should we nominate a billionaire.
Billionaires in this country got there in large measure through very favorable government policies that helped them every step along the way, starting with favorable tax policies. The folks in the one percent have benefited from exactly what's wrong. And that's not who I'm turning to to fix the problem.
Also, Michael Bloomberg's been abundantly clear. He is a free marketeer. He doesn't want to see a strong government disrupting what's wrong with the free enterprise system, and to stand up for everyday people. That's just not who he is.
This guy is part of that one percent establishment that created the problem. Lord knows this is not the person we turn to, if we're trying to establish a progressive, consistent, uncompromising, strong Democratic Party…
If Bloomberg or Howard Schultz were nominated, it would once again say to the American people, "You can't depend on the Democratic Party to be on your side," and it would confirm to people it's the party of the elites, not the party of working people.
---
Copyright Capital & Main